How to Make a Dutch Tulip Crate for Spring
Dutch tulip crates are new to me, I have never seen a real one, but when I stumbled across one online it was an instant I want that. Of course being a tulip crate I needed to wait for Spring decorating season but I had the pallet wood hoarded aside while waiting make my own DIY Dutch tulip crate
Like any simple hard working wood crates you can use them in multiple ways, but for now my dutch tulip crate pallet project is holding a Spring centerpiece for my coffee table. I am always curious about anything vintage so I did a little reading about tulip crates.
Tulip crates were used to force tulip bulbs, the metal mesh base allows air to circulate and prevents the tulips from rotting. The four corners posts are used to stack the tulip crates on top of each other, and the growers name is typically stenciled on the outside.
Because a dutch tulip crate is meant to be vintage and working you can make it as rustic or a fancy as you like. Some have wire mesh bottoms, others like this one also have have wood slats. Some have stencil on the sides, and some are stained shiny and new. This particular DIY tulip crate has a wood slat bottom and no mesh so it can do double duty as a rustic table riser. Because the tulip crate can be used flipped over I didn't add a stencil to the side of mine. Its made out of old pallet wood and cost us nothing to build. I so love when things are free, don't you. Lets get started.
Tulip Crate Supplies
A piece of 2 by 4 scrap lumber 8 inches long
5 full length pallet boards.
80 grit sandpaper
Nails or air nails
Piece of metal hardware mesh or wire mesh for the bottom (optional)
Pallet Wood Cut Lengths
We may be thinking of Spring in our house but it is very cold -28C while we were building this tulip crate. Hubs bless him cut the wood outside in the garage and then we assembled it in the kitchen. He used his mitre saw to cut the wood to the following lengths.
4 pieces of 2 by 4. Cut the 2 by 4 in half, and then cut into 4 inch lengths.
2 pieces of 1 by 4 pallet boards cut 20 inches long. For the long sides
7 pieces of 1 by 4 pallet boards cut 16 inches long. For the short sides and the bottom.
Once cut he used 100 grit sandpaper and gave each board a sanding to remove slivers.
How to Build a Tulip Crate
Once all the wood was cut the tulip care is super easy to put together. We began by laying out the pallet wood the way we wanted it assembled. Notice the four posts are on top of the bottom pieces meaning no cut outs required. By placing the long 20″ boards on the outside of the 16″ ends it meant the bottom and the ends could all be 16″.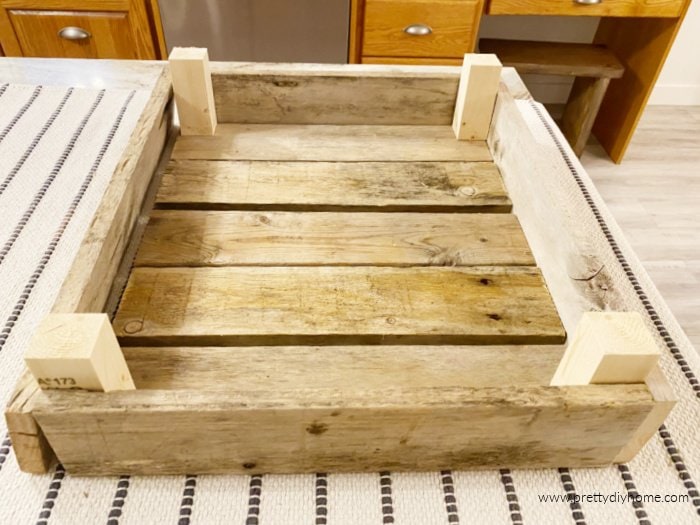 Hubs began by nailing the four corners of the outside pieces together at each corner.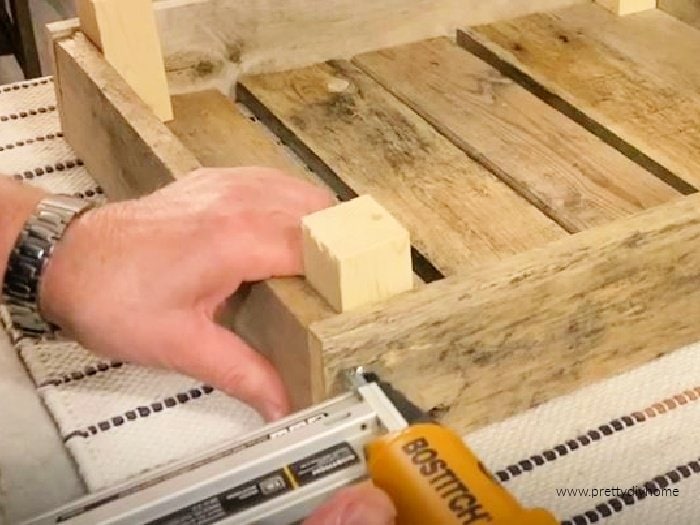 Once he had the four outside pieces aligned square and nailed. He went around and connected the four posts through the side pieces using longer nails.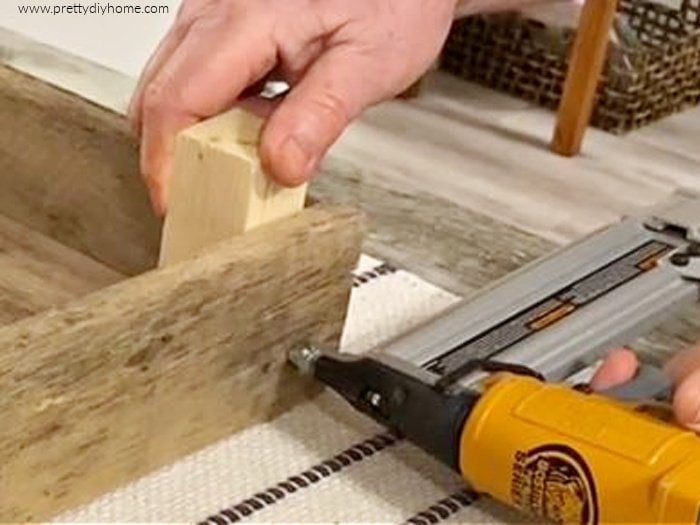 As a final step, he spaced the bottom pieces evenly leaving slots and then attached the each bottom piece with two air nails on each end.
I didn't place any stencils on the side of this tulip crate because it would look strange if I used it as a table riser.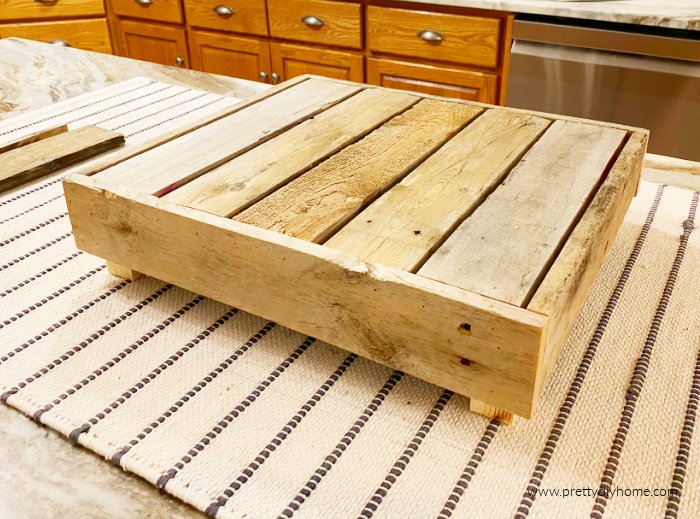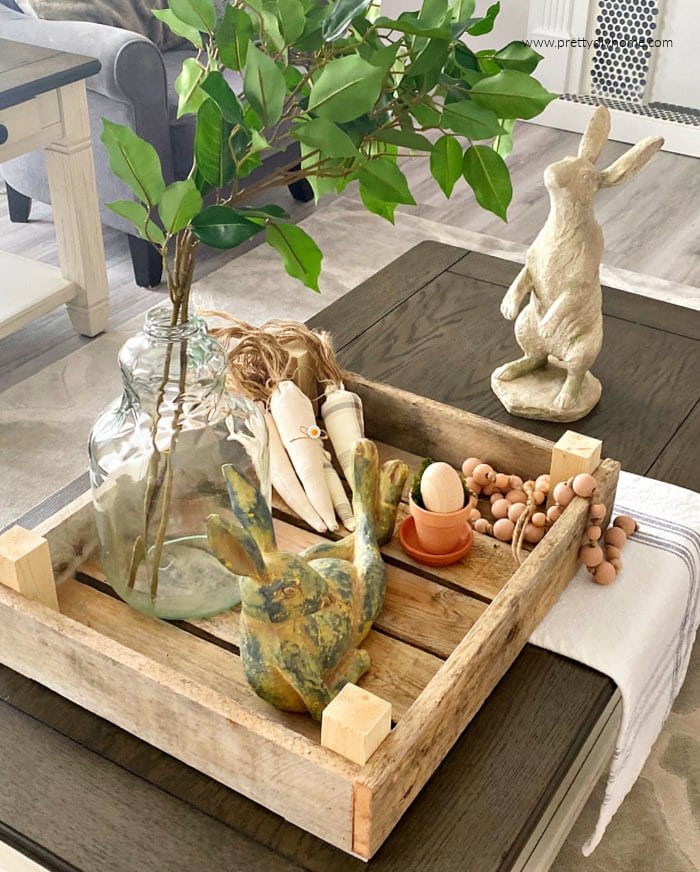 Finishing the Tulip Crate
You could stain it or add varathane to protect your tulip crate if you like, but I liked mine rustic and shabby and industrial looking just as it was. I imagine that is how the vintage tulip crates are.
Once it finally warms up here I want at least one more for the picnic table outside. I might play around with white washing or stenciling on it but I don't feel its needed. The one addition I did make was to add four lengths of floor protection felt to the bottom of each corner on the tulip crate. I don't want to even think about the damage the crate could do to modern veneer furniture.
Tulip Video Tutorial
These really is a simple build, here is a video that shows how easy it was for Hubs to nail it together.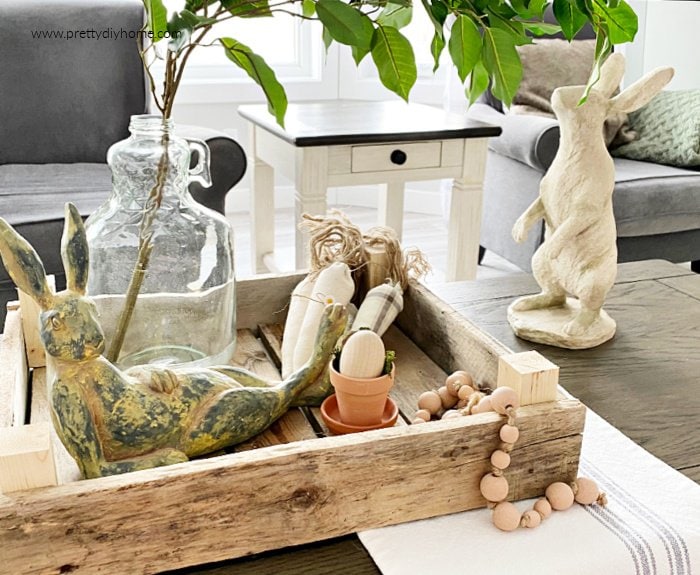 Now I have to ask Hubs to make me a second one for the kitchen, maybe with hardware cloth and a stencil? It will eventually quit snowing and the tulip crate can make its way out to the picnic table. Its such a neutral piece it would look great with white dishes, or plants, or a book stack, a fairy garden, and more.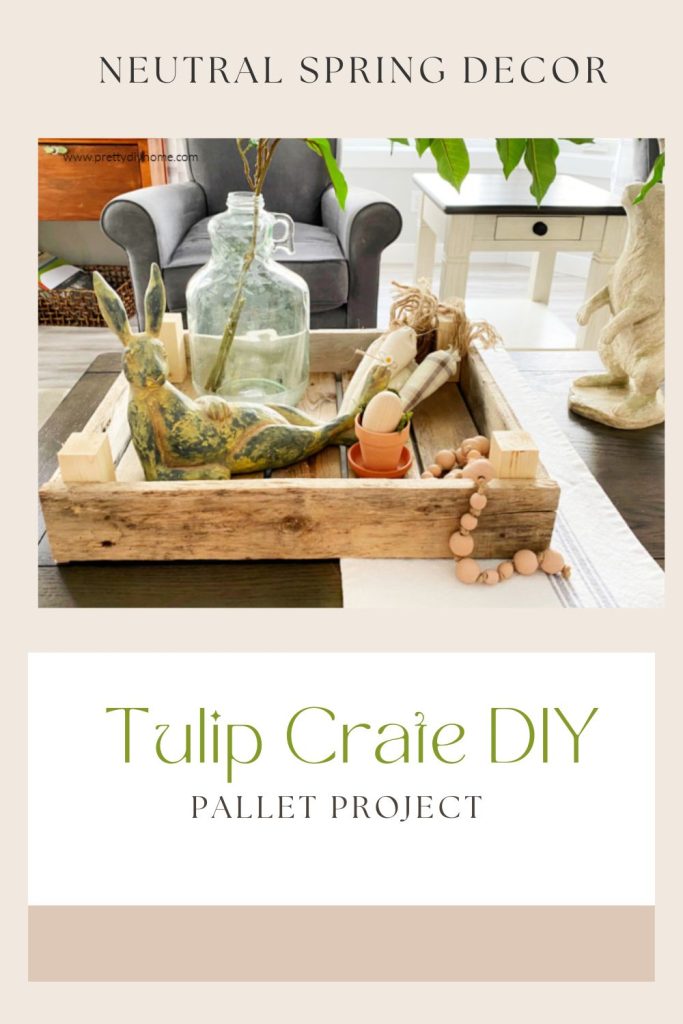 Other Pallet and Scrap Wood Ideas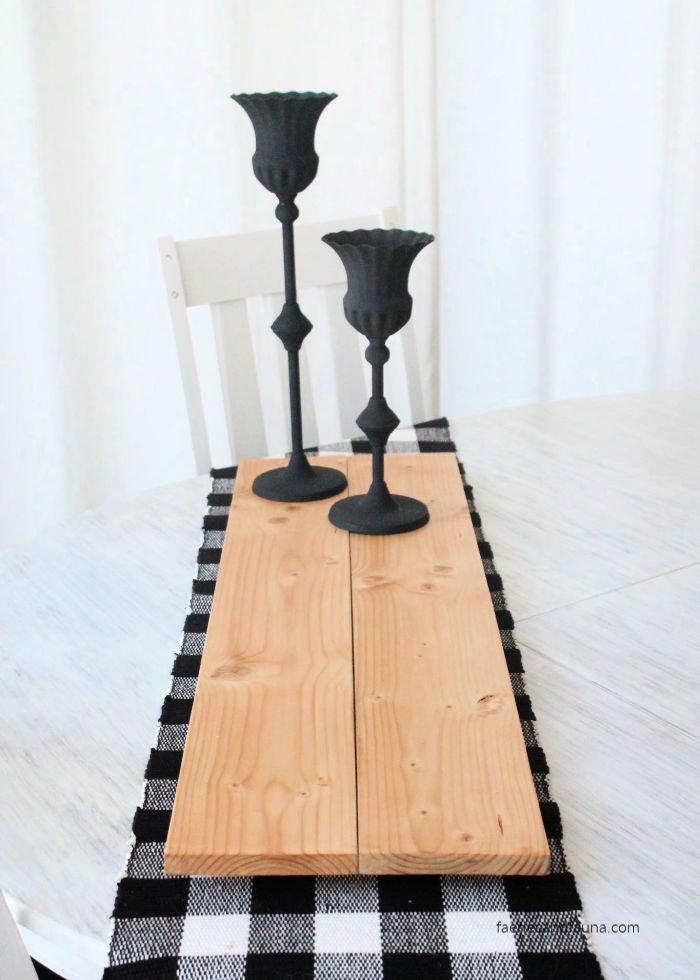 DIY Wood Riser Stand
A very quick and simple to make DIY wood table riser. The soft wood grain adds warmth to a bright white dining area.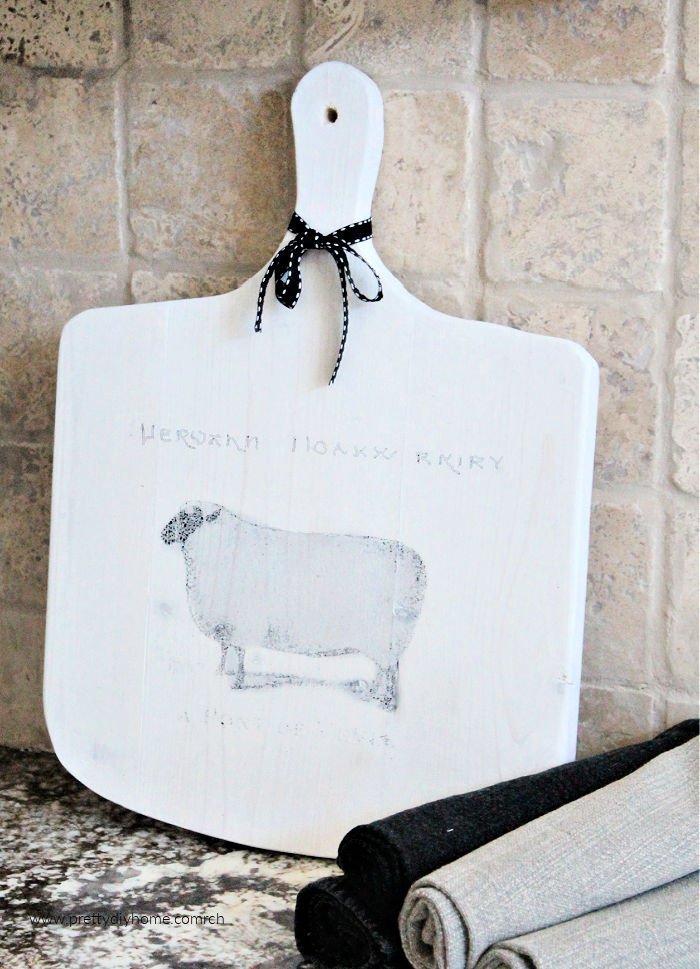 DIY Cutting Board
Glue some leftover wood together, trace the pattern, cut, paint and stencil and you get this fancy farmhouse DIY cutting board for cheap.