DIY Faux Ceramic Vase Thrift Store Makeover
I am aware that I compare prices all the time on the blog, with a busy life I would love nothing more than to shop and drop decor and often skip the DIY. Unfortunately if your like me and your tastes are much more expensive than you bank account is full you have to pick and choose where to splurge. Todays $10 DIY vase makeover is one of those situations.
A local store here I love to shop and swoon at had some gorgeous wood vases, and they are spectacular. My mantel was giving me the elbow to buy them, but when I called and one of the two vases was $190 I groaned. I wish to the bottom of my toes that I could afford that vase, but the savings certainly motivated me to go searching at Goodwill and check out Pinterest for ideas for a vase thrift store upcycle. And I want a wine jug or three lol for Fall, so off I went.
I wasn't able to find a clear wine jug but I did find three different vases with wonderful shapes.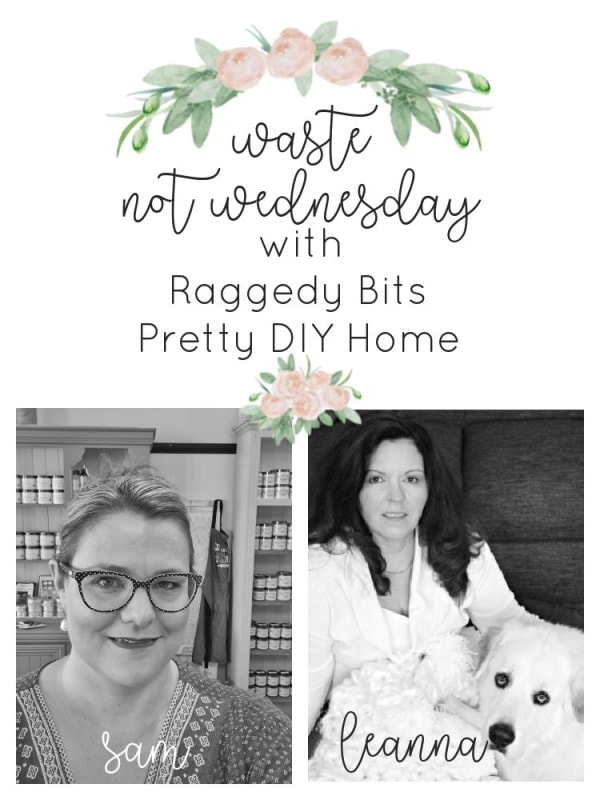 Welcome back to Waste Not Wednesday! For those who have been following along for a while, you'll know Waste Not Wednesday as a linky party. But Sam and I have decided to change things up a bit. Each Wednesday we will be bringing you fun projects not only from us but some of our favourite bloggers. This week's theme is thrift store upcycle!
If your not sure about what type of DIY vase makeover you want to create, make sure to check the end of my post after Sam's, I have added several other gorgeous vase ideas for you, I am excited to try my hand at a couple of them for this Fall.
How to Make a Faux Ceramic Vase Using Paint
You can use whatever latex paint you have on hand, but I wanted particular colours so I bought acrylic paints. Michael's was low on paints so I could not stick with all the same brands. The Black vase is painted in Folk Art Wrought Iron, the Brown vase is Americana Coffee Bean and the Cream Vase is painted in Americana Natural Buff.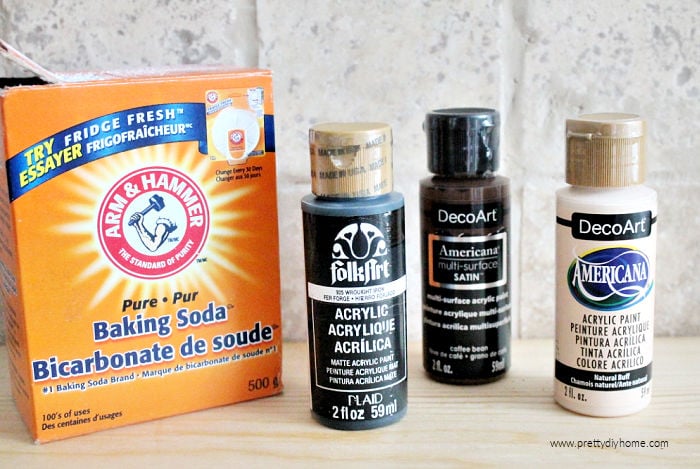 Mixing the Paint with Baking Soda
I mixed my paint with baking soda, some blog suggested equal amounts of paint to soda. The more baking soda the thicker the paint, the thicker the finish, and the harder to do. I did it with different mixes, and my favorite was 2 oz (small bottle) to 2 tsp of baking soda. You don't need to be super accurate, I just put as much paint as I could get out of the bottle and then adding 2 level teaspoons of baking soda, then stirred it well. Between coats I covered the paint, and it thickened even more. Make sure to cover the mixed paint when not in use.
Sanding
I almost forgot to add this step to the tutorial, good grief that would have so bad. Make sure your vases are very clean, I put mine in the dishwasher, and then sand them with 120 grit paper just to scuff them up. Use whatever paper you have handy, just make sure to scruff up the surface to remove shine, and help the paint adhere.
Painting the Vases
I suggest painting the outside of the vases first. For the patterned areas I painted horizontally first. Then I placed the vase bottoms up on my work surface. I painted the smooth sections of each vase starting from the edge of the vertical paint and worked my way upwards until I reached the rim.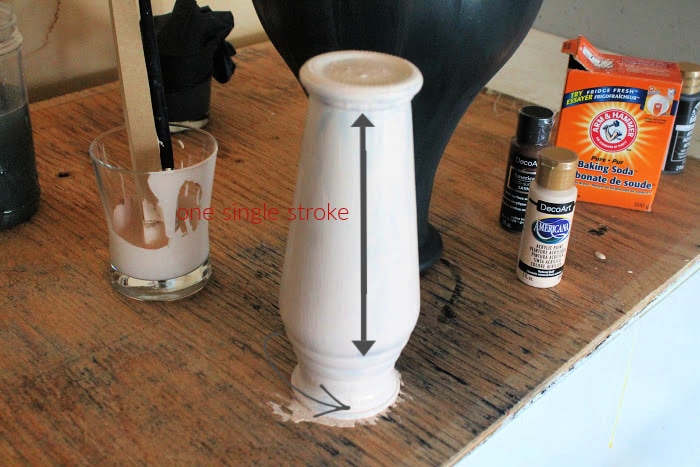 After I had the vase painted I doubled checked for missed spots, or globs and left the first coat to dry for a full hour.
After it was dry, I repeated with a second coat. The thicker brown paint lifted off in small areas, so I repeated with a tiny dab just to cover it. I left them to dry for overnight before flipping over and doing the insides.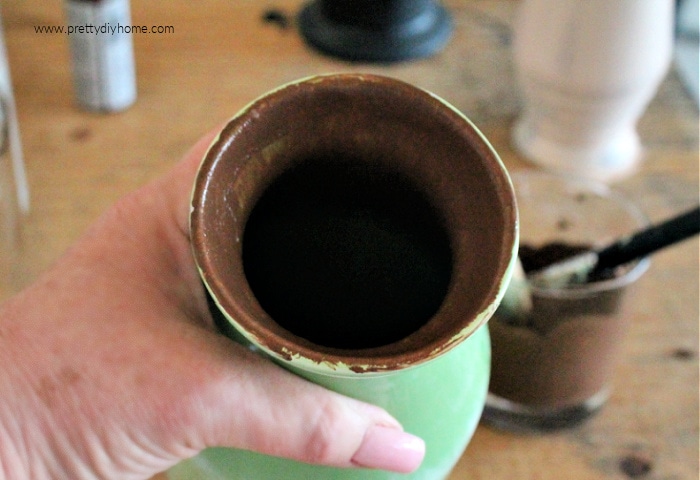 I did this little green vase first and did the inside first, so I had to let it dry before placing it facedown. Do the outside first all the coats, and then do the insides, it work both ways but doing the outside first is quicker.
Small Farmhouse Wooden Beads for the Vase
I am so happy with how the vases turned out especially the large black one. I decided to dress it up the large black vase a little bit with a simple farmhouse wooden bead string with a loop to hold it in place.
To make one you will need 24″ of twine, small beads (dollar store), and some fine wire.
Take one end of the twine and wrap it with the wire, then pinch it in place to hold the twine in place. String with 9 wooden beads.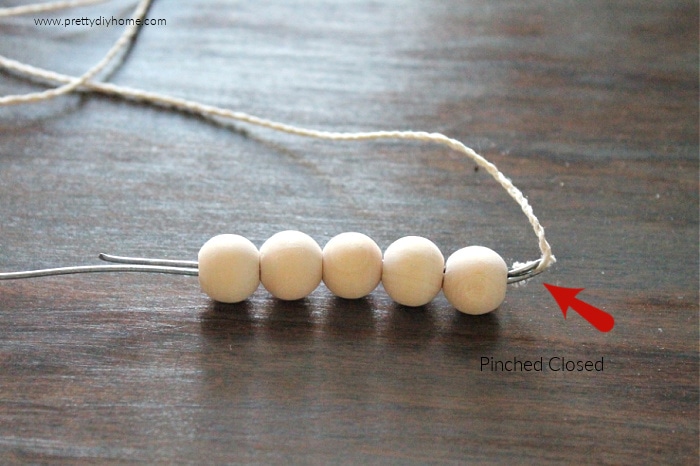 Once you have the 9 beads on the twine, fold the twine in half, push your beads down to the halfway fold.
Fold the beads over to form a loop and then twist. Remove the wire and then wrap it again, but this time do it around both sides of the twine. The rest of the string will have two strings of twine going through.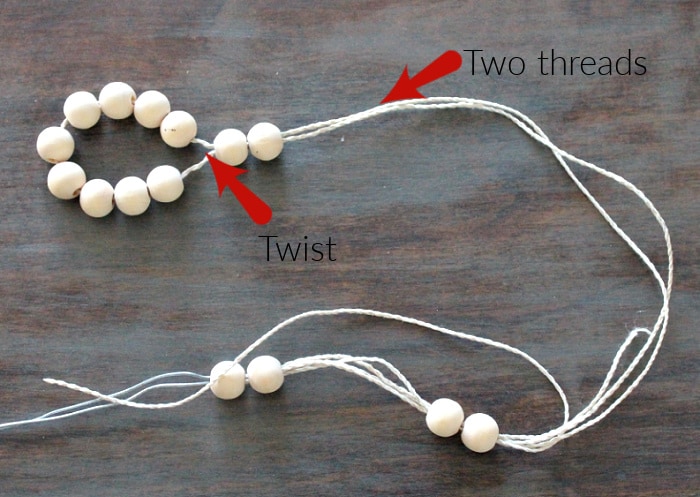 Continue stringing the beads until its the length you like for your vase. Push all the beads together as tightly as possible and tie a simple knot at the end. Make sure the knot is large enough to secure the beads. Trim off and hang around your vase.
You can see how the farmhouse beads breaks up the black against my white wall.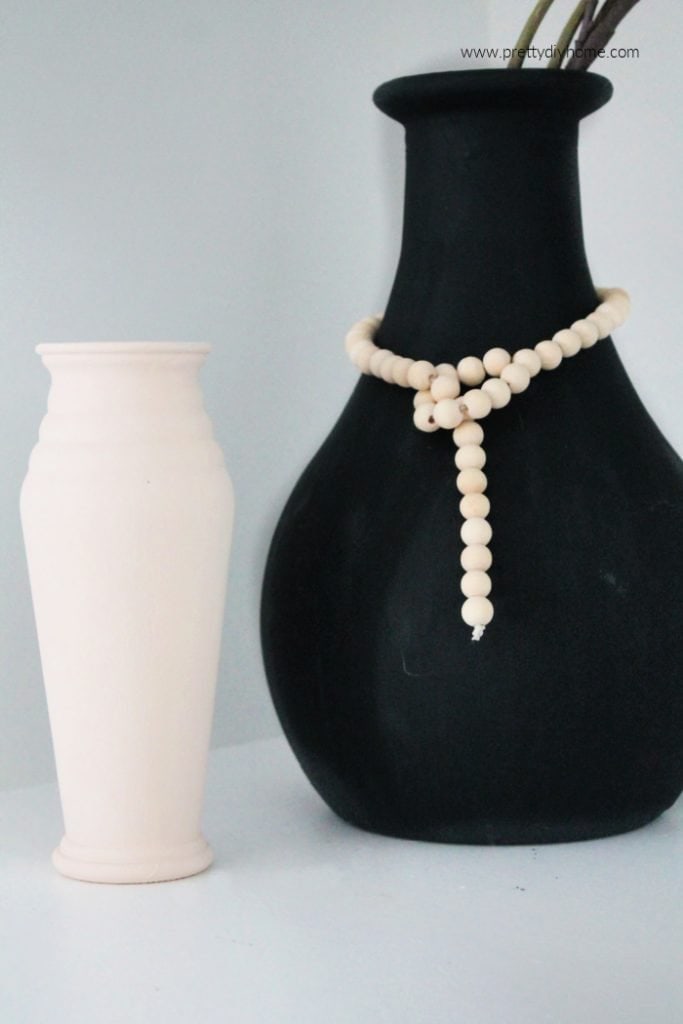 Here are the three vases on my mantel. I love all the earth colours, and the fine texture of the painted finish.
Here is my friend Sam's Upcycled Thrifted Wooden Plate, its so bright and cheerful for this time of year.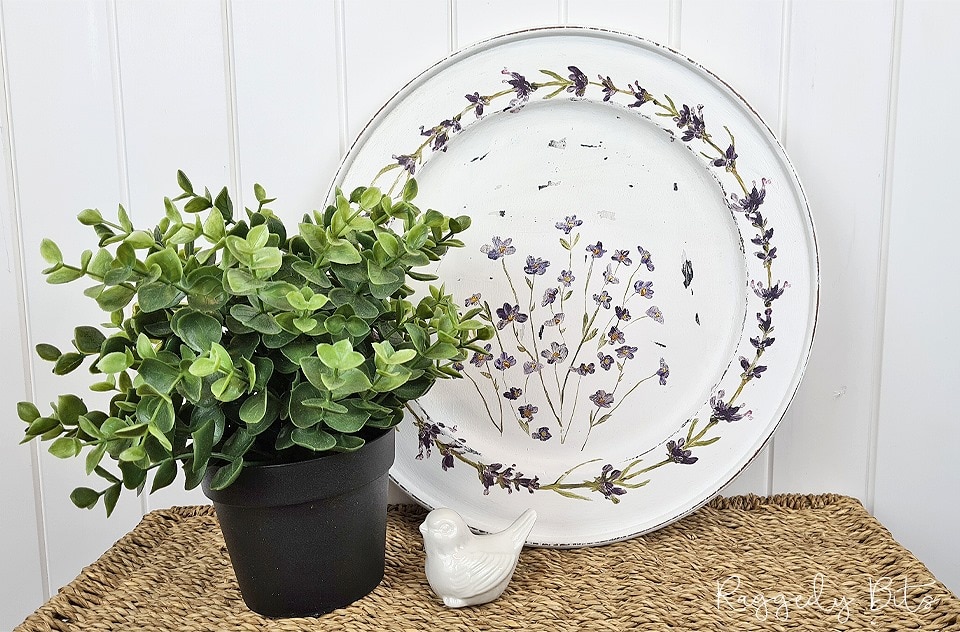 Upcycled Thrifted Wooden Plate from Sam at Raggedy Bits
Some Great Vase Upcycles with Tutorials
DIY Mud Painted Pottery | The Navage Patch
This painted ceramic vase makeover is so gorgeous in crime with the touches of metallic gold.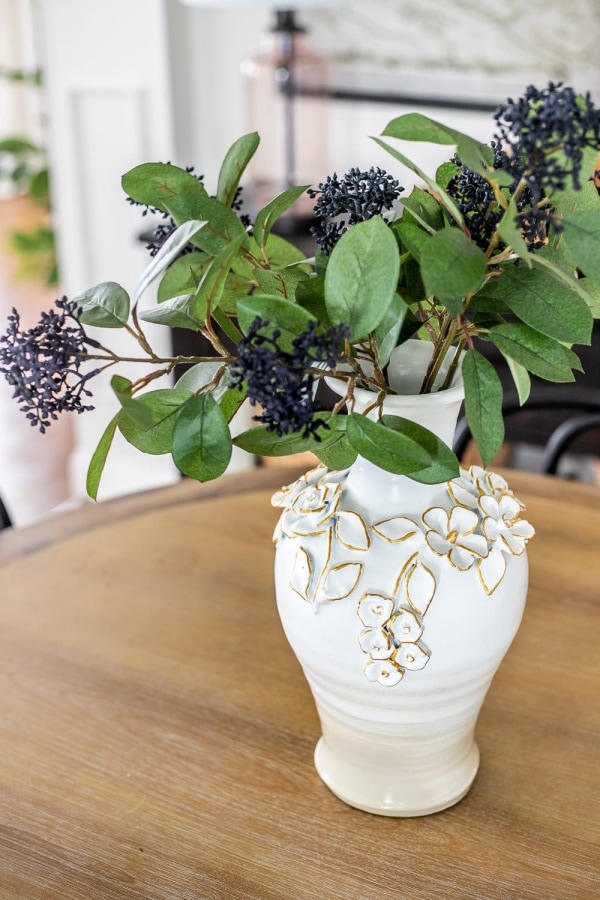 Knock Off Painted Ceramic Bloom Vase | Bless'er House
DIY Pottery Vase | Boxwood and Spruce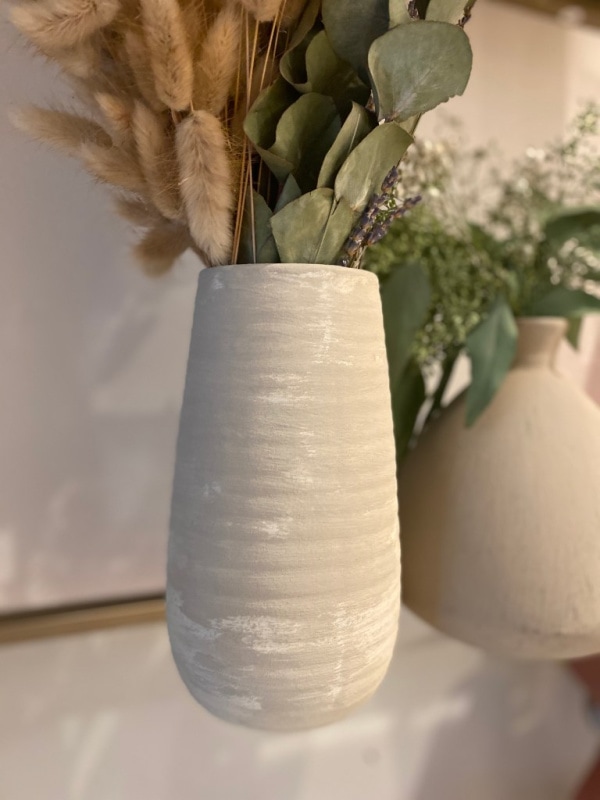 DIY Trash to Terracotta Vase | Bridgette Sheri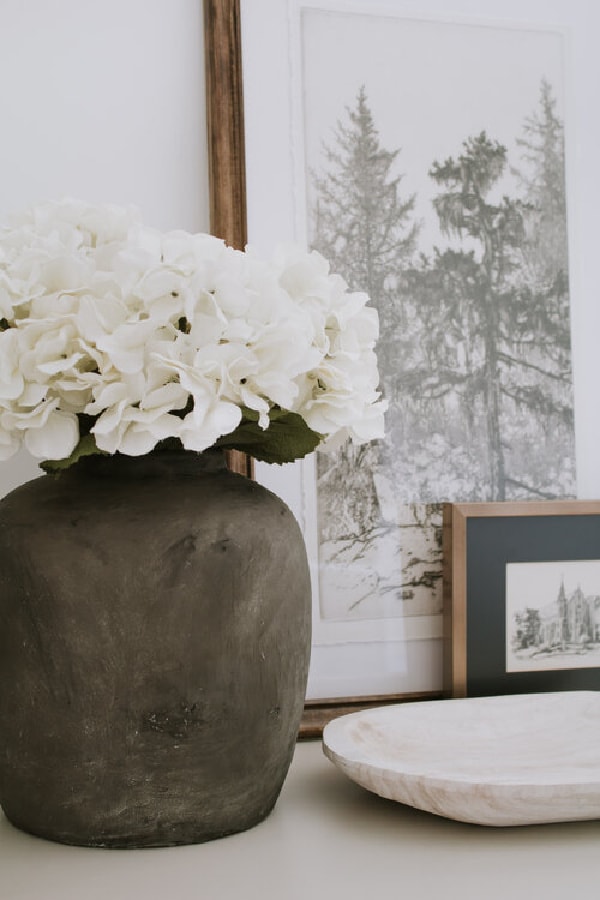 DIY Dimensional Aged Pottery | Nadine Stay