Smores Dessert Recipes for at Home
No smoke, no ants, but lots of Smore flavours. This collection of Smores dessert recipes was super fun to put together. I am amazed at all the creativity and different ways these brilliant bakers came up with for the Smore recipes to make at home and no campfire needed.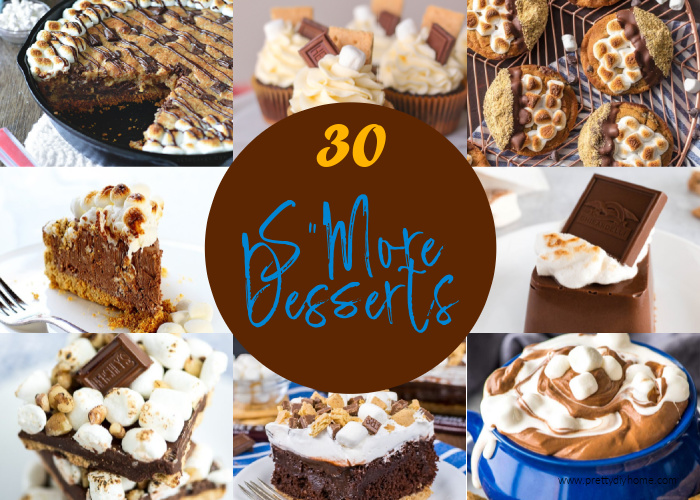 S'more are great around the campfire, but rather messy and for us glampers we can always make one or two of these S'more desserts ahead of time, and pop them in the camper before we leave home.
Delicious, impressive to serve and easy to make. That's the perfect recipe for a busy weekend. This simple S'mores Poke Case starts with a box mix, and it looks wonderful.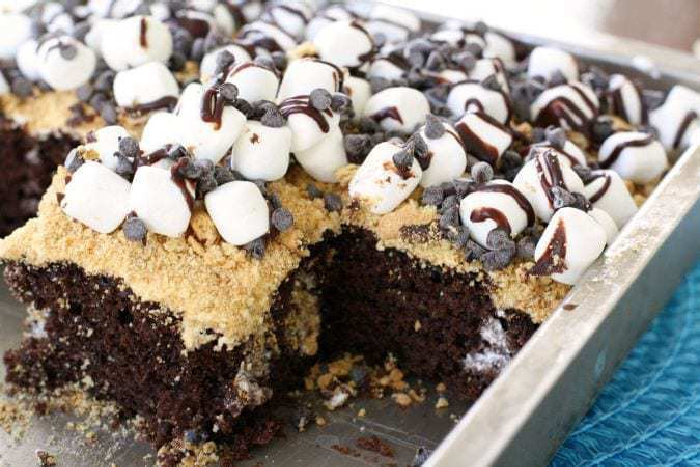 S'mores Poke Cake | Butter with a Side of Bread
One of those amazing and simple recipes that makes you wonder "why didn't I think of that?" Marshmallows popcorn balls with chocolate chips and graham cereal. This recipe is easy enough to make while camping, but you don't need to wait until you do.`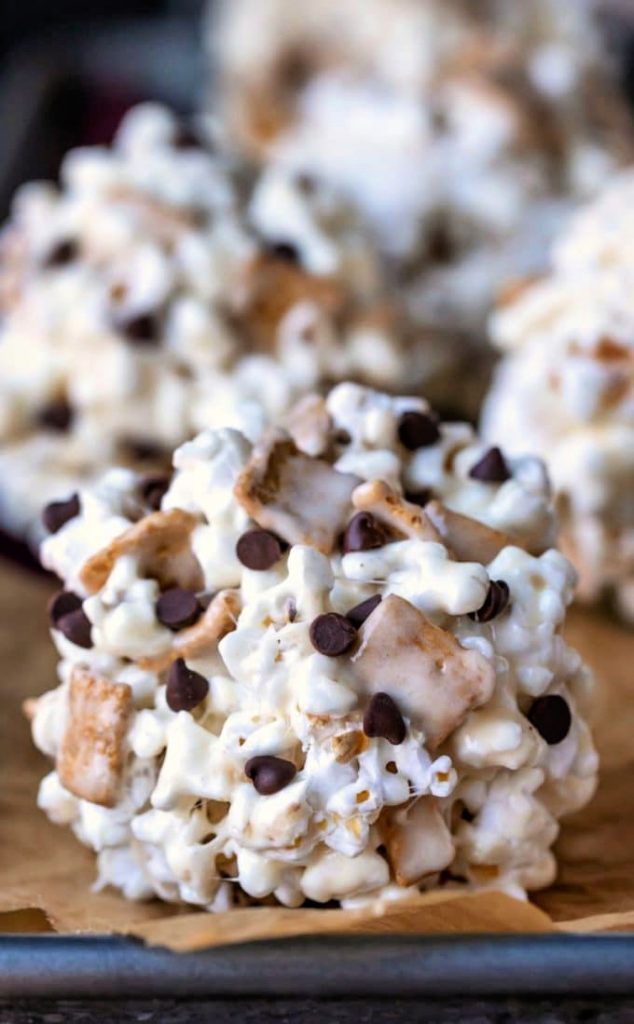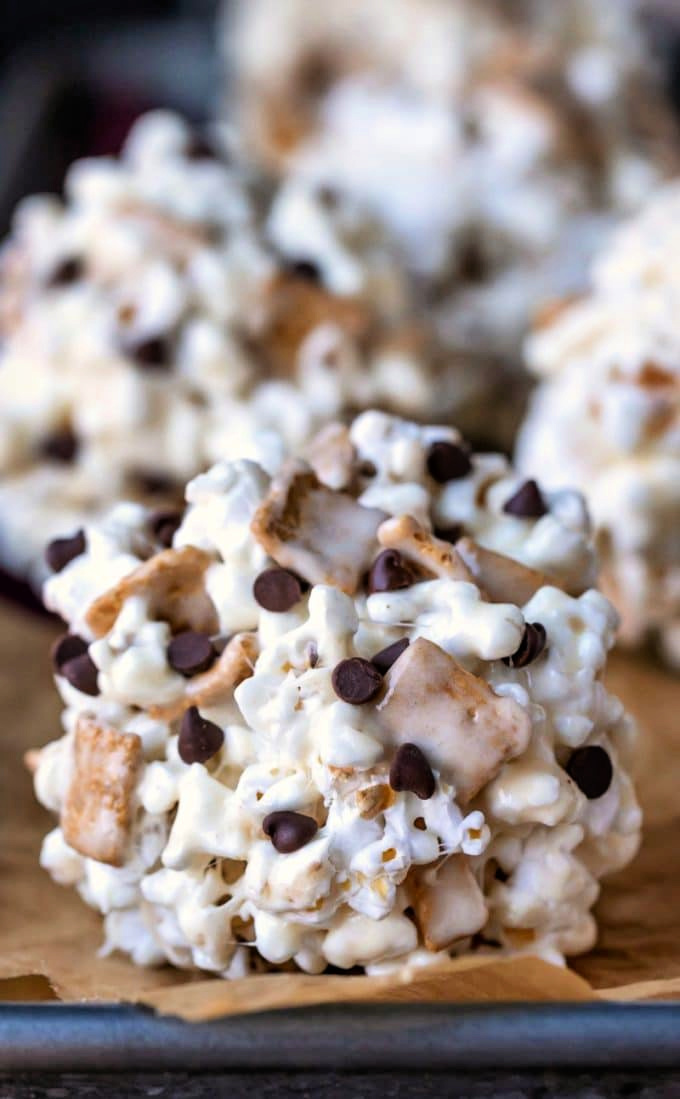 S'more Popcorn Balls | I Heart Eating
Starting with a graham crack bottom, layer of fudgy brownie then covered with marshmallows and chocolate chips. A delicious upgrade to regular brownies.
S'mores Brownies Recipe | Passion for Savings
Can you imagine how excited kids would be to have this casual looking S'mores cake sitting on the counter waiting for them to come home from playing. Yummy.
`
S'Mores Poke Cake | Mirthmade
A velvety smooth and thic cheesecake with hot fudge sauce and toasted marshmallows. A show stopping dessert made for her sister's visit.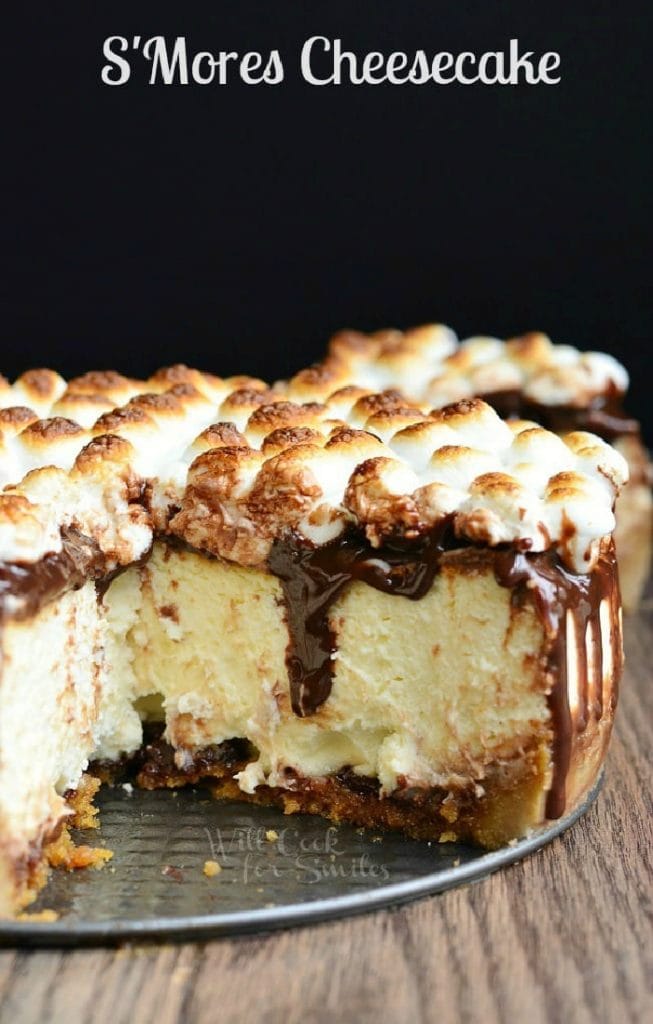 S'mores Cheesecake Recipe | Will Cook for Smiles
These scrumptious gorgeous S'More cookies are made with chocolate chip cookie dough, dipped in milk chocolate and then graham cracker crumbs.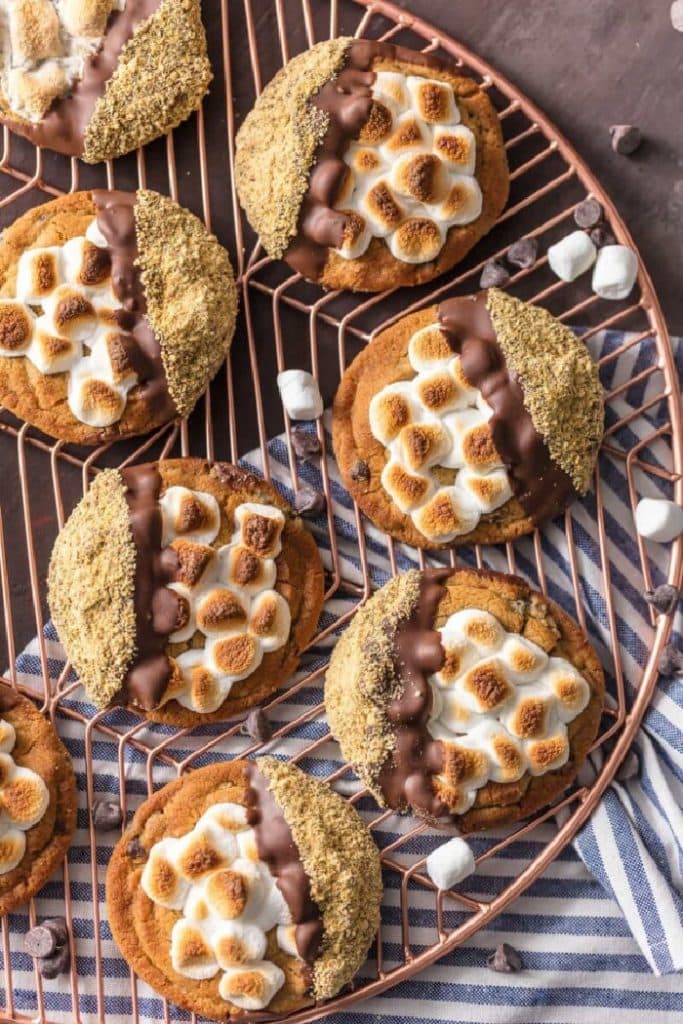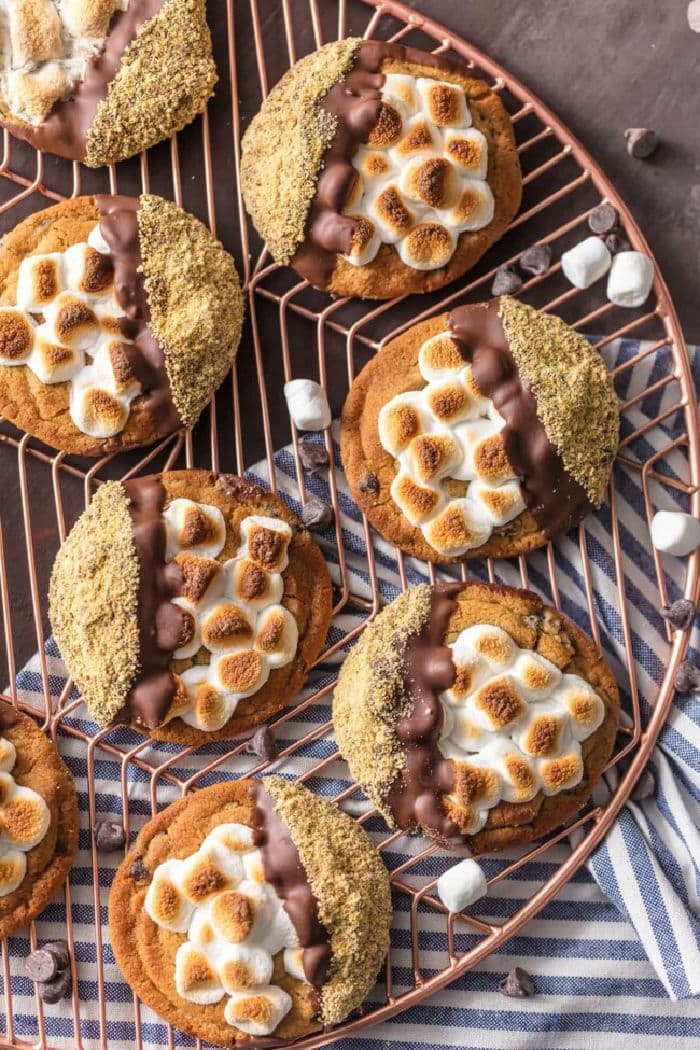 Easy S'mores Cookies | The Cookie Rookie
Make this Chocolate S'mores Pudding Cake, a gorgeous poke cake recipe. I think the way the chocolate pudding blends with the cake layer makes this cake look much fancier than it is to make.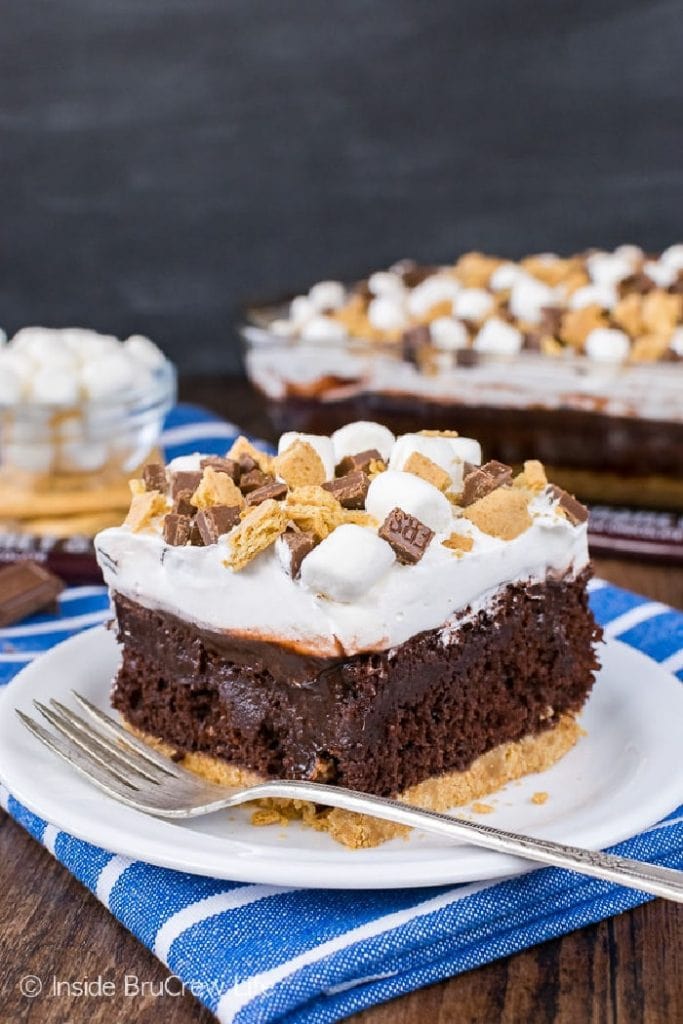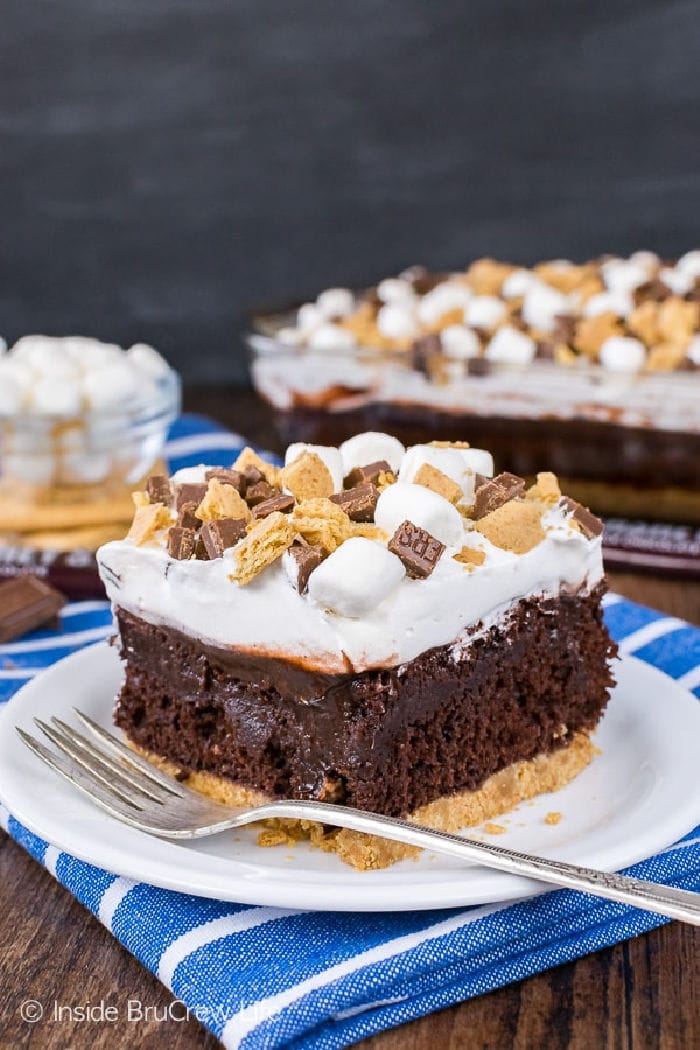 Chocolate S'Mores Pudding Cake | Inside Bru Crew Life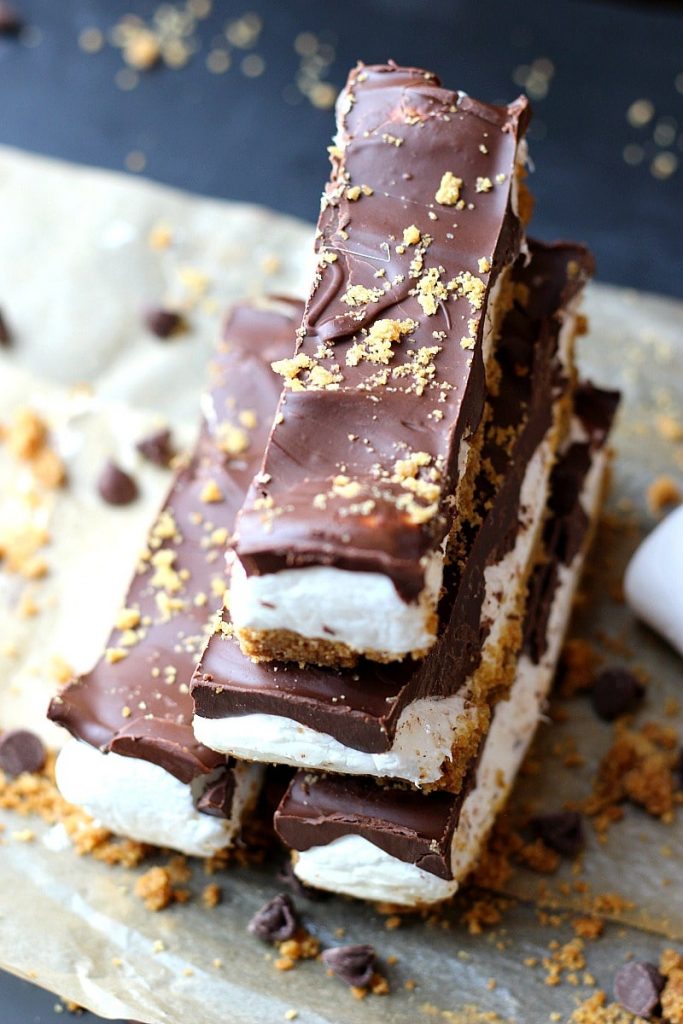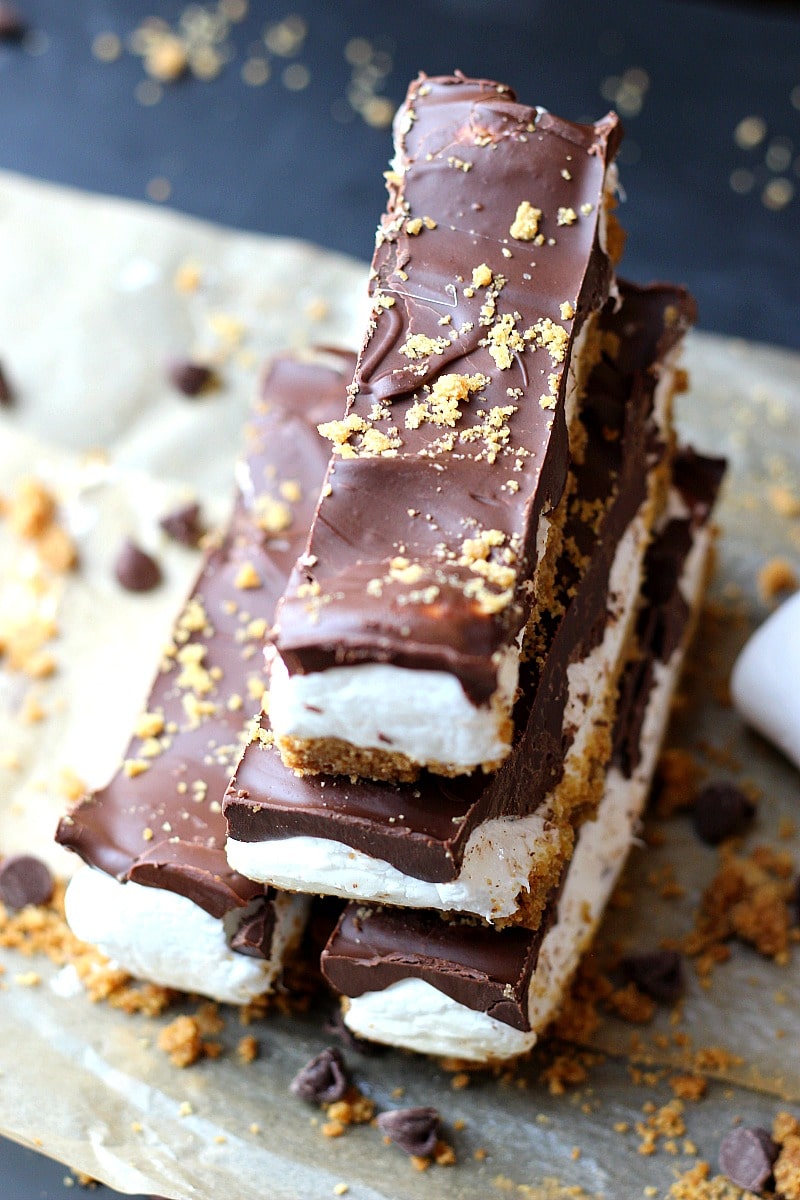 No Bake S'Mores Bars |Garden in the Kitchen
Can you believe I have never made a skillet cookie? I grew up with them and swore I would never own one. After seeing this recipe from Beth Cakes I have some shopping to do. I love this picture showing all the delicious layers.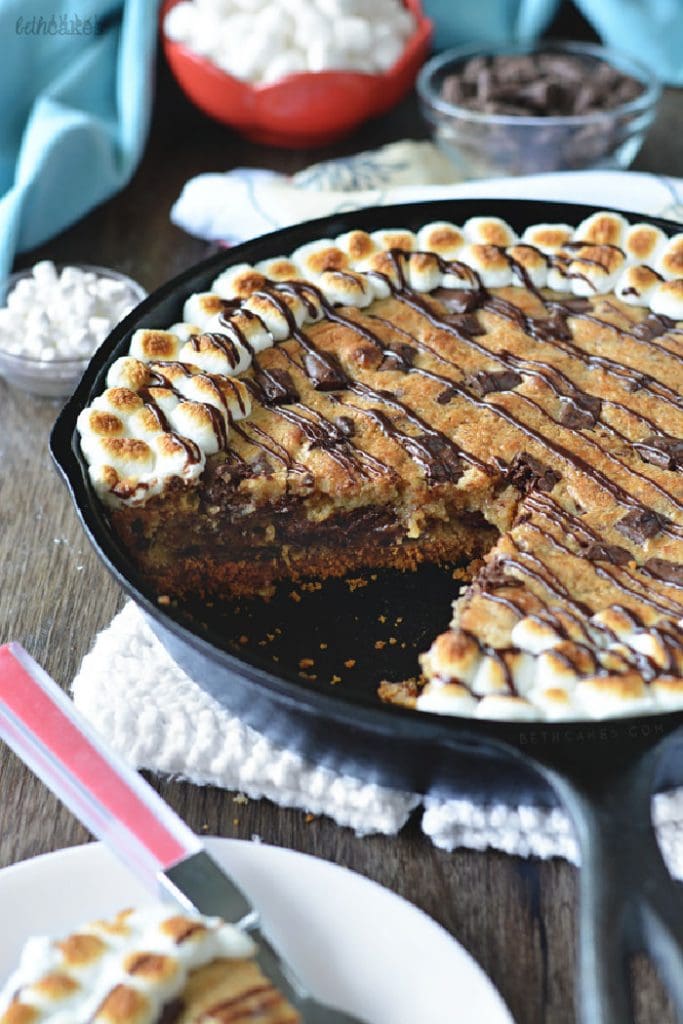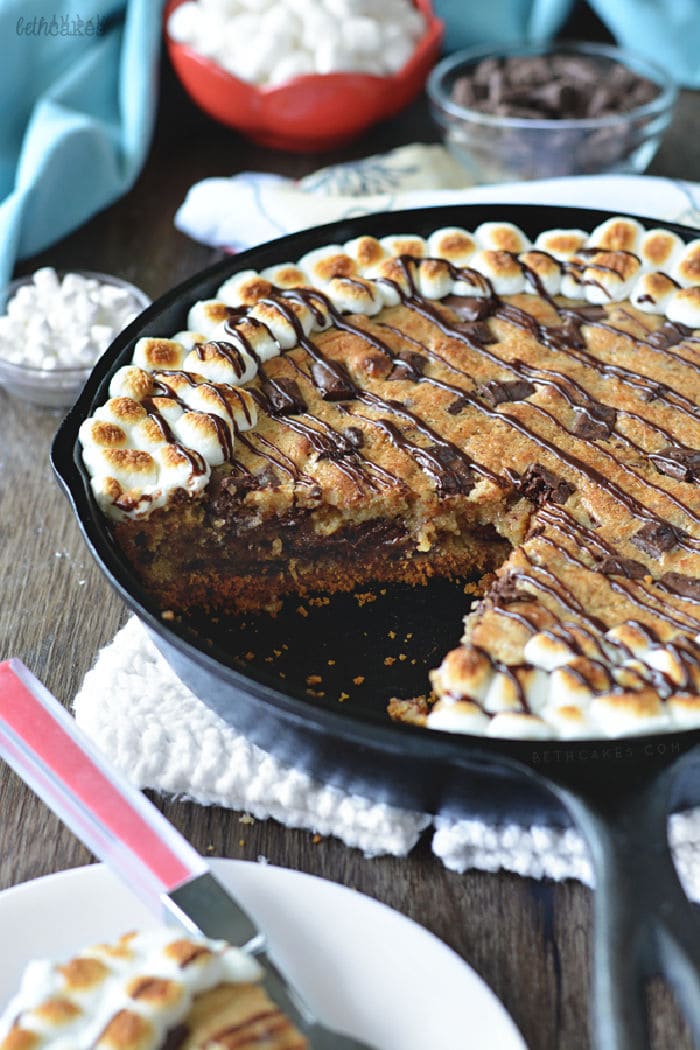 S'mores Skillet Cookie | Beth Cakes
Graham crackers, marshmallow fluff, frozen on a stick and covered with chocolate. Everything served on a stick makes a simple recipe Fun. This recipe is something fun to bake with kids, they would have so much fun decorated these.
S'more Pops | Like Mother Like Daughter
These cute Hershey S'more cupcakes remind me of Ding Dongs I had occasionally as a child. That marshmallow center is so tempting, you just know these little gems aren't dry.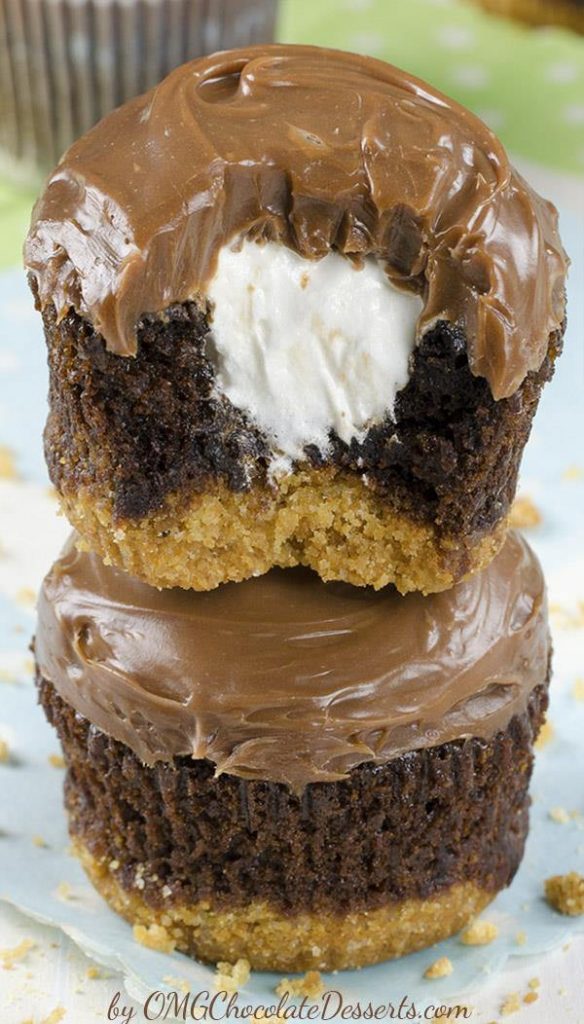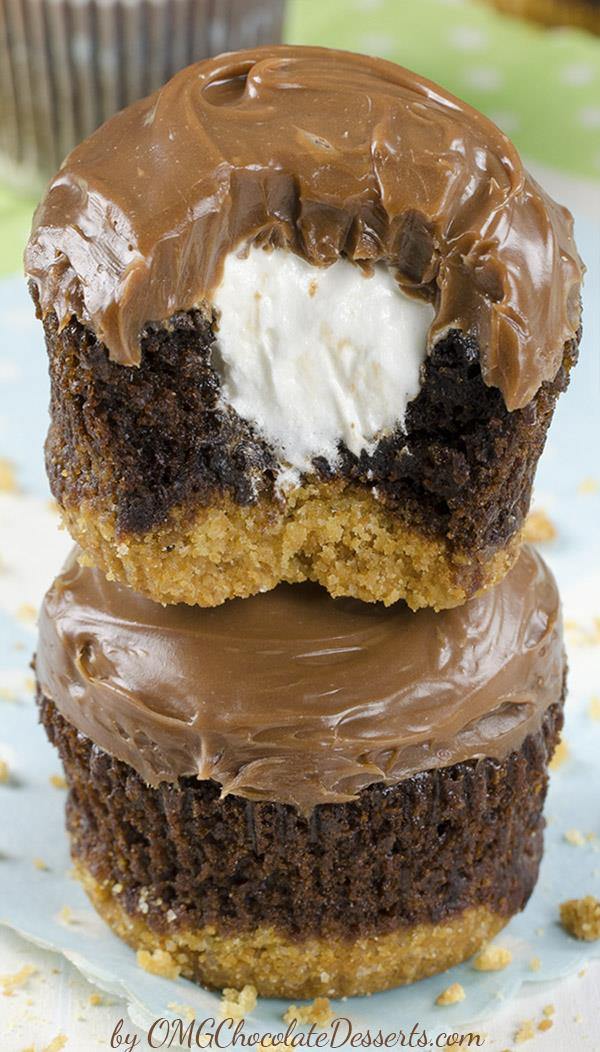 Hershey S'more Cupcakes | OMG Chocolate Desserts
Four easy layers combine together to create this easy and delicious S'mores Pie.
S'Mores Pie | I Heart Naptime
Cupcakes are addictive and I found these little treat really appealing. Just the right size, and I adore how they are decorated.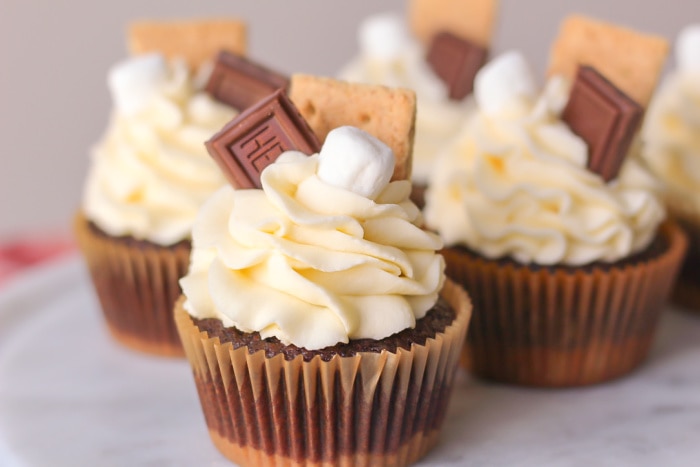 S'mores Cupcakes with Smoked Chocolate Ganache | This Celebrated Life
Graham crumbs, ice cream and toasted marshmallows is just one of the variations for this simple easy to make Smore in a Jar recipe.
Smores in a Jar | Somewhat Simple
Get out the napkins, but these fun Smore Ice Cream Sandwiches are worth it on a hot day.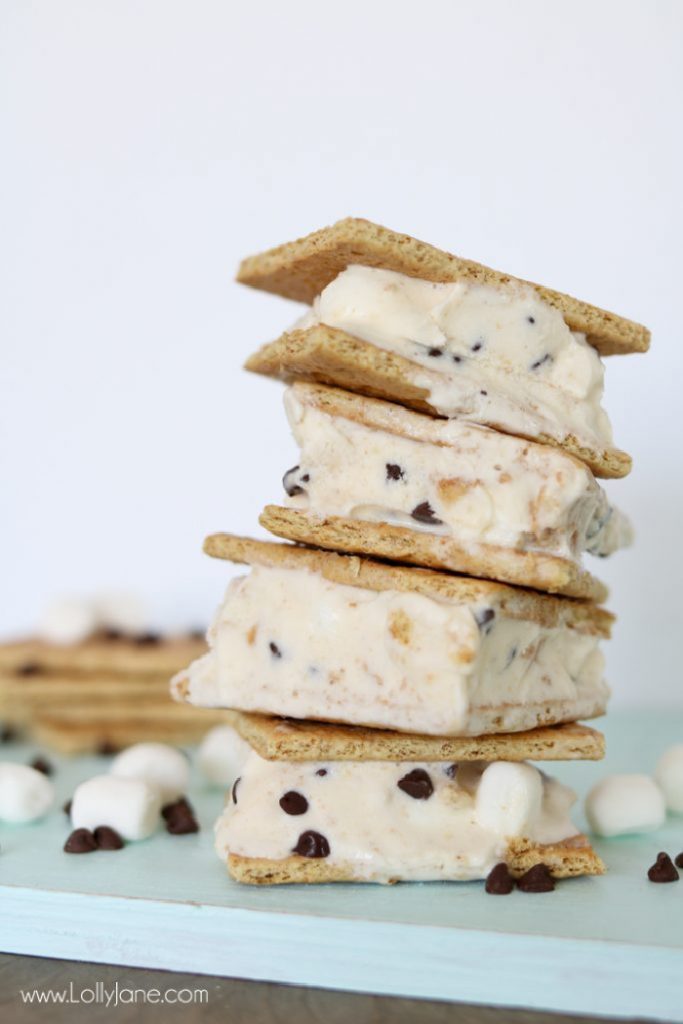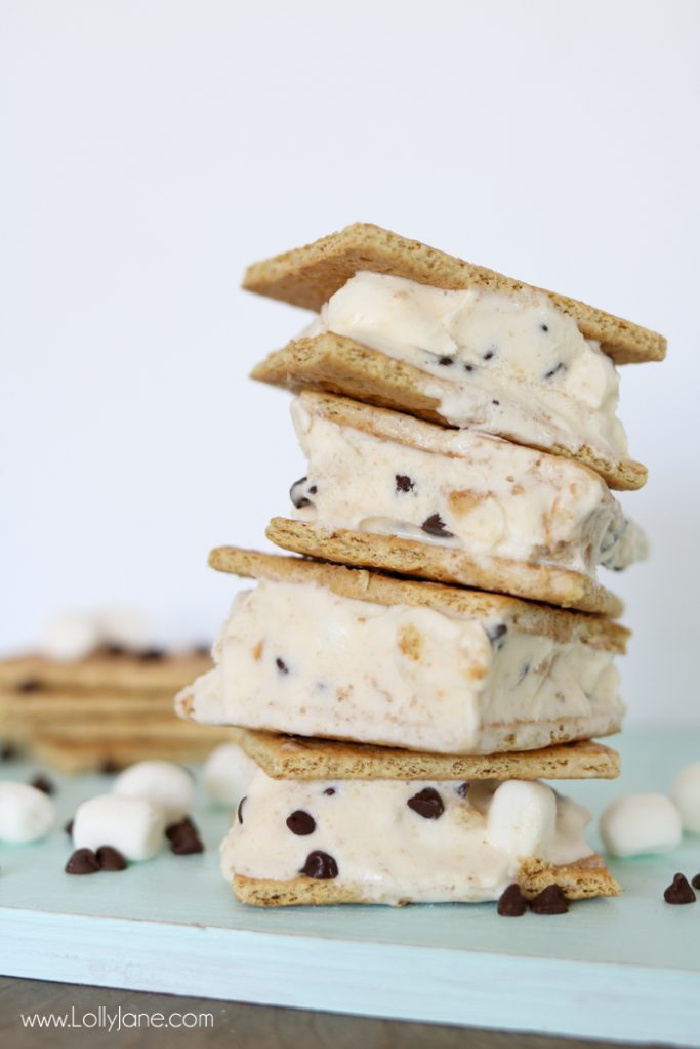 Smore Ice Cream Sandwiches | Lolly Jane Blog
Get the oooey gooey goodness of smores, without baking. I am a total fan of no bake desserts in the summertime.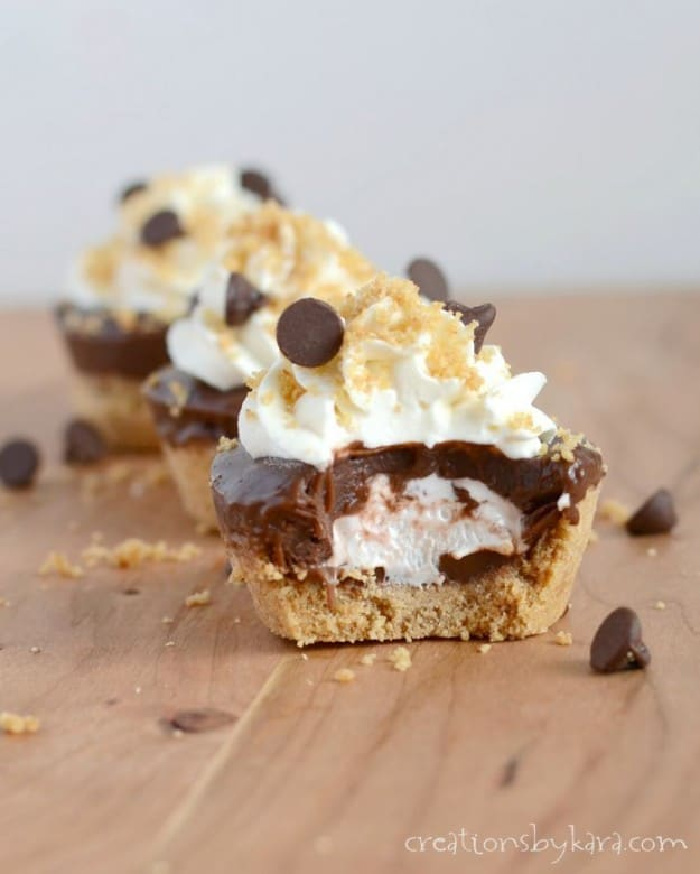 Easy Frozen Smore Cups | Creations by Kara
Graham crust, chocolate cheesecake and marshmallows. The thick layer of very chocolately cheesecake looks extra decadent. My family would devour this dessert.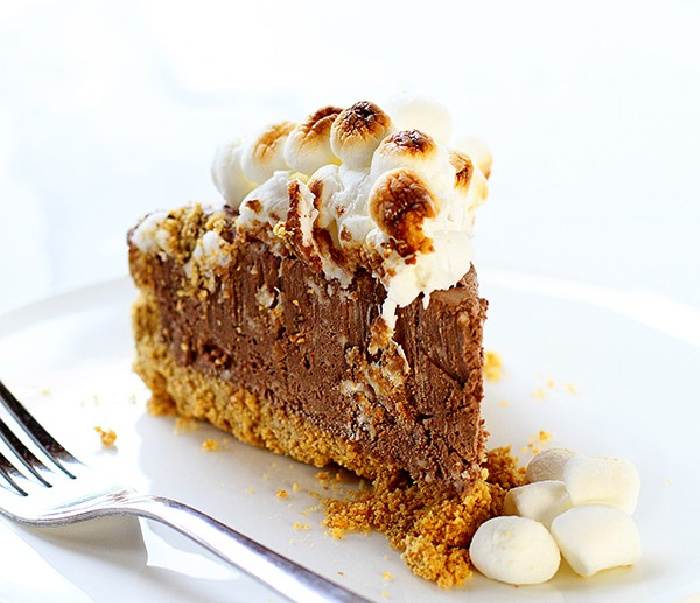 Frozen S'Mores Cheesecake | I am Baker
A fun chilled S'mores Milkshake with toasted marshmallow, graham crackers and of course chocolate!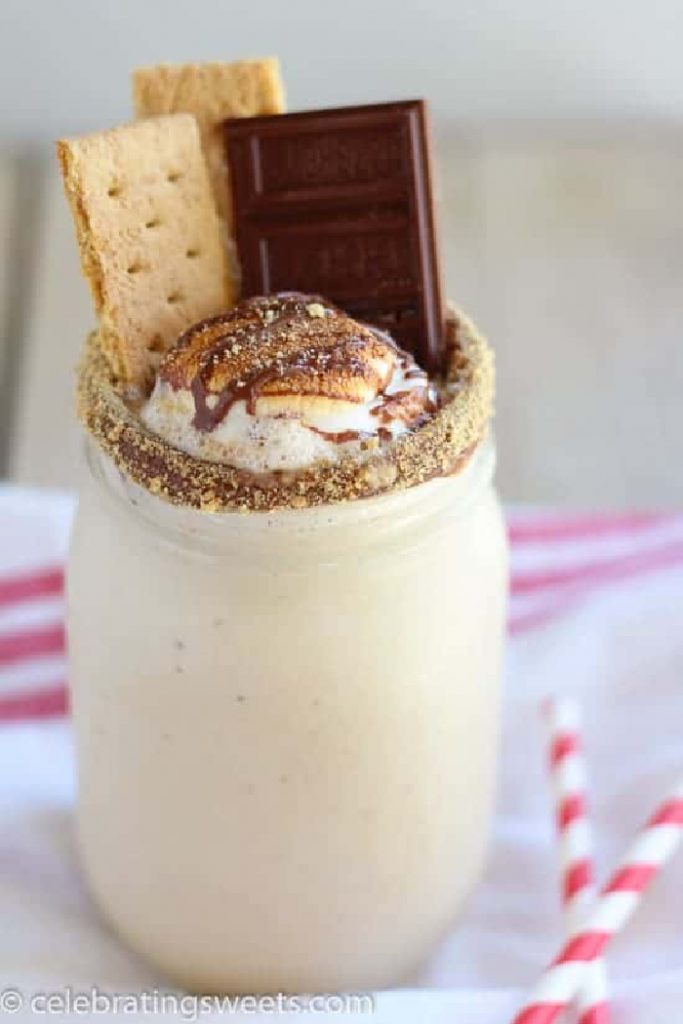 S'Mores Milkshake | Celebrating Sweets
A super quick no bake Smores recipe. These are perfect for back yard play dates, or picnics at the park.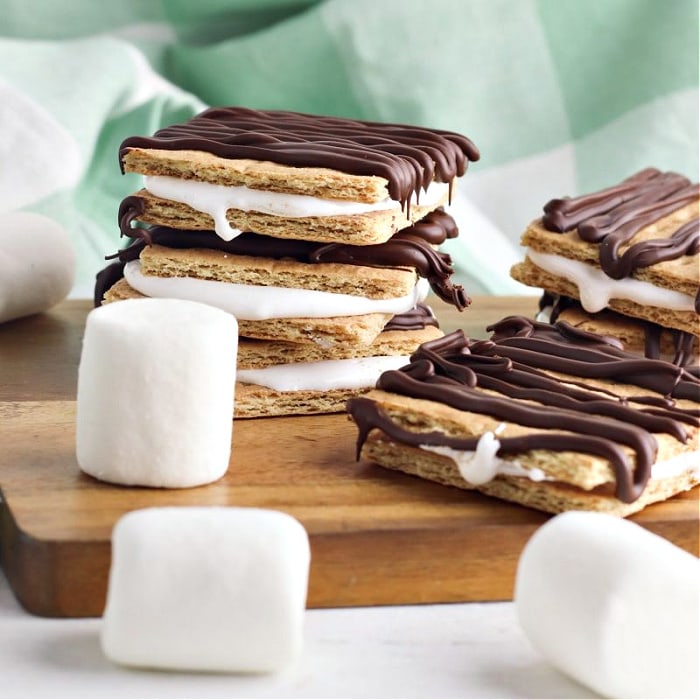 No Bake Smores | Hello Creative Family
A smore candy bvark made with layers of graham crackers, melted chocolate, toasted marshmallows, nuts and miniature Hershey's chocolate bars.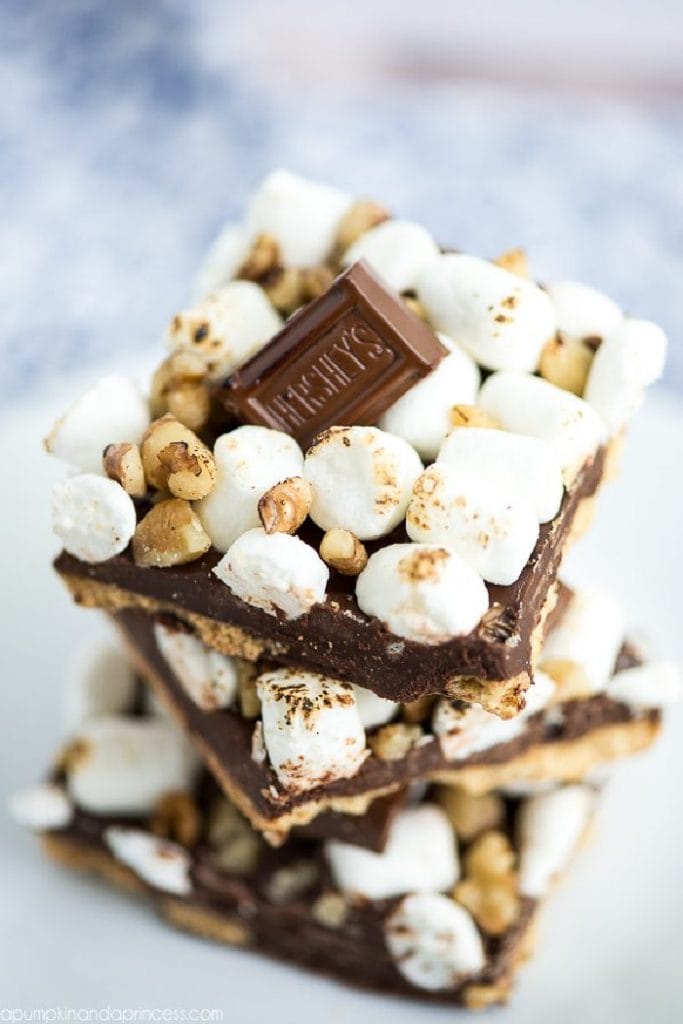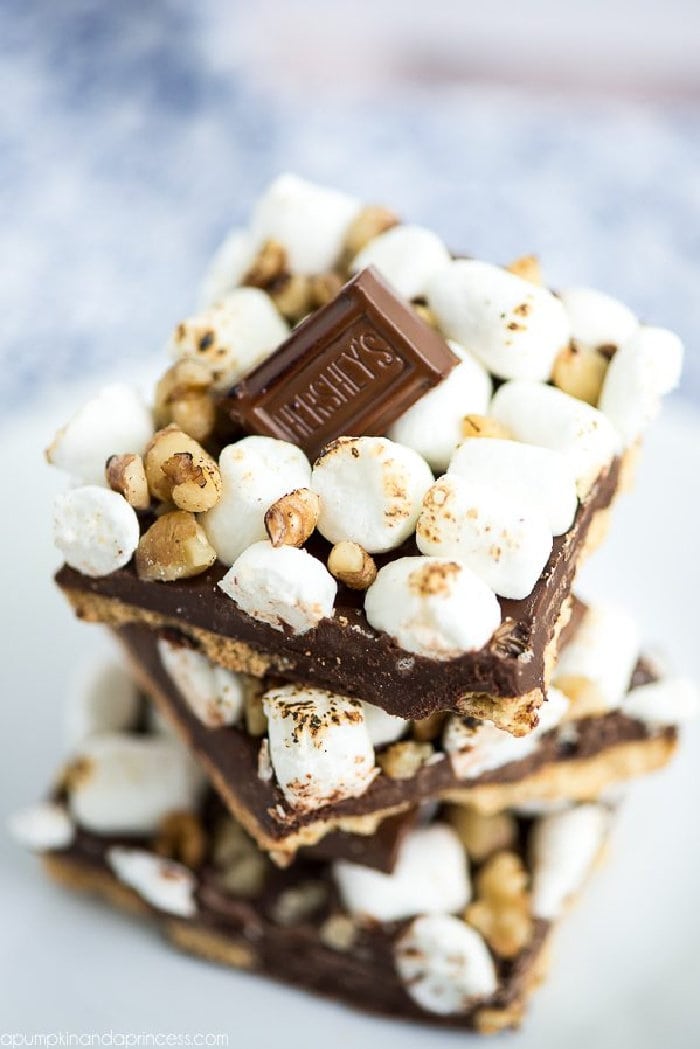 Rocky Road Smores Bark | A Pumpkin and a Princess
S'Mores cake made into a swiss roll, just a little bit fancier, doesn't this look appetizing?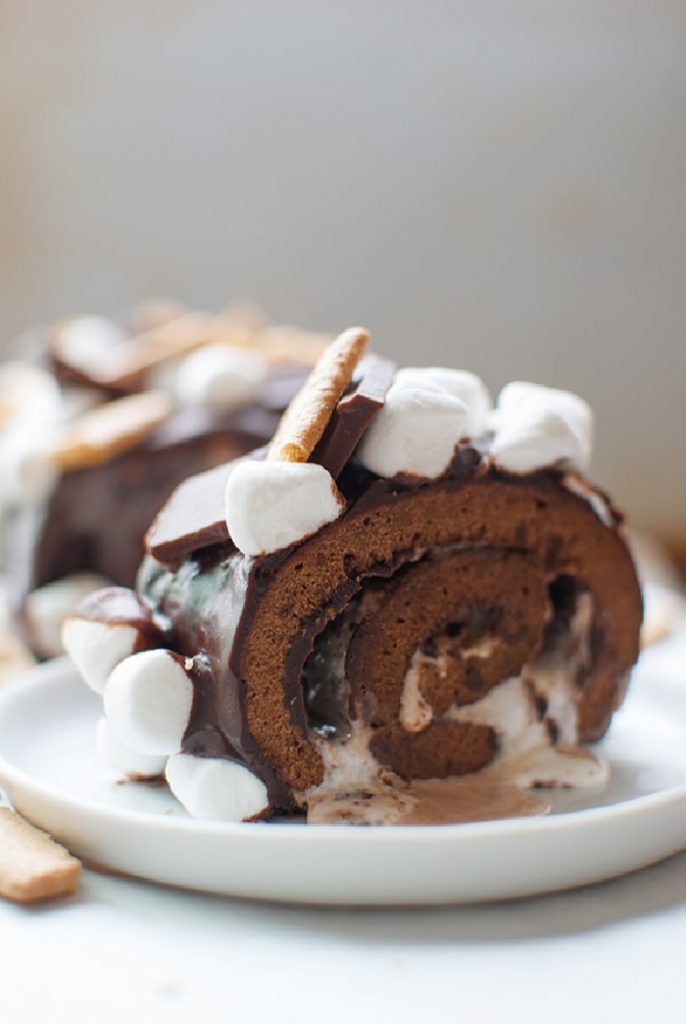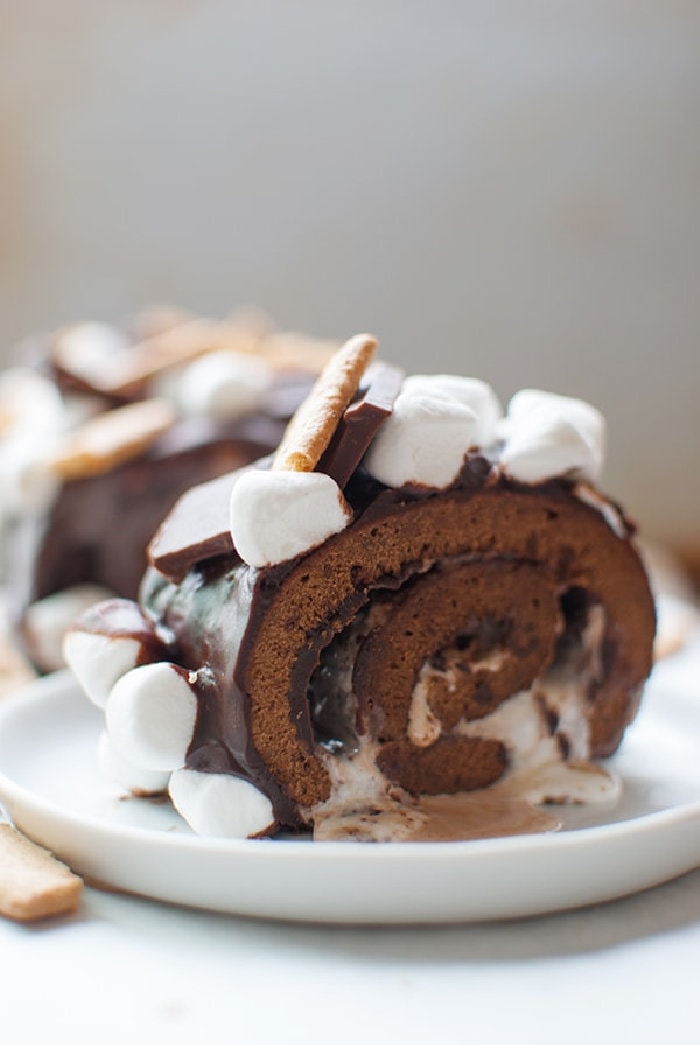 S'Mores Swiss Roll Cake | Let's Eat Cake
Two of my favorite recipe words for Summer, No Bake! Marshmallows and homemade chocolate cream swirled together into a sweet S'mores dessert dip.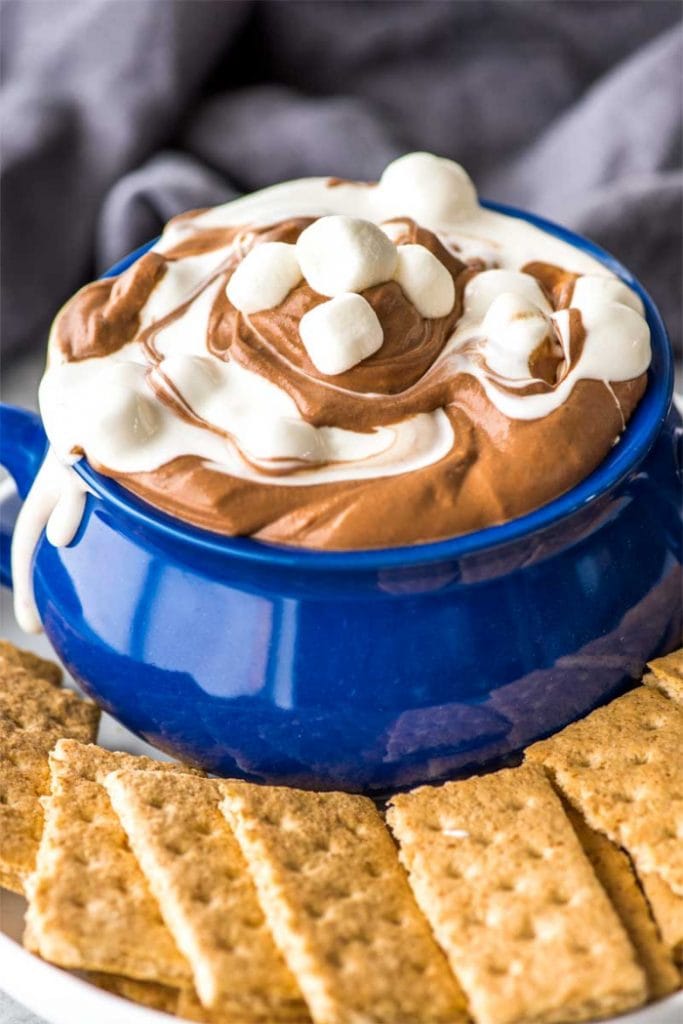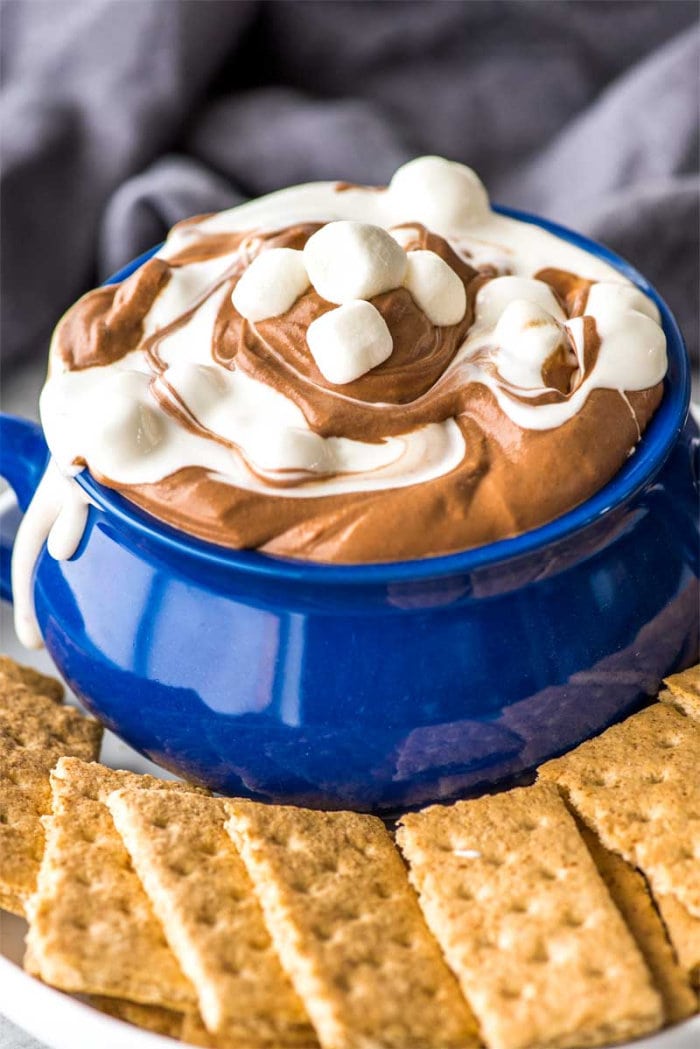 Fluffy S'mores Dip | Homemade Hooplah
The icing in this ultimate smores cake has marshmallows you broil in your oven, then add them to butter, icing sugar and marshmallow cream. And on top of that look at how beautiful this cake is.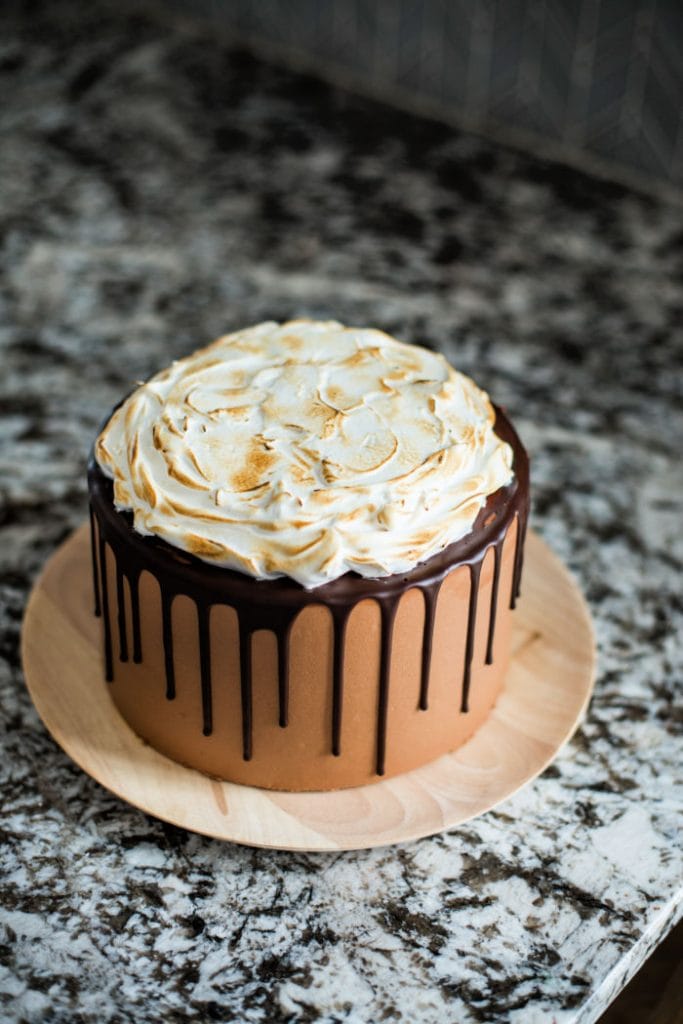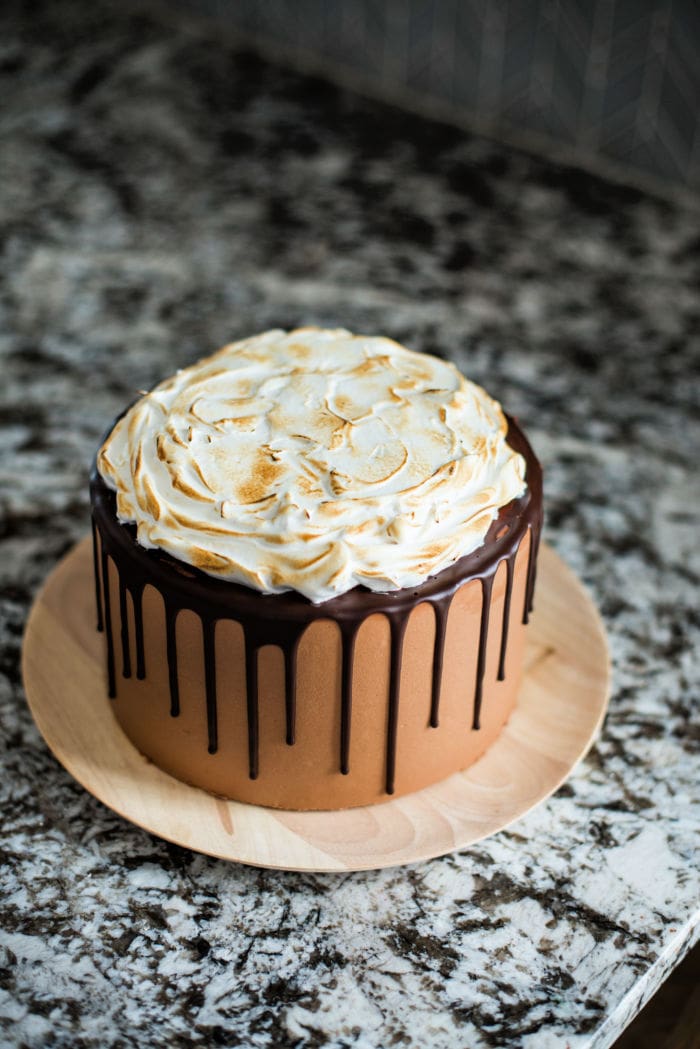 Ultimate Smores Cake | Cake by Courtney
This icebox cake whips up in 20 minutes. The layers are so appealing.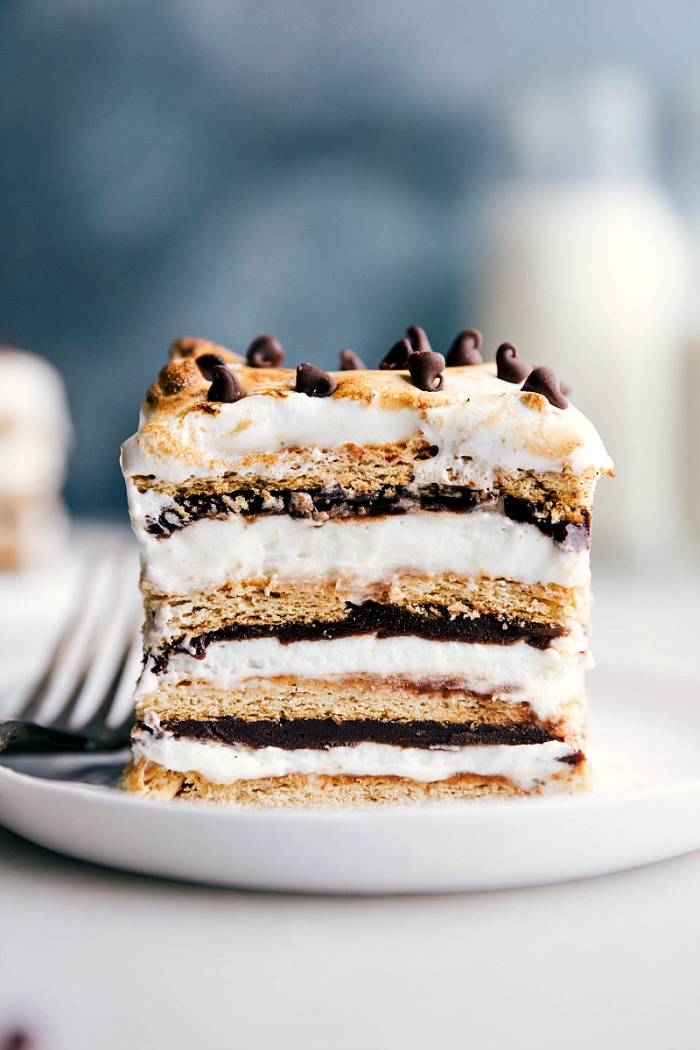 S'Mores Icebox Cake | Chelsea's Messy Kitchen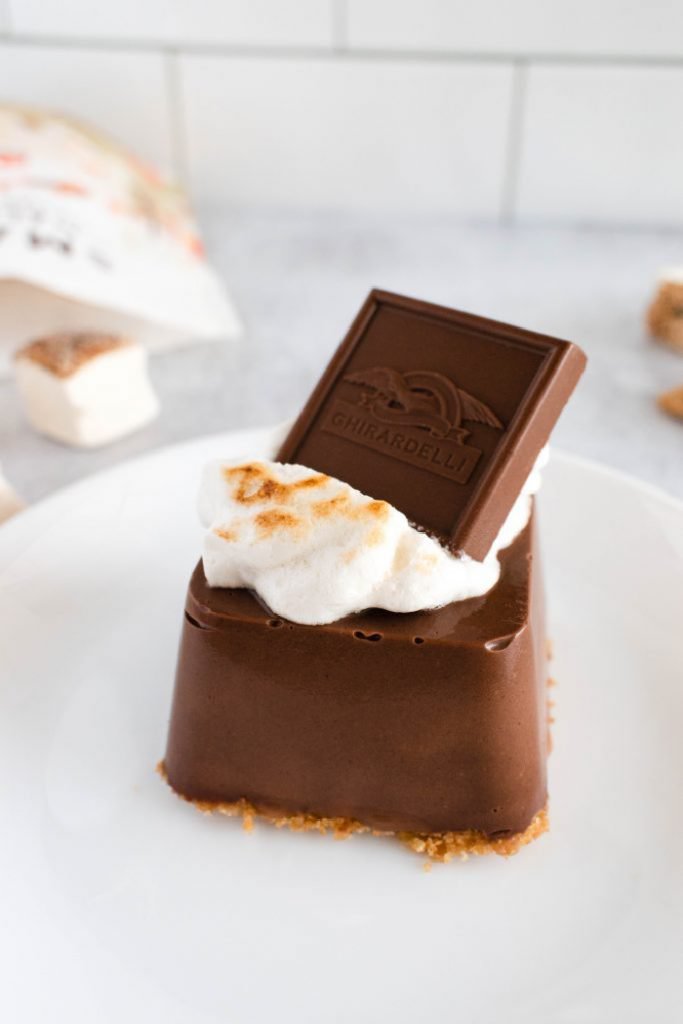 S'mores Mousse Cups | Wonder and Charm
This recipe has me daydreaming about a walk in the park on an amazingly hot sunny day. These S'more ice cream pops look so refreshing for Summer.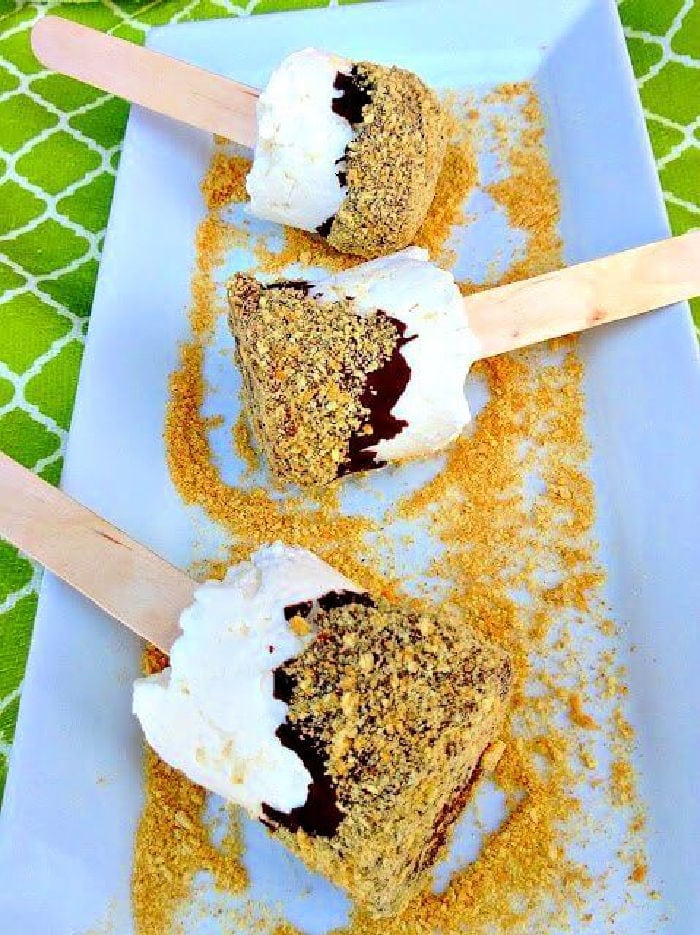 Smore Ice Cream Pops | Lou Lou Girls
A fancy schmansy delicious decadent S'mores tart. These little S'more tarts are just fancy enough to end a summer dinner party.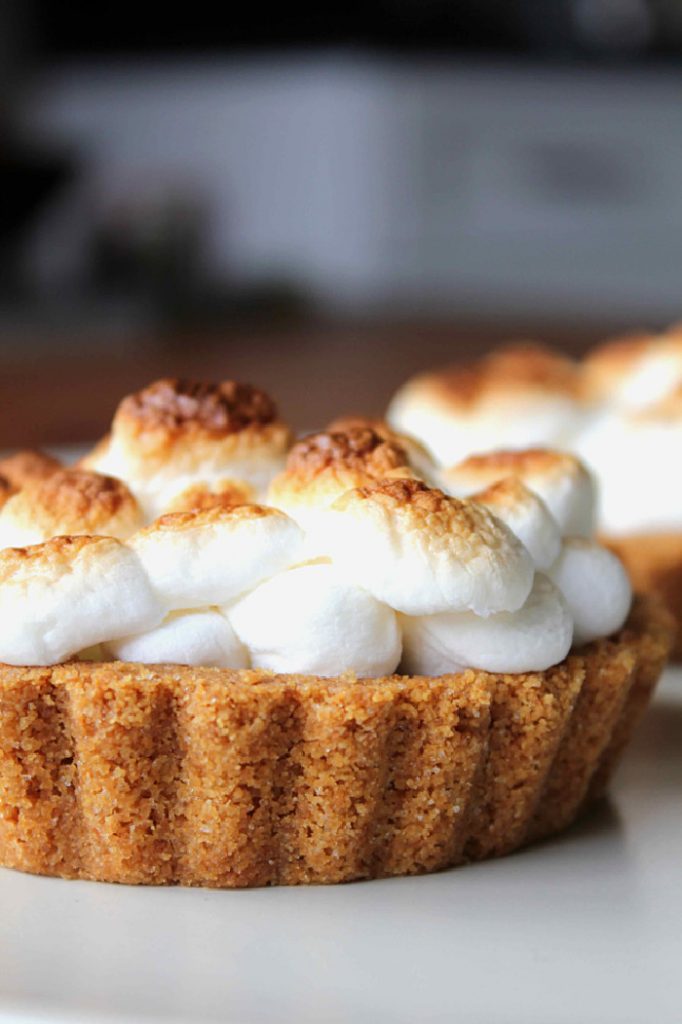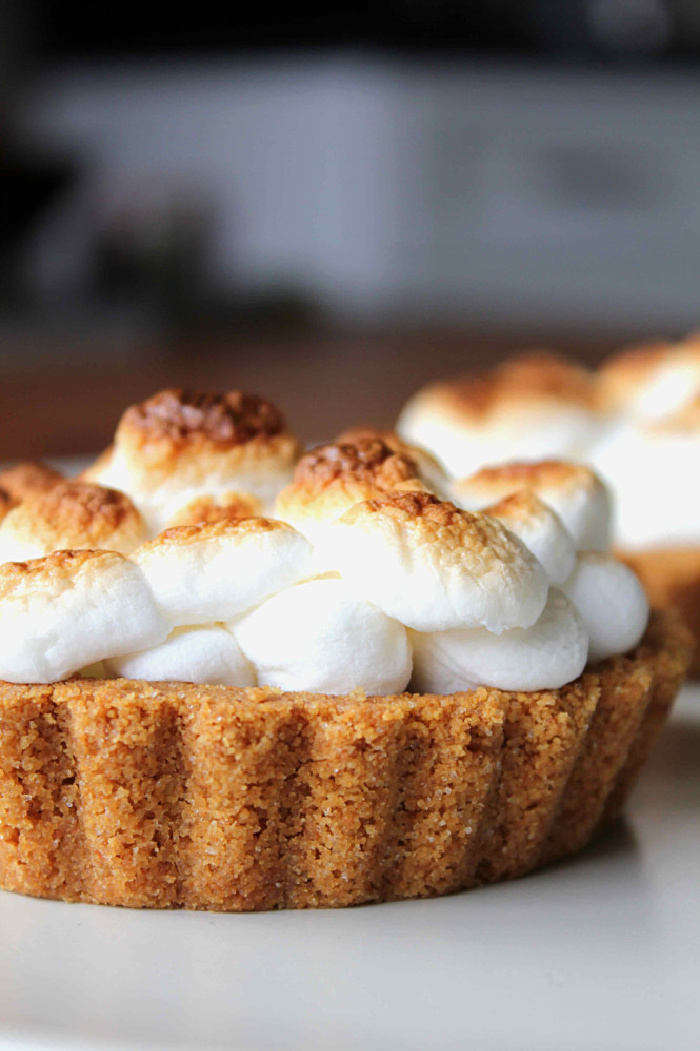 S'Mores Tartlet | Oh Sweet Day Blog
S'more truffles with cookie dough filling, marshmallows, crushed graham cracker and then decorated withj more mini marshmallows and crushed graham crackers. These look good enough to serve at Christmas.
No Bake Smore Truffles | Delicious Table
A scrumptious take on this iconic summer dessert.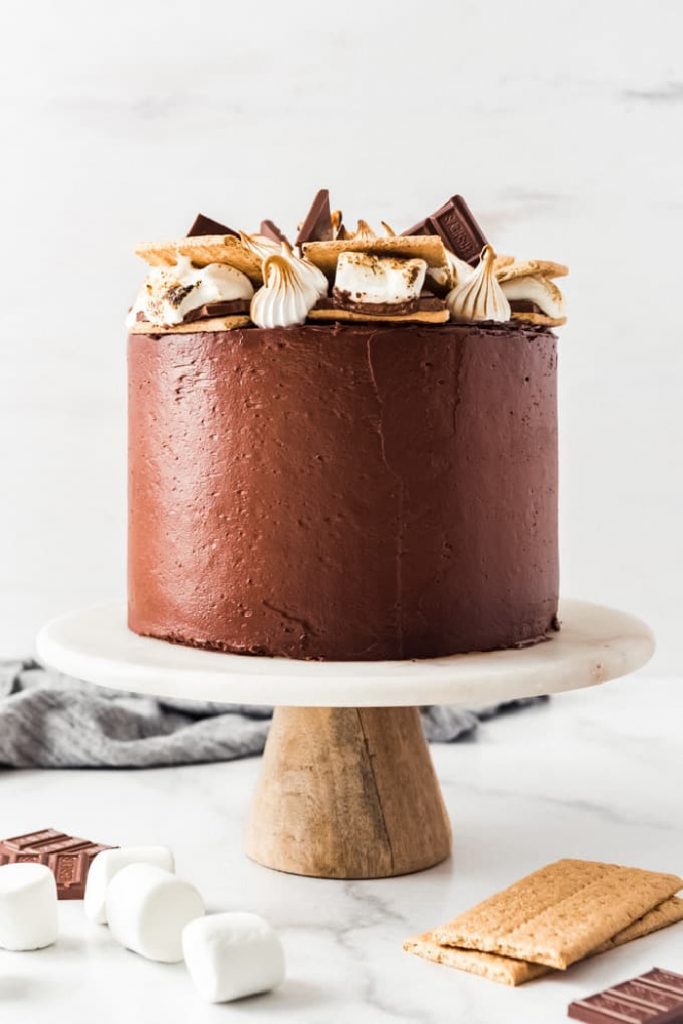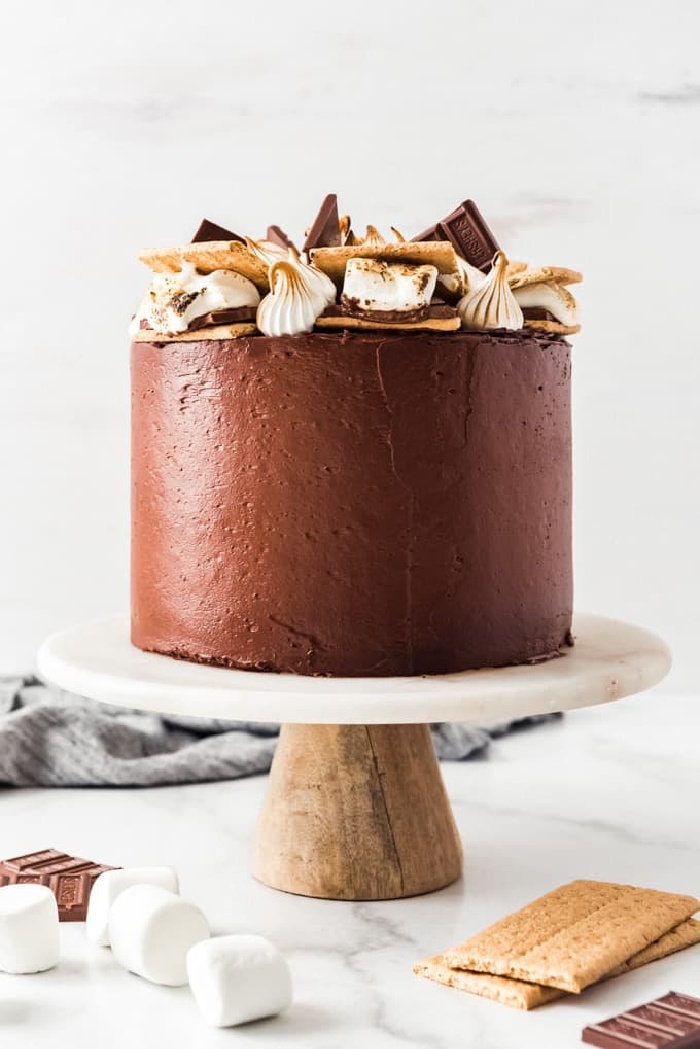 3 Layer S'Mores Cake | House of Nash Eats
This is a very special looking cake that looks like a pastry chef made it. I never knew the simple S'more could look so elegant.
S'Mores Chocolate Mousse Cake | Julie Marie Eats
Our next trip out with the travel trailer is going to be tasty and there are more than a few of these recipes to make with kids, and your favorite chocolaholic of course will love them all.