How to Make Bunny Easter Eggs
Bunny Easter Egg Decorating for Kids and Adults
Easter bunnies are such a big part of Easter decor and why not, they are charming, cute and adorable. Easter egg decorating is a seasonal past time for every family. This bunny Easter egg decorating craft uses natural brown eggs and no food dyes. These eggs are an easy Easter egg decorating craft for kids and adults and their no messy dyes to worry about or wet mess to clean up.
My favorite bunnies are the lop-eared bunnies. They are just so sweet with their long floppy ears trailing down. I really would love to have a lop ear rabbit as a pet, but it wouldn't be fair to the rabbit because of my much loved dog.
h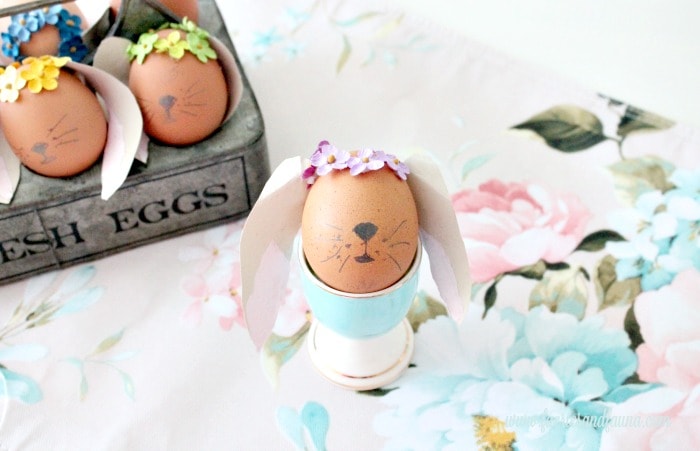 j
You can either boil the eggs or blow them out. Just remember that there will be glue dots on the exterior of the shells if you decide to make edible bunny eggs.
How to Blow Eggs for Decorating
Blowing out real eggs is very easy, it takes a few steps and you may break a couple of eggs, but it does work well and you don't need anything special to do it. Blowing out your eggs, allows you to keep using them for years. Well worth the time especially if you eggs are super pretty and adorable.
To hollow out eggs you will need:
[one-half-first]
Eggs
Towel
Bowl
Tape
[/one-half-first]
[one-half]
Small-headed pin
Large sharp darning needle
Juice box straw[/one-half]
Wash the eggs, place on a clean towel with the needles, straw, and a bowl.t
g
Firmly grasp the egg. Poke the egg in the pointed end first, apply steady pressure and twist. You will feel the needle slowly grip and then drill through the eggshell. This may take up to a minute or so, so be patient.l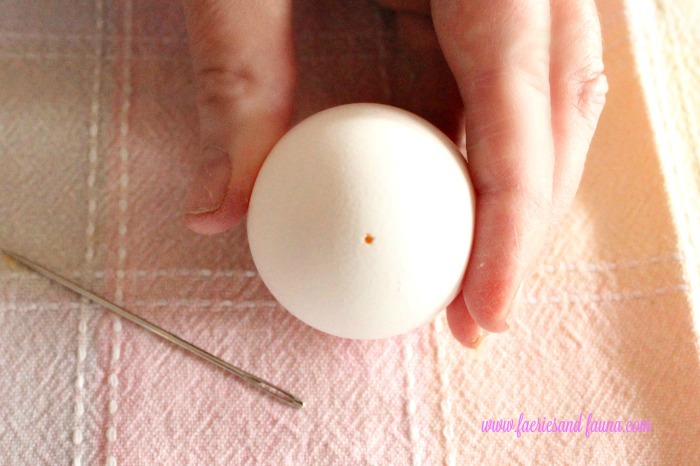 t
Once the small pin breaks the surface, apply tape over the hole. This will help prevent cracking.
Insert the large darning needle. Twirl it around gently and plunge in and out of the egg to break the yoke and sort of scramble the insides.
s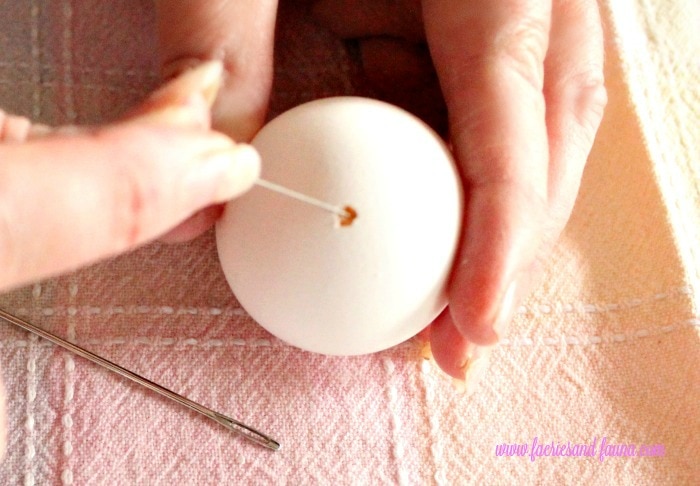 g
Using the small pin roughen up the edges enlarging the hole.
Repeat this on the other end.
Now that you have two holes. Cut the juice box straw and use just the little straight part.
g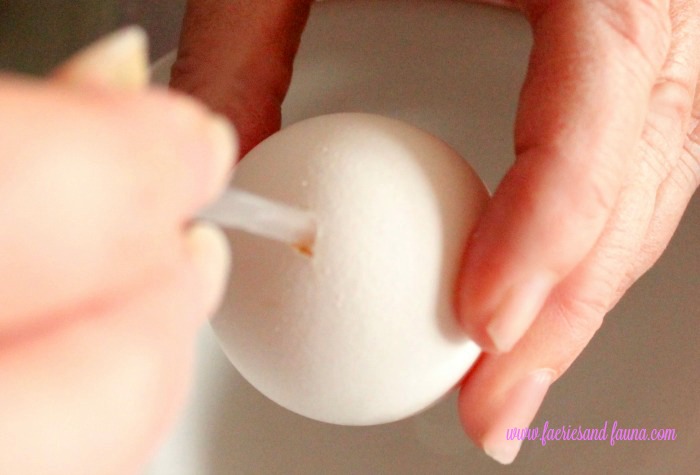 y
Place your egg over the bowl, put the straw over the hole and huff and puff and blow the egg out.
v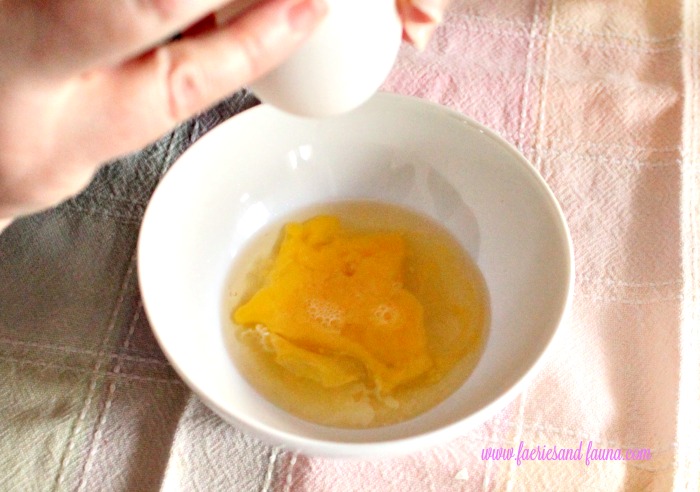 y
Once this is done, run the egg under the tap to rinse out whatever little egg that may be left inside.
To make your egg keep able, drain your eggs for two days, or do as I did and bake them at 300 F for ten minutes. Let cool.
Decorating the Bunny Easter Eggs
Besides the Bunny Ear template and the hollow eggs, you will need.
[one-half-first]Brown paper and pink paper
Tiny flowers
Glue dots (or hot glue)[/one-half-first]
[one-half]Paste glue
Pencil
Sharpie pen (optional)[/one-half]
I forgot to put glue dots in the picture, and I prefer to use them instead of hot glue because it makes the eggs safe for children to decorate.
l
r
Cut brown paper and the pink ears using the hand-drawn template. Glue the pink paper to the ear template with a glue stick.
Place your egg pointed side up and fold the ears around the egg so that they "flop".
m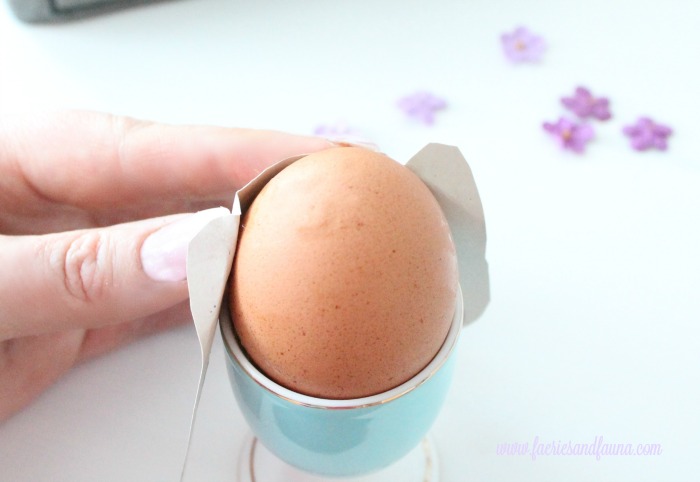 Use glue dots to attach the ears to the back of the egg.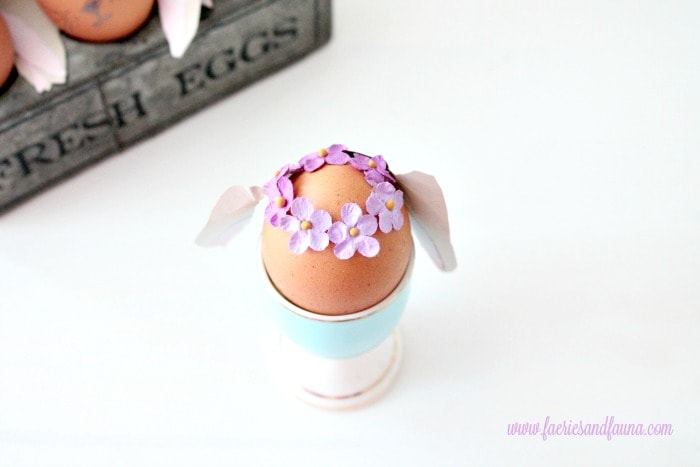 Create a crown of small flowers on the top of the Easter bunny egg this will cover any little gaps by adding a glue dot to the bottom of each one.
p
These little Easter egg bunnies are really fun to make with kids, and like I said earlier, the cleanup is so much nicer than doing regular dyed Easter eggs. To display your finished bunny Easter eggs place into little eggs cups, egg containers, or nestled into a bowl surrounded by moss.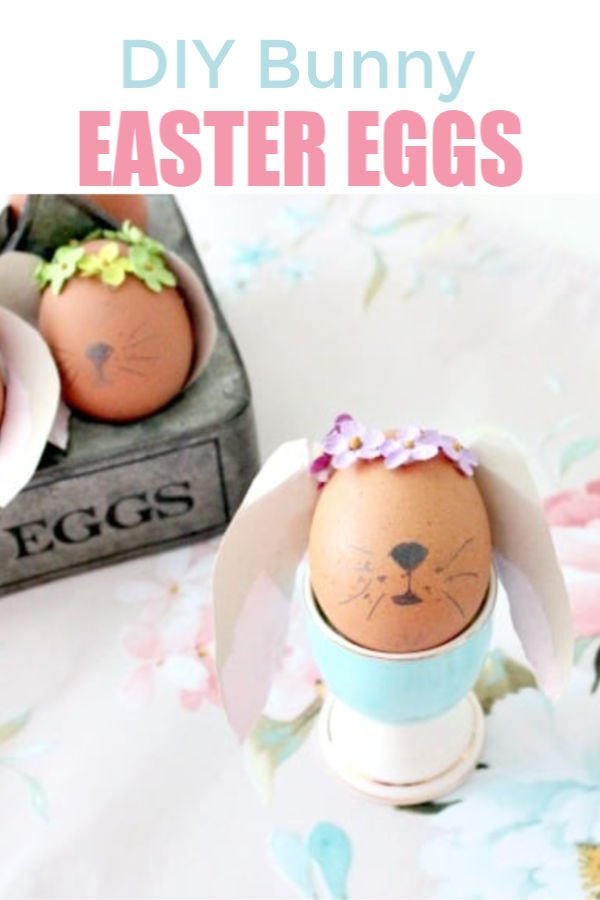 d
Draw a little face on the front of the egg with a pencil. If you want the face to show up more do it first in pencil (it's carefully erasable) and then with a fine tip Sharpie pen.
r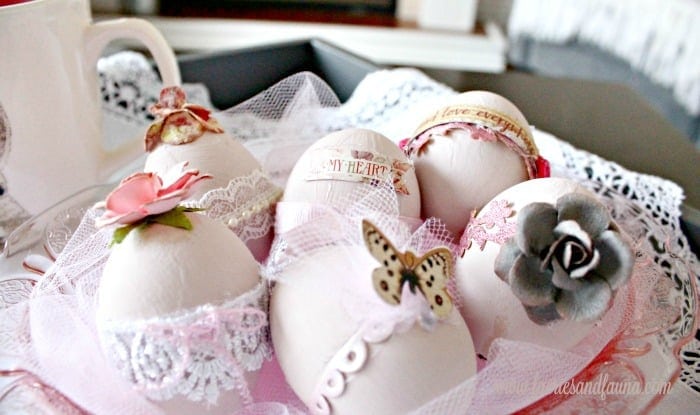 DIY Easter Eggs for Table Settings