DIY Shelf Sitter Easter Bunny Hunt Signs
DIY Egg Hunt Shelf Sitter Signs
Oh my goodness, I am really excited to finally be sharing this DIY Easter shelf sitter signs with you. They have been done for a little bit, but we had too many large DIY projects going on around the house and this old woman got tired. A couple of nights I fell asleep with the laptop on my lap trying to get this shared with you. For today at least the sanding is done, the house is clean and I get to sit online and share, and share and share. Yeah, its finally Easter at Leanna's house!
These little wood Easter Egg Hunt signs are meant to be done with whatever you have on hand, using scrap fabric and scrap wood. If you don't have 1 by 6 lumber uses 2 by 4 lumber, or even 3/4 inch plywood scraps. Whatever wood you have that will stand on its own will work. Here is a general list of supplies needed. Isn't great if you can make these for free?
Scrap wood pieces
Sand paper
White paint of any kind
Scrap fabric
Carbon paper, pencil, eraser
Felt pens of any kind
Thin Wire
My signs are 9 and 7 inches long made with 1″ by 6″ lumber scraps. After cutting them to length use 15- grit sandpaper to smooth the rough edges a little bit. Then add a couple coats of whatever white paint you have and let them dry.
Print out the Free Printable Easter Bunny Pattern, and then cut out each individual section.
Making the Adorable Bendable Wire Easter Bunny Ears
For whatever reason I love bendable bunny eats, I think its because it means I can play and give my bunny character, and even make lop ear bunnies which are my absolute favorite. The bunny ears are definitely my favorite part, just remember to use any scrap fabric you have on hand. I had some buffalo check plaid bits left, but any cotton fabric works, and I don't think the bunny ears need to match either.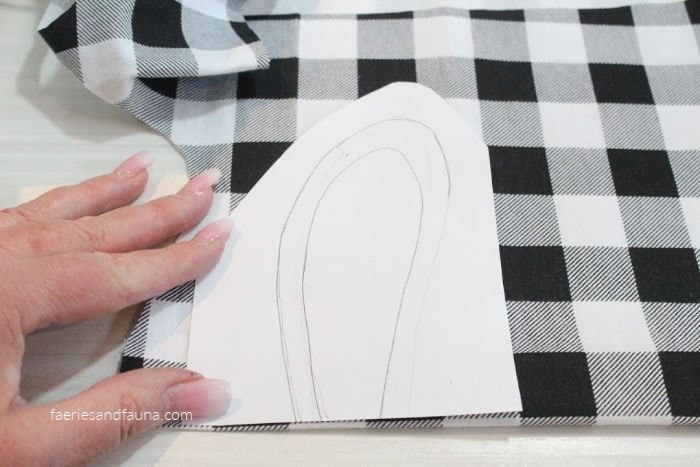 Fold your scrap fabric in half. Line up the bottom of the ear to fold of the fabric, cut out four of the ear pattern.
For each ear line up 2 of the fabric pieces face side together. Sew a very narrow seam around the edge of the ears leaving a 1 1/2 inch seam open at the bottom (between the ears).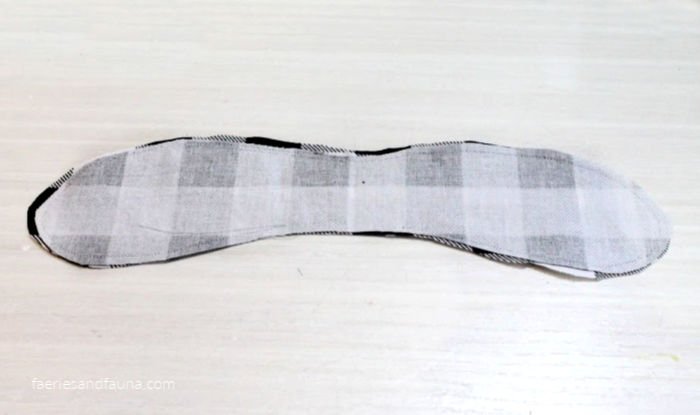 Take a 18 inch piece of whatever light wire you have handy, it does not matter what kind you have, I bet you could even use pipe cleaners if you like. I used some jewelry wire. Make a loop about the size of your ears and press it into an oblong shape.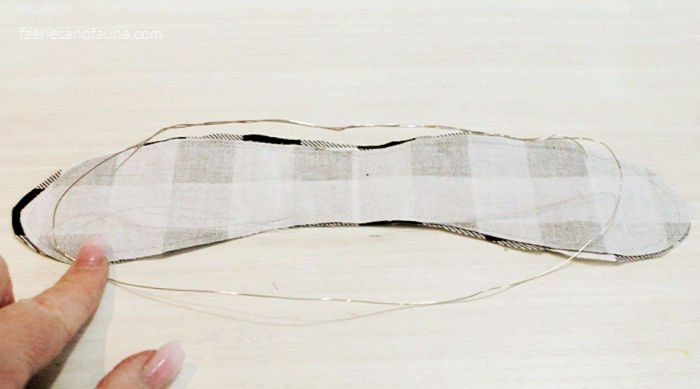 Turn you fabric ears right side out.
Push one end of the wire into the bunny ear, shape the wire so that it runs along the outside of the ear. Do the same with the second ear. Once you have both the ears wired, scrunch up the middle of the ear. You may have excess wire like i did, just twist the wire together and snip off, sneak it back into the bottom of the bunny ear.
Sew a narrow seam along the open portion of the ears, fold to look like a bunny and set aside.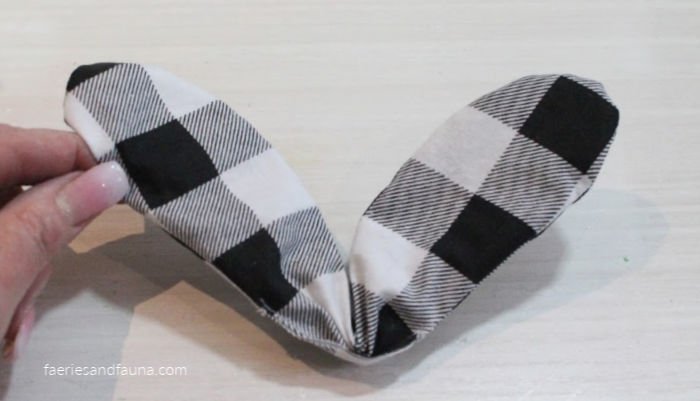 Adding the Easter Hunt Sign and Easter Bunny Transfer
Hands down I find old school transferring with carbon paper the easiest and quickest way to transfer patterns. When working with carbon paper its a good idea to cut the paper to fit the piece your transferring. The smaller pieces prevent smudges from your hand rubbing the carbon paper. For these bunny signs use a very light pressure. You want just enough transfer to give a hint of the pattern to trace out later.
Line up the various pattern pieces anyway you like on the wood blocks. Place a small piece of carbon paper under each little pattern piece. Transfer lightly by tracing with a pencil. Move the carbon paper to the next piece and trace again. Once done use an eraser to remove any smudges you may have.
Once you have all the various little pieces transferred, use whatever felt pens you have on hand to fill in the sign details. You can use sharpie pens, kids felt pens, or fancy water color pens. Mine are done using kids felt pens. Outline the Easter bunny face, the lettering and the arrow anyway you like. Best part its easy enough for kids to do themselves if you like.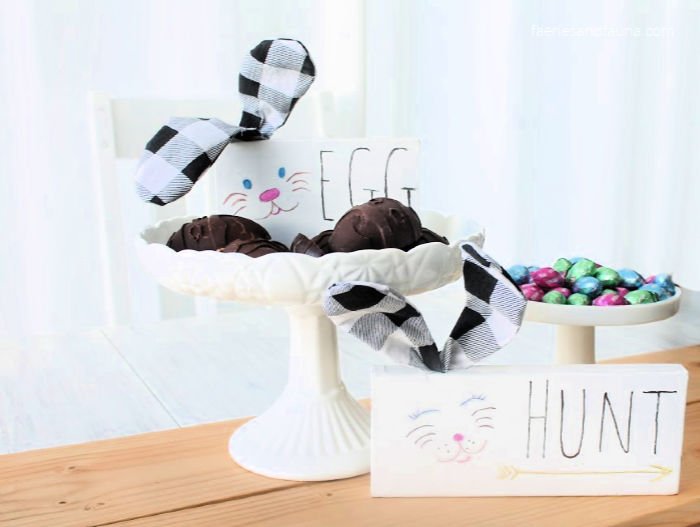 Attaching the Easter Bunny Ears to the Shelf Sitters
You can use a nail, glue or a staple gun to attach your bunny ears. I used a staple gun and attached the center of each ear on the side as shown.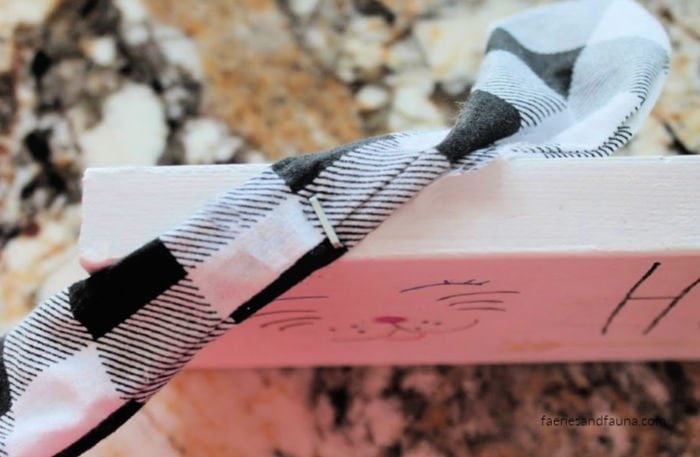 For a final touch I showcased mine on a center of our table along with homemade Easter eggs. They would also be super cute in a basket of eggs, or in any arrangement with a bowl full of chocolate eggs. I am thrilled with how they turned out.