DIY Wood Sign for Christmas in a Child's Bedroom
DIY Wood Sign for Christmas Visions of Sugar Plums
This little DIY wood sign for Christmas is for a child's bedroom. Little ones really do feel the magic of the holidays more than the rest of us, and I think this little "visions of Sugarplums" sign represents that. Don't you agree?
This year the wallet is tighter than its been for a very long time, meaning creating making more inexpensive projects than ever. Instead of skipping decorating a little ones Christmas bedroom I hope I inspire you to make their room magical for the holidays and that it doesn't need to cost much to do it.
Between now and Christmas I will be sharing several different DIY wood signs using different methods starting with Christmas themed signs for the bedrooms.
How to Make a DIY Wood Sign for Christmas
This DIY wood sign is made using paper printables and a thrift store sign that I saved for this purpose. This method is the least technical of the methods, you don't need a cutting machine, the easiest way is to use an old thrift store picture in an oblong shape. you just need an old thrift store picture. If you don't want to get a picture, you can do the same thing by using a 36 inch section of 8 inch wide wood.
Other than an old picture you will need, white paint, dark paint for the letters, a good ruler, a tiny artist paintbrush, carbon paper, and a good quality white eraser and the visions of sugarplums templates.
To prep it for lettering the sign was wiped down and then given three coats of chalk paint. I usually recommend sanding between coats of paint, but it's not necessary on a sign. Just let the paint dry well between coats, and add another coat until the original image is covered, and you have a clean surface to letter on.
Printing and Centering the Templates
Print out the templates, the templates have duplicate letters, line one letter up over its duplicate to form the phrase. Once finished tape the edges of your paper together, fold back the excess paper and trim off as much of the extra paper as you can.
Measure the length and find the center of your sign, mark the center with little pencil marks.
Fold your template good sides together, and line up the V of Visions and last s of SugarplumS, so that the edges match. You should be able to see them through your paper, Fold the template in half and mark the center.
Line up the center of the template to the painted frame. Make sure your template is centered horizontally using the centered pencil marking, and vertically by measuring the distance from the top and the bottom of each letter s in visions of sugarplum. This gives you three places to measure where the letters are the same height etc.
Once your done centering everything, tape the top of the template into place. Slide a piece of carbon paper under the template and using a fine tipped pencil to trace out your wording.
Transfer the Image with Carbon Paper
Lift your template occasionally to make sure that the wording is transferring properly. Move your carbon paper along the wording as you work. You can see where I have double lines, I will have to fix it once done.
Double check that the lettering is all transferred, redo any sections you need to.
Remove any double lines of smudge marks with a good quality eraser. Any double lines that are within your lettering outlines will be covered by paint, I just like to remove any that fall outside the letters.
A regular pink eraser won't work, you need the white kind. When removing the carbon it will immediately transfer onto the end of your eraser, making more smudges. To prevent this clean your eraser by rubbing it off onto a cloth, or by cutting off the end with an Exacto knife.
It's so much less work to transfer right the first time. I must have been tired, I had to erase about half an hour to fix my errors instead of the usual ten minutes. I love the final product though.
With so many DIY Christmas projects to do, I had to start early.  I will share the actual bedroom with links to the different projects much closer to the Christmas holidays.

Other Projects Made for this Room
Every year my little grand daughters run up the stairs to see what Grama did for their room this year. Its a special moment of joy and its been really fun to create all these special little touches for them. I hope you are inspired to try them as well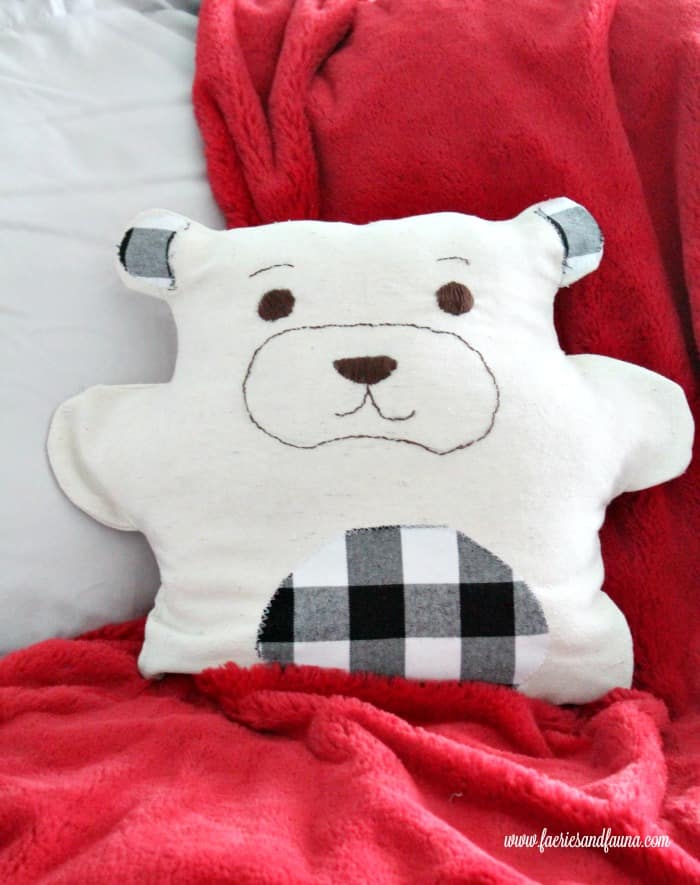 A Teddy Bear Pajama Bag Craft
This grama grew up with pajama bags, you don't see them anymore, but they were wonderful. Check out how to make your own teddy bear pajama bag craft using left over fabric and drop cloth.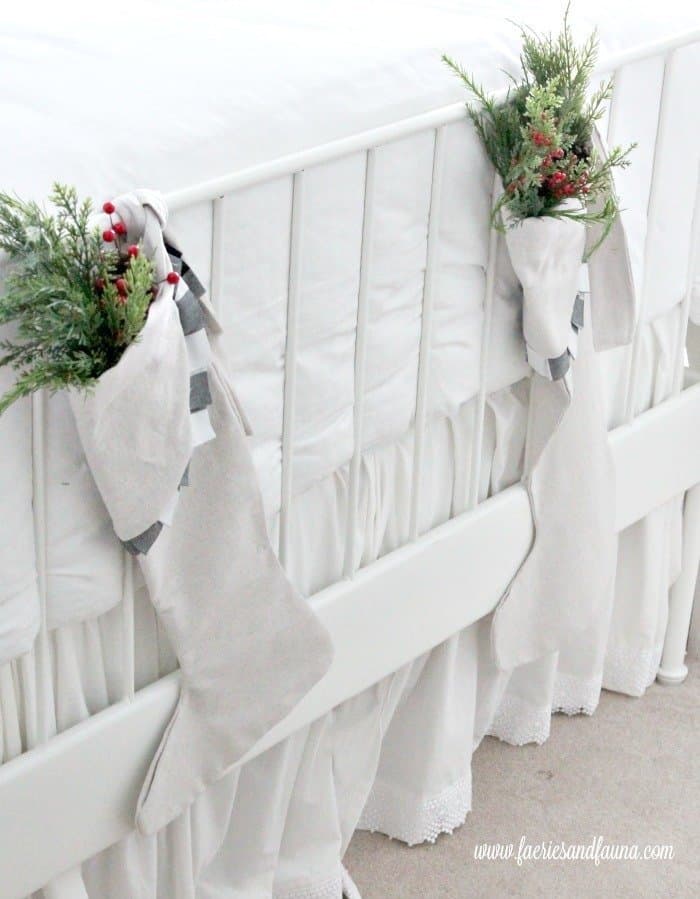 DIY Christmas Stockings
These DIY Christmas stockings feature a pleated edge, and a long thin silhouettelike a tall womans boot. They are made to be both pretty and feminine.