A Dollar Store Bunny gets a Farmhouse Makeover
I am very excited to create a wooden Easter bunny from a precut bunny I found at the dollar store. This year our dollar store has quite a large assortment of Easter decor geared towards children. Although adorable the decor doesn't suit an all adult household, but then I saw this adorable wooden Easter bunny. It even came with a hinged stand on the back.. Here is the Easter bunny before the makeover.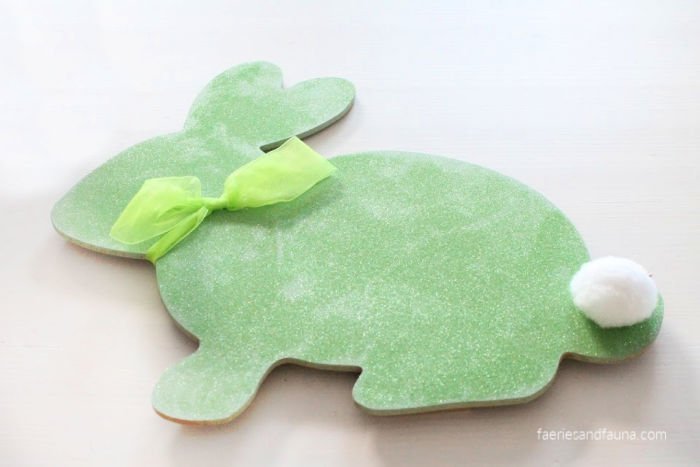 As you can see it had a childish glittery coating, but the actual bunny shape is good, and the size is perfect.
I was planning on making a wooden Easter bunny for this month's Intl Bloggers Club Easter Post. But I am so glad I was able to skip drawing and cutting out my own bunny shape. You will see what my blogging friends created at the end of my post, their posts are always very well done. I always look forward to seeing their creations.
The first step is to sand off the original finish. I used a sander with 120 grit sandpaper, it only took about five minutes to get down to bare wood.
Painting the Easter Bunny
My first thought was to mod podge the Easter bunny, but my buffalo check paper wasn't large enough so I am stenciling my little rabbit.
I did see a buffalo check stencil at the dollar store here in Edmonton, but I already have one I cut out on my cutting machine. If you have a cutting machine I recommend spending the time to make your own here is my the link to the pattern I bought. I am not an affiliate but thought you'd find it handy.
Once you have the supplies, paint the Easter bunny white. I used Picket Fence Fusion mineral paint but any white paint will work well. Paint two layers letting the paint dry well between coats.
Stenciling Buffalo Check
To paint the buffalo check plaid, I laid down the stencil on an angle across the bunny. Then I dipped just the very end of the paint brush into the paint. Then wiped most of it off onto a paper towel, and then started to apply the paint to the stencil painting from the outside of each square towards the inside of each square.
It may take a couple of paint dips to finish each square before proceeding on to the next one.
Once you have the bunny stenciled let it dry well before adding the ribbon. Here is the link to my tutorial for my messy bow.
I think the large messy bow is playful and fun, but you could decorate the rabbit with a simple tied on bow, or even a twine bow for a more country looking Easter bunny.
The Int'l Bloggers
The Int'l Bloggers is a group of my online blogging friends from around the globe. We collaborate on a given topic and its always really fun to see our different inspirations and ideas. Today the we have bloggers from Spain, Canada, Australia and South Africa. Take a few minutes and enjoy!
Topiary Easter Bunny Bucket by Raggedy Bits | Easy Dollar Store Wreath by Interior Frugalista
Rustic Easter Decorations by Unique Creations by Anita | Giant Faux Concrete Easter Egg by A Crafty Mix