Fall Crafting for Fun and Fall Decor
Fall Craft for Adults using Burlap and Dollar Store Supplies
Fall is just around the corner along with the cooler weather, more time indoors, and beautiful Fall decor. In Canada we lament the loss of a much too short summer. We start to turn our thoughts towards cozy rooms, beautiful sweaters, and being as cozy as possible. As the days shorten we spend more time indoors and Fall crafting is a fantastic way to keep ourselves busy, our kids busy, and create a beautiful Fall craft for adults.
This Fall craft has to be beautiful enough to put up in my home, easy to do, not too messy, and inexpensive. My granddaughters were coming for a visit so I added a simpler version for them and turned it into the best Fall crafting party. I will start by sharing the Fall craft for adults, and show a simpler version you can do with kids that turned out really cute! Sounds good I hope, lets get started.
Fall Craft Supplies
To make this Fall craft idea you will need some basic craft supplies.
Large wood backdrop or background frame (optional)
Burlap and sewing pins
Assorted ink pens (like Sharpie)
16 by 24 (or 11 by 13 dollar store canvas)
Heavy duty stapler or tacks
Here is the Fall craft for adults 16 by 24 inch version I made. Don't the pen marks look like embroidery stitching on the burlap? I am thrilled with how it turned out and how much fun it was to make.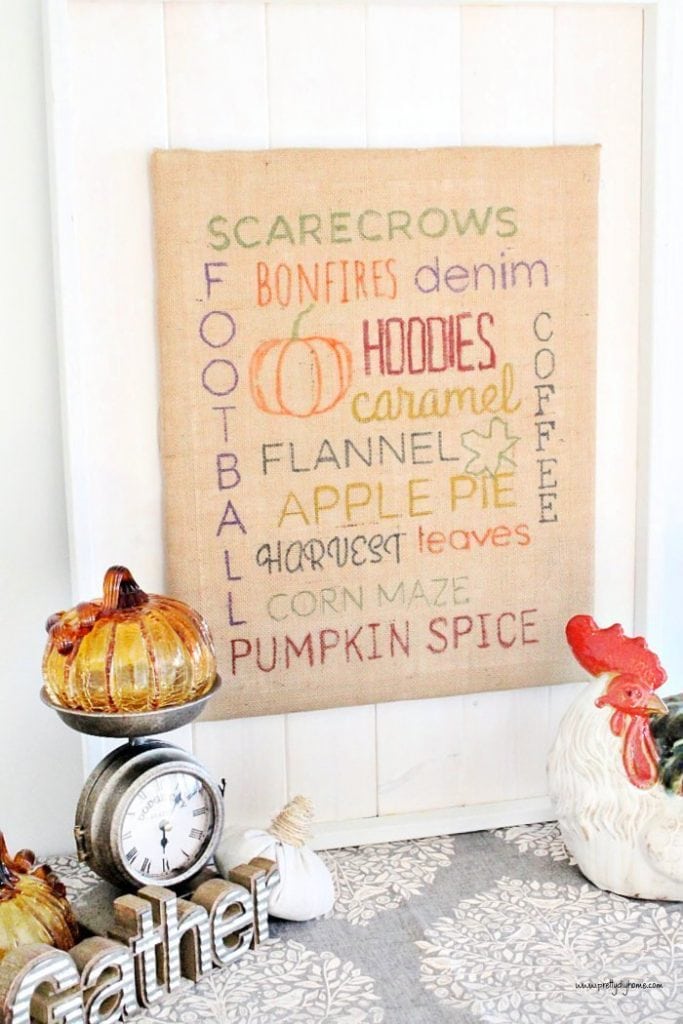 Fall Crafting Together
Fall crafting is always an enjoyable family past time. I printed all the printables, had the burlap precut and patterns pinned to the burlap before the kids arrived. The kids and I made our signs together, using the same process. The only difference, the larger Fall craft for adults is just a little more intricate. The steps are identical so we could do it together. It was definitely a fun celebration of Fall, and the kids were thrilled to have something pretty to take home.
Of course snacks were provided. While at the dollar store I grabbed assorted Fall themed candy, and made some hot chocolate. It was simple, but really enjoyable.
Printing the Patterns
Start by printing out the four page printable for the 16 by 24 inch sign. Or the smaller Sweater Weather and Fall Leaves that are each one page. I added some of the best autumn sayings and simple outlines for pumpkins and leaves.
Having the pattern four pages means you can print it out at home on letter sized paper. Your going to notice their is overlap of the four printables. I did this one purpose so that they can be easily aligned.
Overlap the top two paper printables first, and cut out any duplicate areas so that you can see all the letters. Then tape together.
Once the top two templates are together add the lower ones, again cut off the excess paper that may hide the lettering. Than tape together. Your finished template should look like this, I hope you can see at least some of the cut paper.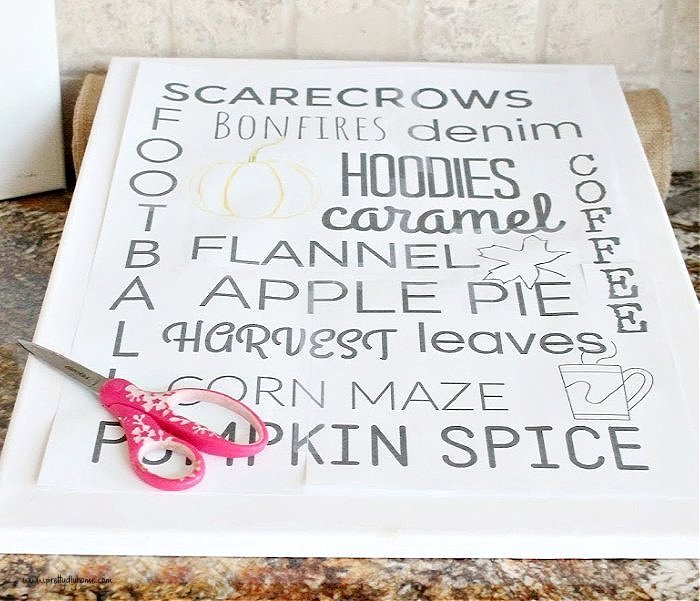 When the template is centered place the dollar store canvas on top of a large piece of burlap. Double check its centered and then cut the burlap. Once done I made chalk marks on the burlap to make it easier to center over the canvas once the lettering was transferred.
I found out you can transfer the letters to burlap with really inexpensive markers from the dollar store. They come in a variety of Fall colours and I have a large stash of them in the basement for the girls to use when they visit.
How to Trace Through Burlap
Once your burlap is centered over your pattern and pinned in place its time to trace it. Its MUCH easier to see the pattern through the burlap is you place it up on a window. Try it on a table to see if you can see through well enough. I couldn't and had to resort to the window.
Start by tracing the outside edges of your lettering. Once that is done place your craft down on a table to fill it in. My youngest granddaughter is 6 years old and is very very VERY independent, she did the tracing totally on her own using a black pen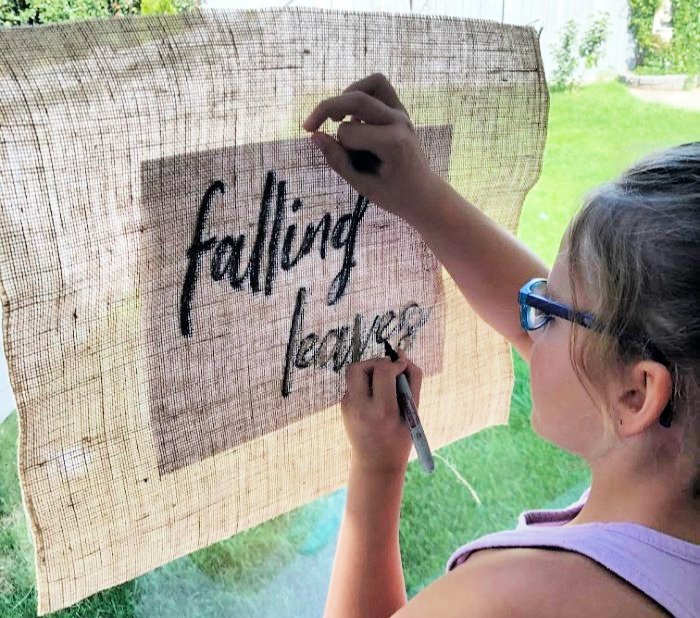 Once traced out, colour in the inside of the letters. My other grand daughter is a very quiet natured 8 year old. She is happily colouring in her outlined letters. It took her maybe five minutes to finish it.
How to Wrap the Fall Burlap Sign Over the Frame
Once you have the letters traced in whatever colours you like. Recenter the canvas on the back of the burlap using the chalk marks you did earlier to help you.
Staple the burlap to the back of the canvas along the wood portion.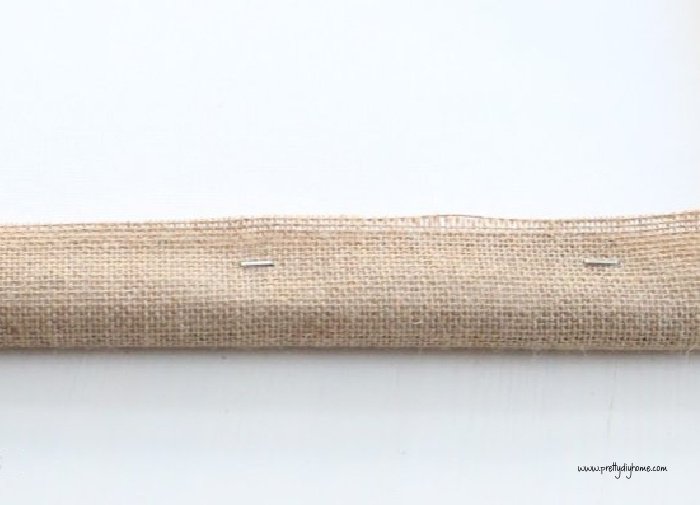 Once you have the four sides stapled and are confident the burlap is centered the way you want, do the corners.
I started with one side folding it up and neatly stapling it in place. I then did the second side making sure to get a nice neat crease before stapling.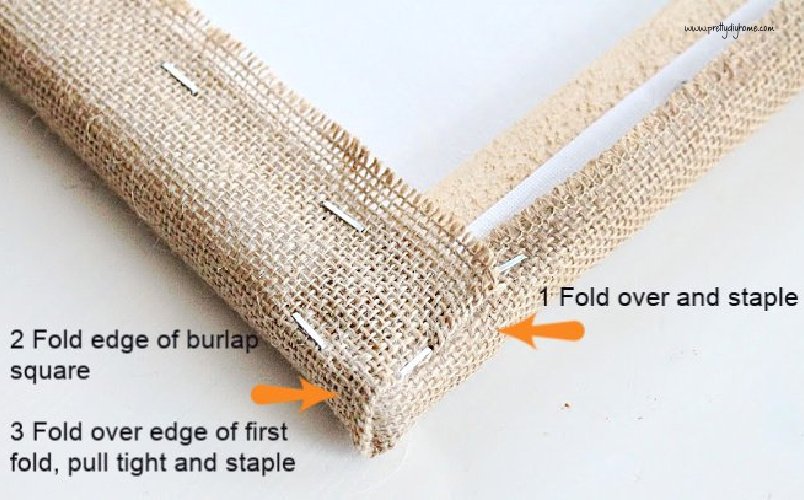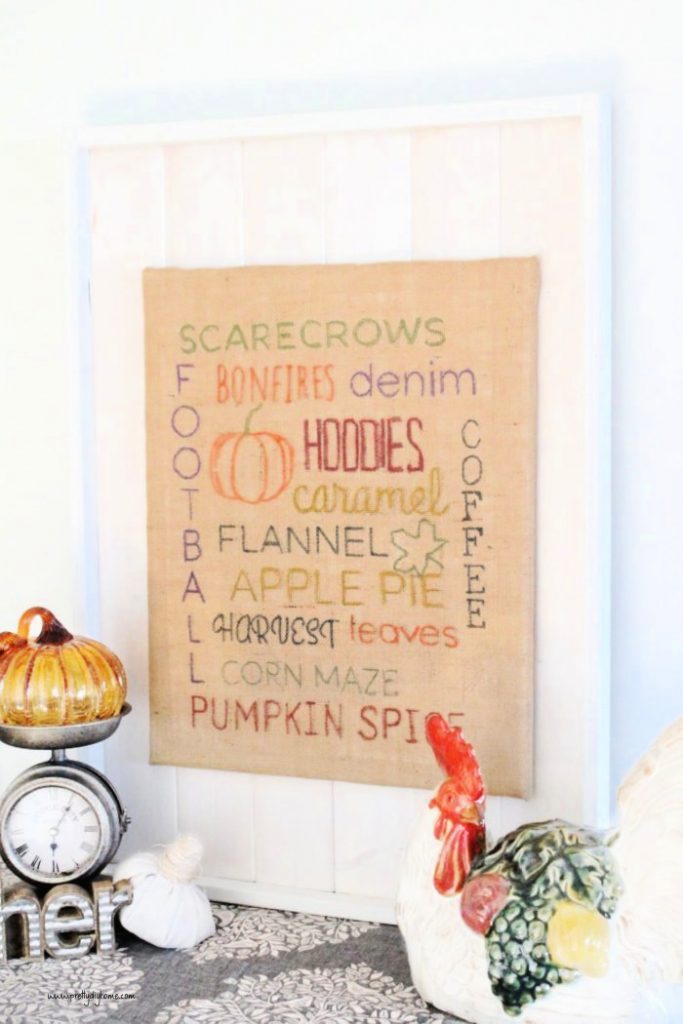 For smaller Fall craft signs the girls had fun using needle nose pliers and the hammer. Putting in the corner tacks by themselves was fun for them. They used pliers to hold the tacks to save little fingers before tapping them in with a hammer. Grama hovered though.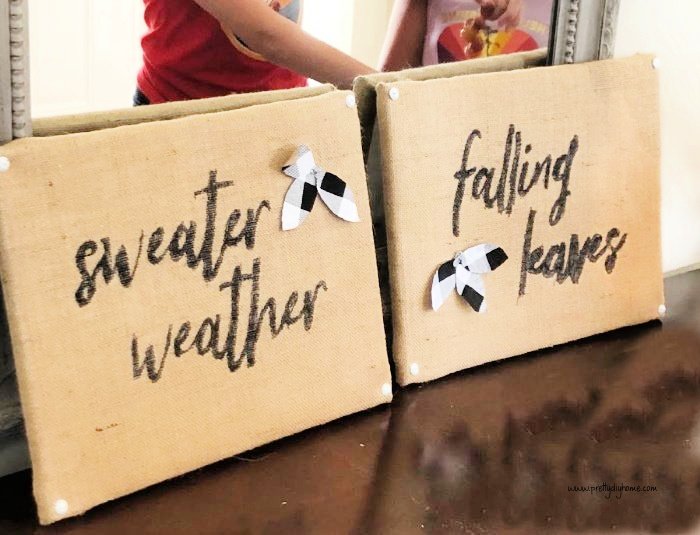 We also added some of the buffalo leaves left over from a Fall pumpkin craft idea for adults.
I think they did an amazing job and I know they had fun. I think all the results look great. The projects are nice enough Mom placed them on a shelf once they got home.
You can also hang it on its own, or prop it in a vignette, as you know I have this love of all things white, so mine has the white backdrop. I have several and love having all of them.
Pin this for a Fall Craft Idea!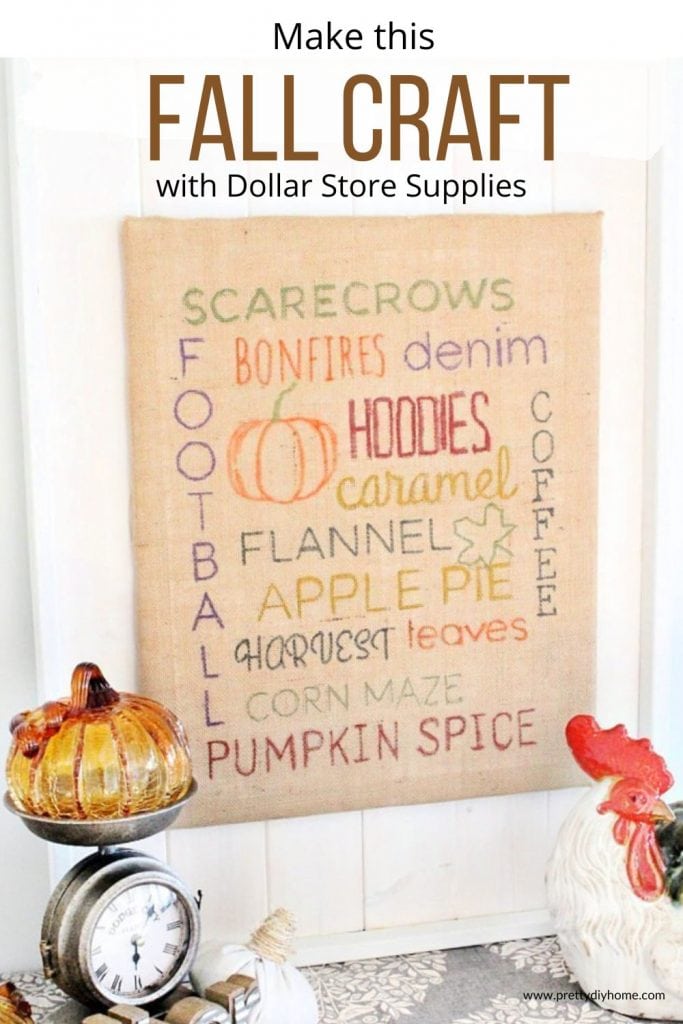 Other Fall Crafts to Try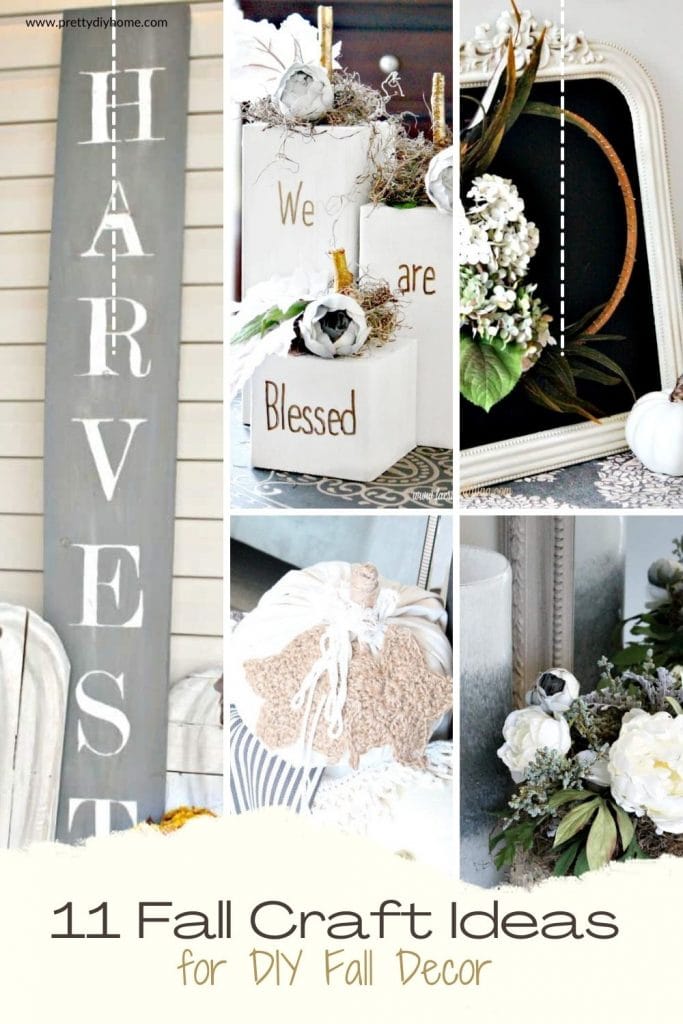 11 Fall Decorating with Fall Craft Ideas
If you love neutral Fall decor and DIY Fall decor crafts there is a whole bushel of simple Fall Craft ideas you may want to check out in this post. There is everything from a pretty chalkboard to DIY wooden pumpkins.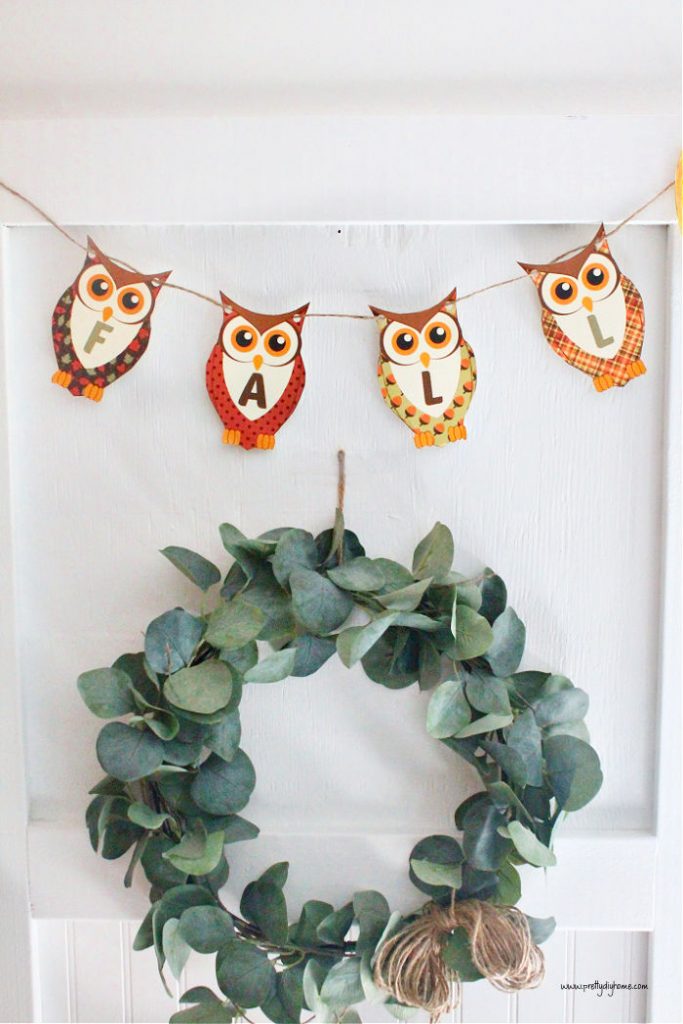 Free Fall Printable
Another super easy Fall craft idea for adults or kids. This simple Fall printable banner can be made in under half an hour. Just print, cut and string up. They look so happy anywhere you place them for a little pop of Fall colour.