Recipe for Halloween Cupcakes
Easy Halloween Cupcakes & Abracadbra Toad Toppers
This recipe for Halloween cupcakes is super easy to make and I hope a bit unique. Moms are so busy this time of year, this Halloween cupcake recipe is easy to make and really easy to decorate. Its a witch cupcake with abracadabra printables and cut little toad candies for decoration.
I think they are so much fun! Abracadabra and everyone's a toad. Whip some Halloween cupcakes up using a cake mix, or you can buy premade cupcakes and simply decorate them.
When making cupcakes for children I expect them to use the actual cupcake as a container for holding the icing. I do not put much effort into the actual cupcake, but give the cupcake tops a little extra icing to be licked off. These cupcakes take no cake decorating skills, and are super easy to put together for a a children's Halloween party.
Halloween Cupcake Supplies
The only recipe here is for icing, if you prefer to buy canned icing I would buy two can's of white icing.
1 tbsp milk
food colouring
12 gummy toad candies
12 lollipops
Halloween Cupcake Instructions
Start by lining 12 cupcake tins with pretty Halloween themed liners. Fill with the cake mix batter made according to the box instructions, and bake. Make the icing while letting the cupcakes cool.
Buttercream Cupcake Icing Recipe
Cream the butter until airy and light, Beat for a couple of minutes pushing scraping the sides of the bowl with a spatula occasionally.
Add the icing sugar one cup at a time mixing well after each addition. Make sure to scrap down the sides of the bowl.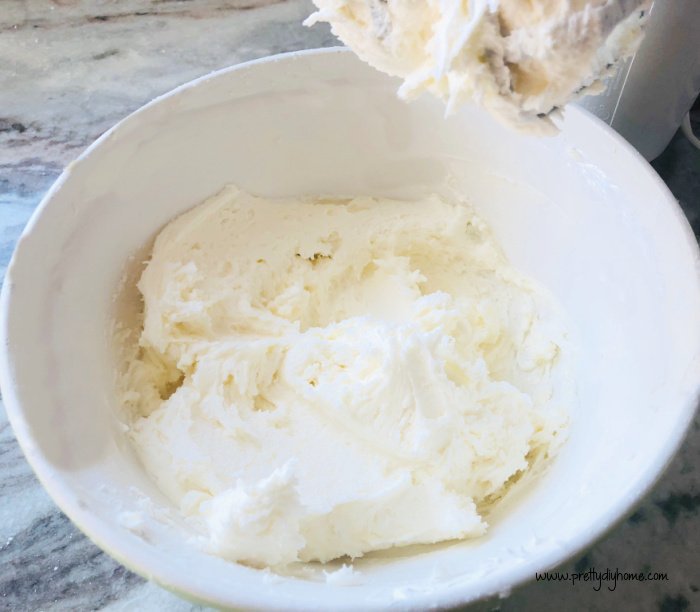 Add 1 tablespoon of milk and mix on high until incorporated. Just the consistency of your icing, add more milk if needed. Once the milk is incorporated turn the mixer onto high and beat for 7-10 minutes scraping the side of the bowl several times.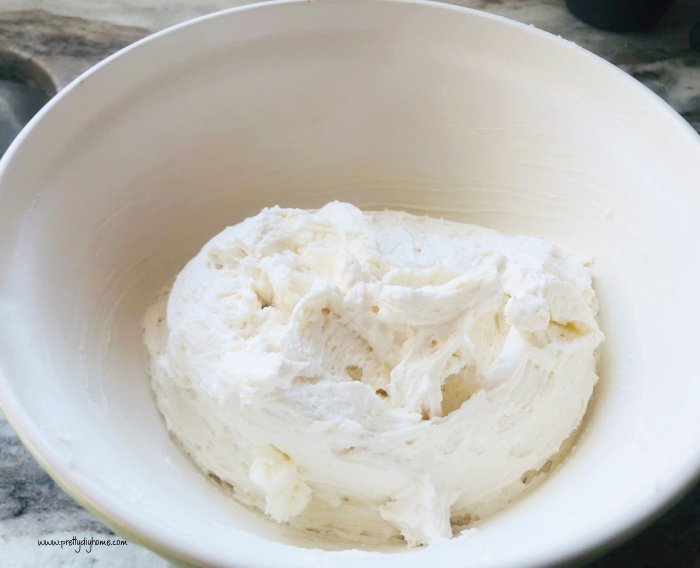 Remove 1/3 of the icing into a bowl and set aside to use for the top of the cupcakes.
Add food colouring to the remaining 2/3 of the icing and mix until well blended.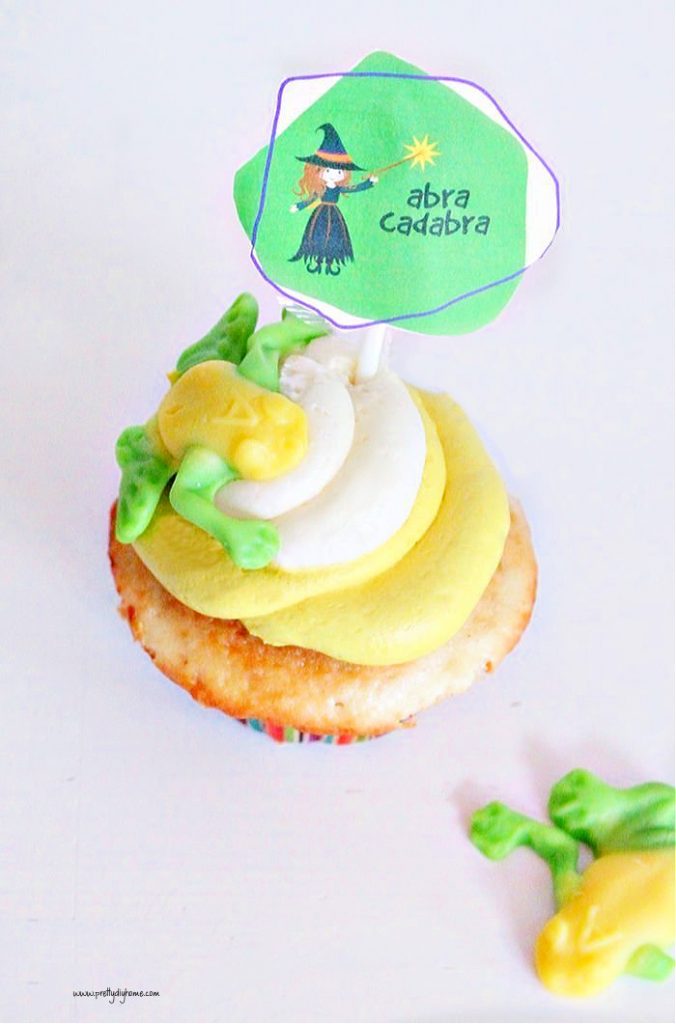 Decorating the Halloween Cupcakes
Fill a large icing bag with the yellow icing. If you have a large plain icing tip attach it, as I did not have one I didn't use any tip, but just the round opening on the bottom of my icing bag.
Make a large swirl with the yellow icing, then repeat with a smaller swirl of the white icing.
Place the gummy toad on the side of the cupcake.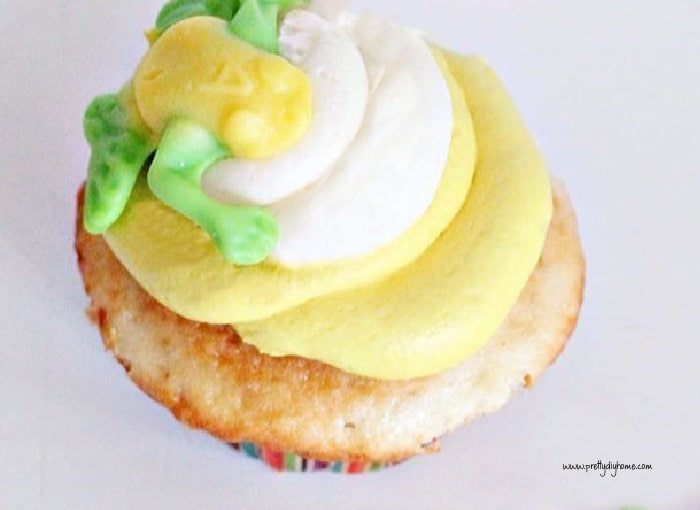 Making Halloween Cupcake Toppers
For 12 cupcakes print and cutout two Abracadabra Halloween printables.
Trim the edge of the lollipop plastic along the wrinkled sealed edges.
Add either a piece or curled up tape or a glue dot.
Stick the paper label to the tape.
Stick the sign into the side opposite the little toad.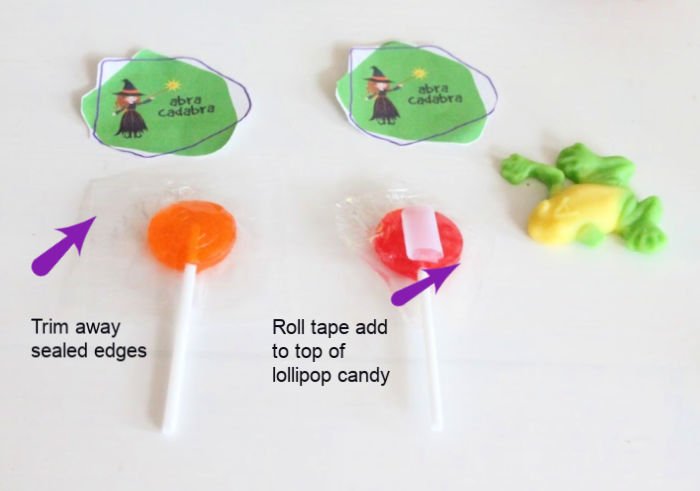 Storage
I wondered if using the lollipops for the Abracadabra cupcake toppers would make the cupcakes too high for a cupcake carrier.
The cupcakes worked find in my cupcake carrier. My grand daughters haven't been by for a visit so these cupcakes are staying in the freezer for a month or so in the hopes I see them before Halloween.
Pin me for Later
Some Other Halloween Treats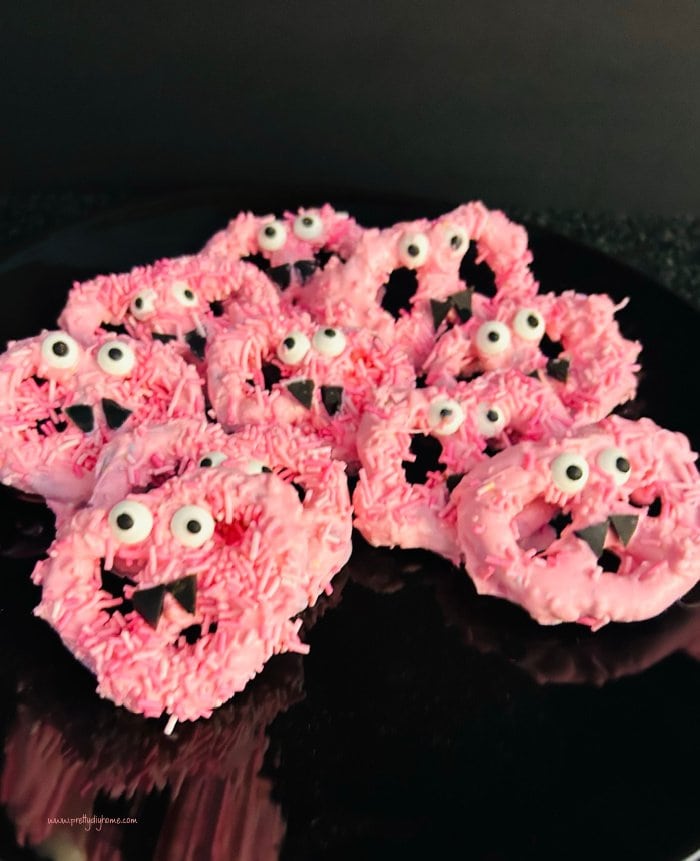 Pink Monster Pretzels
These little monster pretzels couldn't be easier to make. Pretzels are dipped in candy melts and embelished with candied eyeballs and little licorice fangs. Something for the kids to sing their fangs. into.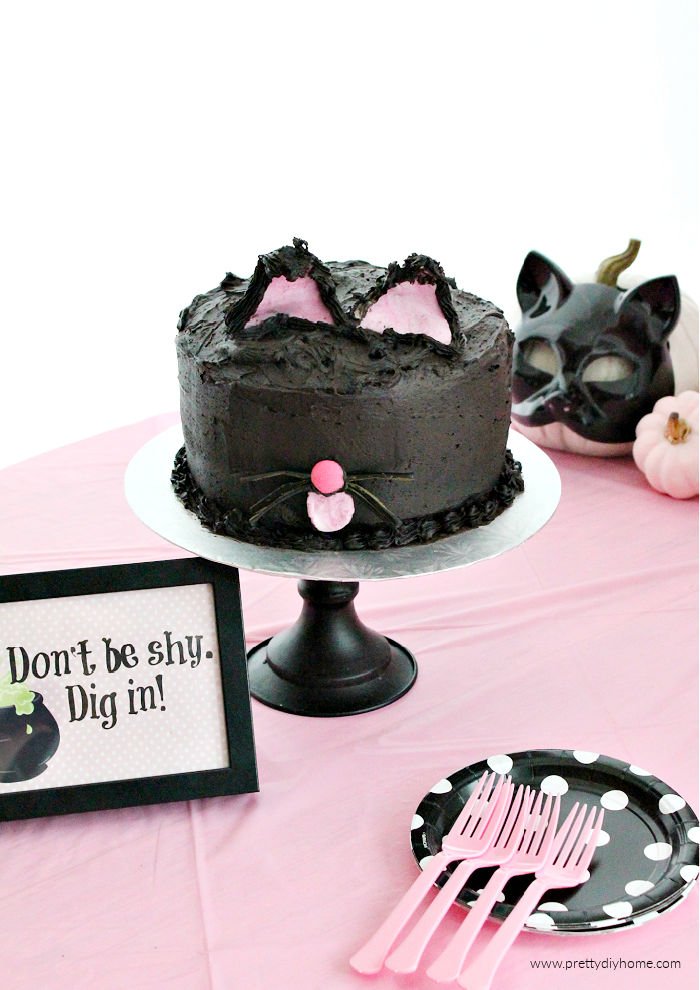 Easy Black Cat Halloween Cake
This time of year every Mom is beyond busy so simple desserts to celebrate Halloween are a great time saver. This Black Cat Halloween Cake is made from a mix, and I share the secret for black icing that actually tastes good!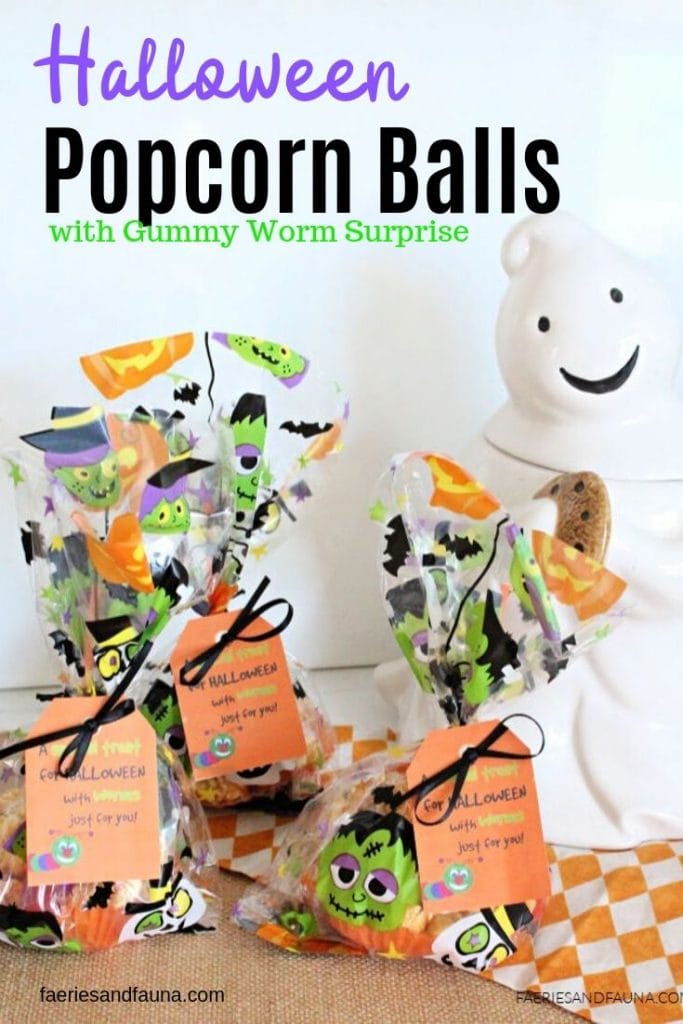 Halloween Popcorn Ball
This recipe begins with purchased caramel popcorn, or you can pop your own. Then gummy worms are added for fun. There is another cute Halloween printable you can download for the Halloween party packages.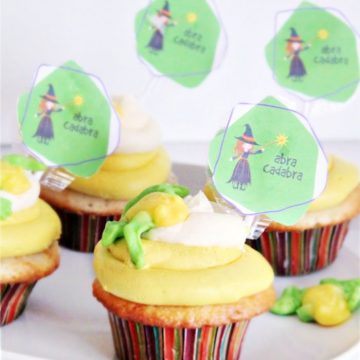 Halloween Cupcakes with Free Cupcake Toppers
A fun and easy Halloween cupcake recipe for kids Halloween party. Very easy to decorate with a candied toad and the Abracadabra witch cupcake topper and your done.
Print Recipe
Ingredients
12

cupcakes

from a mix, purchased, or homemade
Buttercream Icing
¾

cup

butter

4

cups

icing sugar

1

tbsp

milk

food colouring

to taste but too much adds flavour
Decorating
12

gummy toad candies

12

lollipops

12

paper cupcake liners

Halloween themed
Instructions
Bake cupcakes from a mix, or make a single white cake recipe, or even purchase premade cupcakes.

Start by lining 12 cupcake tins with pretty Halloween themed liners.  Fill with the cake mix batter made according to the box instructions, and bake. 
Buttercream Icing
Add the butter to a large bowl and beat until very light.

Add the icing sugar one cup at a time. Beating between additions, and scraping the bowl occasionally

Add the tablespoon of milk. Beat and add more milk if needed to get the correct consistency.

Once the icing is the right consistency turn your mixer onto high and beat for 7 to 10 minutes.

Divide the icing into two bowls, add food colouring. Layer the icing on top of each cupcake.

Add the little candied frog and the witch topper and your finished.