No Bake Pumpkin Cheesecake Trifle in a Jar with Praline Gingersnap Crust
No Bake Pumpkin Dessert for Fall or Thanksgiving
This is a super easy yet spectacular dessert for anyone craving pumpkin in Fall, or a easy make ahead Thanksgiving recipe. These days I no longer do Thanksgiving dinners, my family is spread out hundred of miles apart and we save travelling through bad weather for Christmas. If Hubs happens to be home we go out for dinner and I make some sort of dessert. This no bake pumpkin mousse trifle recipe really fits the bill as its delish, can be made ahead, keeps well especially if you layer it in mason jars.
This recipe is small if serving a large crowd I suggest doubling it. The picture of the mixed size jars shows you how many serving I got from the single recipe.
Lets start by making the three layers.
Whipping Cream Layer
1 1/2 cups whipping cream
1/2 cup icing sugar
1 tsp vanilla
Start by making the whipped cream layer. In the chilled bowl of your stand mixer, beat the cream until fluffy, add the icing sugar, and vanilla. Whip until well combined. Transfer to a second bowl, and place in the fridge.
Pumpkin Cream Cheese Mousse
8 oz cream cheese
1 cup white sugar
1 tsp vanilla
1 1/2 cups pumpkin puree
1/2 tsp pumpkin spice or cinnamon
After cleaning the bowl from your stand mixer, fit it with the paddle attachment and add the cream cheese. Beat on high until fluffy, then add the white sugar.
Continue to beat the cream cheese for a couple of minutes. This allows the white sugar granules to melt into the cream cheese and makes the layer smooth instead of grainy.
Scrape down the side of the bowl with a spatula a couple of times to make sure all the sugar has a chance to blend in, and the vanilla and mix until incorporated.
Add the pumpkin and pumpkin spice to the cream cheese mixture, blend on low until mixed together well.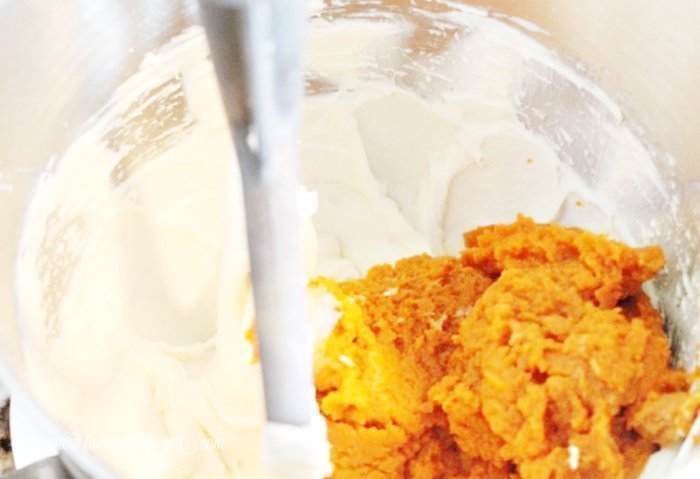 Cover the bowl and place in the fridge.
Speculaas Crunch
2 tbsp butter
2 tbsp brown sugar
2 cups crushed speculaas cookies (gingersnaps)
Start by making the cookie crumbs, place about a dozen speculaas into a sealable plastic bag and beat them until crushed. Measure out two cups of crumbs.
In a small sauce pan melt the butter, add the brown sugar, stir, and cook over medium heat until it bubbles. It takes about two minutes.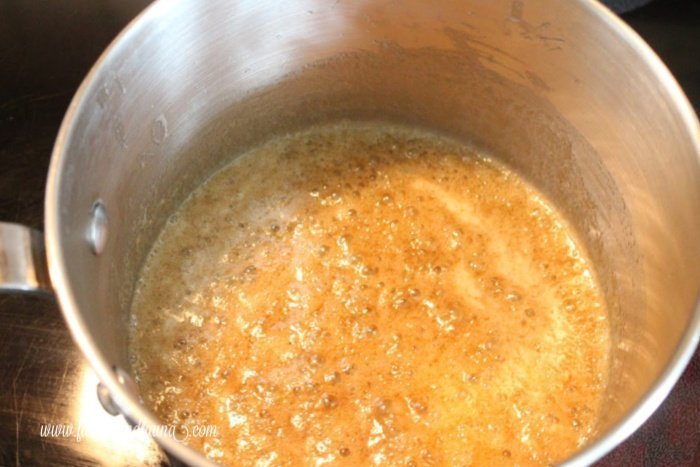 Once the sugar mixture is bubbling, add the cookies and stir to coat. Remove from heat and let cool.
Assembling the Pumpkin Trifle Recipe
Trifles are so versatile and spectacular as long as you serve them in clear glass and pretty layers. For today's post I am doing individual servings in mason jars, but will explain how to do it in a trifle bowl for a large crowd or more formal setting.
Small Mason Jar Servings
The small mason jar servings are perfect Thanksgiving dessert recipe. Start with a tbsp of speculaas crunch, then half a cup of pumpkin mousse, then a dollop of whipped cream and top with a sprinkle of speculaas crunch.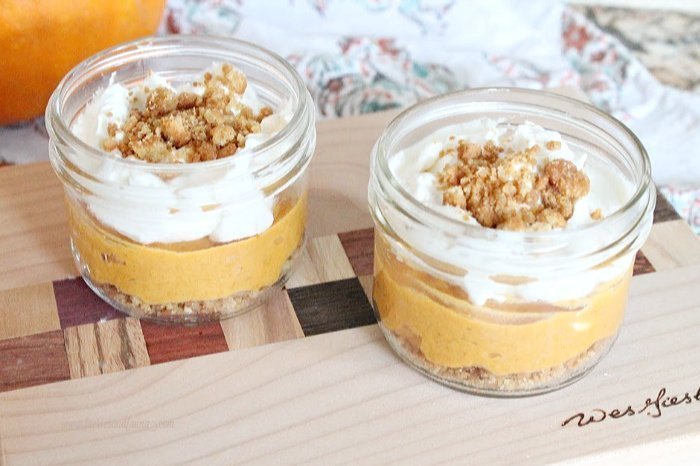 Pint Size Mason Jar Servings
The larger mason jar servings are my families favorite size, even for a Thanksgiving dessert. This is my favorite size to make and have sitting in the fridge for whenever someone wants a treat. As this serving is large I will often accompany it with a light dinner such as soup.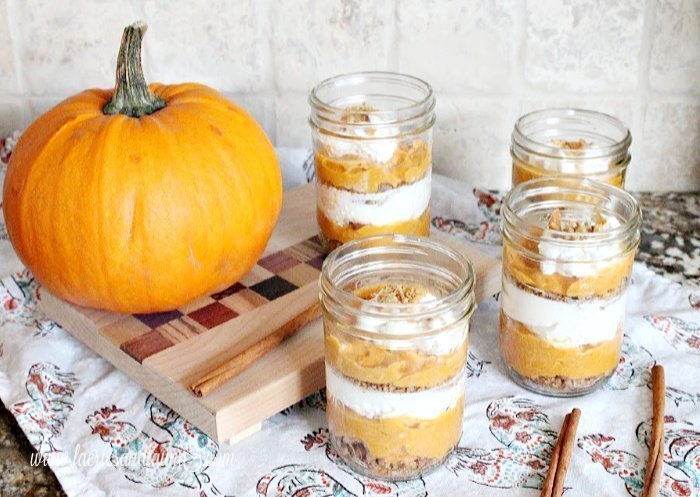 Start with tbsp of speculaas crunch, then half a cup of pumpkin, half a cup of whipped cream, then 1/4 cup of pumpkin 1/4 cup of whipped cream and finally two tablespoons of speculaas crunch. You don't have to be precise about the layers, you can do it by eye with a large spoon if you prefer. Just make sure to have enough of each topping to fill your jars.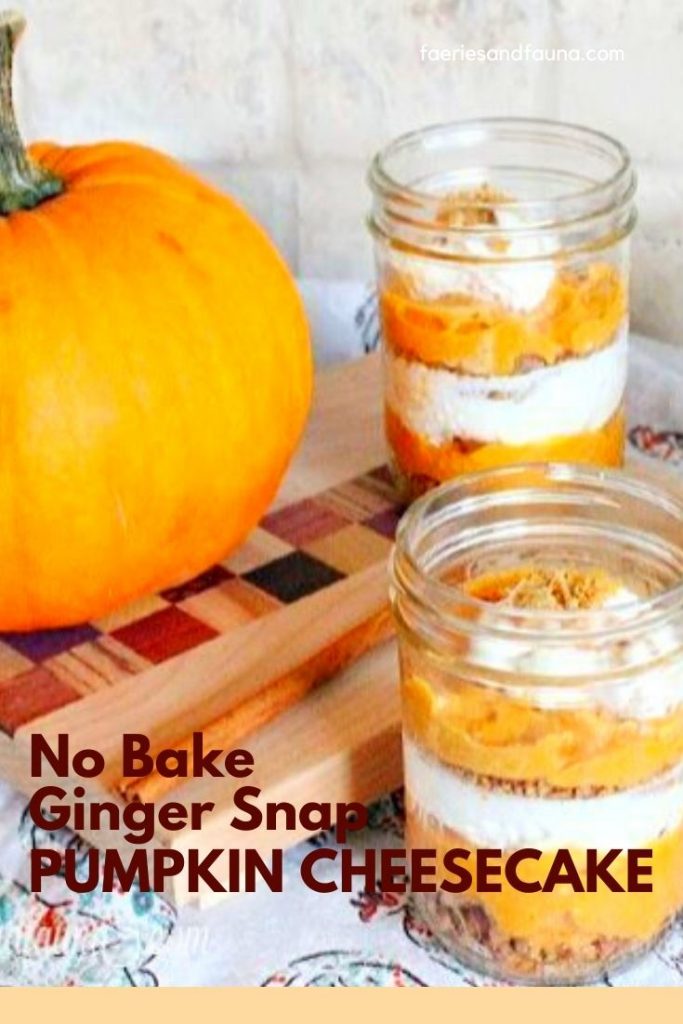 Serving Full Sized Trifle in Trifle Bowl
Trifles look spectacular because of all the layers showing through the clear glass. To serve this trifle in a bowl, remove 3 tbsp of the speculaas crunch and set aside.
Then build the layers, half the speculaas crunch, half the pumpkin cream cheese mousse, half the whipping cream. Repeat with the second halves of each filling ending with the whipping cream. Sprinkle the 3 tbsp of speculaas crunch on top and place in the fridge.
Storing Trifle
The mason jars are wonderful for storing individual servings. You can make the trifles ahead of time, screw the lids on top and pop them in the fridge. They keep really well for up to 3 days in the fridge.
Related Posts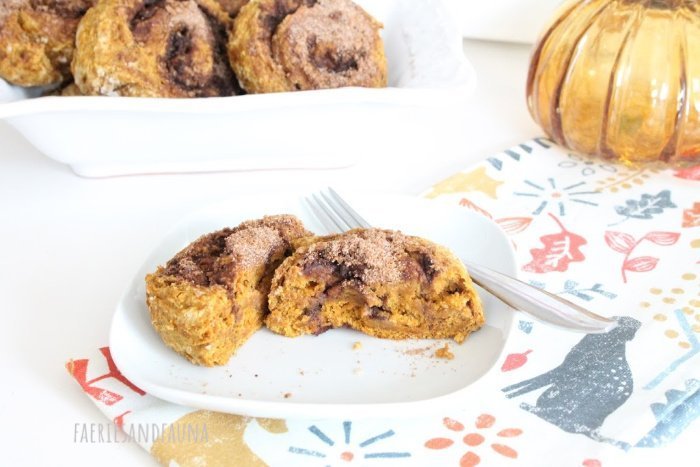 These sugar cookies are soft and chewy because of the added moisture from the pumpkin. They are less sweet without the maple icing, but if you want to go for the Gusto, the icing makes this cookies a Fall favorite treat.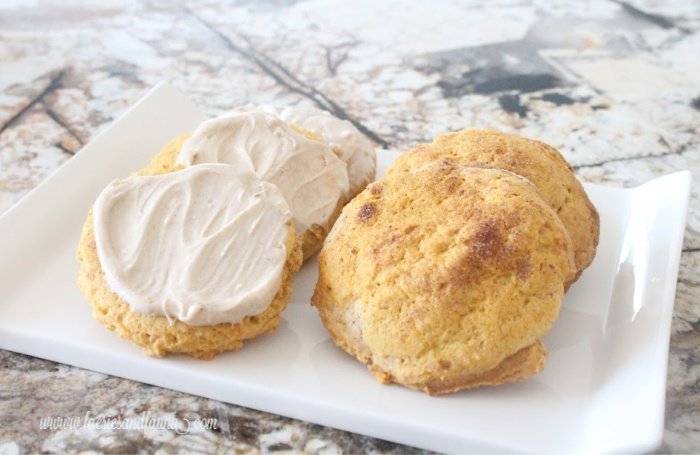 Pumpkin Sugar Cookies with Maple Swirl Icing
Pumpkin Trifle Recipe
An easy to make no bake pumpkin dessert recipe. This recipe is perfect for Thanksgiving as you can make it ahead and pop it in the fridge for up to 3 days before serving. Its a perfect recipe for a beginning baker.
Print Recipe
Ingredients
1 ½

cups

whipping cream

½

cup

icing sugar

1

tsp

vanilla

8

oz

cream cheese

1

cup

white sugar

1 ½

cup

pumpkin puree

not pumpkin pie filling

1

tsp

vanilla

2

tbsp

butter

2

tbsp

brown sugar

2

cups

crushed speculaas cookies

Gingersnap cookies is you can't find speculaas
Instructions
Mix chilled whipping cream, until fluffy. Add icing sugar and whip 1 minute on high, add vanilla. Mix until blended. Remove whipping cream from mixer into separate owl. Chill while making pumpkin mixture.

Wash the mixers bowl. Add cream cheese, pumpkin and sugar. Beat until well incorporated

Chill while making the speculaas crunch

Melt the butter in a small pan, add the brown sugar. Mix in crushed speculaas cookies and mix until coated. Pour out onto a plate and let cool.

Alternate the layers, speculaas crunch, pumpkin cream cheese mousse, whipping cream and repeat.