Easy to Make Spring Sign for Your Home
Spring Sign Craft with Printable
Are you getting excited about Spring's arrival? Were still boot deep in snow, but the calendar says Spring so I am really enjoying making several DIY Spring decor ideas like this little Spring sign.
I am always super excited to start decorating for Spring, lots of bunnies, and flowers to begin with and then bring on the Easter eggs afterwards. Wanting something a bit different for this DIY Spring sign I invested in some gorgeous clipart and made a few Spring printables that can be crafted into Spring decor with dollar store wooden frames.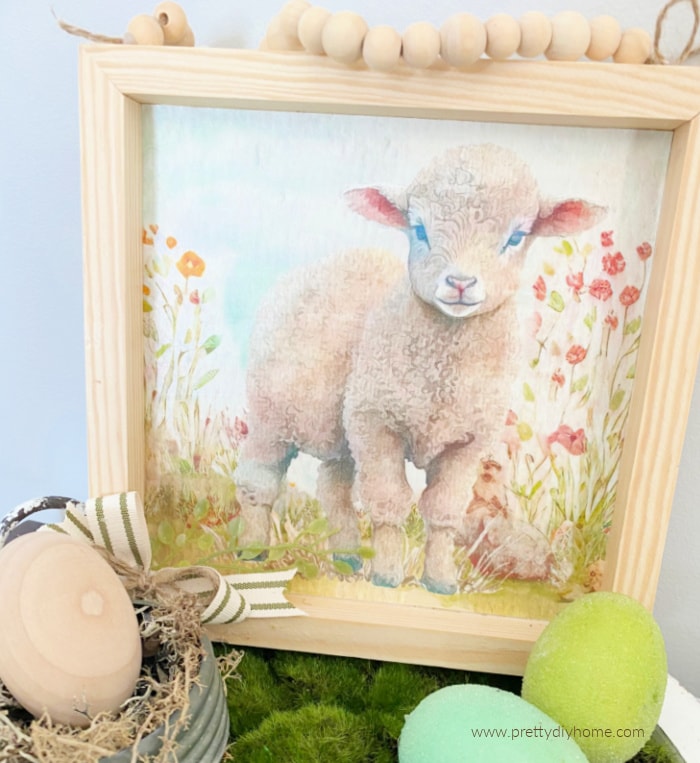 The Spring Printable Art
My lamb printable prints out on letter size right to the edge, so if your really busy you can just print it and place it in a frame, mount on a clipwart, or washi tape it to a cutting board for the kitchen.
If your wanting to spend a few minutes doing crafts join me while I share how to print and then place the lamb printable into a dollar store wood sign frame. I don't think an easier DIY Spring sign idea could be any easier.
Materials for your Spring Sign
If you haven't heard of canvas paper your going to love it. The canvas paper brings a great quality to your printable art. I bought mine at Michael's in Canada, the wooden frame is from Dollarama. Here is the list of supplies for your wooden sign craft.
Canvas Paper
Lamb Spring Printable
Smaller than letter size dollar store wood frame
Mod Podge & small paint brush (Dollar Store)
Stain or Paint (optional)
Ribbon and embellishments (optional)
Preparing the Wooden Frame
Depending on your own taste and home decor you may want to stain the frame, or paint it white. I considered painting it sage green, my latest colour obsession, but in the end I left my frame alone, and kept it naturalit was.
Printing and Sizing the Spring Printable
Begin by measuring the inside dimension of wooden sign frame. The inside opening of my wood sign frame is 6 3/4 inches square. Having a smaller frame means you can print at home, which for me was important. Ilike to craft, not run errands to get prints done.
Because I didn't want the lamb printable to look like a paper print, I used the canvas paper instead.
I used this canvas paper from Michaels (not an affiliate link) its just to show you. The paper is 9 by 12 inches so you will need to cut it down to letter size first. I used my Cricut paper cutter, placed a letter size sheet of paper on top as a guide and trimmed the canvas paper to size for the printer.
Printing the Spring Art Printable
There are two things to consider when printing the lamb watercolour. Double check which side of the paper your printer puts the image on. I mark UP on a piece of letter paper, place it facing upwards and then run a test page. Then I made a note that my printer prints on the underside.
Next you need to decide the quality of the print. You need to go into your printers setting and choose, colour, quality (I used best), and the paper type. How to do this depends on your brand of printer,. You will have to find your own printers settings, but here is a quality comparison I did for you.
Go ahead and choose which you like better, I wanted the more detailed image. It made the eyes and the hooves of the lamb darker, added more texture to the lambs wool and the background.
I did some reading about the little white frame that the printer puts around the image. The printer settings default to keep it there to prevent ink from leaking inside the printer and clogging it up over time. It makes sense when you think about it, both using the best quality and printing an image uses more ink so it could leak more. I suggest leaving the white border in place. Were going to be cutting the printable anyways.
When printing on best quality it takes MUCH longer for the image to print than I was used to. I started to wonder if it was jammed or something, but all was good. It took a couple of very long minutes for the start of the image to come out of the printer.
Sizing the Printable to the Wooden Frame
Every wooden frame could be a little bit different in size as long as your frame is smaller than letter size your golden. You will notice that the top and bottom of the Spring printable has more plain coloured area around. I did this in the hope you will have no issues trimming the paper and having the whole lamb available for your wooden sign.
Size the inside of your frame with a good ruler for accuracy, you need to be precise. My opening is 6 3/4″, both directions.. Before cutting guesstimate about where the print should be cut to size.
Starting at the bottom and lay a ruler, or paper where you would like the bottom of the frame to be. Measure 6 3/4 inches upwards and see if the lamb looks the way you want it to. I placed two blue lines against the ruler so you can see that entire lamb and florals will show.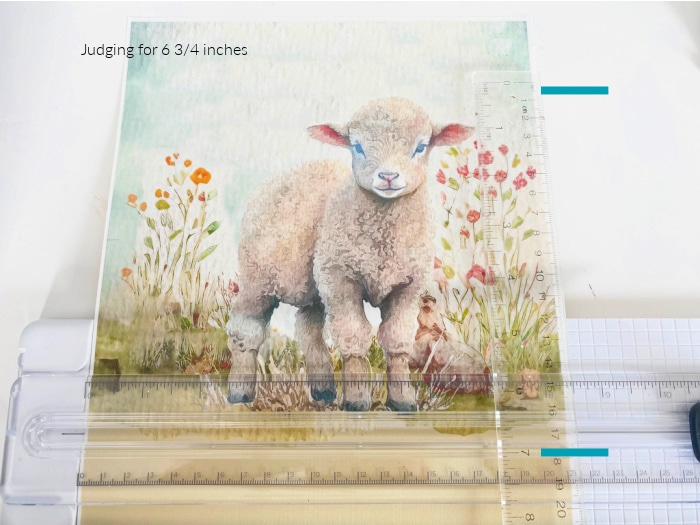 For the width, trim off the white unprinted border before measuring. Then measure to check what part of the lamb art shows.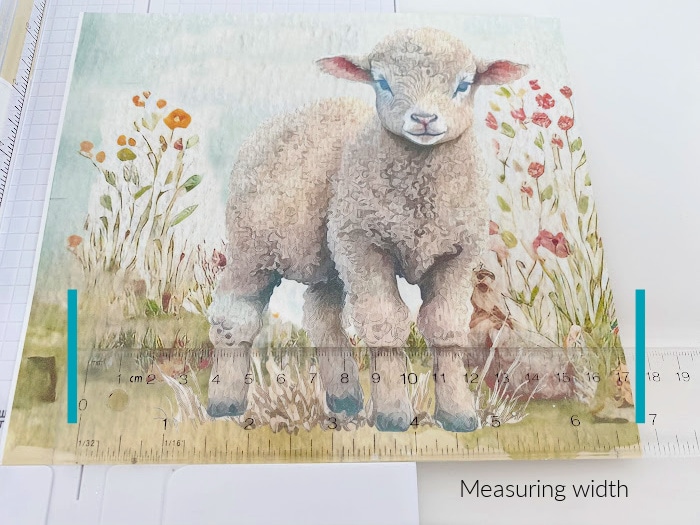 Cut your paper as close to accurate as possible, if unsure better to be a bit large then small. Place in the frame and see if it fits. Not sure if you can see it, but the bottom corner of my lamb print was a bit tight. Using the paper cutter I took a blades width more off and it fit.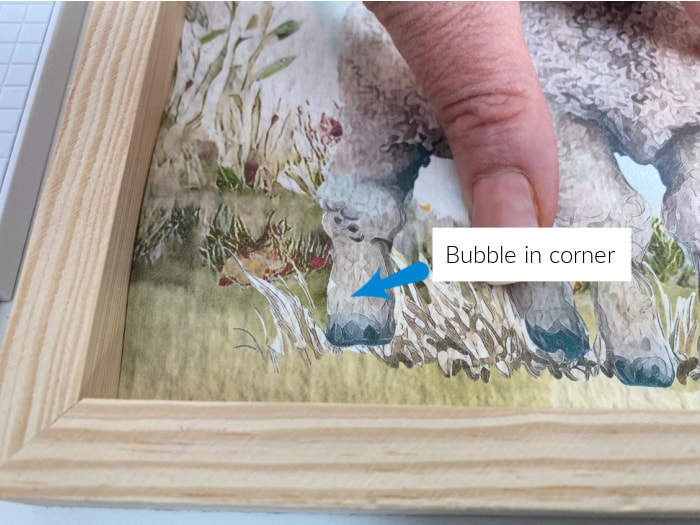 Mod Podge into Wooden Frame
If you read my tutorials you likely know I am NOT a fan of mod podge, not sure why, its just not part of my happy space. I thought of "who would know" and leaving it done as is. But went ahead and mod podged the art into place.
Remove the printable that you just fit into the frame. Apply a thin coat of mod podge to the entire back of your wooden frame paying special attention to the corners. Attach the Spring printable, starting from the center press down with your fingers making sure its attached. Once attached apply a second coat of mod podge.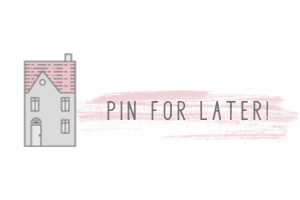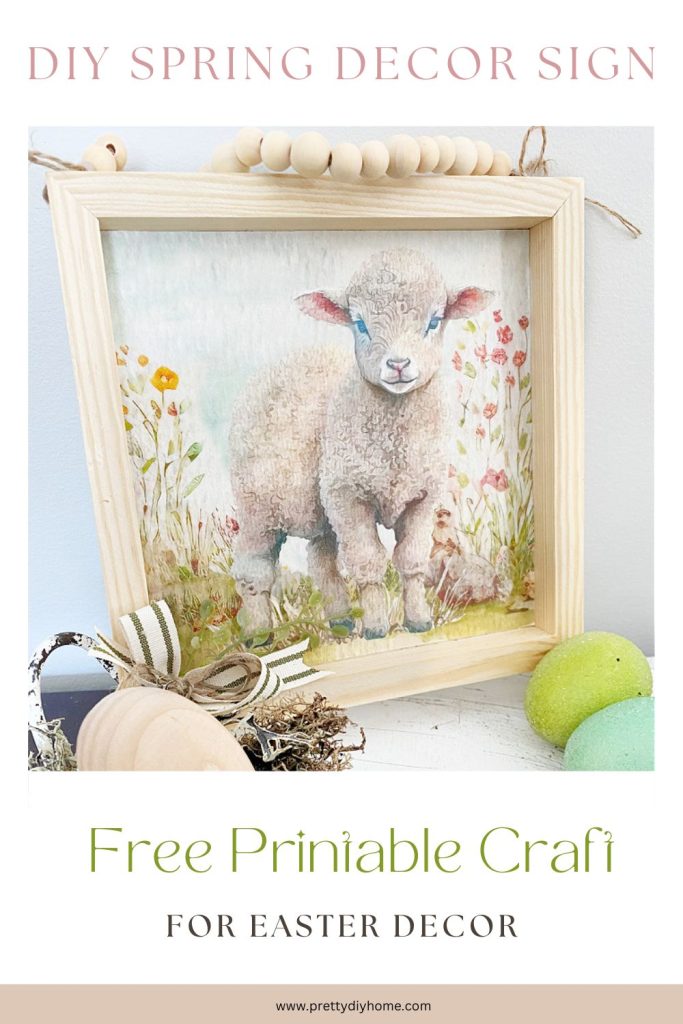 Final Spring Sign Embellishments
You can leave your DIY Spring sign with the plain wooden frame, or you can dress it up. For my Spring sign I added a simple ribbon in the corner and used the last of my natural wood beads to create a hanger for it. I decided not to hang the Spring sign afterall, so I draped the beads over the top like a tiny farmhouse bead string.