Peat Pot Easter Baskets & Easter Gift Ideas
Small Easter Baskets Peat Pot Craft
Peat pot Easter baskets are an easy way to combine the love of a handmade Easter gift with a purchased Easter treat. You can give the peat pot Easter basket as a small gift on its own, stuff them with goodies as a small Easter candy basket, or use them as decor. Lets begin with making the small Easter Baskets first and I will add a list of different small Easter gift ideas at the end.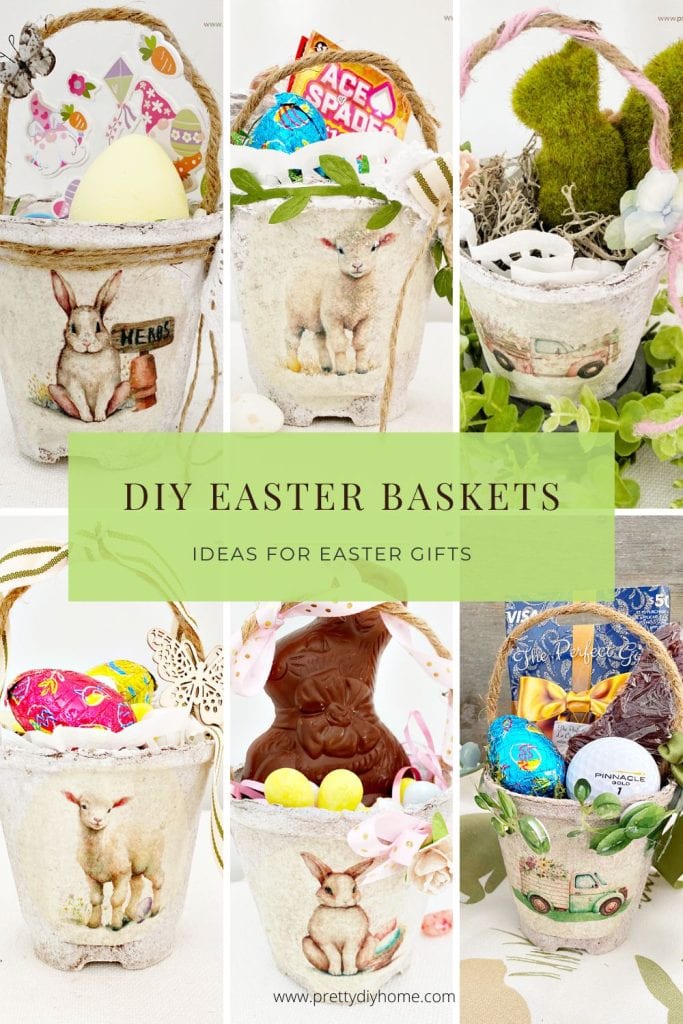 Not only beautiful when decorated, peat pot Easter baskets are easy and so much fun to make. You can create them with dollar store peat pots, paint and scraps of fabric and ribbon. These small peat pot Easter baskets can also be used for a table centerpiece, Easter place cards or for Easter gifts. I find them especially wonderfuyul for gifting cash. I like giving cash to teenagers but want it to be thoughtful as well. I think a small handmade gift basket is the perfect answer.
Today I am joining in with Creative Craft Blog Hop that's hosted each month by Sara from Birdz of a Feather. The other craft ideas will be added at the end of my post.
Small Easter Basket Supplies
The peat pots come in package of six, so I went ahead and made six of them. You can use napkins if you have pretty ones handy, but I didn't. I have included a copy of the Easter clipart that I made and used for mine.
1 Pkg 4″ dollar store peat pots
white paint (craft or leftovers)
2 small paint brushes
mod podge
1 cup plaster of paris (optional)
Printable Easter clipart
Wire
six inch paper doileys
Assorted lace ribbon and assorted embellishments.
Small Easter Baskets Instructions
Dry Brush the Peat Pots
Use a little bit of white paint, craft paint is fine and with a paint brush dry the peat pots. If you haven't dry brushed the before it just means painting with very little paint on the end of your brush. I didn't want the pots to be completed painted, allowing little bits of the tan colour of the peat pots to show through.. When you brush is first dipped into the paint, begin by painting inside the peat pot, once your brush has less paint on it, brush the outside. Once painted set aside to dry.
Note: I had videos for every part of my post and unfortunately lost them in a transfer somewhere and cannot locate them. Note to the wise. Name things before moving them. I will update the post if I ever find them.
Optional Plaster of Paris for Weight
Depending on what you place into your small Easter baskets you can have trouble with the silly things toppling over. To prevent this mix 1 cup of plaster of paris with 3/4 cup of water, mix well. You can add more water a tablespoon at a time if you need to. The plaster will be like a thick yogurt.
My peat pots had a large hole in the bottom, so I placed them on paper before adding the plaster. Scoop a tablespoon of the plaster in the bottom of each pot, then divide up any leftovers equally. smooth the plaster slightly. Let dry overnight.
Printing the Clip Art
Cut a piece of tissue paper just a bit smaller than letter size 8.5 by 11. Tape the tissue paper to the letter paper using painters tape. Make sure the edge is crisp and square.
Before printing test which side of the paper your printer prints on. I make a piece of letter head, up and down. Run a test page and see which side the print comes out on. My printer prints on the bottom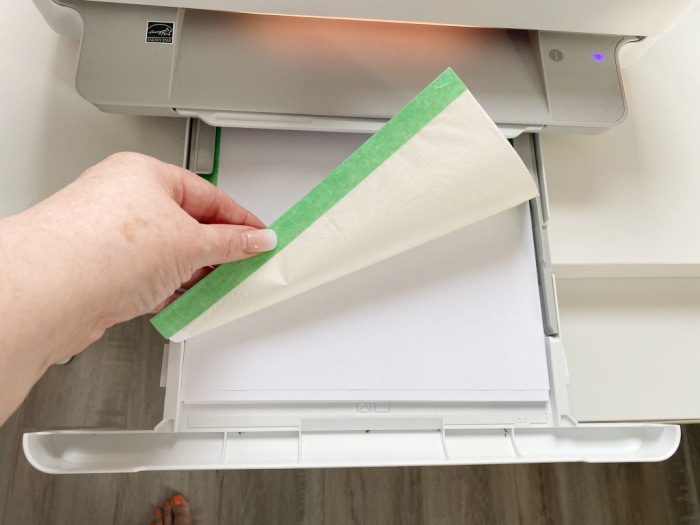 Place the tissue paper side up or down as needed in your regular paper slot, and print normal quality, color.
Adding the Clipart Embellishment
Instead of using napkins I chose to make some printable Easter templates that are exactly what I wanted. Here is an image of the Easter image template. Follow the link to open it and then print.
There are a total of six different templates, two lambs, two bunnies and two flower trucks. Feel free to use them for personal use only. You can see a very slight grey circle around each Easter figure. I placed them in order to make it easier to tear the tissue paper.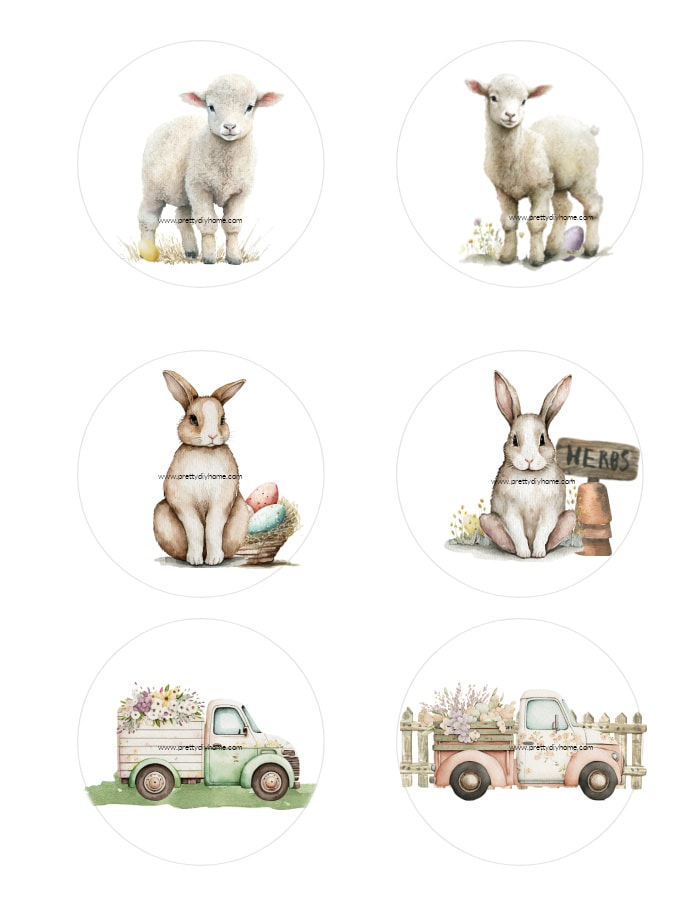 Tearing the Tissue Paper Easter Transfers
Once printed cut off the outside tape. Hopefully you can see the very slight grey circles around each printable figure. Using a small brush dipped in water, wet the tissue paper around each circle, and then tear the circle out. Making the tissue paper wet makes this much easier to do.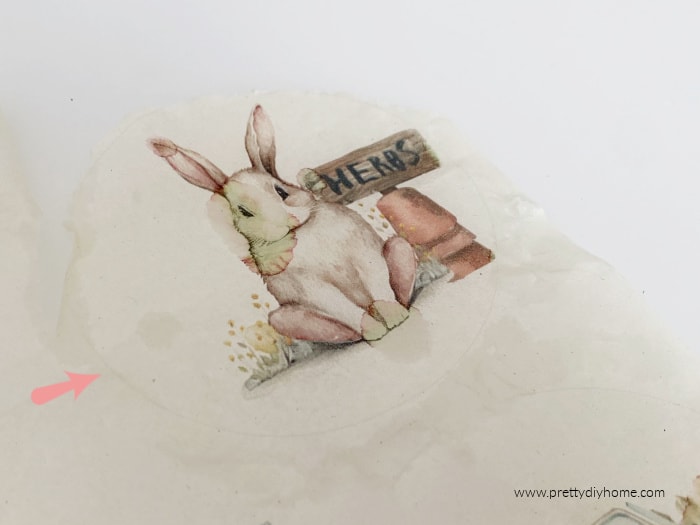 Apply modpodge to the front of the peat pot, apply the printable spreading flat starting in the middle. Make sure the edges are mod podged down. Once attached place a second layer of modpodge over surface of the tissue. Let dry.
Attaching the Wire Handle
Cut six pieces of wire 10 inches long, twist the ends so they can poke through the peat moss basket. Make a nice arch out of the rest. Once the wire is ready punch a small hole using a needle into each side of the peat pot. Place the wire through and pinch into place. Repeat for your other baskets.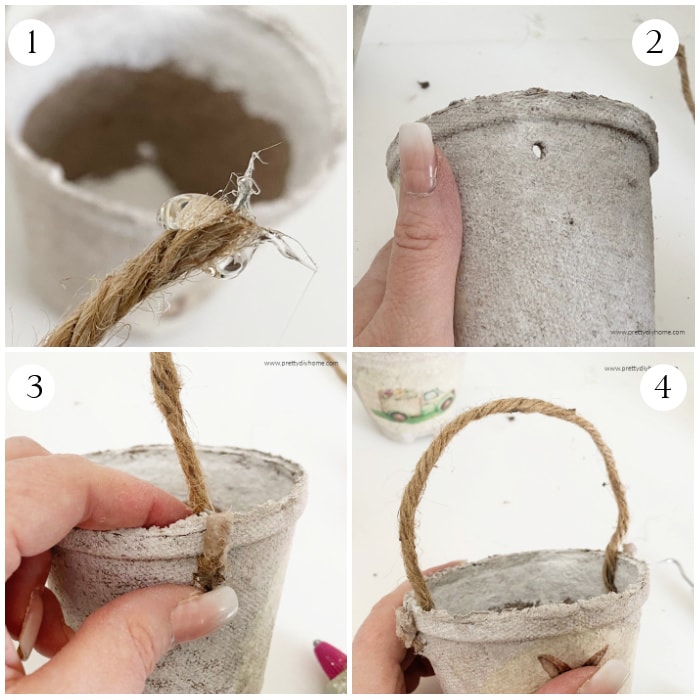 Decorating and Embellishing
I chose to place a paper doily from the dollar store inside each Easter basket. The paper doilies are made for food service so I wanted them in the Easter baskets for candy. The peat pot is also just a paper product but it isn't made for food so I was a bit uncertain about using it.
Now the fun part, go wild making your basket as simple or as elaborate as you like. Choose your favorite colours, consider the receiver. If gifting Hubs I would use blue his favorite colour, or perhaps green or brown. My grand daughters would be pink or purple and so forth. Then grab the glue gun and add ribbon, flowers, leaves, feathers, stickers, even a small faux bird basket.
Small Easter Baskets Gift Ideas
The really nice thing is the thoughtfulness of the homemade Easter basket adds to whatever you give, cash, a gift card, lottery tickets. These are things that I would never consider just handing to someone. However by putting them into a quick peat pot Easter basket and I think they make great gifts. Let me know what you think about it?
Golf Gift Easter Basket
Add some jerky, candy, a golf ball, golf tee, and add a gift card to cover the fees. My hubs loved this idea.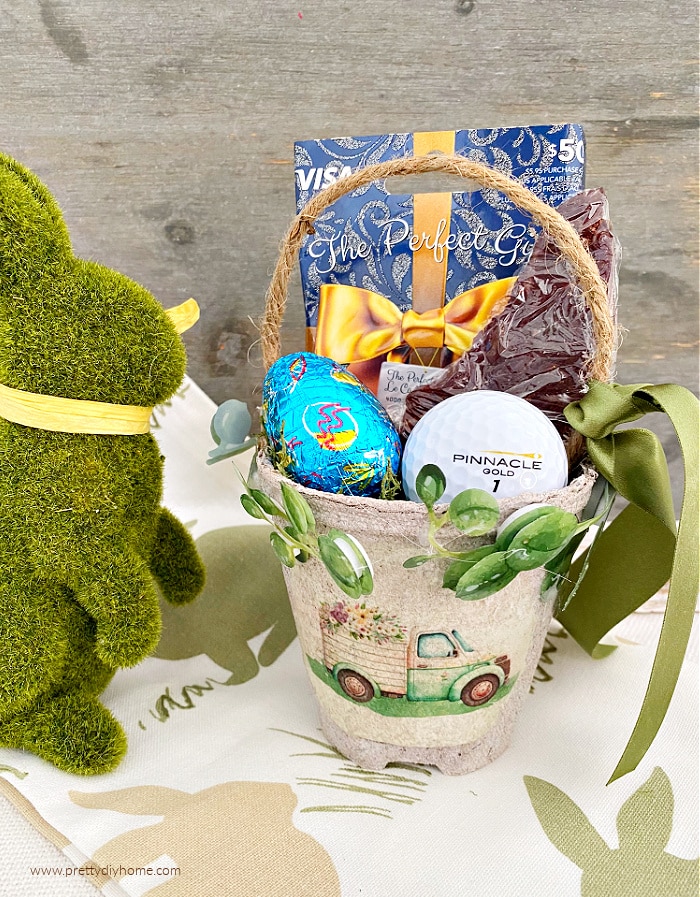 I loved the vintage truck for the male gift baskets. I also kept the ribbon darker and more plain, no bows etc. Candy Easter Basket – Assorted Favorite Candies, homemade fudge, a small chocolate bunny etc.
Cash and Candy Easter Basket
This gift works well for teens and tweens. The homemade Easter basket makes the gift thoughtful. Give them some goodies, along with rolled money tied with a ribbon.
This cash and candy basket is geared a little more towards girls as I have three grand daughters. For a boy change the image to one of the truck printables. Replace the butterfly with a lego man piece. Personally I would keep the ribbon as its not frilly.
For a boys toy basket you could include goodies, lego, hot wheel cars, or a game giftcard.
Girl's Sticker Easter Basket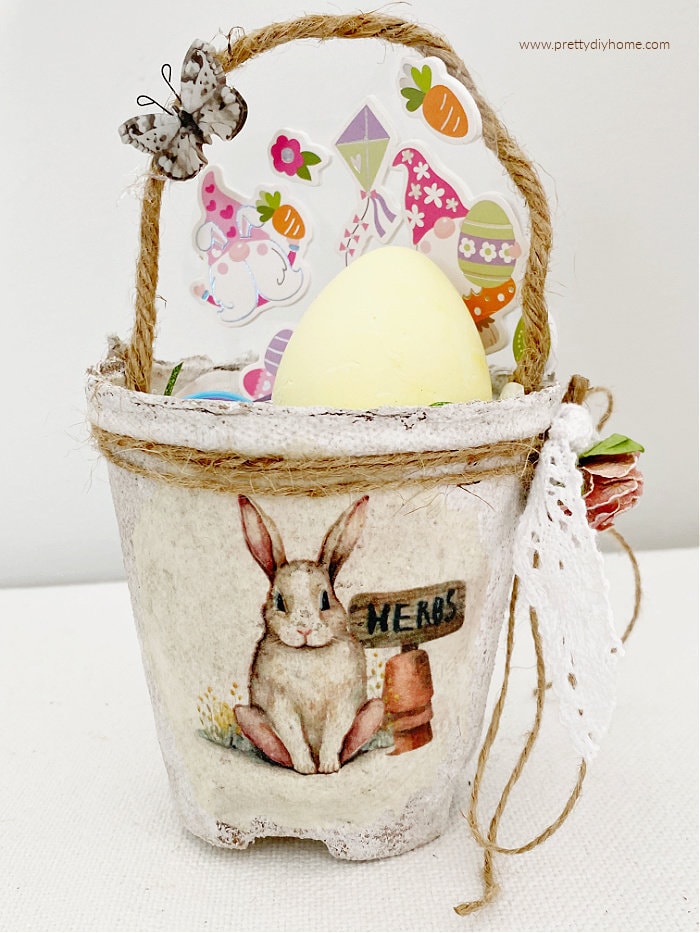 The dollar store is a treasure trove for stickers, markers, stamps. The egg in the above picture is actually chalk. It came in a package of six. I cut out some Easter themed stickers to pop in the basket and has an eraser, and little stamps inside. I also bought a big fluffy white bunny pen, but it looked odd in the pretty picture.
For an older person I would skip the chalk and stamps, crayons etc and go for something more planner orientated. Pretty pens, fancy post its, pretty office pins, and a scented candle are some ideas.
Manly Basket – Beef Jerky, bag of peanuts, scratch lottery tickets. Great for a coworker or brother.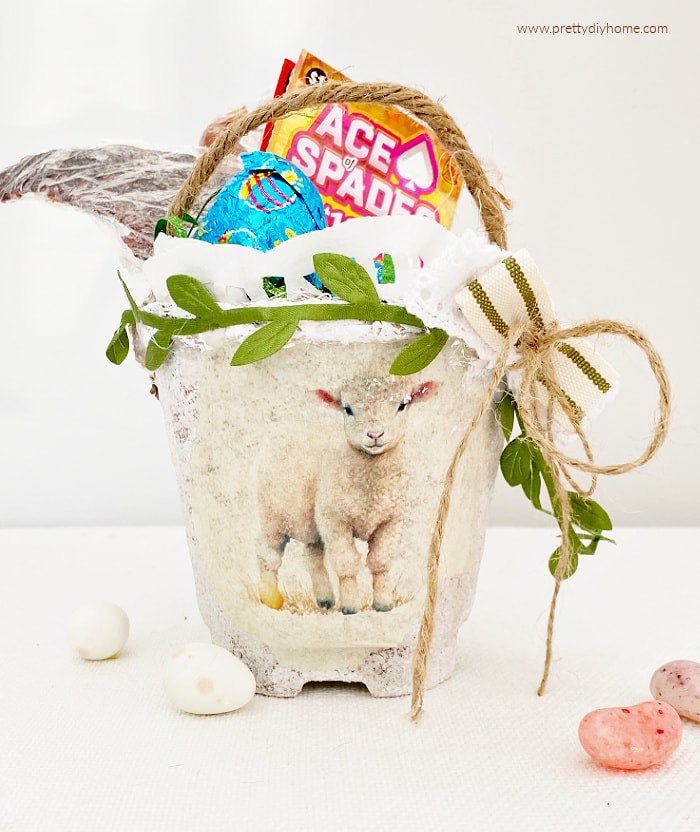 Jewelry Basket – Earrings, necklace, its doesn't need to gold to be thoughtful
Scented Basket – Candles, assorted essential oils, a bar of soap
The ideas are endless of course, but I hope I gave you enough ideas to get you started.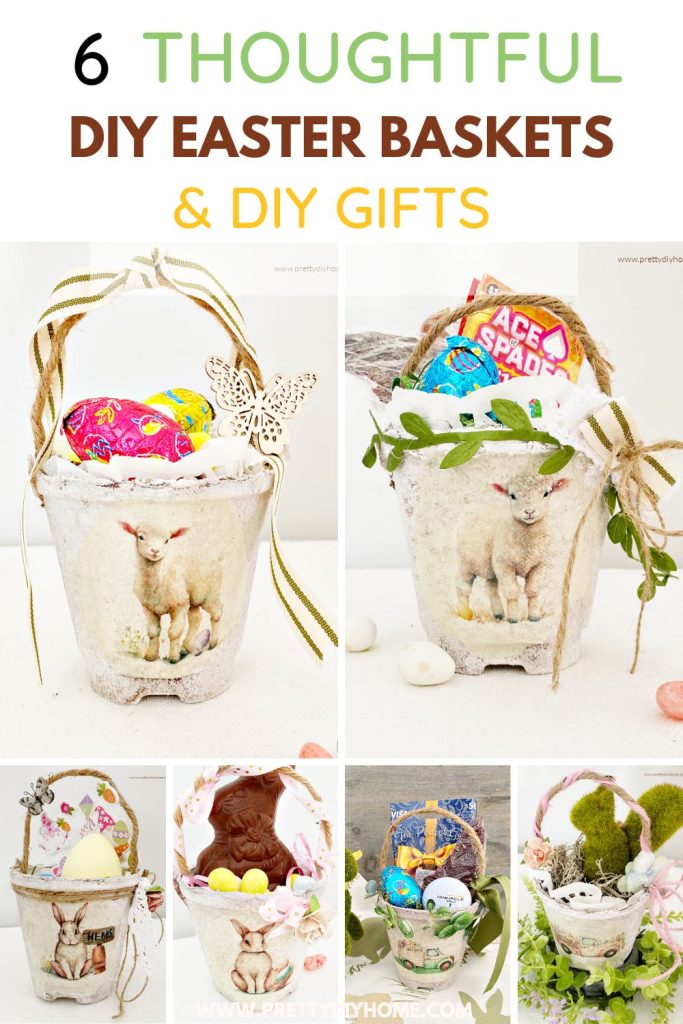 Creative Craft Hop Posts to Enjoy
Lots of exciting brand new projects and idea to inspire us. Have a great time checking them out.
The Painted Apron | Spring Bottle in Bloom
Patina and Paint | Easy Easter Craft
Life as a Leo Wife | Farmhouse Bunny Topiaries
Purple Hues and Me | Twisted Rope Container with Top
My Thriftstore Addiction | Egg-cellent DIY Floral Arrangement in 2 Easy Steps
Decorate and More with Tip | Adorable Easter Craft DIY
Birdz of a Feather | Slip on Coaster
Blue Sky at Home | How to Easily Decorate Old Bottles with Paper and Vinyl
Southern Sunflowers | How to Decorate a Dollar Tree Bunny Wire Wreath
Modern on Monticello | Easy Tile Pallet Wall Art
The Apple Street Cottage | Spring Fence…and a Bunny!