Envelope Pillow Cover Tutorial
Making Envelope Pillow Covers with Fun Tassles
This envelope pillow cover tutorial can be used to make any pillow cover size you need. My pillow covers are made for a 20 by 20 inch cushion, as I much prefer the larger size couch pillows. If you already have a cushion in a different size you want to use, no worries, its very easy to tweak the pillow cover tutorial for other sizes.
My couch was in desperate need of some modern pillow covers, we went to the USA for holidays and I grabbed some gorgeous black and white fabric. The fabric is thick with lots of gorgeous texture making it perfect for the living room.
An envelope pillow cover is a pillow case that has an overlapping side to insert the pillow into it very easily without the pillow insert showing. They are the easiest cushion covers to make because you don't need a zipper, there is no pattern to transfer, and all the sewing seams are straight. You will sometimes see envelope cushions made with glue, which is fine if you only want to use them for one season. I am sewing these envelope cushions so I can safely wash mine.
Supplies for Making Envelope Pillow Covers
One yard of fabric (depending on fabric width) for each cushion.
Matching thread (I like Gutermann brand thread the best)
Fabric scissors, measuring tape, seam ripper.
Iron
Optional supplies – Rotary cutter, clear acrylic ruler and a self healing rotary mat. (This method is easier for cutting straight lines) If you don't have them just use fabric scissors and a measuring tape.
Making an Envelope Pillow Cover Tutorial
Step 1 – Wash, dry, and iron your fabric.
Step 2 – Cut three pieces of fabric. I used scissors to cut my fabric this time, but a rotary cutter works very well, especially on thinner fabrics.
Cut ONE large square fabric piece whatever size you want your pillow to be plus 1/2″ on all side for seams. For example:
20 inch cushion – cut your fabric 21″ square.
18 inch cushion – cut your fabric 19″ square.
Cut TWO rectangular fabric pieces the same width as your square fabric, and 3/4 times as high. For example:
20 inch cushion – cut two pieces 21″ wide and 16″ high
18 inch cushion – cut two pieces 19″ wide and 14″ high
Step 3 – Hem two rectangle pieces.
The opening of the envelope needs to be hemmed on each piece of fabric before placing your cushion together. When sewn the two pieces will meet where the hems are. So make sure the pattern of your fabric is going the way you want it to before pressing and hemming your fabric. Once you have the pattern the way you want it its time to start sewing.
With good side of fabric facing down, fold each rectangular piece 1/2 inch. Press to make a crease.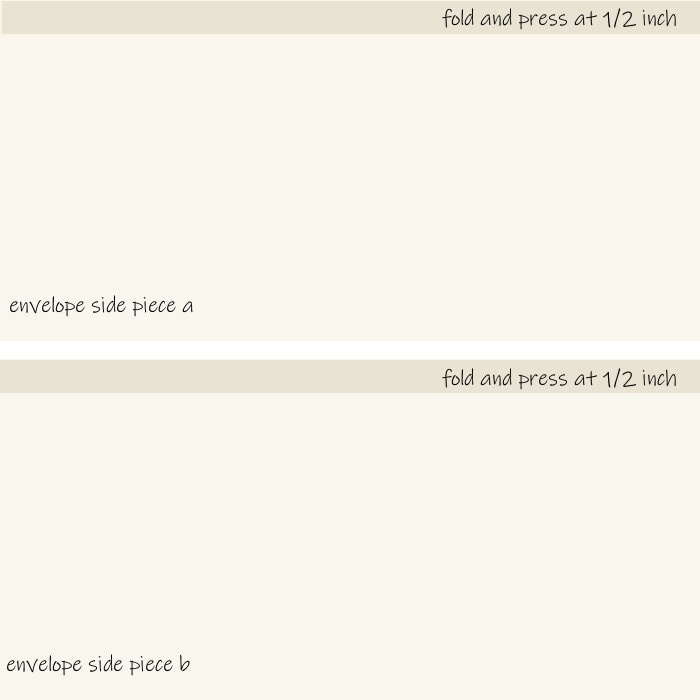 This is how it looks. Repeat for both pieces.
Refold the edge over at one inch. (this seals in the cut edge into the hem) Do for both pieces.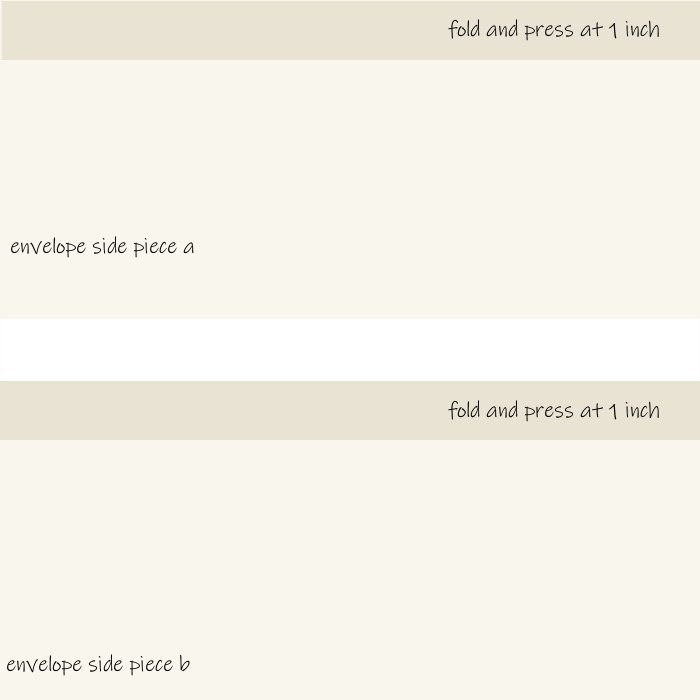 This is how the rolled hem looks. Finish for both pieces.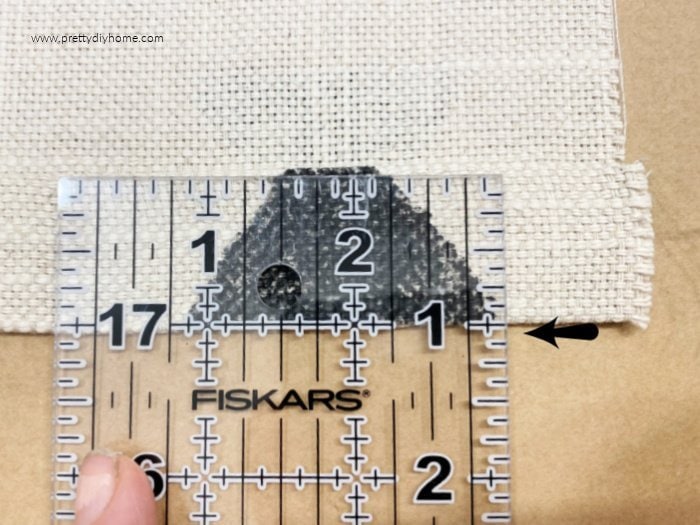 Once folded and pressed sew a narrow seam along the edge of the folded edge of the fabric. This finishes the two hem for the envelope opening.
Step 4 – Finish all the Outside Hems
Its super annoying to sew while little bits of threads unravel from the cut edges of the fabric. In order to to mitigate this I suggest finishing all your seams now instead of later. It's simple and quick to do. Sew a narrow zig-zag seam along all the cut edges of your fabric. Do this so the zig-zag goes on both sides of the fabrics edge.
Step 5 – Pinning the Envelope Cushion Together
Place the large square piece of fabric good side up. Cover with the two rectangular pieces good side down with the hems towards the center. The two rectangular pieces will overlap.
Pin everything into place.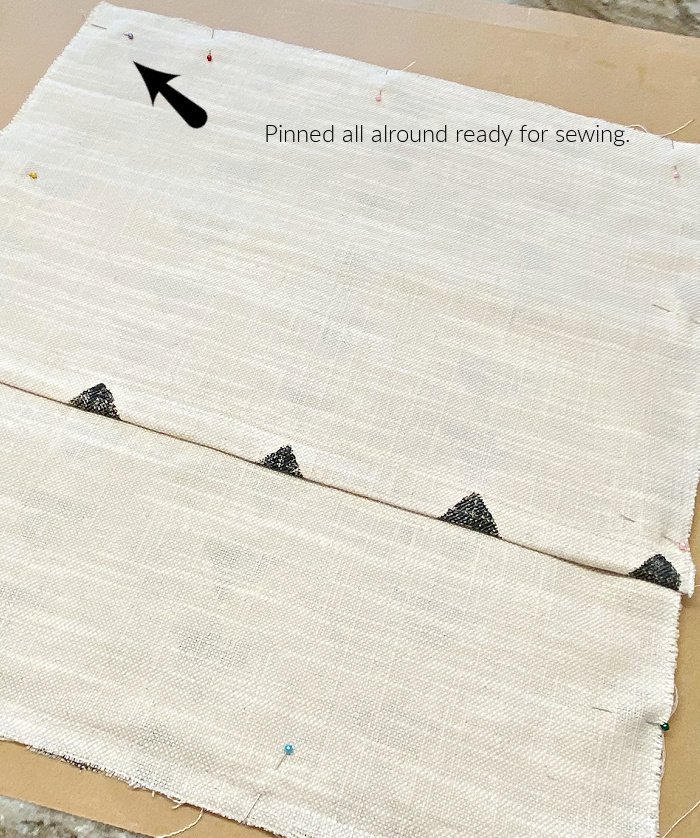 Step 6 – Sew the Cushion Cover
Sew all the way around the pillow cover 1/2 " from the edge of the fabric. Your sewing machine will have little marks alongside the needle showing the measurements to run your fabric against.Use a back stitch at the beginning and the end to prevent unraveling.
Step 7 – Turn Envelope Cushion Right Side Out
Turn your gorgeous new cushion cover right side out, and insert your cushion.
Now decide how you want to orientate your envelope cushion cover. If you want to add a tassle like I did, place the opening towards the front of the cushion. If you don't want a tassle and prefer a clean fronted cushion cover, place the opening towards the back.
Video Tutorial for Making Envelope Pillow Covers
If you want to see the steps in a video.
Adding a Tassle
After finishing the cushions I did decide to add a tassle to my cushions. Here is a seperate tutorial for how to make them. To attach the tassle I flipped the envelope cushion around and attached the tassle where the overlap is.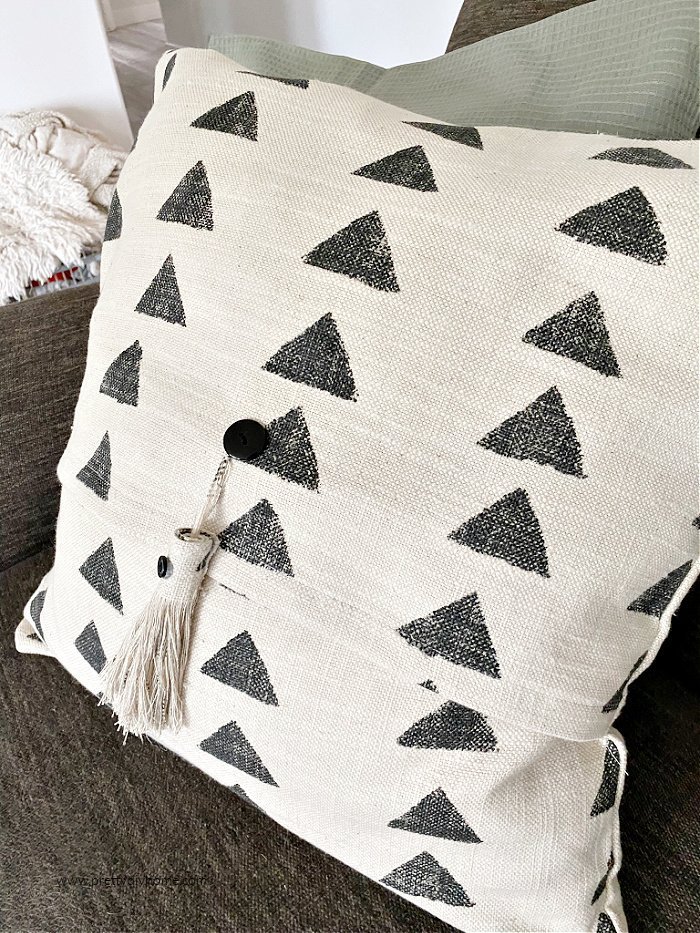 I will post the step by step tutorial for the tassle separately as soon as its written.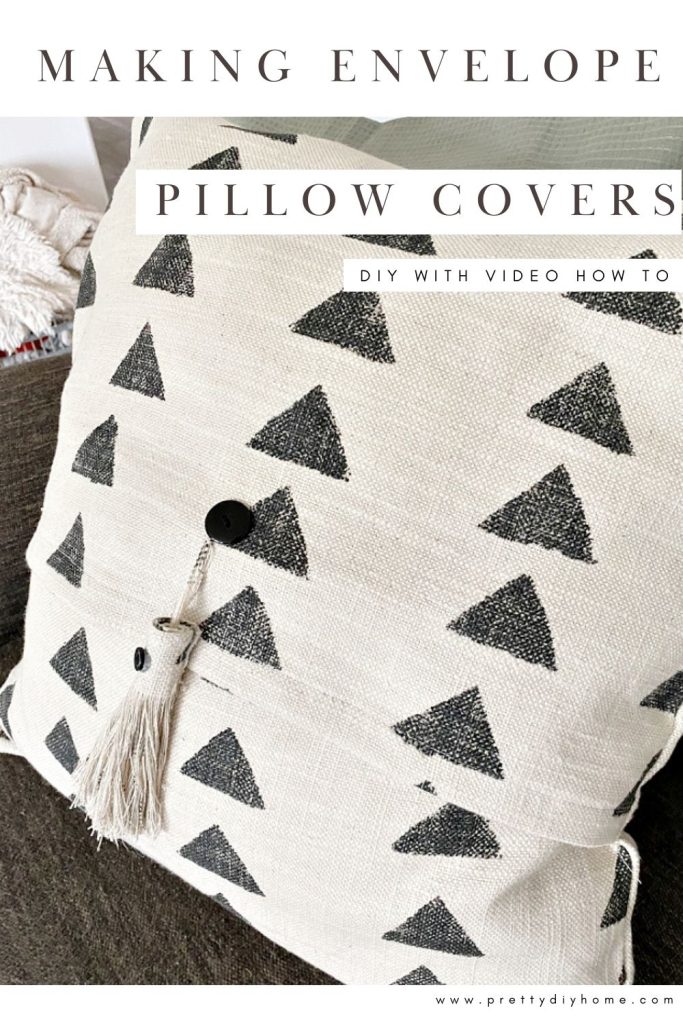 Other Pillow Tutorials to Try
Pillow covers are not only easy to make I think they are really fun to create. The variety of cushion covers you can make is literally endless. Here are a few of the other pillows cover tutorials I have written.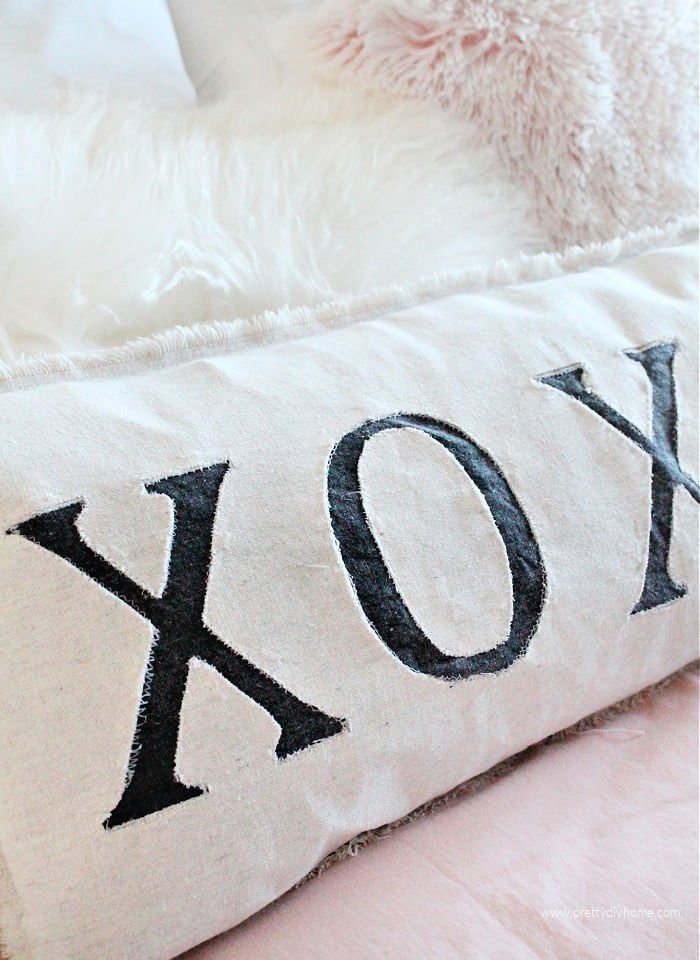 Farmhouse DIY Pillow Cover
This DIY Farmhouse Pillow Cover is made using drop cloth, and a unfinished edge. It's fun for the bedroom or Valentine's Day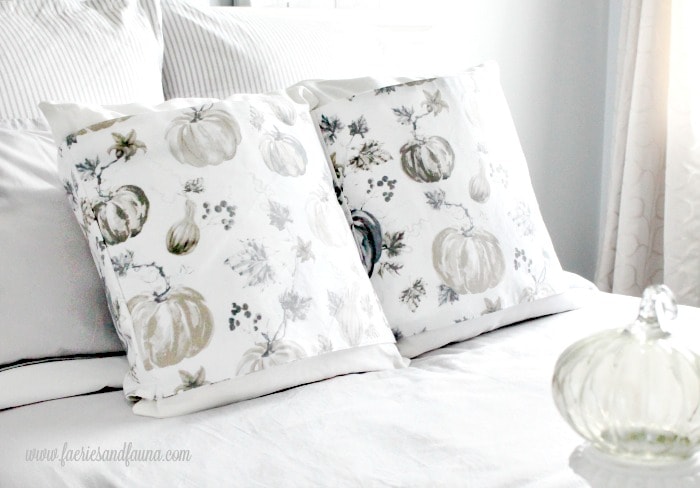 How to Make Pillow Wraps for Fall Decor
Instead of making a whole new set of pillow covers, to update these bedroom cushions I made some quick pillow wrappers for Fall.