Easy Tassels DIY with Scrap Fabric
Tassels are such a fun embellishment, and I am very excited to show you how to make tassels. I have never seen this style of tassel before, and the tassels are so easy to do, and better yet free to make using leftover fabric.
In today's post I am using these tassels on envelope cushions, but I think they would make great book marks or gift embellishments as well.
Supplies for Making Tassels
Heavy woven fabric scraps
Hot glue
buttons, twine, small embellishments (optional)
Large needle or Cricut pick (optional
How to Make Tassels Using Fabric
Cut your fabric so at least one end of the fabric has an open unseamed end. My scrap fabric was 18 by 7 inches, and I cut it in half to make two tassels. So each one is 9″ wide and 7″ high, making for large dramatic tassels.
Step One – Remove Woven Fabric Threads
Fabric is made up of woven thread going both ways. To make the tassels begin by pulling out the cross threads and place aside. You can do this by pulling out each thread with your nails, or you can use a cricut pick of needle. Its very easy to do, and only takes a couple of minutes per tassel. The picture shows you which threads you need to pull out.
Repeat removing the cross threads until your tassels are as long as you like.
Step Two – Seaming the Top and One End
Fold, iron and zig-zag stitch to make a very thin hem along the top edge and one side edge of your fabric. Alternatively you can iron, fold a tiny seam and seal it closed with hot glue. Both methods work well.
Step Three – Make a Tassel Hanger
Make a tassel hanger with some of the discarded thread. Twist three pieces of the discarded thread together. Fold in half and tie a knot in one end.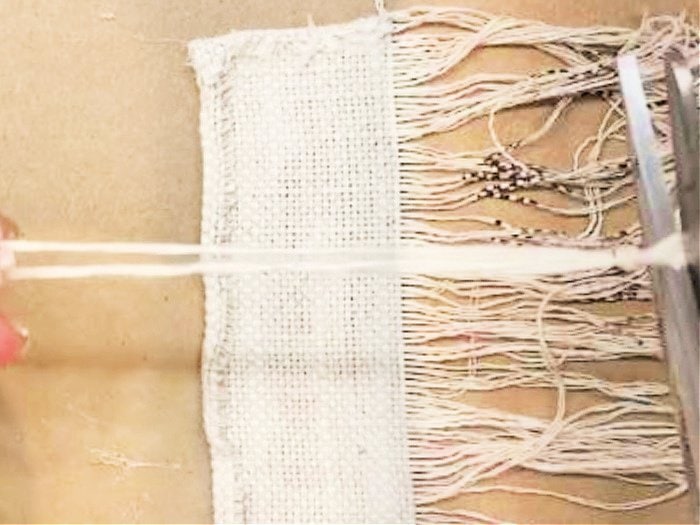 Step Four – Roll the Fabric Tassel Together
Starting at the unsealed end, place a dab of hot glue, place the knot of the tassel hanger into the glue so it will be in the middle of your tassel.
Roll up the tassels fabric a bit at a time gluing it in place occasionally.
When you reach the end of your fabric (hemmed end) finish it with glue and hold in place to cool.
Step Five Embellish Your DIY Fabric Tassel
You can embellish your tassel if you like, using twine, buttons, tiny wood embellishments, very small paper flowers etc.
I made and used my tassels to embellish cushion covers that I made using the same fabric.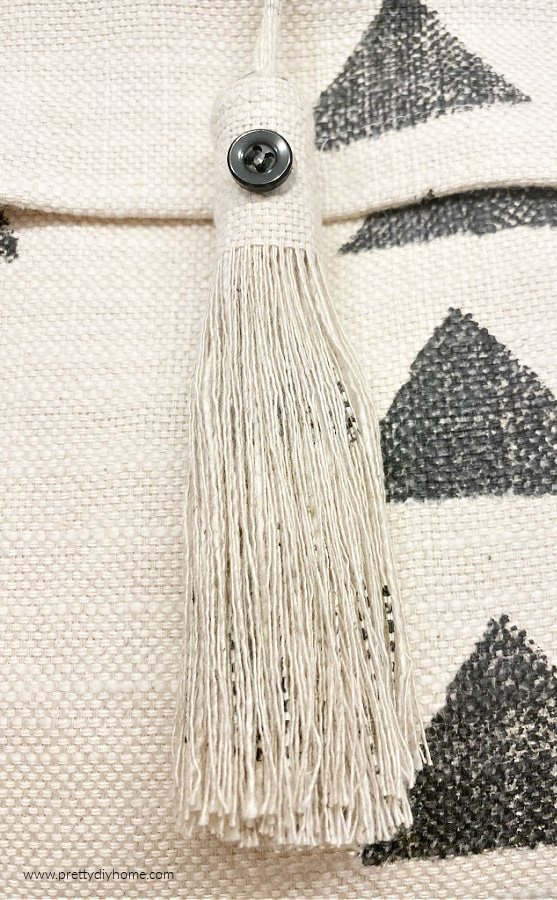 How to Make Tassels Video
If your wanting to watch me put my tassles together, I have created a really simple video tutorial for you. Its about five minutes long from start to finish and shows how quickly these tassels are to make.
This tassles are unique, I have not seen anything like them online yet. I love that they can be made with matching fabric on home decor projects. I haven't made any for Christmas gift giving yet, but I certainly want to give it a try.
The quality of the video is not where I want it yet, but I am learning how to create them and they are helpful if you need a little extra directions.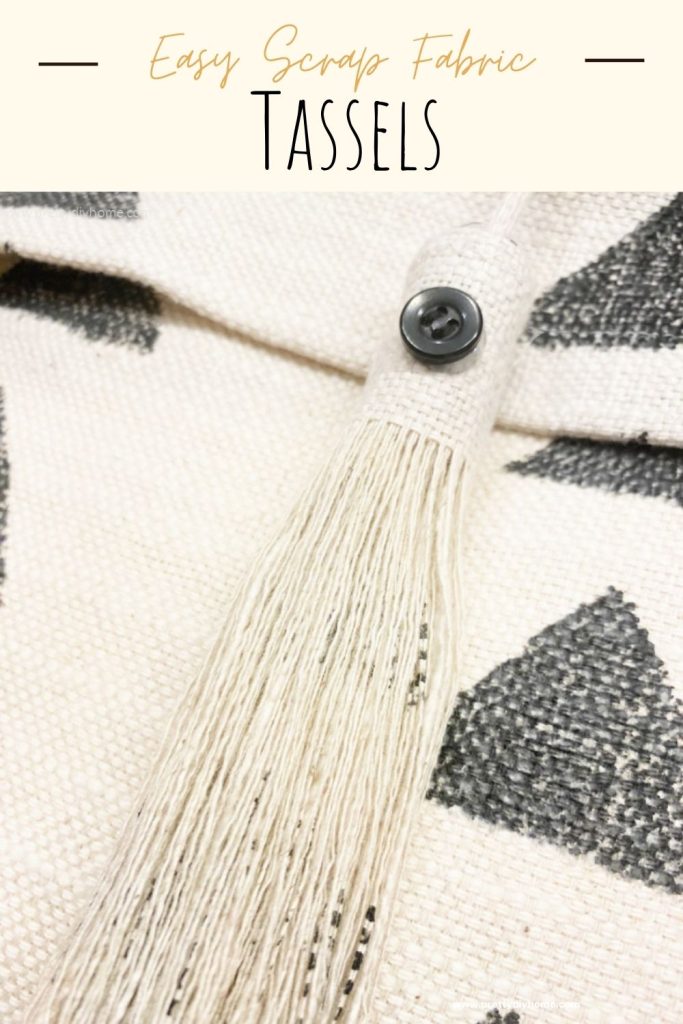 Here is the tutorial for the matching envelope cushions, made using the same fabric.
Let me know if you have seen any tassels similar to these ones. I am excited to have this post done and now I am on to writing Fall crafts, and some simple Halloween DIYs.