Perfectly Pink and Plaid Christmas Garland Craft
How to make a DIY Rag Garland with Felt and Pretty Pink Plaid
Its so nice to be able to create a special oasis for my granddaughters, and being the mother of all boys, its even funner to be able to do it in Pink! This is the first year the girls have their own little Christmas tree in their guest room. It was easy to decide to make their bedroom all cozy and sweet and pink, but it wasn't so easy to find pretty unbreakable pink decorations for their tree. This pink and plaid Christmas garland craft is super easy to make.
The little bits of plaid are leftovers from the DIY Christmas ornaments I made for the tree and the simple tree skirt I wrapped around the bottom of the tree.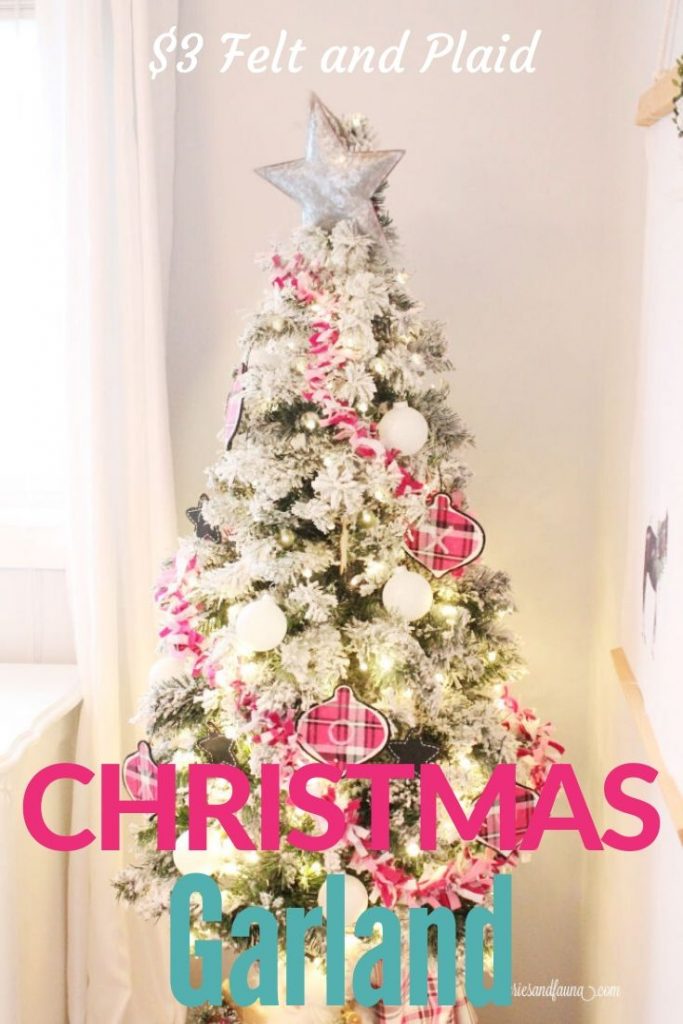 Homemade things are so much easier to coordinate then traipsing around town trying to find something that matches correctly. Plaid is a very strong pattern so its necessary to only have little tidbits of it in their tree. This took me an hour of concentrated effort to cut all the little strips. The actual tying of the garland took me three Christmas movies to do. Its really easy, so if you have munchkins by all means ask them to join in. Otherwise pour yourself something yummy and turn on a distraction, because tying these little bits can become repetitious.
This dollar store craft cost me $4.00 to make ten feet of garland. The fabric is extra, but 1/4 yard is enough.
How to make a Wired DIY Christmas Garland
You will need the following supplies:
Scraps of coordinating fabric ( I had dark pink, and soft pink flannel)
Coordinating felt, 2 sheets of dark pink, 2 sheets of soft pink, and 2 sheets of white
Florists wire.
A fabric cutter and/or scissors.
Cutting the Fabric for the DIY Christmas Garland Craft
I used five types of fabric, 2 plaid and 3 felt fabrics. Cut your fabric into little strips 1″ wide and 3″ long. You can use scissors but the easiest way was with a cutting wheel. The bits of fabric do not need to be exact, so the cutting goes quite quickly.
Tying the Fabric Strips
After your fabric is cut. Loops the fabric bits, then pull to tighten. One the loop is tighten string it onto the wire garland by pushing the wire through the loop. This is much faster then tying each one onto the wire individually. String your little bits of fabric onto the wire in a coordinating pattern, (white felt, soft pink plaid, dark pink felt, dark pink plaid, dark pink felt) that you like.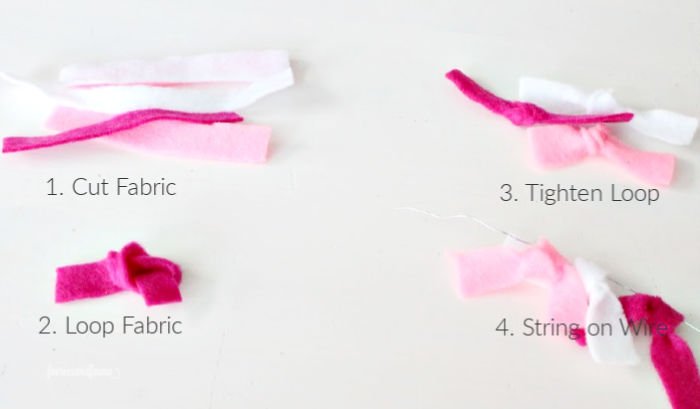 Repeat and repeat and repeat……pour, switch channels, repeat, repeat…. have a snack….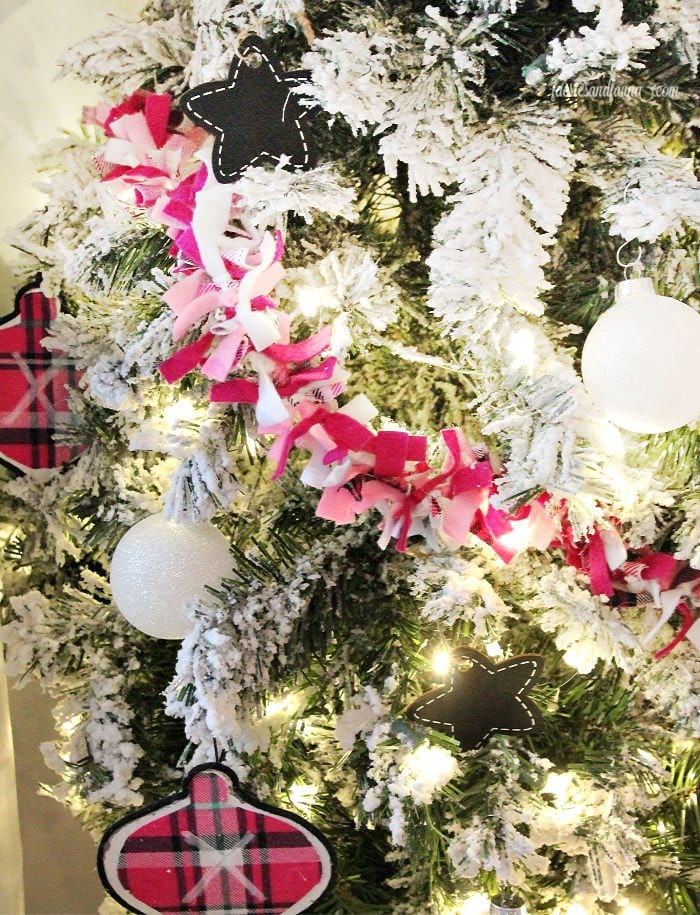 If your going to designate some time to put this little garland together I suggest placing all your little strips in separate piles as you work. If your going to do it as a family over several days, maybe sort them into a divided container, or a couple of small containers and just leave them out so people can work on it.
These garlands are a really easy way to add some different coordinating colours to your Christmas tree. The rest of the tree is decorated with DIY Flannel Christmas ornaments, little white shimmering snowflake ornaments and black chalkboard star labels from the dollar store.