Halloween Dog Decoration Sign
This Halloween dog decoration is made using an old Halloween sign thats seen better days. If your a dog lover like I am this new dog Halloween decor is perfect for your foyer, kitchen, livingroom.
Its worth taking the time to update an old sign instead of using a dollar tree frame, of course you can do that as well. But, I think this ghost dog Halloween decoration looks higher end because of the dimensions of the original thrifted sign.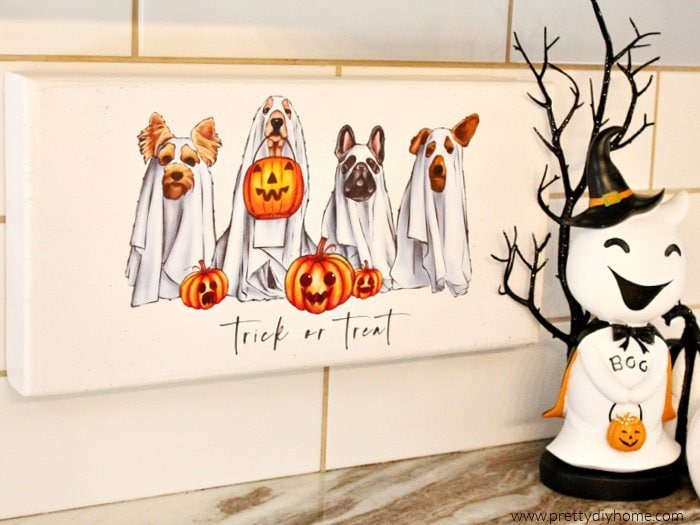 Halloween Dog Decoration Supplies
To make this Halloween dog ghost you will need a few supplies.
Old piece of art in a size to work with letter size printables
White Paint
Small piece of muslin to fit front of canvas
Parchment paper, iron
Etsy transfer from Trendfully
Jolee Easy Image for Dark Fabric Transfer Sheets
Spray on adhesive or mod podge
Brayer/roller
I tried three different transfer methods before I found one that worked the way I wanted it to. Parchment paper was much too smeary, and the Jolee for light fabrics didn't transfer the white portions of the ghost enough. I finally worked with the Jolee Easy Image for Dark Fabric Transfers sheets.
Painting the Original Sign
Paint whatever original sign you have in white. It took me three coats of leftover ceiling paint, you can use whatever white latex paint you want. Let Dry.
Printing Out the Ghost Dog Template
Download the Halloween dog printable. I then used picmonkey to resize the image for my canvas size and wording underneath. If using Jolee's image you can try www.joleeseasyimage.com as well. With the dark transfer images do not mirror.
Test Printer
Transfer paper is expensive so I suggest doing a test print first to see which side of the paper your printer prints on. I wrote the work up on one side, fed that side face up into the printer and ran a test. My printer prints on the bottom.
Printer Settings
Every printer is different of course, my inkjet is an HP envy and I used the following settings; best print quality, printed in color, landscape orientation, hp paper setting (ie I didn't use photo paper) I set it to print on lettersize sheet. The Jolee printable directions shares different paper choices based on your printer brand making it easy.
Printing the Transfer
Load the paper into your printer so that it prints on the non-glossy unlined side. Be patient and let the printer work, it takes a while to go through the printer. Trim the edge as close to the dog ghosts as possible.
Attaching the Transfer
Rip the edges of the muslin to the correct size, checking the fit on the painted frame. Ripping gives the edging that torn look, I had one edge that would not rip so I cut it and pulled out the threads instead. Iron your muslin flat so its flat.
Remove the Transfer Backing
Honestly this is the only challenging part. I am not good at it at the best of times and franky it was hard to get the first starting edge to lift. Once you do pull the back of the transfer away carefully. The printed on side is a bit rubbery and stretchy which helps, just be careful.
Place the printable in top of the muslin. Cover with parchment paper. Using an iron with the no steam setting hold down the iron on each bit for 10 seconds before lifting the iron and doing the next part.
Adhering the Halloween Dogs
I used spray on adhesive to glue my dog ghost template fabric to the wooden frame. Apply a good coat of the spray, place the printable over top of the adhesive and then work the wrinkles out starting from the center and working towards the outside. If you need to lift up a section to replace it don't worry it will restrict.
Once you have the printable how you like it, cover the top with parchment paper and using a brayer smooth out the top. Hang and enjoy!!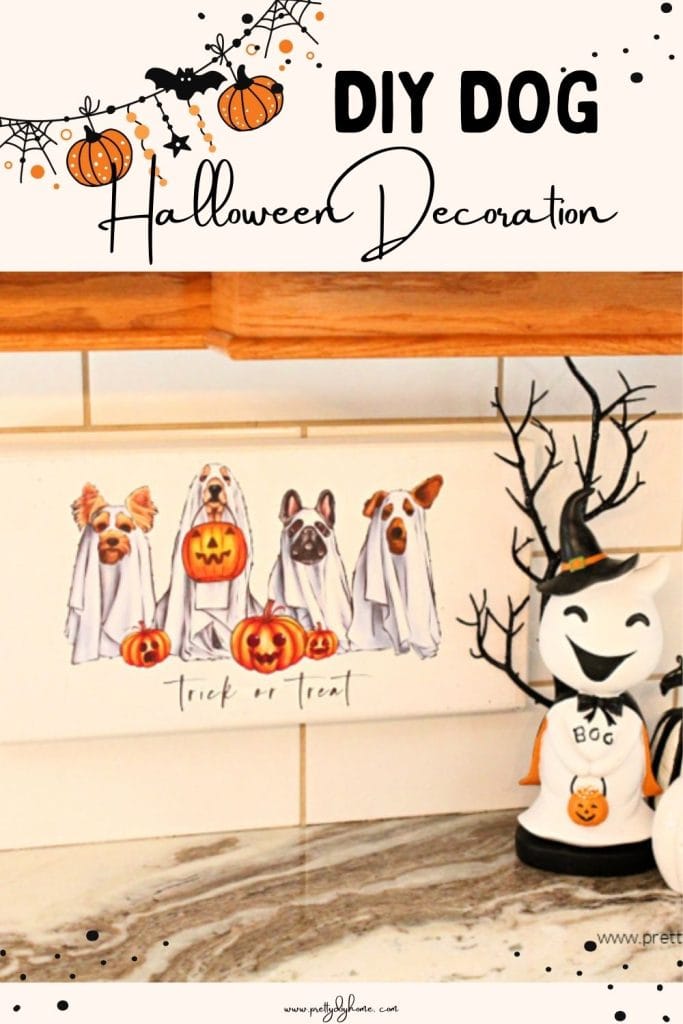 Halloween Ghost Dog Video
If your wanting more specific instruction on how to make these Halloween ghost dog decoration I have created an instructional video I hope you find helpful.
I really adore making anything dog ghost. Here is a post about a full size Dog Ghost Decoration we made for our front porch.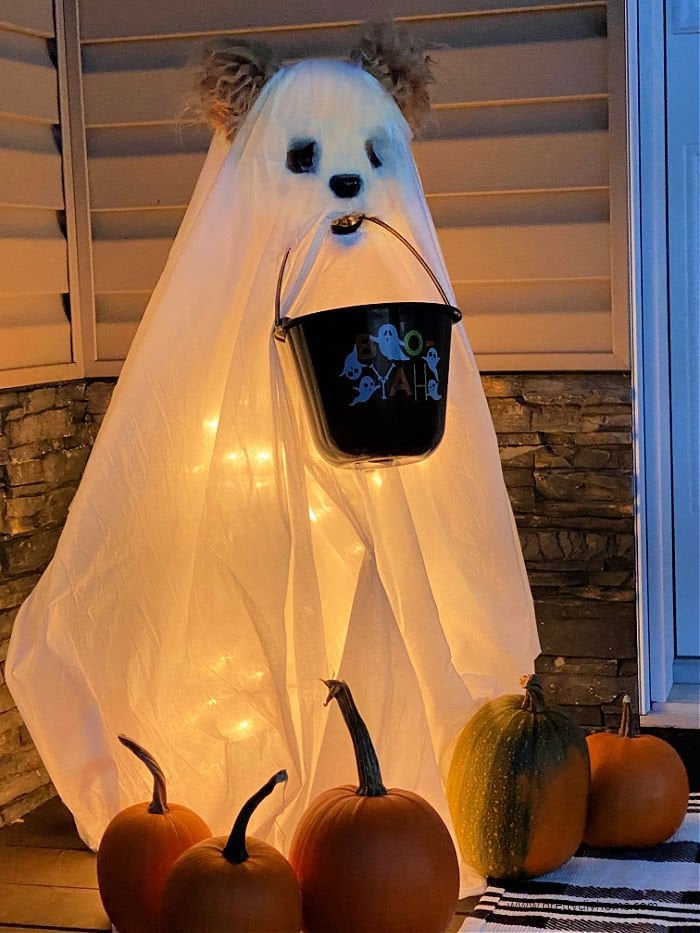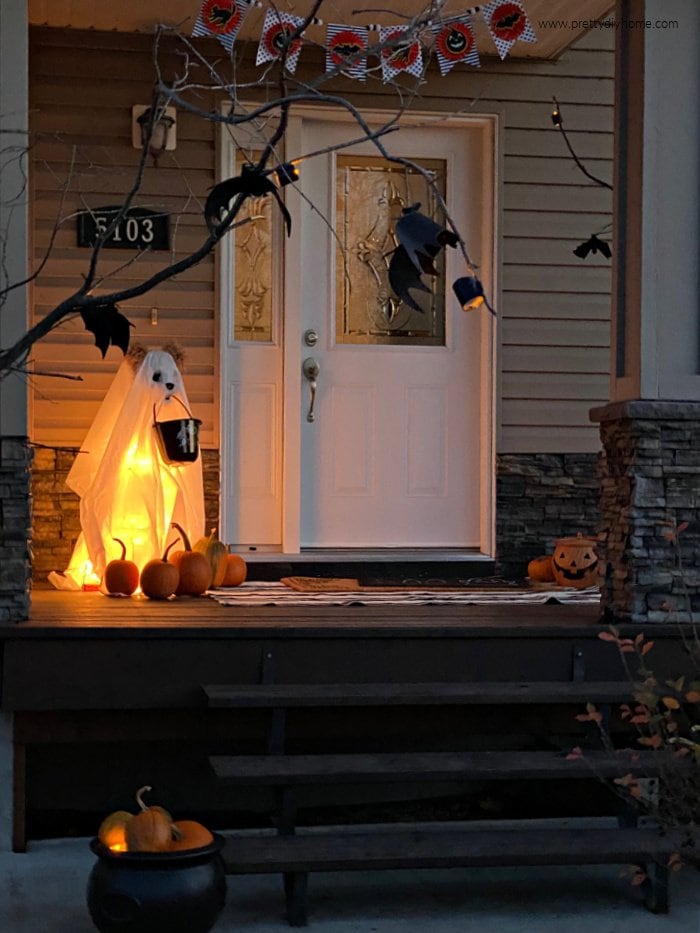 Halloween Front Porch Decor
This Halloween Front Porch consists of several easy DIY Halloween decor ideas, including a creepy tree, the dog ghost, and a dollar tree sign update. Together with some pumpkins its got just a spatter of spooky.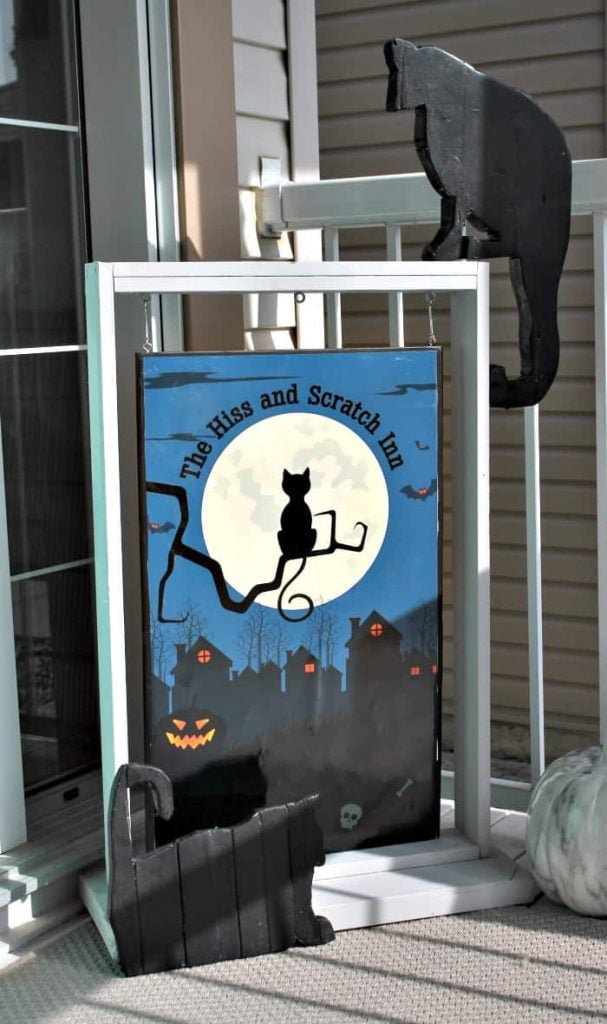 Hiss and Scratch Halloween Cat Sign
Its all about animals today. In case you prefer black cat to ghost dogs I created this Hiss and Scratch Inn Halloween porch sign. The hanger does double duty as a pot holder during the summer.