Boo-Yah Halloween Porch Decorating
Halloween porch decorating is a really fun way for us older adults to have some spooktacular fun at Halloween. This year our Halloween porch decorating is all about Boo-yah fun ghosts. There are lots of kids in our neighbourhood including my granddaughters and their friends and they love to come over and see what Grama created this year. This Boo-yah ghost themed Halloween porch is more about spooky then it is scary. We really love having the cute little trick and treaters and their parents come up to our house and I don't want them to be terrified.
As always the budget is especially tight for Halloween as we are saving up for Christmas, but you still want to have a fun Halloween. I got several Halloween porch decorations you can create using mostly free or Dollar store supplies. I will include links to all the Halloween porch decorations tutorials. Happy Halloween porch decorating.
The Dog in a Ghost Costume
We have a large great pyrenees who would look fabulous in a ghost costume, but he would not be a happy ghost even if I dressed him up just to meet the trick and treaters. So we created this Dog in a Ghost Costume decoration. This little ghost dog is the feature of our Halloween porch decorations, so I started by showing him first. Then we added all sorts of other little ghastly ghost touches to our porch.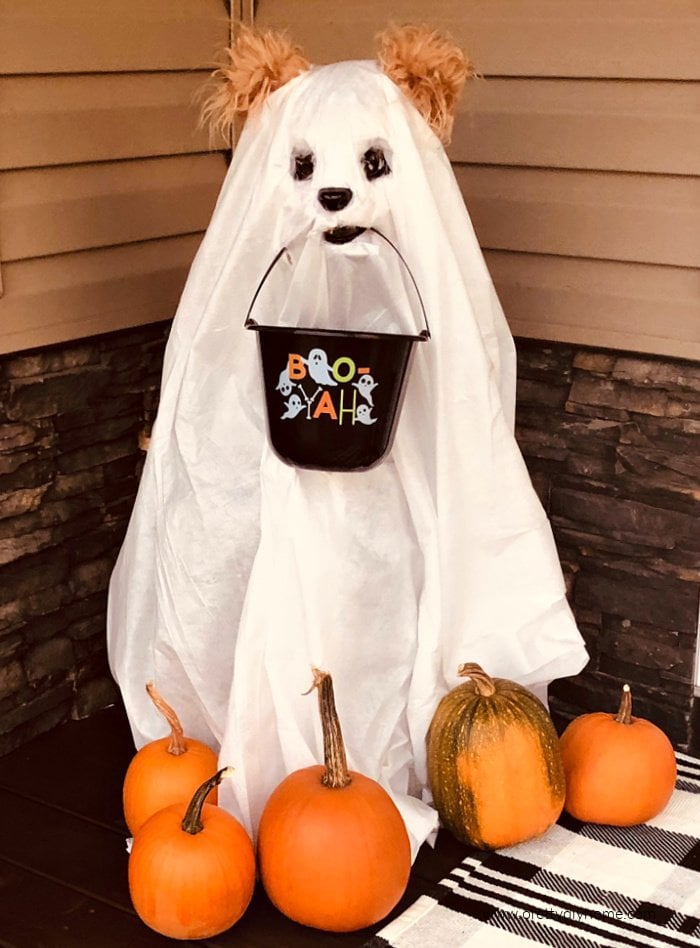 I used a traditional color scheme for our outdoor Halloween decor ideas, everything is black, orange, and white. It makes the front porch look cohesive and planned. Sometimes less is more and I wanted the dog ghost to stand out.
DIY Sign Halloween Decorations
Unless you go to one of the expensive Halloween stores I find the purchased yard signs too small to make a statement, or even a tripping hazard. What a horror story that would be. So this DIY ghost Halloween sign is large enough to stand out. Would you believe it cost $4 to put it together. Ha, who needs pricey.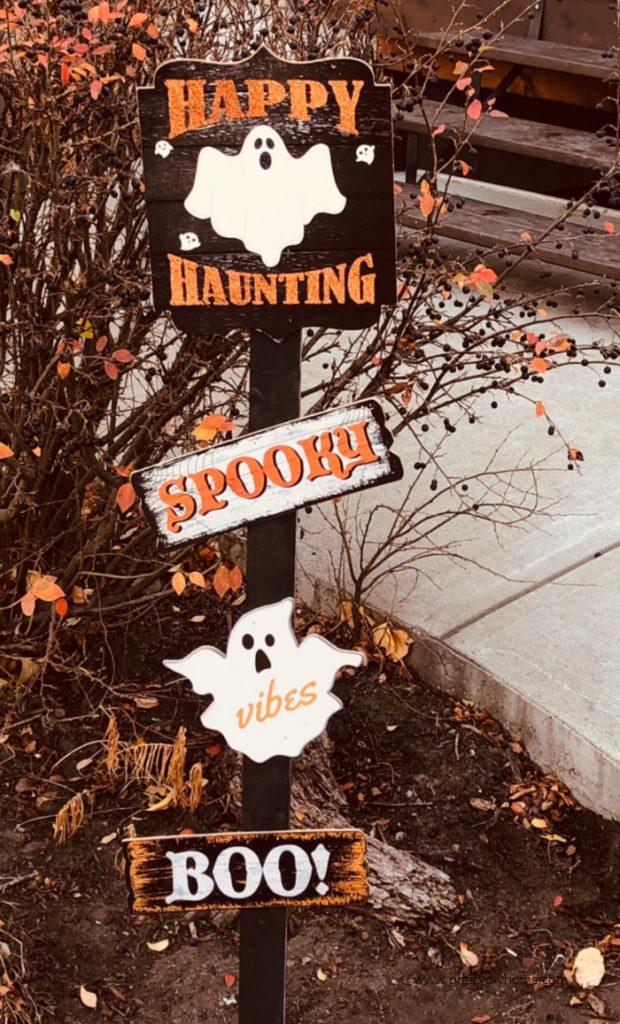 Decorating the Stairs
I wanted the stairs to remain clear, as often we can get troops of 8 or more kids at a time and they need to be safe and have as much room as possible. So instead of lining up the pumpkins I made two stacks of pumpkins. One in a witch cauldron I grabbed at a garage sale for $3.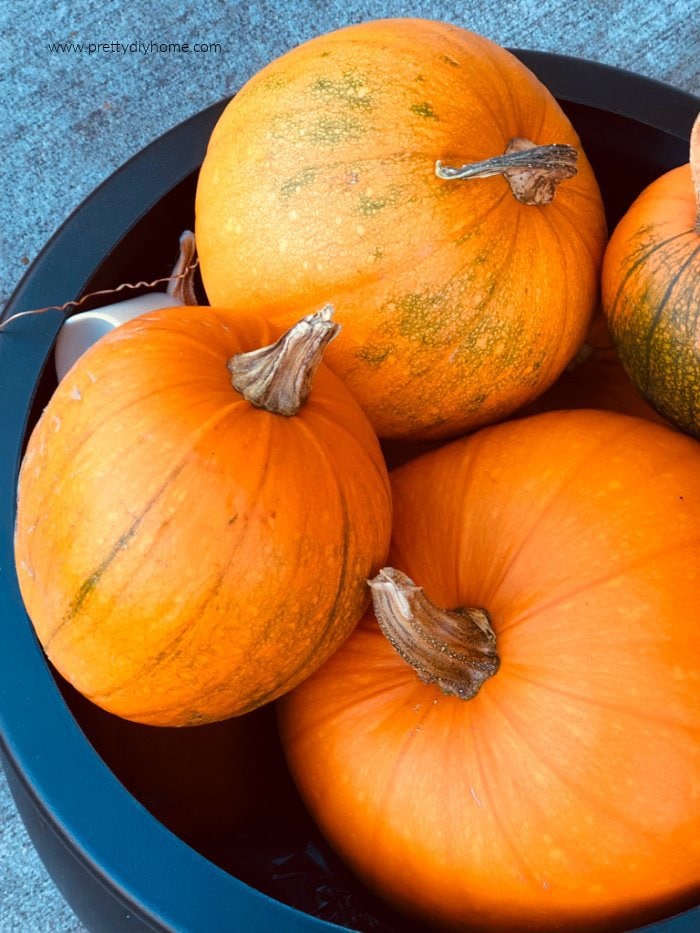 The second one is in a black basket with quickly drawn Boo-yah ghost pumpkins. The drawings are done with a dollar store chalk pen, and a sharpie. Five minutes and what can I say but Boo-yah done.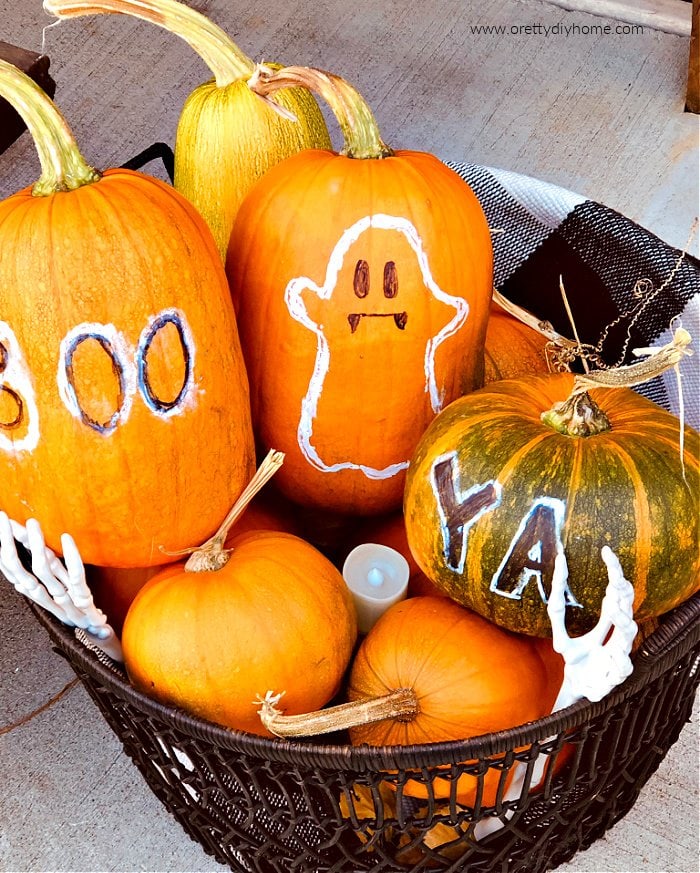 Each basket has a few flameless votives in them its look awesome at nighttime.
Hubs grew all these pumpkins for me. If you have room to grow a pumpkin plant or two, its a really fun way to introduce kids to gardening. Each child had their own pumpkin plant.
Spooky Tree Halloween Decorations
These spooky trees give a eerie feeling to the front porch at night. They were loads of fun to make, Hubs and I had a fun afternoon putting these together. One tree had a owl feature, the second tree has a creepy crow with red eyes that light up.
There is one spooky tree placed in the flower garden, my idea was to close in the front walkway.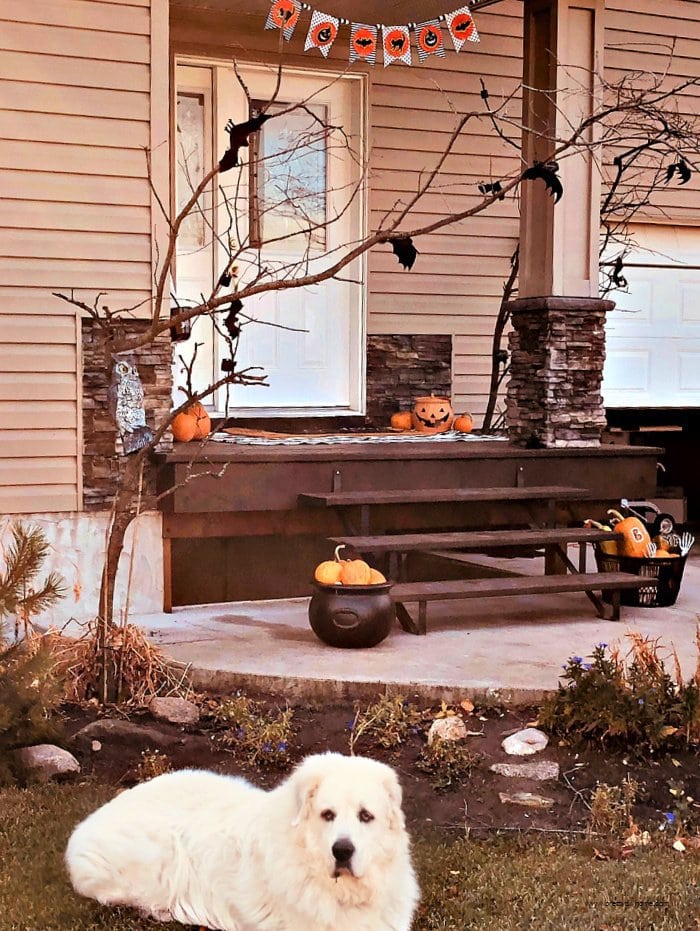 The second spooky tree encloses the side of porch. These old dead branches had lots of bark still on them, so we didn't paint them black. I think they look eerie just as they are.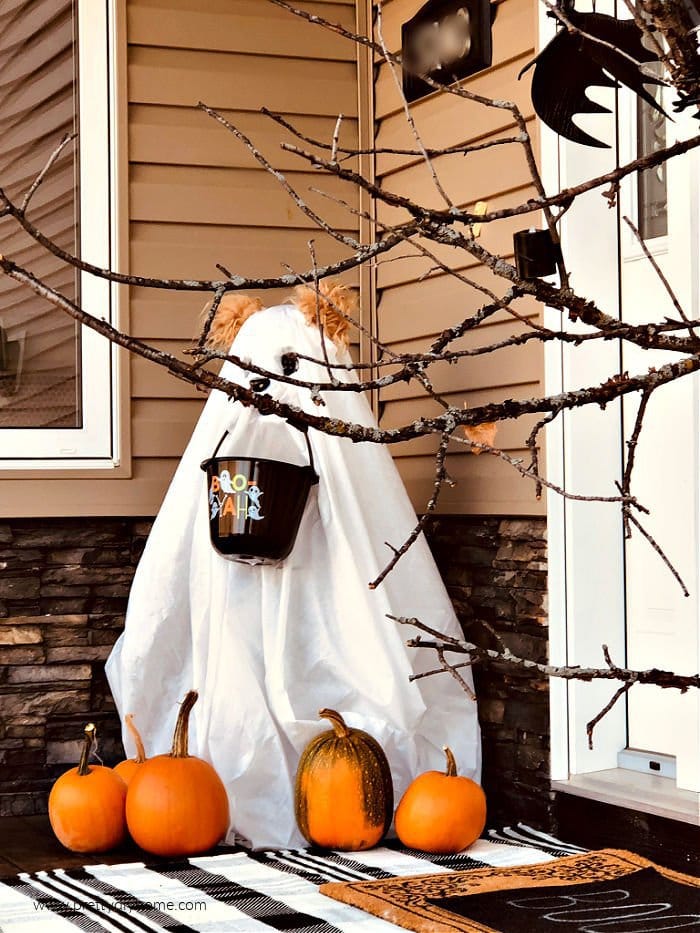 Halloween Front Door Decorations
I thought about creating a wreath for the front door, but only for a millisecond. Instead I made a quick last minute Halloween doormat, and placed our traditional metal jack-o-lantern on the other side. This jack-o-lantern is at least 10 years old, and I love sticking it into our Halloween porch decor somewhere every year.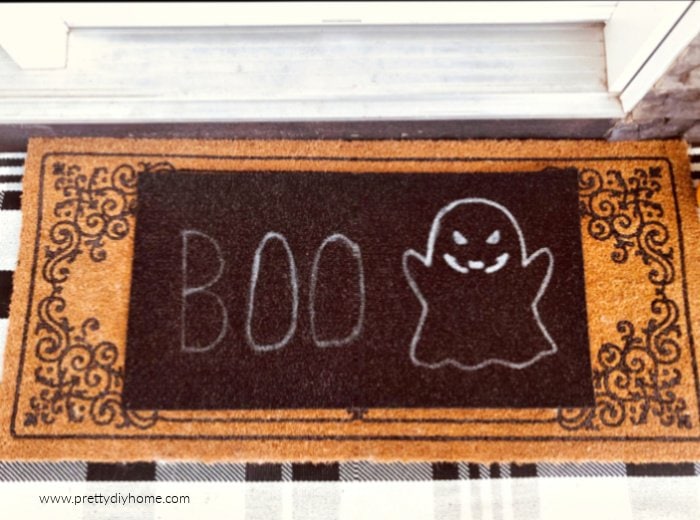 I think during the daytime when the little trick and treaters are out and about the Halloween porch will look festive and fun.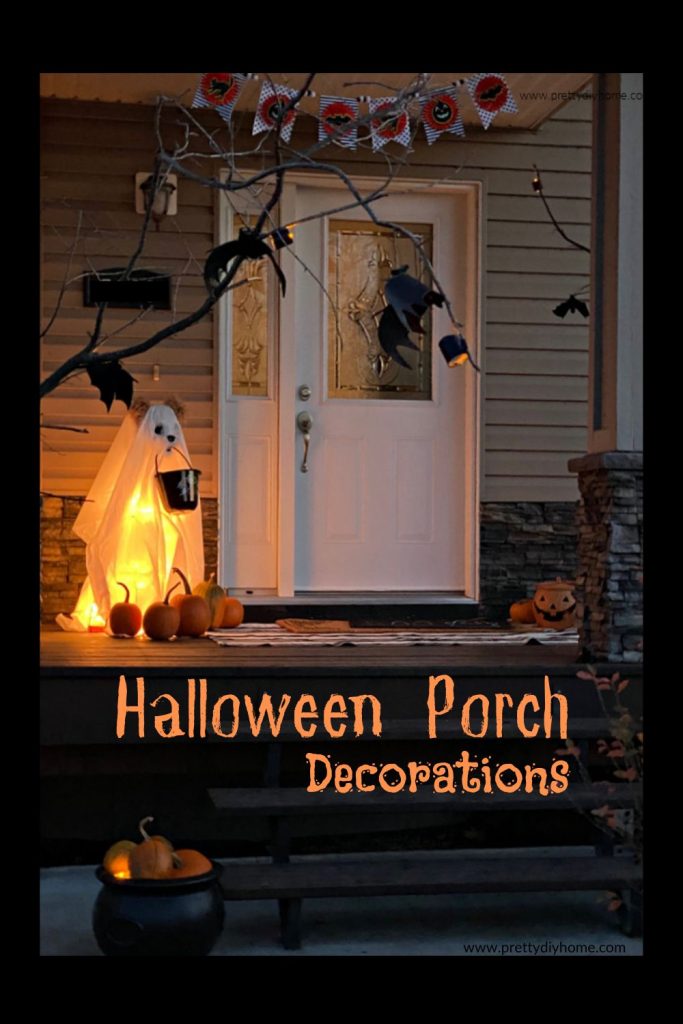 Halloween Porch Decorations at Dark
Living up north in Canada the days are already quite short. I took these night time photographs about six oclock. The lights really make it look a bit creepier for the older trick and treaters.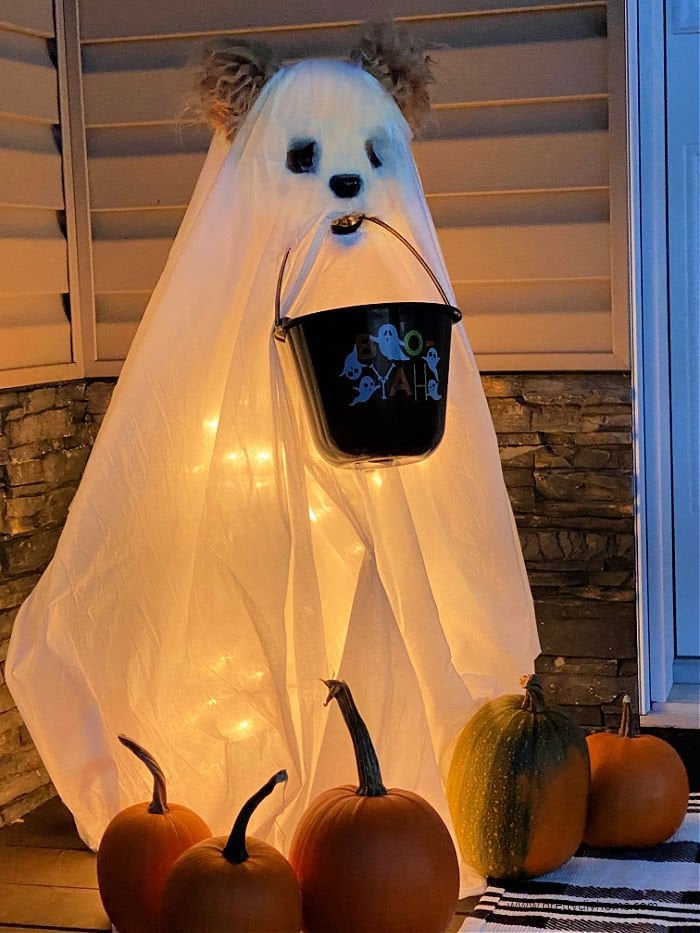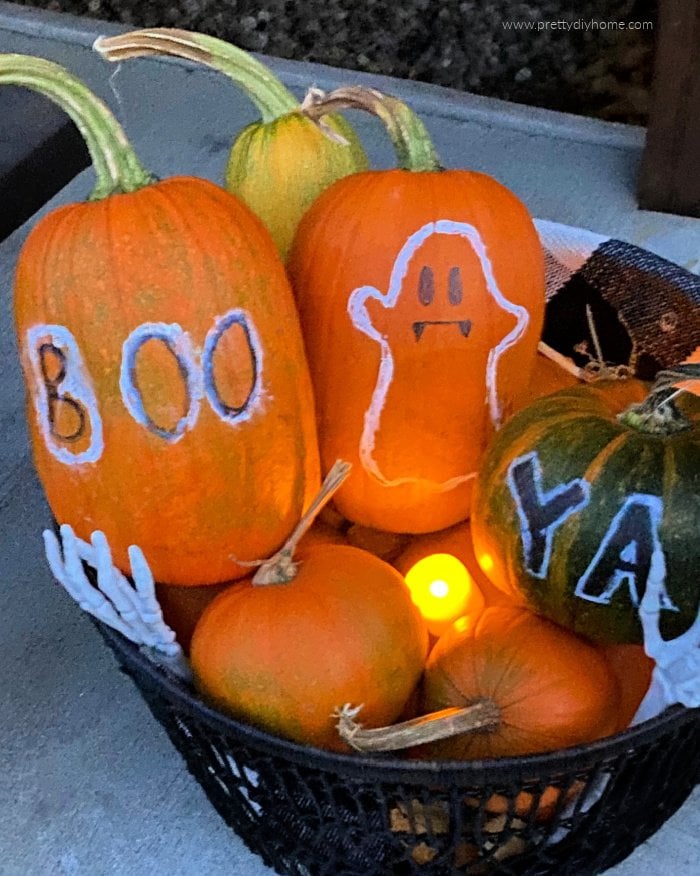 I love the bats at night.