Oreo Dessert Christmas Party Food Ideas
20 Festive Oreo Desserts for the Holidays
A delcious collection of easy to make Oreo dessert ideas for Christmas. All types of oreo dessert recipes like oreo balls recipes, oreo cheesecake recipes, oreo bars, and easy no bake oreo cookies. I don't know how else to describe it but festive, fun and fabulous YUM for the holidays. If your family loves Oreos like my family does, this collection is going to make planning for the Holidays easier.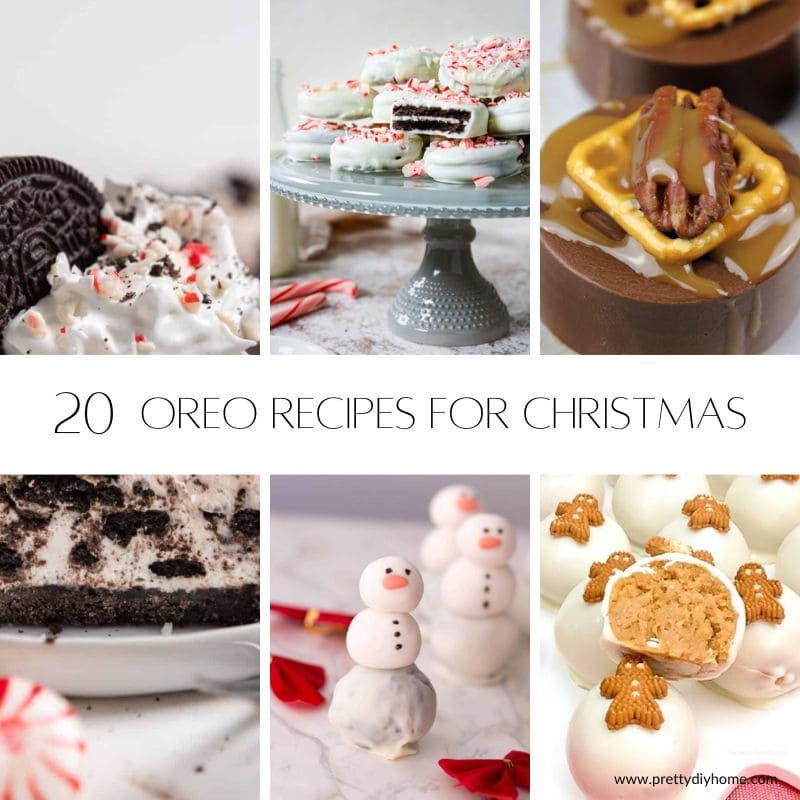 Oreo Balls Recipes and Oreo Candy
Oreo balls recipes are so popular because they are a perfect Christmas party food. So many different variety of oreo balls recipe each with a very unique style and flavour.
This no bake treat for oreo gingerbread truffles uses golden oreos instead of chocolate. A sweet treat thats a bit different and I adore the little gingerbread men on top.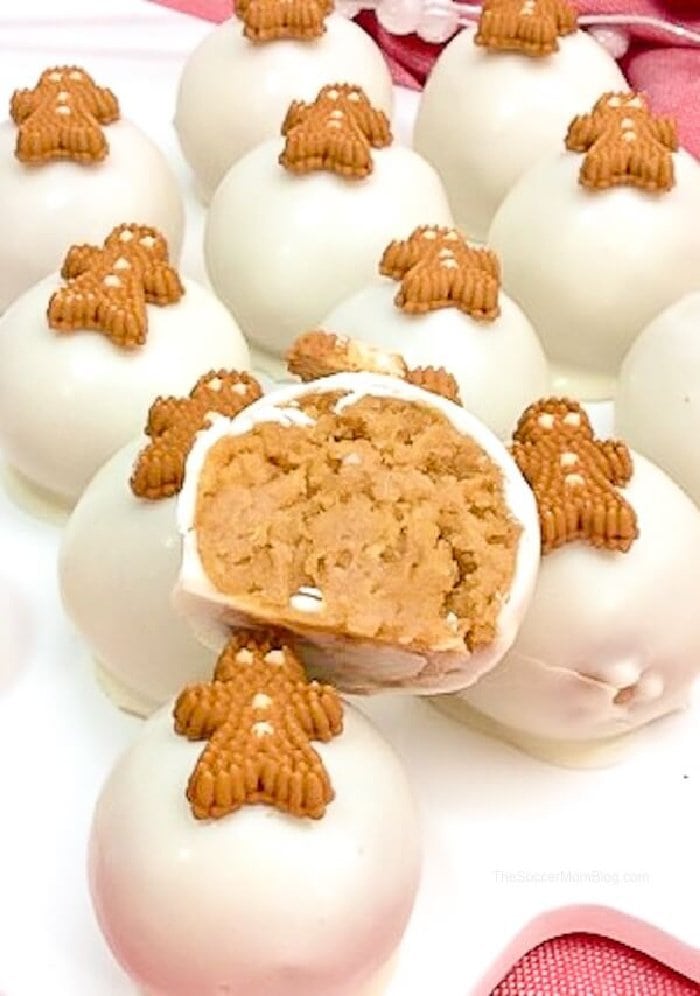 Oreo Gingerbread Truffles – The Soccer Mom Blog
Creamy vanilla fudge and Oreo cookies, finished with peppermint candy cane bits, an easy to make fudge oreo dessert for Christmas. The crunch in this fudge recipe has to be the best using both Oreos and peppermint candy.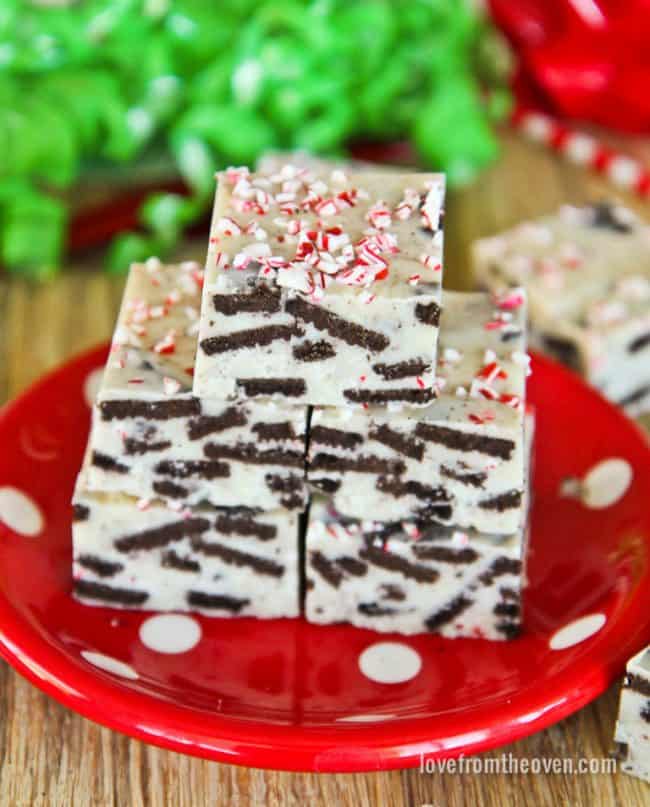 Oreo Cookies and Cream Fudge – Love From the Oven
A striking oreo dessert with a crunchy cookie center, coated with melted chocolate then pecans, pretzels and caramel. A Christmas dessert this pretty should be harder to make.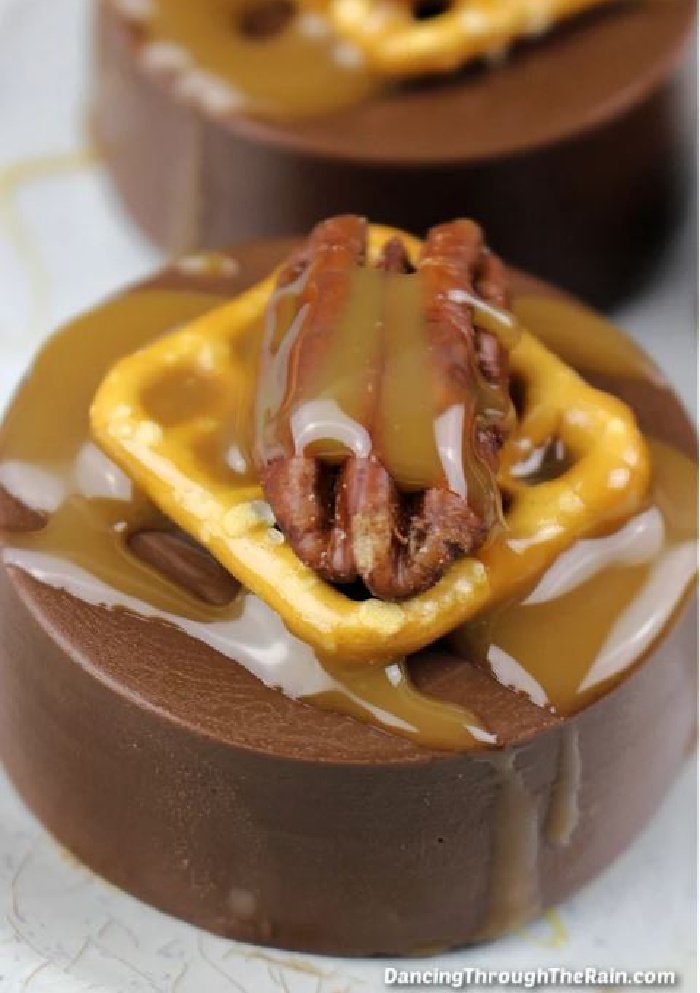 Caramel Pecan Chocolate Covered Oreos – Dancing Through the Rain
Kids and adults alike will devour these No-Bake Candy Cane Oreo Cake Pops. Yummy melted chocolate coating, oreos, and peppermint, combine in this simple to make Oreo cake pop Christmas treat.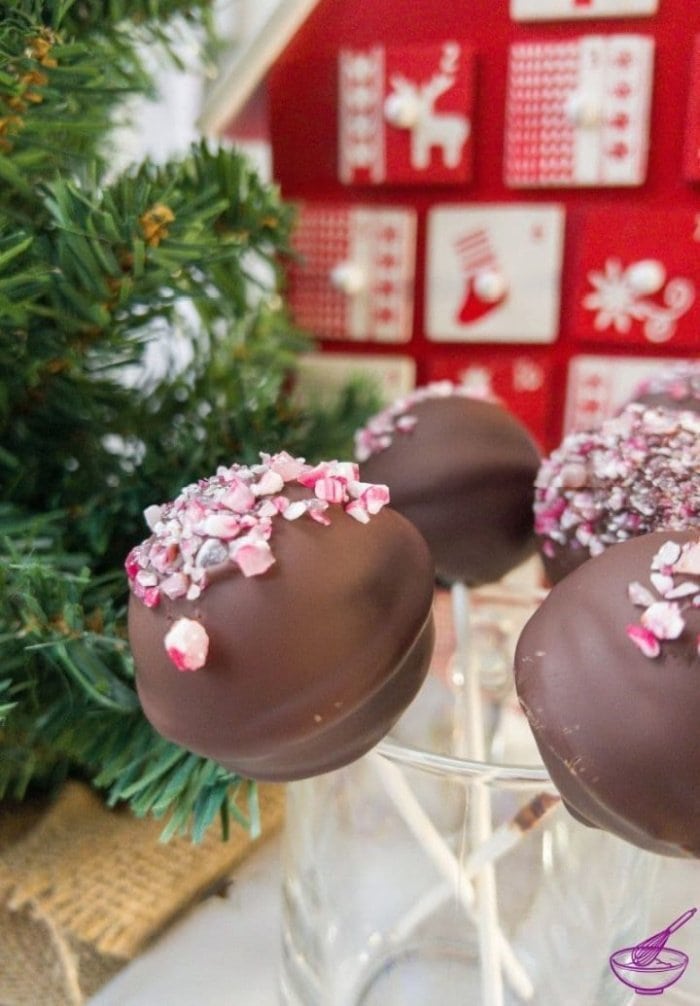 No Bake Oreo Cake Pops – Combine Good Flavors
Aren't these adorably OREO reindeer balls the best? They made me laugh when I first saw the picture. These little oreo treats are sure to be a hit at any kids Christmas party. They have to be Santa approved.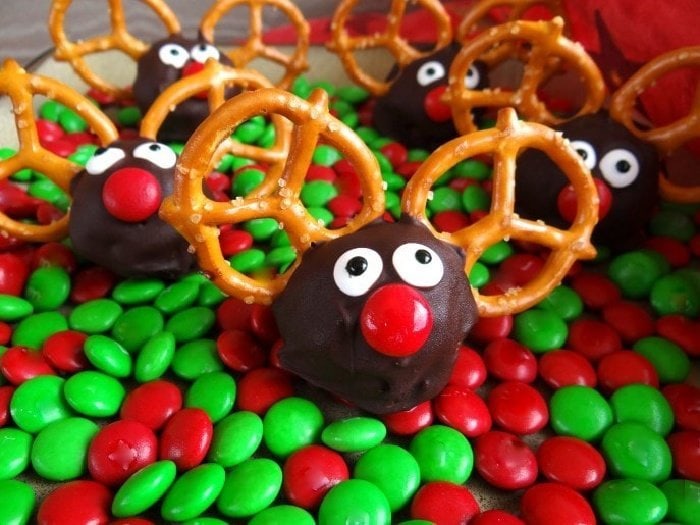 Rudolph Oreo Cookie Balls – Mommy Snippets
These little Snowman oreo cookies are a show-stopping Christmas party food. They are beyond cute and fun for the holidays.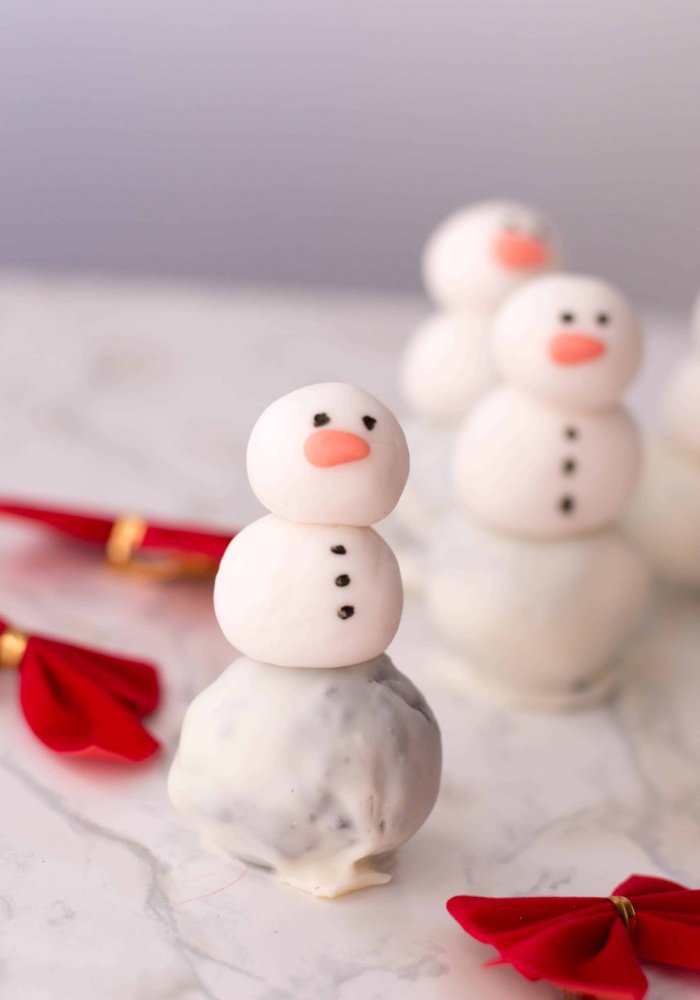 Snowman Oreo Balls – The Inspiration Edit
Oreo Dessert Bars Recipes
Luscious and sweet Oreo bar recipes, are so handy for potlucks, family gatherings, and parties. Of course everyone loves oreos so they will be popular, but they are also really easy to pack for traveling, and freeze well. A great makeahead Oreo dessert.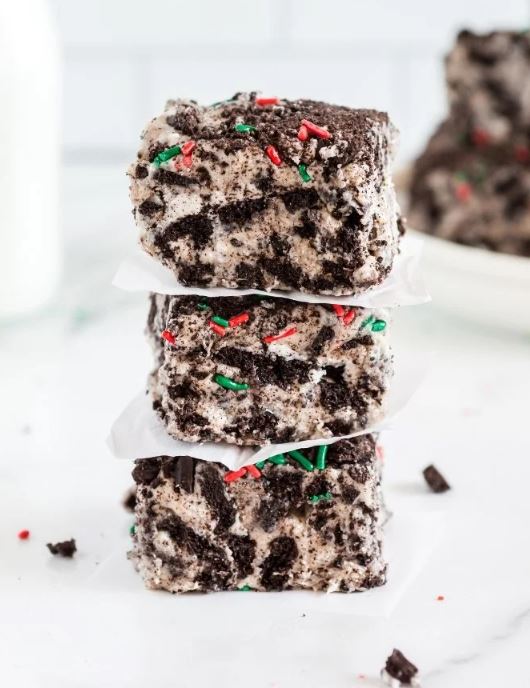 No Bake Christmas Marshmallow Treats with Oreos – Everyday Family Cooking
These fun a colourful Christmas Magic Bars use OREO Cookies for the crust then top it with toffee bits, peanuts, pretzels, holiday chocolate chips and Christmas M&M's. I think kids especially will love these crunchy sweet treats.
Oreo Christmas Magic Bars – Hungry Happenings
Peppermint, white chocolate, salted caramel and Oreos, are blended together in these Oreo bars. I think adults and children both will enjoy this sweet treat over Christmas.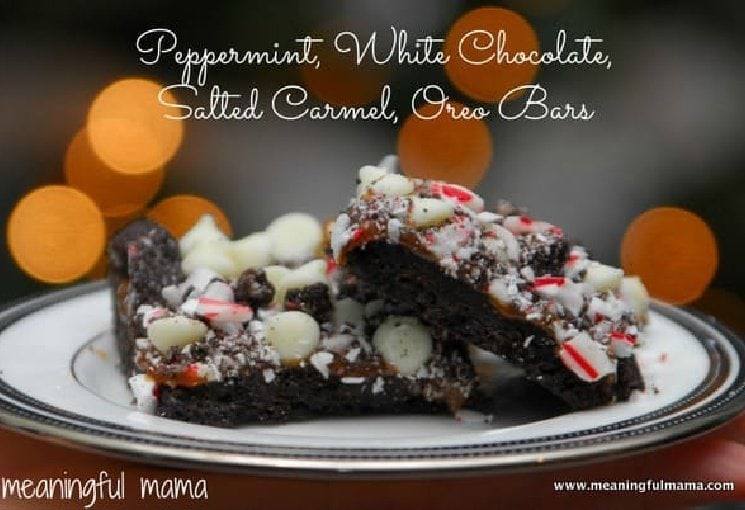 Peppermint White Chocolate Salted Carmel Oreo Bars – Meaningful Mama
Oreo Cookie Recipes
It always amazes me how creative women are, these Oreo cookie recipes take the classic Oreo cookie to a whole new level for the holidays.
A fun Christmas treat you can make with kids. An easy to make Christmas recipe with an Oreo base, kids of all ages will enjoy this cute Christmas dessert.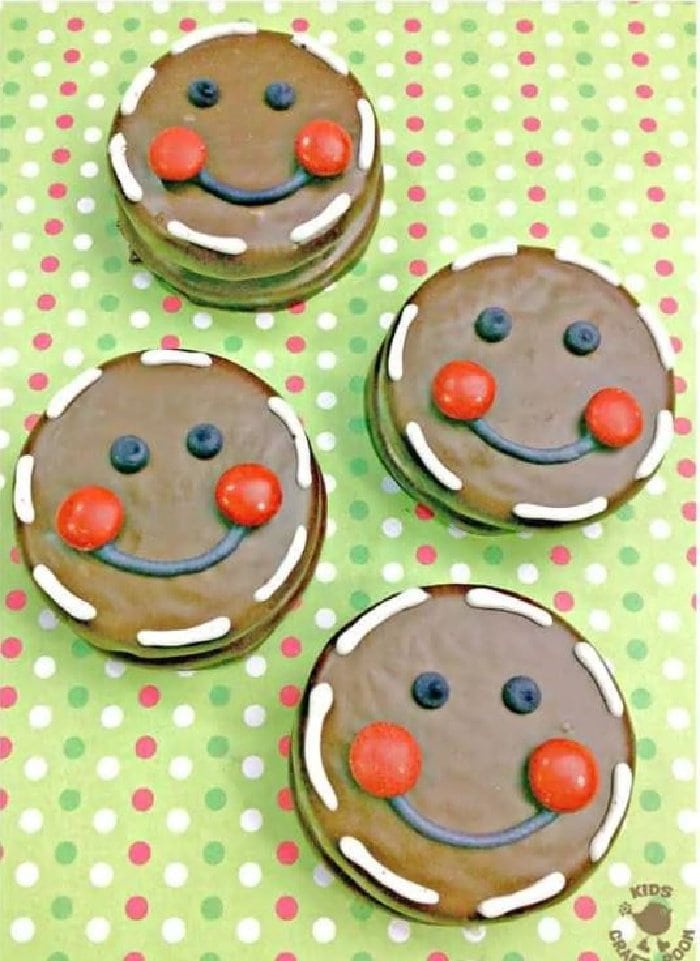 Chocolate Gingerbread Man Oreo Cookies – Kids Craft Room
Perfect for a kid's Christmas party or a cookie exchange, these simple to make Oreo ornament cookies are beyond adorable. What a sweet idea.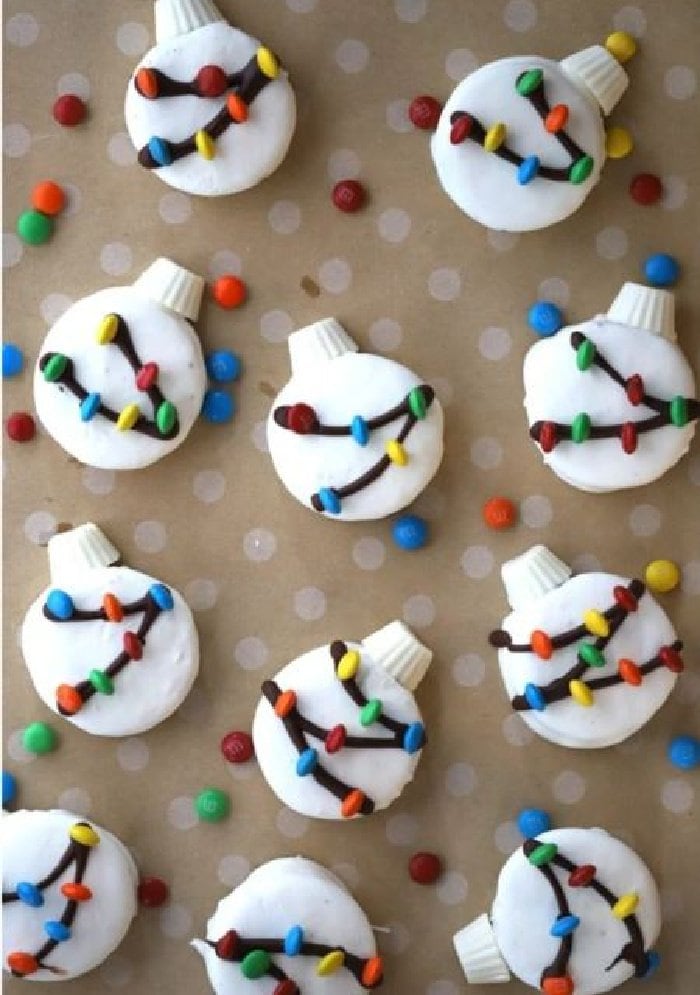 White Chocolate Dipped Oreos Ornaments – The Carefree Kitchen
Peppermint Bark Oreos for the holidays. An easy holiday cookie recipe made with oreos, peppermint flavoured melted white chocolate and candy canes. I love the colour combination in this oreo dessert idea.
Peppermint Bark Oreos – Mom's Dinner
The winterwonderland chocolate dipped oreo cookies and partially dipped in white chocolate to form the snowy scene. Then tree shaped sprinkles and are star are added before refridgerating. A quick and fun Christmas oreo dessert idea.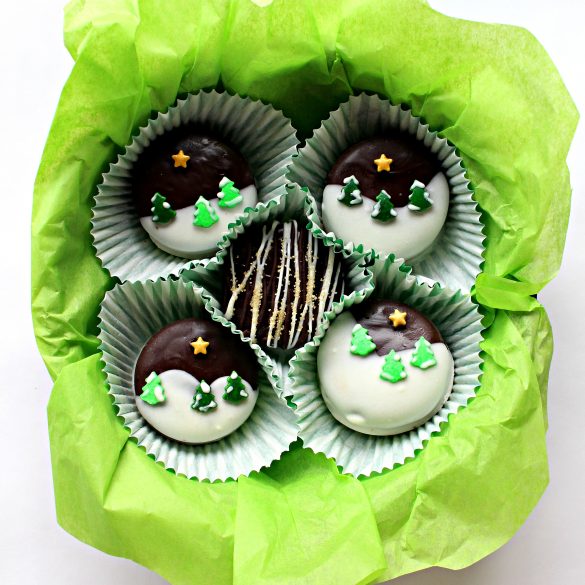 Winter Wonderland and Chocolate Dipped Oreos – The Monday Box
Spectacular Oreo Dessert Recipes
These heavenly Oreo dessert recipes and made to be served, and maybe show off your baking talents a little bit. Oreo dessert recipes perfect for a sit down special occasion party.
A beautiful No Bake Pepper Cheesecake with oreo crust and oreo cheesecake filling. A festive chocolate mint filled dessert for the holidays thats mixes up in 20 minutes.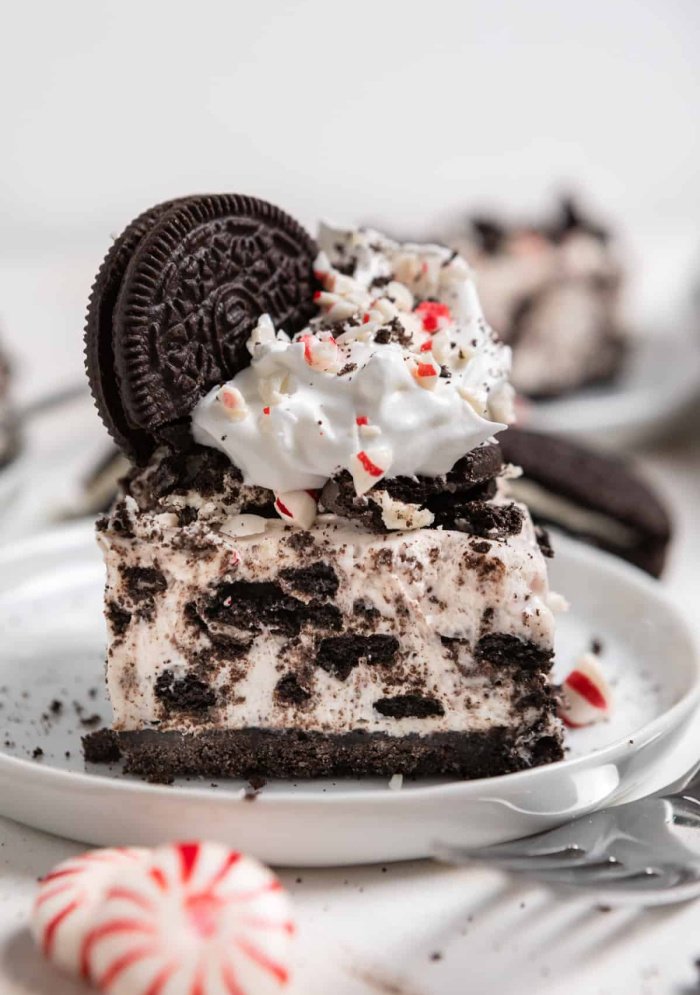 No Bake Peppermint Oreo Cheesecake – Lemons and Zest
Oreo ice cream mixed with chocolate brownie and served as a chocolate bomb. Definitely a chocolate lovers dream.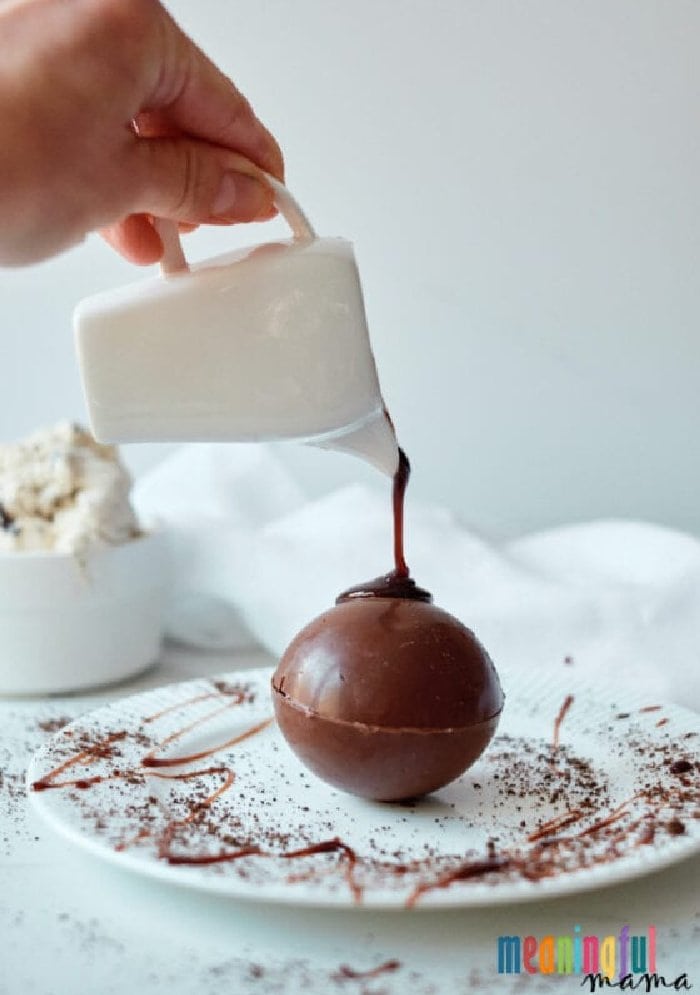 Oreo Ice Cream and Brownie Bomb – Meaningful Mama
Cupcakes AND Oreos, now that's a match. These Christmas themed Oreo cupcakes couldn't be any more festive. With so many cupcake desserts to chose from this oreo cupcake manages to really stand out.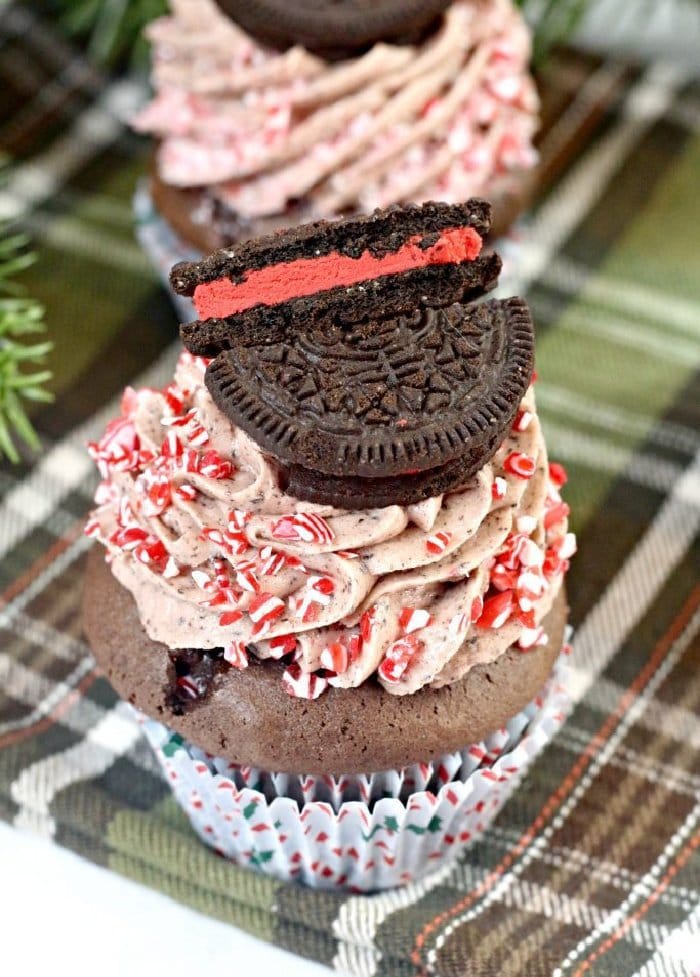 Christmas Oreo Cupcakes – Our Wabi Sabi Life
A fantastic and festic peppermint icebox pie recipe with an Oreo crust. A pretty and delicious peppermint pie for your holiday desserts table.
Peppermint Icebox Pie with Oreo Crust – Ann's Entitled Life
With 1000% surety I will be grabbing a couple of bags of Oreos for my Christmas baking this year, like me I hope you are inspired to try a couple of these this holiday season. Oreo's have to be the best purchased cookie to use in recipes. So many ideas and we all seem to love Oreos.
Pin it so you have these Oreo Recipes on hand.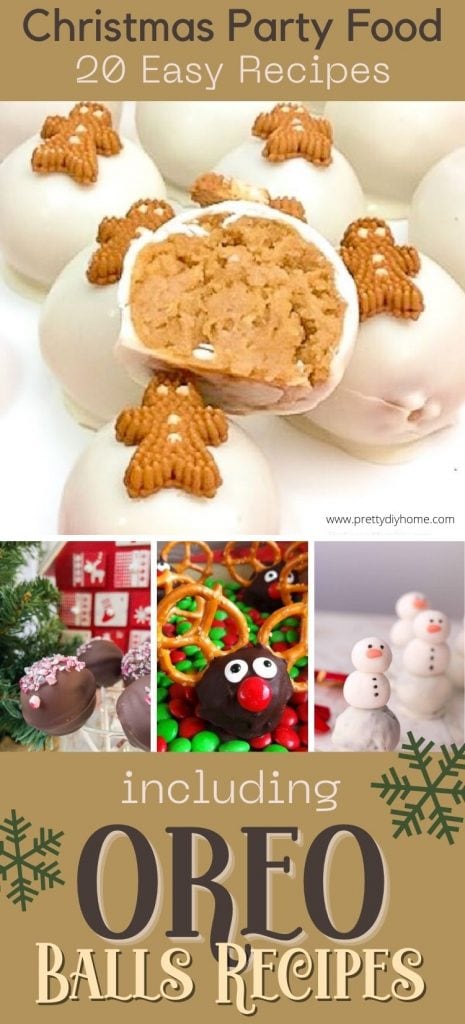 My Oreo Dessert Recipes
No Bake Chocolate Mousse Cheesecake
This is a no bake chocolate cheesecake recipe with a solid chocolate collar. Its surprisingly easy to make, and has a chocolate oreo crumb crust.
No Bake Peanut Butter Bars with Oreo Crust
These Peanut Butter Bars have an oreo crust, with a soft peanut butter filling, and a thick chocolate topping. Better yet its an easy no bake recipe.