How to Make a Suet Bird Feeder
DIY Bird Feeders: How to Hang Suet Without a Feeder
Why make a DIY suet bird feeder? How to hang a suet feeder on a tree? In Winter birds need extra calories to survive the climate. Where I live in Canada our yard is snow covered for at least six months a year. Its a really tough place for birds. Some birds fly far far away, but we do have several bird varieties that make the best of it. Other bird come back early when food is still quite scarse. Although bird seed helps, the extra calories found in suet is fabulous for our feathered friends struggling with winter.
The best suet is the real rendered from beef fat suet, as it can hold its shape in warmer temperatures. Along with beef suet I was able to grab a heart shaped mold from the dollar store in a Valentines shape. Any shape of silicone mold works well as its so easy to just pull the silicone away. Pick any shape you like, mine just happens to be Valentine shaped because thats what I saw, and I think they turned out really well.
Gather the Supplies You'll Need for the DIY Bird Suet Feeder
To make your own suet bird feeder, you will need a few basic supplies. You'll need a suitable location to hang the feeder, such as near a tree or other spot where there is some shelter for your birds, such as an overhang. Additionally, you'll need some string or twine to hang the feeder, and at least one bag of suet from your local pet store or dollar store. Here is what I used to make my heart shaped suet bird feeders.
2 pkgs Dollar Store or Bulk Barn Suet (its main ingredient is rendered beef fat)
1 cup bird seed
Small pot and mixing spoon
Dollar store silicone mold
Paper straws
Twine
Very large eyed needle
How to Make a DIY Suet Bird Feeder
Add the suet into a small pan, place on the stove over low heat stirring occasionally. It takes about 5 to 10 minutes to soften. Stir it occasionally.
Note: I made the top half of the bird suet feeders in a video, those are the top ones you see that are almost finished. The bottom3 Valentine shapes are the ones that show the individual steps for the still images.
Place your silicone mat on the counter, add about 2 tsp of seed in the bottom of each section.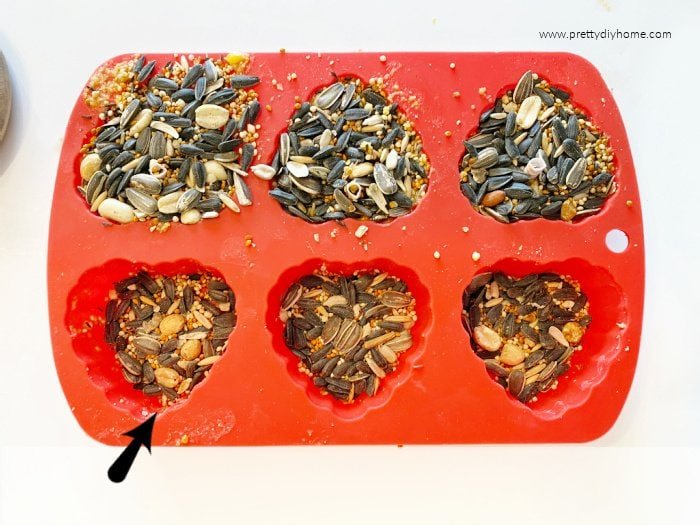 Cut six lengths of the straw a little bit higher than your mold. Then place a straw in each section about where you want the string to hang.
Stir the melted suet until its sort of smooth and then spoon into each section.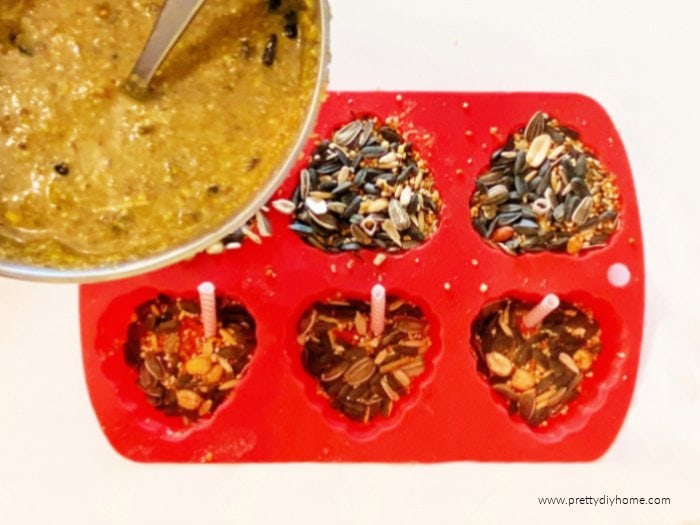 Fill each section until there about 1/4 inch of space left on top. Reposition the straw where you want the string to be strung through.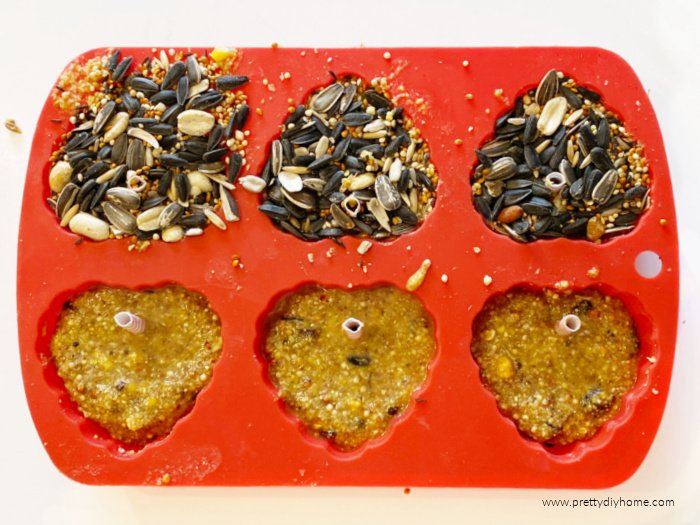 Before the suet hardens cover the top of the suet with bird seed.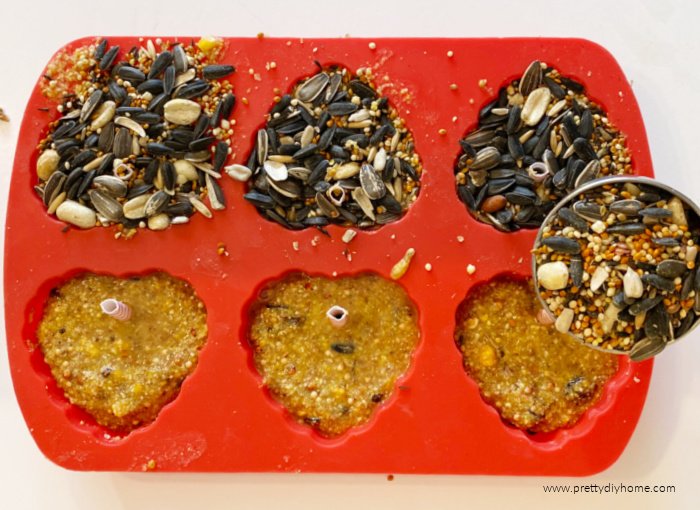 Place in the freezer for a couple of hours until hard. Once hard remove from the freezer. Work over scrap paper or a garbage bag flip the mold over, the excess seeds will fall off. Then peel the silicone mold away from each suet feeder.
How to Hang Suet Without a Feeder
The hangers are made using 2 foot lengths of bakers twine or regular twine. Cut then flatten the end and push through the large eyed needle.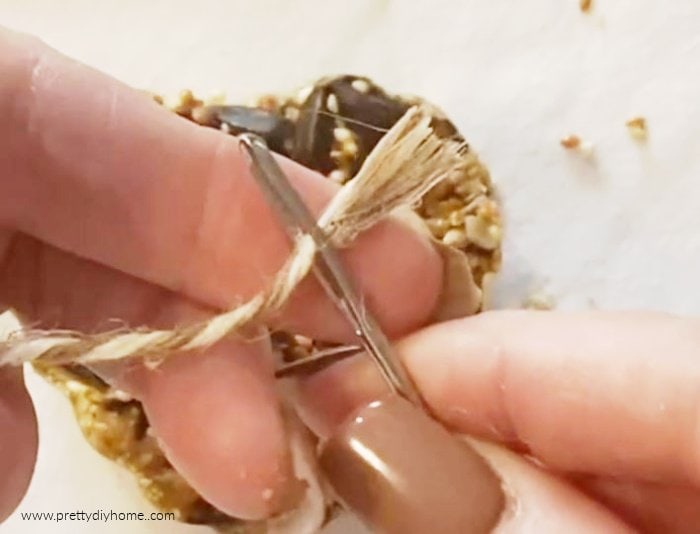 Trim the straw so that its even with the top of your DIY suet bird feeder and then pass the twine through the straw.
How to Make a DIY Suet Bird Feeder Video
Not Winter or Spring? Pin it for Later
How to Hang Suet Feeder on Tree
It seems counter productive to hang your bird feeder where you can't see it. Make sure to hang your bird feeder where you can see it from inside the house. Mine is hanging outside my kitchen window far enough away that the birds won't fly into the window.
Secondlly I hung my suet bird feeders on a tree so that the birds could sit on the branches and reach the feeder. I am hopeful they will notice the feeders as they seem to enjoy perching on this tree. Its true the squirrels may find them instead, but they need food for winter too. I will just have to wait and see what happens.
Storing your Heart Shaped Suet Feeders
Where we live temperatures remain below freezing so the suet should keep well where they are hung outside. No chance of melting in this climate. The leftover diy suet bird feeders should be kept in the freezer in a sealed plastic bag. You can just hang them from frozen.
I haven't managed to get a photo or video of it yet, but the chickadees have already found the suet feeders. Watching them peck away makes it so worth it.
Homemade Bird Suet Recipe
If your not able to purchase bird suet, my friend Shirley from Intelligent Domestications created a great recipe to make your own bird suet.
Other Bird Friend Craft Ideas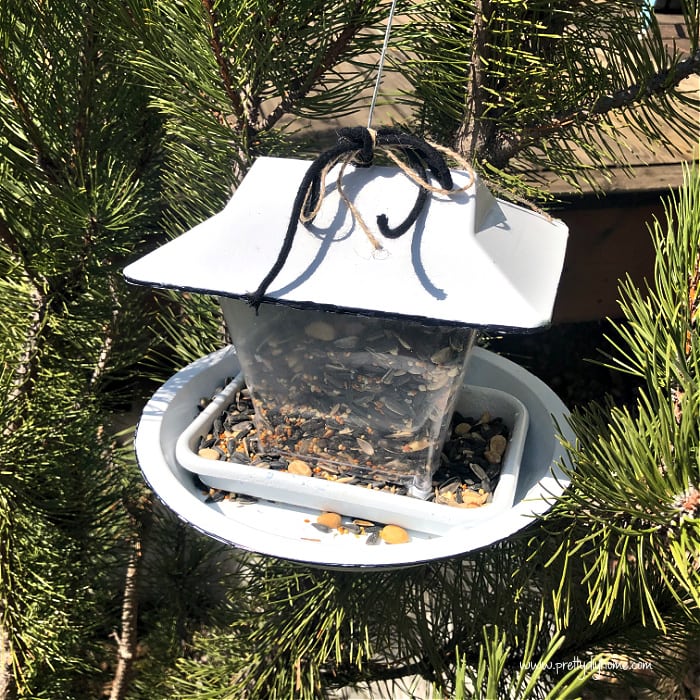 DIY Bird Feeder Dollar Store Craft
An ugly green bird feeder and pie plate got a quick faux enamel update into this DIY Bird Feeder craft. Yummy for the birds, and its pretty out in the yard.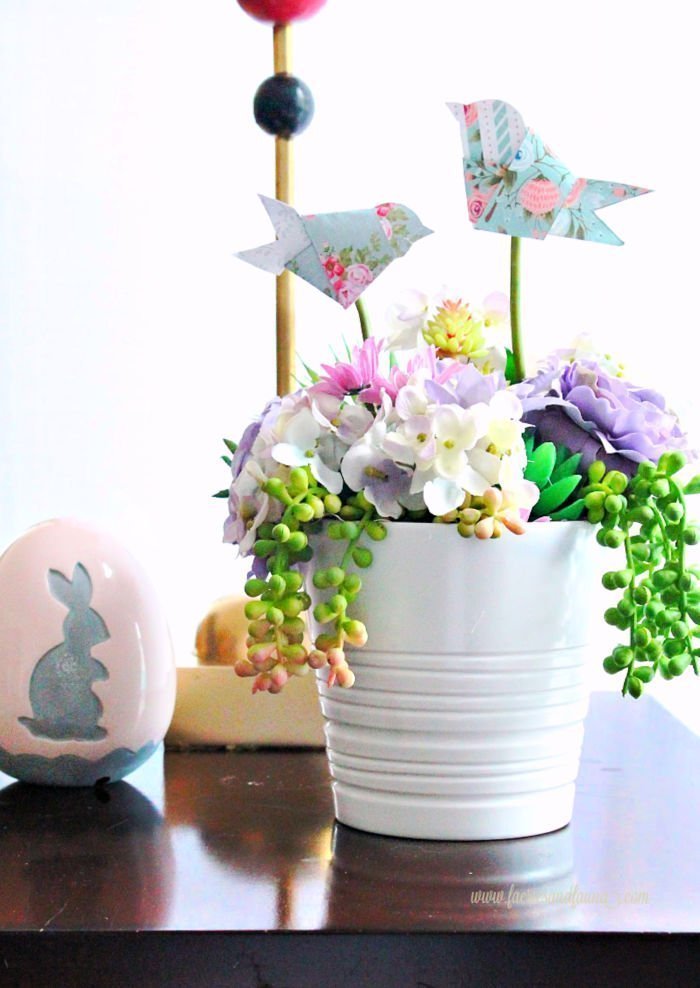 Easy Origami Bird Spring Craft
Use the downloadable pattern and pretty double sided paper to make these cute little Origami Birds. So pretty for plants in the Springtime to add some colour.