Making the Most of a Small Yard
A Small Yard with Added Living Spaces
It is so nice to be joining this Patio and Garden tour with these great bloggers. I have collaborated with these ladies a few times now and we always have such a good time. For my tour, I decided to not only show you my small yard but to share with you how I solved some of the problems and what I am currently working through.
I have a small typical urban yard and that we live in Edmonton the most northern major city in North America. Some year very soon I hope to move south and have a yard with wisteria, lavender and large hydrangeas. For now, our yard gets colour from an assortment of flower pots, newly planted trees, and themed decor items.
The Front Yard
Our front yard has a teeny tiny but very green lawn and we keep it as a dog free zone. The door is painted in a bright Tiffany blue, there are flower pots on each side of the garage door, a little snowball tree that's no longer in bloom, and a peony. As the yard is so tiny we keep it as manicured and coordinated as possible.
a
b
Every area of our yard has various flower pots, with the exception of this peony that has a small front garden to itself.
i
p
Our front driveway is flanked on both sides with petunias as they thrive in the full all day sunshine. This far north our summer days can be to 15 hours a day. This spot in the yard requires very hardy full light flowers, thankfully I found that petunias do very well under these conditions.
m
Front Porch
My favorite part of our small yard is the front porch. I have dreamed of having a porch since I was a little girl, this is my very first porch and I absolutely love it. It is small but I have have all kinds of fun decorating it for each season.
The door and the front bench are in the themed tiffany blue and I painted a pansy on the welcome sign to coordinate with several buckets of blue pansies we have around the yard.
f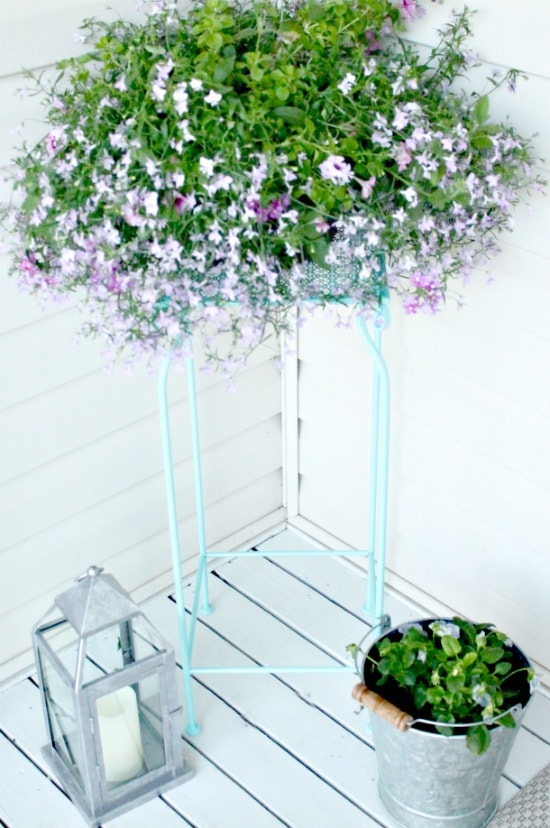 k
Every year I have a colour and flower theme, last year my theme was pink and gerbera daisies. By picking a theme your yard looks more cohesive. This is especially important in a tiny yard as the cohesive elements make the yard stand out.
h
h
The DIY farmhouse bench with large back cushion and refurbished galvanized lanterns are all projects from the blog. The little potted hydrangeas are going to be an inside experiment for over the winter. I am hoping to keep them as a houseplant and put back outside next year.
w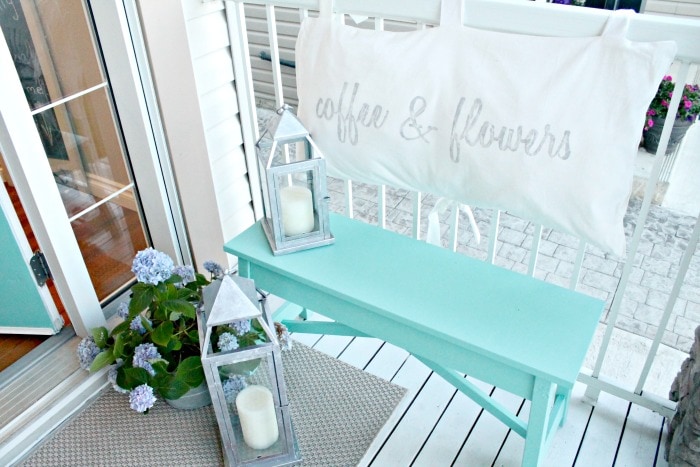 e
Back Deck with Eating Area
Our back deck is a couple of feet above the ground and there are two story houses on all sides so a lack of privacy was a problem. We hadn't moved in yet when I started on the privacy screen.
The privacy wall makes our back deck much more comfortable and cozy. This year we painted it and gave it some DIY spool artwork.
vm
h
The second summer we added another screen that has openings that I fill with hanging basket. It adds privacy to our deck and still leaves the back of the house feeling open. This privacy screen allows us to see out the large back windows of the dining and living room, yet if I choose to have coffee in my pyjama pants only the snoopiest of neighbours will know.
x
w
The Grillin and Chillin Cafe sign beside the barbecue.
The Ombre chalk painted patio set I finished a couple of week's ago.
The back yard balcony is much used over the summer, we use it occasionally for entertaining, but for the most part, it's our second family room. We hang out here whenever the weather allows because the privacy walls keep us from feeling on display.
Back Yard
In real homes, life happens. We love and enjoy our 120 lb best friend and frankly, the back yard grass is his. He is actually an indoor dog because of barking and his guarding instincts but the back lawn is his space to run and play all he wants. You can tell by how rough and spotty the grass is whose domain this is.
a
I think of our back lawn as a working lawn with a working dog who keeps me safe and secure. Thankfully our boy isn't a digger but he loves to water my poor little lilac. I solved the dead flower problem with a wide assortment of potted flowers instead of ground level flower gardens. Pup sniffs the flowers but otherwise leaves them alone.
Besides the hanging baskets of purple petunias, we have several galvanized pots full of Hubs favorite, dark blue and purple pansies.
The back patio has some bright pink begonia to match the letters in the Chillin & Grillin wall art. As they aren't on theme I would not place them in the front yard.
Back Patio
When we bought our yard it came with not only a deck this little patio. I have not finished designing it yet. This year it got a new water fountain and I am working on some wall art for the fence.
Our refurbished water fountain.
na
Pansy's in the water fountain.
v

Gernaniums on the patio.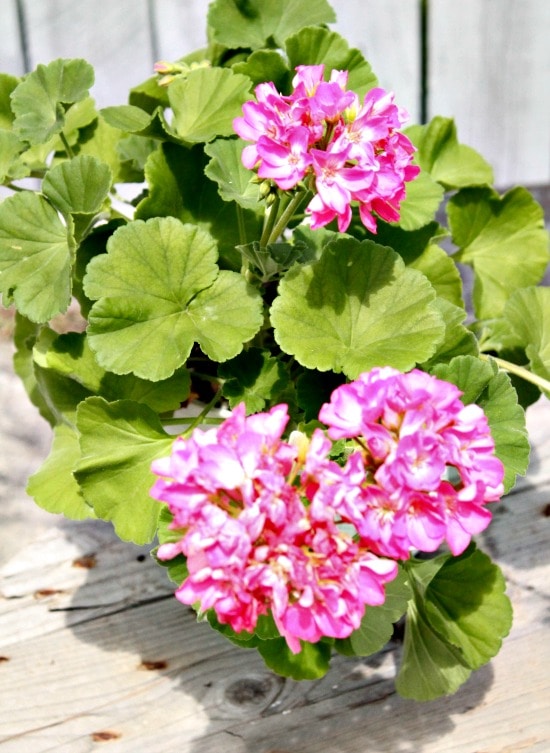 f
Some new refurbished pots and a refurbished old firepit made into a illuminated wood centerpiece round out the back patio.
The back yard also has a tiny lilac working hard to survive and a northern ornamental cherry tree that's doing quite well. This area needs some more work, but its the most pleasant and most private place to hang out and watch pup laze in the yard.
We use and enjoy ever square foot of our outdoor living areas. Summers are short here so its not uncommon for me to spend most of the day in the back yard blogging or crafting out on the lawn.
Thank you for stopping by. I hope I gave you some ideas for utilizing and making small urban spaces enjoyable.
Thank you for joining us.