14 Fall Decorating Ideas – Adding light to the Long Fall Evenings
Fall Decor Ideas with Lights
With the onset of Fall comes the slow shortening of days. Evenings get longer and the bright days of summer are replaced by softer lighting. Whether its to embrace the coziness of fall, or simply add some cheerful light to the evenings I love fall decorating ideas that incorporate light.
Here are several fall decorating ideas for both indoors and outside that show how much drama and beauty there is with the addition of soft lights and candles.
Neutral Fall Decorating Ideas with Lights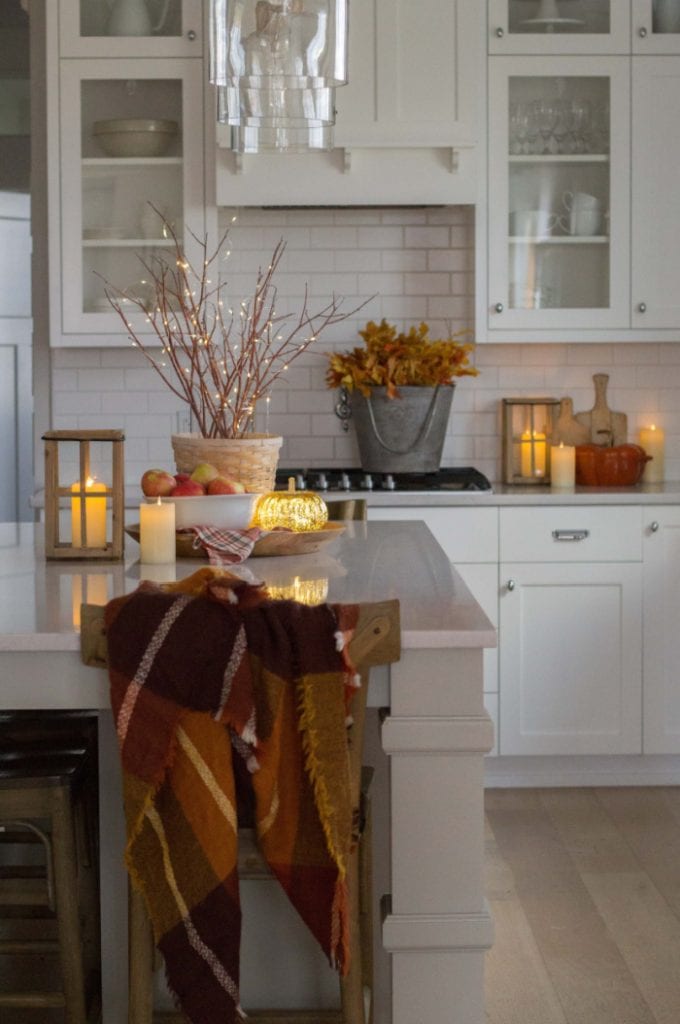 Cozy Autumn Candlelight Kitchen
This cozy candlelight kitchen decorated for fall with warm candles and fairy lights from Handmade Farmhouse shows just how beautiful the warm glow of light can be in our fall decorating.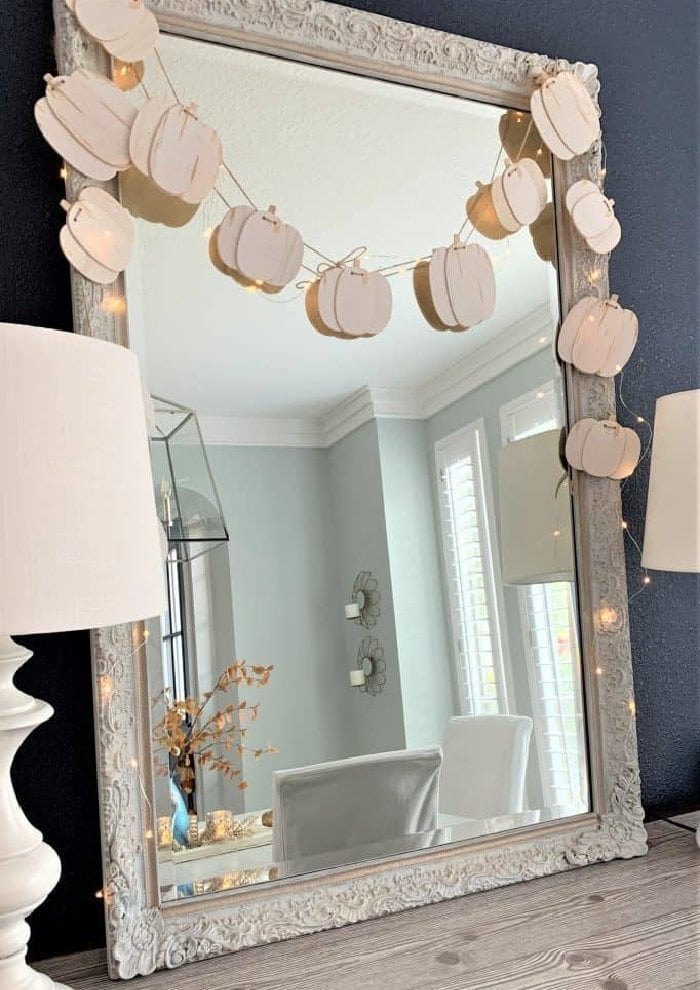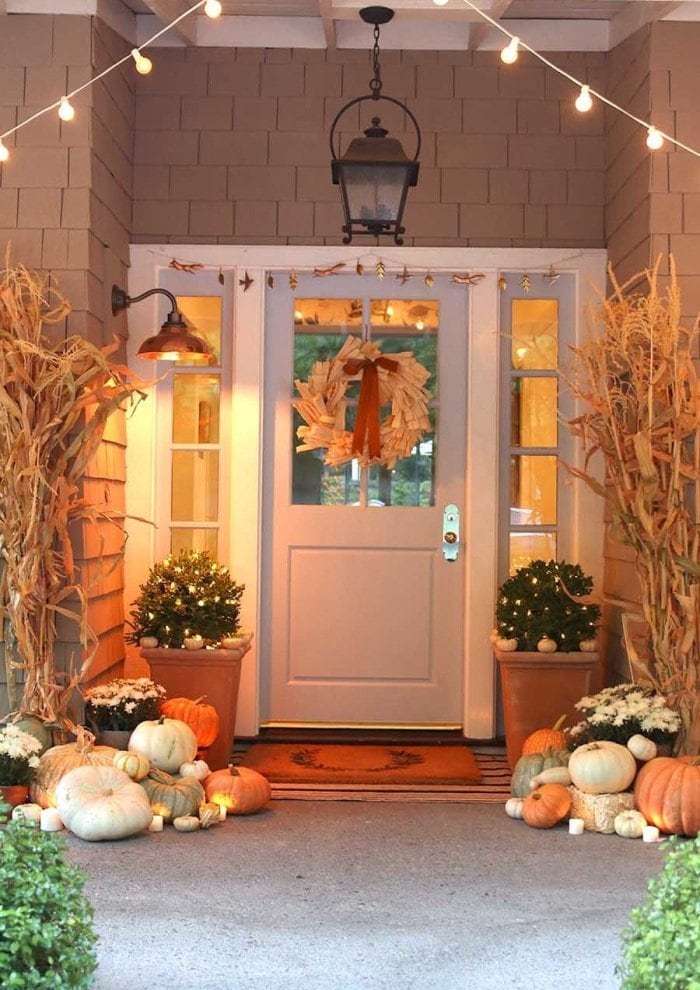 Neutral Fall Porch with Pumpkins and Cornstalks
This collection of all natural elements is beautiful with the little added touches of lights overhead, inside the planters and candles snuggled among the pumpkins. Neutral fall porch is from Modern Glam.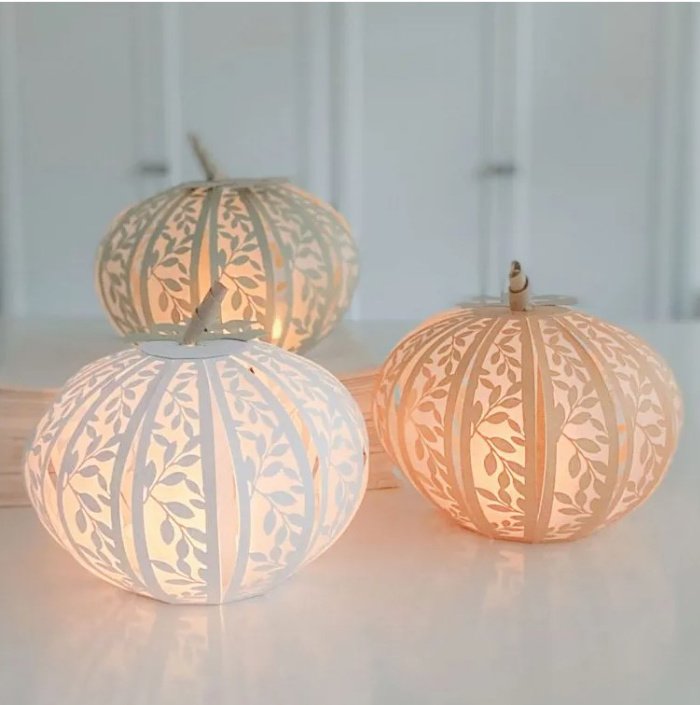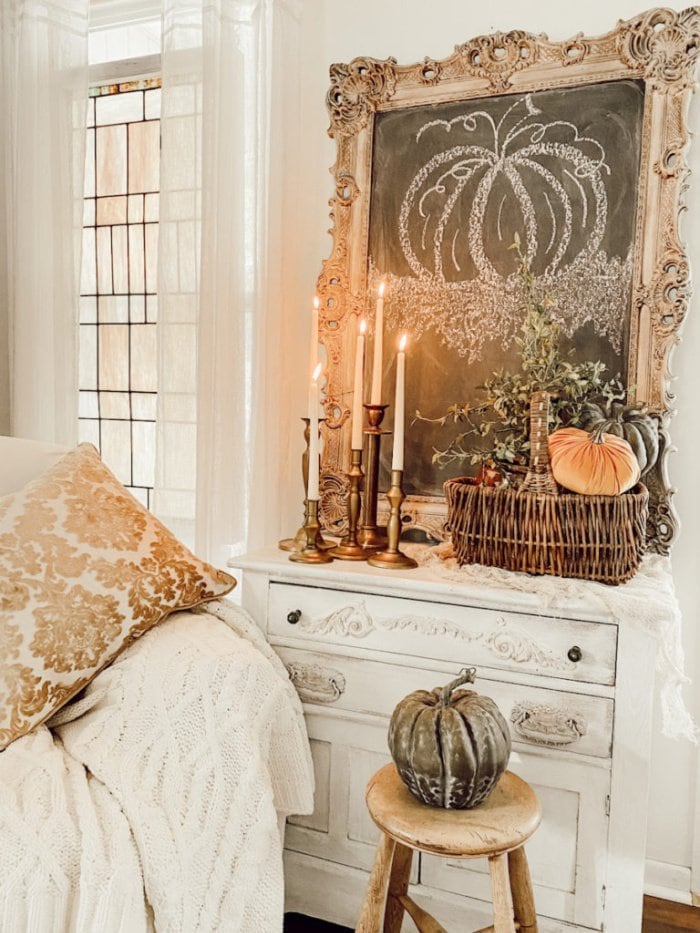 Glowing Glass Pumpkins DIY
How fabulous did these diy glowing glass pumpkins turn out from Hammons Nest. They are surprisingly easy and inexpensive to make.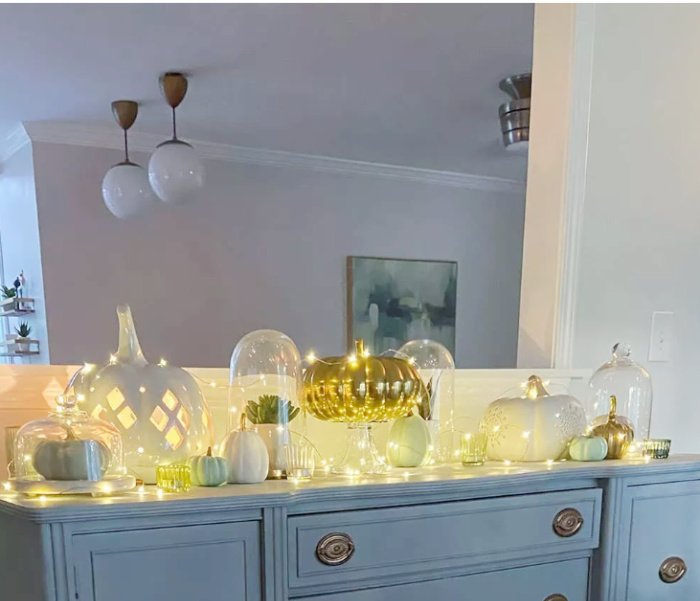 Fall Decorating Tips
The buffet with beautiful fall decor and lights is one of several gorgeous ideas from Oh So Lovely Blog. If you want some inspiration on how to use mini lights for fall she has lots of ideas in her post.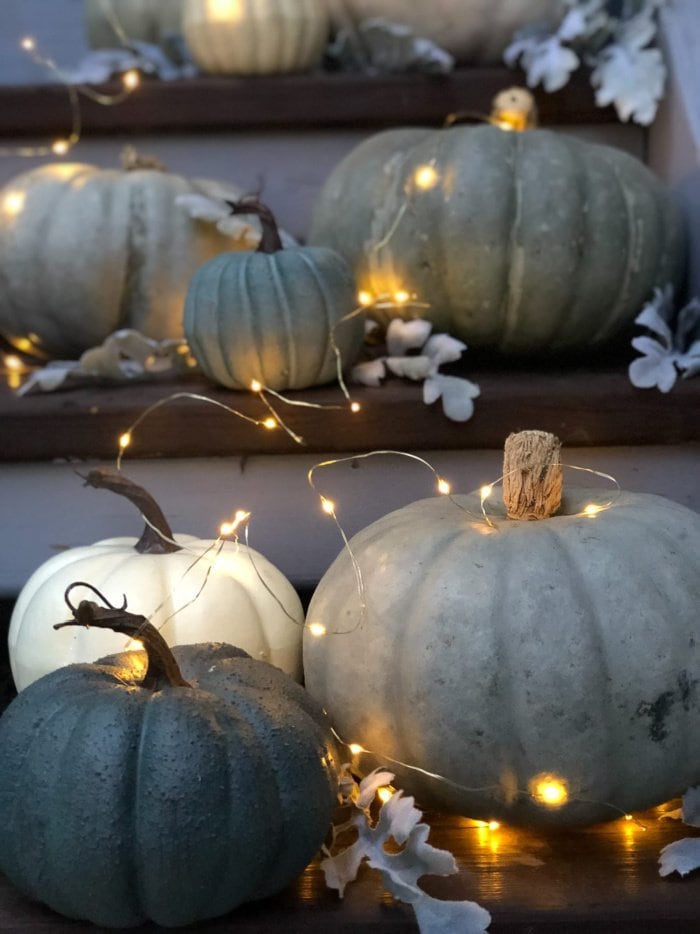 Pretty Fall Porch
This pretty fall porch from A Pretty Life in the Suburbs is simply elegant. The lights truly accentuate all the beautiful soft blues and greys of the pumpkins. It really is simply beautiful.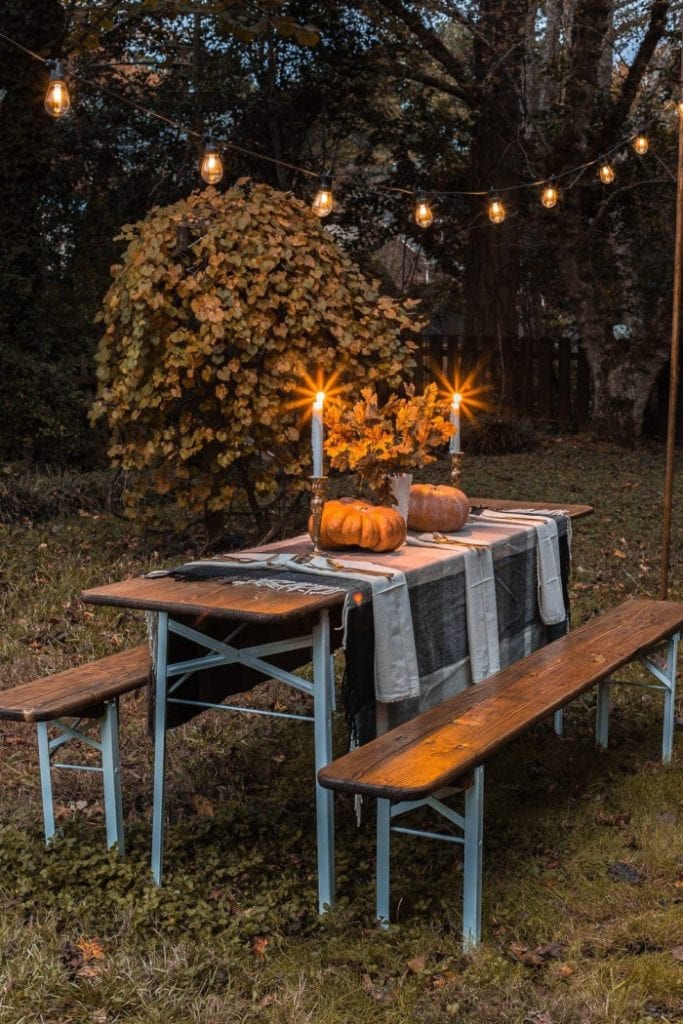 Beer Garden Table Makeover and Alfresco Thanksgiving
This gorgeous table setting for Thanksgiving would be so dreamy if you have the climate. This would be gorgeous in the early fall as well, I adore this idea from Bless'er House
Traditional Fall Decorating Ideas with Lights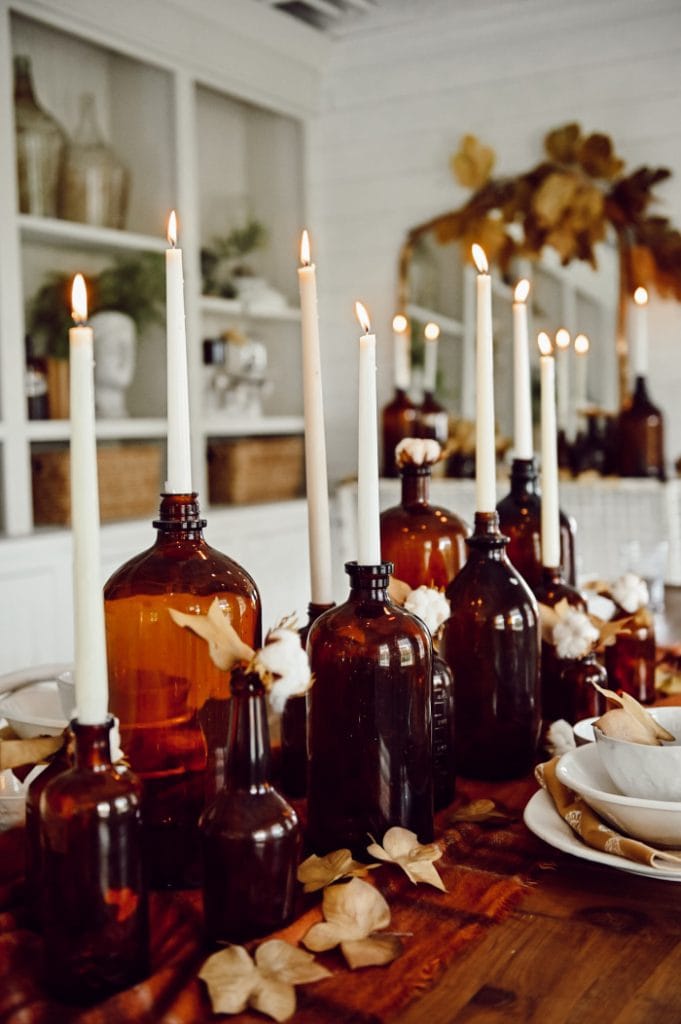 Fall Amber Bottle Centerpiece
An east to do fall centerpiece from Liz Marie Blog that features her amber bottle collection.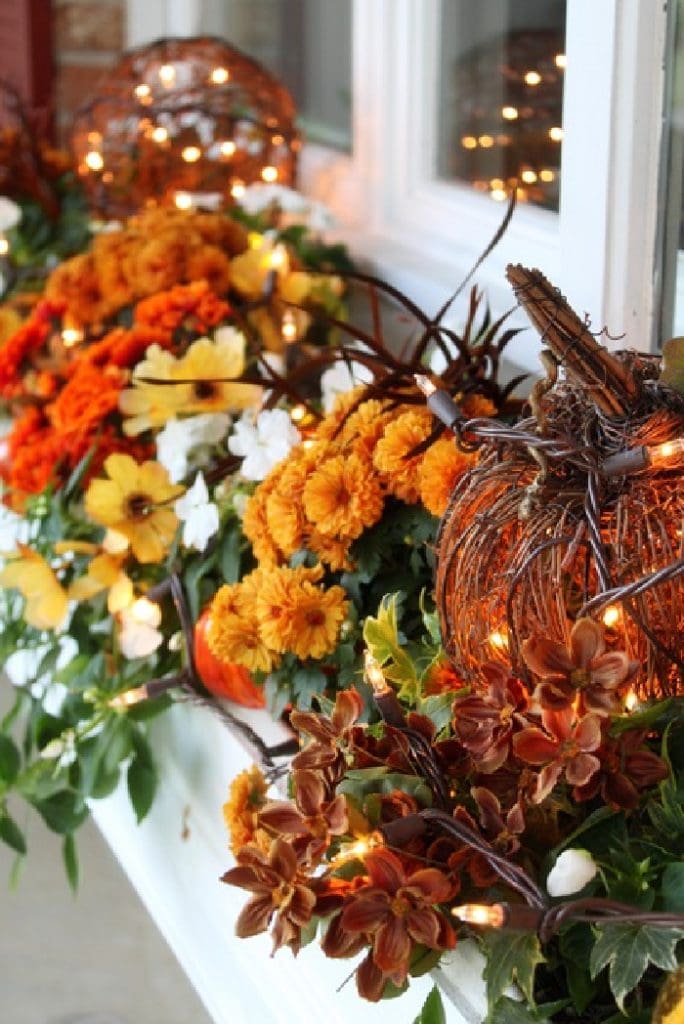 Fall Porch Decor
Here is another gorgeous fall front porch with lights. This time its from Just a Girl blog. I love how simple this porch is too do and the simplicity really makes the lights shine.
Uncarved Pumpkin Idea
Technically this is a Halloween decor with lights idea from Woman's Day. But if you skip the creepy snake on the third pumpkin its beautiful for Fall. It would scare the you know what out of me at Halloween as well.
Fall Home Tour at Night
This fall home tour is in the evening to show all the beautiful fall lights. I especially loved my pumpkin you see on the coffee table. The mini lights made the glass pumpkin glow.
I hope you have enjoy all the fall decorating ideas that add light, warm glow and a little bit of sparkle to our fall decor. Technology has made is so much easier to add light now. I love the battery lights, solar lights, and am just beginning to purchase a collection of lights with remote controls. The newest ones have timers which I think is the best of soutions.
Add this to your Pinterest Board for Fall