Luminary Fall Decorating Ideas to Brighten the Lengthening Evenings
Building on What You Already Have
For the past four years my fall decor has been neutrals and metallics, I have started a nice collection of neutral fall decor, if you haven't seen it, here is last year's Fall Home Tour. Neutral decor is so light and airy compared to the earthy and colourful rusts, browns and oranges, typical of fall decor.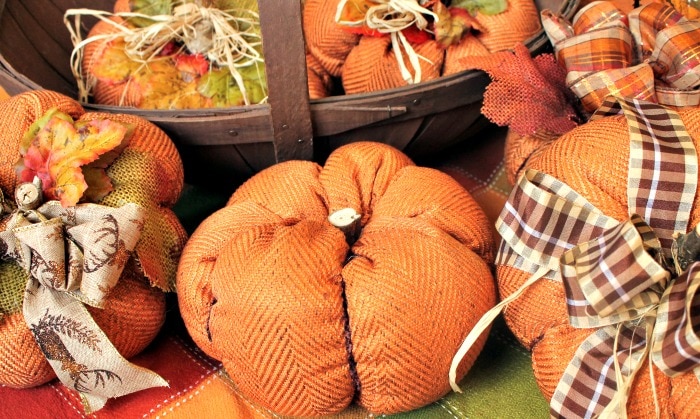 So what's with wanting teal? We cleaned out our storage room giving two pickup loads to charity. Out went the green Christmas decor, all kinds of artwork, curtains, bedding, towels, even my life size hand painted snowmen went, but I just could not bring myself to part with the orange fall decor. I tried twice and finally decided if I was going to keep it, I was going to use it this year.
a
Teal goes really well with orange and it's a gorgeous colour so that shopping decision was easily made.
Are you like me and find the rusts, oranges, and browns of fall a bit dark? Thinking about it I decided to fix that by adding lights, all kinds of sparkly lights for fall. Here are some of the prettiest posts I found on fall decorating with lights.
12 Fall Decorating Ideas with Lights
These logs are so whimsical, unique, rustic and natural. Wouldn't they make lovely coffee tables or little stands?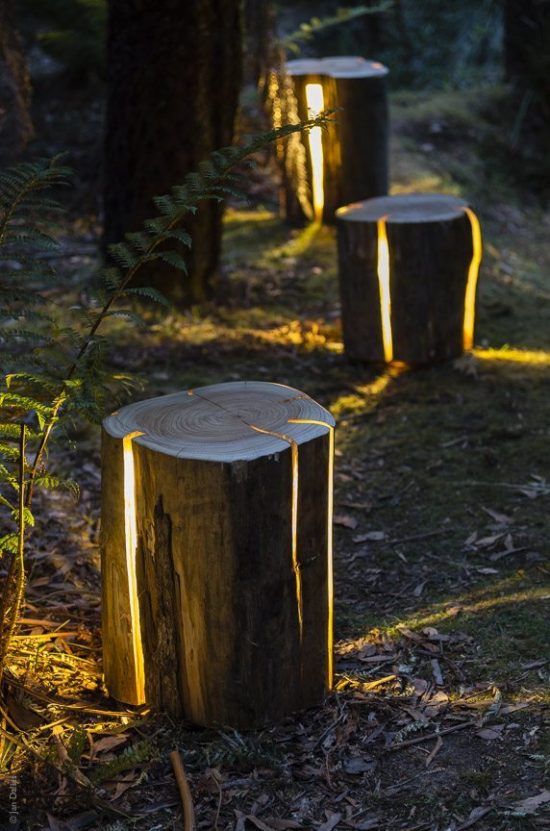 Recycled Interiors – Cracked Log Lamps
Pier One used a simple birch branch to display a string of pretty acorn lights. Somehow this simple birch branch manages to look elegant. This would be beautiful running down the center of a sideboard or a dining table.
Pier One – Acorn Glimmer Lights
The moss in this photograph really attracted me, adding soft green to fall decor whether it is neutral decor or orange decor adds a little bit nice contrast. Imagine this fairy lantern with orange and white lights. pine cones, cinnamon sticks, the moss and a mini pumpkin maybe. Maybe an orange coloured fairy figure if available.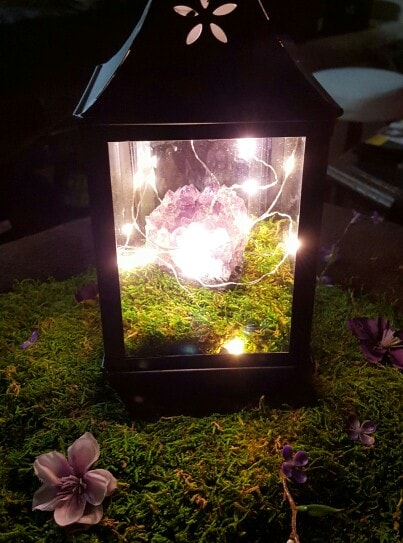 Branches are so perfect for fall decor, I love how they used a branch to cascade the lights downwards. It would be stunning hanging above a fall vignette, with the lights surrounding the items. I would consider having something like this along the top of a china cabinet or bookcase. For my home, I prefer something so rustic to be outside, branches against our stark white ceiling would not look right.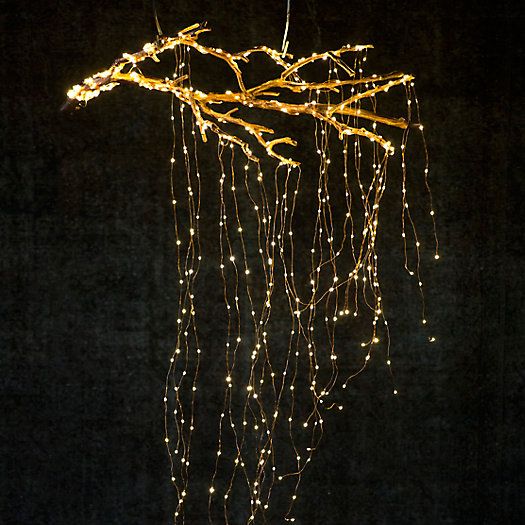 This would be amazing framing a front door or entrance. I love the idea of having one of these out in the yard under a tree where the fall leaves have cascaded around.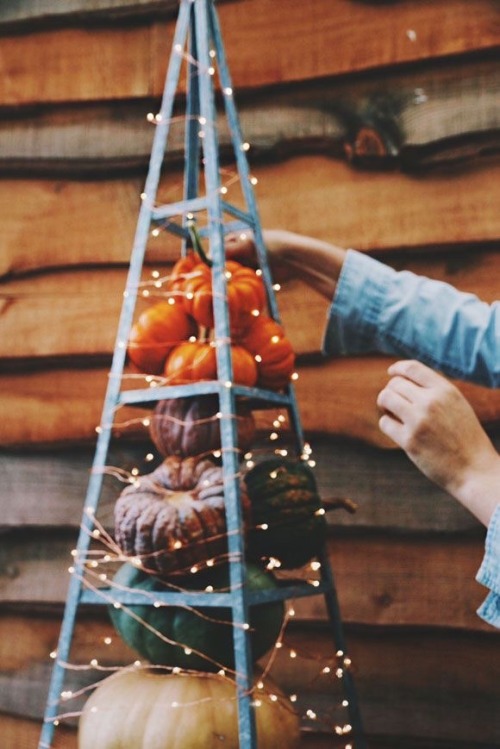 This simple yet amazing chandelier idea would be beautiful above the table or a sideboard.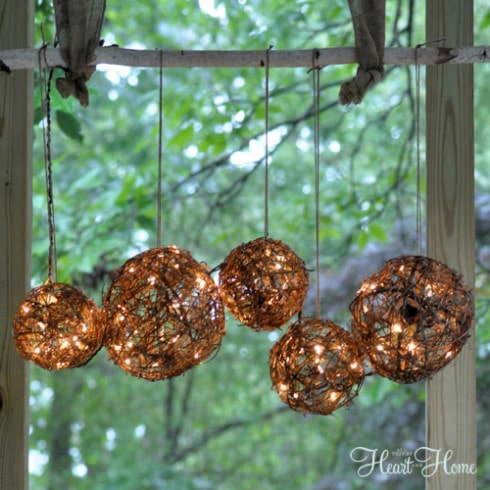 All Things Heart and Home – Easy DIY Outdoor Chandelier
Ladders used for display are such a trendy modern decor idea. This one is especially nice for all as the branches make it rustic and earthy.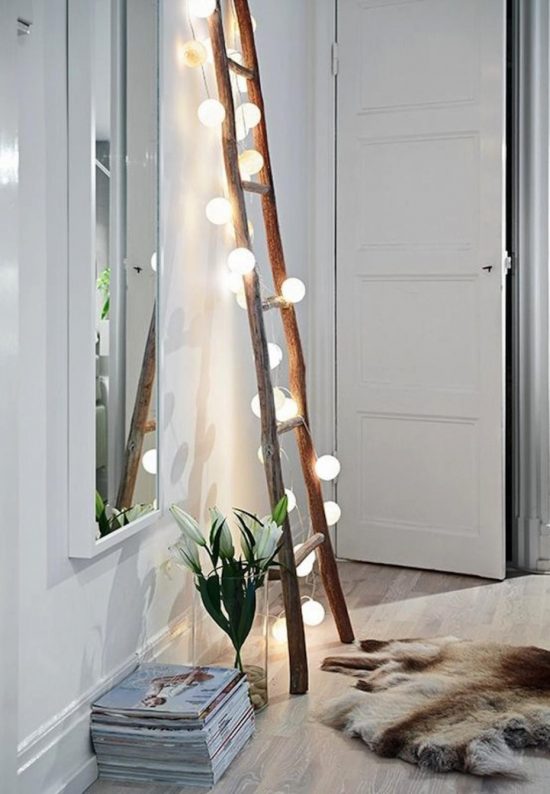 Trucsetbricolages – Rustic Lit Ladder
Our yard does not have trees large enough for these stunning mason jar lanterns. This is such a beautiful whimsical idea, I had to share it.
Creative Wedding Tips – Mason Jar Lamps
This rustic antique wagon wheel is the perfect backdrop for this outdoor vignette. You can just imagine an old wagon full of pumpkins coming in from the fields.
HNGN – Fall Season Front Porch
Fall days are quite short so the lights will illuminate nicely in the yard. These simply strung lights in an orchard define the space and provide a cozy feel. So pretty.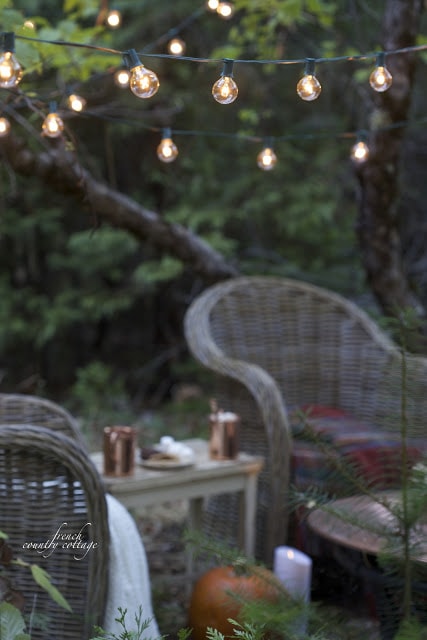 French Country Cottage – Evening in the Orchard
Edmonton had such a late Spring this year a least a month later than normal. It was late May before we were able to work outdoors and now fall is fast approaching. Not sure if I am mentally ready for fall to arrive, but I am happy to get a quick start on planning for it.
These are the two creations I made using the inspiration from this post.
Fall Table Centerpiece Using Lights – Faeries and Fauna
An Illuminated Fall Evening Tour
Add this to your Pinterest Board for Fall.