I don't know when it all started but all of a sudden Mason Jars are everywhere. First time I noticed their comeback was when I saw (and bought) some mason jar replicas at Pier One last fall. Now you see mason jar art in stores, mason jars at antique shops and tutorials for dyeing Mason jars all over YouTube.
In the 1980's canning your own fruit, making jam, and pickles was very popular. I had hundreds of jars in all sizes. Then the fruit, sugar, jars etc. got too expensive, more types of fruit became available in the winter and canning kind of disappeared. Everyone was making freezer jam (not me). I had hundreds of jars in my basement, mine slowly disappeared after being used as large tough drinking glasses with the boys.
On Mother's day Herman took me to an antique show to look for jars, vintage linens, and depression glass (my fav). I struck out on the depression glass and the vintage linens, but I did find some aqua blue canning jars for $7.00 each. I got some plain clear glass ones for $1.00 each.
My passion is pink depression glass, not mason jars, I just wanted a couple pretty blue mason to replace the clear apothecary jars I have in our master bathroom. I wasn't willing to spend lots as these jars are going to be used regularly, and I don't know anything about their real value.
Then I stumbled across a vendor who had a variety of old blue jars with bubbles in the glass they were a Crown brand. He said they were German and had survived both world wars so he wasn't going to part with them for less then $35 each. He had no history on how these jars came to Canada etc. I hovered for a while eventually deciding to walk away. The exchange made me wonder about the history of Mason jars and Canadian canning jars in particular.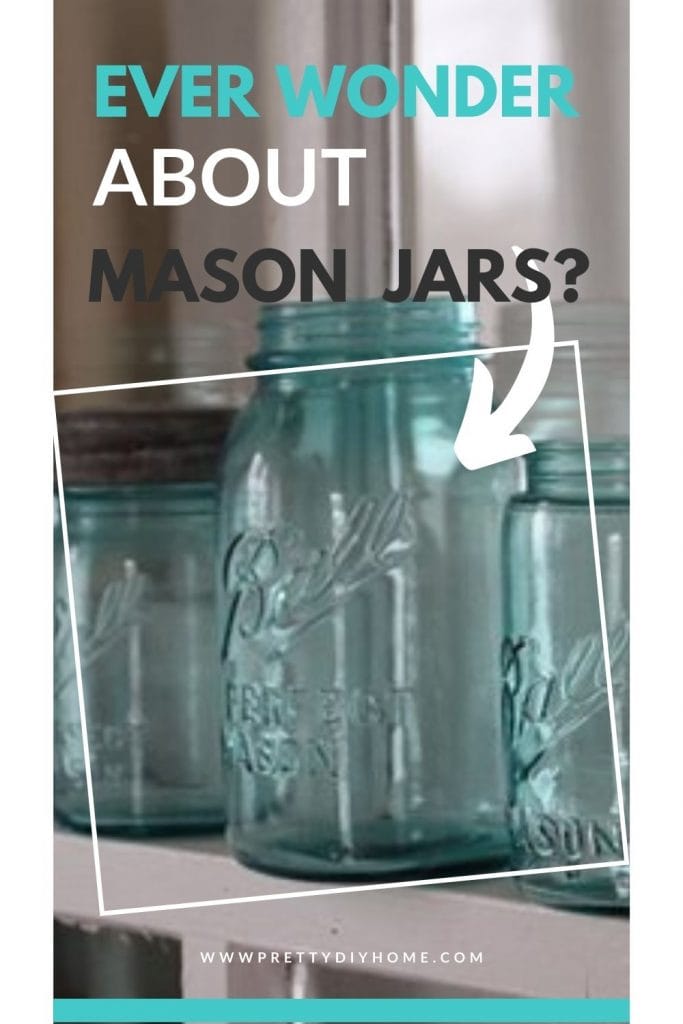 Napoleon
This blew me away.
In 1795 Napoleon offered 12000 francs to anyone who could preserve food for the military. Nicolas Francois Appert claimed the prize in 1810, by proving the first canning process to preserve food. The first jars were sealed with wax which was messy and hard to do. It was however the first process available.
Since that time the actual jars haven't changed significantly, the new developments were made in the lids.
Mason Jars in Canada
Canning jar manufacturing in Canada was dominated by Dominion Glass. The original Dominion Glass opened in Montreal in 1886, it went through several different amalgamations and was reorganized as Dominion Glass Co. in 1913. Dominion Glass made all kinds of glass objects, electrical insulators, beer bottles, milk bottles etc. They made canning jars as early as 1886-1889. The last jar was produced in approximately 1995.
"There were several trademarks authenticated or attributed to Dominion glass through takeover ….. especially fruit jars. BeeHive, Best, Canadian King, Carrols, Crown, Dyson, Gem, Ideal, Mason Fruit, Perfect Seal…… Other logos like Gem Ideal, Mason and Schram were also used by glass houses in the USA." Here is a link to the article, for those interested it included lots of specific information about dating jars.
The Dominion Glass Company of Montreal
There were other glass jar producers in Canada. Excelsior glass produced jars as early as 1878. Hamilton glass ( which may have originally produced Crown jars), the Diamond Glass Company, the Lamont Glass Co. 1890-1902, Hamilton Glass works, 1865-1895, Manitoba Glass Mfg, 1907 -1914.
I took my information from the following link: The Diamond Glass Companies of Montreal Canada
Mason Jars in the USA
The first American manufacturer was John Mason, who manufactured the "Mason" jar with a reusable screw on lid, sealed with a rubber ring in 1858.
William Puntnam of New York created the jar with the glass lid , rubber seal and metal clamp. These jars prevented metal from contacting the food and causing contamination. When the patent ended William Ball and his brothers started mass producing the "Ball" jar in about 1886. Here is a link to a Martha Stewart interview Ball jar, with some really nice examples. Martha Stewart – Ball Canning Jars
Alexander Kerr start manufacturing jars in 1903, making the Economy jar,these were the first wide mouth jars. In 1915 Kerr started manufacturing jars with a small disk and outer ring that didn't require a rubber seal. This is the basic system we still use today.
I did several hours of reading before putting together these general notes. If you want to do some more reading I have included all the webpage links below.
Happy reading.
Leanna
Resources:
https://sha.org/bottle/pdffiles/Diamond-Canada.pdf
https://sha.org/bottle/pdffiles/DominionGlass.pdf
http://allcanningjars.com/kerr-canning-jars/
http://historyliveshere.ca/journal/the-canning-industry/
http://canadiandesignresource.ca/ceramicsglass/canning-jars-of-canada/