Tilted Container Fairy Garden
Fairy gardens are the best for a few reasons, fairies are said to help gardens, fairy gardens are easy to put together, and this particular fairy garden can be placed in the tiniest of yards or balconies. I had never heard about fairy gardens until my granddaughters showed me theirs. Their yard has 100 year old mature trees, pin cherries, roses, lilacs, rhubarb, raspberries. They have a big fairy door and all kinds of treasures both purchased and hand made in their large fairy garden. I can only dream of such a beautiful yard, but this little fairy garden makes me smile every time I look at it.
We have a very small urban yard. This year I had grand plans on turning an unusable fire pit into a fairy beach, with a miniature waterfall. Hubs keep hoping to burn wood in the yard, so he didn't want me to steal his fire pit container. So, for now, the fairy garden is going into a flower pot.
Welcome to the Fiddle Head Fairy Garden
Fairy gardens are perfect for urban settings, they can have lots of little focal points, take hardly any time to create, and even less time to look after. This little fairy garden can be grown outside or in. By using succulents the plants stay in size perspective and won't outgrow the pot.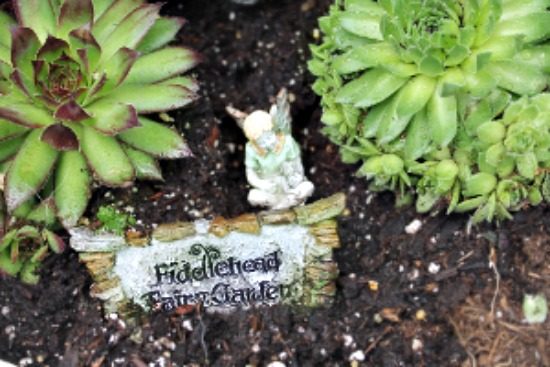 Fairy Garden Supplies
You will need a large flower pot that is big enough to lay on its side.
Any fairy themed accessories you like. I suggest having one large central piece like a house or a bed for fairies to rest in.
A couple of small plants, succulents work very well and are so trendy.
Whatever small fairy items you enjoy. I always like to place in a couple of little fairies and ask my granddaughters if they can find them.
These fairy items come from a local greenhouse but I have seen all sorts of fairy garden accessories at both Michael's in Canada and Hobby Lobby in the USA.
After purchasing the various fairy items this project takes about ten minutes to create.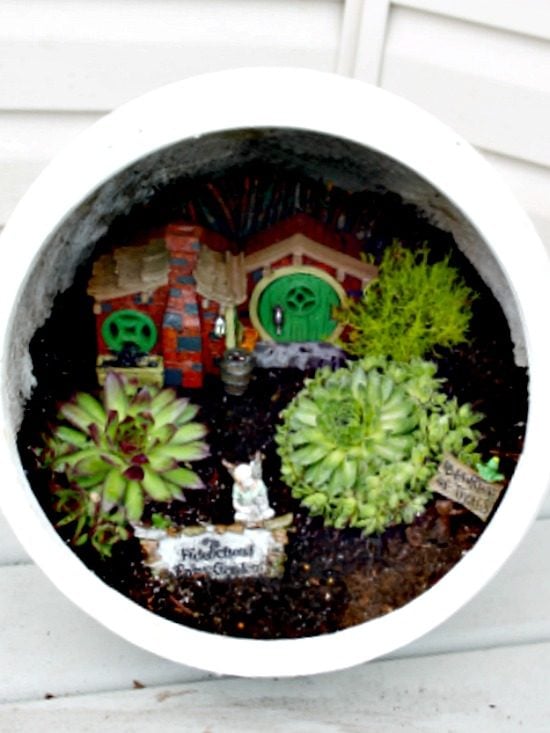 a
Start by taking a large garden pot and turning it on its side so it's like a cave. Fill the bottom side of the pot with rocks for drainage and then add your soil. Place the largest fairy accessories first, followed by the plants and then add your final touches.
Caring for Succulents
The most common problem with succulents is rot. Succulents tolerate dry soil for a day or two but should receive regular watering. Once the soil is dry water the plants really well and let dry out again before re-watering.
Fairy gardens are easy for children to participate in and their friends can be challenged to locate the little figures.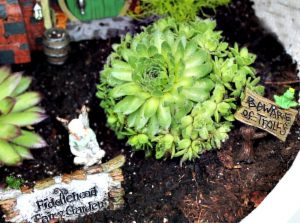 Our yard has very little shade, so this style of fairy garden works well. The depth of the pot provides the required shade, and my little plants don't wilt.

If you read Faeries and Fauna regularly you will have heard me whine about the long Edmonton winters and the extremely late Spring. Fairy gardens are an easy way to add some greenery to decor while waiting for fresh greenery. Here are some other faux fairy gardens you may like.