Mother's Day Printables with Quotes
5 Different Mother's Day Quote Printables
More than any other holiday I think Mother's day is the one most about the thought. I can remember receiving dandelion bouquets for Mother's day and was thrilled to check for ants and place in a pretty glass jar. I still remember it. With the sentimental aspect of Mother's day in mind I created these simple Mother's day printables with quotes. You can give them as a gift as they are, or add to a DIY Mothers Day gift baskets. I will share some ideas for each one. I hope your find the Mother's Day quote printables useful and helpful.
How to Use the Mother's Day Printables with Quotes
You can use these Mother's Day printables as tags or bookmarks by printing out on letter size cardstock and cutting them with scissors and a hole punch.
The Mother's Day printables with quotes come in a folder, there are 3 files to choose from. One has all five printables on a single sheet. The other two are the same quotes but in the larger size you see on my images.
For the Mom Of Grown Kids
This printable is sure to make Mom happy. When kids leave home for any reason, or start to get significant others life changes for Mom too. I thought this sentiment was a great reminder that a Moms love is appreciated.
"Mom, Thank you for being my hearts first home."
For a gift idea you could include a framed family picture, or a picture of when you were young.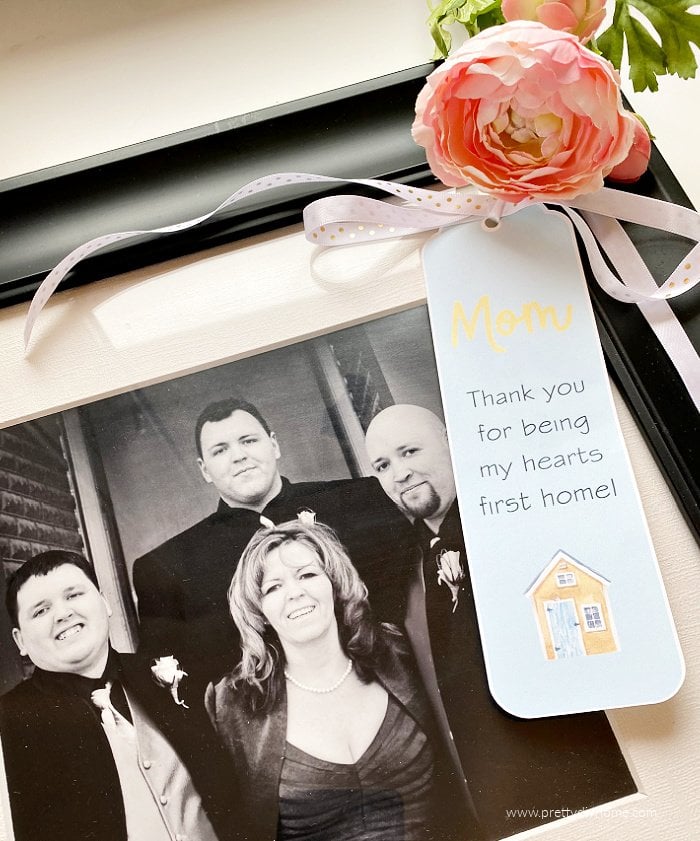 For the Mom Who Likes to Read
Moms are always so busy with ten different uses of their time. But sitting down and taking some me time is important. I thought this quote was perfect to remind them when reading they are role modeling.
"Children are made readers. On the laps of their Mothers."
This gift idea is pretty obvious, grab a great new book.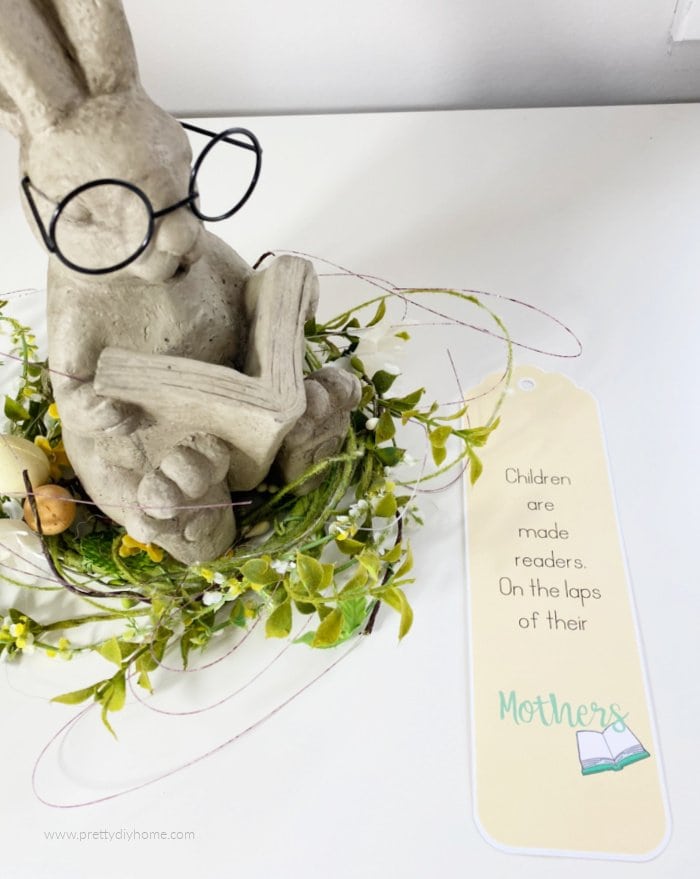 For the Mom who Loves Wine
There is something personal and decadent about a simple quiet glass of wine, especially for the Mom always on the go. This quote is for her.
"Motherhood powered by love. Sustained by Wine"
Another obvious gift idea. A bottle of wine, glasses, fancy opener, decanter etc.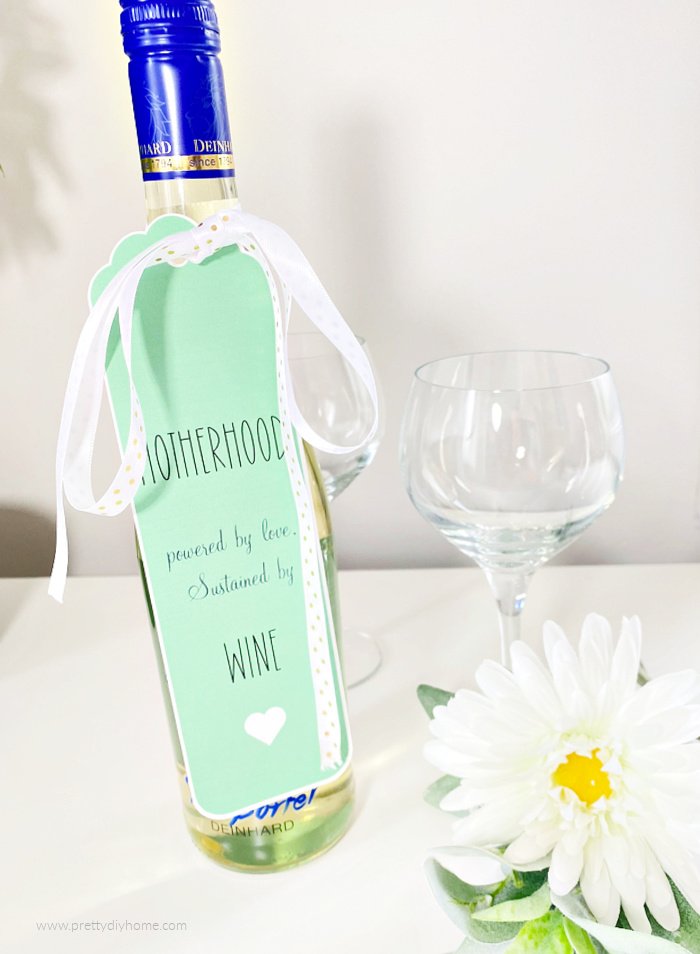 For the Mom who Loves to Cook or Bake
If your Mom loves to putter or hang out in the kitchen like my Mother did. This quote is for her. My Mom always and I do mean always had the coffee pot on the the fridge door was constantly open. If your family gathers at the table this may be a great quote for your Mom.
"In this kitchen we make messes and memories."

This may be the one time a kitchen tool is a good gift to share with Mom. I would personally go the safer round with a really trendy new cookbook for her to enjoy.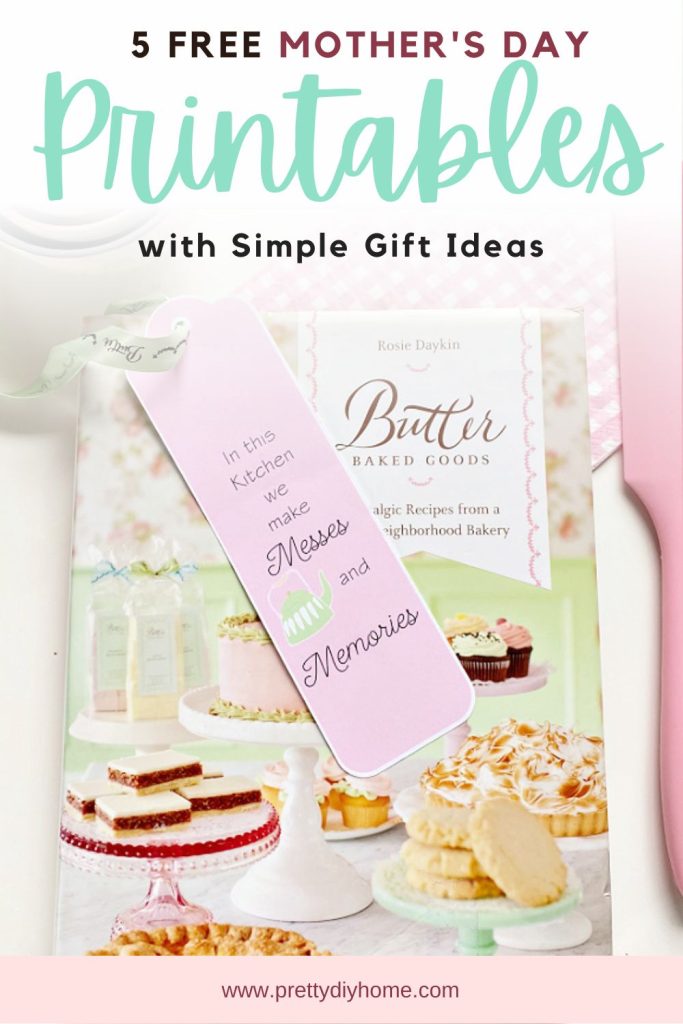 For the Coffee or Tea Loving Mom
This quote is funny and so very true.
"The quickest way for a parent to get a child's attention. Is to sit down and look comfortable.
If your like me I use to hide in the bathtub, with candles, bath beads and a coffee. My kids knew this was Moms special time and when little they would help me choose bath beads, candles etc.
For a gift idea how about a coffee mug with goodies, some bath products Mom will like, or a coffee shop gift card and a note your willing to babysit for an hour.
After I had completed the printable I realized I forgot a Pet Parent Mom. This is the stage I am currently at. I don't own my puppy, I parent him.
If you happen to have a pet Mom in your life. I think you could use the "Mom. Thank you for being my hearts first home." and do a paw print signature.
Mother's Day Printables Citations
The original quotes are not mine, I find them all Pinterest only one had the original author cited. If you happen to find an author for the other quotes let me know. I would like to give them credit.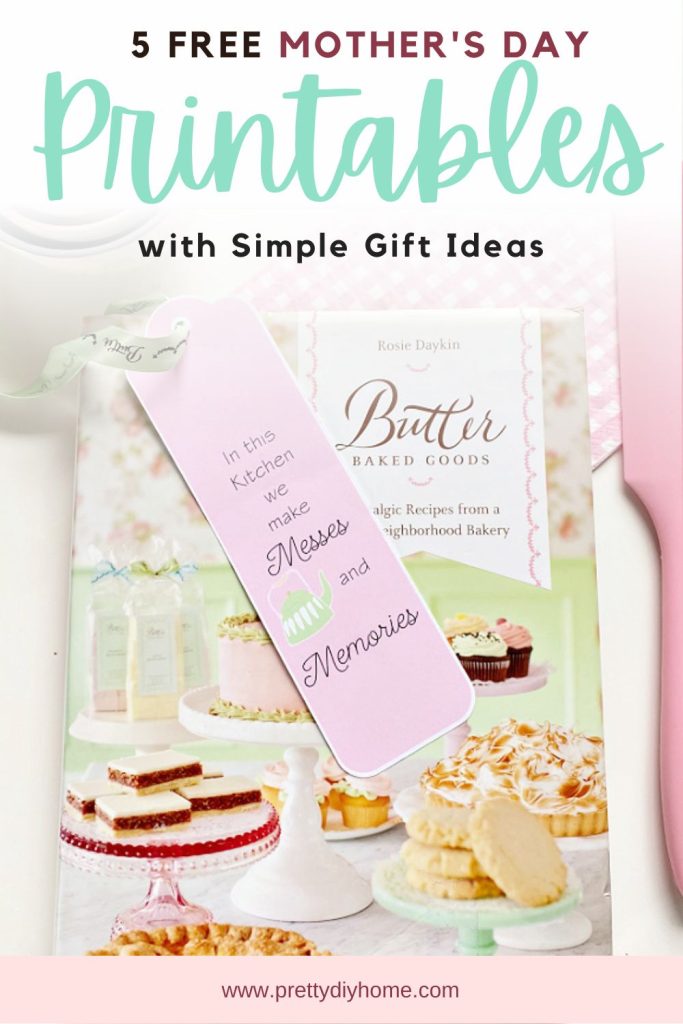 I have a Drinks and Beverages board on Pinterest where I collect my favorite recipes for cocktail and mocktails. If your looking for something delicious and refreshing for to drink this Summer, take a peek.
Pina Colada Recipe With or Without Alcohol
Whether you prefer your drinks with or without alcohol, this Pina Colada recipe is sure to satisfy your thirst for a refreshing summer beverage. And this recipe has no added sugars.
Print Recipe
Ingredients
1

cups

fresh pineapple chunks

prepared and frozen day before

8

oz

pineapple juice

⅓

cup

coconut cream

not milk or water

4

oz

white or golden rum

or Malibu

6-8

ice cubes
Sugar Free Simple Syrup
¼

cup

monkfruit sweetener

Can substitute with granulated sugar

½

cup

water
Pina Colada Mocktail Ingredients
Garnish
1

tsp

coconut

1

triangle piece of fresh pineapple
Instructions
The Day Before
Peel and trim a fresh pineapple. Cut enough pineapple to get 2 cups of large chunks. Place the pineapple chunks into a freezer bag and freezer overnight.

Use the remaining fresh pineapple as garnish.

Note:

Note: In a pinch you can use any type of pineapple you have on hand instead of the fresh pineapple and skip the freezing.
Make the Simple Syrup
Add the water and monk fruit sweetener (sugar) to a small saucepan.

Stir to combine and cook over medium heat until the sweetener dissolves completely, about 3-4 minutes. Remove from heat and set aside to cool.
Mixing the Pina Coladas
Place the frozen pineapple, pineapple juice, coconut cream, rum, and 1/4 cup of the simple syrup into a blender. Blend until smooth.

Garnish with the optional coconut and pineapple.
No Alcohol Pina Colada
Making a non-alcohol version or Pina Colada you create the exact same recipe, but skip the rum. If you want to give it a little zip, add 1/4 tsp of coconut extract instead.
My Blogging Friends Mother's Day Printable Ideas
Looking for even more Mother's Days printables ideas! I've joined a group of blogging friends to round up some of our favorite, free Mother's day printable designs. Be sure to check out the posts below…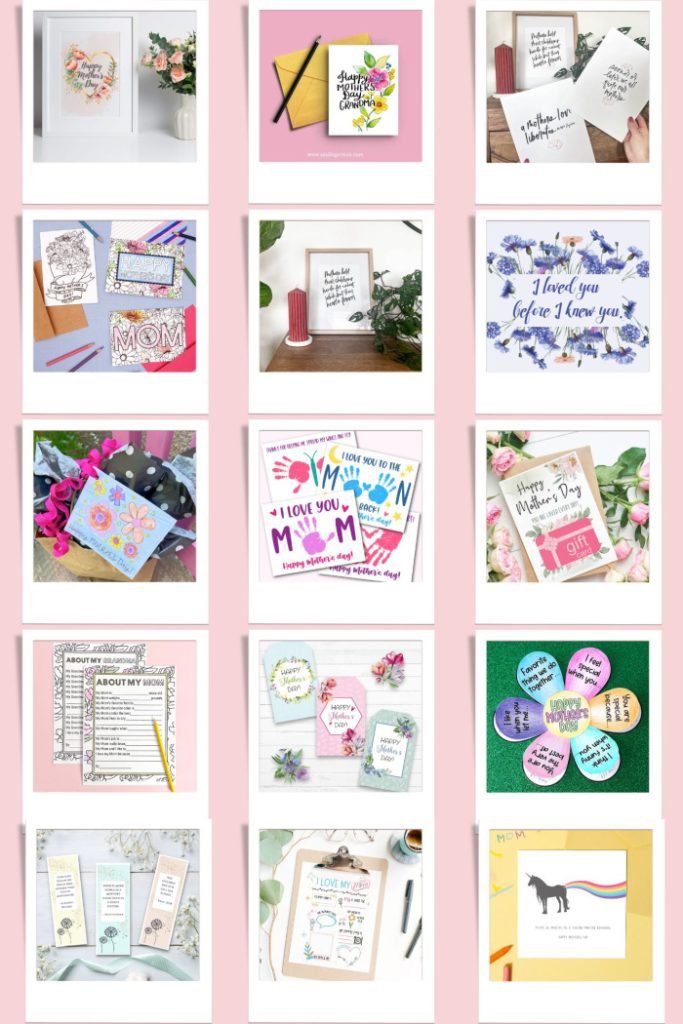 Other Printables to Check Out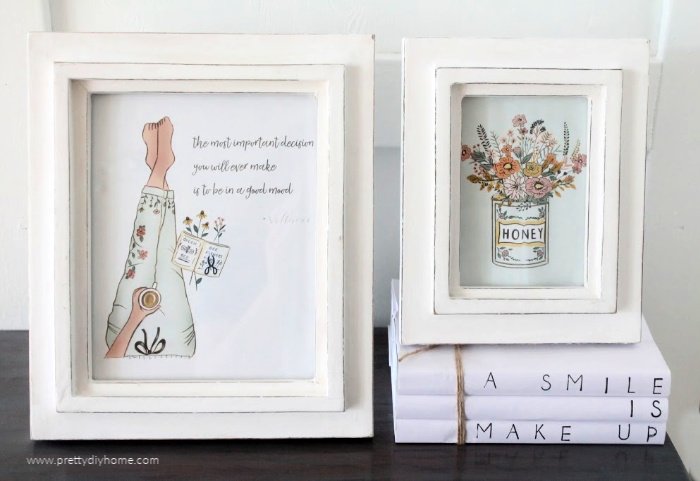 Free Farmhouse Art Printables
These farmhouse art printables are very popular. I like to use them over the Spring and summer.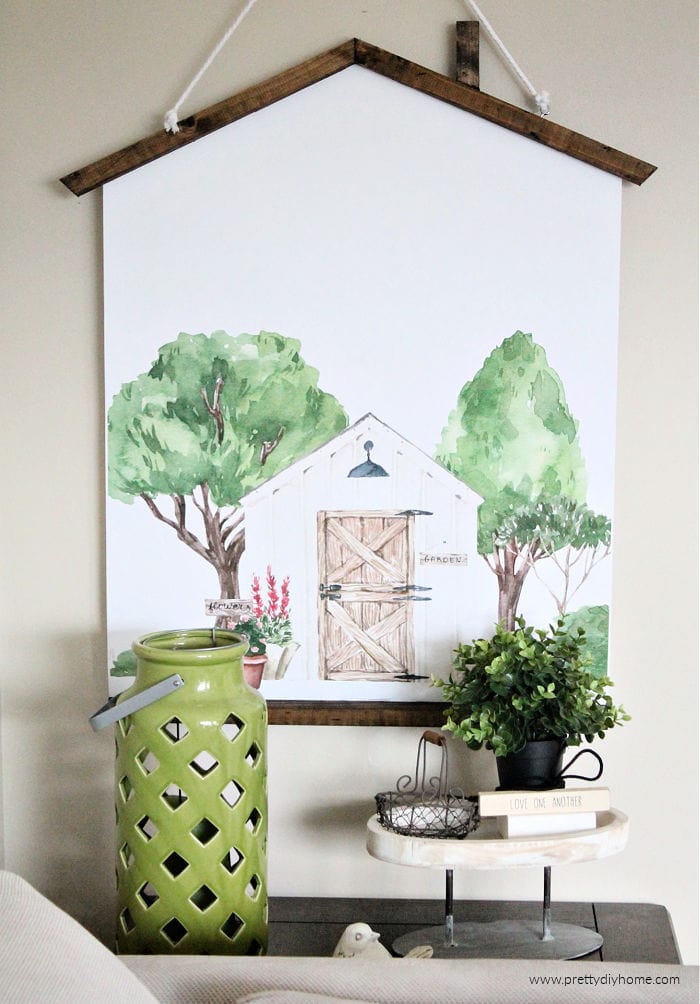 Large Wall Decor Printable
I created this large wall decor printable of my perfect she shed. It looks great in the craft room, hallway, or even on the deck outside.