Rag Wreath – with Easy Year Around Rag Wreath Ideas
Rag Wreath DIY Ideas
Hello. I am excited about today's post. When I was last in the USA I found some ticking fabric, I bought the last 1.5 yards in stock and have been lovingly hoarding it until today. There wasn't enough fabric to cover my dining chairs (sigh) but I wanted to do something wonderful with it. I finally decided to tackle a large rag wreath that can be used year around. Ticking is such a pretty and neutral fabric, and paired with light cream dropcloth I cannot wait to have this wreath all done and hanging.
Therag wreath is very neutral and can easily be updated for different seasons. I am thrilled with it. Here is how I made it.
DIY Fabric Rag Wreath Supplies
My basement stash had one large 18″ wire wreath frame, so this wreath is nice and large. Besides the wreath form you will need 2 yards of drop cloth and 1.5 yards of drop cloth.
Cut the Ticking and Dropcloth Fabric Strips
Start by cutting hundreds of little strips of ticking fabric and drop cloth fabric in equal numbers. For this large wreath I cut 550 strips. I used a cutting wheel and ruler to cut mine. Start by cutting 8″ pieces the entire width of the fabric, then cut the fabric into 1 1/2 inch strips with the cutting wheel. This is going to take about three hours. It took me a full day doing bit of cutting between other things I had happening around here.
If you don't have a cutting wheel I suggest making snips in the fabric and ripping the fabric in long 1 1/2 inch strips. Once cut iron them and then cut into 8 inch lengths. The ripped fabric edges will have more threads, but there is no way I can recommend cutting all those strips by hand with scissors.
To keep track of how many strips I had I counted them in groupings of 10. I figured I had lots, but after I took this picture I needed to cut 180 more.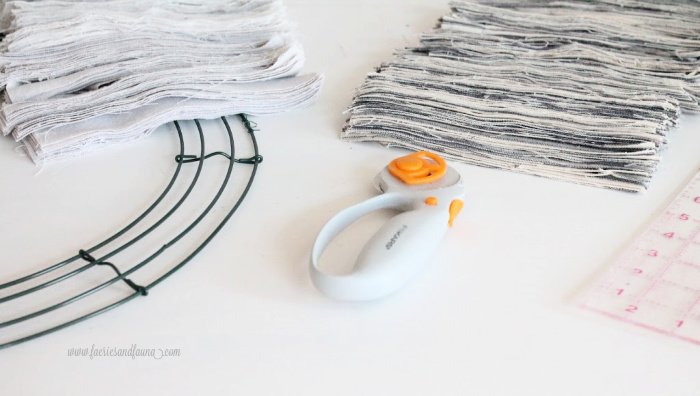 Tying the Fabric to the Wreath Form
My wreath form is 18 inches, and will make a very large full wreath. This is my wreath frame, its has 9 sections and four rings. I chose to tie the fabric strips over one wire.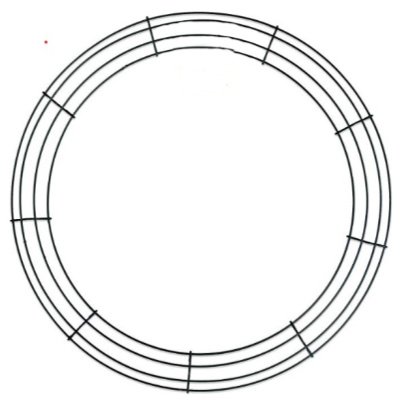 Attach the fabric strips to the wreath form a section at a time. So all the sections are identical divide the total number of fabric strips by the number of sections your wreath form has. I divided my strips up into 9 equal bunches with 30 dropcloth and 30 ticking strips.
There are four wires in each section so I used 13 strips on the innermost ring, 15 on the two center rings, and 17 on the outer rings.
To attach the strips loop them around the wire, so the fold is at the underside. Make sure the two ends are even on the top side and tie it into a simple knot.
You may find some of the strips tails turn and go to the back side as your crafting. Once your done the section, check the back side of your wreath to make sure all the rag ends are orientated toward the front before continuing to the next section.
If there are any strip ends on the back side of your wreath, push them through to the front side, and then pull them straight on the front side.
Continue until you have a complete wreath. Once you have the wreath done, trim off any obviously uneven strips, and any loose threads that are obvious.
Plain Ticking and Dropcloth Fabric Wreath
This wreath is fabulous I love it, its so neutral and shabby and farmhouse and dare I say cute. Its well worth having an abundance of fabric strips so that its thick and fluffy.
The ticking and dropcloth are both neutral allowing for easy updates for seasonal decor ideas. To make these three different seasonal wreaths I grabbed a few simple items from my craft room and took less than five minutes on each update to show you some quick examples. I am so happy with how it turned out. Well worth hoarding the ticking fabric.
The Farmhouse Rag Wreath
A simple twine and black macrame cord ribbon and simple galvanized cow makes the wreath obviously farmhouse and fun.
A Halloween Rag Wreath
To update the wreath I kept the same ribbon as the farmhouse wreath and added a haunted house and some sparkly black branches.
The items are very easy to attach using wire as the fabric strips easily camouflages the wires, and the little house is well balanced by the width of the wreath.
A Christmas Rag Wreath Craft
Every time I updated the wreath I would think that I love it more than the last version. For the Christmas rag wreath I took two dollar store sprigs of red berries, some buffalo check ribbon, and two of the red cardinals I have for our Christmas tree.
I cannot wait to pop this wreath in front of a shiplap backdrop or hang it on a chalkboard maybe. I love it every bit as much as I was hoping to. Hope you love it as well.
Leanna
Pin for Later