Outdoor Wooden Pumpkin Decoration for Fall
Wooden Pumpkin
Wooden pumpkins last for years and years, they survive heat and frost and everything else Fall throws at them. DIY wood pumpkins don't turn rotten the day after they come home from the store, you can [paint them in any colour, and they add rustic charm and a hint of cozy to our homes.The really cool thing about the wooden pumpkin we made for this year is its a………………… chalkboard. You can make one of your own, and make it any colour you like for you Fall front porch. Better yet, this large wooden pumpkin is destined to be a jack-o-lantern chalkboard for Halloween.
Chalkboard Wooden Pumpkin Supplies
This wooden pumpkin is made from leftover flooring underlay and chalk pens. It takes a day to make it because of the time it takes for the chalkboard paint to dry.
A scrap piece of underlay or plywood
Dollar store leaf or a real pumpkin leaf
Chalkboard paint and brush
Washable chalkboard paint in Fall Colours
Paper towel, rags, small bowl of water.
Drawing the Wooden Pumpkin
Typically I share some sort of downloadable template for wood crafts, but this time I think it would be a waste of effort, you would spend more time printing and fiddling with the template then just drawing it free hand.
Begin by seeing what piece of flat scrap wood you have available and let it dictate the size of pumpkin chalkboard you create. You could also use plywood as long as you sand it smooth. I don't recommend using chipboard unfortunately as it wouldn't be smooth enough.
If you don't have any scrapwood, Home depot sells quarter sheets of different types of plywood products that will work for your wooden pumpkin.
Our large wooden pumpkin is 32″ wide and 39″ tall including the stem.
We used a leftover piece of inexpensive wood floor underlay for the underlay. (Its a scrap piece from a faux fireplace surround we built but I haven't posted yet.)
Drawing the Chalkboard Wooden Pumpkin
The first step is to use the dollar store leaf as a template to draw the leaf outlines. Place your leaves towards to top of your wood and as wide as your piece of scrap wood will allow. Draw one leaf on one side, and two on the other (refer to the finished cutout pumpkin for placement ideas.)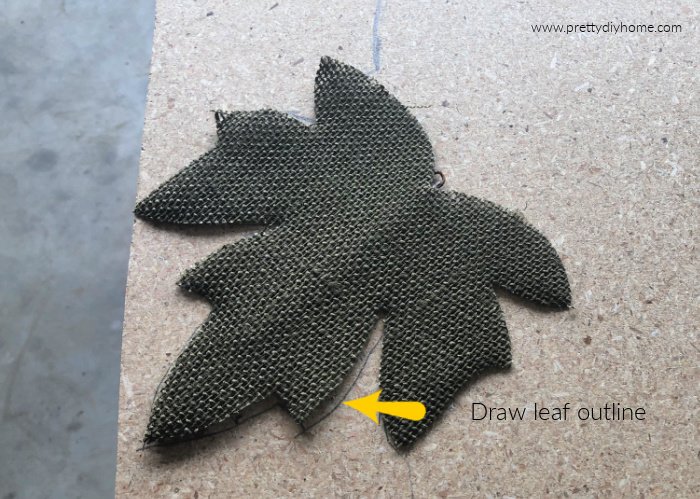 Once you have the leaves drawn, continue by drawing a rather abstract shape for the unfinished wooden pumpkin, making sure the bottom is flat and square. Here is the unfinished cutout for a drawing reference.
Cutting the Outdoor Pumpkin Decoration
As the pumpkin has the leaf edges the easiest way to cut it is using a jig saw. Its a very straight forward process that Hubs helped me with. I am not scared of using a jigsaw, but I have a bad habit of breaking blades and I didn't want to have to go purchase more. Anyways….. here is a short video showing you some of the tips and tricks he used to cut the pumpkin with the leaf edging. Poor guy did it with a cast on his right hand, but it turned out very well.
Adding the Pumpkin Chalkboard Art
Buying the Chalkboard Pens
You can make the pumpkin with children's chalk art, or artists chalk if you can find the colours you want. I suggest purchasing Chalkboard Art Pens as they have enough pigment, once dry they last better, AND you can erase the chalkboard art using water. I had some pens I bought at Home Sense art section months ago, and the other two I bought at Staples. This Fall chalkboard is going to be a jack o lantern for Halloween as well so being able to erase the chalk is important.
However, living in Canada, and in the country I had a very hard time getting exactly what I wanted, but I worked with what I could find, and I love how it turned out. Hopefully you can find more colours, especially dark brown or dark orange. Inspite of my whining I did enjoy ever minute of this pumpkin project and its time to get started.
Drawing the Basic Pumpkin Shape
Begin by tracing out the leaves you used to make the wooden pumpkin pattern.
Draw in some simple stems using a dark colour.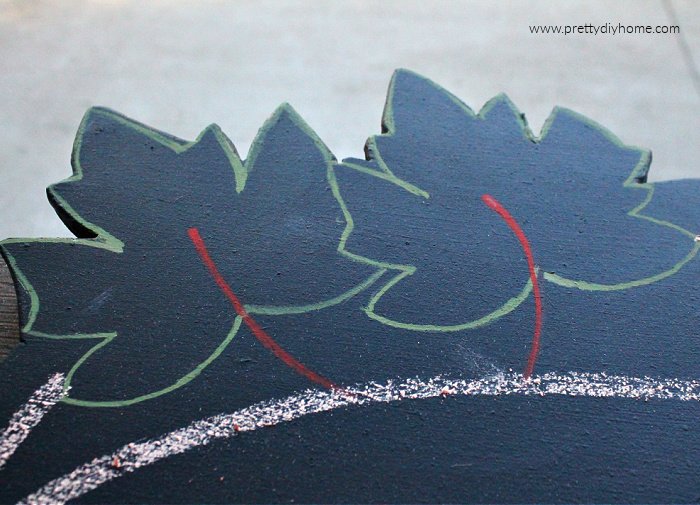 Draw the basic outline of your pumpkin, as shown. You can use easy to wipe kids chalk to start with, or if more confident use the main coloured chalkboard art pen.
Once your kids chalk pumpkin is complete retrace the kids chalk marks with the chalkboard art pen. Let it dry and then wipe off the kids chalk.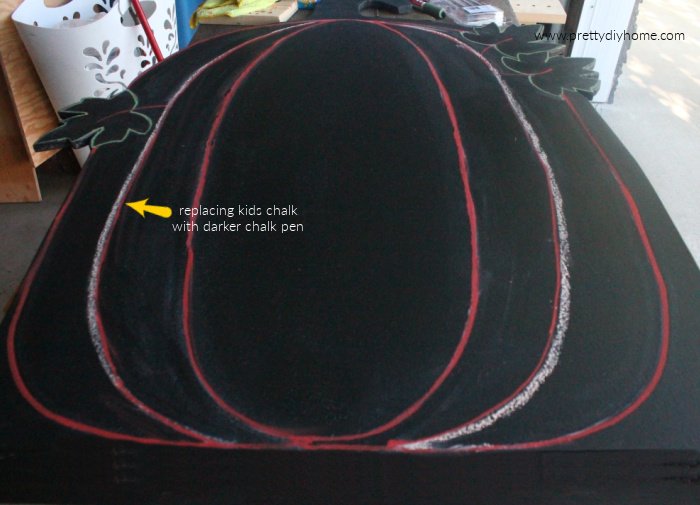 Once you have the main colour of you pumpkin done, colour in lines in a lighter colour on the inside, and a darker colour on the outside. I used a dark red and too bright an orange, (a dark orange would be nice), the outside could be done in a nice brown.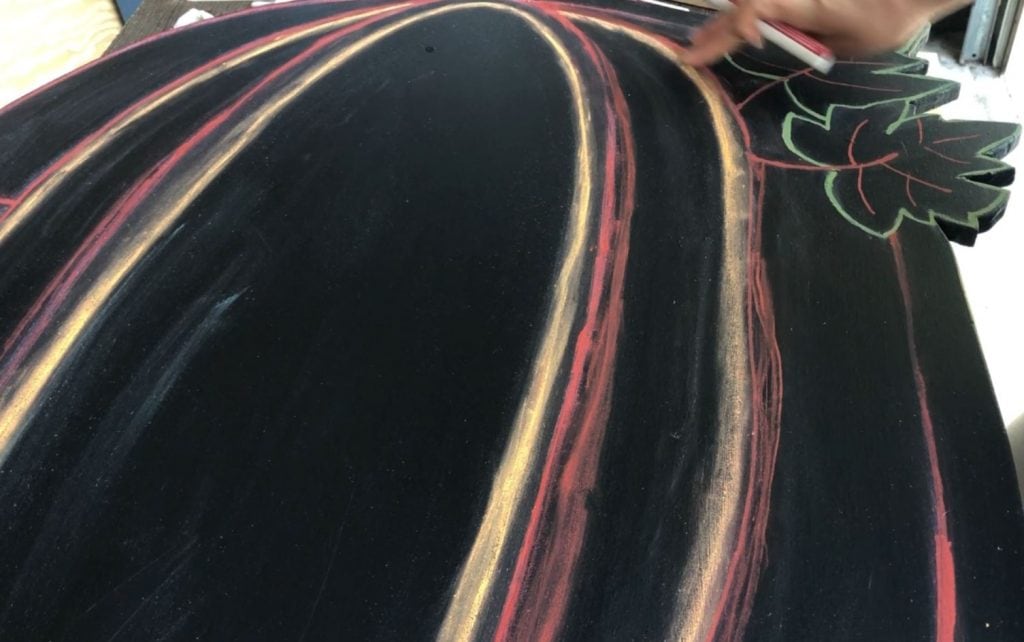 The basic instructions are draw the lines, then smudge them wide, use water if needed to soften the lines, and repeat until it looks the way you want it. Grab something to drink and enjoy creating.
As my actual drawing instructions are rather vague, I did a casual video of me playing with the chalk art pens.
Fall Front Porch Pumpkin Decor
Fall is always about pumpkins, no matter the colour and size I love them. I love pumpkins on the front porch, pumpkins lined up on the mantel for Fall decor. Then there are craft pumpkins, wood block pumpkins, pumpkin signs. Finally, mashing pumpkin to freeze and made delicious pumpkin spice recipes. This year Hubs helped me by growing pumpkins. The little pumpkins in front of the wooden pumpkin chalkboard are our very own home grown pumpkins.
Pin this Pumpkin Idea for Inspiration!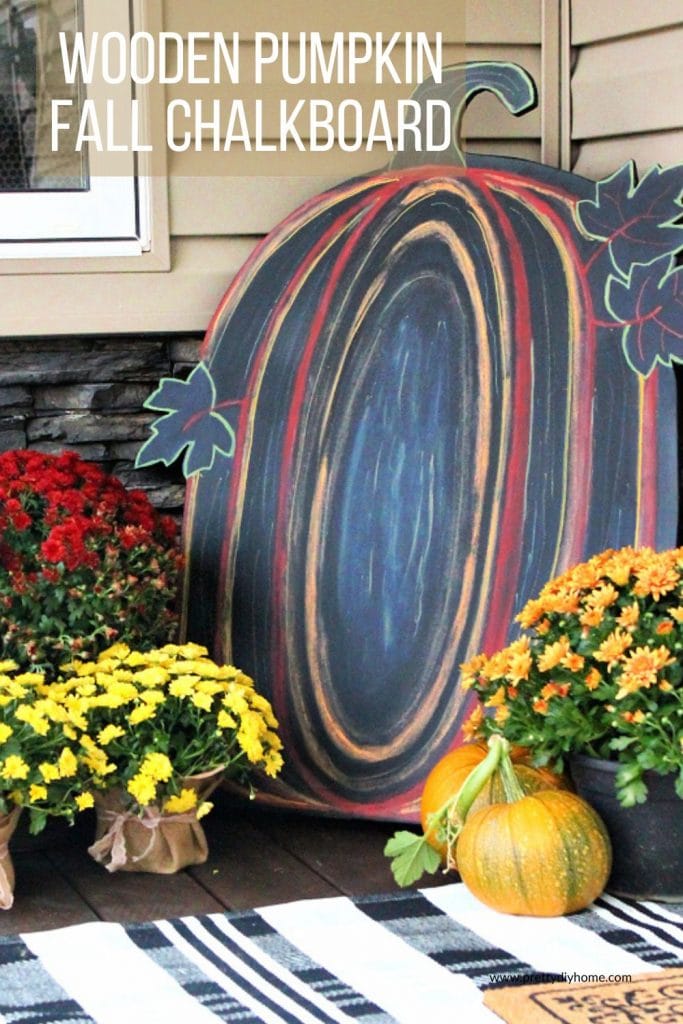 Other Fall Porch Ideas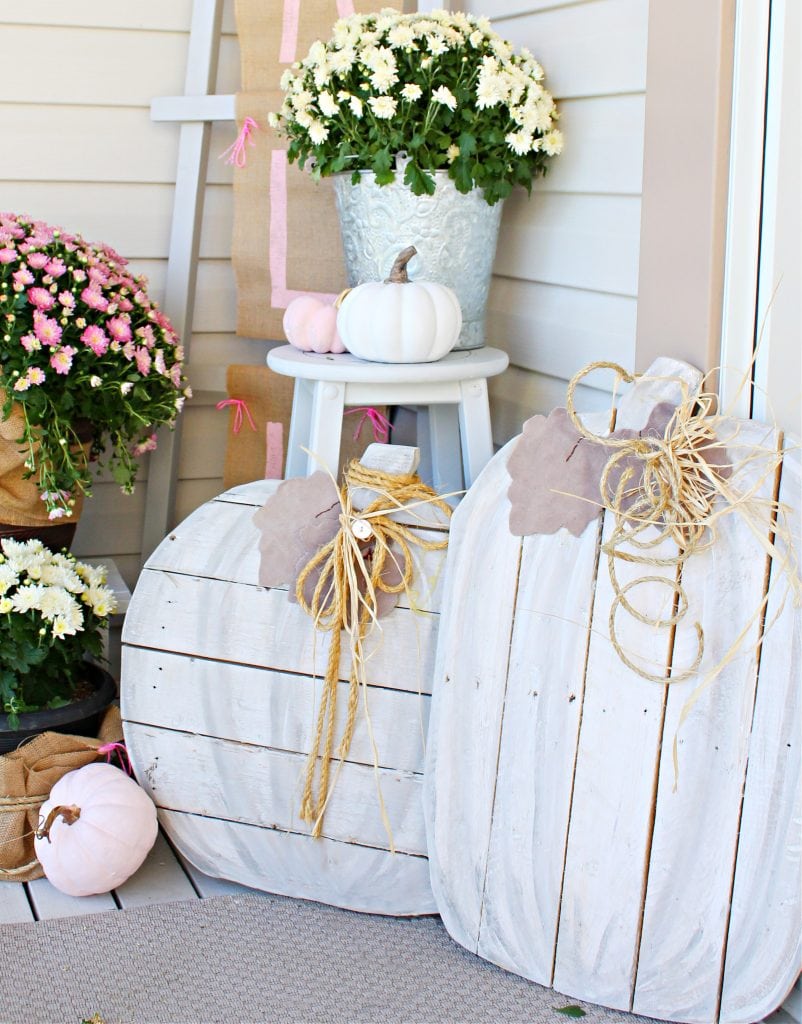 Neutral Pallet Pumpkins
This is another set of pumpkins we made a few years ago. These DIY Pallet Pumpkins have been used repeatedly and we always receive compliments on them.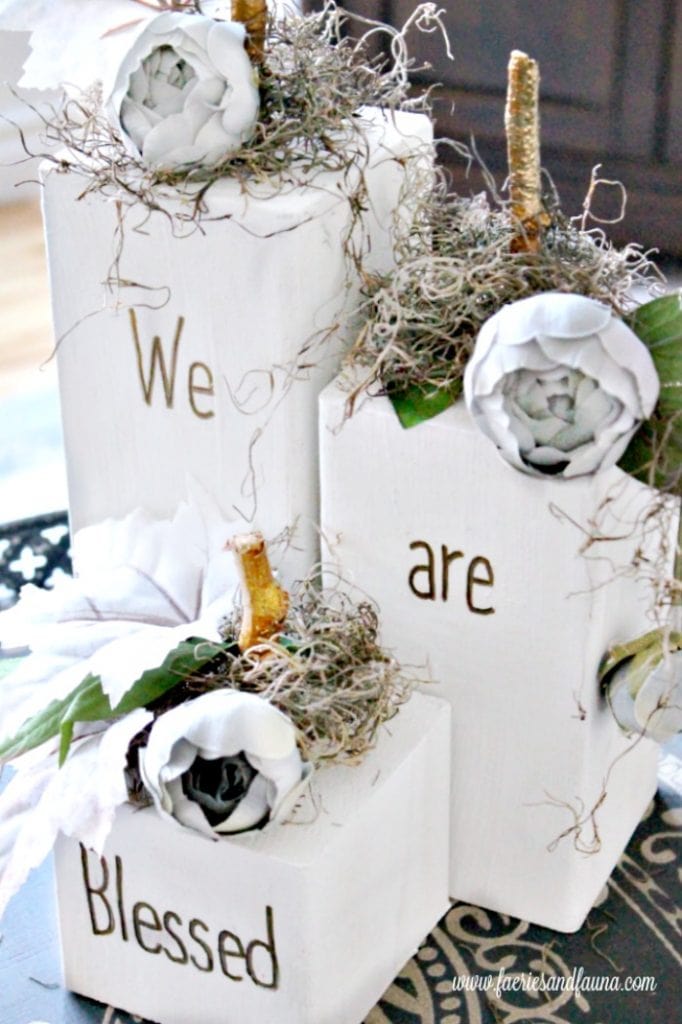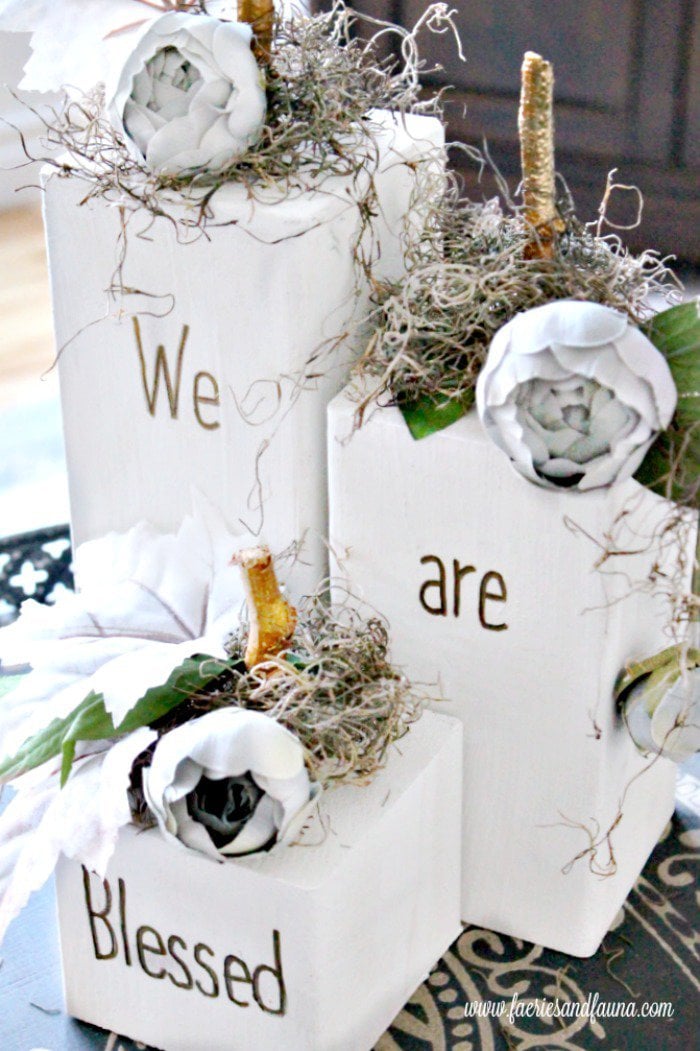 DIY Wood Pumpkins for Fall or Thanksgiving
These small wood pumpkins are made out of a old fence post. Super easy to make and I think they are very different. Hope you love these small wood pumpkins as much as I do.