Pumpkin Cake with Cream Cheese and Streusel Topping
This pumpkin cake is extremely moist and packed with delish pumpkin spiced flavour. The pumpkin cake, the cream cheese frosting and the spiced streusel topping are all baked as one. The final result is a perfect pumpkin cake recipe with lots of texture thats over the top delicious.
This pumpkin cake looks impresive because of all the different layers, but its easy to make, and you bake it all at once. No separate frosting or decorating required.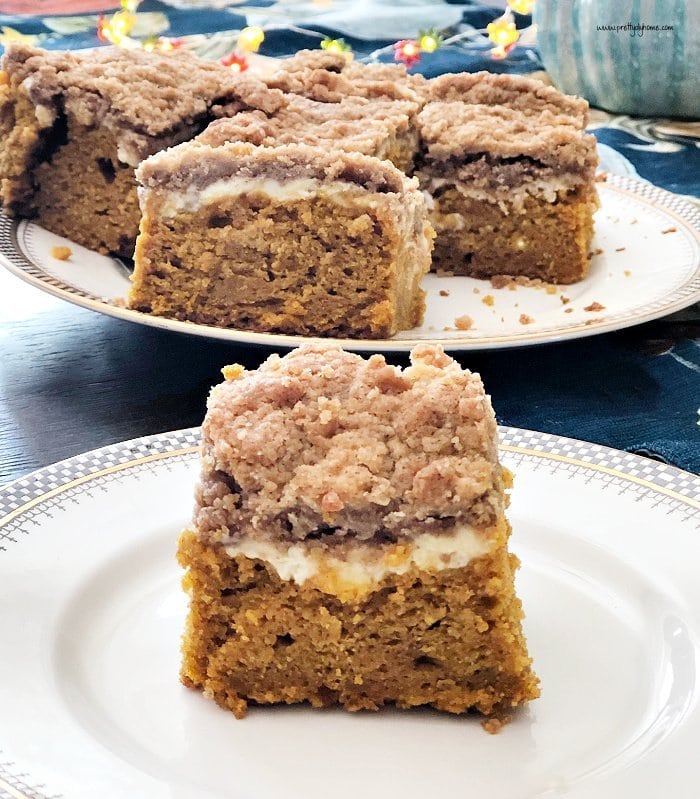 Because of the layers this pumpkin cake can be served as a Thanksgiving dessert. The streusel topping and simple square cuts makes it perfect to pack for lunches or potlucks.
How to Make a Pumpkin Cake
Pumpkin Cake Layer Ingredients
1/2 cup vegetable oil
1 cup sugar
2 eggs
1 cup pumpkin puree (canned or fresh)
1 tsp vanilla
1 cup flour
1 tsp baking soda
1/2 tsp baking powder
1/2 tsp salt
1 tsp cinnamon
1/4 tsp ginger
Cream Cheese Layer Ingredients
8 oz cream cheese softened
1/3 cup white sugar
Streusel Topping Ingredients
1/2 cup light brown sugar
1/2 cup white sugar
1/2 cup butter
1/2 cup flour
1 tsp cinnamon
1/4 tsp ginger
1/4 tsp cloves
1/4 tsp nutmeg
1/2 tsp baking powder
How to Make Pumpkin Cake
Preheat the oven to 350. Grease a 8 by 8 baking pan.
Start by mixing together each layer and then layer them afterwards. The pumpkin cake layer has baking powder in it, and it will activate as soon as you mix it into the wet ingredients. To have a nice fluffy cake layer we mix together all the layers first to avoid activating the baking powder.
Mixing Pumpkin Cake Batter
Combine the wet ingredients, pumpkin, egg, sugar, oil and vanilla in a mixing bowl.
In a second bowl stir together the dry ingredients, flour, salt, soda, baking powder, and spices.
Set aside.
Mixing Cream Cheese Layer
Mix the cream cheese, and sugar together until creamy. Add the vanilla, mix again and set aside.
Mixing Streusel Layer
In another bowl mix the butter with the two sugars until blended. Add the flour, baking powder, and spices to the flour.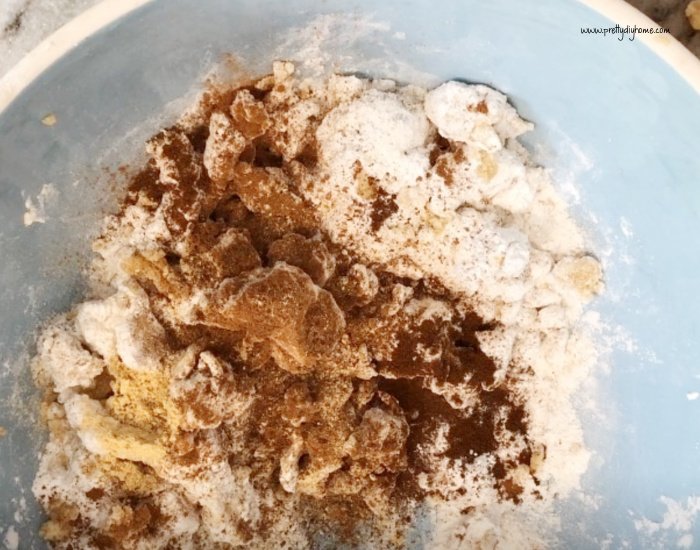 Mix until the crumbs are the size of small peas. Set aside.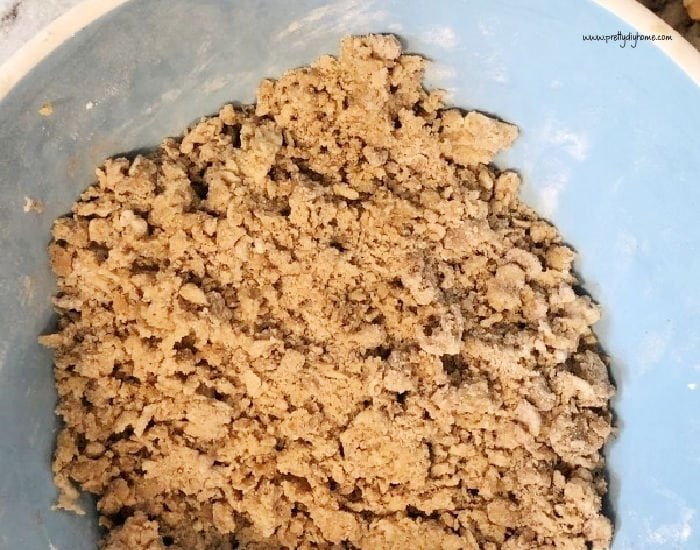 Making the Pumpkin Cake Layers
For the pumpkin cake bottom layer, mix the dry ingredients into the bowl of wet ingredients. Mix until just combined and transfer to the 8 by 8 inch square baking pan. Spread evenly.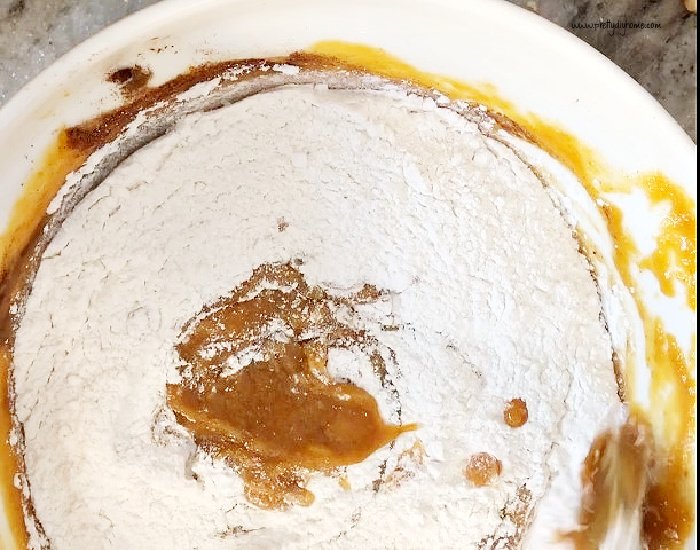 For the middle cream cheese frosting layer. Place spoonfuls of the cream cheese mixture over the pumpkin batter.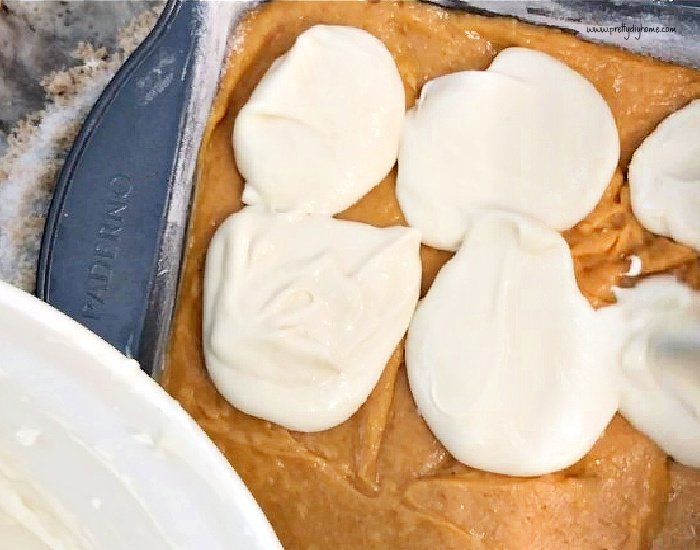 Lightly pread the cream cheese over the pumpkin batter making sure not to combine the layers into a swirl.
Place the streusel crumbs all over the top and place in the oven.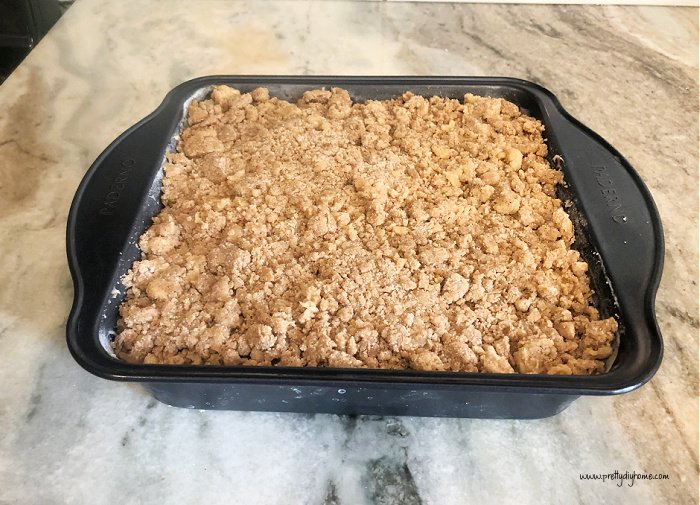 Bake at 350 for 40-45min Let cool before slicing.
If you would like a more thorough how to of the pumpkin cake, I made a very casual video of myself making the cake. I go through all the steps.
Storing Pumpkin Cake
Once you bake the pumpkin cake, allow it to cool on the counter completely before cutting it. To keep your cake store it well covered in the fridge, either in a plastic contain, or you can just wrap it very well in plastic wrap. It will keep very well for up to 3 days but it rarely last that long.
Making desserts ahead of time can really take the stress out of holiday meal preparation. To freeze this cake make sure that it is cooled first. You can keep you cake whole and wrap it very well in the pan. Or you can cut it into pieces and transfer it into a plastic container with a lid. If you want to have it premade for lunches, wrap each piece in plastic wrap and then place it in a container. A frozen cake will keep well for up to 3 months. To use just let it thaw on the counter, once thawed place in the fridge.
Pin This Pumpkin Cake Recipe Its Very Very Good!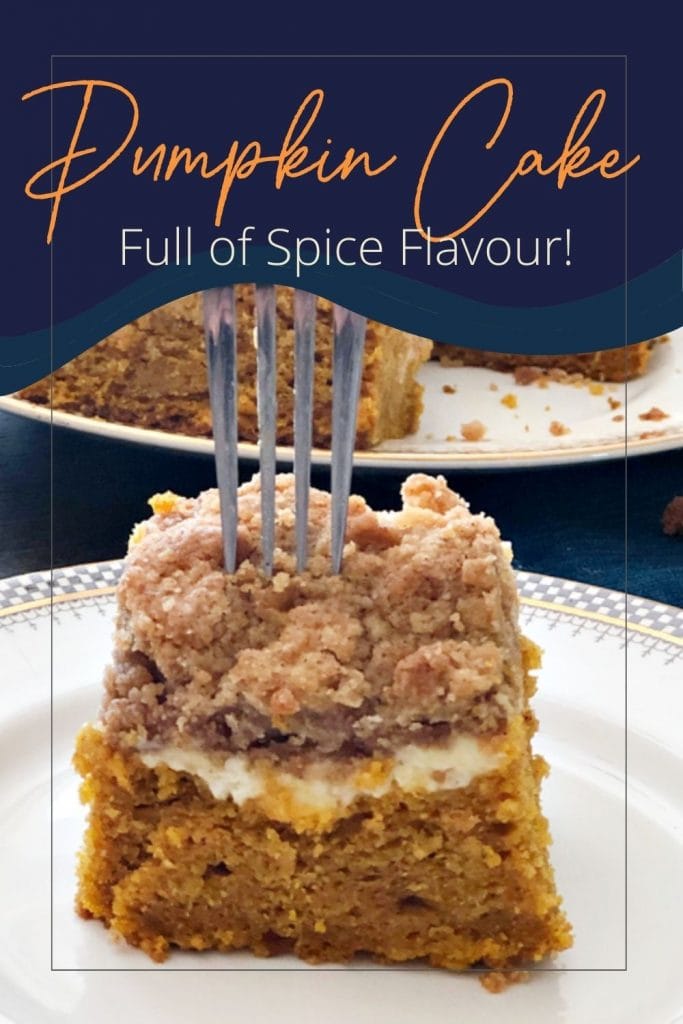 Other Fall Dessert Recipes to Try
Tomato Soup Spiced Cake
This tomato soup spiced cake recipe has load of spicy flavour, and lots of texture from the raisins and walnuts. If you have never had tomato soup spiced cake I really suggest trying it just once.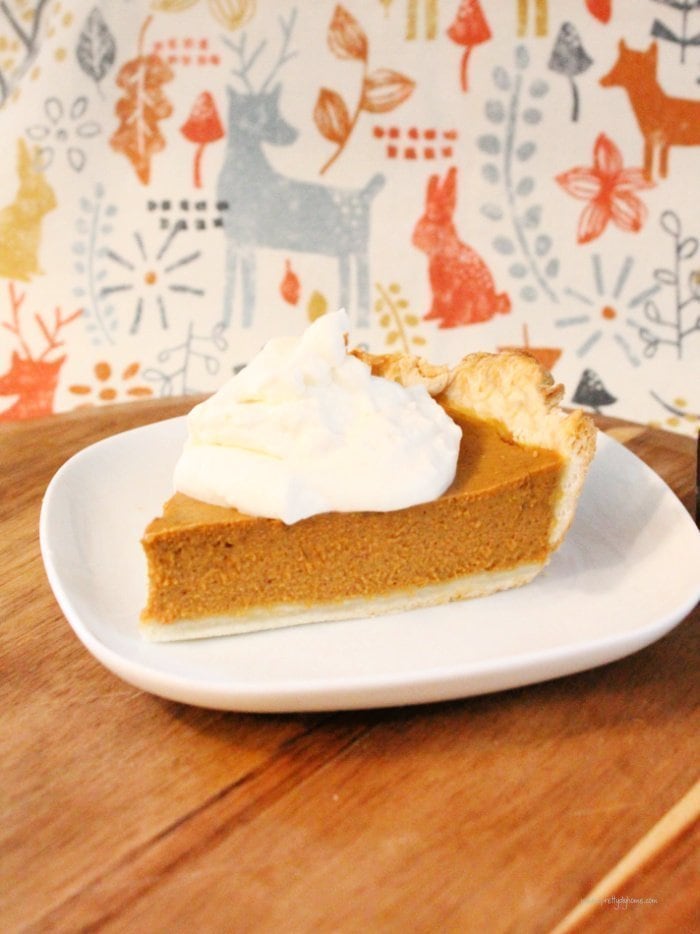 Classic Pumpkin Pie Recipe
This is the classic pumpkin pie recipe you remember from your Mother or Grandmother. Its a classic recipe I have had for longer than I want to admit. I added a video tutorial for new bakers.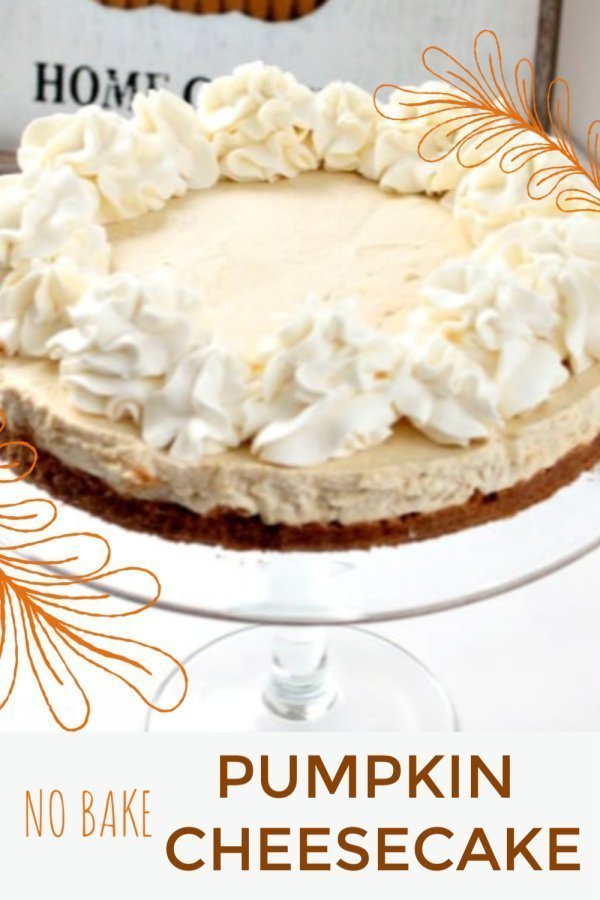 No Bake Pumpkin Cheesecake
This pumpkin cheesecake recipe is no bake, meaning the cheesecake filling is light and airy. Full of pumpkin spice flavour my family asks for it every…….single…..year!