Monster Pretzels for Halloween
Easy Pink Monster Pretzels
Try these easy Halloween pretzel monsters, that are more cut than scary, like little fuzzy pink monsters. If your looking to send off some treats for a Halloween food party, or whipping up some different Halloween candy ideas for a charcuterie board these little pretzel Halloween treats are sure to be a hit.
Homes with children are busy anytime of year, but this time of the year can be mind boggling busy for Moms, with school, sports, Thanksgiving, Halloween and early Christmas planning. These easy Halloween monster pretzels are so easy to make and kind of cute too.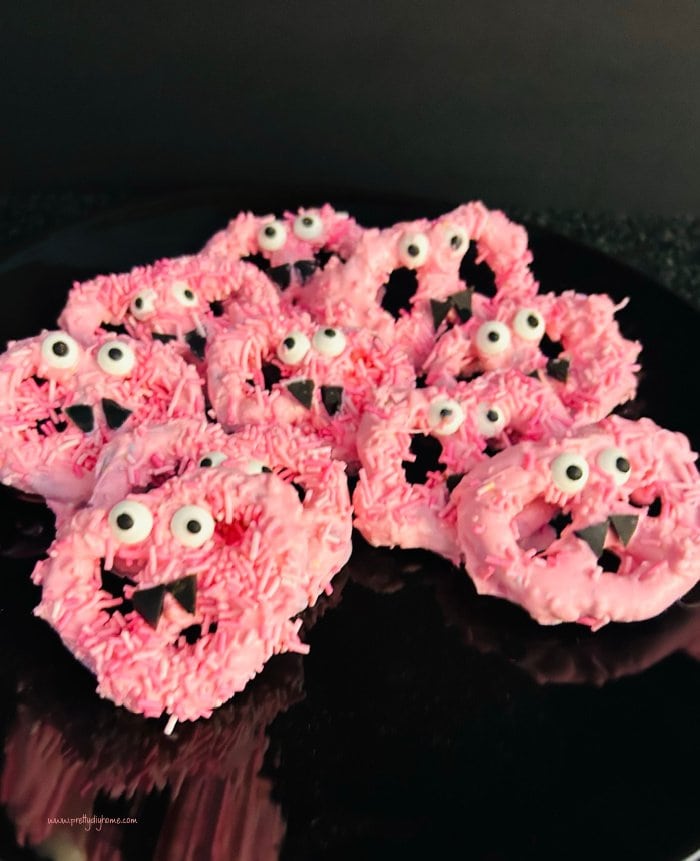 These candy covered Halloween pretzels can be made in any colour you like but I do suggest matching the colour of the candy melts to the sprinkles so that you have a "furry" look. They take no time to put together and you can make them ahead of time. You can assemble them whenever you have half an hour to put them together.
Monster Halloween Pretzel Ingredients
1 bag regular salted pretzels (wrapped shape)
1 bag of pink candy melts
Vegetable oil or coconut oil
Sprinkles
Candy eyes
Round shaped licorice
How to Make Pretzel Halloween Treats
Step One – Prep
Line a tray with parchment paper. Set aside
Step 2 – Melt the Candy Melts
Melt the candy melts according to the directions on the box, I bought bulk ones without directions and melted them in the microwave, they were all lumpy and I don't know if they were over cooked or not softened enough. I tossed them and bought new candy melts in a package that came with melting instructions. So much easier.
Begin by following the instructions on your candy melts.
Step 3 – Dip the Monster Pretzels
After you warm your candy, simply dip your pretzels into the candy melts, spoon a layer over them, lift the pretzel out and set aside.
Step 4 – Decorate
Do each Halloween pretzel one at a time. As soon as you transfer the pretzel to cool, add the sprinkles, cut the licorice and add the eyeballs.
Hallowenn Pretzel Monsters Video
A very simple video showing me placing the decorations on the pretzel monsters. Its funny to say, but these little pretzel monsters really come to life when you add the eyeballs.
Repeat with the next one. Doing them one at a time immediately after transferring from the warm chocolate means the sprinkles, licorice fangs and eyeball candies all attach without having to fiddle with dipping each little piece into the melts before "gluing" them to the pretzel.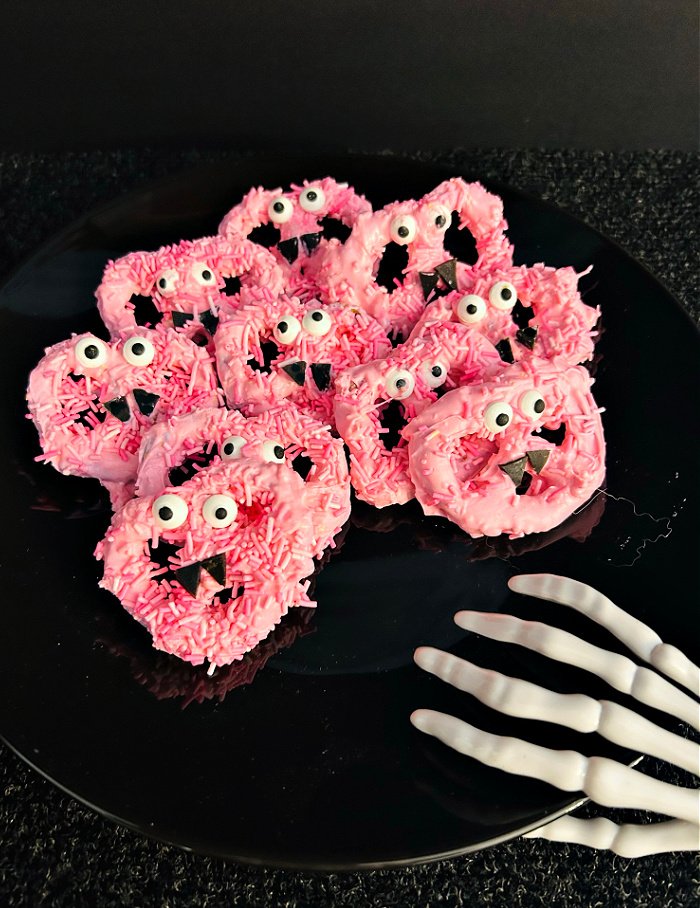 Hubs was with me while I took these pictures and laughed when I added the little hand prop. He said it made the pretzels look scared of being eaten.
Making the Halloween Pretzels Ahead of Time
These little monster pretzels are made with candy melts, so they can be made up to two weeks ahead and set aside in a air tight container. Just remember to start with fresh pretzels. Once you make the monster Halloween pretzels wrap them in plastic and then a sealed container. They will keep well in a cool dry space.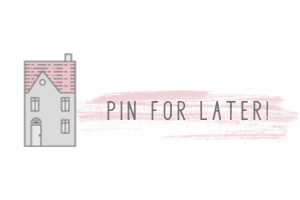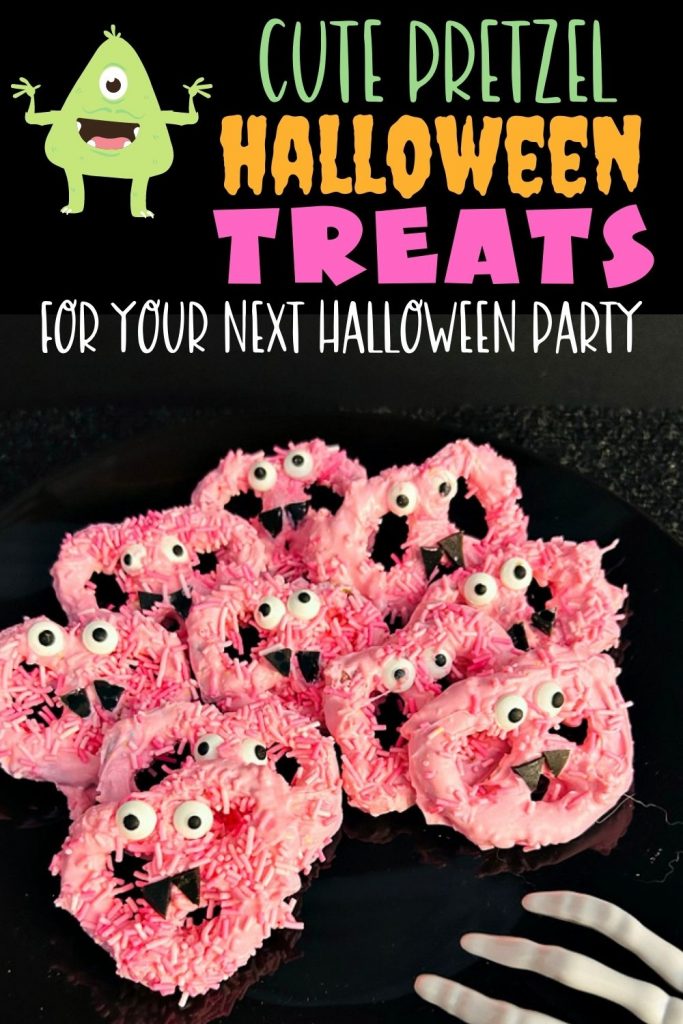 Some Other Halloween Treat Ideas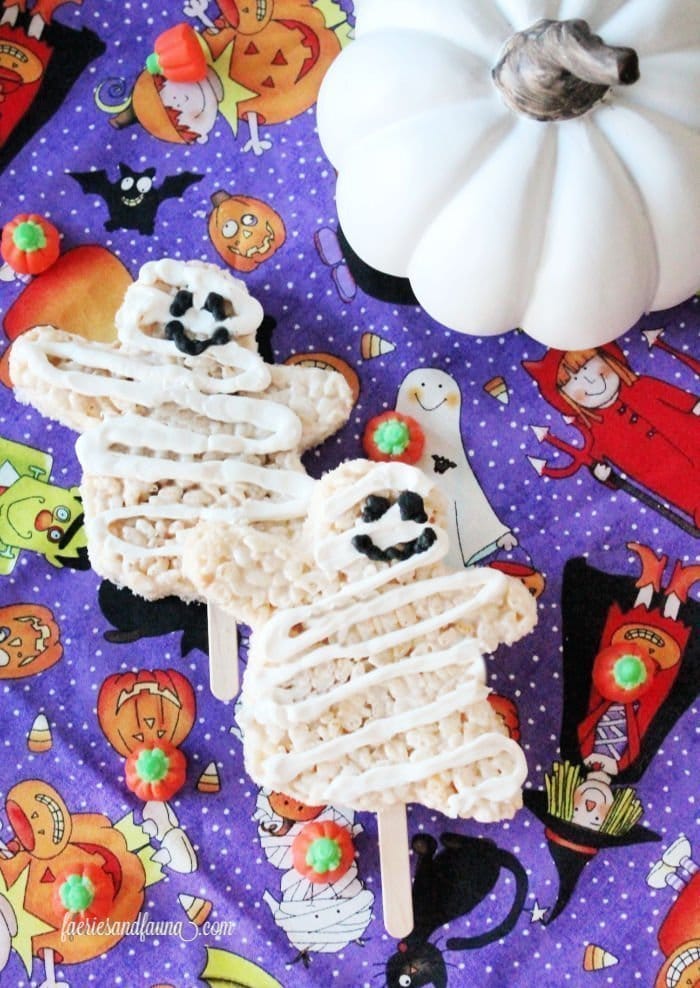 Mummy Rice Krispie Treats
These little mummy rice krispie treats are easy to make and the stick handles really help reduce sticky candy fingers. They are easy to wrap in celophane and full of gooey marshmallow flavour.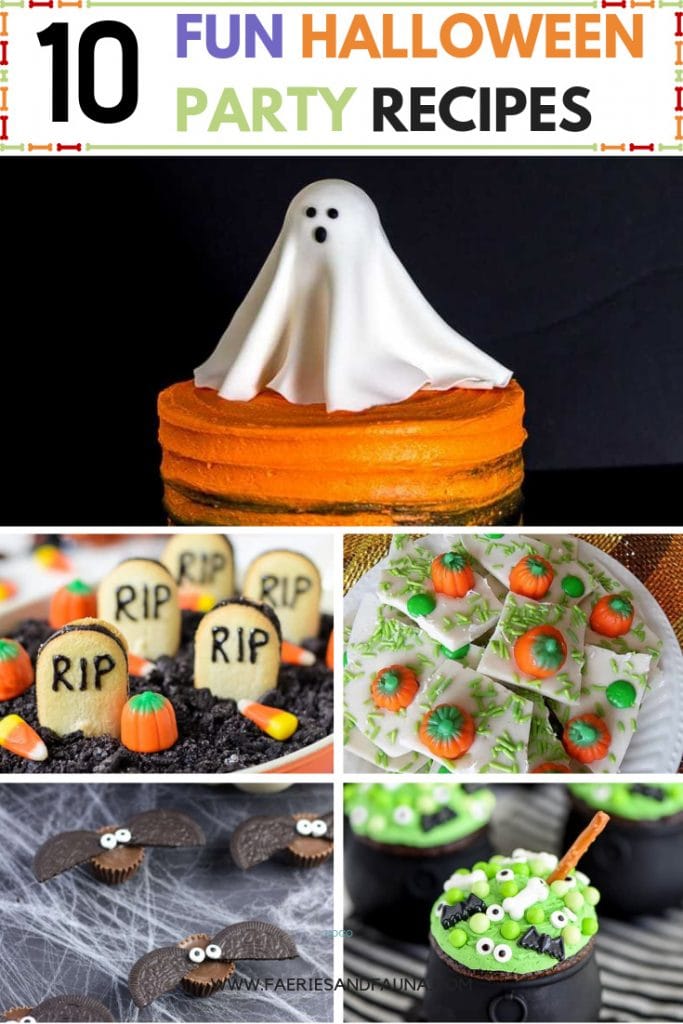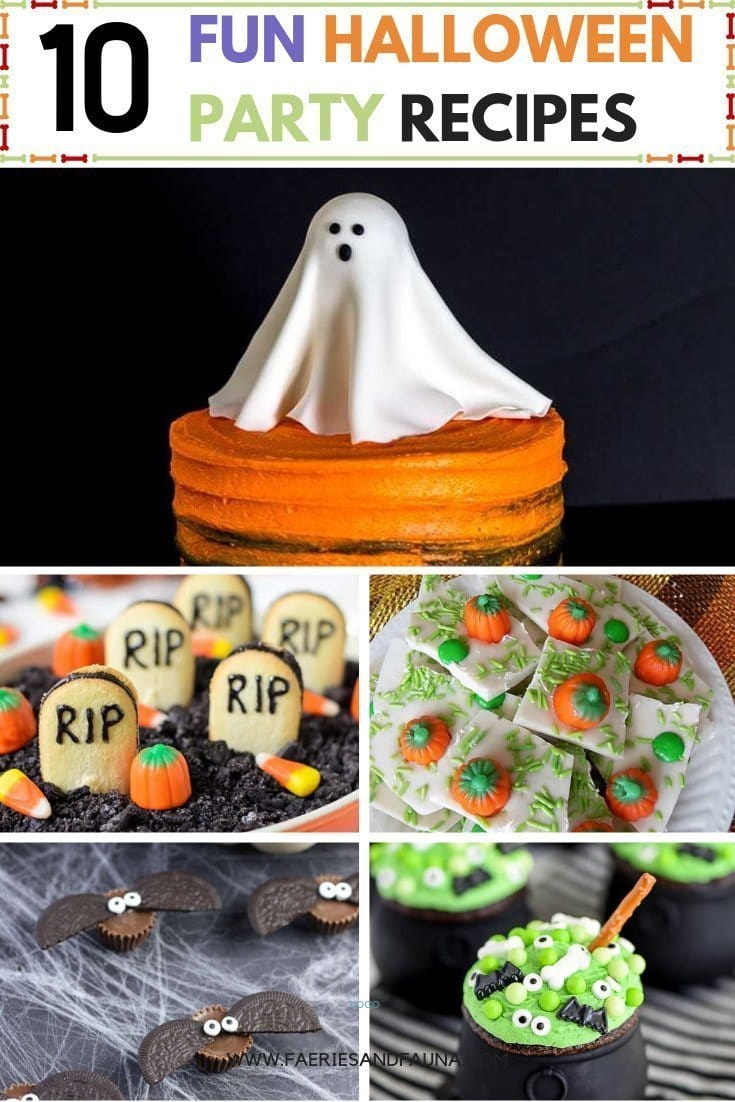 Halloween Treats for Kids
A collection of fun Halloween treats for the children's parties. So much love and talent is put into these fang-tastic ideas for Halloween.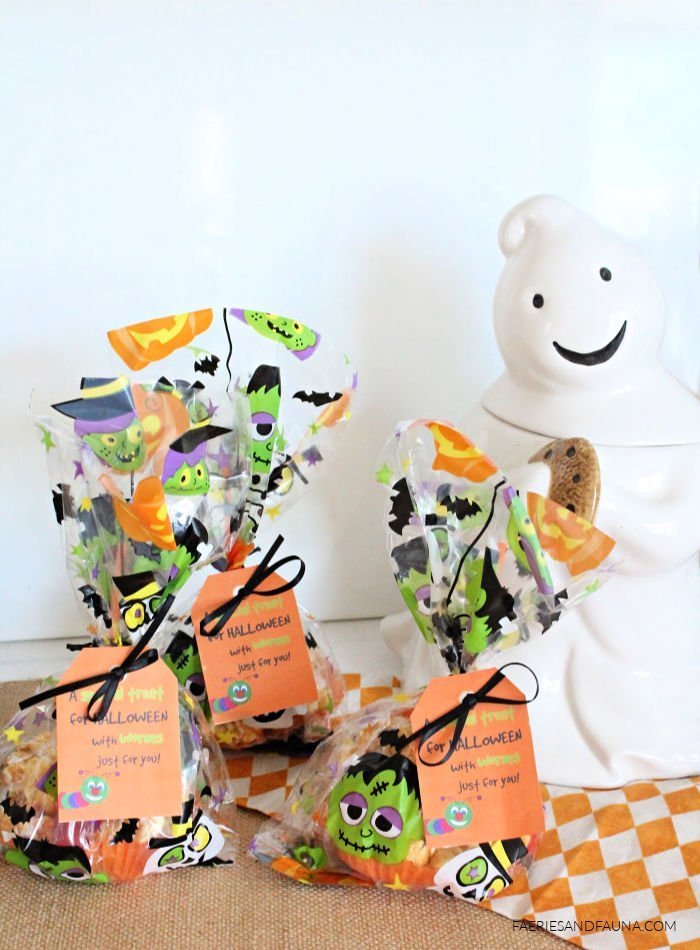 Wormy Caramel Balls for Halloween
Not just a Halloween Popcorn Ball, these little Halloween treats come stuffed with gummy worms for extra eeks!