Wood Pumpkins with Farmhouse Beads
Wooden Pumpkins an Easy Fall Wood Craft
These wood pumpkins with farmhouse beads were made for free using items we had on hand, and I would love if you could do the same. Or set yourself a really low budget and see what you can come up with.
Pumpkin Cut Out Supplies
2 pieces of scrap wood
Wrapping paper or newspaper
80 grit sand paper
1 inch thick branch 8 inches long
E-6000 glue and glue gun
Farmhouse Bead String
2 dollar store leaves
Dollar Store Beads
Twine (thin to fit in beads)
Large eyed needle or florist wire
Hot glue and gun
Pumpkin Painting Supplies
Small amount of dark brown wood stain
Assorted latex art paints in Fall colours
Sponge brush and small artist brushes (dollar store)
Clear polyurethane (optional)
When purchasing supplies I bought the two dollar store leaves and nothing else. In order to make these pumpkins as cheaply as possible I used what I had on hand. I realize as a DIY blogger my stash is large, but I want to encourage you to see what you could use as an alternative. If you have to purchase do the dollar store. For the leaves you can use cut up fabric bits, if you can't find dollar store beads tie a pretty burlap or raffia ribbon. For the paint I used Metallic Emperors Gold, Metallic Rich Espresso, and chocolate outdoor stain. I explain other paint choices when I get to painting. Lets get started.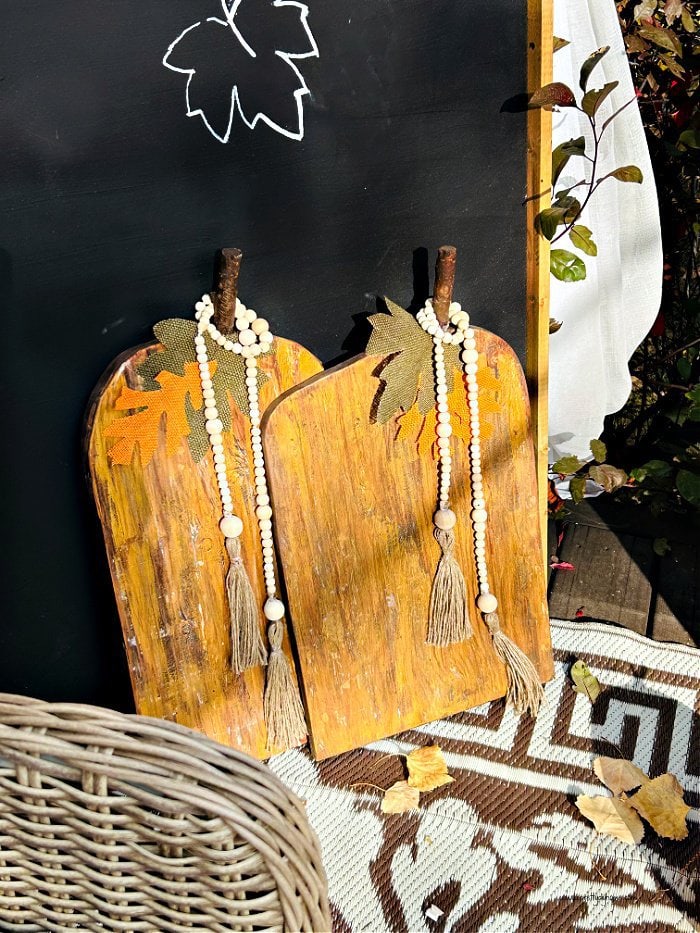 Finding Scrap Wood
Look for two pieces of scrap plywood you can use, make sure one piece is taller than the other. I used bits of old wood Hubs laid on before owning a garage. The older and more beat up the better. This piece has holes which I have to fill, but thats no a big problem.
The piece of scrap wood you find will determine the size of your wooden pumpkins, the shorter one is 23 1/2″ by 13, the tall one is 25″ by 10 1/2″, . Use the scrap wood to outline the size of your pumpkin pattern this will reduce your cost the most.
Making the Wood Pumpkin Pattern
Were going to make one pumpkin pattern and use it for both pumpkin cutouts. A wider short pumpkin and a taller thin pumpkin. Using the same pattern will make both pumpkins somewhat similar, especially along the upper shape.
Using a roll of wrapping dpaper or newspaper make a pattern, place the widest piece of wood good side up. Draw an outline of the scrap wood piece. You will draw the pattern within this outline to ensure your pumpkin pattern fits to the wood.
Starting with the wider short pumpkin, fold the lower edge of your pattern paper under about two inches. Draw a really chunky pumpkin, in an abstract shape with the outside edges straight. Once drawn cut out the drawing and voila you have a pumpkin pattern.
Transferring Short Pumpkin Pattern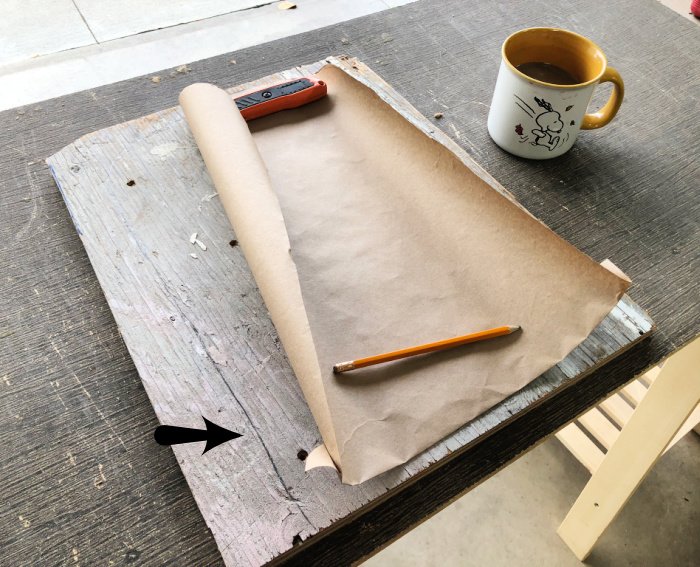 Place your widest piece of scrap plywood good side up. Fold the bottom edge of your pumpkin pattern under about 2 inches.
Place your pumpkin pattern top of the wood, draw the outline. Set the first piece of wood aside.
Transferring Tall Pumpkin Pattern
Using the same pattern unfold the bottom (this makes the pattern taller). Fold a crease in your pattern (makes the second pumpkin thinner).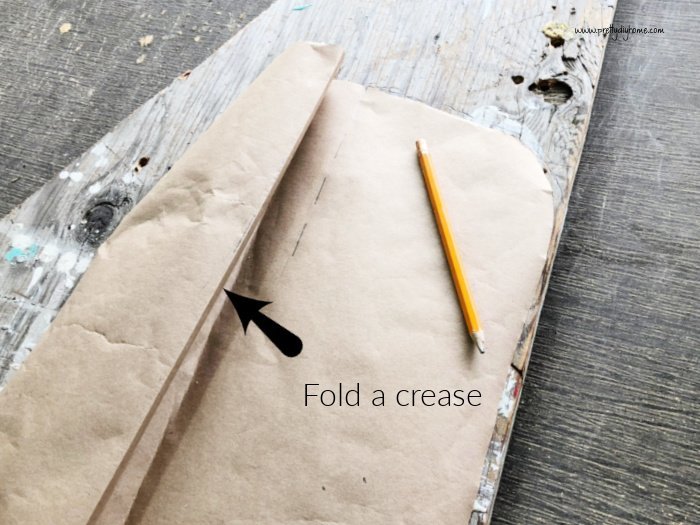 Lay the creased pattern on better side of the scrap wood, and trace the second taller pumpkin cutout.
Hint, if you have a square piece of plywood you can line up the wood straight edge to the pumpkin pattern eliminating the need to draw/cut one side.
Make the Wood Pumpkin Cutouts
Cut out both pieces of wood along the out lines with a jigsaw.
In the above image you may notice i filled drill holes in our wood with wood filler, I left the knows and chips alone. Once your wood is cut and filled, sand it was 120 grit paper just enough to remove slivers.
Cut two stems to a length you like, angle the bottom edge that you will attach to your pumpkin.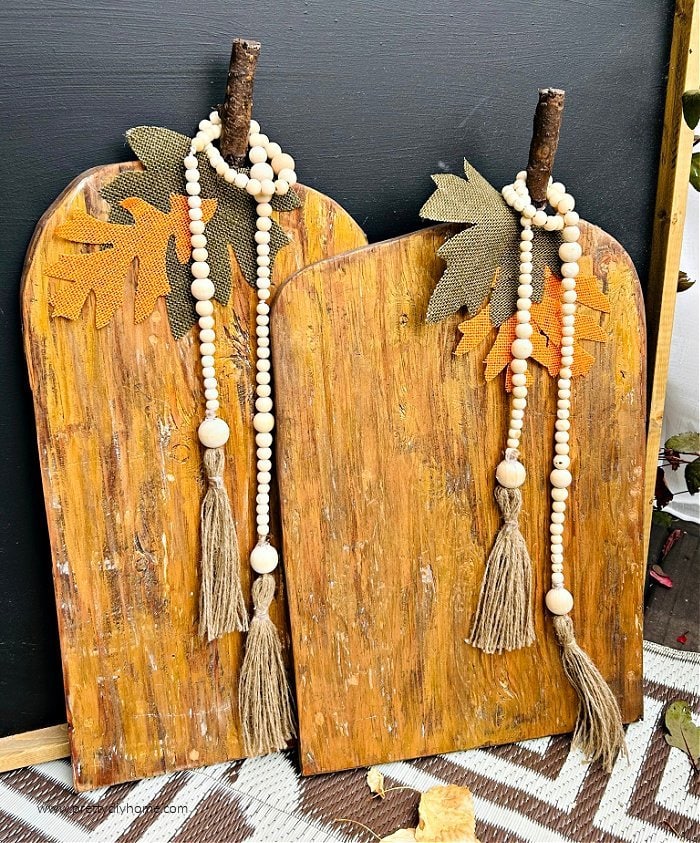 Painting the Wooden Pumpkins
Choosing colours is what I always have the most fun with. As a crafter I have a large selection of bits and drabs of paint. Check your stash first and see what you have you can use. For this year I used more traditional earthy Fall colours, but whites, greys, soft greens, browns, oranges, and even pinks can be used. Use any kind of paint you have on hand thats free, if you need to buy some paints I suggest the dollar store latex art paints as you don't need much of any one colour. I ended up not using the creams and greens in the picture, but they would look nice as well.
You will need a tiny amount of brown wood stain. I used dark brown leftover stain from our porches.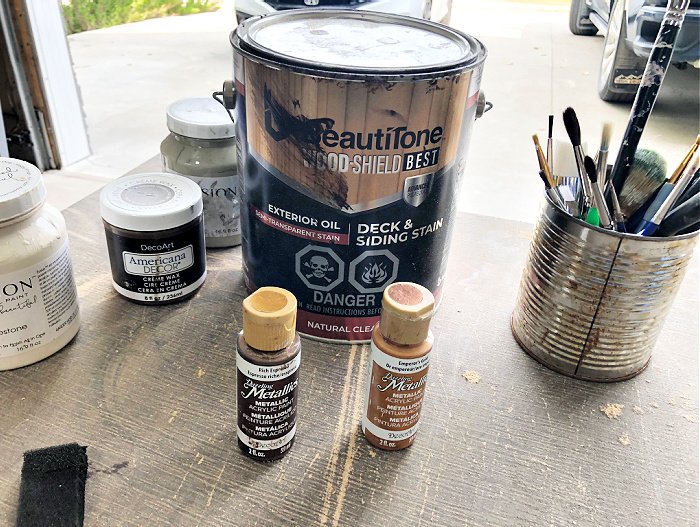 For the stain I used a dollar store sponge brush, and little art brushes.
Paint with Lightest Colour
My lightest colour ended up being Emperors Gold, I began painting with it, starting by covering up the large chunks of white paint that was still inside the wood. After that was done I added more everywhere to even it out. You will notice the bottom section of the board still needs doing.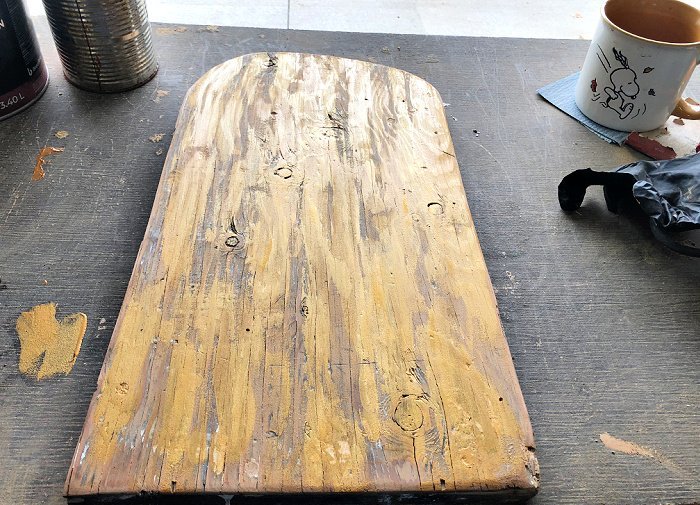 Paint a Darker Colour
Once the lightest colour is done, start with a darker colour. I used metallic Rich espresso. Have fun doing it, there is nothing particular to worry about. If you have too big a swipe of paint sand it off.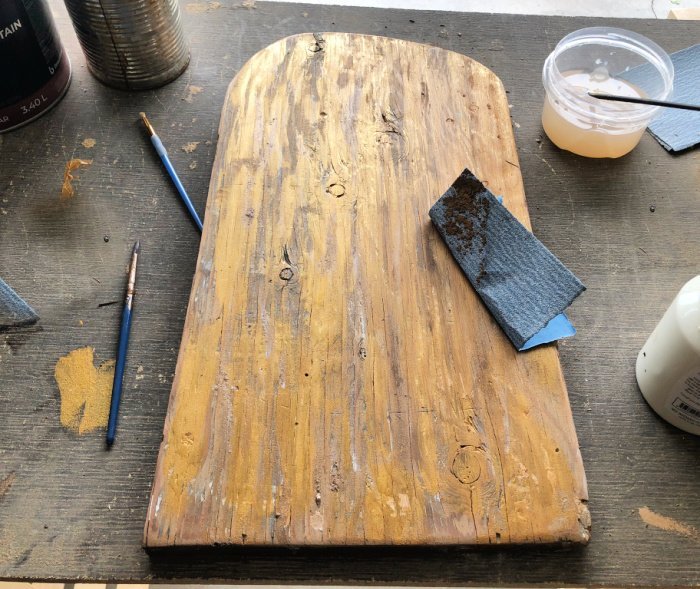 Once I did the two colours I finished it all with a chocolate wood stain. Here is a very casual video I took of me chit chatting away while I painted.
Farmhouse Beads and Final Touches
The branch stems are glued on using E-6000. The attachment is fragile, I grabbed a pumpkin by the stem and had to reglue it.
The leaves are burlap from the dollar store I just glued them on with E-6000.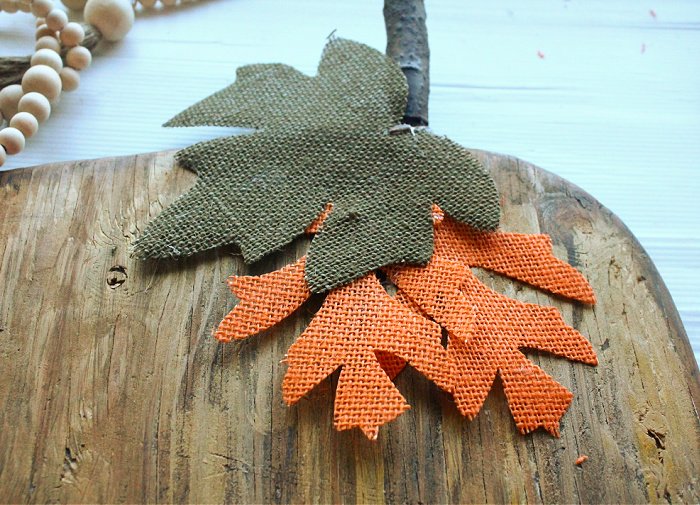 I made a second video for the farmhouse bead strings and it corrupted. I got a new phone for video out of the deal though. I refused to tear apart a completed string, so I am redoing the farmhouse bead string steps with images.
All the beads are from my stash, all but the two large beads are from the dollar store. My twine is from the dollar store, you want thin twine so that a double string can fit through the smallest of your beads. If buying beads, use the dollarstore wood ones, the beads can be small but check out the size of the hole in the middle before chosing which ones.
How to Make the Pumpkin Bead Strings
Cut the twine at 80″ for each string.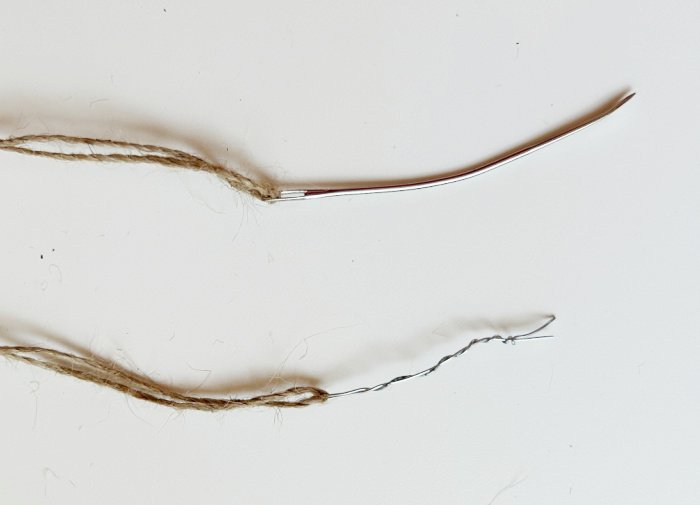 If using a needle thread it, fold the twine in half, tie a tiny knot at the other end, and a second larger knot about 1 1/2″ above the small knot.
If using florists wire tie a tiny knot at the other end, and a second larger knot about 1 1/2″ above the small knot. Wrap the wire through the loop and twist to get a point.
Sort the Wood Beads
Beads typically come in an assortment of sizes. Place the bead in piles by size and then figure out a pattern to use what you have. For example my stash had loads of tiny beads, so each section has 10 tiny beads, and the medium beads were scarse so each section got 1.
One end is already knotted so we can start stringing beads. My string had 4 sections, each section consists the following pattern.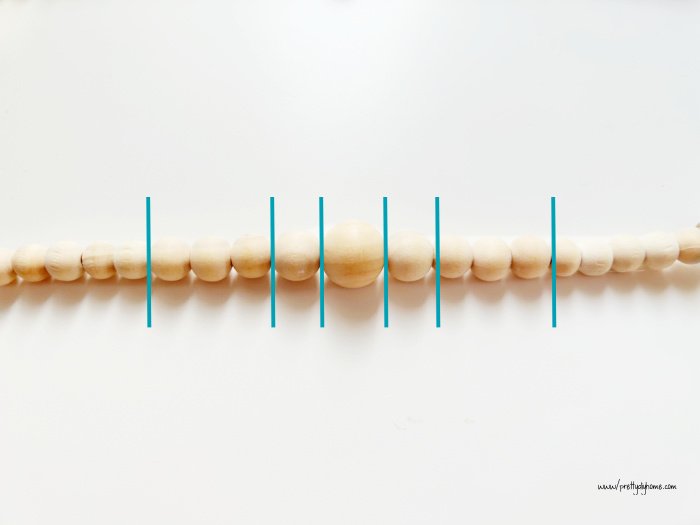 *5 tiny beads, 3 very small, 1 small, 1 medium, 1 small, 3 very small, 5 tiny beads, and then a knot repeat from the * . Repeat this pattern until done. You should have a length of twine left over once done.
Adding the Tassles
Now that the string is done, add the large bead, remove the florist wire or cut and remove the needle. Tie a knot large knot where the bead string ends, and a tiny knot about 1 1/2 inches down.
On the opposite end you will do the same thing but you will thread the bead over the tiny knot. If its tough to fit through use tweesers to push it through.
Use anything you can find thats about six inches long. A book, a piece of cardboard, etc. Wrap the twine around the cardboard 20 times. Cut one end.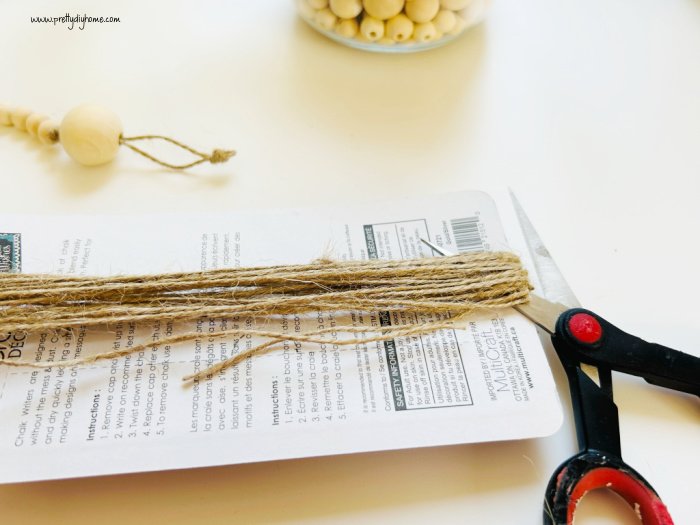 Hold the tassles as a bundle and thread through the loop on the string.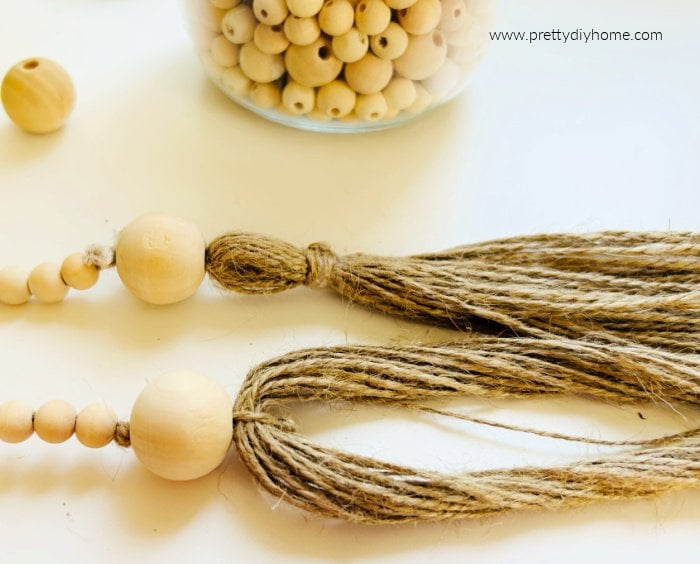 Cut a 6″ length of twine and wrap around the tassles. Tie a knot and trim the ends very closely. Seal the knot with hot glue.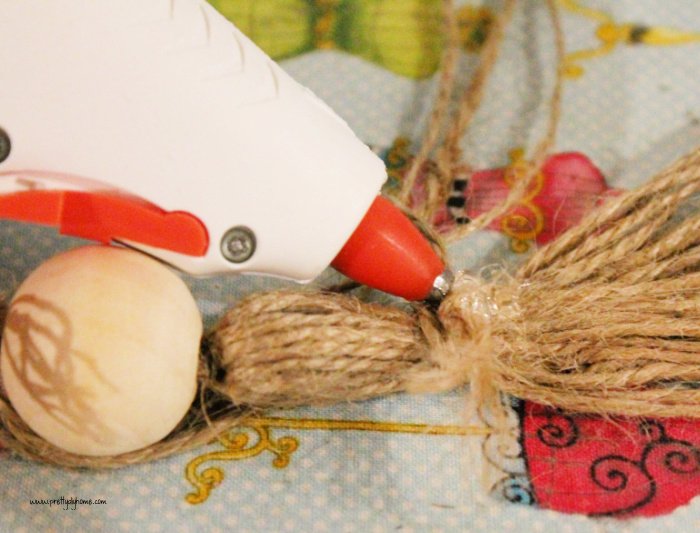 Repeat for all the tassle ends.
To finish my farmhouse bead strings I ironed the tassles. You certainly do not have to but they make the tassle look nice.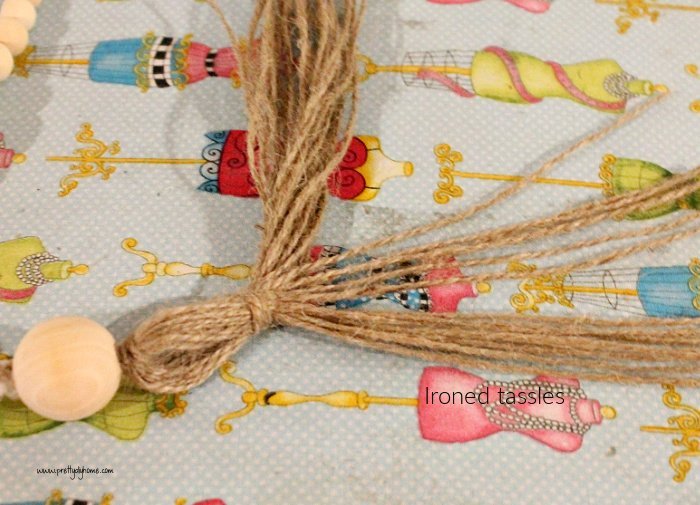 The farmhouse bead string all finished.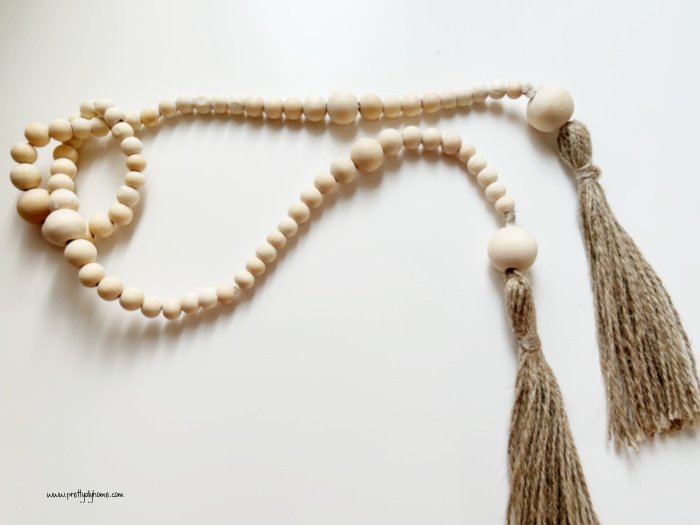 Our back deck with the wood pumpkins.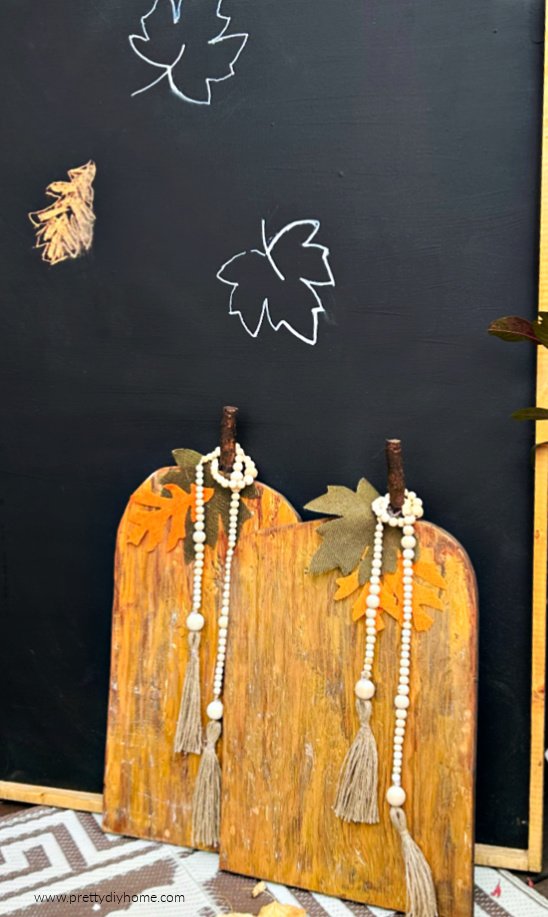 This post is quite long. But I am really hoping to help you make something very inexpensive. I managed to make them for Free, even the leaves are left overs for another pumpkin I made. I hope I gave you enough information and ideas to try making your own wood pumpkins or something similar for cheaper. Please let me know if you do. Happy Crafting!
Hugs Leanna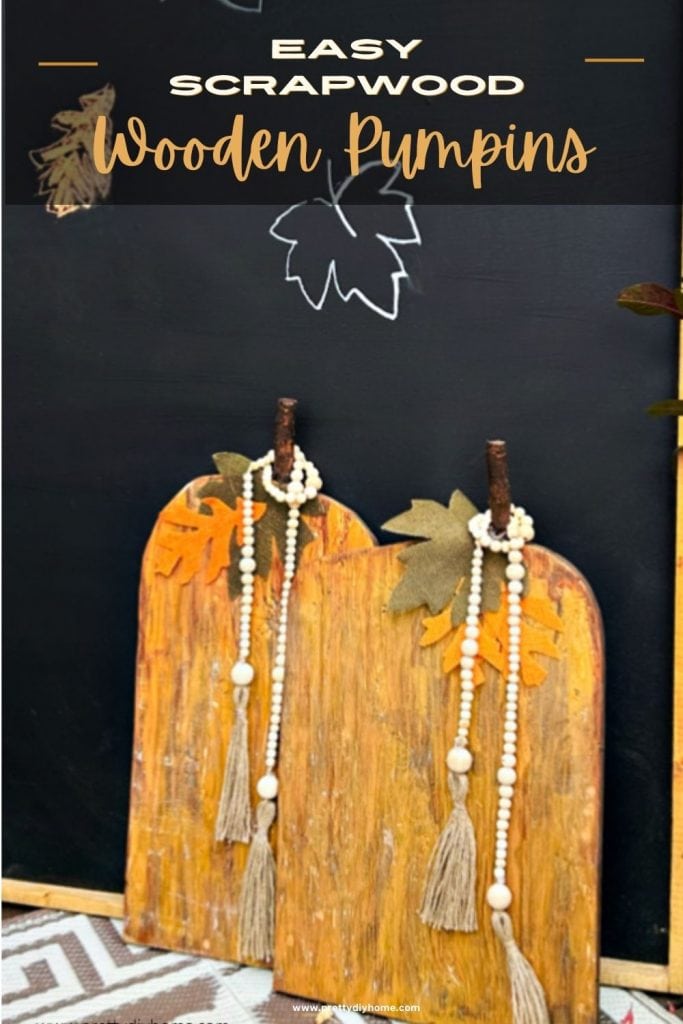 Other Fall Wood Crafts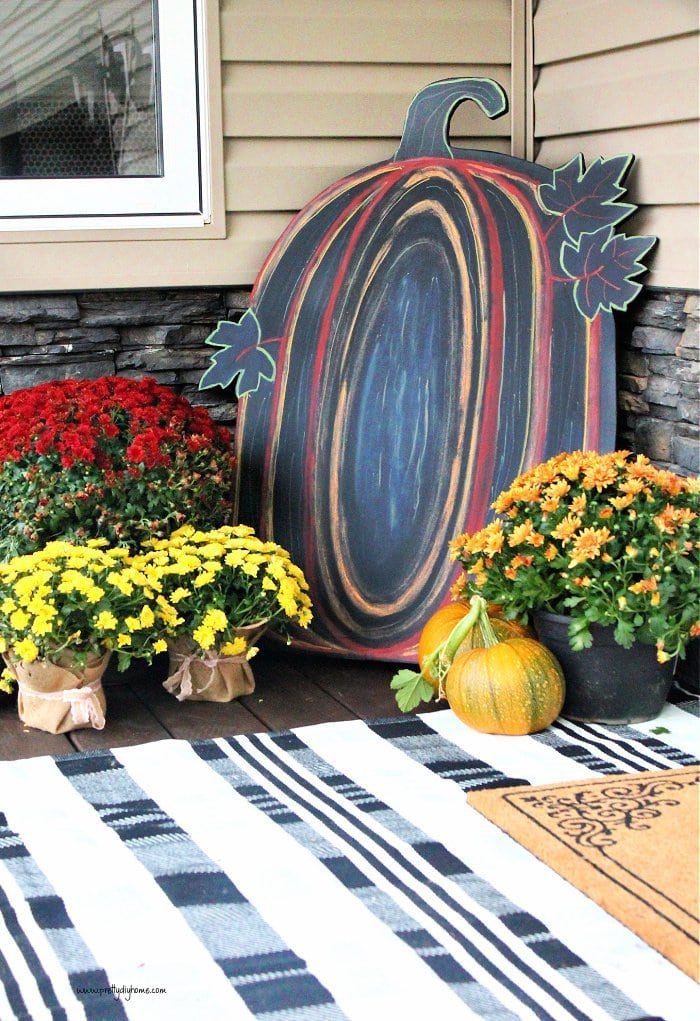 Outdoor Pumpkin Decoration for Fall
This large wood pumpkin for Fall is actually a chalkboard you can update in any colours scheme. It can also be used a Halloween pumpkin.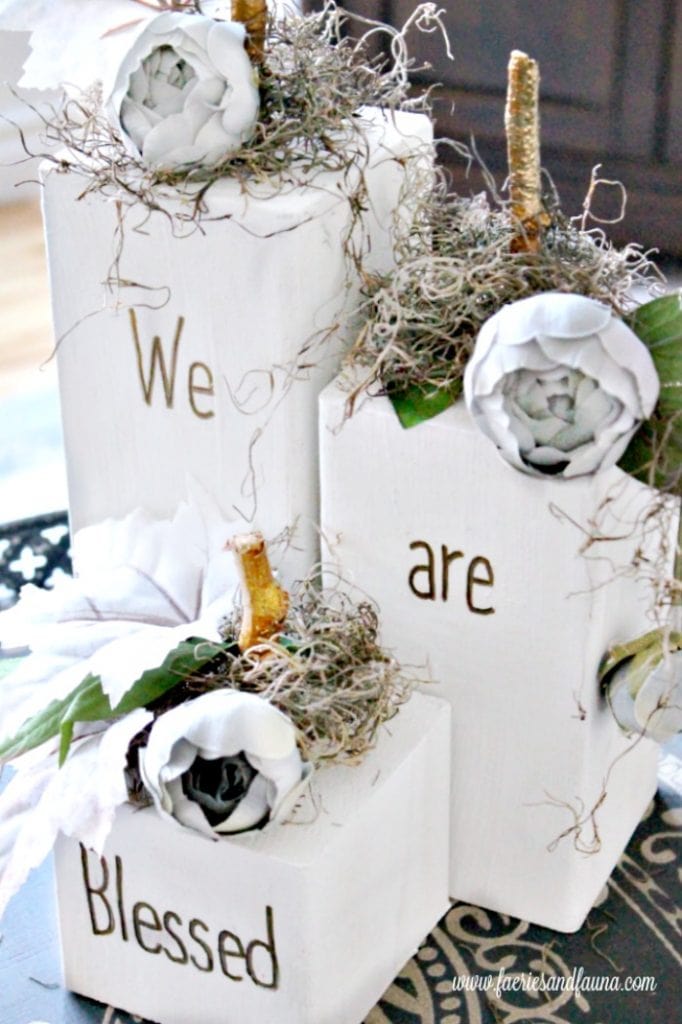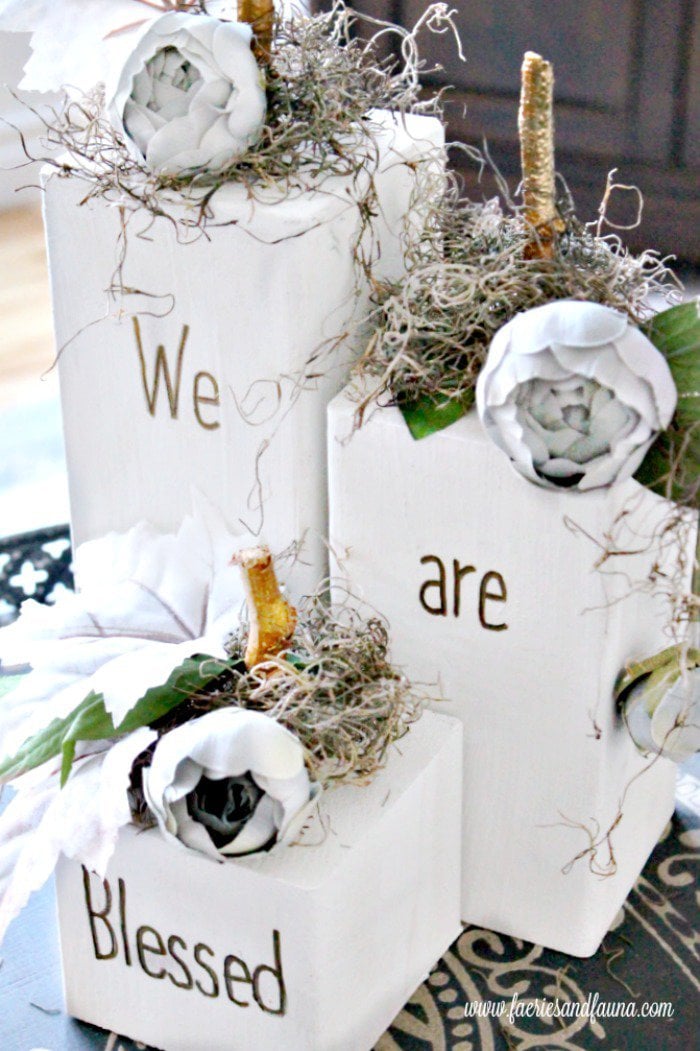 DIY Wood Pumpkins for Fall or Thanksgiving
These block wood pumpkins are made using a 4 by 4 fence post. Neutral Fall decor is my personal favorite as the bright white add light and cheer to a space.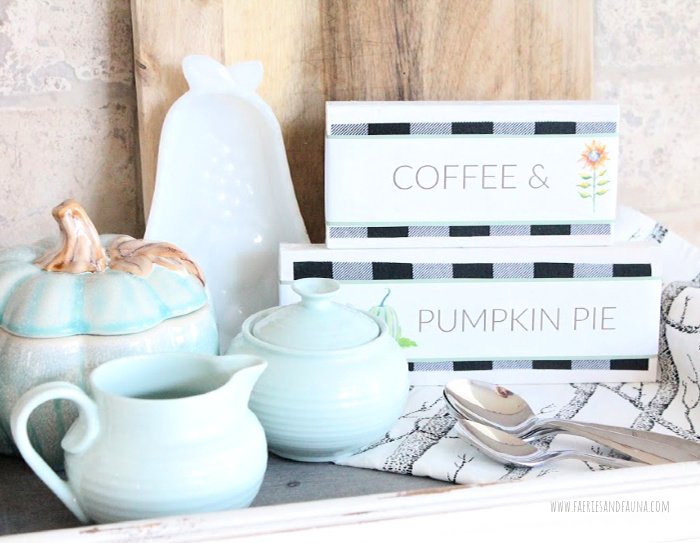 Easy Wood Block Signs for Fall and Halloween
These signs are made from leftover lumber cut offs, fabric scraps and free printables for the wording. There really is nothing yummier than coffee and pumpkin pie to celebrate Fall.