Super DIY Christmas Table Runners
Brown Paper Farmhouse Table Runners
This post is about a simple problem I have. A couple of years ago we had a little boy come visit us who scratched ever single piece of our good wood furniture. I tried to patch it but it looks awful. It's too close to Christmas to paint it all, so I am going to cover it with these easy farmhouse brown paper table runners. Thankfully I have various types of Christmas table runners to place on the furniture, but I needed something to coordinate them. It looks great coordinated with DIY Christmas table runners added to my Christmas decor.
For my farmhouse brown paper table runners I purchased one roll of child's brown craft paper at Michaels for $12. I had enough to make all of them I want for throughout the house and a couple extra for the kitchen table in case I have spills and need to replace them.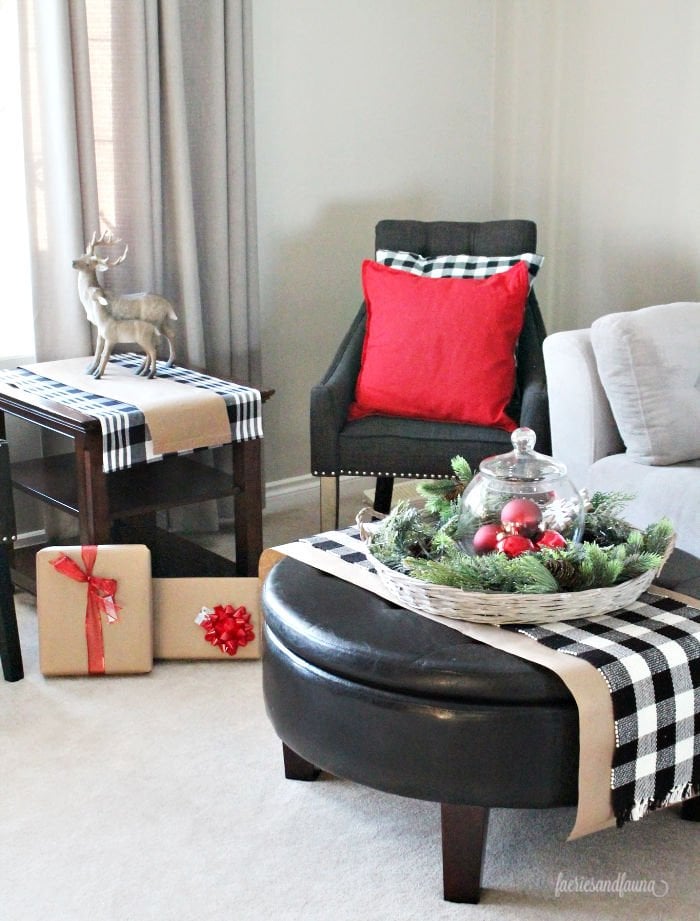 How to Make Super Cheap Farmhouse Table Runners
You can make plain ones without using a second table runner, but I love the layered look so mine are paired with my existing Christmas linens.
First choose a table runner you want to use and measure the length. If not using a second table runner measure your table and add 14 inches. This will give you six inches of overhang.
Make a hem on each end of the farmhouse brown paper table runner by folding the end over one inch. Press to form a crease, then sew a straight stitch along the edge to hem it. Repeat on the other end. Your done.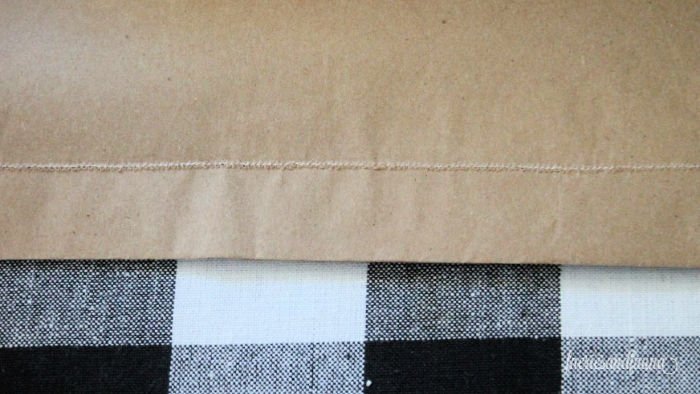 No Sew Ideas
I love the look of the sewn finished hem, but if you loathe sewing you can fold it over and tape it with double edged tape.
Another idea I had was purchasing a snowflake paper punch and making a pattern along the edge. The snowflake punch was $20 so I skipped that idea, I wanted to save as much as possible.
If you happen to have edging scissors you could cut a pretty patterned edge.
I like sewing simple things so I sewed my table runners in about 5 minutes each. It would be a great sewing project for any little ones you have you are learning to sew.
Different Sizing
As the brown paper comes in a long roll length is no issue, but I wanted different widths for layering.
On this narrow brown paper DIY table runner fold center into the middle and ironed the edges first, then finish the ends with the hem.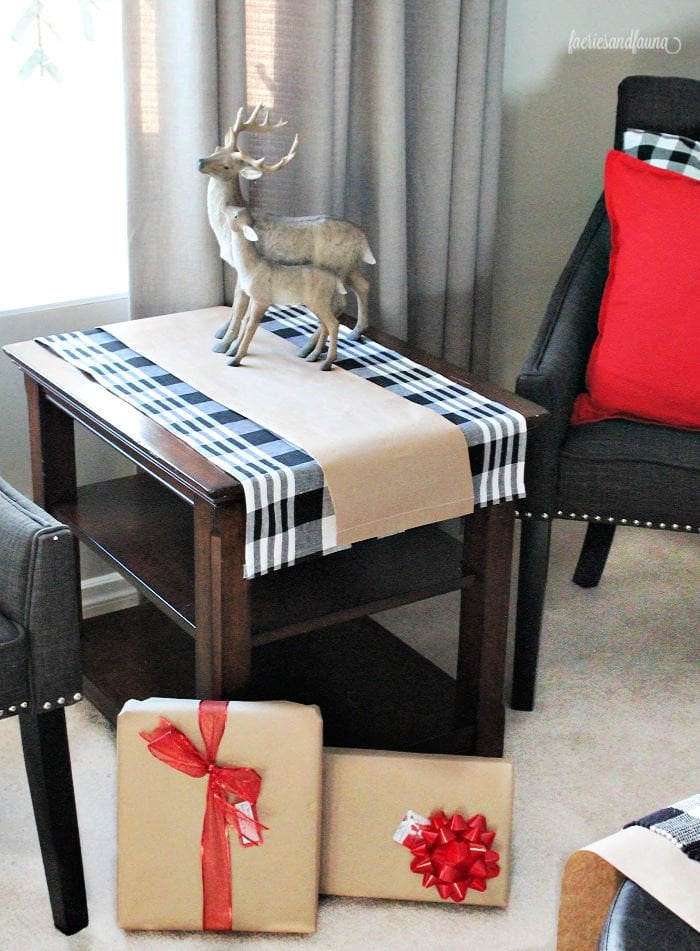 For a wider brown paper table runner cut two lengths of brown craft paper to the correct length, overlap and attach well with tape. Cover with the fabric table runner, and no one will know.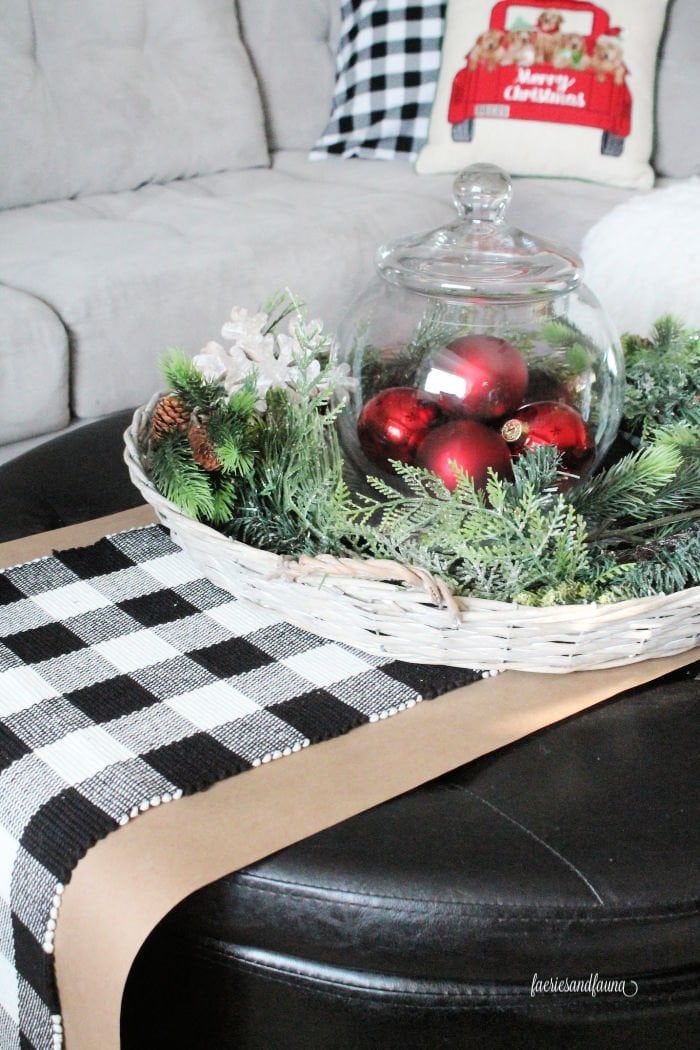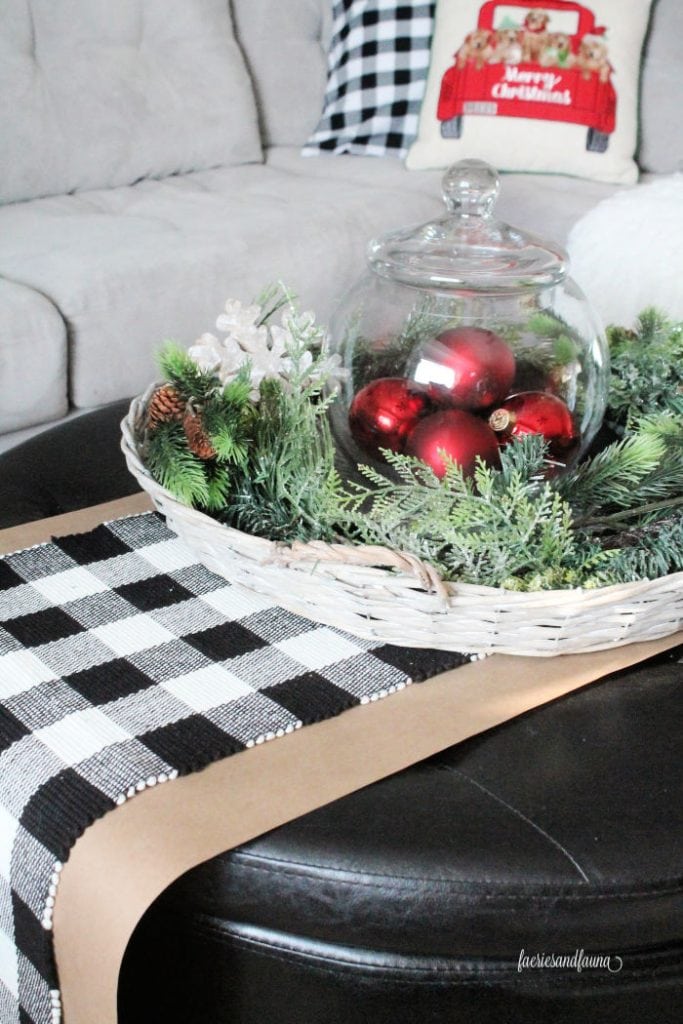 I will be using the same idea on various other surfaces in our home including the front foyer and family room.