The Raven – Halloween Art
Ravens are a Gorgeous Part of Halloween
This post is about a Halloween Art craft using Edgar Allan Poes "The Raven" but my reason for this post has a story, I promise the tutorial follows.
Ravens are my favorite bird, I fell in love with them in Fort St. John, B.C. It was -47 C plus wind chill and the ravens were outside my home surviving. They looked like large black balls of fluff with their featherless little feet standing on the ice had to be so cold. I respect them, they are a shiny beautiful strong black bird, they are survivors, they are very smart and I am very glad to see them celebrated as part of Halloween.
a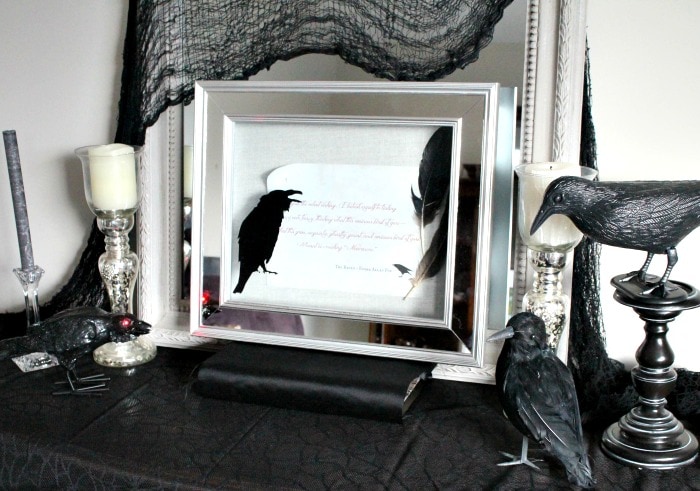 Hubs works farther north than anyone should, way out in the middle of nowhere and of course there are still ravens. The ravens wait for the workers in the hope they can snag a good lunch. Hubs knows I love ravens so he takes pictures of them and brings me home feathers he finds laying around the work site. The workers have to be careful and keep their windows closed or the ravens will steal their lunches.
d
When I look at this picture it confirms my belief that the source of the despair in "The Raven" comes from the narrators mind and has nothing to do with "Nevermore" he was simply saying his name and likely the only word he knew. Don't you think this raven is more adorable than menacing?
Halloween Raven Art Tutorial
The Raven by Edgar Allen Poe is such a gorgeous, brilliantly written poem. Poe put the raven in the spotlight with his poem. I think everyone has heard of "The Raven", especially around Halloween.
f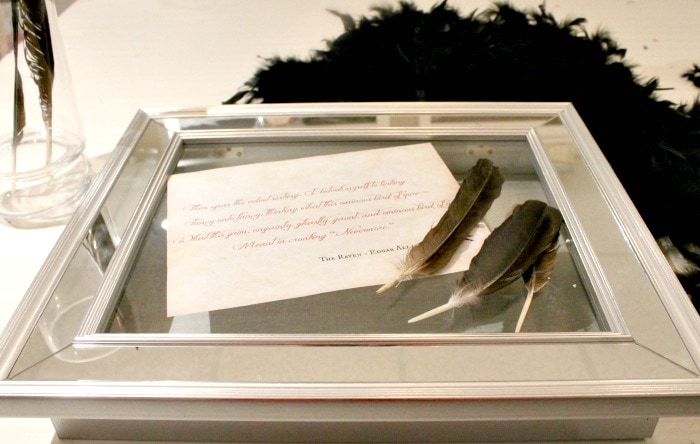 To make your own easy Halloween raven art you will need:
Black feathers (Michael's has them)
A shadow box or deep frame
The poem template (included)
A raven printable (included)
Dark black card stock or viny
a
a
Print and cut out both printables.  For my Halloween theme I wanted blood red lettering. If you prefer black lettering, print it in black and white instead of in colour.
Create a general placement for the feathers, poem and raven. Make sure that you can see the poem.
To make the printable look used I curled the corner with my curling iron. Attach the poem to the background with either stick pins or double sided tape.
Once you have the printable in place, pin or double edge tape the feathers into place.
Finally place the raven on the outside of the shadowbox.
If your interested in the poem I did a little reading on the poems analysis and have included some reference links for you.
s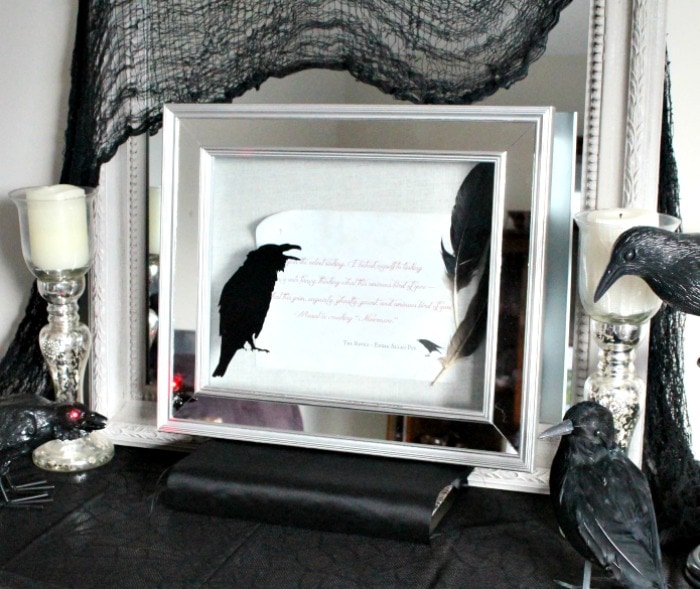 a
The Raven by Edgar Allan Poe
The Raven is a narrative ballad about a bereaved young man mourning the death of Lenore the woman he loved. The young man self destructively interprets the ravens repetition of the word "Nevermore" until he finally despairs that he won't be reunited with Lenore in another world. Summary and Analysis – Bachelor and Master
I chose not to use the most famous line from the poem although I love it "Once upon a midnight dreary, while I pondered, weak and weary"  instead I chose the following stanza because its focus is more on the raven.
"Then, upon the velvet sinking, I betook myself to linking
Fancy unto fancy, thinking what this ominous bird of yore—
What this grim, ungainly, ghastly, gaunt, and ominous bird of yore
Meant in croaking "Nevermore."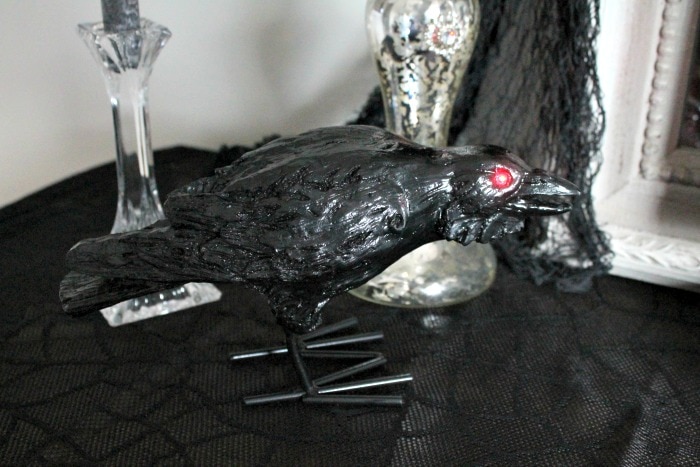 If you want to read the entire Raven by Edgar Allan Poe this is an easy to read version.
And a Raven reading by Tom O'Bedlam. I think playing this from behind the mirror is perfect for an adult party.
This is the first of my projects for Halloween, the vignette will likely move to our front foyer which is currently decorated with my fall decor and have some additional projects added to it. One last picture of my friends from northern Canada.
Let me know your thoughts on Ravens do you love them as I do?