Thrift Store Christmas Angel DIY
A Thrifty Christmas Angel Decoration
Thrift store Christmas decor is a great way to decorate your home for the holidays. Its a win win, you get to create something beautiful and different while supporting a local charity. This year it also serves a practical purpose, after several years of farmhouse no glitz or glam Christmas decorating this year I am putting some sparkle back into my Christmas decor.
Although I regularly check out thrift store, I have never shopped at a thrift store during Christmas shopping season before. Then a neighbour told me there is a fairly close thrift store that does an amazing Christmas launch every year. I missed the grand opening, but decided to go and found several fabulous finds I could glam up for the holidays starting with this angel.
Other Thrifting Costs to Consider
Thrifting can be fabulously inexpensive, until you have to purchase restoration supplies. Small projects like this little Christmas angel are often a good way to use up leftover bits of other supplies. The extras like greenery, small bells, dried pinecone garlands, ribbon, wool, candles came from the thrift store as well. If I do have to shop for something I keep my colour choices down to a minimum. so I use up everything from one container instead of bit from several. ( I hope that makes sense.) I will watch youtube videos with Christmas crafts that use six different types of spray paint.. The only way I could afford that is if I could find some at the city paint recycling, for me its easier to just keep the colours simple.
Anyways enough of that……………… lets get crafting.
The Thrift Store Christmas Angel Before
Here is the pretty little angel before, I am pretty sure she is a little Willow Tree angel, I recognized her right away. There is nothing wrong with her at all other than she doesn't have the glitz I want for Christmas. I have no idea how old she is, but as she is coloured I would guess she i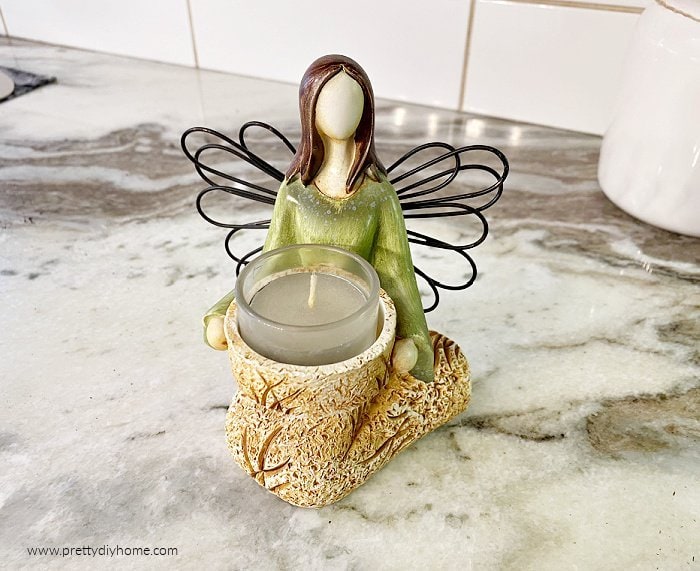 How to DIY a Christmas Angel
Supplies Needed
White latex paint
Iridescent gliiter
Mod Podge (Dollar Tree)
Greenery (Dollar Tree)
Artist Brush (Dollarama)
Flameless candle (Dollar Tree)
Step 1- Cleaning
Your not suppose to wash Willow tree figurines to protect the paint. As I was going to repaint this little angel I kept her head dry, but gave the rest of the little Christmas angel a really good bath in warm soapy water. I used a dish brush and scrubbed her really weo remove the collected dust from within the grooves. Then wiped her with a damp cloth and let her dry thoroughly on the counter.
Step 2 – Taping
The next step was to tape off her wings. I made sure everything was covered and was especially careful to cover the side of the wings close to her back. I ended up using clear packaging tape as it was much wider and I wasn't worried about paint being removed. The little metal wings will move a tiny bit so you can fit the tape edges in exactly.
Step Three – Paint
After taping I used a small artist brush from the dollar store and gave the angel two coats of white Fusion mineral paint. Make sure to paint the grooves with a tiny brush first so no paint accumulates in the grooves. Once its all painted leaving the angel to dry for an hour after each coat of paint.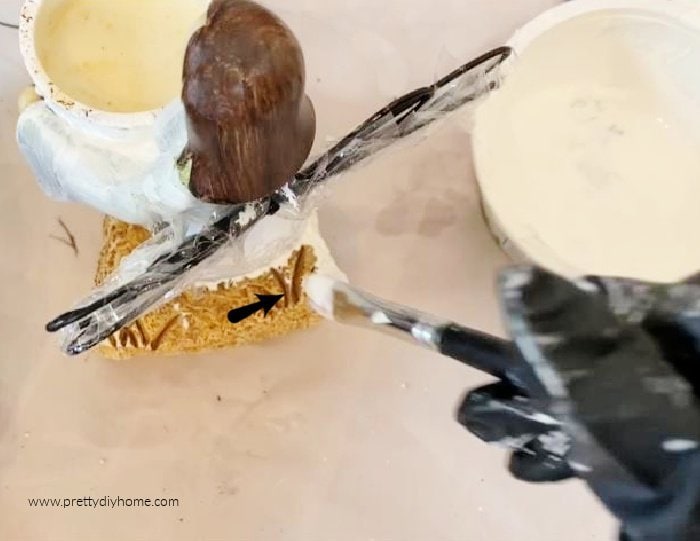 Step Four – Mod Podge and Glitter
This is when the magic happened, and pouf just like that our little angel became a Christmas angel. After the paint was dry, using the small artist brush I painted the mod podge over a particular area of the angel, sprinkled it with glitter, and then repeated on another small section.
After the angel dried I removed the tape. You can spray it with adhesive glue afterwards if you like. I chose not to.
Step Five – Adding Accessories
The final step was to give the angel a halo and wreath as added Christmas flare. The little halo is simple to make using a dollar tree covered wire with beads.
Begin by cutting the wire six inches long, wrap the top around the mod podge bottle to form a circle then twist it to hold in place.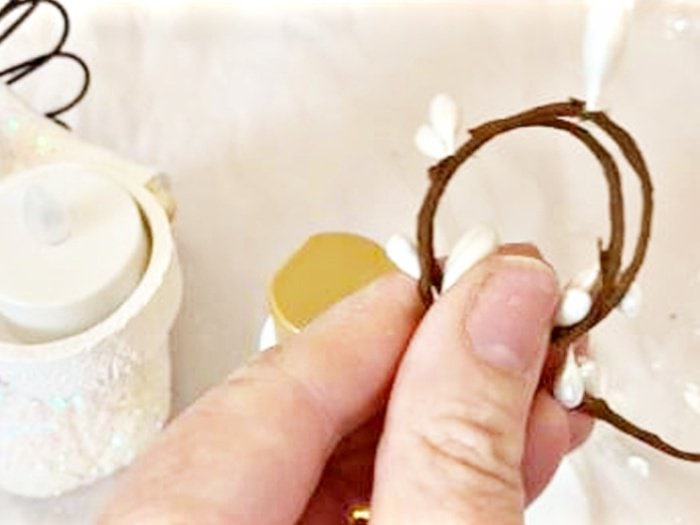 As my little thrift store angel was holding a candle, I took some dollar tree sprigs of greenery, snipped the greenery to make it smaller and then wrapped it the same way I did the wire. The final finish was replacing a real candle with a flameless one.
Other than drying time, this little angel makeover took an hour to finish, I am very happy with how she turned out.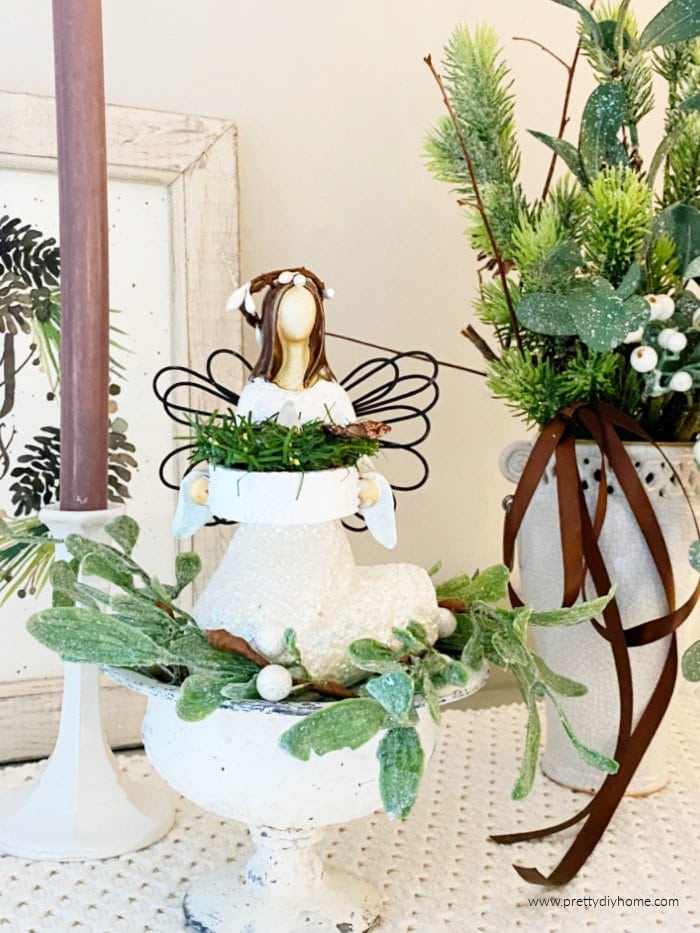 The little angel is sitting on some farmhouse style white decor I have, a thrift store glass candle I painted white, and a vintage garage sale vase. I added dollar store greenery to the vase and some brown thin satin ribbon to complete this Christmas decor arrangement. Its very cottage Christmas or country Christmas and in neutral soft colours. I hope you like the final Christmas decor as much as I do.
Thrift Store Angel How To Video
I created a quick video showing ever step I took to makeover this little Christmas angel for the holidays.

Other Thrift Store Christmas Ideas
I have a few new thrift store Christmas ideas I will share over the coming todays. Here is some other thrifted Christmas ideas I have made and loved.