Hot Cocoa Crate and Cocoa Station for Small Spaces
This Christmas cocoa crate and hot cocoa bar is meant for everyday through the holidays and winter. It uses up a small area of our kitchen cabinet, which I think designed to be a small office area in the kitchen. We use it as a area for coffee and have a cabinet with all the coffee fixings cups etc above it. But what about for the holidays? or hot cocoa season? I wanted something special, affordable and small enough to fit on the two foot counter with a coffee pot.
The Cocoa Crate and Station Before
Here's the tiny area I am working with. (I can't ditch the ugly oak cabinet colour yet, but Hubs is slowly coming around to the idea.)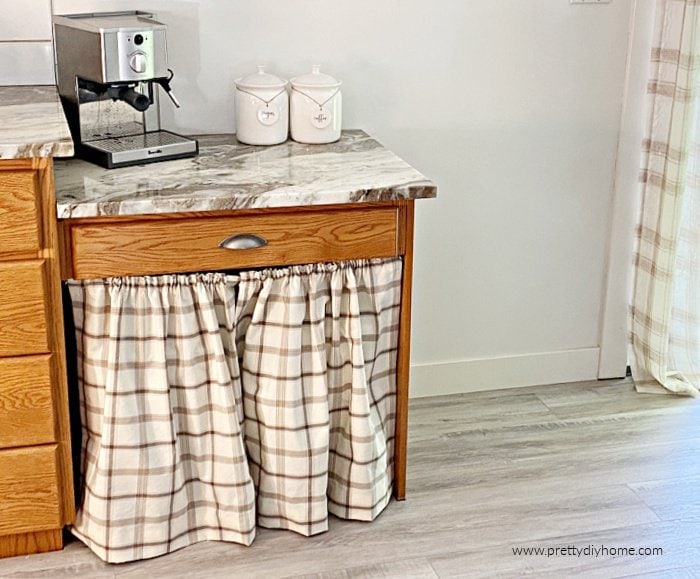 Its clear, free of junk and functional for most of the year, but it needs some spunk and spiffing up for the holidays.
Some Ideas for Maximizing a Space
In a small space, counter area is always at a premium, especially at Christmas time. If you can find something like a small wood caddy to add height and layer items it will save you some counter space. I found a little wood crate at a thrift store for $1, it fit three mugs while giving me to ability to place something else on top if needed.
If you can't find one, it would be easy to build with two four inch square ends and six 1 by 2's cut to 15 inches for the three long sides.
My little cocoa crate didn't have legs so I glued together dollar tree jenga blocks and added them to the bottom using E-6000. That little bit of height make it easier to pull the mugs out of the box.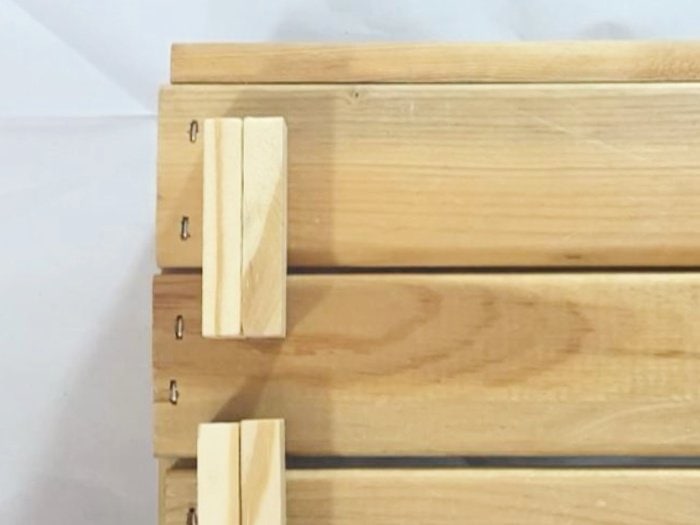 To update the box I filled the staple holes with filler, gave it a quick sanding and applied three coats of white Fusion mineral paint in the colour picket fence.
Hot Cocoa Crate How To Video
I created a how to video showing the steps I took making and decorating my hot chocolate bars.
Adding Gingerbread Decor
My kitchen Christmas theme this year is gingerbread, unfortunately in the rural area we live in I was unable to purchase gingerbread themed mugs so I made some using plain white dollar store mugs and my Cricut.
Then to add a gingerbread adornment I found a gingerbread ornament, painted the red out with pink and added some sparkle using fine glitter and tada she was pretty much perfect.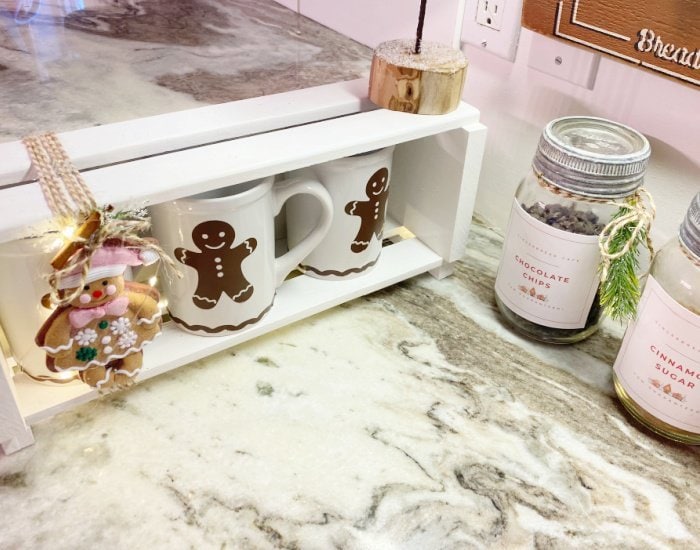 Add Small Lights and Labels
A smaller area means things are more cramped, with good labels and some extra lighting users will find it easier to look for what they want.
I put the pieces together to hold the mugs and the little box adds enough room on top for several jars of hot cocoa bar goodies like sprinkles a jar of fudge and so forth..
Here are the supplies you will need to set up and style a small hot cocoa bar like mine:
Wooden caddy /crate/ box
Mugs
Glass jars
Evergreen picks
String lights
Wooden spoons
Gingerbread sign or printable
Decorating the Hot Cocoa Station
To keep costs to a minimum use whatever Christmas themed mugs you have or whip them up like I did for my caddy.
Use Small Hot Chocolate Station Jars
Use containers with lids wherever you can. The lids keep the items fresh, they are easy to find either at thrift stores, or dollar store. Wide mouth mason jars are my favorite for this, especially vintage mason jars.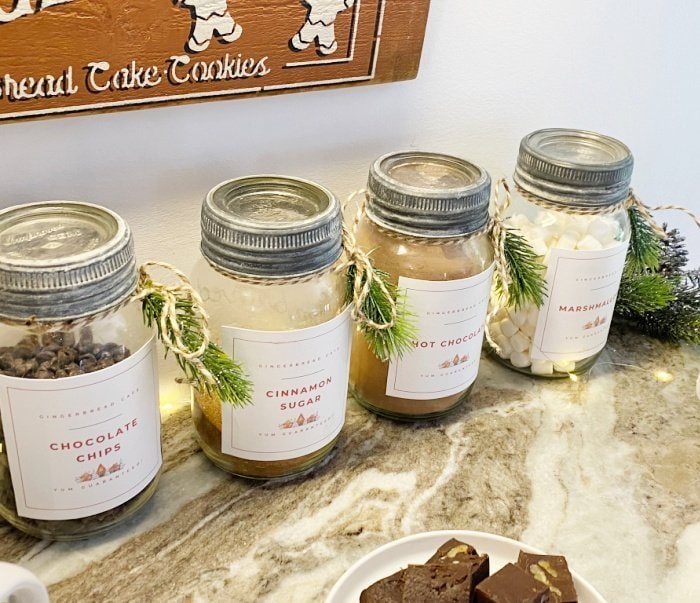 Hot Cocoa Bar Topping Ideas
You will want to have as much variety as you can provide given the time you have, your budget, how much space you have and the number of guests you expect over the holidays. My hot cocoa bar is minimal, my space is small, and I only expect two or three people to be enjoying hot cocoa as were having a couple small gatherings instead of one large one. Hubs will be using it most of all, so I made sure to add extra chocolate.
There are countless ways to add fun toppings to your hot chocolate bar. You can add chocolate, alcohol chocolate, coffee syrups, spices (think about mexican hot chocolate). Then all the sides like shortbread cookies, gingerbread, biscotti. Syrups like salted caramel, french vanilla, irish cream. Candies, like marshmallows, sprinkles, sparkling sugars. I created two free label printables with various chocolate topping ideas that you can just tape to the front of your glass jars.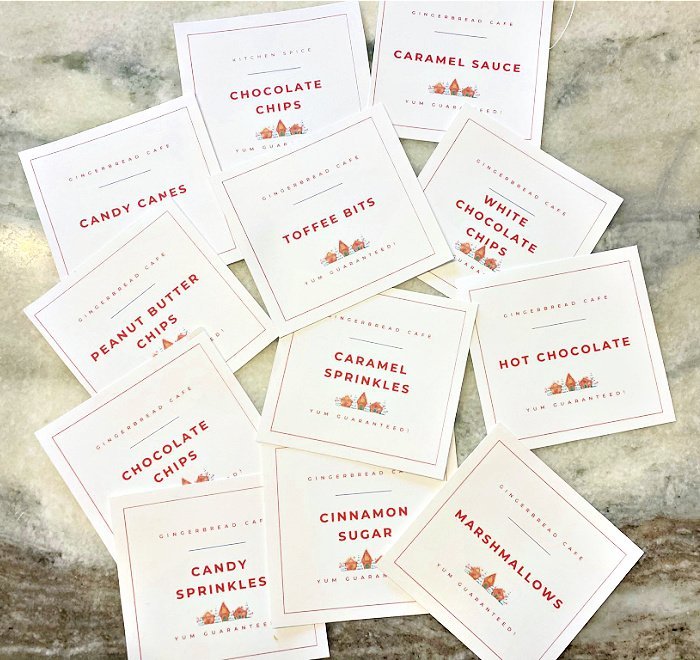 Other Hot Cocoa Bar and Coffee Bar Ideas
Today's post has a small cocoa bar that I will keep up until Christmas. Its small and meant to serve one or two people whenever they want a hot treat. Here is another very large cocoa bar I created for a gathering. Its perfect for a group of people who were sledding or tobagganning and this welcomes them home. Its also great for a large group on Christmas eve and so forth.
A Large Coffee and Cocoa Bar for a Group
This hot cocoa bar includes adult beverage ideas, loads of different topping, and frozen whipped cream ideas for making a special event for a group even more special.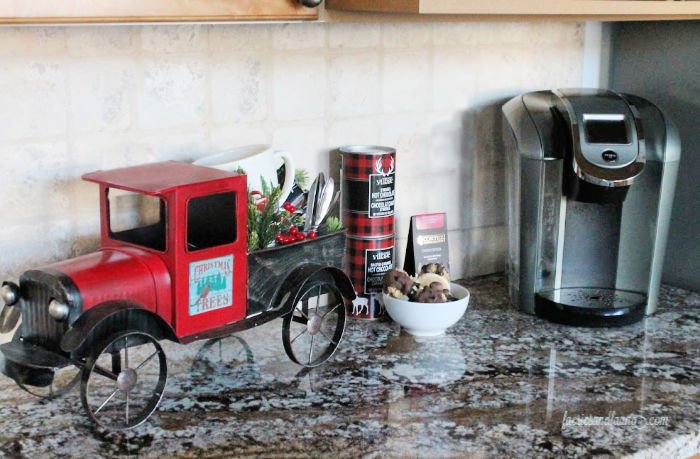 Compact Farmhouse Coffee and Cocoa Bar for a Keurig
This is a very simple Red Truck Christmas coffee bar you can create with assorted tins of goodies and a Keurig. The red truck is used to hold mugs, spoons, cinnamon sticks, and other types of stirring utensils like chocolate covered spoons.