Veneer Coffee Table Greige Makeover with Stain and Paint
Let me start by saying this project was not a labour of love, not by a long shot. This table is several years old, is part of a matching set and I loved it, especially with all those lovely storage drawers. Unfortunately the top got very damaged (not by us) and I have been unsuccessful covering up the deep gouges using pens or coloured fillers. So with nothing to lose and holding my breath I tackled refinishing our veneer coffee table set in a faux restoration hardware greige finish and am so very happy I did.
Because the top is veneer and I have no idea what kind of wood the veneer is, I had to be very cautious about working on it. The sides were a breeze, I knew they were getting painted in Fusion paint Picket Fence white, because no way was I attempting to restain the entire table. Doing the top was more than enough challenge thank you. This makeover isn't quick, its labour intensive, but with nothing to lose and a nicer living room to gain, it was worth the risk. Just make sure your willing to take the risk before you start.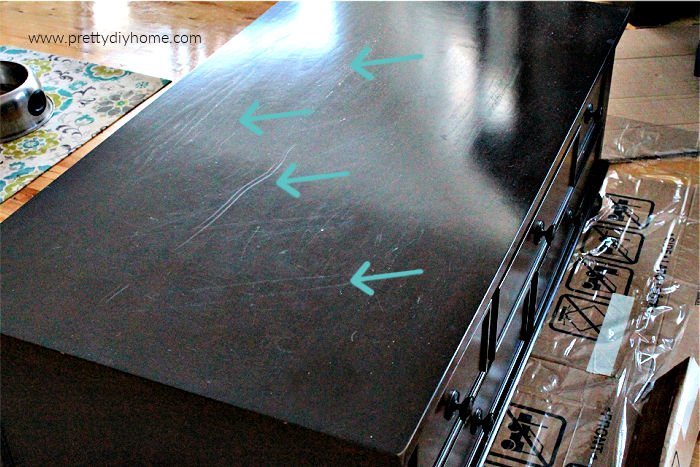 Now that I have cautioned you, let me say I am thrilled with how it turned out. It turned out so well I refinished the other two pieces of the set so they all matched again.. I still miss the dark shiny espresso furniture I once had, but the scratches were bothering me and they are long Gone!
Supplies Needed
CitriStrip, plastic wrap (I always buy this when I am in Montana its a great product)
Sandpaper 120, 150 grit, brown paper bag
Dollar store chippy brush
Good quality paint brush
Zinsser 123 primer
Fusion paint in Picket Fence white
Minwax stain in Classic Grey
Soft Rags
Minwax Polycrylic glossy clear finish(blue can)
How to Create a Greige Finish
Stripping the Original Finish
Start by stripping the top with CitriStrip, cover it with plastic wrap to reduce evaporation and let it sit for 15 minutes. I sat with mine and checked it every couple of minutes to make sure the veneer wasn't bubbling or lifting. After 15 minutes I tested a small area, then used a scraper to remove as much of the coating as possible. Once scraped I wiped it all off with a damp cloth and rubber gloves.
Sanding
Starting with 120 grit sandpaper, sand it by hand. I used just the paper and the palm of my hand, I left the electric sander in the cupboard. Pass over the wood a couple of times, wipe off the dust so you can see the surface and repeat until most of the finish is removed. While sanding investigate what the wood looks like underneath, your finish will start to feel smooth under the sandpaper. Slowly and cautiously it took an hour to sand off the entire top.
Once you have the top well sanded with 120 grit start sanding with 150 grit. I used the 150 to finish the sanding as its not only results in a smoother final finish, its gentler on the wood, I didn't want to sand right through the veneer.
I was absolutely gleeful when I could start seeing wood grain show up on the top of the coffee table. When I saw even the little bit of grain I knew I'd be using stain instead of trying to paint on a faux grain look. I do mean I was gleeful. I even called Hubs to confirm I was seeing it right.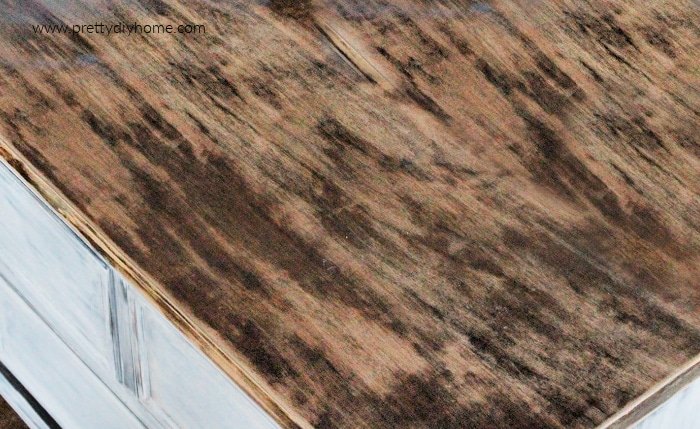 To get the greige restoration hardware I carefully continued sanding so that certain parts of the grain were bare while, leaving other portions of the top still dark brown. This meant sanding a little bit at a time in certain areas while leaving other areas alone. Eventually I got the patchy look I was wanting. Now I had to start adding grey stain to colour the bare areas.
Adding Stain
Make sure to grab a really cheap chippy brush. I love the ones from the dollar store, check out how broken the bottom edge is. It works really well to create not smooth stain finishes.
Finally I used a chippy brush and using just the very tips I added grey stain to the entire surface of the table a 1/4 section at a time. I let the stain set for two minutes, and then softly buffed some of the stain off. This gave the entire surface a grey look, the bare wood was gone.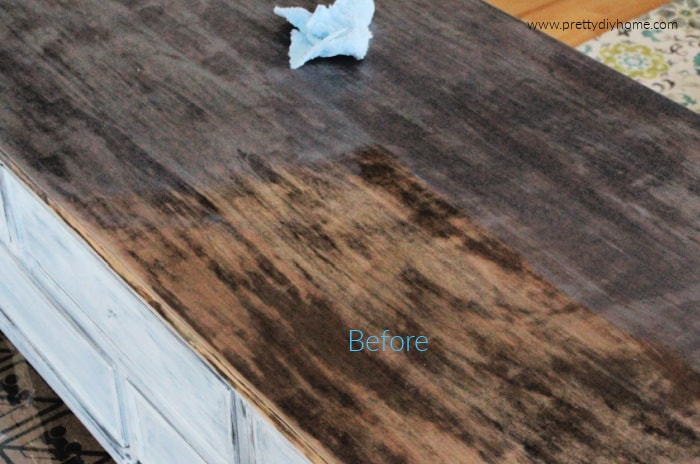 I then followed with more coats of stain, but added the stain in patches, wiping it off after two minutes. I know the patchy staining looks really weird, but doing it this way means no more sanding on the veneer.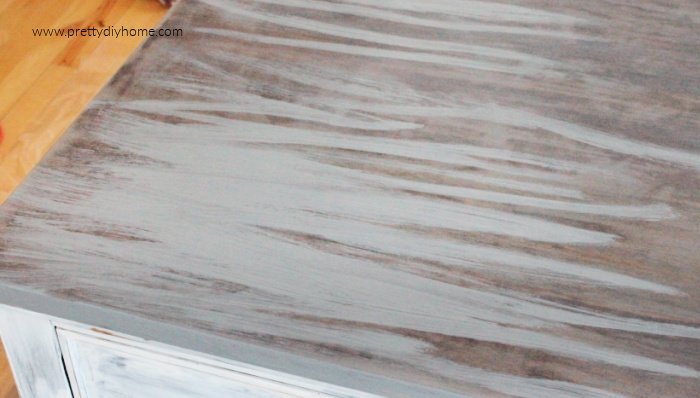 Build up the layers of stain until you get a finish you like. Mine has a total of three whispy layers so that I got the greige finish you see in the next picture.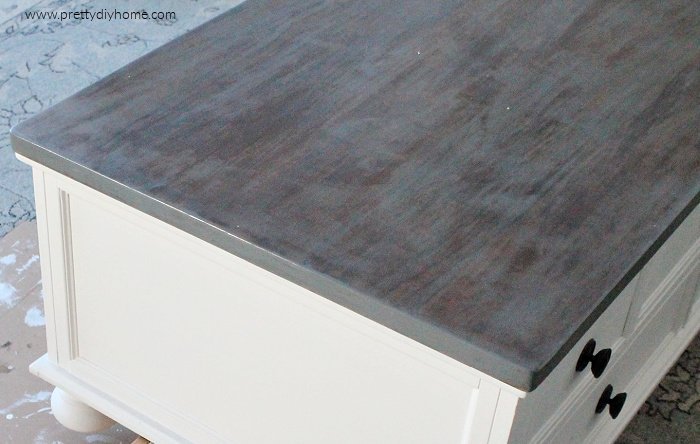 Finishing
I chose a high gloss polycrylic finish to seal my coffee table. You may not want a high gloss finish, but make sure the sealer dries absolutely clear, otherwise you may get a yellow tinge to your coffee table.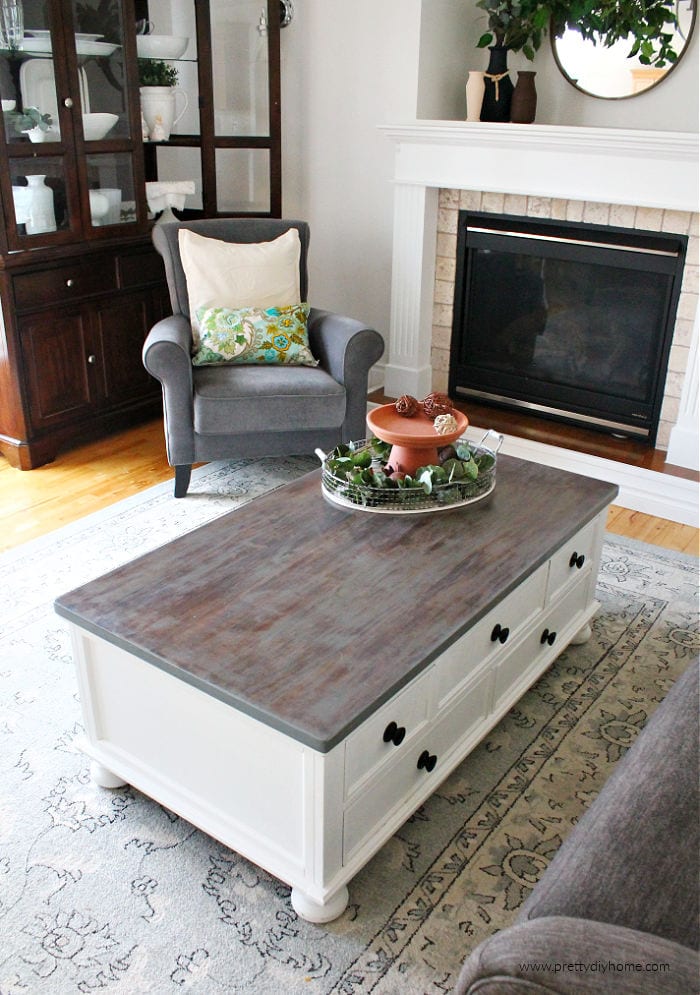 Painting the Sides
In order to save time I would do a coat of the white sides on the coffee table, and then work on the top while the sides were drying. That is why you see different finishes in the pictures for the table top tutorial.
Sand the sides using 120 grit sandpaper, sand it lightly just enough to take the shine off the finish.
Paint all the side surfaces draw front etc. with one coat of Zinsser 123. Let dry.
Paint with Fusion paint in Picket Fence white. Let dry for half an hour.
Sand lightly with 150 grit sandpaper, making sure not to remove the paint from drawer ridges and edges. Wipe with a soft cloth to remove dust.
Paint second coat, let dry and sand. Then finish with a third coat if needed (I used 3 coats).
To paint the legs I placed my coffee table up on blocks for easy access.
The process worked well on two other pieces of furniture from the same set.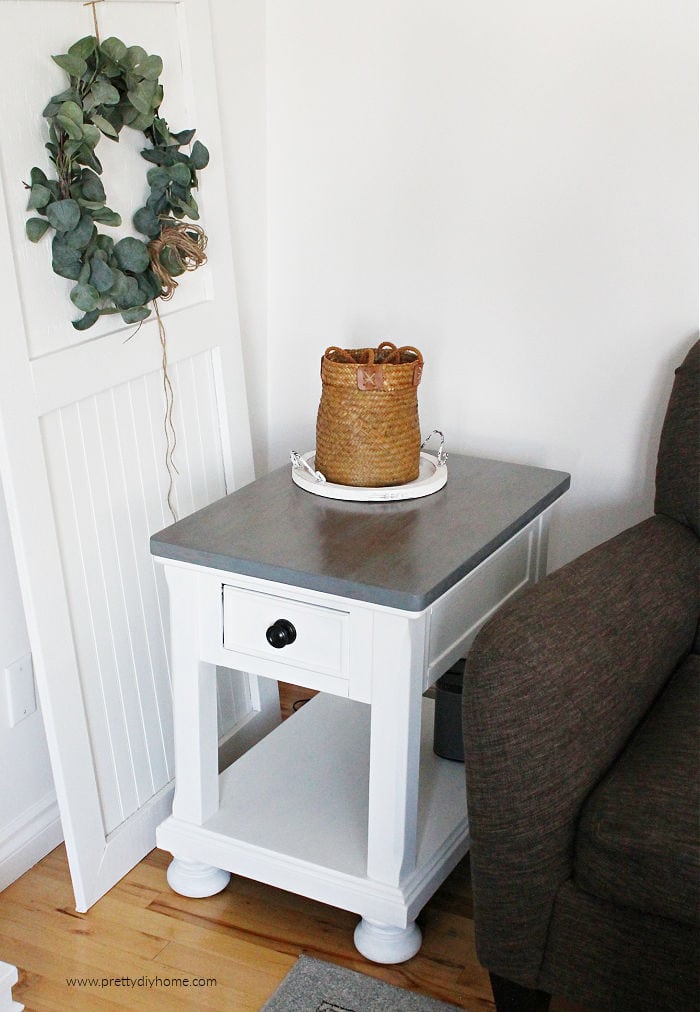 This front hall table was even more scratched then the coffee table was, but I forgot to take a before picture.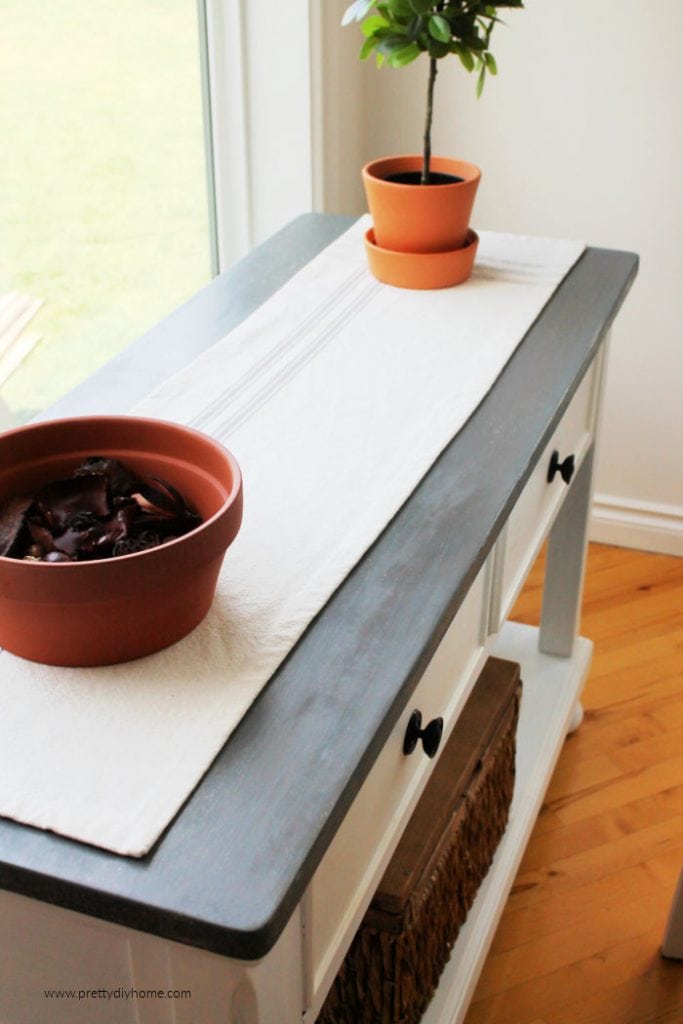 Do you have an old coffee table but your not quite ready to tackle the project. Please pin it for later to try, and let me know in the comments your going to do this project.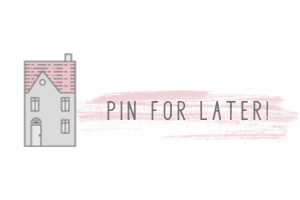 More Veneer Furniture Makeovers
This week's topic is furniture makeover, but there are so many beautiful furniture makeovers I decided to focus my choice on other veneer furniture projects.
I wish I could find a beautiful piece like this, isn't it amazing. Instead of removing veneer she used wood filler to fix it. I love how she made the beautiful white look dramatic.
Faux Gilded Nightstand | Bless'er House
My coffee table was too modern to even think about removing the veneer. I am 100% sure that under the modern furniture you will find some sort of presses wood, or even paper under the veneer. But removing veneer seems to be a very successful way of updating antique veneer furniture. Just check out how this dresser from the Coastal Oak turned out. Its gorgeous, and her post highlights various different techniques for removing veneer.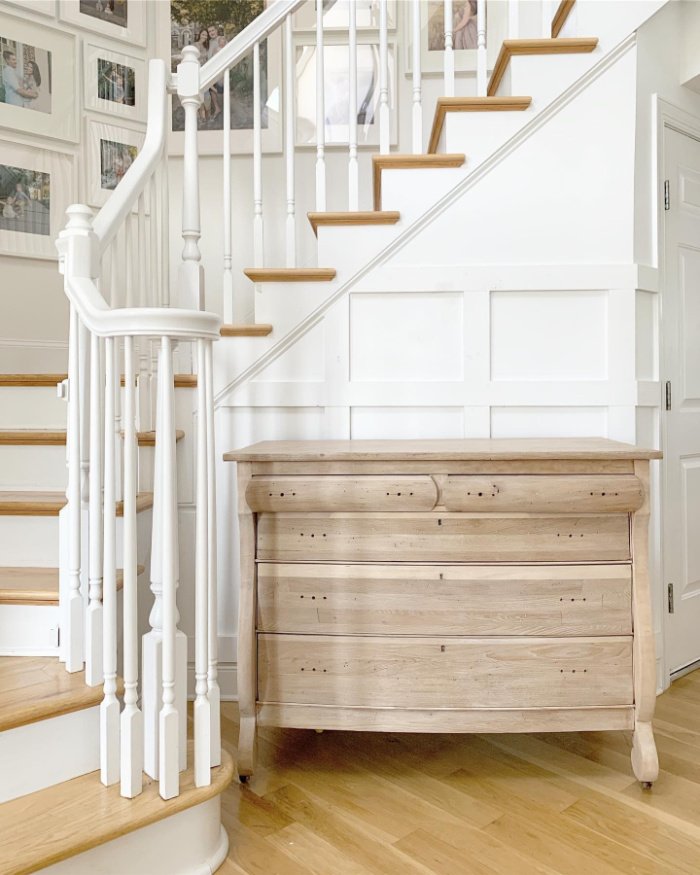 Removing Veneer | The Coastal Oak
This antique nightstand came with very badly damaged veneer, instead of fiddling with repairing it Jen from a Girl in Her Garage, removed the veneer before refinishing. With those beautiful spindle legs who misses the wood veneer?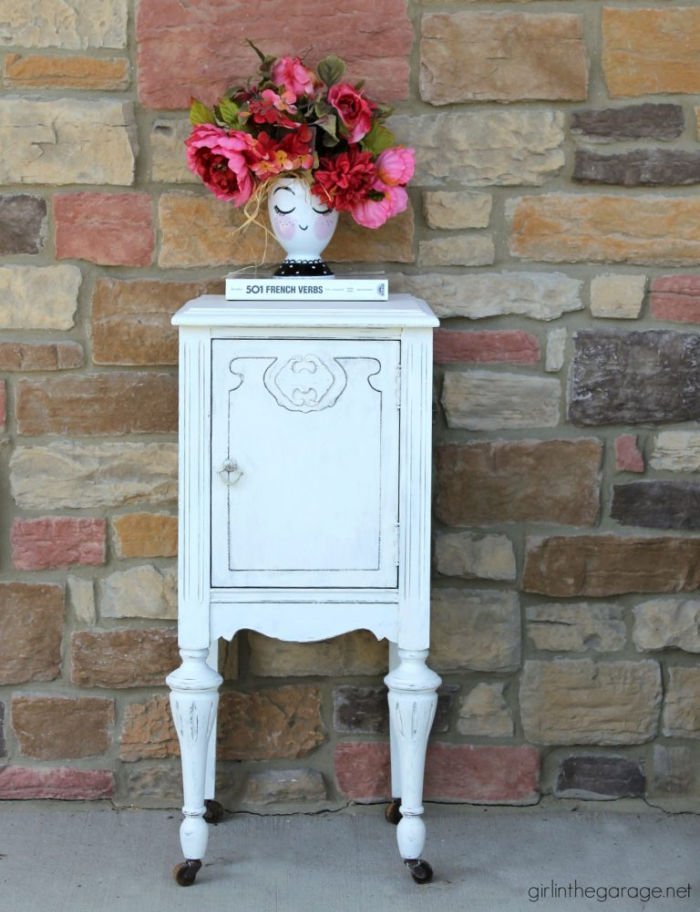 Antique Nightstand Makeover with Damaged Veneer | Girl in Her Garage
This vanity has the most beautiful colour don't you think. Its neutral but not black, and not dark brown, I absolutely love this choice of paint on this vanity. This colour could be used on a table top for modern furniture as well.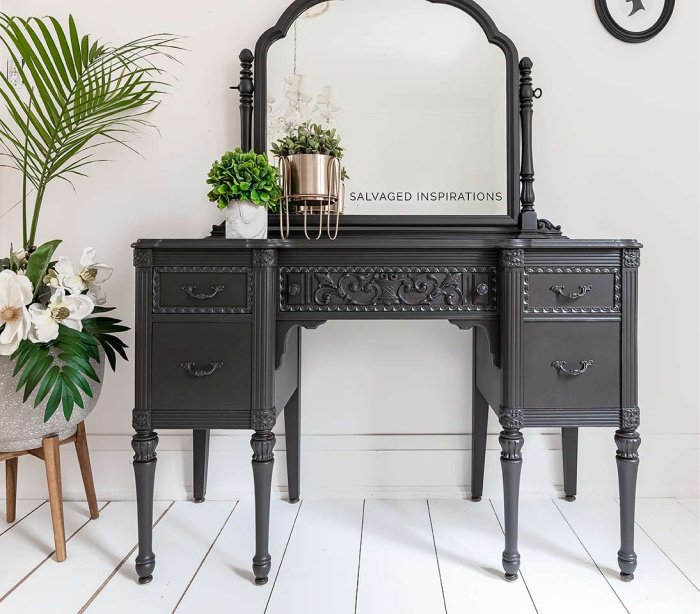 Coffee Bean Vintage Vanity Makeover | Salvaged Inspirations