How to Repair, Paint and Organize an Entertainment Center
A Practical Money Saving Furniture Makeover
DIY projects really help pass the Winter. Unfortunately sitting at home for months the I really start to notice every… single…thing…wrong… in our home. Whilst finishing the bannister update, I could not take the look off the damaged entertainment center any longer. Let me show you our entertainment center makeover.
We were/are very annoyed with the quality of our entertainment center and coffee tables. They were a $5000 purchase several years ago and with only two adults and a dog in the house we expected them to last much longer. We tossed out the coffee tables, took some chairs to the auction and growled at thedamaged entertainment center. This is how the furniture set looked five years ago. I loved the warmth of the wood so much.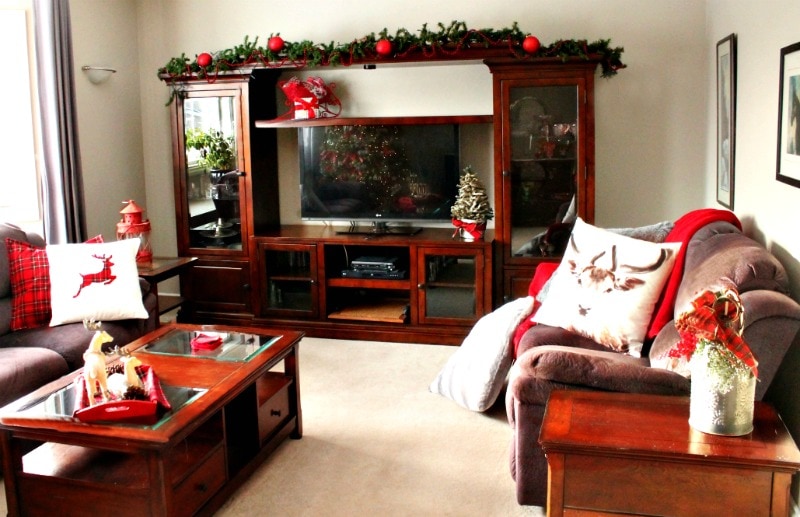 I considered painting the entertainment center sage or an olive green, mainly because of the teasing I know I am going to get, but white paint won out once again. Its painted white using Sherwin Williams satin gloss Extra White, and Zinnzer 123 primer. All our moulding is being fixed and repainted with Sherwin Williams satin gloss Extra white paint, my hope was to make match up the entertainment center so that it appears built in.
Black, especially Fusion Mineral Paint Coal Black would look wonderful, but I shied away from having such a large black piece of furniture in this room.
It is what it is, so time to get over it, and get to work. Taking part in Waste Not Wednesday was the boost I needed to get this post done.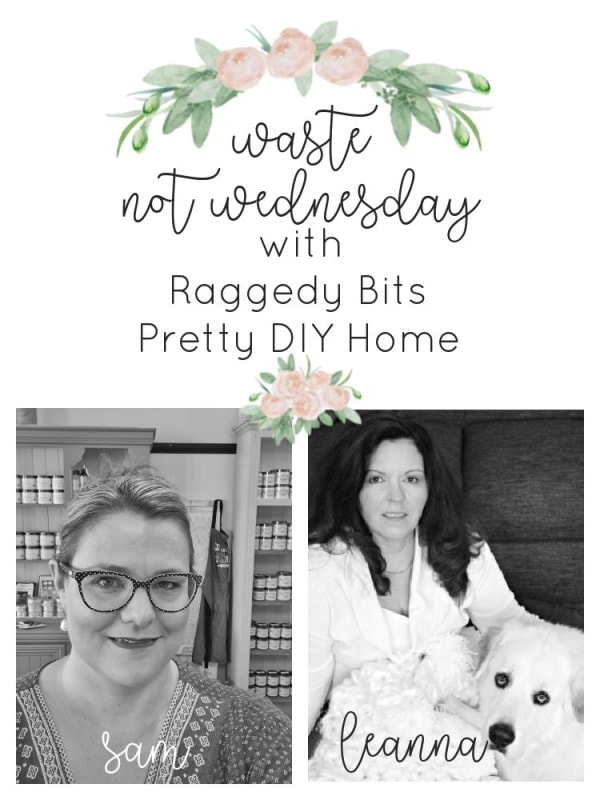 Welcome back to Waste Not Wednesday! For those who have been following along for a while, you'll know Waste Not Wednesday as a linky party. But Leanna and I have decided to change things up a bit. Each Wednesday we will be bringing you fun projects not only from us but some of our favourite bloggers. This week's theme is furniture makeover!
Supplies for Refurbishing an Entertainment Center
TSP
Green Painters Tape
E6000 Adhesive
DryDex Spackling
150 grit sandpaper
Zinsser 123 Primer
Sherwin Williams Extra White Satin Paint
Cleaning and Prep
Unfortunately I chose to do this the same week we were demolishing the bannister and having a beautiful new one installed. The how to pictures are messy, but I hope you can see the process.
Begin by emptying the entertainment center and washing everything down with TSP, including all the interior surfaces. Instead of removing the hardware I taped it off using painters tape. If you prefer to take off your hardware, make sure to label everything very well so that you can reassemble it easily.
I also taped around all the edges of the glass windows on both the inside and the outside. Note: I actually missed doing the interior of one door, and I didn't notice when painting because the tape on the outside showed through the glass. Those are the things that happen when I multitask projects. Be sure to tape both sides.
Repairing the Veneer
This entertainment center had all kinds of chipped areas, and bits of lifting and missing veneer. To repair any smaller area begin by adhering any small lifts in your vener using E6000 to reglue it back in place.
There were several larger areas like this to fix, the pictures show the largest piece. Begin by removing the veneer, applying a thin coat of Drydex filler and then sanding it with 150 grit paper until smooth.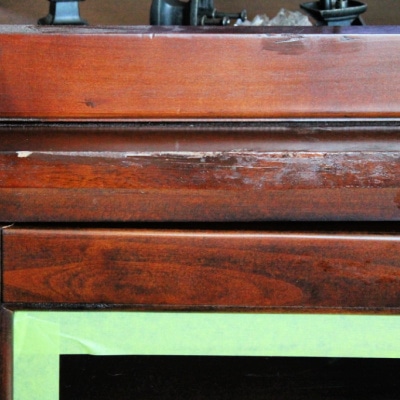 Fixing a Chipped Corner
Besides having broken and lifted veneer there was a broken chipped off corner, I was a bit daunted to try and fix this, but it ended up being very straightword to do.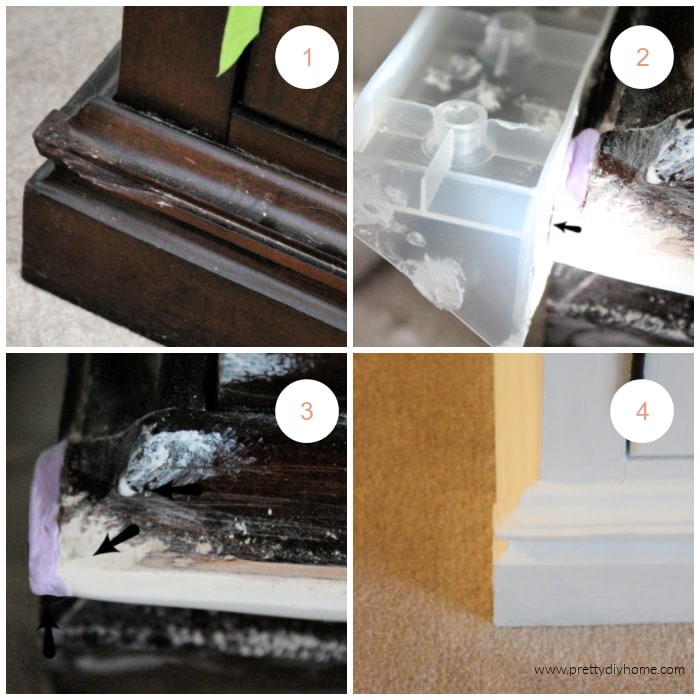 Shows the broken corner. I had tried to camoflage it repeatedly using a brown furniture pen. It looked better than the whipped wood, but not much better.
Using a straight edge build a corner using the Drydex using any straight edge and then letting it dry.
Reshaping it as it is drying. It does not have to be perfectly smooth, but make sure the corner is larger than it needs to be. drying, then sanding it.
The final corner. It is a simple process just remember not to over sand and make it as smooth as possible. If you make the corner smaller than it should be, add more Drydex, and repeat the process.
Refinishing the Entertainment Center with Paint
Normally I suggest refinishing furniture by sanding it before and between every coat of paint. But this time the thought of all that sanding on such a large piece is daunting. So I took the shortcut and skipped the sanding and the icy smooth finish for ease and function. This piece will get a coat of primer and I will live with the regular less smooth painted finish.
The great part about the primer is its white and gave me a sneak peak at how it would look. As the entertainment center is so large, I fixed it right in the livingroom. Make sure to protect your flooring. move other furniture out of the way and I used little bits of scrap wood to lift the bottom edges off of the floor.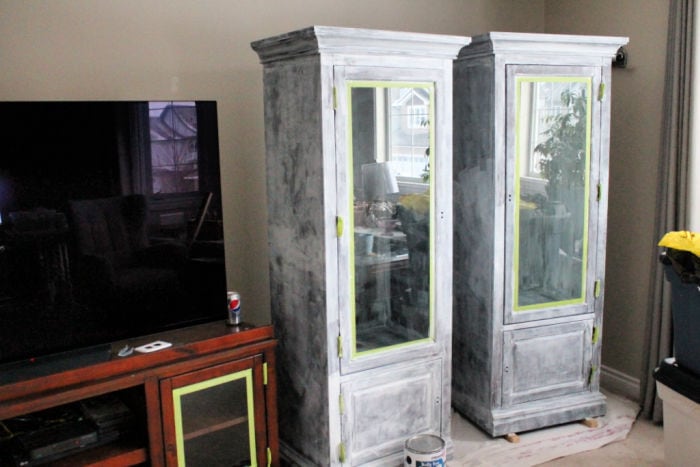 Paint the inside and out with one coat of zinsser 123 primer and then 3 coats of Sherwin Williams Extra White in satin finish. Allow it to dry well between each coat. I found by starting at one end, that by the time one coat was finished, I was able to start on the second coat right away. The rubbermaid containers you can see in the corner are holding all the goodies typically inside the cabinets.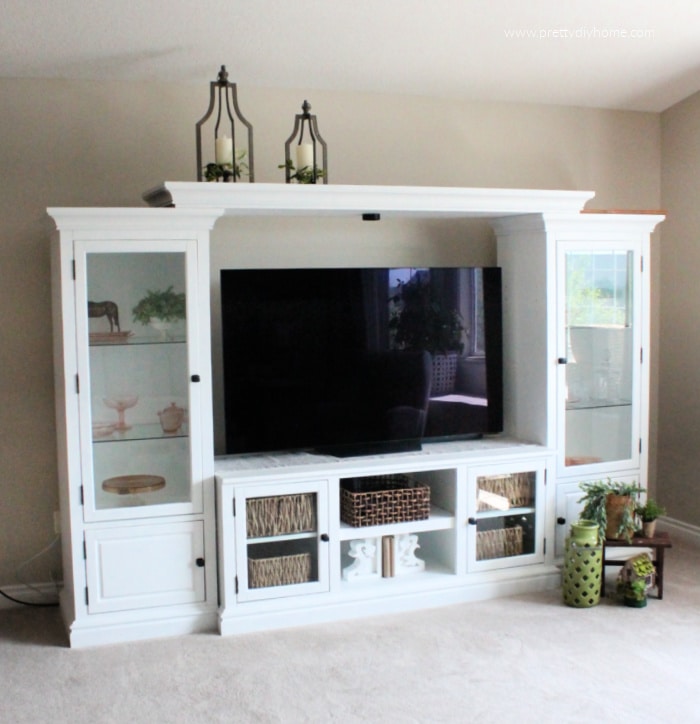 Mistakes and Fixing
Fixing up paint drips makes me cringe, usually the light repeated coats of paint and sanding make this a non issue, but because I skipped the sanding, I found some careless paint drips along the edge of my paint finish.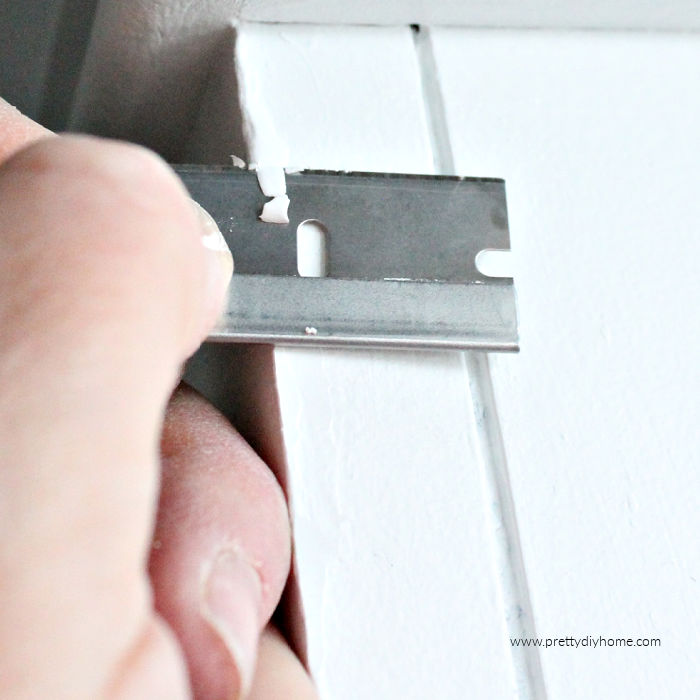 These little razor blades are the perfect solution for paint drips. Carefully slice of tiny layers of the paint drip with a painters razor. Once the larger part of the paint drip is removed sand it smooth and then add a very light layer of paint to hide the dullness from the sanding.
Painting the edges of the glass was easy because I taped ahead. Unfortunately I miss one door on the inside. I used the painters razor blade to remove it as well. So easy, you can find the blades at the Sherwin Williams store, mine was $3 for a package of five I think and worth every cent.
How to Organize the Entertainments Center for both Storage and Display
Now that the entertainment center is painted, its time to deal with the three Rubbermaid containers s of stuff I took out at the beginning. As much as I try and be a minimalist I am not. If your like me and the large wall unit is to actually store stuff, I figured out a way to do it using color coordination, baskets to hide, dollar store containers to organize and lovely doors that close.
Downsizing Items
I Konmari'd three quarters of our china away a couple years ago, and all that is left are the pieces that give us joy. But all those loved collectibles have to store in this entertainment center, I did no downsizing. If you happen to have unwanted DVDs, video tapes (I had a disney collection), assorted cords, or anything unloved out it goes.
The upstairs entertainment center stores my pink depression glass collection, an antique teacup collection I had for 40 years, and the tulip crystal I inherited from my mother. Besides that it hold Hubs corporate memorabilia, a few DVDs, and the TV electronics.
Organizing and Hiding Cluttery Items
I kept the glass doors to act as a china cabinet, rearranged the pink glassware so only the largest pieces are displayed, and added some greenery (2 & 3). All the rest is hidden.
Then I bought some matching wicker baskets to hold the TV electronics (5). The middle basket is different because it holds the PVR and modem. The weave is more open so the remote controls work, and the cords were placed out the back through the weave.
The remaining wicker holds smaller glassware, that would clutter up the open glass shelves. (1). Finally the other bits I put behind the doors (4) and hid behind the baskets in the front. Most of it was placed in dollar store plastic containers to they can be easily retrieved and pulled out if we need them.
I actually miss the wood, but painting this instead of purchasing a new one saved is $4000. Its bright and clean, and organized, and for that much in savings it will do just fine.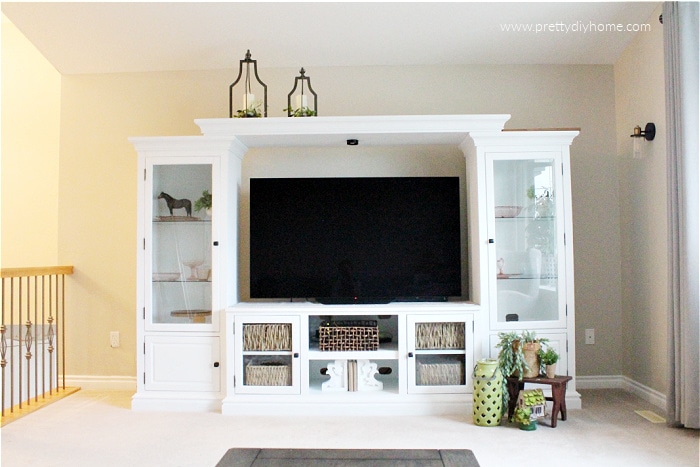 Wow, fixing and refinishing furniture has so many steps, but I love the changes. My friend Sam created a white washed farmhouse table. I adore the carvings on the legs.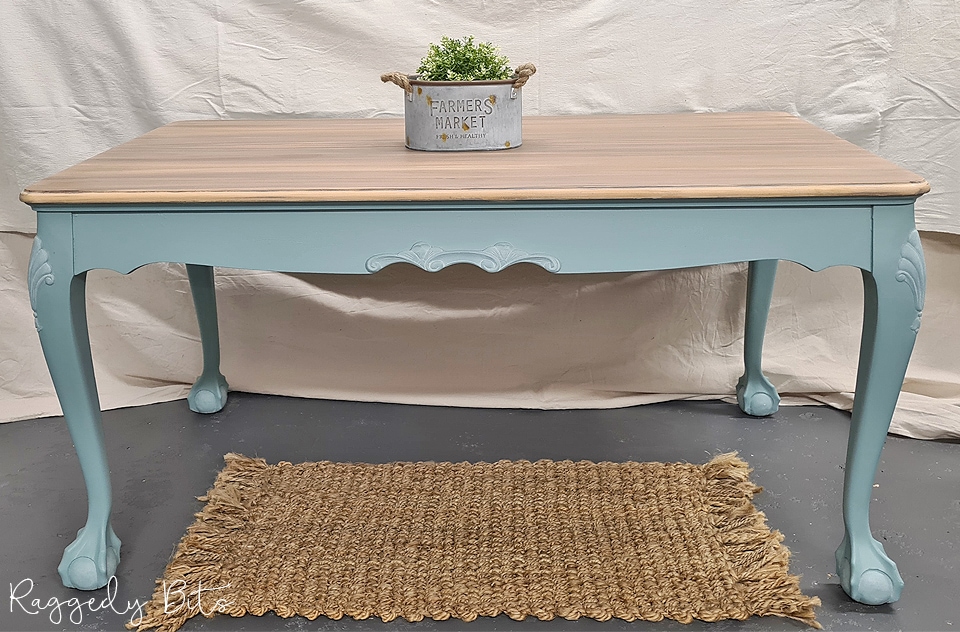 Some More Wonderful Furniture Makeovers
DIY is the only way to get a one of a kind piece of furniture. Here are some more unique DIY furniture makeover ideas with tutorials. Some are vary novel making me wonder who thinks of that? Others are just gorgeous in the dramatic effects or soft farmhouse look they gave to their furniture. Enjoy checking them out.
The black really makes the wood drawer fronts stand out. Check out how she worked with broken veneer, what an amazing work around.
Two Toned Vintage Dresser Makeover | Christina Faye Repurposed
Can you imagine all the wonderful items you could sort in this multi drawed cabinet. The numbers especially appealed to me. I can just imagine a numbered list to help the family keep things sorted.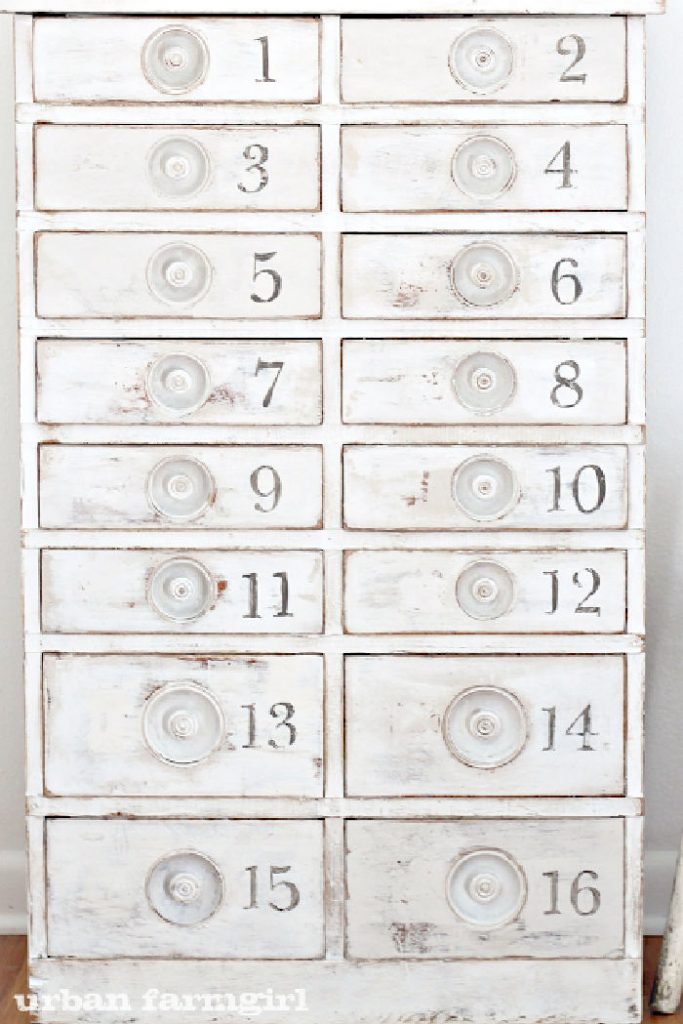 Numbered Cabinet Tutorial | Urban Farmgirl
Doesn't this sewing machine cabinet makeover pop out of the page at you? I need to make something like this. That black paint is spectacular.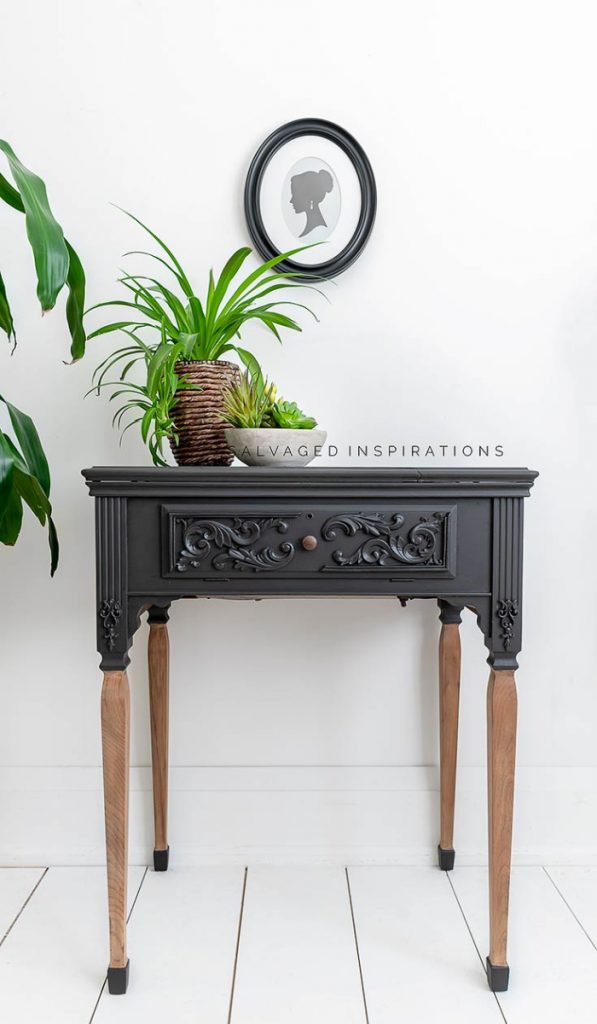 Singer Sewing Table Makeover | Salvaged Inspirations
These nightstands are one of those projects that just makes me shake my head. You need to check out the before picture to see what they started out as.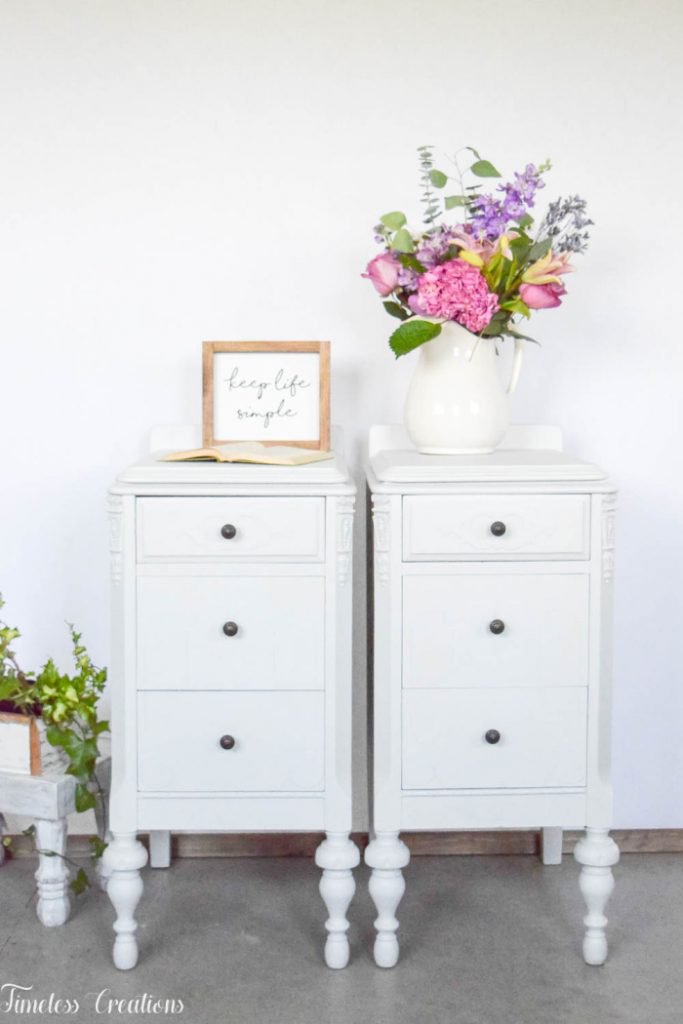 Antique Nightstands | Timeless Creations
The image transfer on this table really makes this table stand out. Its so pretty you can take the top off to hang on the wall. If your interested in learning about transfers this post has a complete tutorial.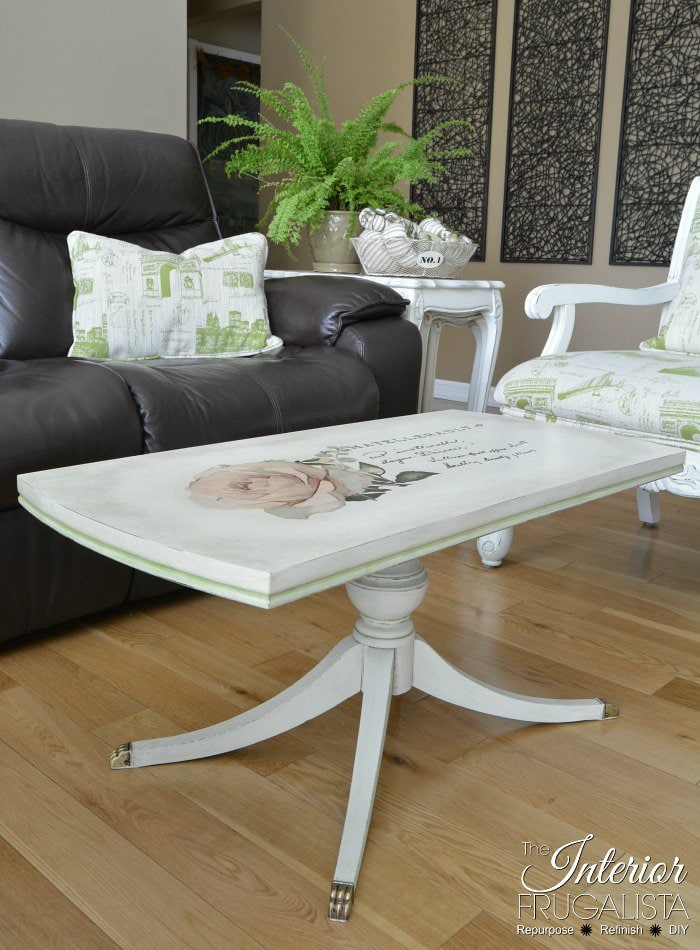 Duncan Phyfe Coffee Table | The Interior Frugalista