12 Ways to Create Farmhouse Decor for Cheap
DIY Farmhouse Decor for Cheap
Are you still thrilled that Farmhouse Decor continues to be so popular? Seriously its no wonder because its a style we can afford especially if we DIY them. All too often we will see something we love but we are unable to purchase it locally or afford to pay shipping etc. In today's roundup post I am sharing a few of my favorite ideas, including a couple of my own that I am very proud of. All of these DIY farmhouse decor ideas can be created for less than $20, I bet a few of them you can do for Free from things you have in your home.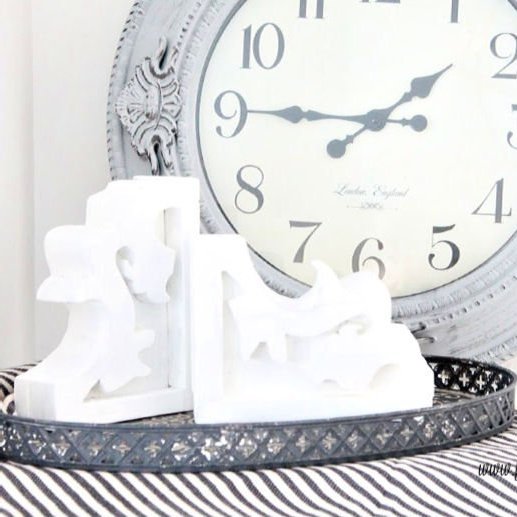 If your lucky enough to live in an area with great architectural salvage I am jealous. think of me when you go check it out. If its impossible for you to locate a good architectural salvage store in your area go ahead and make your own.
DIY Farmhouse Corbels by Pretty DIY Home (that's Me)
These DIY chicken wire cloches are just adorable, and you can make them with dollar store chicken wire. Can you imagine the fun your loved ones would have arriving at this table setting for a special brunch. I love the extra touch of the little paper nests. Too cute!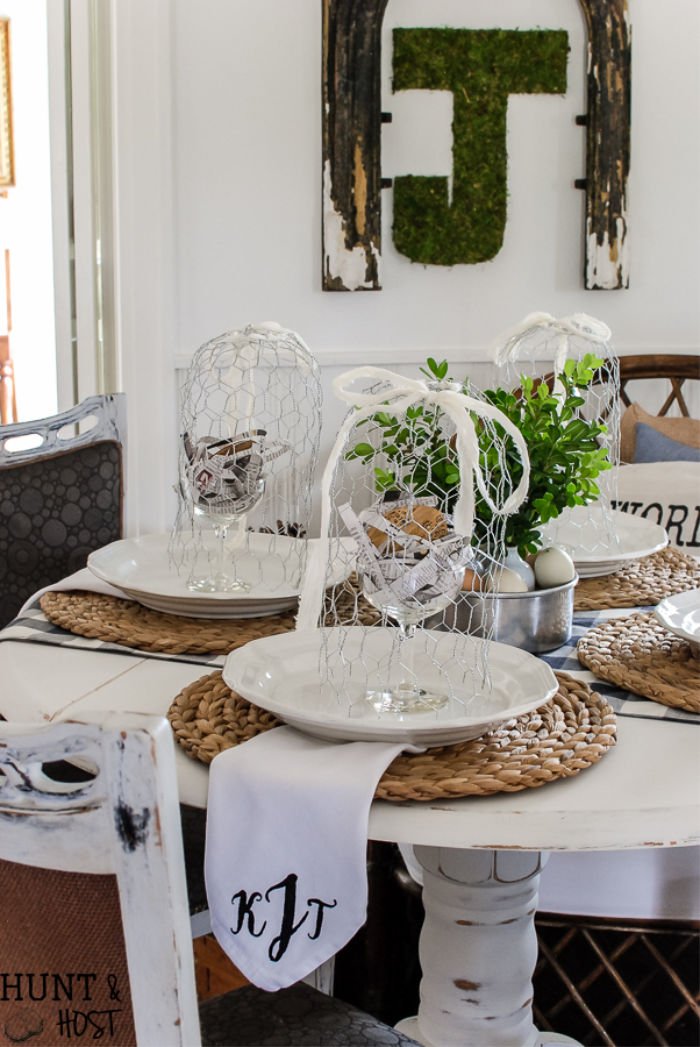 DIY Chicken Wire Cloche Tutorial | by Salvage Diving
These DIY stacking crates from Little Yellow Barrow are such a great storage idea. The rustic look is perfect and I may have to make some in distressed white with some roller feet. The stacking functionality makes them so useful.
DIY Stacking Crates | by Little Yellow Wheel Barrow
Display rises are so handy for grouping items together visually, and adding interest to our decor. I love these minimalist farmhouse decor display risers from Kippi at home because you can easily make several. This modern white tray rise, or you could create it in stained wood for a rustic farmhouse look. When decorating a large piece like a big entertainment center these would be great to add little bits of bright white inside the shadowed areas.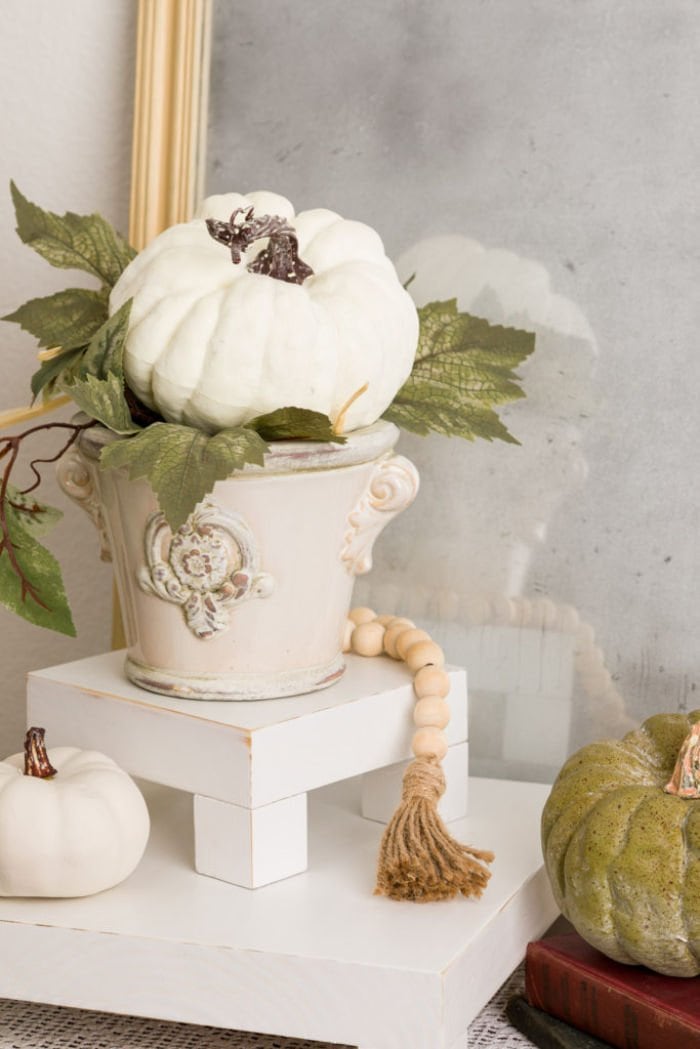 Decor Display Riser | by Kippi at Home
Every once in awhile do you come across a super wonderful idea and are puzzled that you didn't think of it yourself. As I am always on the lookout for inexpensive farmhouse decor ideas I had a slap the palm to my forehead moment the first time I saw this farmhouse bedding hack from Twelve on Main. So simple and nice.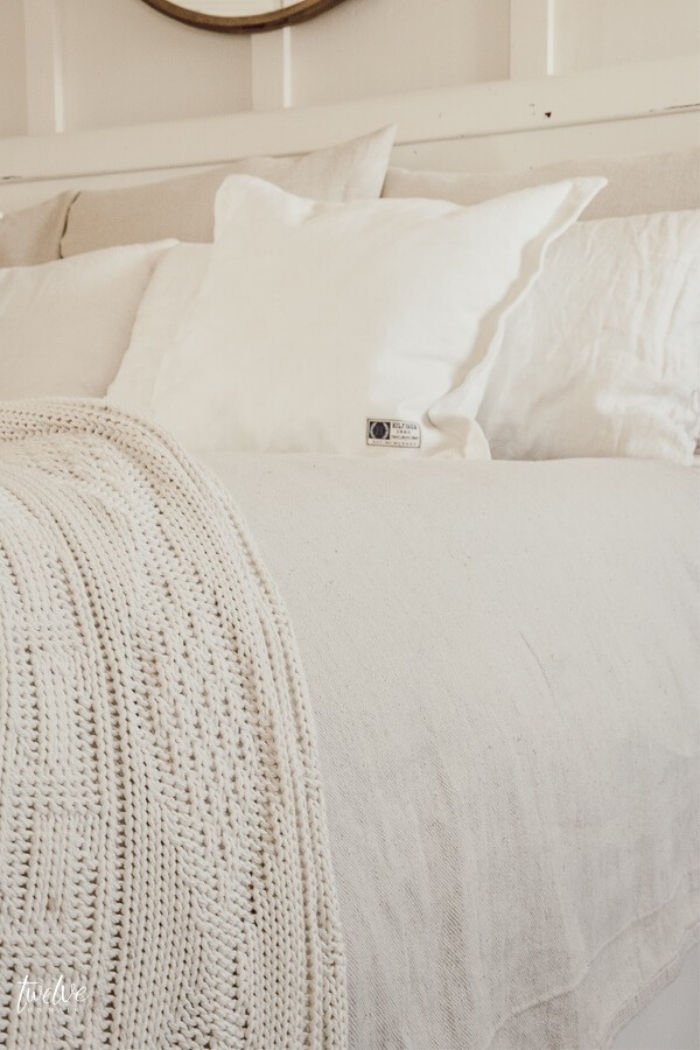 Inexpensive Farmhouse Bedding Hack by Twelve on Main
Often its the little touches that create the over all affect in a room. Because of the price of a really nice waste basket do you just use something plastic and hide it? That's pretty much my method, this idea is one that I have to find time to implement in my home, and hope you can find the time as well.
Ballard Inspired Monogrammed Fabric Wastebasket |by Confessions of a Serial DIYer
Large full sized mirrors can be very pricey. Why not make your own gorgeous wood rustic DIY wood framed mirror instead? This mirror reminds me of something from the Pottery Barn. Don't you just love it, for the living room, entry, or bedroom.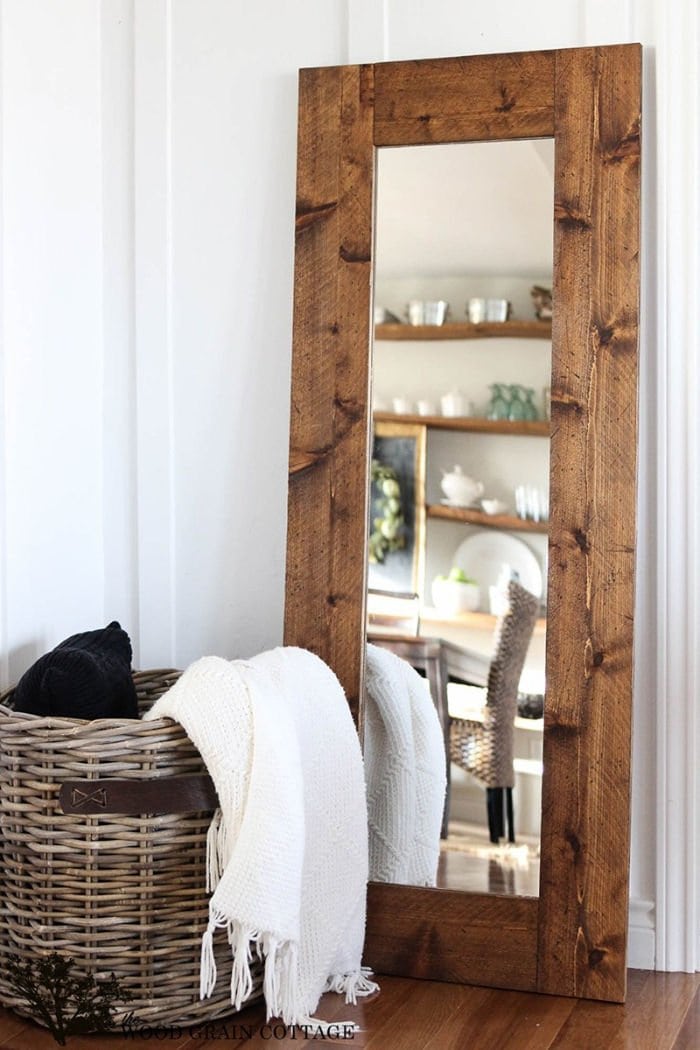 DIY Wood Framed Mirror | by The Wood Grain Cottage
You see these gorgeous handmade Farmhouse wood bead garlands everywhere. In gift shops they can be quite pricey, especially if they have a gorgeous label like the one Homemade Lovely shows us how to make.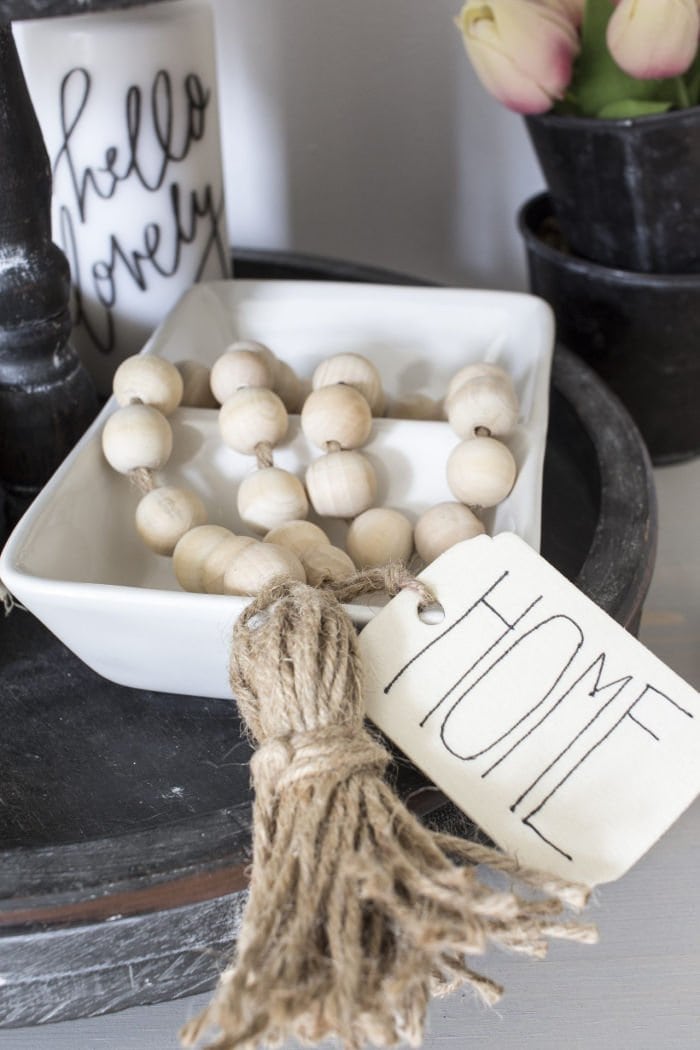 DIY Farmhouse Wood Bead Garland with Tassels by Homemade Lovely
This help from Funky Junk can be used in so many places. In a kitchen for a coffee station, an office for a printer or the computer screens. I would love one on the bottom of my large front foyer table even. Its interesting and so farmhouse decorative all on its own. I bet you can think of all sorts of pretty ways to use this shelf.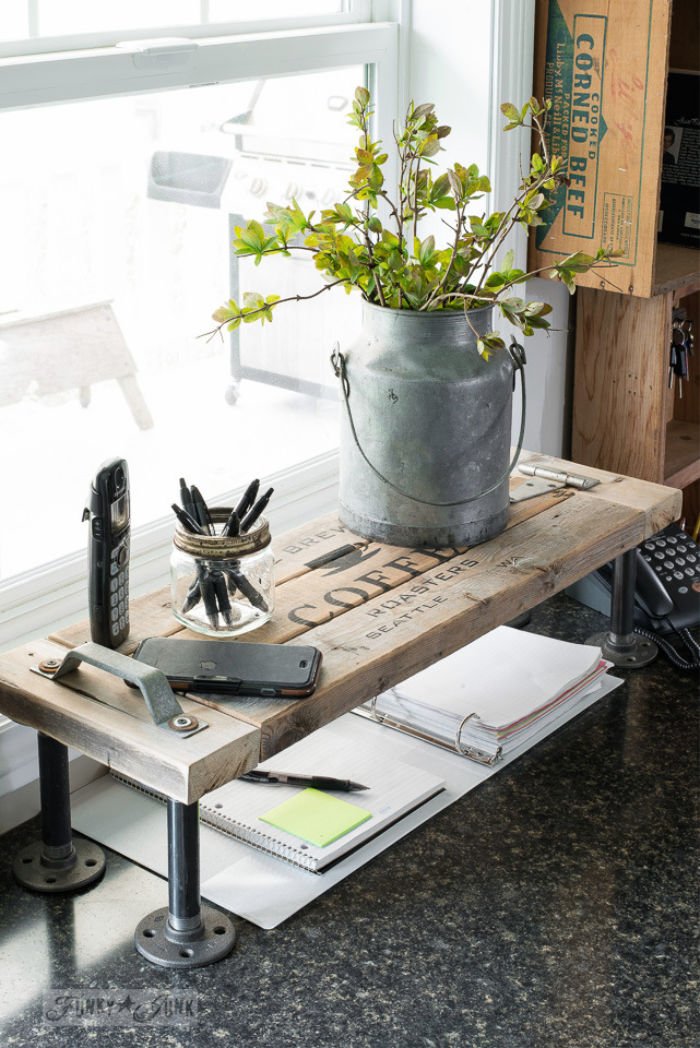 Industrial Kitchen Phone Station Shelf | by Funky Junk Interiors
These DIY Rae Dunn inspired coffee coasters are so minimalist, easy to make and customizable. They are just the modern touch a living room needs.
Rae Dunn Inspired Coffee Coasters by Sunshine and Munchkins
When your not in the mood for messy paint, or sawdust, how about crocheting some simple chunky wool baskets? Homemade Lovely even shares a free crochet pattern. Good anytime of the year for farmhouse decor, but I especially love this style during the cold months.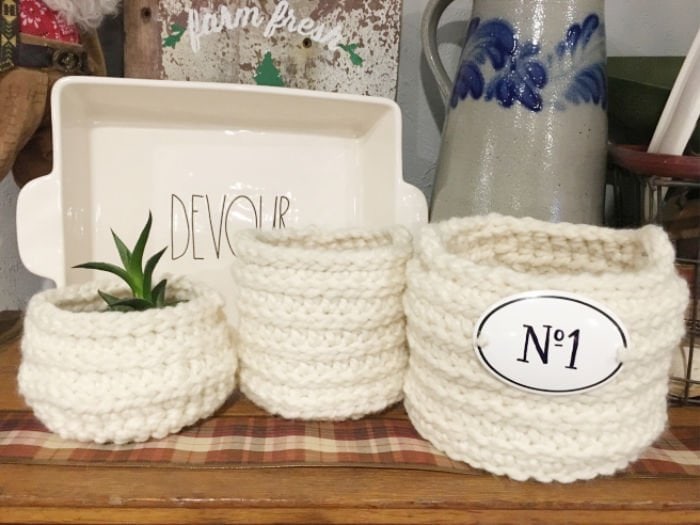 Free Crochet Pattern for Farmhouse Chunky Baskets by Beeccie B Creative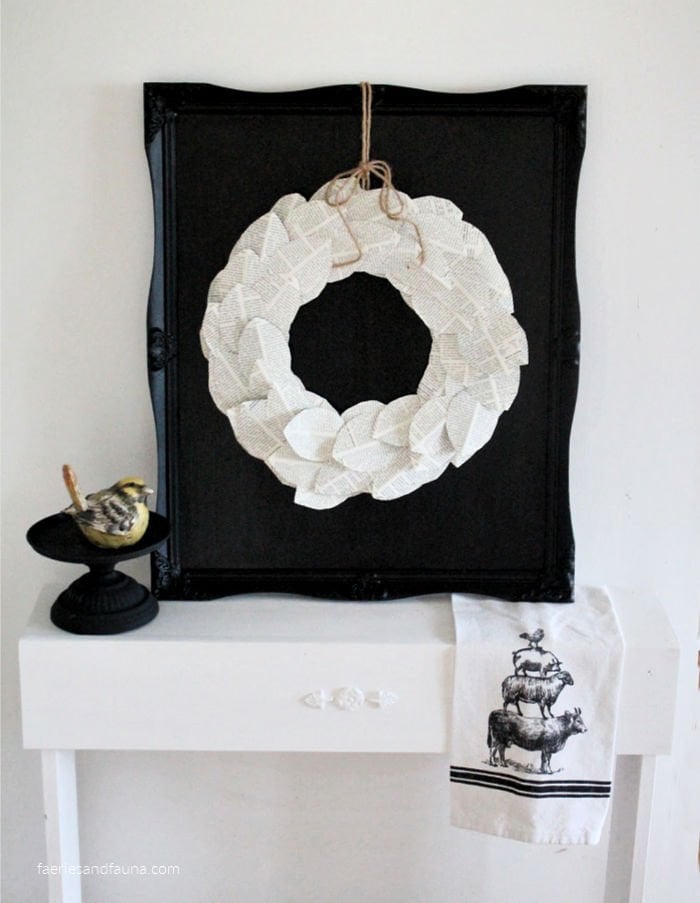 Book Page Wreath with All Black Chalkboard
Like these ideas? Pin them for Later|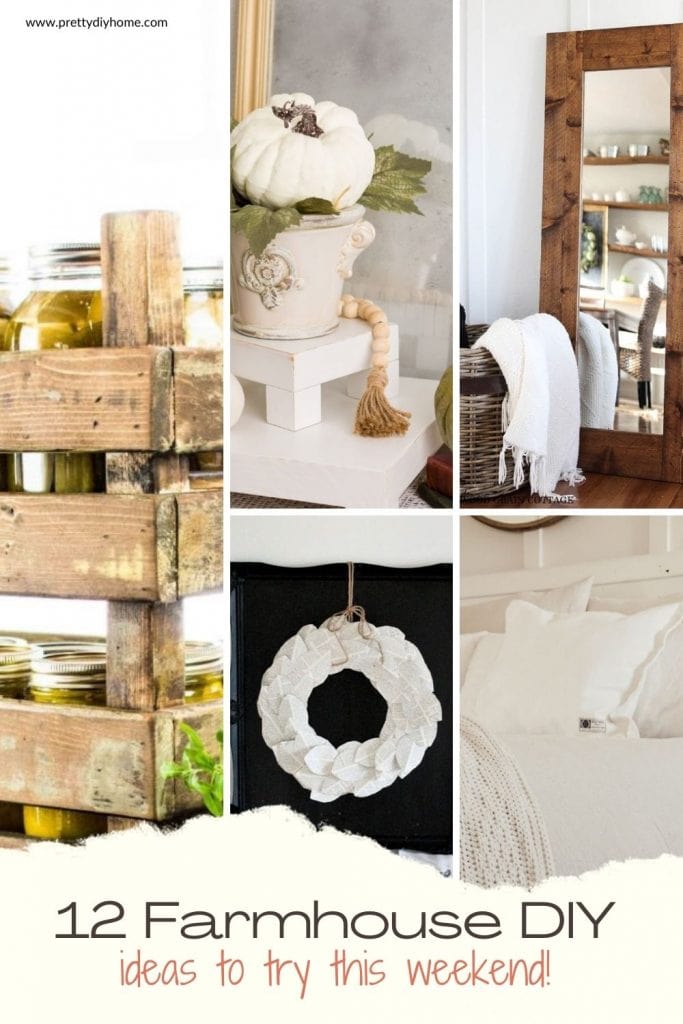 In today's post I gathered a wide assortment of the best diy farmhouse decor for cheap, budget friendly ideas you can make for less. Some take more time than others, but all of them are affordable and farmhouse perfect. I hope you found something to both inspire you and enjoy making.
Other DIY Farmhouse Decor For Cheap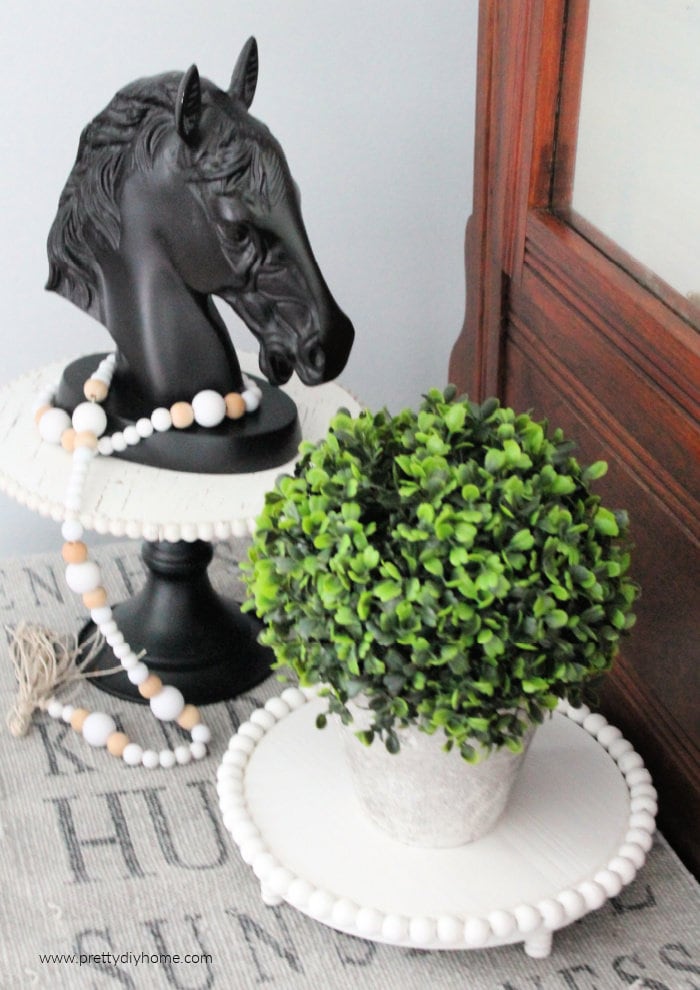 DIY Farmhouse Beaded Riser
These beaded farmhouse risers are trendy and of course have the matching price tag. Here is a really budget friendly DIY version affordable enough to make as many as you like.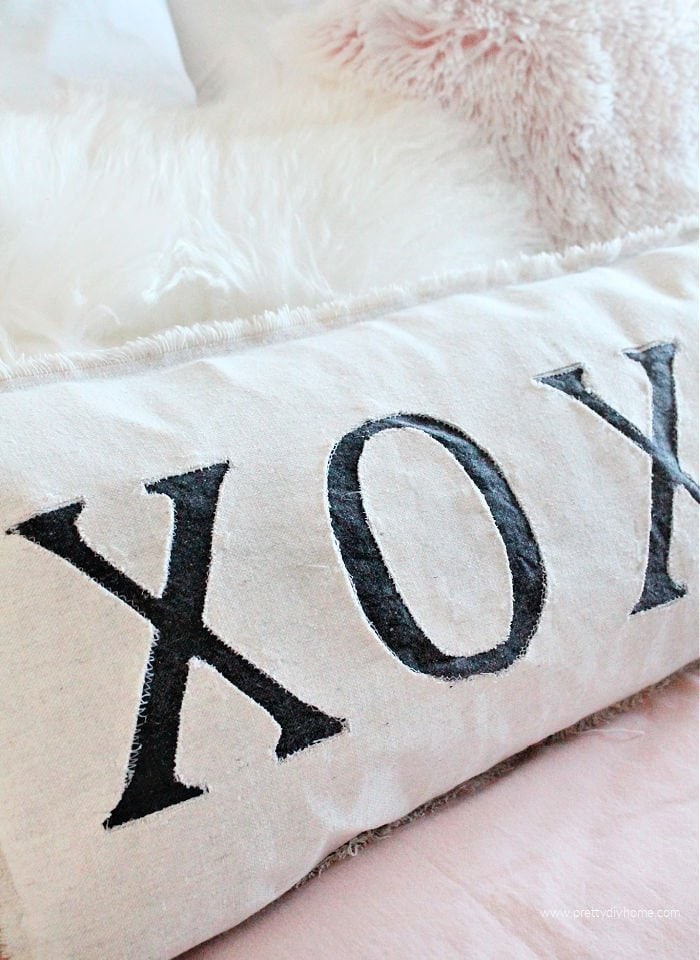 DIY Farmhouse Cushion for the Bedroom
A different way to do applique. I made this DIY Farmhouse Cushion before I had a cricut maker, using a template I included. It would be a great cricut project though