A Heart Warming Valentine DIY Heating Pad
Are you looking for a really easy and quick DIY Valentine Gift for someone you love. How about instead of giving them the gift of warmth? Even if you have to purchase all the supplies oyou can make this quick and easy heart warming Valentine DIY heating pad for about $10 including the rice. Sewing this simple DIY Valentine takes takes about an hour start to finish.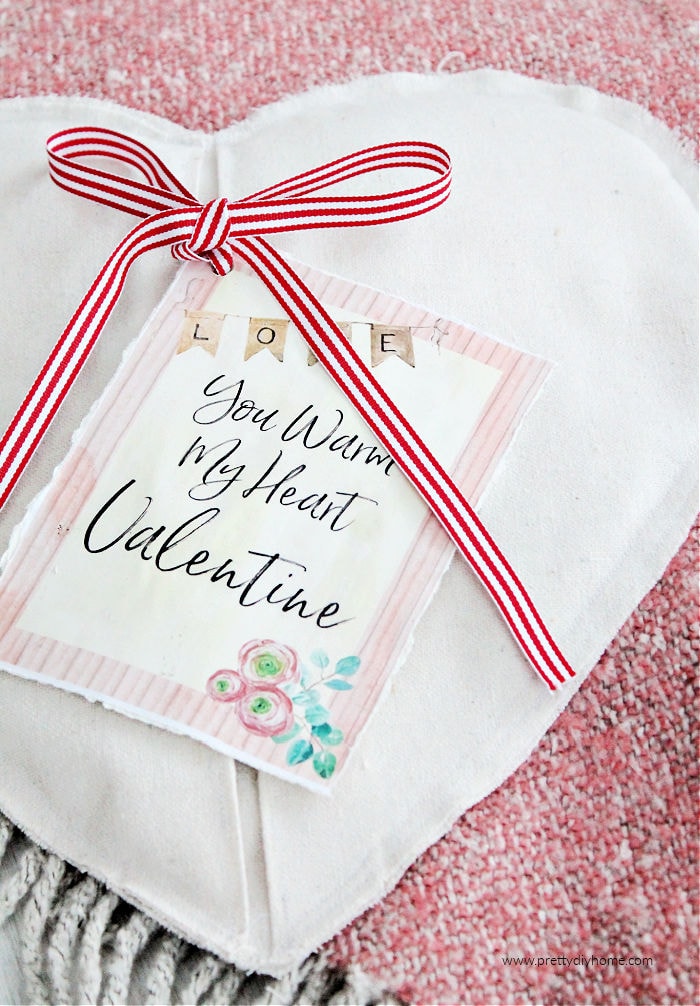 Today I am excited to join in with a new group of DIY Bloggers, for a Valentine's themed blog hop. All the posts are lovely DIY Valentine Craft and Decor Ideas. You will find all their posts after mine. Have a great time checking them out.
Supplies for your Valentine DIY Heating Pad
You don't need much fabric for this Valentine heating pad, I used some left over drop cloth (my fav) to give it a farmhouse look, but you can use a flannel shirt, worn tablecloth or even tea towels or bath towels to make one. I purchased some pretty farmhouse ribbon, but you could replace that with left over wool or bakery twine.
Two pieces of drop cloth or other 100% cotton fabric you like. If using leftovers you need one piece 14″ by 10 and 14″ by 9″.
3 feet of coordinating ribbon
This Valentine downloadable pattern
2 pounds of jasmine rice, or plain rice. (4 cups)
Funnel or paper cone
Jasmine essential oil or lavender would be wonderful as well.
Scissors, scotch tape, sewing machine, pins and an iron.
You Warm My Heart Valentine Printables
Print out the pattern that comes in 2 pages, line them up and tape together.
Prep your fabric, make sure it is washed and ironed. Fold one piece of fabric in half.
The front of the Valentine heating pad has a large crease, its not there for any reason I just thought it looked nice. the pleat means the front piece of fabric has an extra central section besides the simple heart shape.
Line the pattern up along the center and pin in place.
Lay the edge along the edge of your fabric. Pin in place and cut out. Unpin the pattern from the fabric. and then cut out the little rectangular extra piece, leaving you with just the half a heart shape.
Fold a second small piece of fabric line the center of the heart pattern along the edge. Cut out one piece for the back of the heating bag and put aside.
Designing the Front of the Valentine
Lay and iron out your fabric flat, then check out the next image. Your going to take the point along the top of the heart and the bottom of the heart as shown and fold them into the center. Do one side and then the other.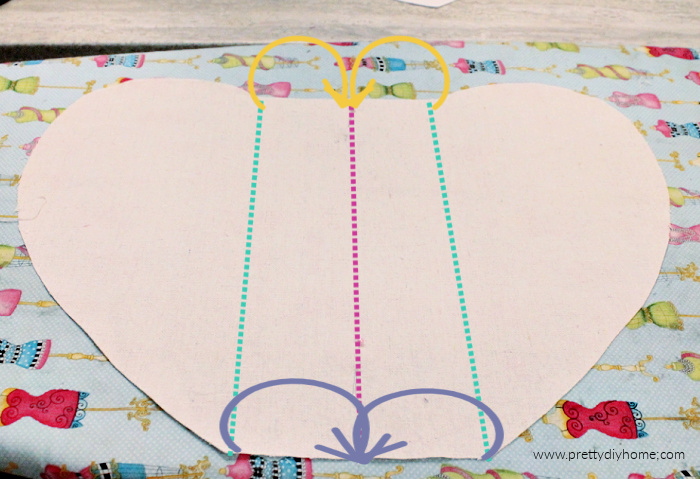 Iron flat and pin along the fold. Your Valentine front should look similar to this. Trim off the two little extra piece on the bottom of the heart.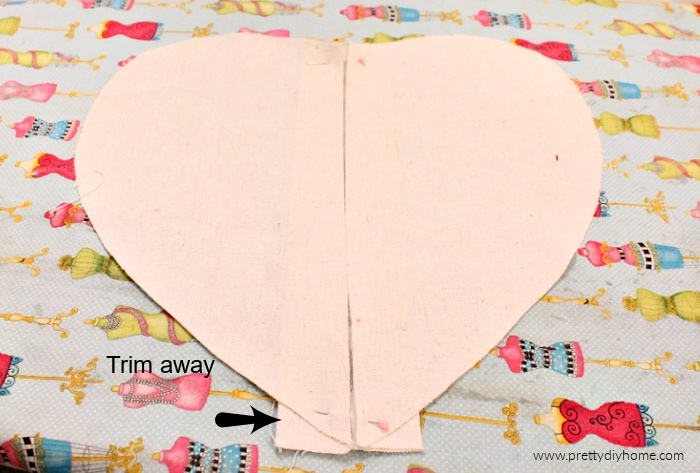 Sewing the Valentine Heating Bag
The pleat requires four little seams if you want it to be open.
Sewing the Front Pleat
For an open pleat, fold half the heart over and sew a thin seam along the edge. Repeat on the other side.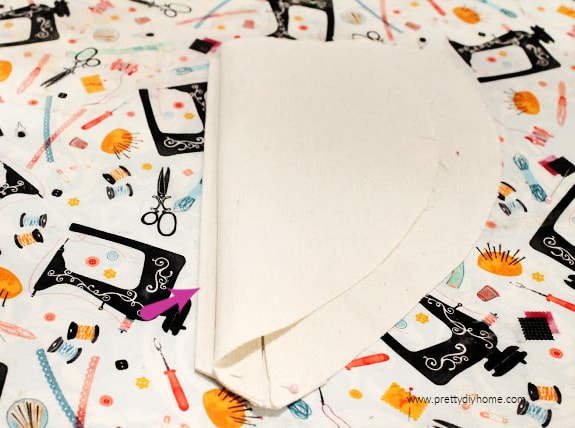 Lay the front flat again then pin the ribbon to the underside of pleat.
Lay the back good side down, cover it with the front piece good side up. Pin it all the way around. Pin the ribbon ends so they stay out of the way when sewing the outside.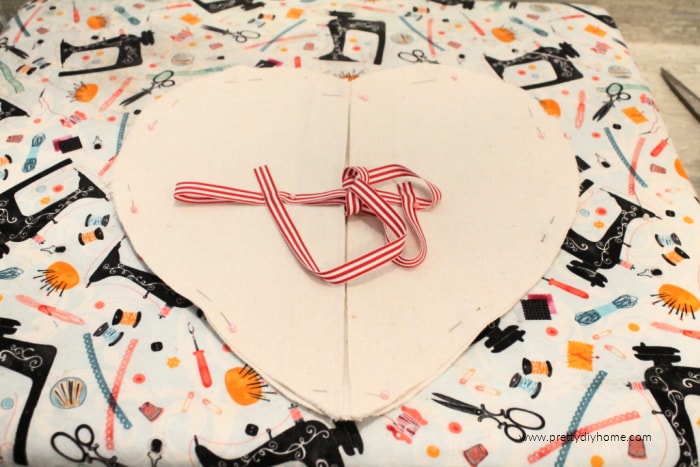 Sew two seams around the outside of the heating pad the first seam 1/4″ from the edge, the second seam 1/2 inch from the edge. Make sure to leave a 1″ gap in both seams, for adding the rice.
Filling the Valentine Heating Pad
As this is a Valentine's gift I did some research on the best natural fillers for microwaveable heating pads and chose jasmine rice. Jasmine rice has a nice natural scent. I chose to add some Jasmine essentials oils. If you don't want to purchase Jasmine rice I suggest using regular rice.
To fill the heating pad with rice either use a small funnel or make a simple paper cone. Place inside the gap in the seam and add your rice, a little bit at a time. Sprinkling the in works much more smoothly. If you try to place in a handful all at once the rice bunches up and its a total pain.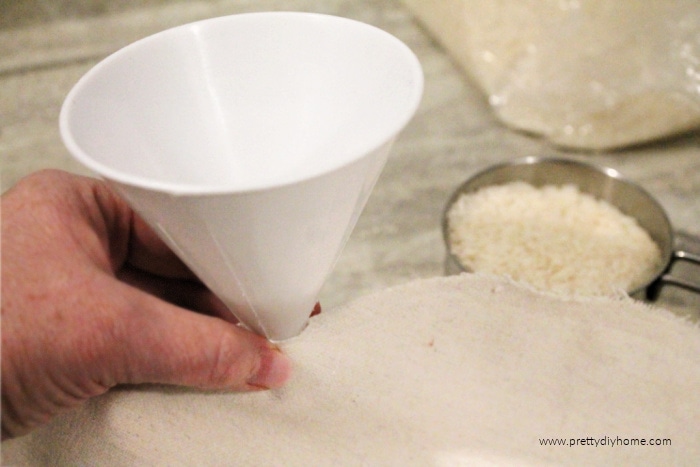 Warming the Valentine Heating Pad
As the valentine is made with light coloured drop cloth I suggest placing it on a clean plate before popping it in the microwave.
Microwave for 60 seconds and see if its warm enough, it not give it another 30 seconds.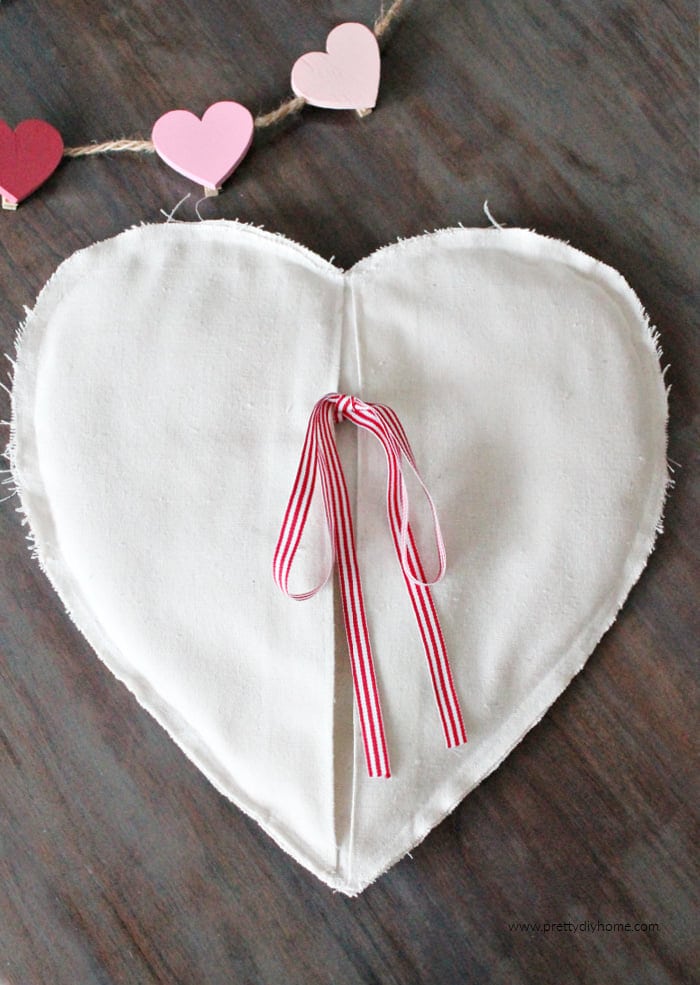 Valentine Cards
If you want a card to attach to your heating pad, there are two different Valentine cards to chose from a larger pink on and a small soft blue card that can be printed out on card stock. Unfortunately my for my printer refuses to print on cardstock so I print it out on regular paper first, and then attach it to stock paper using glue. Hopefully you can skip that party.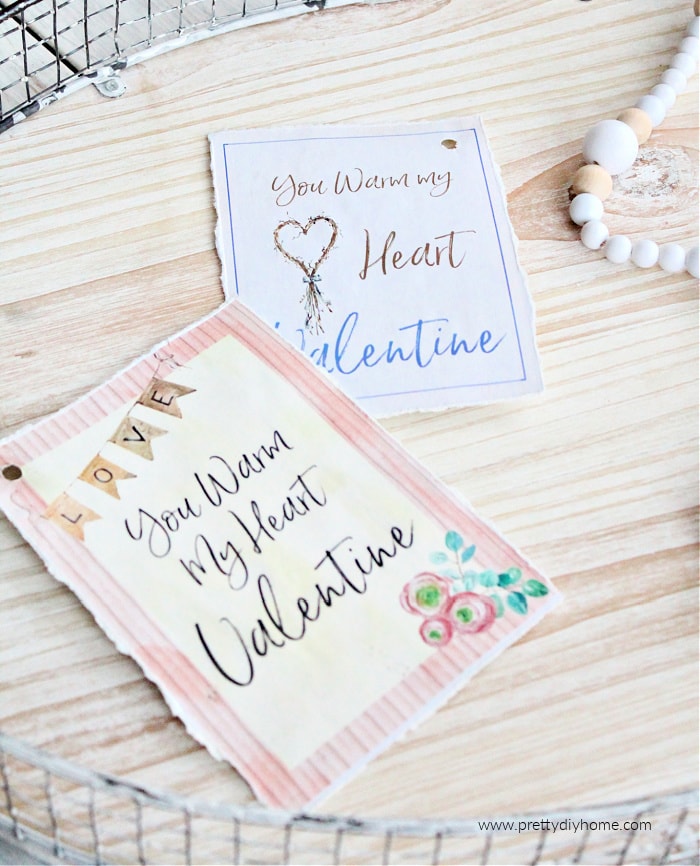 Once you have the card printed I suggest ripping the edges with a ruler to give it a soft scruffy look to match the edging of the Valentine heating bag.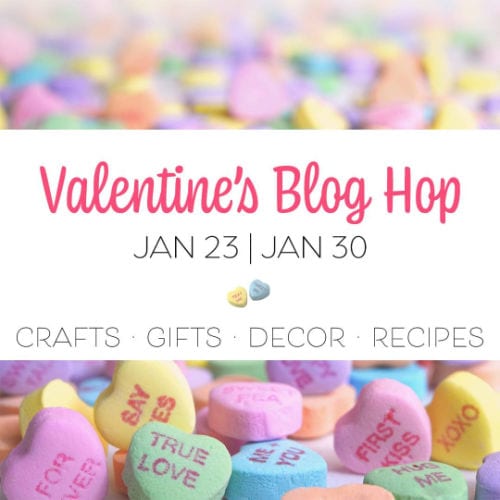 Agnes from Just That Perfect Piece shares this unique and simple to create Shabby Chic Valentine's Day Decor. I love that you could use this year around.
My friend Sam from Raggedy Bits is using some scrap wood to make these easy Stamped Farmhouse Valentines Wooden Block Signs to either decorate with or give as gifts.
Kirsten from Tribe of Burton created this neutral Boho Valentines Decor.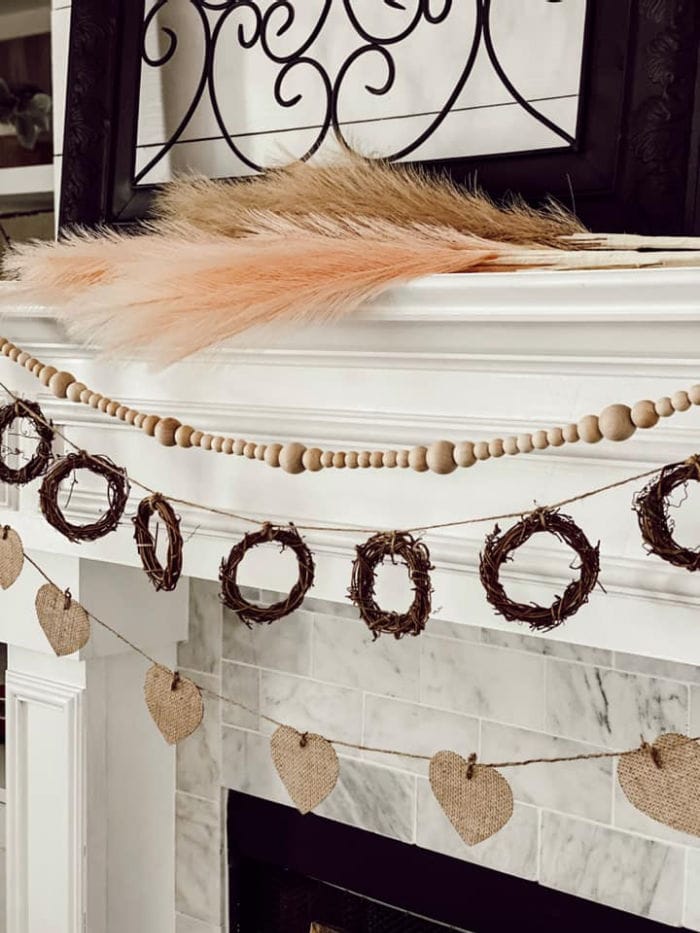 isn't this French Valentines Decor from Cloches and Lavender romantic. Such pretty Valentine decor for a French cottage.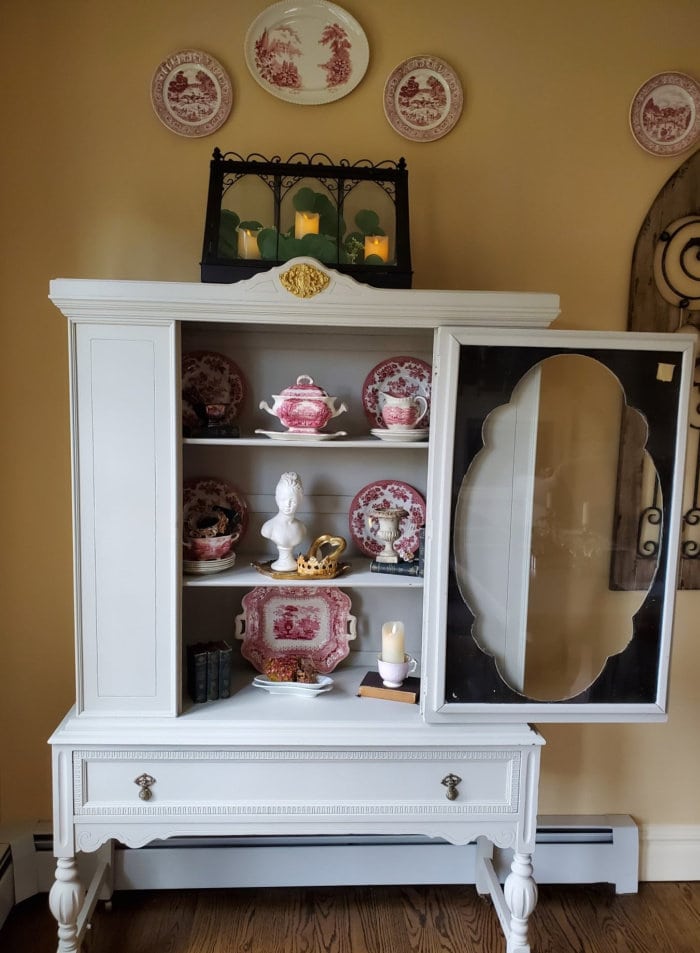 Niki from The House on Silverado created a neutral Farmhouse Valentine Vignette, with a pop of colour using tulips.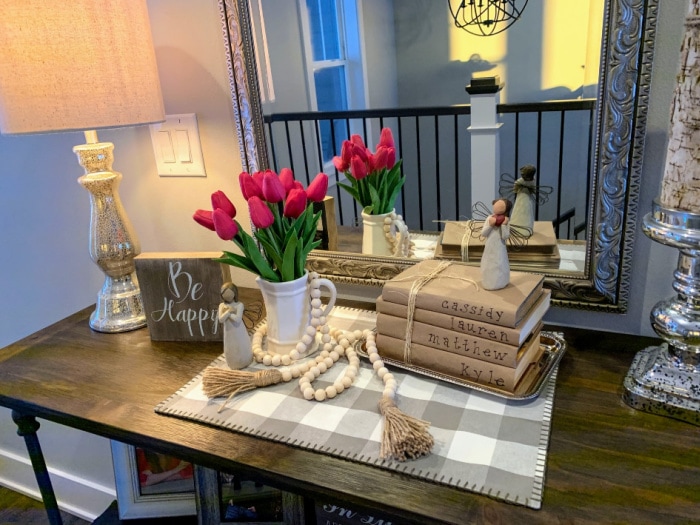 Chas from Chas's Crazy Creations is a seasonal decorator, and likes when she can leave something up either for months at a time or even year round. Check out this simple Dollar Store Heart Wall Art she made using a heart mirror and some dollar store wall stickers, her tutorial shows how you can make some affordable and inexpensive heart wall art for your home.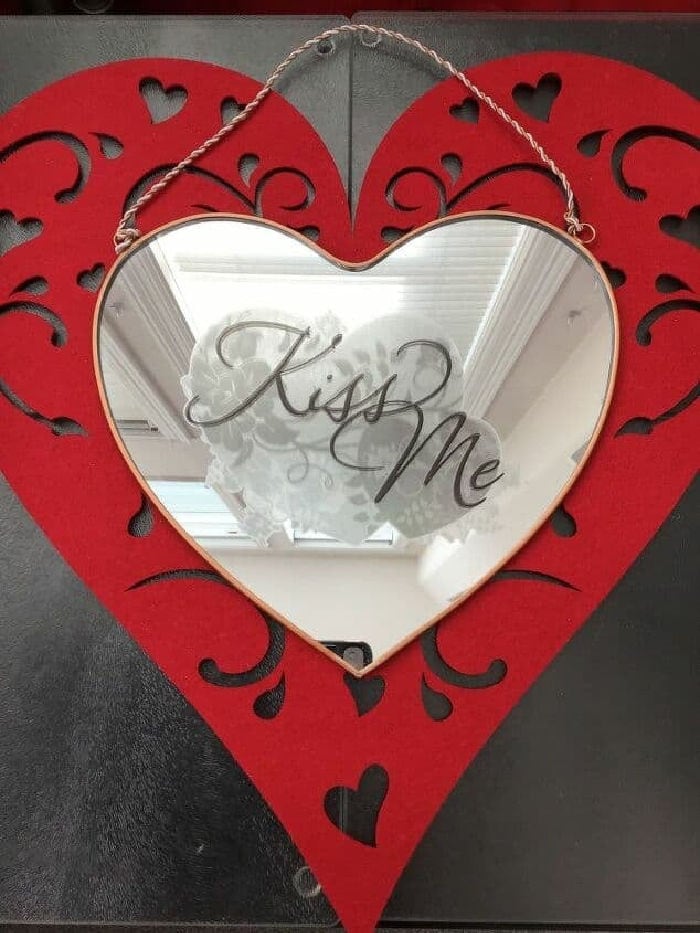 With social distancing, we may or may not have a larger group for Valentine's Day dinner. Just in case, Mary from Life at Bella has created a sweet, elegant Valentine Dinner Table for Two to inspire us.
Tree with Heart Shaped Leaves Perfect for Valentines Day from Maria at Simple Natured Decor.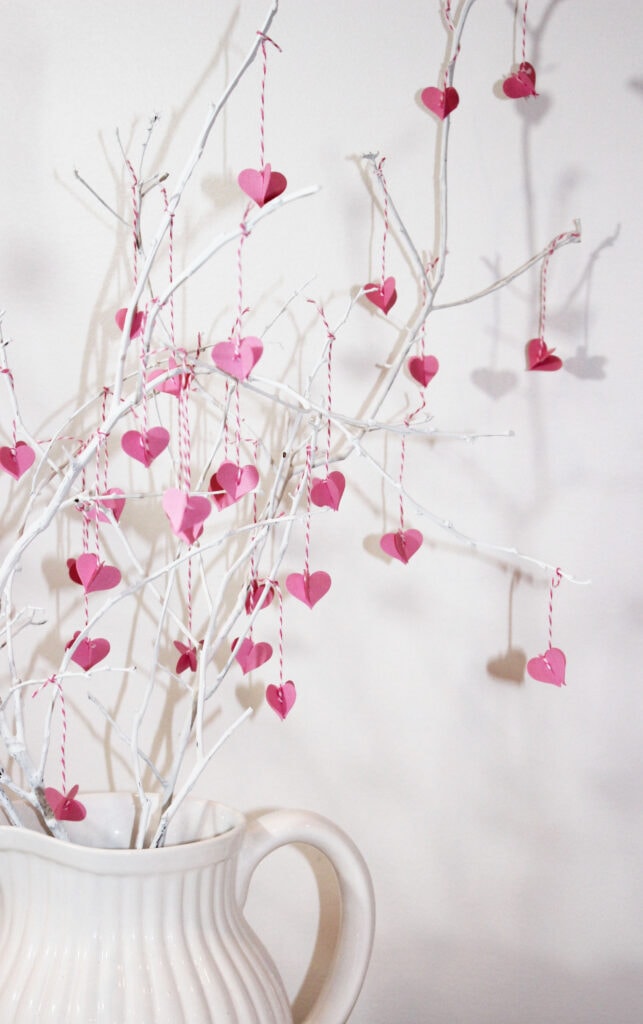 Learn how to make these easy DIY Yarn Wrapped Hearts from Olivia o"Hern.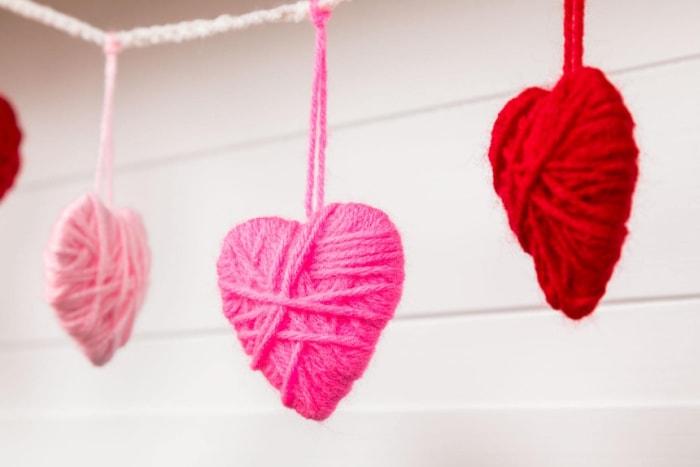 My favorite thing about Valentine's crafting are all the ways to use pink. Kippi from Kippi at Home shares how to make this colourful DIY Valentine's Pom Pom Wreath.
Rebecca from Zucchini Sisters shares how to make this simple heart shaped Valentine's Day Door Hanger crafted from Dollar Tree supplies.