Black and White DIY Decor Inspirations
Black and White DIY Home Decor Ideas
Hello there. Do you have long term favorite colour for clothes, for home decor, for your car? You know that favorite colour that's like a little miracle wand to instant appeal? For me that colour is White. White has been my favorite forever and I am sure always will be. I had white appliances in the 1980s when harvest gold was in style, although now I caved to modern stainless steel for Hubs I dislike them. Granted white decor is a very safe colour, but what's wrong with that? If you're on a budget like me white means you have the basics nailed down and little colourful updates can be switched out to freshen it up with colour.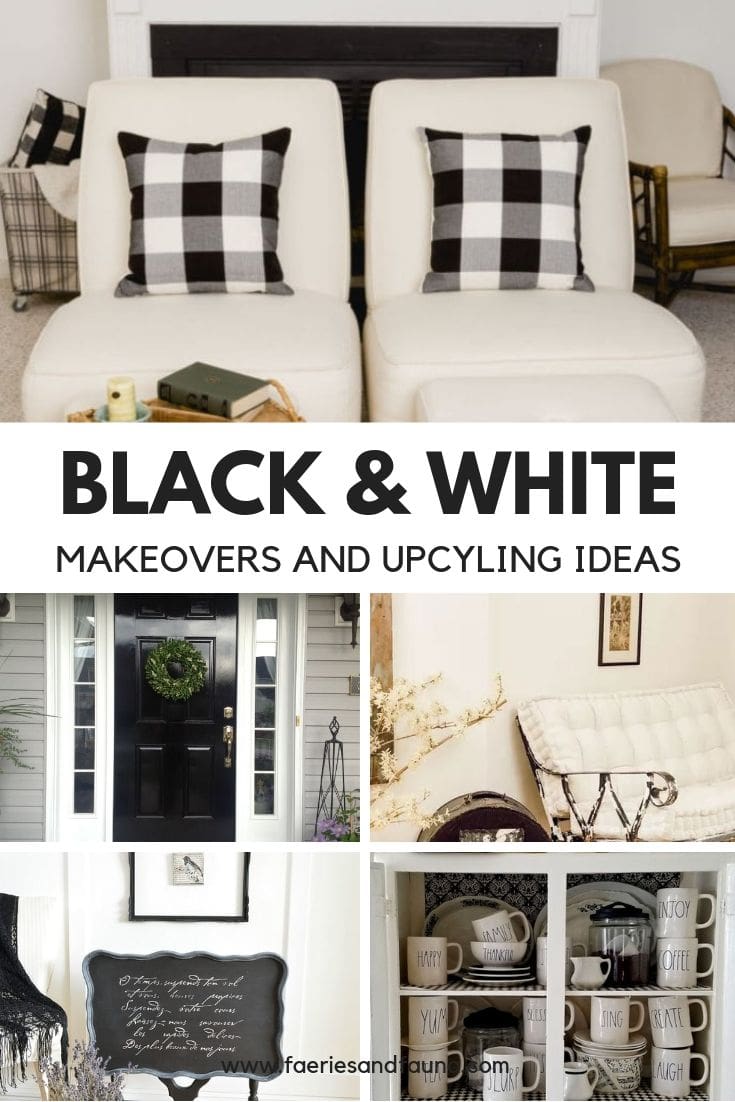 White is Fantastic, but What about Black?
The colour Black certainly portrays drama and flare to clothing and cars, but what about home decor? Black is a new home decor colour for me, it's not a fun pop of colour like magenta or turquoise, but this woman is going to start using it in more than just buffalo check.
Each week I host the Waste Not Wednesday link party where lots of brilliant talented bloggers come and share their latest posts. Each week I read the posts and select my favorites. This is how I first noticed how beautiful black can be in decor especially when paired with white. So here are some of my favorite Black and White DIY decor ideas and inspirations from the Waste Not Wednesday link party and I am sure you will see what mean.
Kippi from Kippi at Home not only uses white and flock her DIY chair covers but the buffalo check cushions and the chalkboard art. The before picture of what she started with is something else.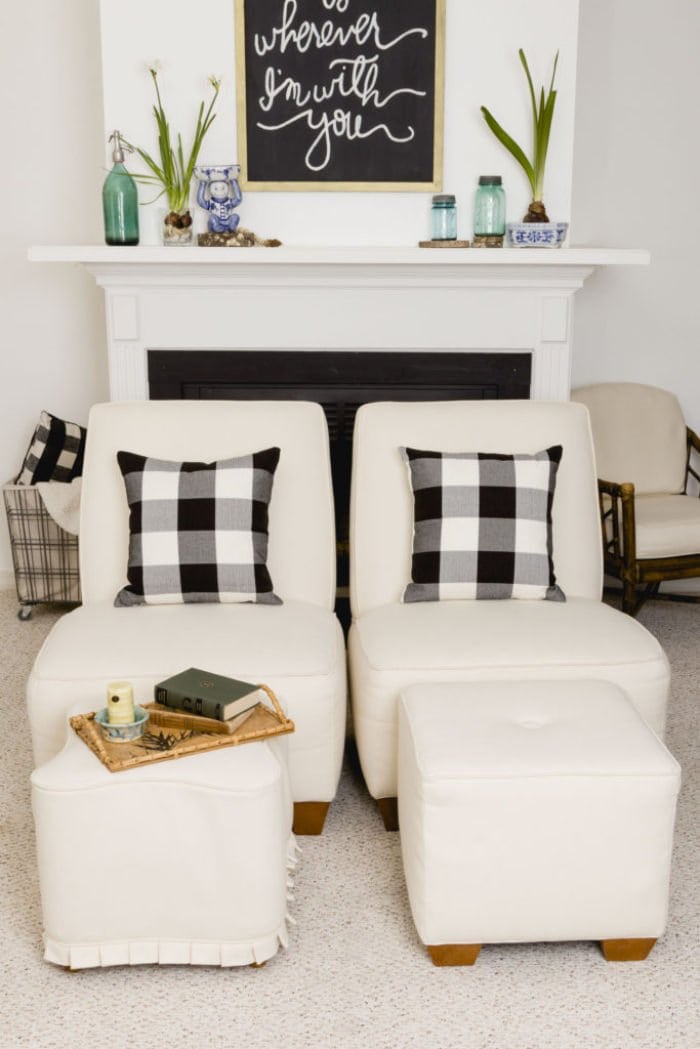 Source: Kippi at Home
Old second hand wrought iron cast furniture can be both useful and beautiful. Ann from Dabbling and Decorating shows us just how beautiful with her wrought iron chair makeover. Her foyer not only features the wrought iron chair, but a gorgeous vintage suitcase in black as well. The black and white decor allows the natural wood tones to shine through.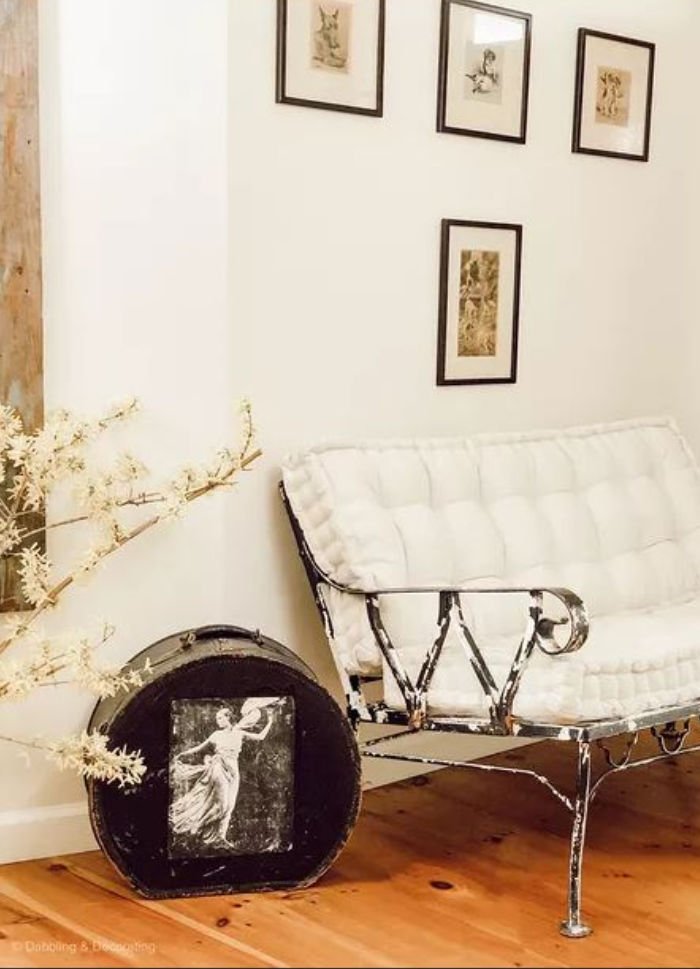 Source: Dabbling and Decorating
Let Thirty Eigth Street show you how to dry brush a damaged desk into a stunning piece of furniture. Its much less work than I would expect it to be. Take a look at her technique, its so beautiful.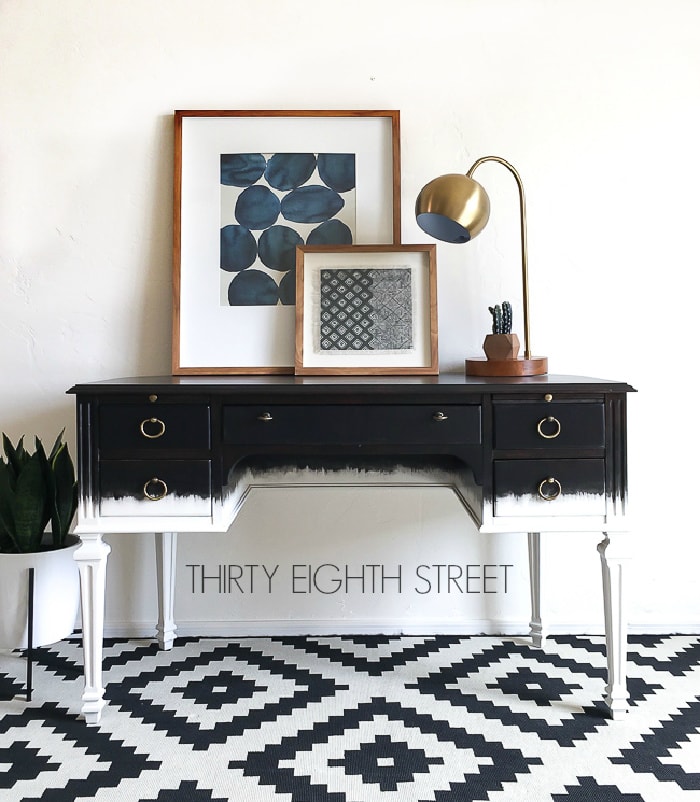 Source: Thirty Eigth Street
My girlfriend Sam also hosts Waste Not Wednesday. Sam's blog features all kinds of farmhouse style DIY projects. She took a super boring orange toned wood lamp and spruced it up using white and black paint. The lampshade is so dramatic and unique.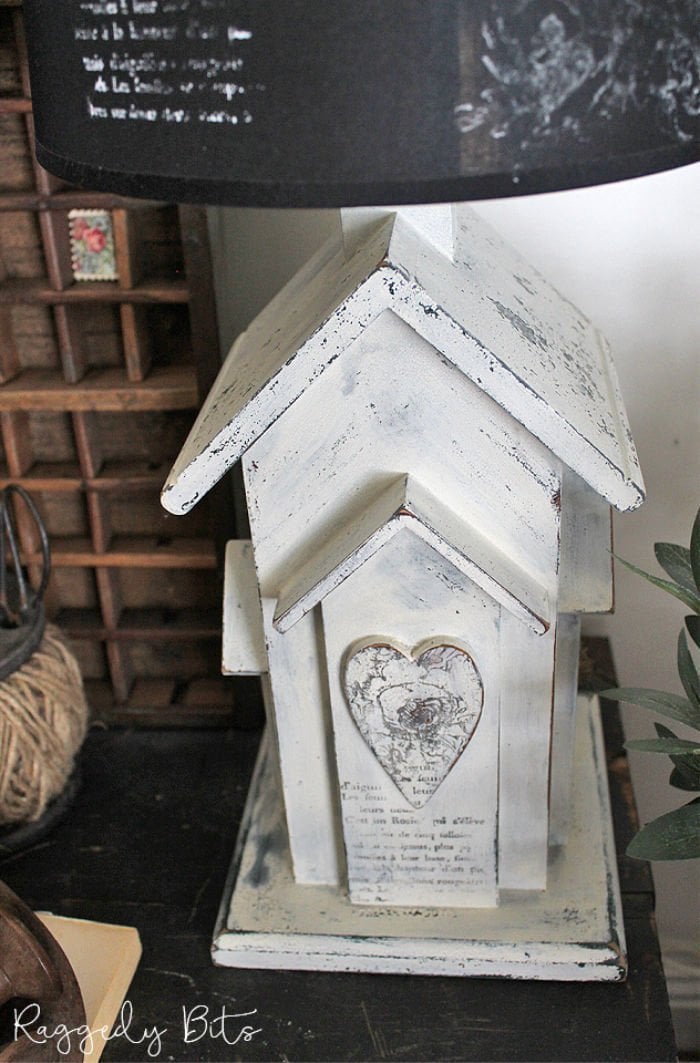 Source: Raggedy Bits
As I said before I am just beginning to add black to my decor mix, starting with buffalo check accessories. This room needs a black rug and some black framed artwork, but I am loving the cushions.
Source: Pretty DIY Home
You won't believe the before of this boho wallpaper coffee table. The base is updated with wallpaper, I am in awe of this makeover and am certain you will love it.
Source: Show and Tell You
Jeanette from Snazzy Little Things uses black throughout her stunning home. In this post, she has painted her front door and it really hints at how beautiful the interior is. Lots of black and white inspiration here.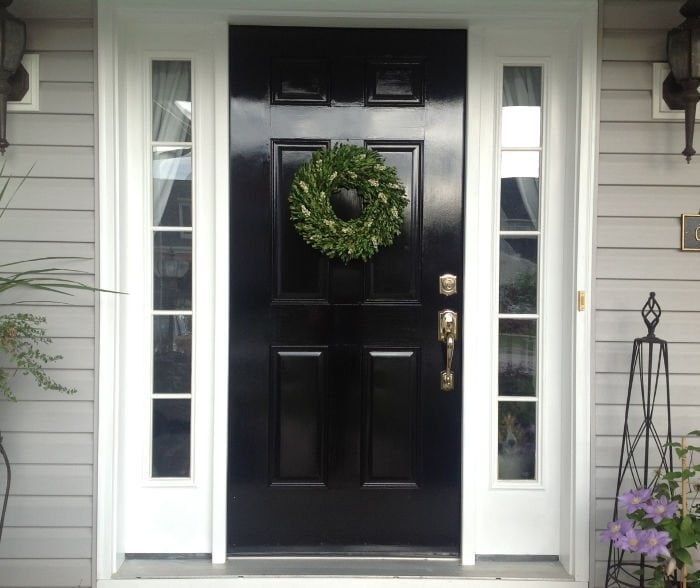 Source: Snazzy Little Things
My friend Marie does sensation work with furniture makeovers. Marie has a knack for using unique colours for her furniture makeovers. In this post, she updated an old table with black paint and copper accents. She shares a step by step tutorial on her table makeover, but I love the black and white artwork, and backdrop as well.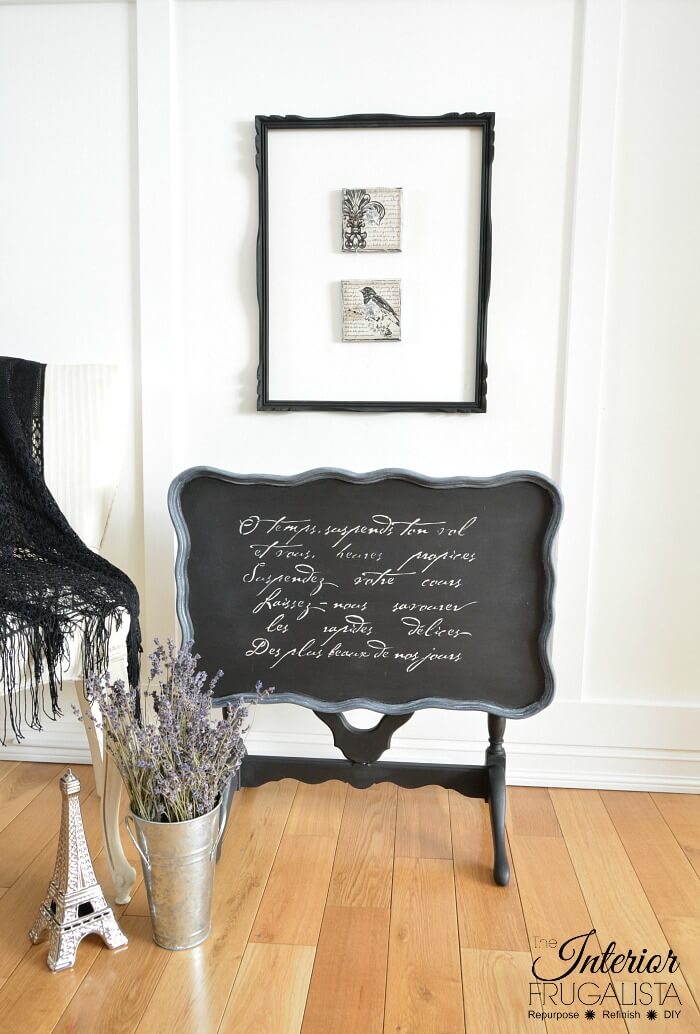 Source: The Interior Frugalista
The simple drama of this furniture arrangement is so inspirating. The black of the artwork plays up the drama of the dresser and toile. So one of a kind and interesting.
Source: Q is for Quandie
This collection of Rae Dunn dishware is lovely on its own, but when I learned some of it is a DIY project using a decal and dollar store dishes I got really interested. Dollar store dishes and no cutting machine needed. Her Rae Dunn collection is housed in a white cabinet from her grandparents that Amber lined with cute scrapbook paper and the great little black lamp.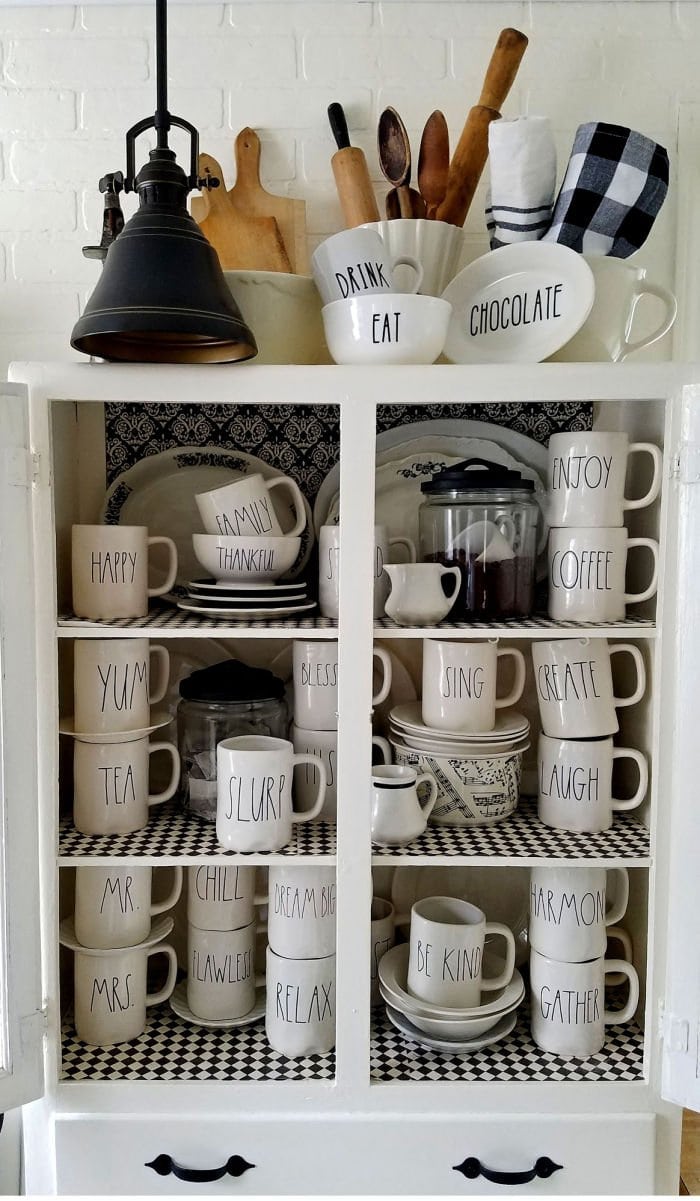 Source: Follow the Yellow Brick Home
These DIY farmhouse corbels are a recent addition to my blog. This is the first set and of course I painted them white. The next set is definitely going to be black.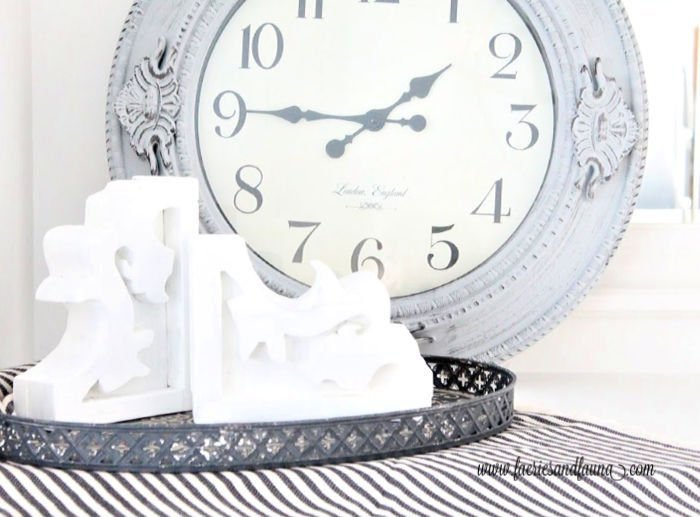 Source: Pretty DIY Home
This next post is from Fresh Squeezed Life. Randi talks about the benefits of flipping furniture and this example certainly proves her point.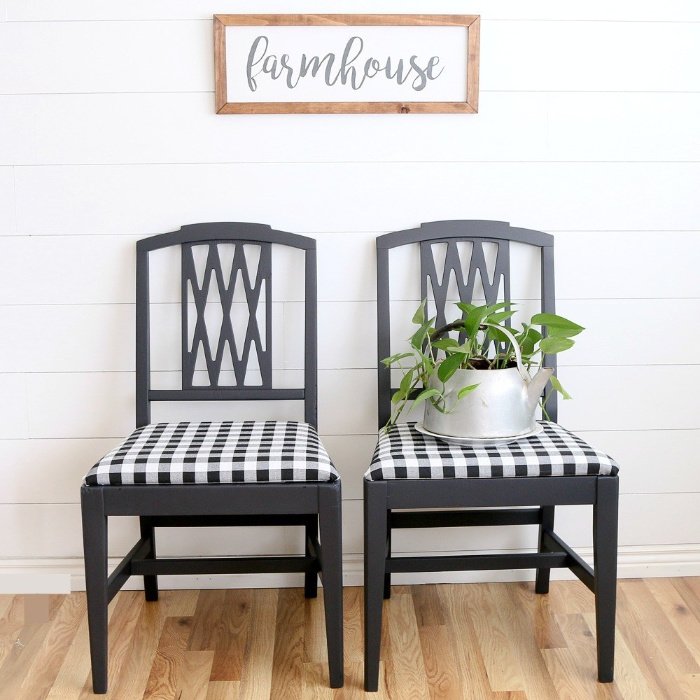 Source: A Fresh Squeezed Life
This last piece is from Marie and The Interior Frugalista. She is just so talented.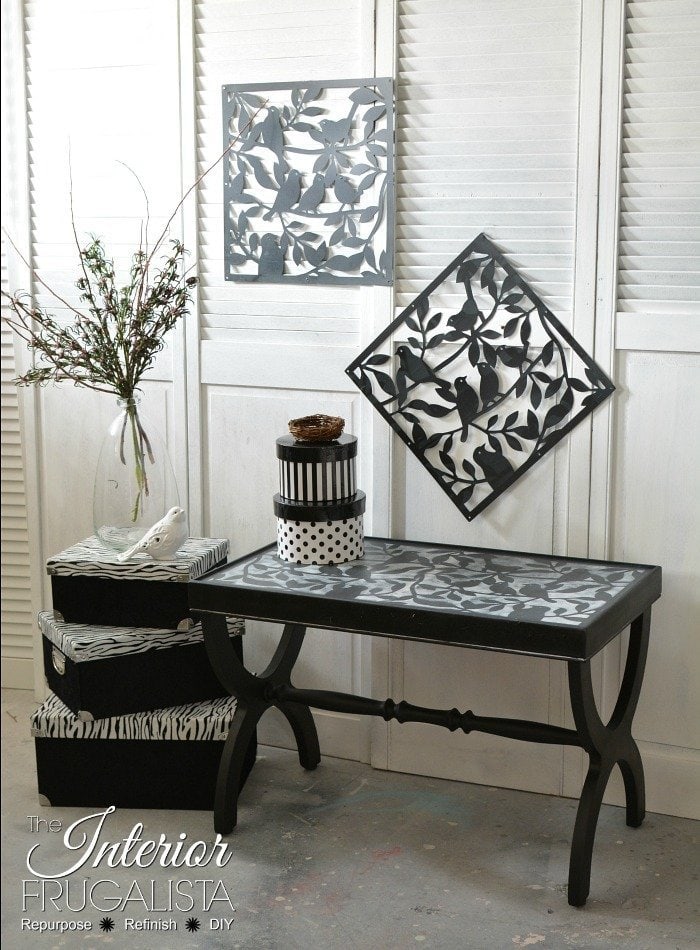 Source: The Interior Frugalista
These posts have convinced me to add some black decor to our home. I have a small table and a lampshade set aside for my first projects. I am also going to be hawk-eyed looking for an old suitcase to update.
Do you have any black decor in your home? Would you consider adding it? I would love to hear your thoughts about it.