Building a Milk Glass Collection
Farmhouse Hens – Milk Glass
Today the Farmhouse Hens are writing on Milk Glass, and faux milk glass. I decided to share my milk glass collection and write about purchasing and collecting milk glass. My talented friend's posts are located at the end of mine, make sure you click around and see what they have created for you.
If your just wanting white glass for decor it does need to be real milk glass. There are lots of lovely faux vintage glass out there with a farmhouse style. The issue for me is I didn't want to pay for real milk glass, and end up finding out it was a reproduction that should be much cheaper. Only one of these pieces is real milk glass, can you guess which one?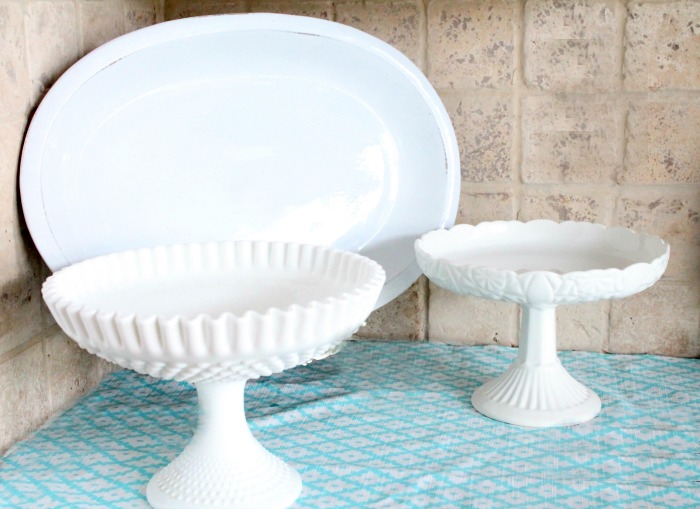 It's not easy to recognize authentic milk glass, its one of those things you learn with practice and research. I am still very much still learning how to recognize it, I don't have a "trained eye" for it yet but that doesn't stop me. The platter in the back looks the most vintage, but its new from Crate and Barrel. The real milk glass is the compote bowl on the left.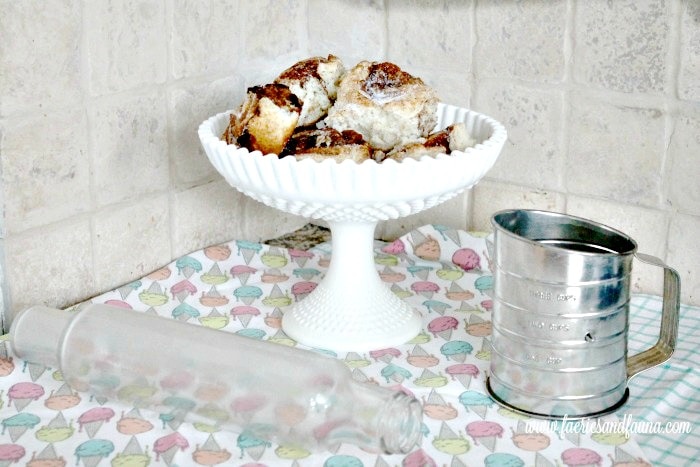 This compote dish was easy to identify as it hand a Fenton label and I found it at an antique store. Not sure how old it is yet, but I read that Fenton did not label their glassware until after 1970. Fenton is also known for the hobnail pattern, and the ruffled edging you see.
Purchasing Milk Glass
Milk glass is both beautiful and very collectible. Because antique milk glass is so collectible you have to be careful when purchasing it. There is a difference between milk glass and white glass and you want to make sure you're not paying milk glass prices for white glass.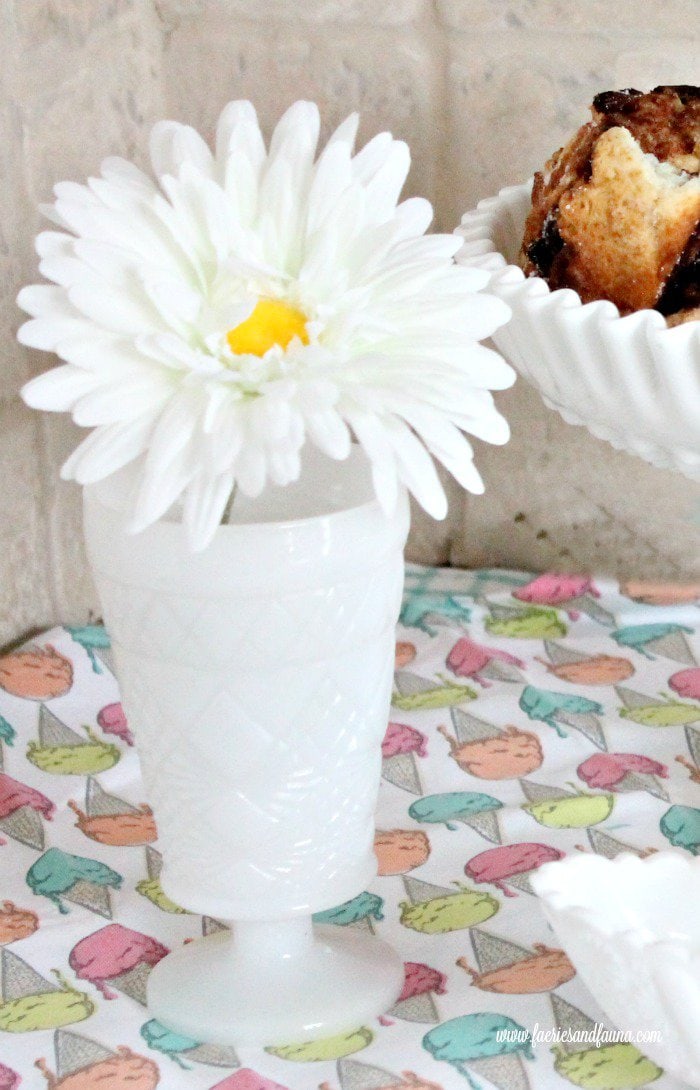 If I am purchasing a vase at a garage sale for $5.00 that I like and will use, I don't care if its real milk glass or not. I think the vase is real vintage milk glass, but I don't know that it is. Not all milk glass has labels. Someday I may find out, but it's lovely as it is, it was $5. .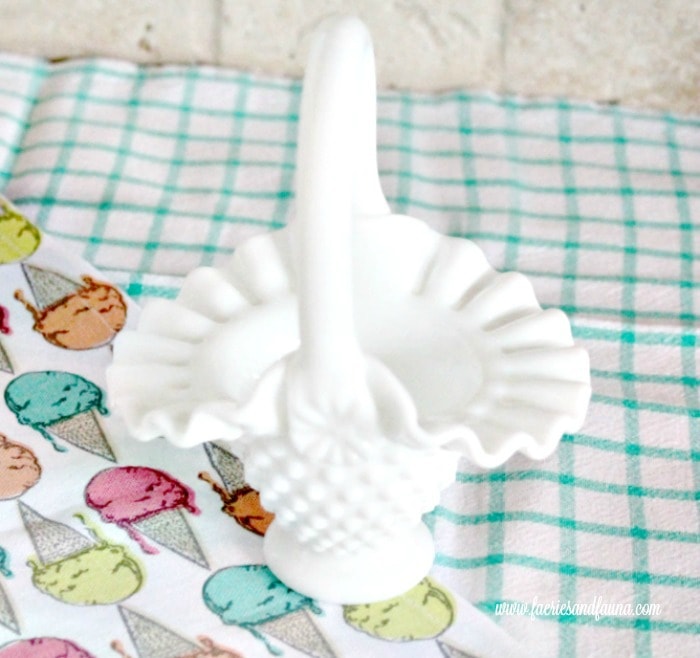 But if I am buying a tiny dish for $20 at an antique fair, I don't buy it if I am unsure of its authenticity. This little dish is a Fenton.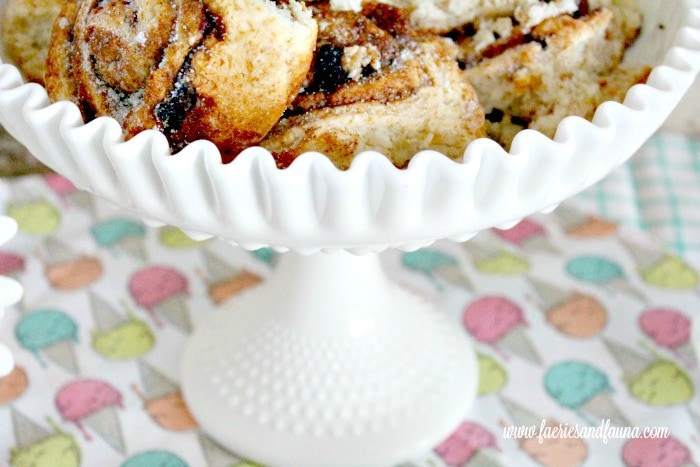 When shopping for milk glass, look for pieces that "you" think may be milk glass. Don't make purchase choices from most dealers labels. If I like a piece of glass, I see what I can find out about it researching on my iPhone, right then before I purchase it.
The last time I went antiquing, I was unhappily shocked to see pyrex coffee cups from the 1970s labeled as milk glass. I am old and remembered them from childhood. Besides that Pyrex glassware is not milk glass. Pyrex is much more basic, less showy, and much less ornate than milk glass. Milk glass does not go "from freezer to oven" like Pyrex advertises. Milk glass is not heat resistant, it's for display or serving, you don't ever put milk glass in the oven.
How to Recognize Milk Glass
The best way to buy milk glass is from an authorized dealer you know and trust. Milk glass is usually very decorative and detailed. I was surprised to learn that not all milk glass is white. Look for Fenton, Imperial, Fostoria and Westmoreland markings.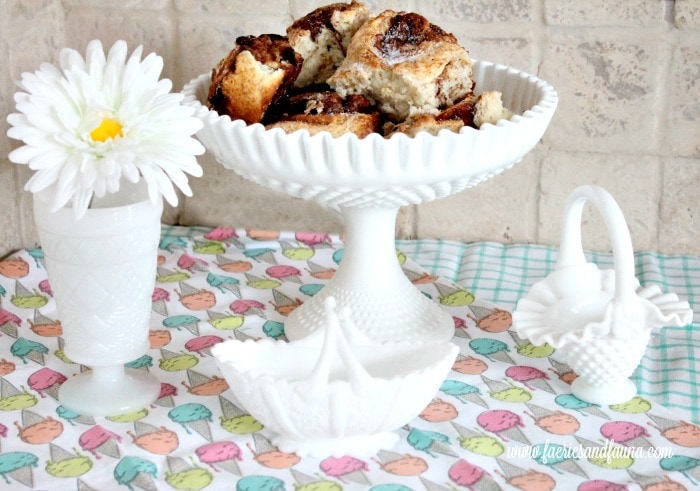 Want to Learn More?
The internet has all kinds of information on milk glass. After some research, I found the following informative references that I use.
This webpage has lots of information and different examples of milk glass. http://www.milkglass.org/
Here are some links to books if your interested in learning more (These are not affiliate links.
The Milk Glass Book by Frank Chiarenza
Milk Glass – Imperial Glass Corporation by Myrna and Bob Garrison
The Big Book of Fenton Milk Glass, by John Walk
Vintage glassware (depression glass, Jadeite, Fireking) always makes me reminisce about the women I loved, respected and learned from. Do you have any type of vintage glassware that your fond of? Let me know in the comments if you do.
Farmhouse Hens Decorate
Adventures in DIY, woodworking, home remodeling and more
Stephanie at Abbotts at Home! Blog | Facebook | Instagram | Pinterest | Twitter
Tarah at Grandma's House DIY! Blog | Facebook | Instagram | Pinterest | Twitter
Sam at Raggedy Bits! Blog | Facebook | Instagram | Pinterest | Twitter
Michelle at Our Crafty Mom! Blog | Facebook | Instagram | Pinterest | Twitter
Denise at My Thrifty House! Blog | Facebook | Instagram | Pinterest | Twitter