Building a Milk Glass Collection
Identifying Antique Milk Glass | Guidelines & Tips
If your just wanting white glass for decor it doesn't need to be real milk glass. There is lots of lovely faux vintage glass out there with a pretty farmhouse style. The issue for me is I didn't want to pay for real milk glass, only to find out it was a reproduction that should be much cheaper. Only one of these pieces is real milk glass, can you guess which one?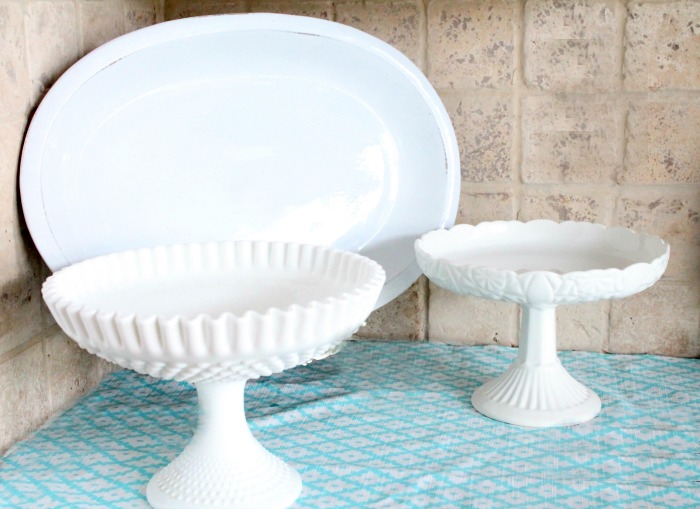 It's not easy to recognize authentic milk glass, its one of those things you learn with practice and research. I am still very much still learning how to recognize it, I don't have a "trained eye" for it yet but that doesn't stop me. The platter in the back looks the most vintage, but its new from Crate and Barrel. The real milk glass is the compote bowl on the left.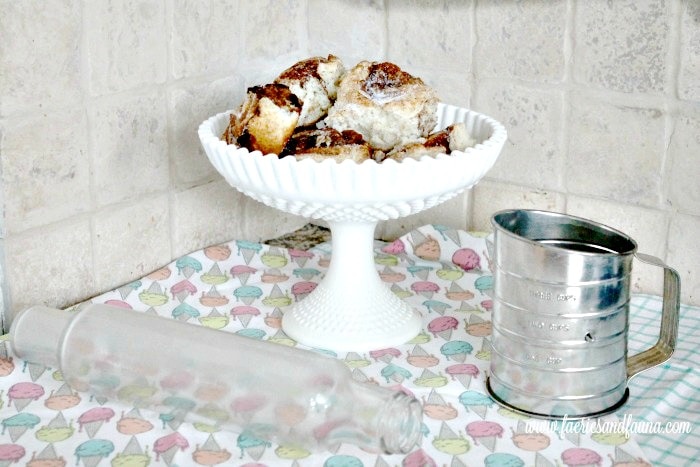 This compote dish was easy to identify as it hand a Fenton label and I found it at an antique store. Not sure how old it is yet, but I read that Fenton did not label their glassware until after 1970. Fenton is also known for the hobnail pattern, and the ruffled edging you see.
Purchasing Milk Glass
Milk glass is both beautiful and very collectible. Because antique milk glass is so collectible you have to be careful when purchasing it. Many vendors call white glass milk glass, I have even seen pyrex bowls and mugs tagged as milk glass in an antique store, so its best to know at least a little bit before you start garage saling.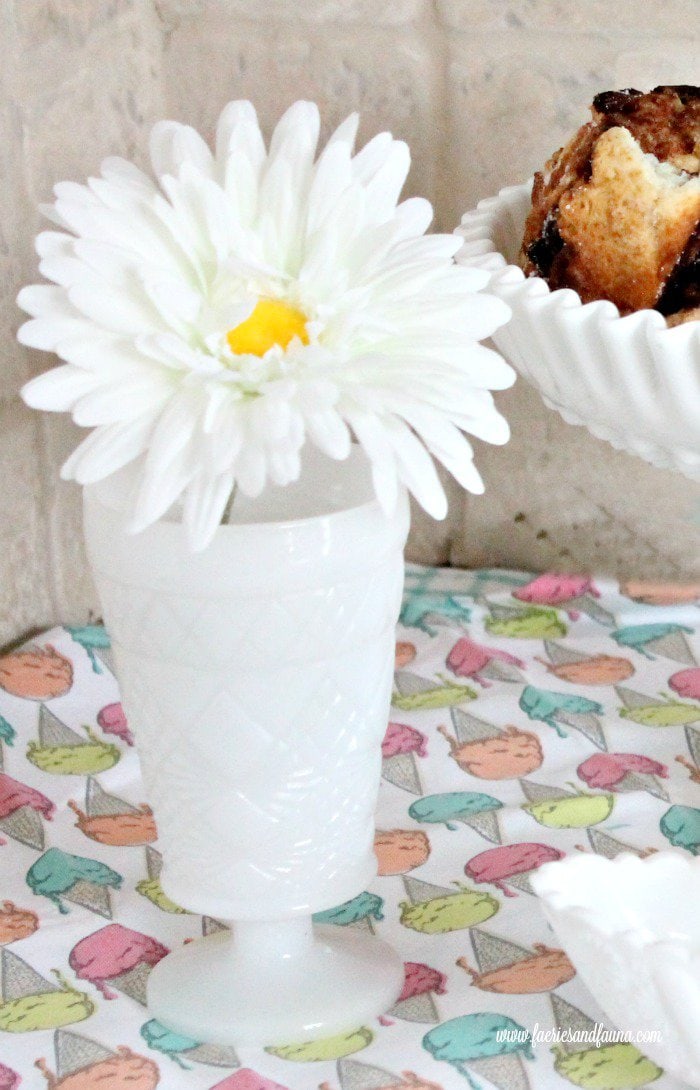 If I am purchasing a vase at a garage sale for $5.00 that I like and will use, I don't care if its real milk glass or not. I think the vase is real vintage milk glass, but I don't know that it is. Not all milk glass has labels to help identify it. But for $5 thinking its real works for me, its lovely as it is and for $5 its worth it.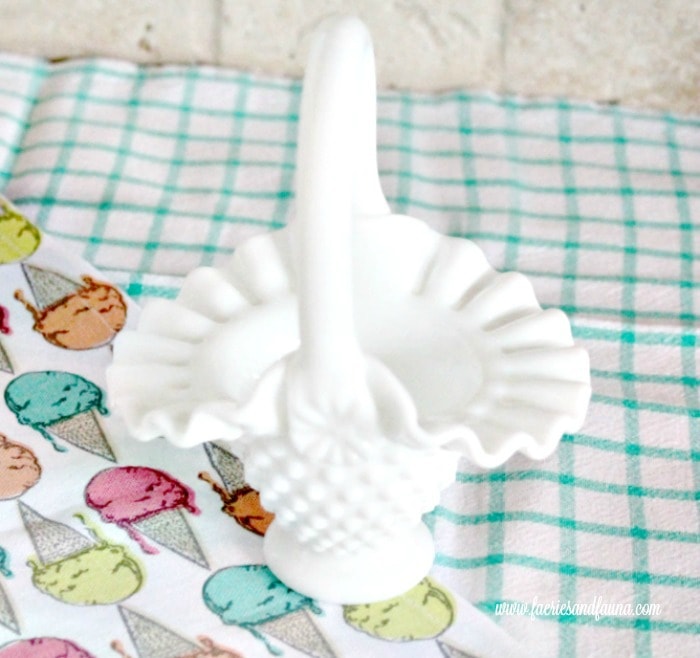 But if I am buying a tiny dish for $20 at an antique fair, I don't buy it if I am unsure of its authenticity. This little dish is a Fenton.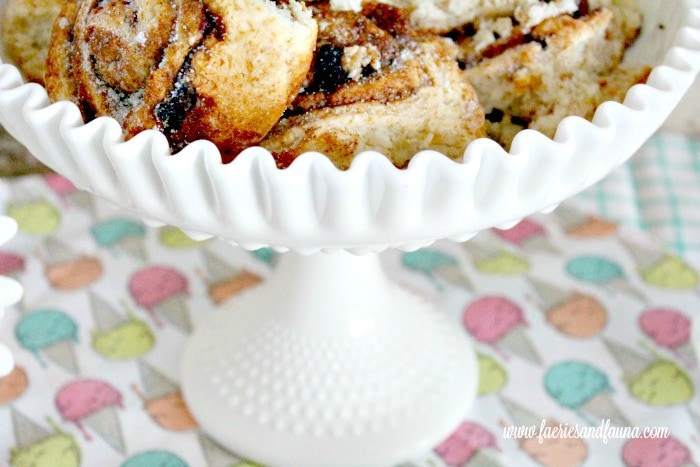 When shopping for milk glass, look for pieces that "you" think may be milk glass. Don't make purchase choices from most dealers labels. If I like a piece of glass, I see what I can find out about it researching on my iPhone, right then before I purchase it.
The last time I went antiquing, I was unhappily shocked to see pyrex coffee cups from the 1970s labeled as milk glass. I am old and remembered them from childhood. Besides that Pyrex glassware is not milk glass. Pyrex is much more basic, less showy, and much less ornate than milk glass. Milk glass does not go "from freezer to oven" like Pyrex advertises. Milk glass is not heat resistant, it's for display or serving, you don't ever put milk glass in the oven.
How to Recognize Milk Glass
The best way to buy milk glass is from an authorized dealer you know and trust. Milk glass is usually very decorative and detailed. I was surprised to learn that not all milk glass is white. Look for Fenton, Imperial, Fostoria and Westmoreland markings.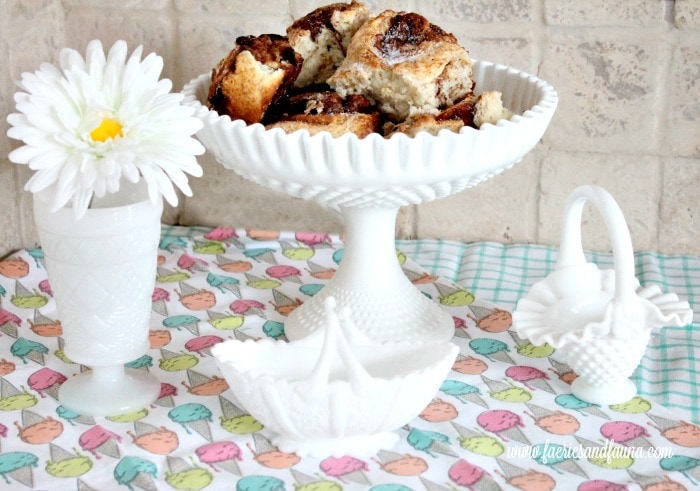 Is all Milk Glass Old?
Companies made milk glass from the late 1800s until the 1980s. Even pieces from the 80s are getting to be collectible, but I personally buy what I like and will use.
Is Milk Glass Safe to Use?
Only after purchasing a couple of pieces of milk glass did I ask myself "Is vintage milk glass safe to use?" Yes it is. My milk glass is mostly used for decorating, but that large fruit bowl needs to be food safe. Good news it is food safe.
What is Milk Glass Worth?
Milk glass prices vary alot depending on age, size, quality, and vendor. I have never come across a piece of milk glass more than $100 and I would never pay that much for it even in Canada. Once you yourself have determined it is real milk glass, decide what your willing to pay for the piece in front of you. The big fenton bowl in the picture above was $75 and I got ripped off, I knew it when I bought it, but I wanted it and I know I overpay in gift shops as well. That said the pyrex cup full of stains that was $15 stayed where is was. Little milk glass vases are the hardest to for me to recognize, you see them All The Time, and the florist variety is worth 25 cents. Knowing what I know I'd never pay more than $5 for one.
Want to Learn More?
The internet has all kinds of information on milk glass. After some research, I found the following informative references that I use.
Glass Bottle Mark | Collectible Milk Glass
20th Century Glass | Milk Glass Identification Guide
Here are some links to books if your interested in learning more (These are not affiliate links.
The Milk Glass Book by Frank Chiarenza
Milk Glass – Imperial Glass Corporation by Myrna and Bob Garrison
The Big Book of Fenton Milk Glass, by John Walk
Vintage glassware (depression glass, Jadeite, Fireking) always makes me reminisce about the women I loved, respected and learned from. Do you have any type of vintage glassware that your fond of? Let me know in the comments if you do.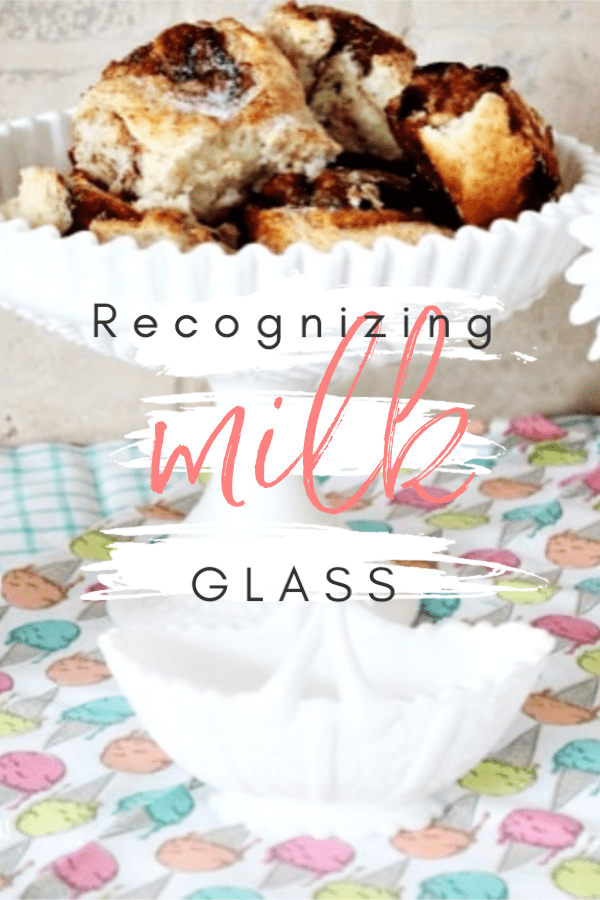 Posts with the Milk Glass in Arrangements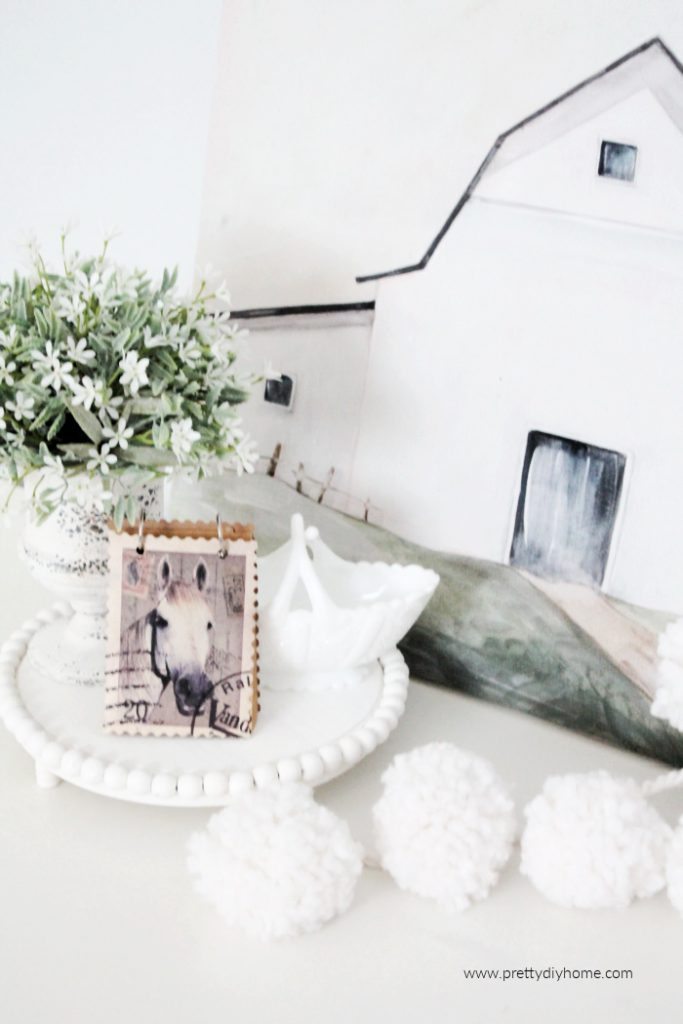 Farmhouse Table Riser
My little milk glass dish sits nicely on this DIY farmhouse table riser. It stands out in the light and is so pretty.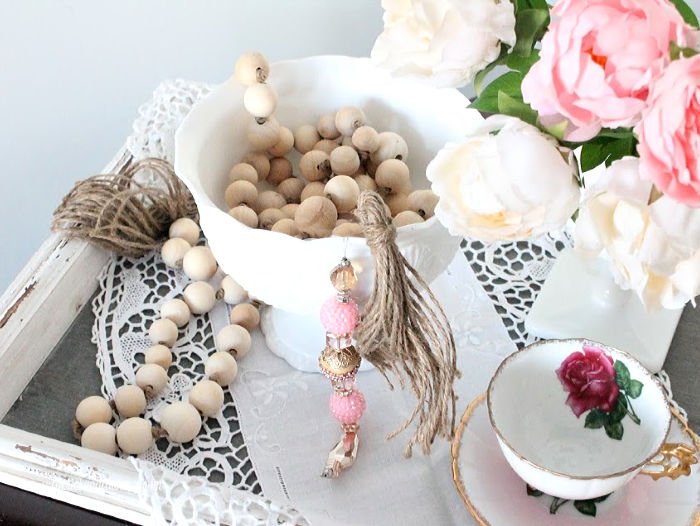 Farmhouse Beads with Bling
Here a pretty milk glass pedestal bowl holds a set of natural farmhouse beads. The bowl makes it look much more formal than say a dough bowl would.
I hoped I help build your confidence in purchasing milk glass, and at least gave you enough simple information to protect your from greedy vendors, or to recognize a steal of a deal at a thrift store. Happy hunting.