DIY Organizers for the Pantry using Wood Boxes
DIY Organization for a Pantry
These DIY Pantry organizers are made to solve a problem in my baking pantry. Although I bake lots I still have many items that I only use once a year, simple things like seasonal cookie cutters, antique pudding molds (yes they bring me joy), shortbread stamps, a potato ricer (for cookies) traditional German stollen pans, and the list goes on. I very much needed to get a handle on all that stuff, here is the final outcome. If you're interested in seeing the before photo I shared it as part of my post on how to update wire shelves. I warn you it isn't pretty.
Organizing the Pantry
The first thing I did was remove everything, sort and toss out items I didn't want, the updated the pantry and shelving.
This particular closet always had lots of my baking supplies in it, but then I had baking pans, large bread bowls etc in the kitchen. One thing, from the KonMari method, I love is the idea of keeping everything of the same type in one space. So I rearranged all the electrical appliances into the kitchen and put all the baking stuff that was in the kitchen in this just off the kitchen pantry. Now this pantry holds all my baking stuff with lots of extra room.
I am sure you have the same problem with items stored a long time, firstly dust, and secondly finding and trying to remember what is where when you do want it. Whenever I use a dusty dish, of course, I need to wash it, but what about things like the container for the icing tips, the bag I keep the fondant presses in. I loathe grabbing these items covered in dust, and it seems like such a waste of time to wash off the boxes.
Sorting Items
To solve the dust problem I bought a bunch of Ikea storage boxes, with lids. I did have dollar store containers for some items but upgraded them so everything matches. I know the top lids will get dusty, but all those little individual items within the box will stay nice and clean.
To know how to find things I divided them into three categories:
Large and easy to see, like large plastic food containers, cupcake holders, large bread bowls.
Small items, these were sorted by use, cake decorating, fondant decorating, sprinkles and icings, paper cupcake sets etc. They were tucked into the bright white Ikea boxes and labeled by use.
Medium sized items that are too big or impractical to place into a lidded container, thinks like my cake decorating turntable. For these items, I used wood boxes I had on hand and added labels.
Pantry Labels
I decided not to provide the labels this time as I have no idea what your label topics would be. To make labels I always buy Avery labels and then use these free Avery templates to make them with, if you decide you want free clip art, I recommend Pixabay. Just download the template that matches the number of the labels you purchased, and fill them in however you like.
Divided Wood Boxes
This is a very easy wood craft project. To make these boxes you need:
Wood boxes
Doweling
Gorilla glue
I have too many ridiculously full storage areas, but that means I was able to gather several recently emptied wood boxes for the pantry.
The first step is to give the boxes a good scrubbing. I used Dawn, vinegar and a scrub brush. Once dry paint them, to give them a fresh new look. My boxes were painted with a coat of primer and then two coats of white paint.
To make the boxes with slat dividers, prepare the boxes to match.
Measure to see which way the boxes need to be for the pans your going to be storing in them. Some may need to be stood up on their end so they are wide enough for the pans.
Adding the Dowel Dividers
Once you know which way your box needs to be, measure the length of the opening and cut two pieces of dowel for each space needed. Once cut to length, paint the doweling.
The dowels don't need to support the entire weight of the pans, they are simple dividers. Because of this were able to just glue the dowels into place instead of screwing them in.
I did not measure for the dowel placement, I just used the thickest pan and made sure the first dowel was far enough to leave adequate space and then guesstimated how wide the next ones needed to be.
I did find a couple of my dowels were a bit short to stand inside the box. To get around that I glued the bottom of the dowel as usual and balanced the doweling straight up. I left it to dry for an hour. Then flipped the box over leaving the dowel to suspend from the glued end. I was then able to extra glue to the other end to fill in the spaces. Once done go ahead and give both ends of the doweling a little extra glue. It dries clear and doesn't show.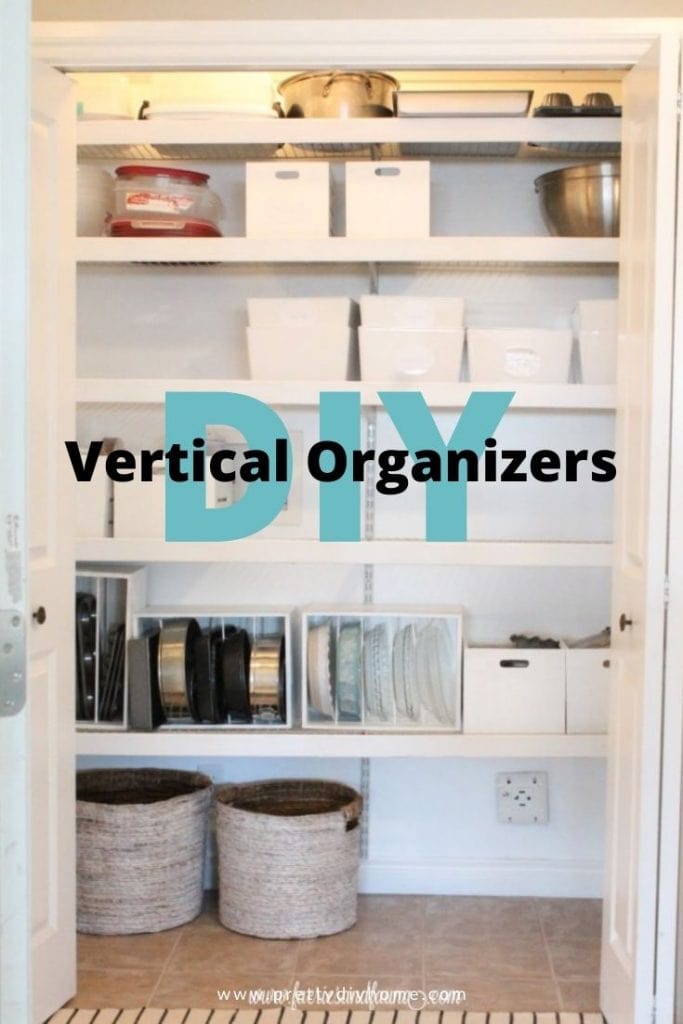 I am working through our storage areas and have an idea on how to organize painting supplies. This post does include a template for the labels. I hope it helps!
How to Organize and Store Paint
Our home also has a very tiny food pantry, I have to squeeze out every inch of storage I can find in there, and this floor to ceiling DIY spice rack really helps.