DIY Carrots for Spring Decor
How to Make Fabric Carrots
These easy to make DIY carrots are both adorable and useful for Spring decor. Its a fun Spring or Easter craft idea you can make yourself or with teens, This year I created these fabric carrots out of adorable polka dotted orange fabric, but they would be cute in neutral fabrics as well. While snooping in our local fabric store I found some adorable polka dot orange fabric on sale. I can think of a dozen Spring decor ideas to use this DIY carrots for, but first of all I need to show you how to make them.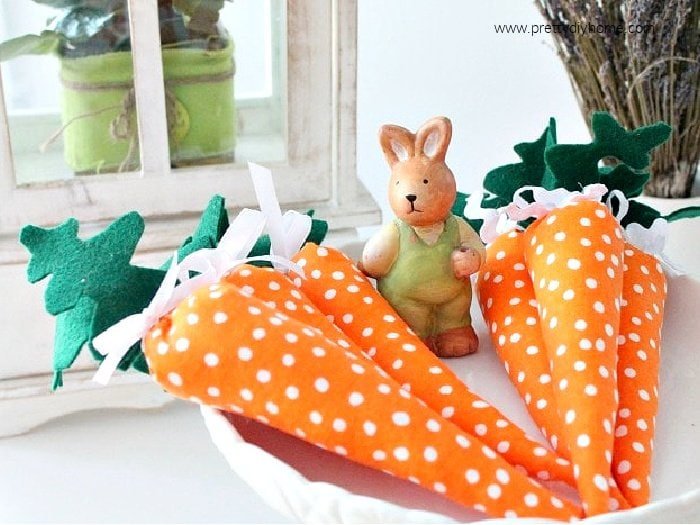 Half a meter (yard) of the fabric cost $4.00 and made 15 of these little fabric carrots. It takes 15 minutes to make each carrot. You don't necessarily need 15 mini carrots, but I would make at least three.
l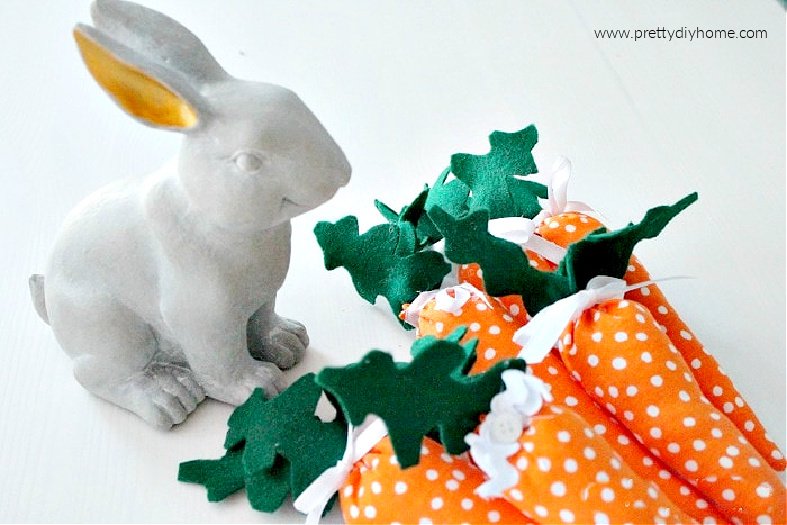 How to Make DIY Carrots
For these DIY carrots you can use all sorts of different fabrics, fabric quarters, left over fabrics and ribbon. I fell inl ove with the polka dotted orange fabric but have some fun and enjoy fabric shopping.
Fabric Carrot Supplies
o
Cute cotton fabric
Green felt
Polyester stuffing/filling
Stitch ripper
Needle and thread
Sharp scissors

Using the hand drawn fabric carrot pattern and the leaf pattern cut out your fabric. You can cut two layers at a time including when cutting the felt.
(Typically when I sew I use a zig-zag stitch to seal all the fabric edges, I skipped that step this time, as these diy carrots are very seasonal and I will toss them rather than wash them.)r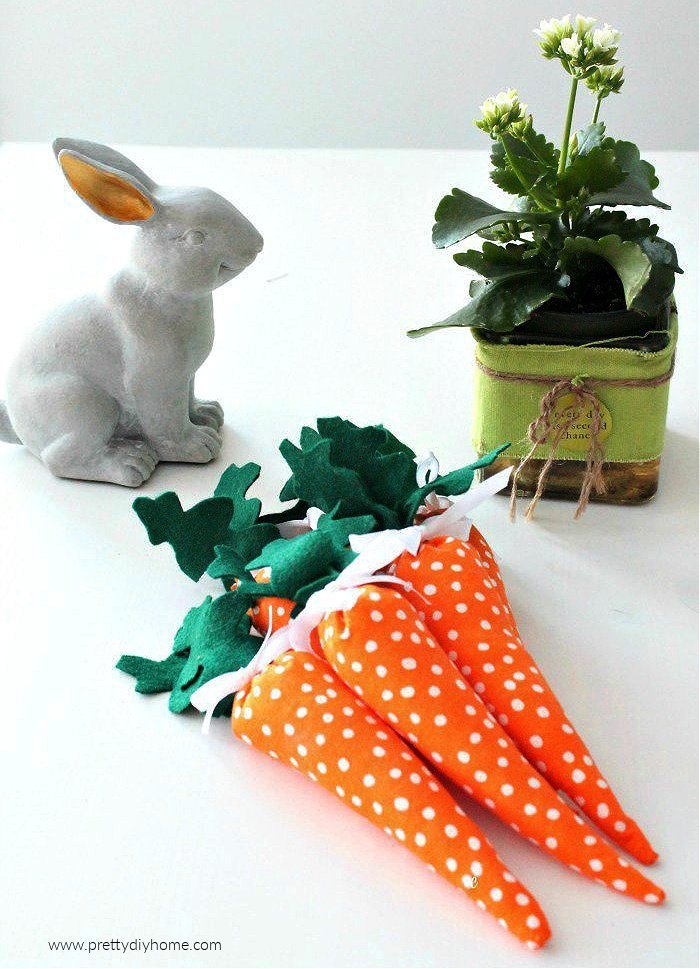 How to Sew Cloth Carrots
Once you have the carrot patterns and fabric cut outs done you can start sewing your project. Fold over a narrow section of the top of the carrot cut out and sew creating a seamed edge on top.
Then fold the carrot in half lengthwise and sew a narrow seam along the edge to a point at the bottom.
Turn your fabric carrot right side out and using a stitch ripper pull out the point of the carrot.
Add the stuffing, I found it helpful to start with a grape-sized piece of stuffing and push it down into the very end with my finger so that I could feel that it was placed in the point. Keep adding fill until the carrot is full.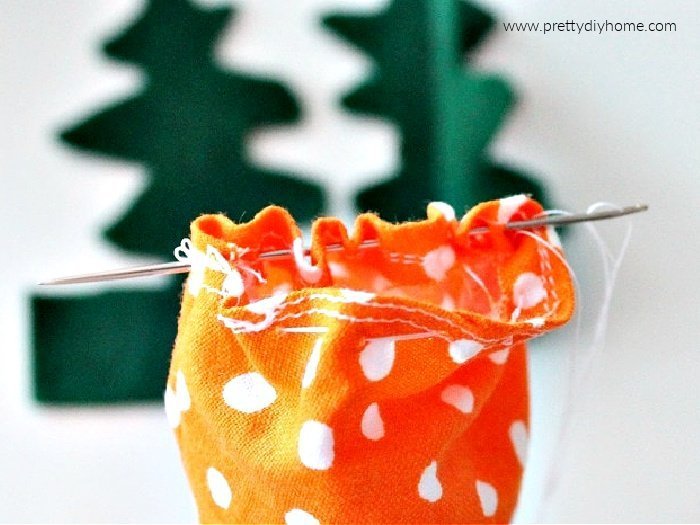 Using a needle and thread weave stitch the top of the fabric carrot.
Roll the felt into leaves and insert into the carrot.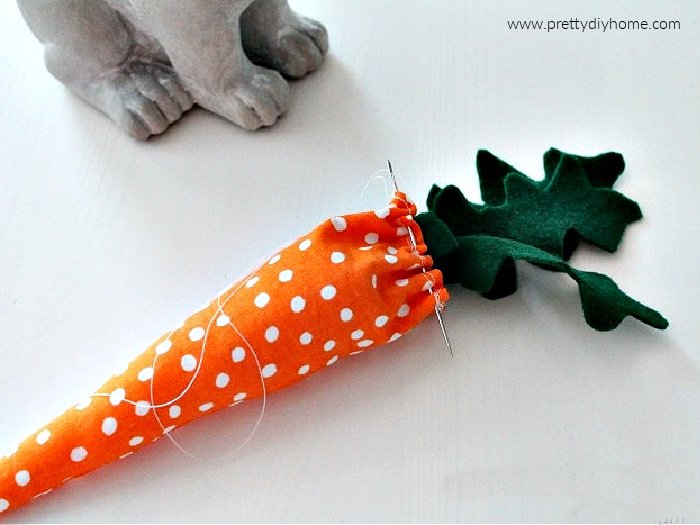 Pull the thread to gather the top of the diy fabric carrot, pull tight and stitch through the top of the carrot making sure that you sew through the leaf portion.
Tie with a pretty ribbon, ricrac, or twine and you can add a button or a small flower if you like.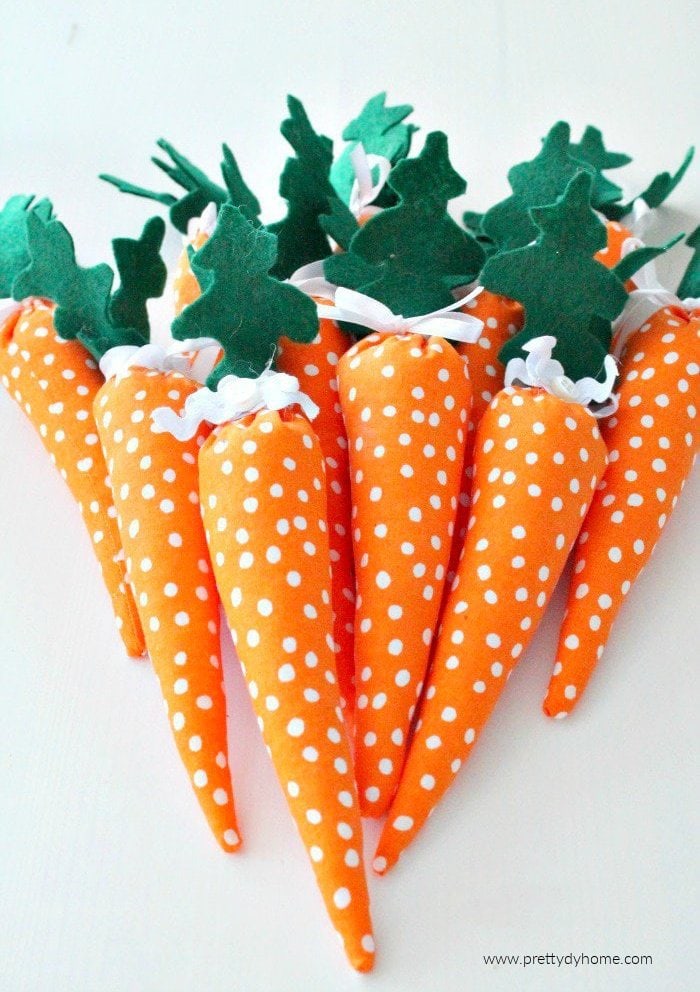 lI think these DIY carrots are adorable, they look so cute just laying on a shelf or counter. I have a few places where I am going to use and I will share the ideas on how I use them later on this week.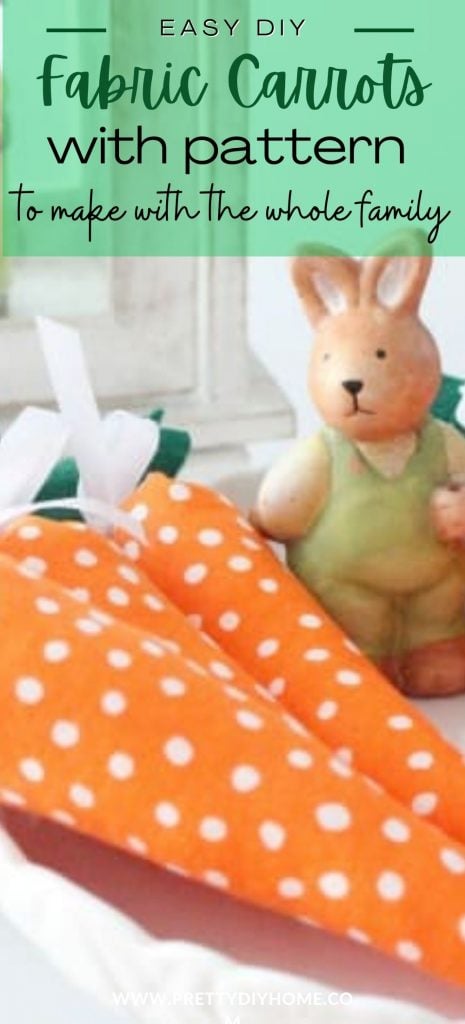 Other Spring Craft Ideas
DIY Carrot Cushion
This fun DIY Carrot Cushion is the perfect DIY Easter gift. Pair it with the world's happiest Easter bunny toy for a whimiscal Easter present idea.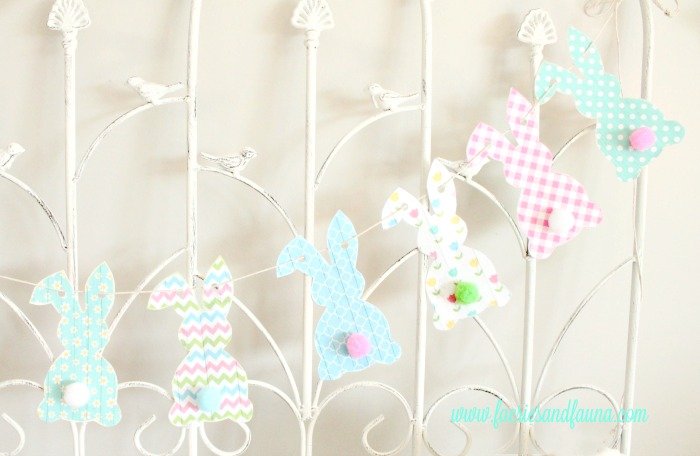 Print and Cut Bunny Banner
No special paper needed for this fun bunny craft. Just print, cut and string this easy to make DIY Bunny Banner Spring Craft