Simple Homespun Christmas Ornaments
Have you ever had a Christmas tree that just kept needing something? This years tree was like that, I had it all decorated and already made the DIY wreath ornaments and thought it was screaming red at me and needed to be toned down. These simple homespun DIY Christmas ornaments were my answer.
I could have done them in white but I think that would have been too plain, and secondly I was concerned the white may make the red "pop" even more. I slept on in and thought I would try pink variegated cotton cording, and I am really proud of how they turned out on our Christmas tree.
Supplies
This supply list includes Amazon links. If you purchase through these links I make a small commission. They also illustrate exactly the products I used to make this ornament.
Glue Gun and glue (I used two sticks per ornament)
Coordinating colour ornaments (dollar store or old unwanted)
Veregated cotton washcloth scrubby wool in colours you like.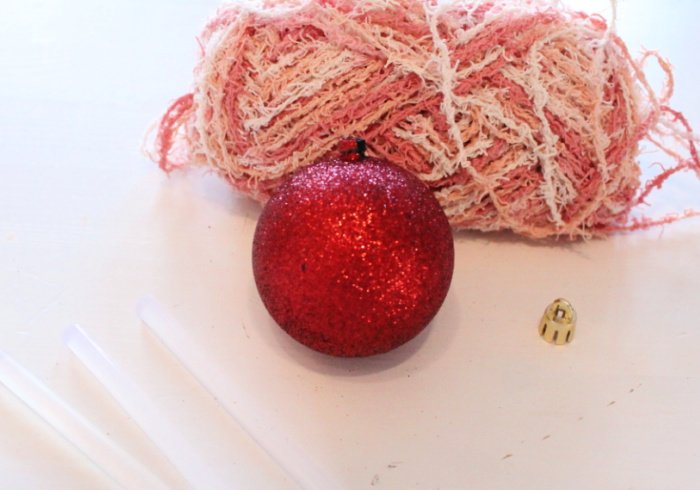 Actually making these homespun ornaments is exactly how you imagine you'd make it. The most important part is buying the wool, I think these ones look unique and interesting because of the texture of the rough scrubby wool.
Attaching the Wool
Remove the top from the ornament.
Add a dab of glue to the top of the ornament and attach the wool.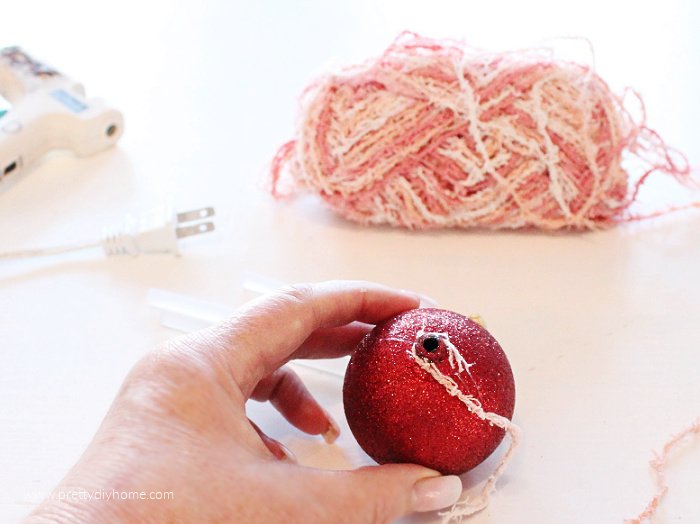 Slowly wrap the wool around the top of the ornament, applying glue a little bit at a time. Trying to get the wool as close to the previous round of wool as possible.
If you find that your wool has gaps you can pull the wool off right away and reapply it. Or, you can let the glue cool for about 15 seconds and being careful not to get burnt push it into place with your finger tips.
I think the ornament balls look cute half covered in pink and red, and that means stopping halfway.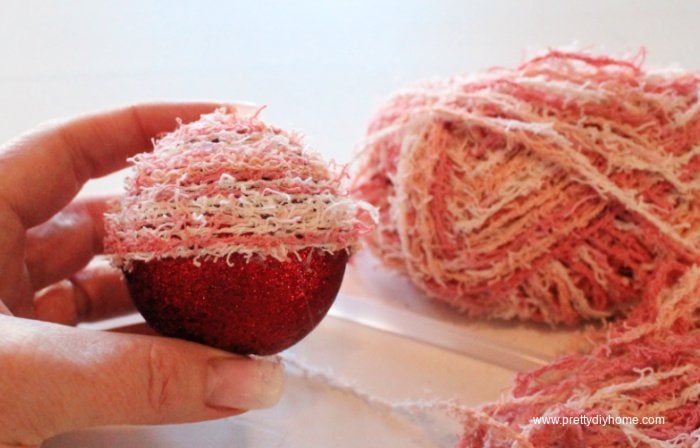 As my goal is to reduce the red this one is getting finished to totally covered.
Not sure why it was very different doing the underside of the ornament I was not able to pull the wool tight to wrap it around the like upper half.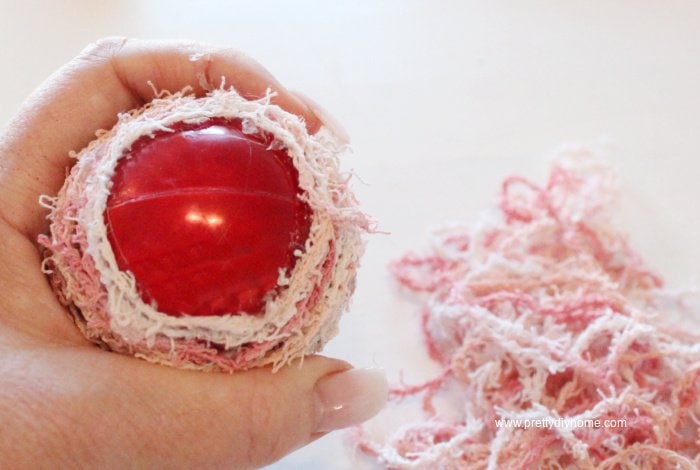 I softly curled the wool around the bottom half gluing as I went along and tucked in the last bit. Then snipped the excess off.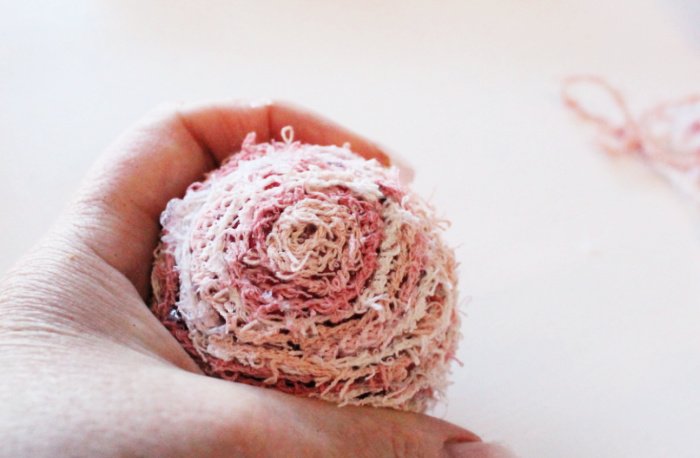 The finally I used a large bit of glue and pushed the top back on.
Here are some related links you might be interested in, including the Christmas tree I hung this ornament on.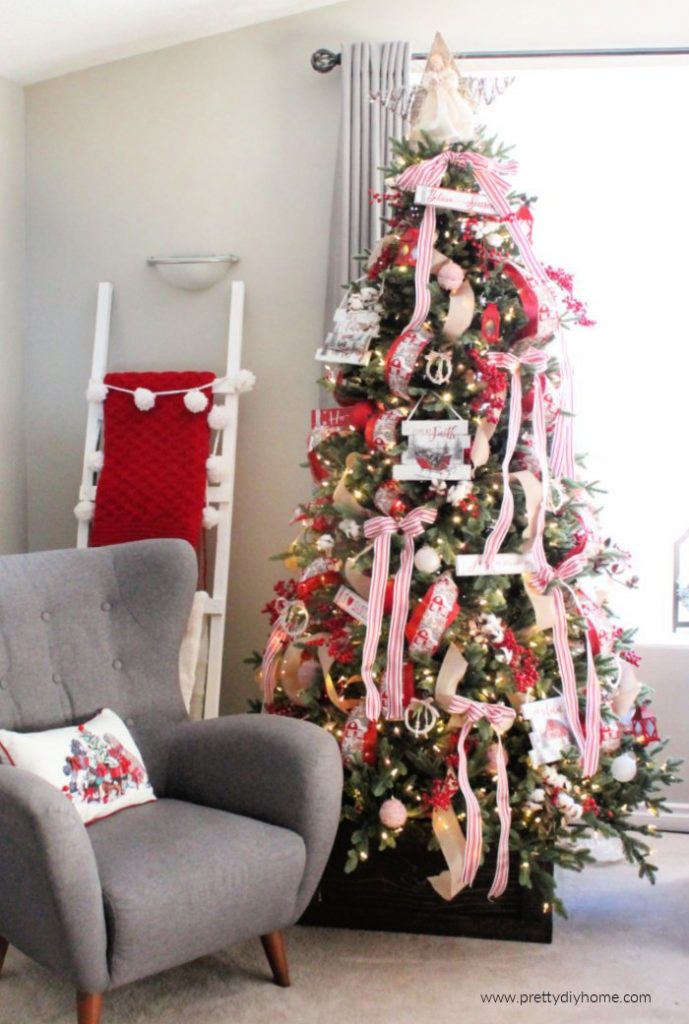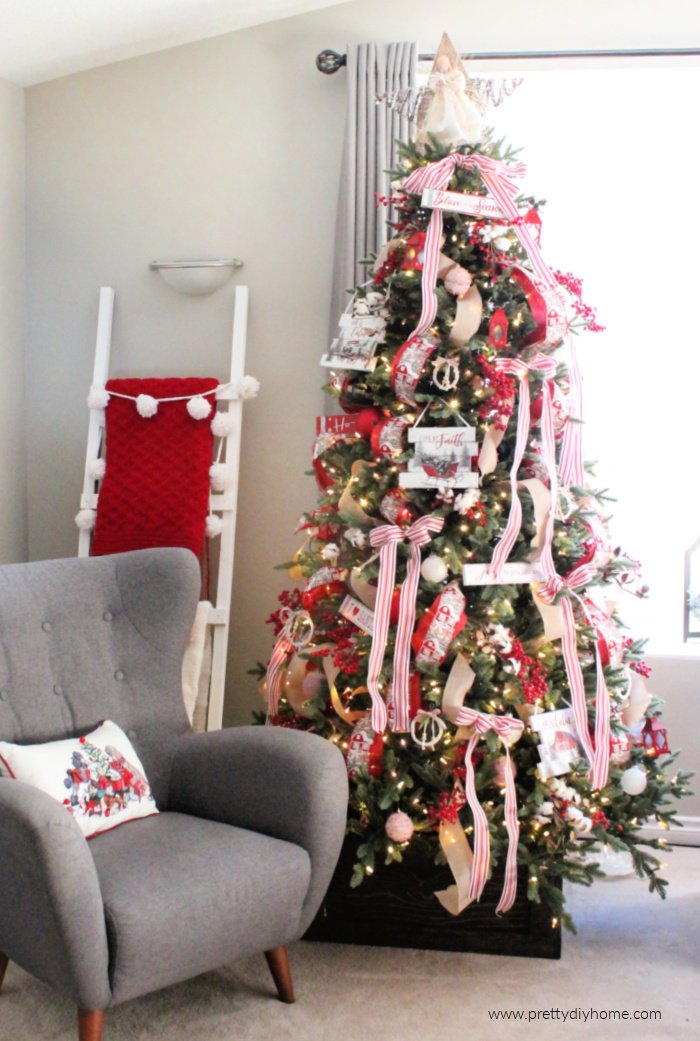 Farmhouse Christmas Tree with Lots of Ribbon
This is the other ornament I made for this Christmas tree. Its easy to make and cost even less than the homespun ornament to make. The cost is pennies each, and I hope you love them.
Easy Macrame Farmhouse Christmas Tree Ornaments