Farmhouse Christmas Tree with Lots of Ribbon
Every Christmas Season since I began blogging I have been participating in the Christmas Tree Decor Blog Hop organized by Michelle at Our Crafty Mom. This year the hop has 28 different Christmas trees for you. So many styles and ideas you will find them at the end of my post.
Did you ever switch plans at the last minute because you found a new inspiration? That is exactly what happened to me this year. I had planned not to use any red this year, none at all then I saw this ribbon.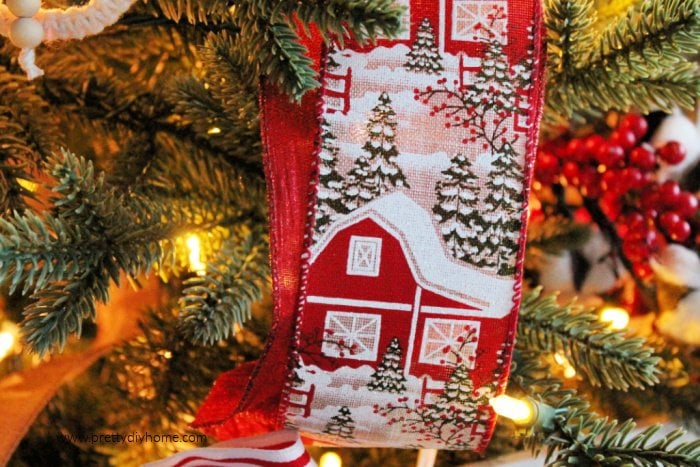 The tree downstairs is farmhouse rustic, no ribbon, all neutral farmhouse colours. So this tree is feminine and I am enthralled with how it turned out. I hope you love it as much as I do.
Farmhouse barns are my theme this year, so when I spotted this ribbon at Michael's of all places I snapped all the three rolls they had.
When placing ribbon on a tree, I prefer to start with the ribbon first. Especially when its as bright and bold as this tree's ribbon is. Because the Christmas tree ribbon is the focal point, I added these grain sack ribbon in simple double bows.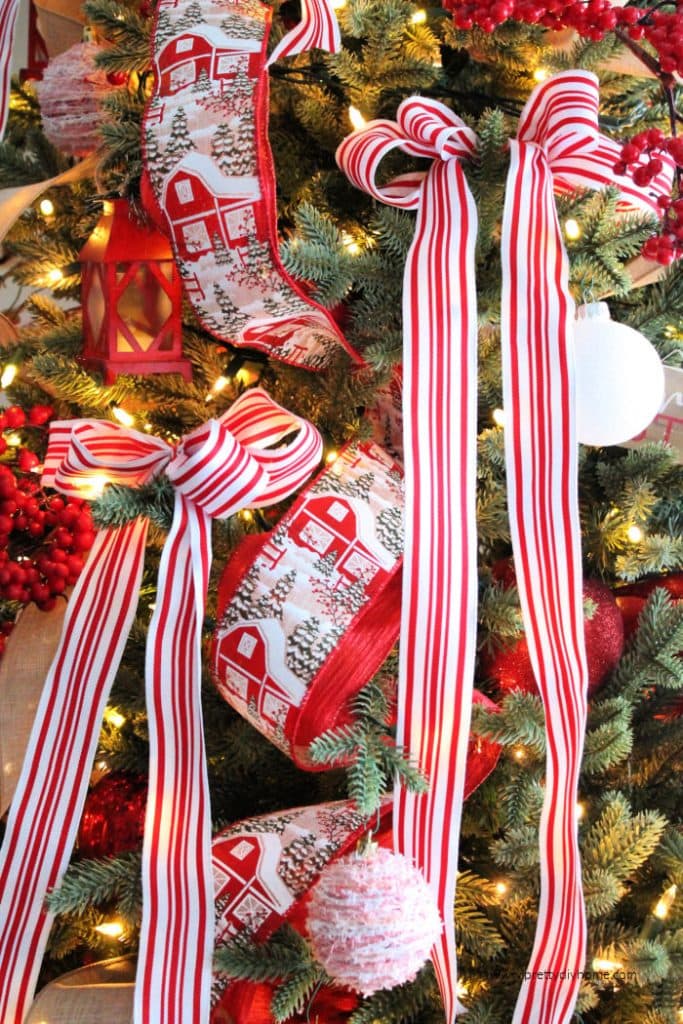 After the ribbon was done, I tweeked it and then added the largest ornaments.
Thankfully I already had these barn ornaments from last year, some cotton stems and red berries.
The last step was to add small ornaments, unfortunately I did not have nearly enough purchased ornaments to fit my theme so I created some last minute Farmhouse macrame wreaths, and homespun wool DIY Christmas tree ornaments in pink.
I chose the pink wool to soften the impact of all the red, It brightened the tree a bit without adding the contrast white ornaments would have.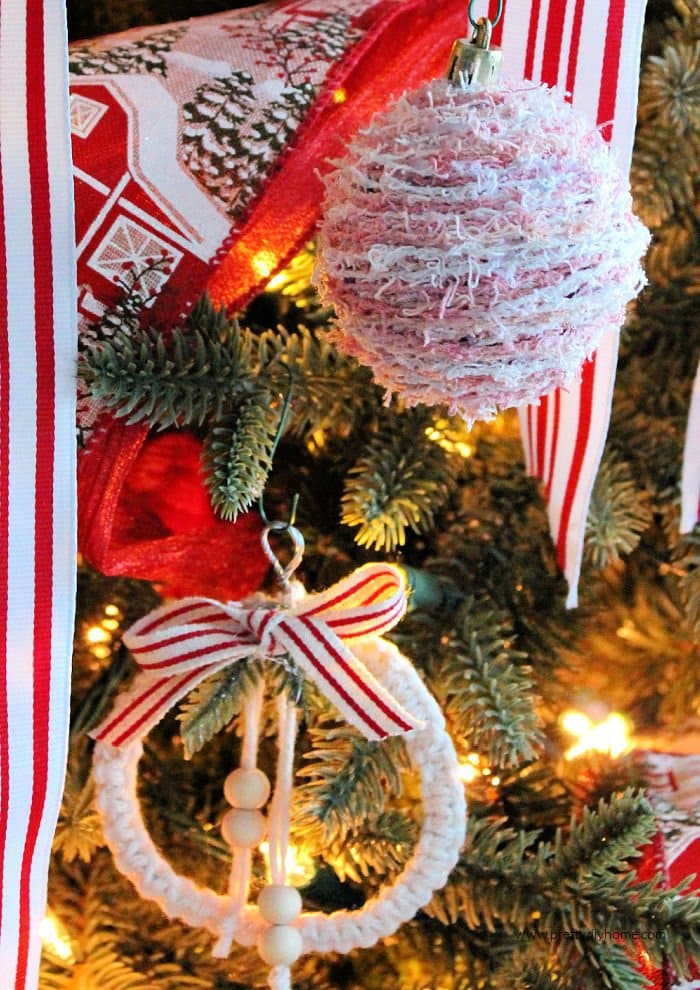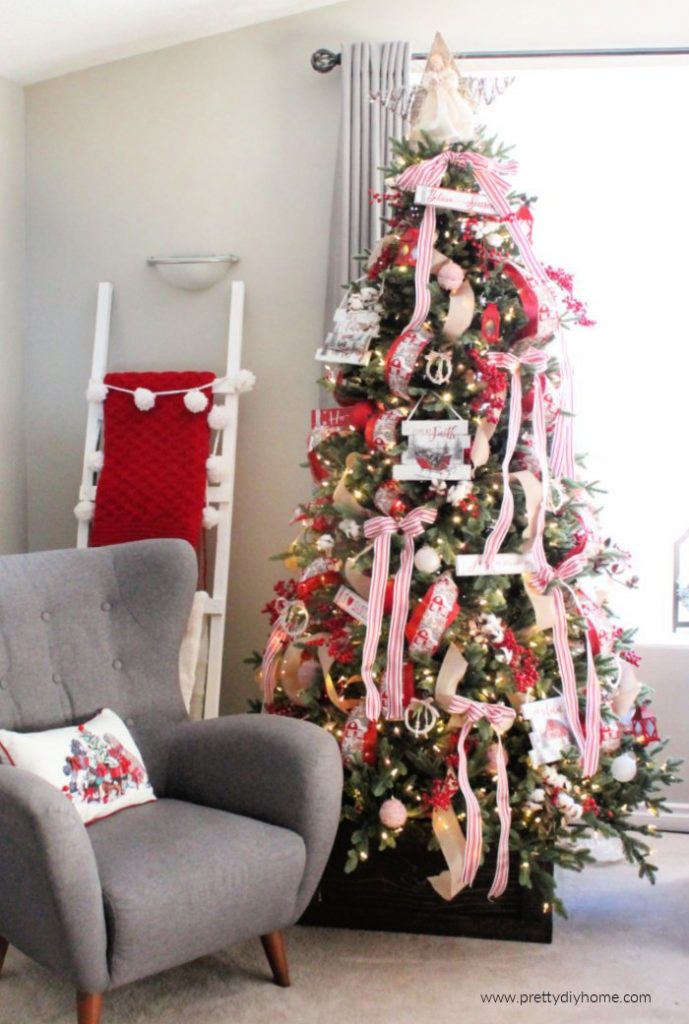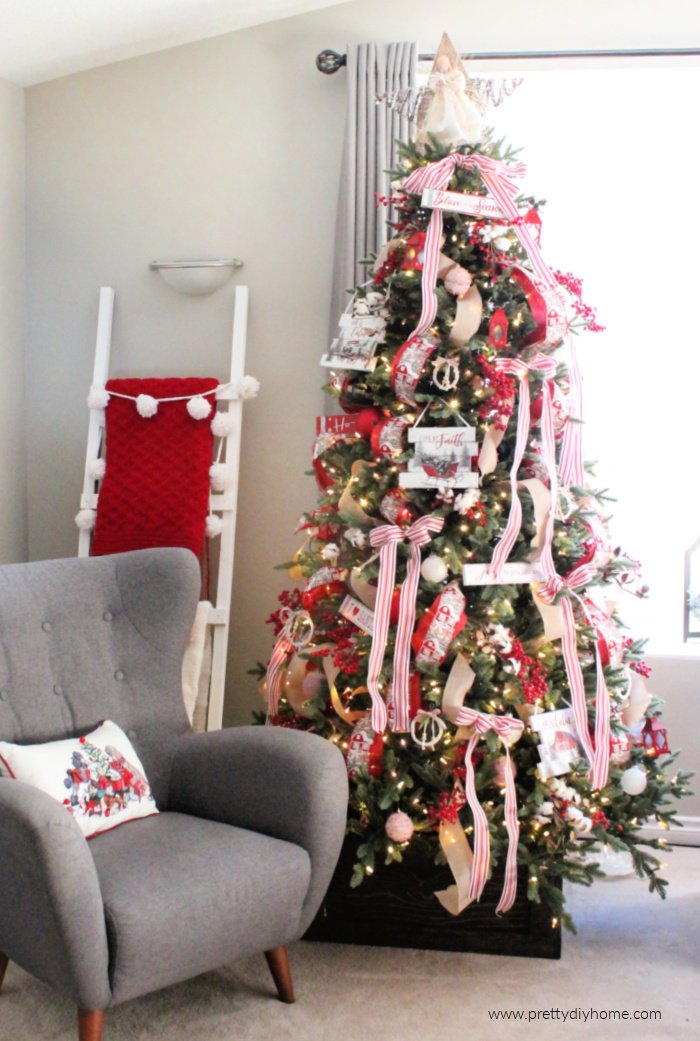 Welcome To The Fourth Annual Christmas Tree Decor Blog Hop
Be sure to visit all the participating bloggers below for gorgeous holiday decorating ideas for your Christmas tree.
Our Crafty Mom // Sustain My Craft Habit // Red Cottage Chronicles // Celebrate and Decorate
Jenron Designs // 2 Bees In A Pod // Virginia Sweet Pea // From House To Home
Tribe of Burton // Across the Boulevard // Intelligent Domestications // Simply Beautiful By Angela
Modern on Monticello // Redneck Rhapsody // Purple Hues and Me // My Pinterventures
Zucchini Sisters // One Thousand Oaks // Raggedy Bits // Southern Yankee DIY // Oh Fiddle Dee Dee
My Sweet Home Living // Pretty DIY Home // Michelle James Designs // Daily DIY Life
Happily Ever After, etc. // Kippi at Home // Simple Nature Decor // Design Morsels