Farmhouse Christmas Tree with Lots of Ribbon
Farmhouse Christmas Tree in Red and White
A farmhouse Christmas Tree in red and white what not part of this years Christmas decor plan, I had not planned on using red at all this year, preferring neutrals for this year, then I saw this ribbon! Thankfully I had not done any shopping or too much decorating yet, but I just had to have this red barn ribbon.
Farmhouse Christmas decor especially with barns are my theme this year, so when I spotted this ribbon at Michael's of all places I snapped all the three rolls they had.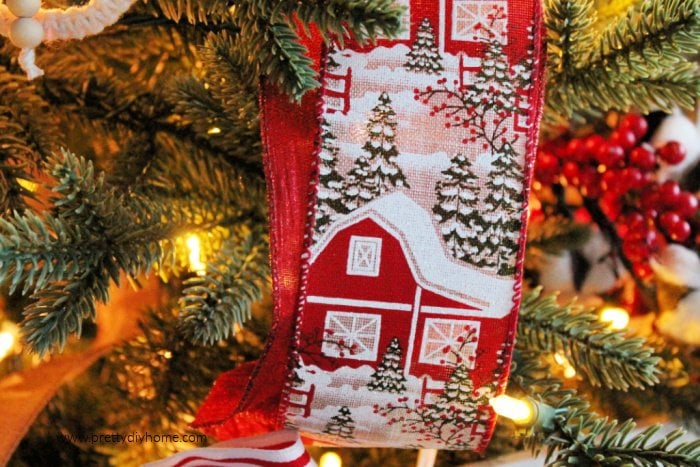 The best part of this ribbon is it is 3″ wide and wired. Unwired Christmas ribbon is just too difficult to decorate a tree with. With the three inch width of the ribbon I was able to find some shiny plain red ribbon that was just a little bit wider.
The farmhouse Christmas tree would have been too heavy in the colour red if I had only used the red barn ribbon, with the red foil ribbon behind it. So i purchased two roles of beautiful red and white ribbon in a fun farmhouse stripe pattern.
Decorating the Farmhouse Christmas Tree
When decorating a Christmas tree I prefer to start by adding the ribbon first. Especially when its as bright and bold as this Christmas tree ribbon is.
The easiest way to add ribbon to a Christmas tree is to start at the top and cascade the ribbon down the Christmas tree. Tuck the Christmas tree ribbon deep inside the tree, attach it to one the most inner branches near the trunk. Once the ribbon is secure inside the tree, roll it and pull the wired ribbon our in curls. Tuck the ribbon end of the ribbon towards the outer part of the Christmas tree.
After the barn ribbon was placed on the tree, I stood back and looked for gaps. The red and white ribbon was tied in pretty bows, the centers are wrapped in florists wire and bakers twine. The twine hides the wire. Wire works best so you can really attach the ribbon to the tree, otherwise they they tend to pop off.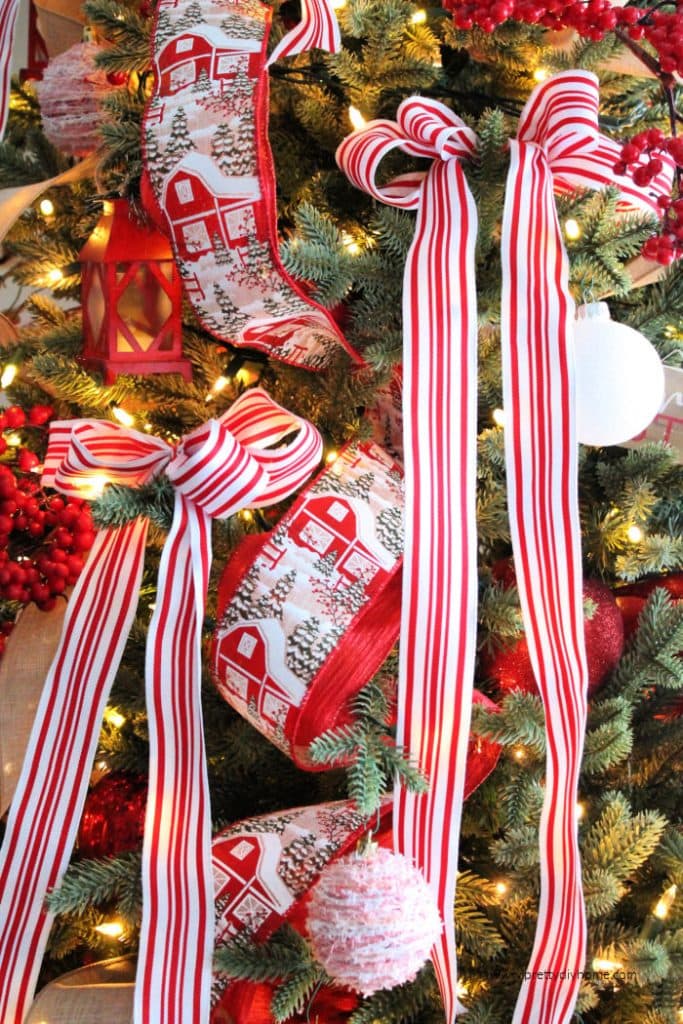 After the ribbon was done, I tweeked it and then added the largest ornaments.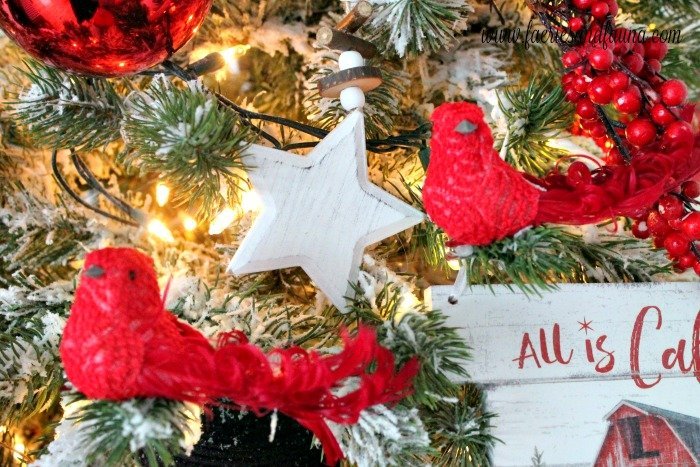 Thankfully I already had these barn ornaments from last year, some cotton stems and red berries.
The last step was to add small ornaments. Unfortunately I did not have nearly enough purchased ornaments to fit my theme. So I created some last minute Farmhouse macrame wreaths, and homespun wool DIY Christmas tree ornaments in pink. .
I chose the pink wool to soften the impact of all the red. It brightened the tree a bit without adding the contrast white ornaments would have.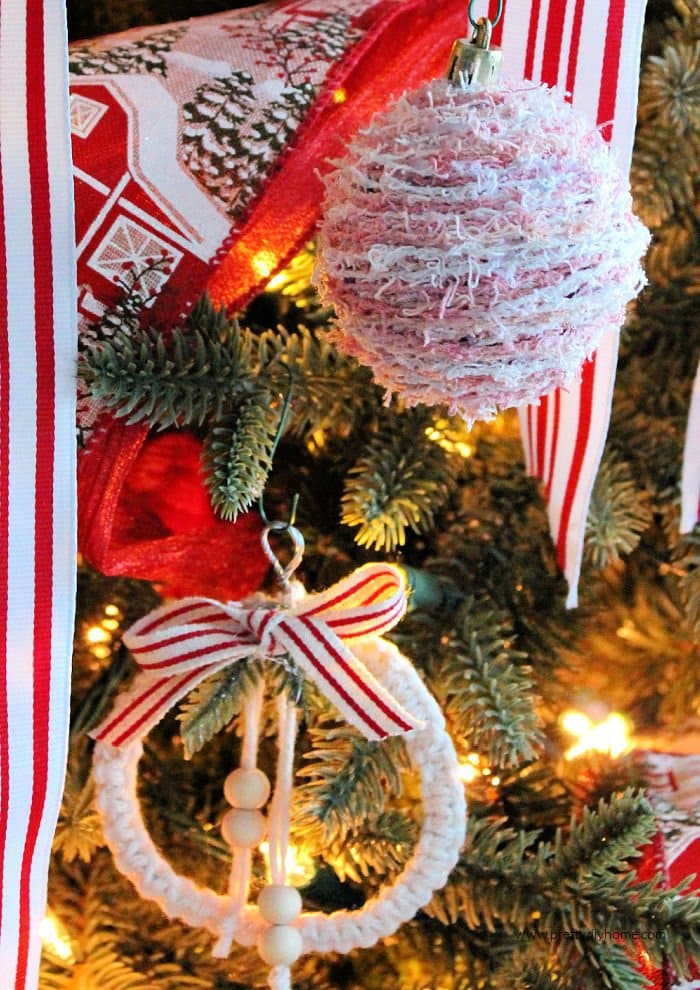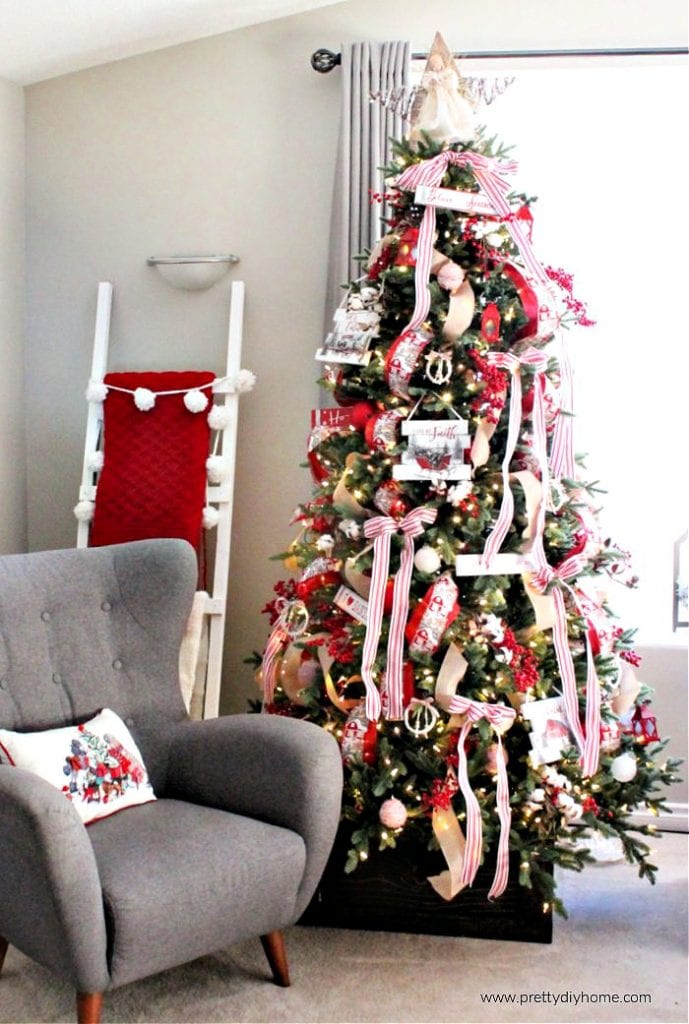 Not sure about what style of Christmas tree your wanting this year. I have some other Christmas tree ideas to show you from other years. Decorating for Christmas, deciding what I want and then creating it is by far my favorite part of the holidays.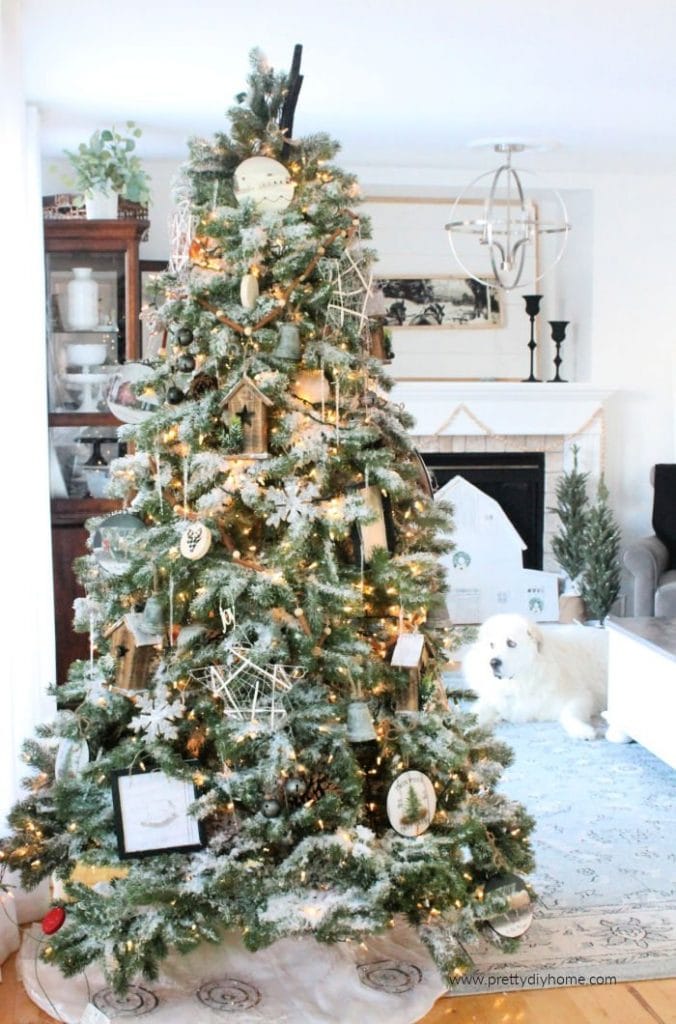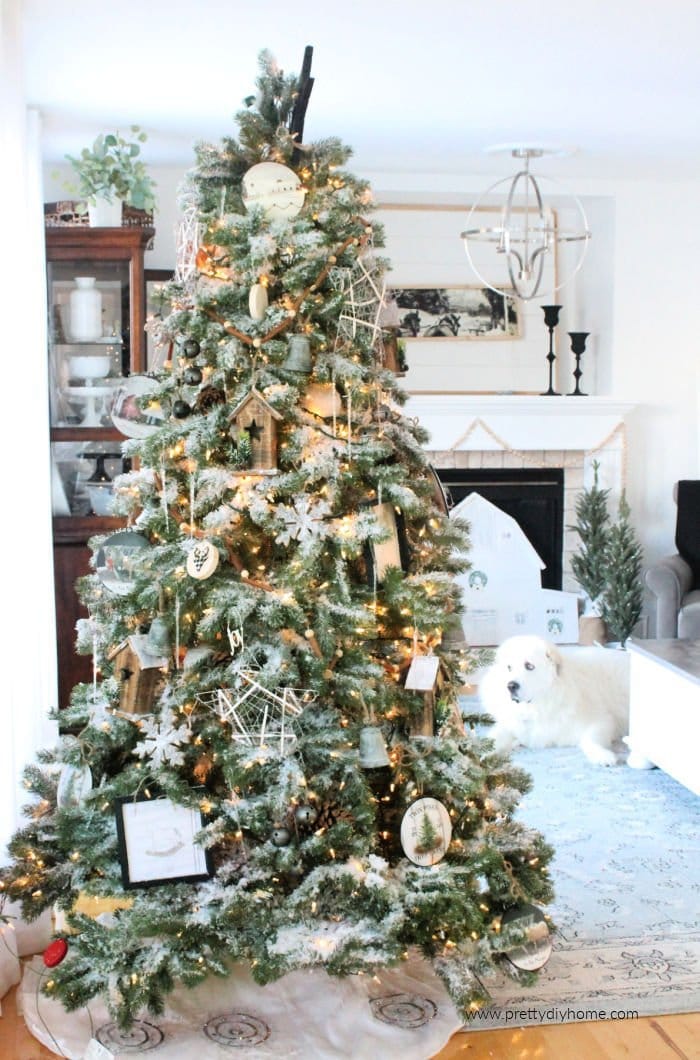 Neutral Farmhouse Christmas Tree
This neutral farmhouse Christmas tree is designed to be calm, pretty, not too flashy. It is rather subdued but I love this look especially when there is lots of other Christmas decor around. Often the focal point of our Christmas decor, sometimes it nice to have it a bit softer.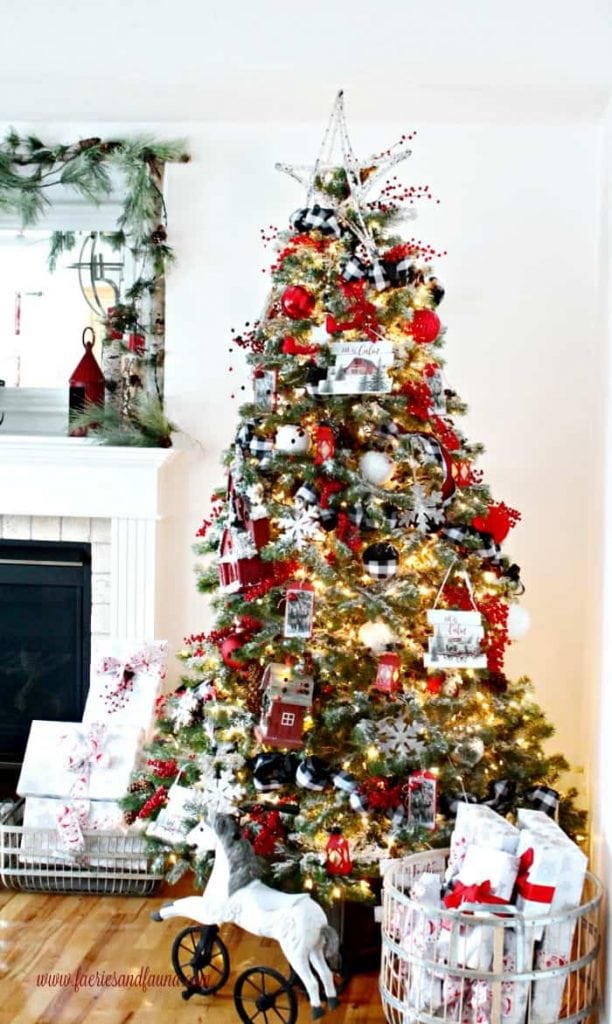 Decorating a Christmas Tree in Buffalo Plaid
Several years later and buffalo plaid is still very much on trend. I love that it is still so wildly popular for Christmas. Buffalo plaid Christmas decor is so much easier to find now. This Buffalo Plaid Christmas Tree is still one of my favorite Christmas trees ever.