Easter Egg Floral Place Holders
Easter Egg Place Holders Easter Egg Craft for Adults
Our Easter tradition is to have a nice brunch Easter morning. Unfortunately, we don't have a fancy dining room, or fancy dinnerware so I jazz it up with Easter decor instead. Last year I folded pretty yellow napkins into bunnies, added dollar store placemats and Lindor chocolate bunnies. This year I made these little Easter Egg place holders and I am thrilled with them. With a tiny bit of effort and expense, I think they make an ordinary table look very special.
a
jThe Easter egg place settings required egg cups and the local stores had none in stock. As I didn't have time to order them online I purchased some small clay pots at Michael's and quickly painted them with white chalk paint.
The next part requires some caution as you can't crack the raw egg evenly enough. I did purchase a specific egg top cutter for this task, but it simply does not work, it wasn't sharp enough and I have to return it. p
Be careful, be cautious, do this slowly and don't get cut.
Cutting the Egg Top Off
To get the pretty even edge for the opening you need to use a very sharp box cutter. Apply steady pressure to the narrow end of the egg. Spin the egg slowly as you scratch in a single line, it may take two rounds. The egg will start to crack along the weakened scratch point. Continuing cutting along the line until the cap of the egg is loose and comes off. Look carefully my egg cuts weren't absolutely perfect but they still look pretty nice.
Empty the egg contents out into a bowl as you can still eat them. Rinse the egg shell thoroughly with water and let dry.
Place the Easter eggshell into the egg holder, add a little bit of water and your flowers.
Make the Place Cards
Next, make your place cards. Using Microsoft Word I drew and printed out ovals on regular paper and then taped them to sparkly card stock.
Take a two-foot piece of thick thread, I used pink crochet cotton, fold it in half. Hot glue the thread to the back of the name tags.
Tie the named tags to your eggs with a pretty bow. Place on the table setting. a
These Easter egg place holders cost $8.00 for all six table settings. I consider the eggs to be free as we made omelettes for dinner with them. Granted there is still no beautiful ornate tableware, but for the price and time it took, I think they made a beautiful setting.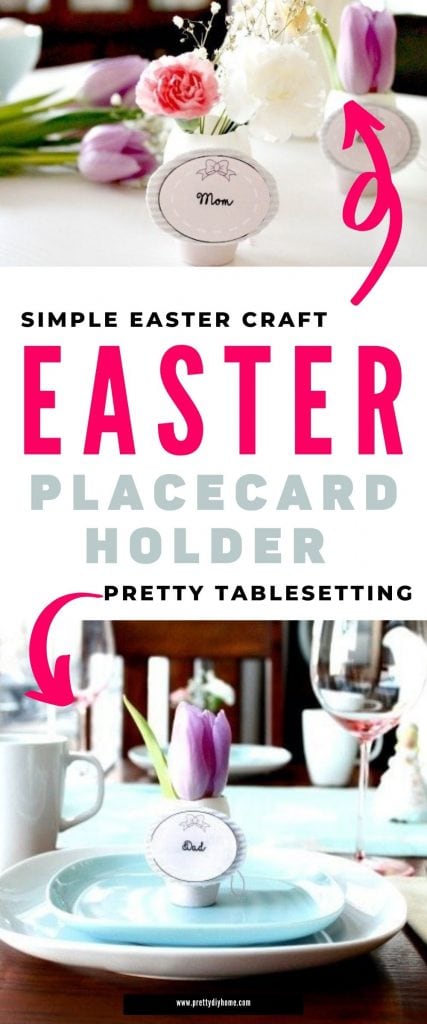 Update: The eggshells stored very well in the fridge. I was able to make the shells a day before using them without any problems. The flowers survived just as well in their little Easter egg vases as the rest did in a full-size vase.

Pastel colours are so appealing in the Springtime, and they are so much fun to craft with. My Easter egg designs tend to be very feminine, but I hope you enjoy them.