Easy Dollar Tree Fall Craft Banner
All this year so far I have been trudging along repairing and refurbishing furniture, organizing too many closets, and enjoying the warmer summer temperatures of summer in our shop. I am somewhat bored with it and decided to make a fun just for the heck of it Dollar Tree Fall Craft Banner.
My stash has an assortment of left over bits and pieces of burlap and fabric that I decided to make some Fall craft out of. In the bin I found a very plain burlap banner kit from the dollar tree.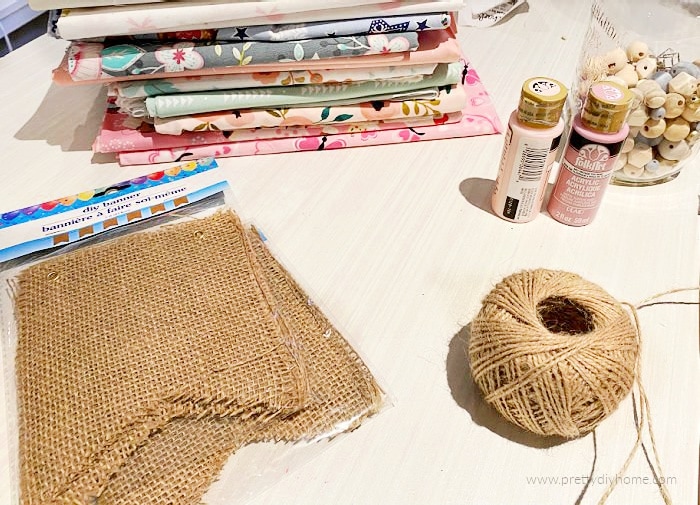 I also grabbed some pink acrylic paint, Q-tips, assorted pink fabric bits, twine, and a chalk paint pen but you could use a Sharpie pen.
I chose to use a simple "FALL" for my wording, but the burlap banner package contained 7 squares so you could do the same thing with different wording such as autumn, harvest, pumpkin, thanks, blessed, gather. etc.
Painting Fall Banner Craft Banners
Since the lovely banner pieces are precut and have holes we get to begin by writing out the letters. This time I chose to just free hand write starting with the letter F.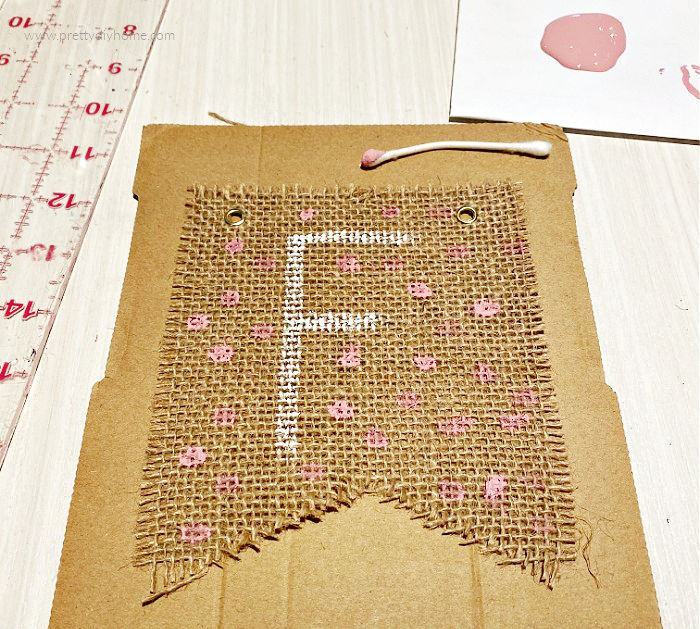 Once the first letter "F" was done, I used it as a gauge to size the other letters. Align the first finished banner panel beside the new one. Make dots to mark the top and the bottom edges of the new letter. In the next image I have three dots for the letter A.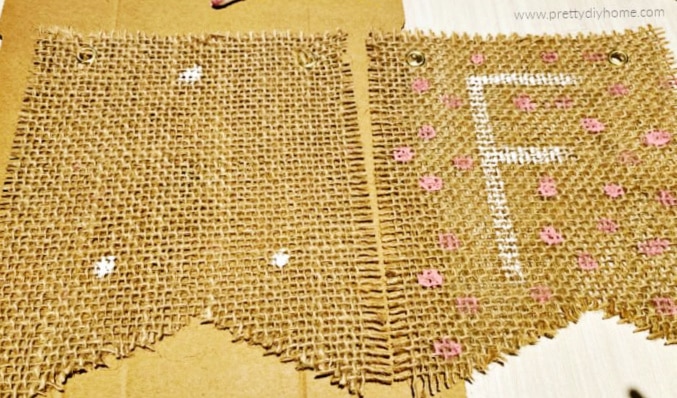 Once the letter is done, squeeze about a teaspoon of acrylic paint onto a scrap piece of paper. Dip a Q-tip into the paint and simply stamp polka dots all over the burlap. Once done set the letter square aside and let dry. Repeat for all the remaining letters in your Fall banner.
Adding Beads and Rags to Fall Craft Banner
My little Dollar Tree burlap banner came with burlap twine I didn't expect. I had already cut twine 6 feet long, so that's what I used. Tie a knot at one end and thread the other end through a wide holed needle.
It takes some patience to thread the needle, but its much easier than threading each bead.
I went through my bead stash and figured out a pattern using the beads I had, I used six large, and 24 tiny gold beads for my Fall banner, but of course you can use more or less depending on the beads that you have on hand.
Start with a small gold bead, a larger white bead, a second gold bead, then feed the twine in through the burlap panel starting from the front to the back, and then from the back to the front, repeat the pattern.
Rag Tassles
I have an assortment of various pink fabrics, because of the polka dots on the banner I chose to use just polka dot pink and gold fabric. Any type of pink fabric will work. If you need to purchase fabric a simple fabric quarter will be enough to make the wreath with.
Cut the fabric into 1 1/4 inch strips 16″ long and tie a strip between each of the beads.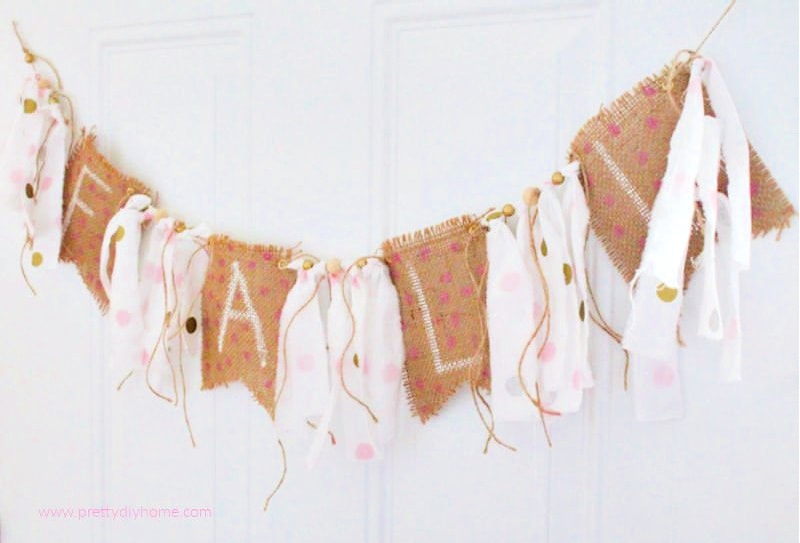 As a final touch I cut off 10″ bits of twine. Curled them with my curling iron and tied them onto the banner. Curling the burlap makes it look more feminine. My curling iron gets hot enough to curl my twine. If your doesn't curl the twine on the hottest setting. Give the twine a quick hair spray before curling it.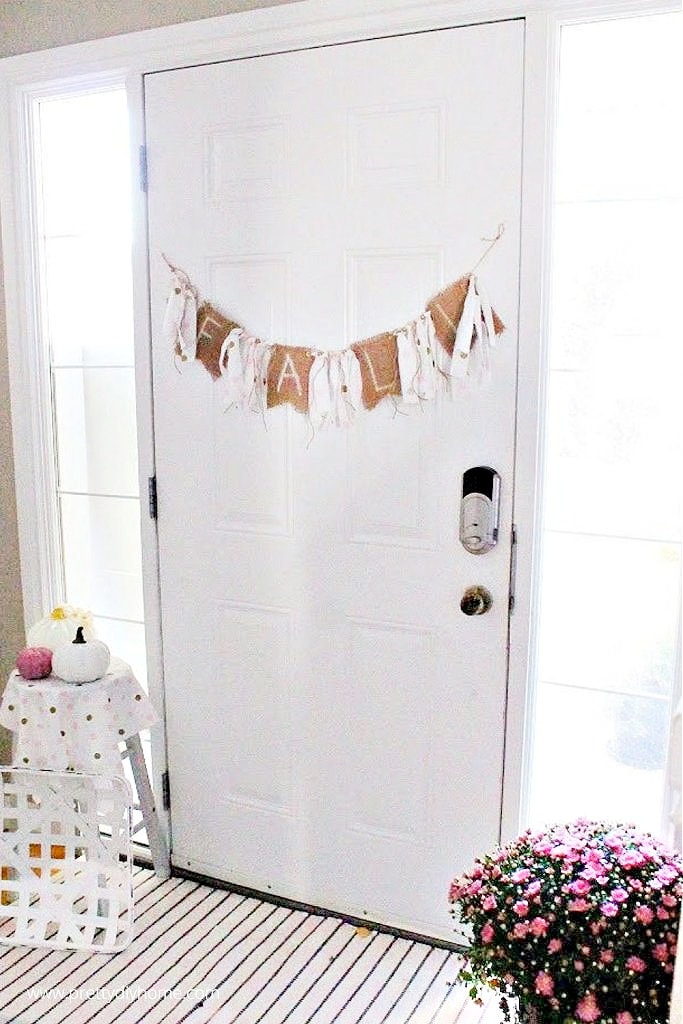 This is my first pink Fall post for the year. I am so excited to share it with. I have a few more planner and in various stages of being made. I can't wait to share them.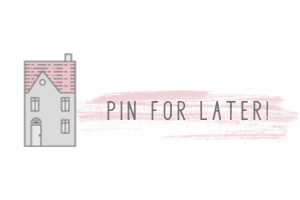 Other Pink Fall Decor Ideas for You
I am obsessed with the soft pinks and coral colours this year and there are so many simple and unique Fall decorations you can make using pink as your theme. Here are some other ideas I think your going to love.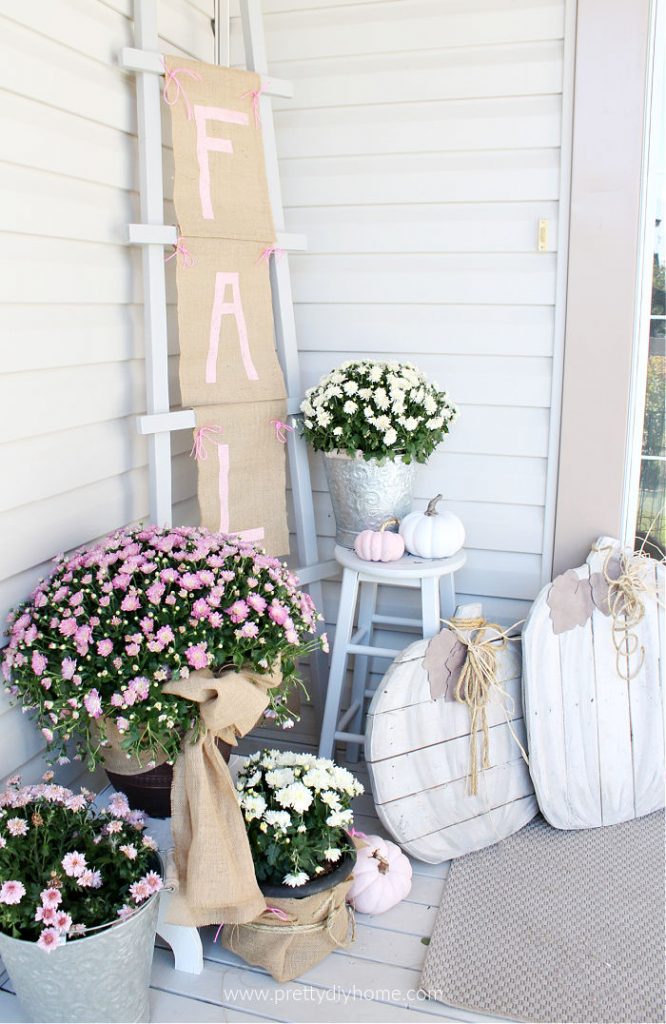 Fall Front Porch Ideas with Fall Banner and Ladder
Fall would not be Fall without some pumpkins. The pink goes so well with soft greens and farmhouse decor.