Decorating with Pumpkins and Pumpkin Printables
Pumpkin Printables with Easy DIY Hangers
For all the pink pumpkin lovers out there, today I am sharing some free pumpkin printables and simple ways to use when decorating with pumpkins. The pumpkin printables are designed for those who prefer a softer pastel side of Fall decorating ideas. All of the pumpkin printables can be used as wall art, or framed art, or as a simple backdrop to vignettes.
Decorating for Fall in pink doesn't mean goodbye to oranges, instead the pink becomes the pop of colour, with bits of soft oranges and lots of white, and pastel greens.
Floral Pumpkin Printable Backdrop
Decorating with pumpkins can be a bit minimalistic, especially if you have pumpkins in your printables. In this Fall arrangement I set a shabby Urban Barn tray on its edge, taped the printable hanger to it and added other pumpkin decor and pretty farmhouse greenery in a white vase in front of it. The two pink pumpkins are dollar store pumpkins painted in blush pink with metallic gold stems. You may notice their is a soft tingue or orange in the printable pumpkins.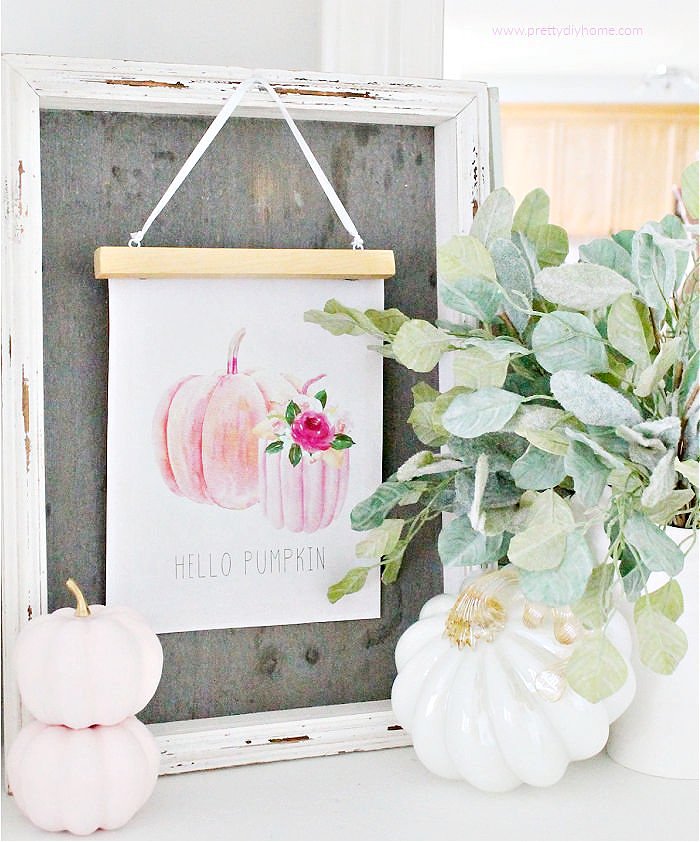 I will show you how I made the little hangers with a super easy hack to make them easily update-able for any printable at the end of the post.
Pumpkin Printable Wall Art for the Kitchen
These wall art printables go with rustic farmhouse decor, or you can glam them up for a modern cottage look. To add some farmhouse charm the pumpkin stacks in the printable are layered in front of a shiplap background. Did you notice the little bunny in the Kitchen Pumpkin Printable? I put her in there for a little touch of whimsy.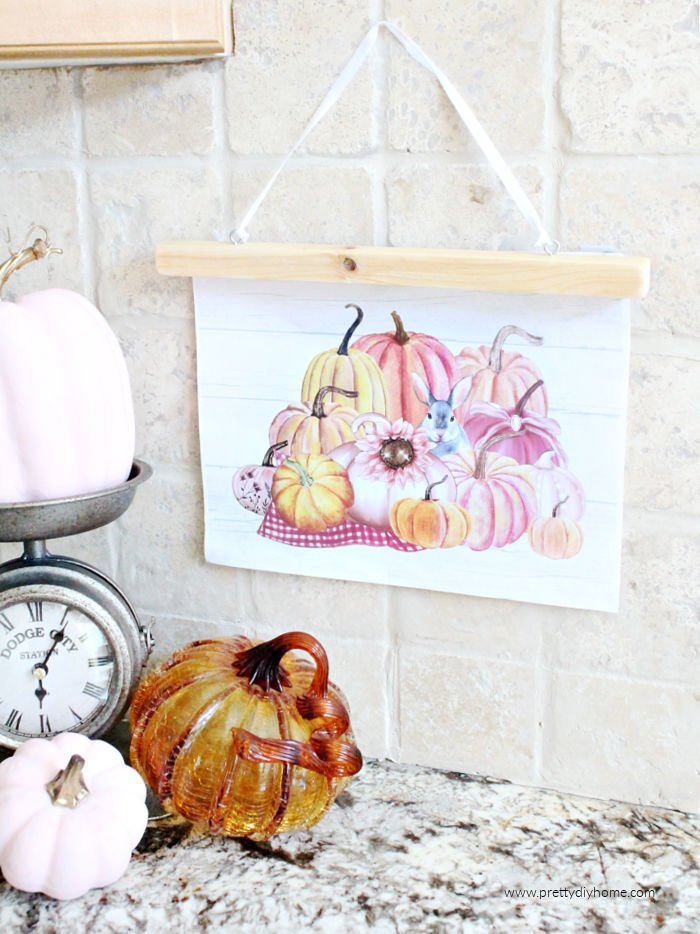 Today's post includes links to the Hello Pumpkin Printable, and the Pretty Pink Pumpkin Bunny Printable. I have added more pumpkin printables to the Pretty DIY Home Printable library for subscribers. The prints are free to just click and download.
Decorating with Pumpkins and a Tobacco Basket.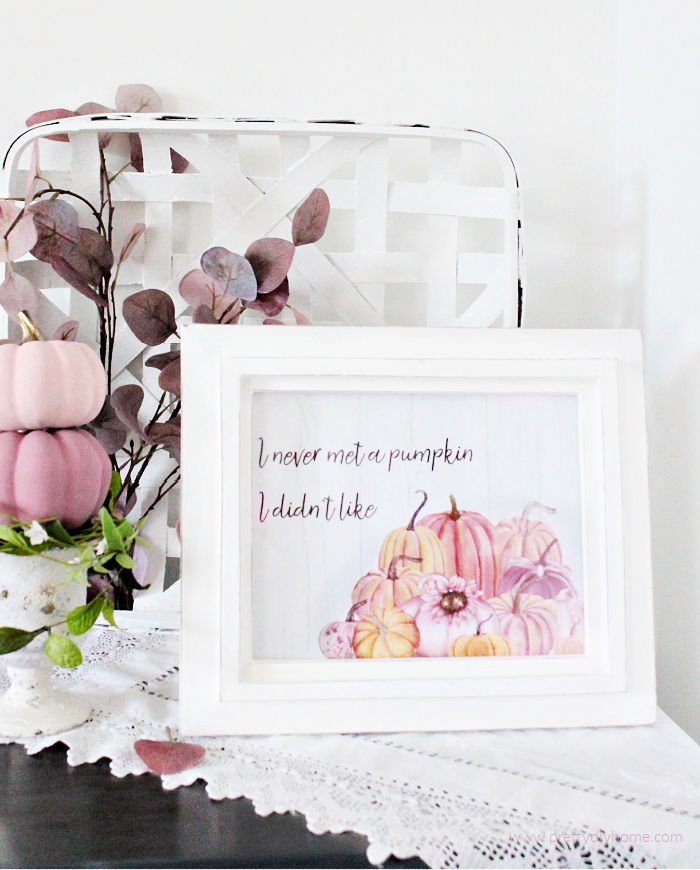 The amazing thing about using pastels for Fall is it allows you to use your everyday decor in a new novel way. Reusing something you already have is a wonderful way to save some coin. Especially with Christmas planning about to begin. This last Fall vignette uses a white tobacco basket, and a white vintage tablecloth to frame the arrangement. The pumpkin on the vignette are the focal point in their simple simple 5 by 7 frame. The final addition was a small white metal vase, some more dollar store pumpkins painted in plum, and some pinkish leaf greenery.
In the three inexpensive pumpkin decorating ideas shown, the only purchase I made was for dollar store pumpkins. I actually had my pumpkins for a couple of years, I just painted them pink. The glass pumpkins are several years old and the remaining decor is my everyday white farmhouse decor. Adding the free prints costs nothing and the little hangers cost $1.
The pumpkin printables will go with traditional orange decor as well, I painted a little bit of orange into the pumpkins for just that reason. I hope you love them as much as I do.
I am excited to share the hack I came up with for the little hangers, so lets get started.
DIY Farmhouse Printable Hangers Using Scrap Wood
You will need some scrap wood for your hangars. I used some trim ends, cut to 8.5 inches for the portrait hangers, and 11 inches for the landscape hangars.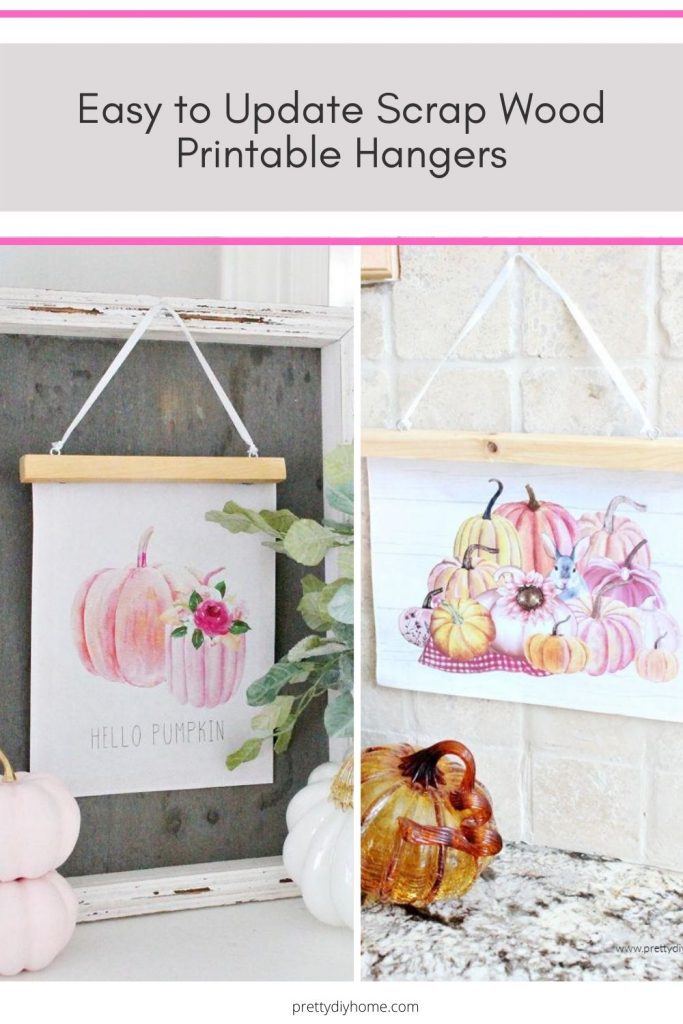 Once you have the scrap wood cut, sand it well with 150 grit sandpaper. You can paint them if you like, but I left mine neutral.
You will need three things from the dollar store, little twist in eyelets, thin white ribbon or burlap and ……………….. MAGNETS.
Twist the little eyelets into the top of the scrap wood.
On the back attach three magnets using hot glue. Let dry very well. Keep 3 matching magnets aside while the glue dried.
Hanging the Free Pumpkin Printables
Tie ribbon or twine through the eyelets on the hanger. Flip the hanger over so the magnets are showing, center the print over the top, and add the second magnet. Its work so well!!
Once your done with the seasonal print, you can throw it out, then place the magnets back and store until ready to use again. (on the above picture I ran out of magnets so I purchased a different size until I can find them the same size. Why pay more, I can wait for the dollar tree to get in a new shipment.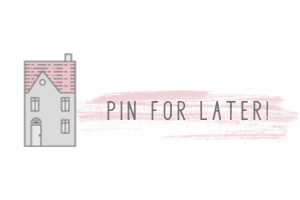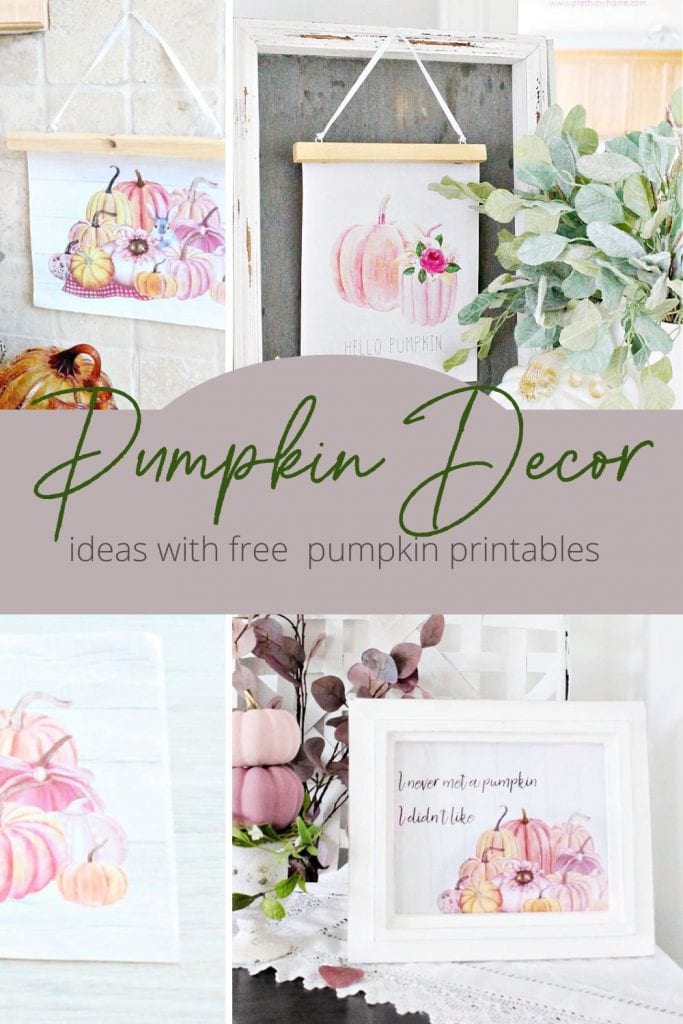 Some Other Fall Pumpkin Decor for You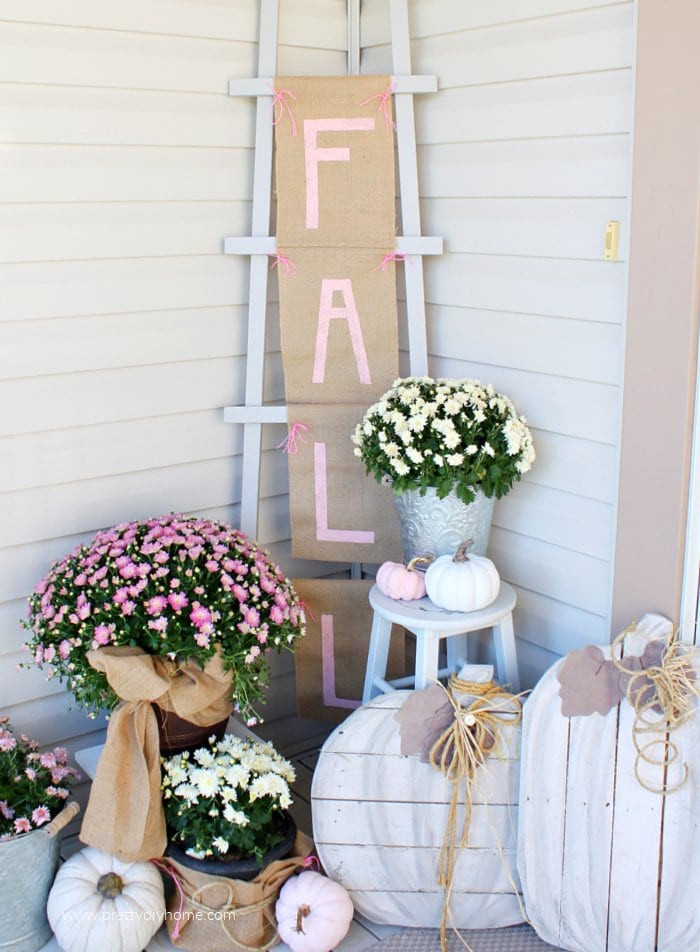 Pretty Fall Front Porch Decor
I added some pretty pink Fall decor to our Fall front porch with an easy to do Fall ladder banner and assorted pumpkins.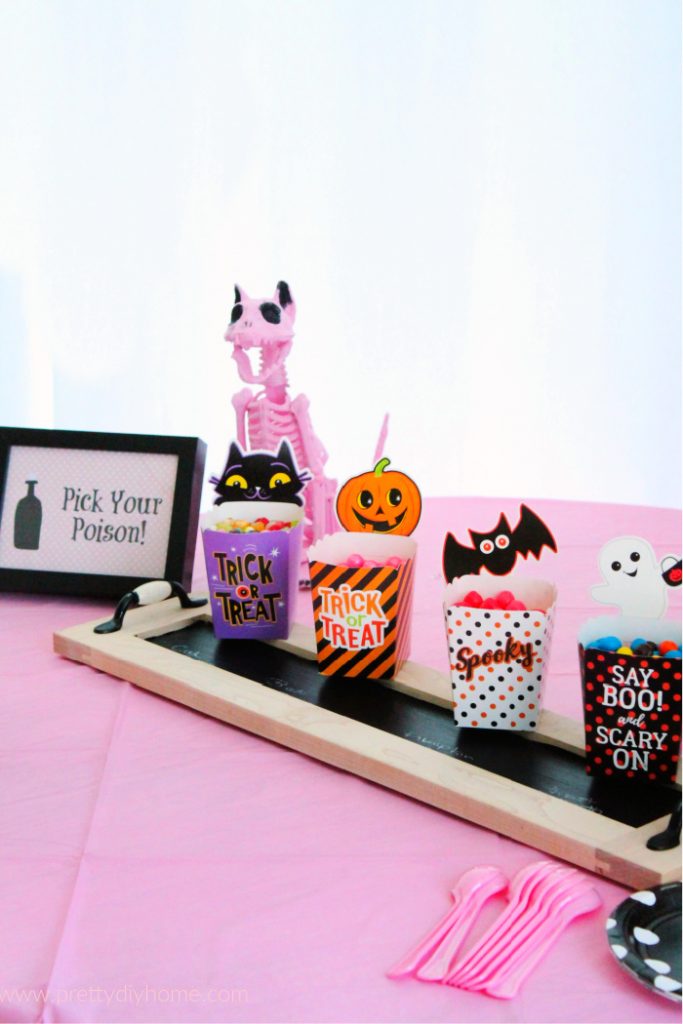 Pink Pumpkin Candy Buffet
Continue the pink Fall decor theme into Halloween with this siimple Halloween candy buffet. There are some soft colours pink Halloween printables in this post as well.