Homemade Sweet Pickle Relish a Favorite Old Fashioned Canning Recipe
This homemade sweet pickle relish recipe is so good, and doesn't have any food colouring, you know where the water came from, and I love making mine with fresh locally grown cucumbers and onions.
If you have never canned relish is the easiest pickle to make, you don't even need a canner. This recipe is large but you can make it smaller and store it in the fridge if you prefer.
Relish Ingredients
6 large cucumbers
3 onions
2 1/2 tbsp pickling salt
2 pints water
2 – 3 cups white sugar
1 1/2 – 2 cups pickling vinegar
1 1/2 tsp pickling spice
I am certain you noticed the latitude I took in the amount of sugar and vinegar you added to the relish. The flavour of sweet pickle relish depends a bit on personal reference. If you prefer sweeter use more sugar and less vinegar. If you prefer tart, less sugar and more vinegar. Whichever way you choose to balance the sweet and sour flavours of your relish, taste it as you go along. You only need about 1/4 tsp to judge the flavour and its worth trying it as you prepare it.
This relish recipe consists of two main ingredients, pickles and onion. Start by washing your pickles really well in cold water. Cut off the ends of the cucumbers and casually peel them. By casually I mean peel them leaving some of the rind on. If you remove all the rind the relish has very little colour, if you leave all the rind on I find it makes the relish bitter.
For the onions just peel and wash before putting through the grinder or food processor.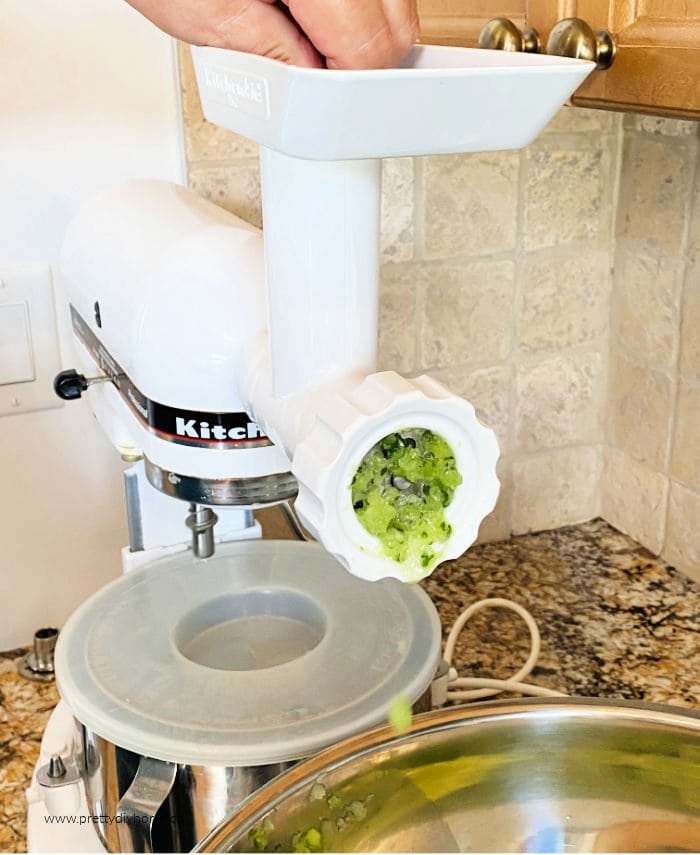 Grind all the pickles and onions into a large bowl. Add the pickling salt, and let sit overnight in the fridge. The next day place the relish into a colander over a bowl and set aside to drain for a couple of hours. You will likely see a couple cups or more of water drain off. Just throw it out.
When making relish everything has to be very clean. All the work surfaces need to be clean, including all the dishcloths etc.
While the relish is straining, sterilize your jars. There are different ways to do it, but we boiled ours on the stove top.
Wash and rinse your jars. Take a very large pot, and fill it with hot ( not boiling) water. Place the jars open side up into the pot. Fill the pot with enough water to cover the jars plus an inch. If you have room you can place your rings and lids in the same pot, if not place them in a second pot and boil like the jars.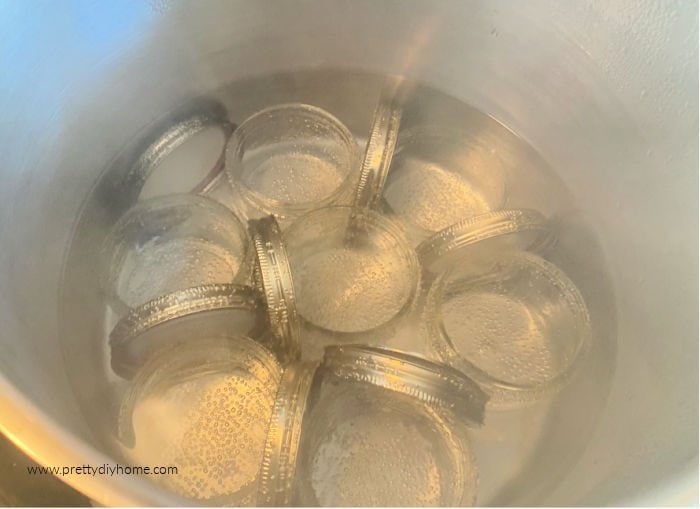 Bring the water to a boil and let boil ten minutes. Once boiling turn the stove down but make sure the water keeps simmering. This is especially important when making the relish.
Remove your jars one at a time as you need them, be cautious as the jars are hot. I use rubber ended tongs and a pot holder.
Cooking and Hot Packing Sweet Pickle Relish
Cook the relish over medium heat until boiling. Stirring regularly, let simmer for at least five minutes before filling your jars.
Being careful not to get burned take a hot jar from the boiling water, and ladle in the hot relish. Leave a half inch of air space at the top of each jar. Immediately add the lid and ring and twist the jar closed.
Repeat the process with the remaining relish, filling a jar at a time.
Don't touch the jars while cooling. As the jars cool you will hear them "pop". Once the jars are cool, push on the lids to test if they are sealed. If the lids push down they aren't sealed. This can happen for lots of reasons, maybe the jar wasn't hot enough, or their isn't quite enough relish inside etc. If a jar doesn't seal, I simple store it in the fridge instead of the cupboard.
Unlike pickles you can eat relish right away. It tastes better after about a week though, by then the flavours start to blend.
This is a good simple sweet relish, free of alum, and horrible tartrazine or other food colourings.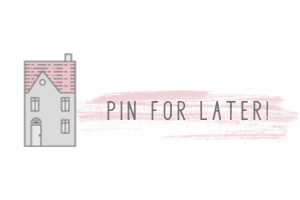 Other Pickle Recipes to Try
Dilled Beans and Carrots
Pickled Beans and Carrots Recipe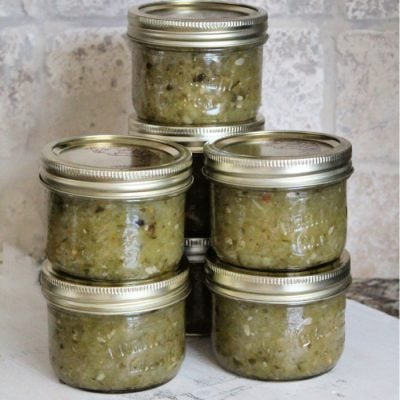 Homemade Sweet Pickle Relish a Favorite Old Fashioned Canning Recipe
Simple old fashioned sweet pickle relish. This relish has no extra ingredients and no alum or food colouring.
Print Recipe
Ingredients
6

large

cucumbers

Or 5 lbs

3

onions

2 ½

tbsp

pickling salt

(don't substitute)

2

pints

water

2 – 3

cups

sugar

to taste

1 1/2- 2

cups

pickling vinegar

to taste

1 ½

tsp

pickling spice
Instructions
Wash, trim, and peel most of the skin off of the cucumbers. Cut and peel onions.

Place the cucumbers and onions through a grinder or a food processor. Add the pickling salt and stir well. Cover and place in the fridge overnight.

Place the relish in a colander and let drain for 2-3 hours.

Once drained, transfer the relish into a large pot, add all remaining ingredients. Cook on medium heat until boiling. Let simmer for at least five minutes.

Make sure your jars are sterile and hot, ladle the hot relish into the jar. (Don't add to a cold jar, this can cause the jar to explode) Quickly add the lid and ring.

Set the jars aside while they cool. Sealed jars will "pop" when cooling. If the jars don't seal simply place the relish in the fridge.