Easy Easter Bunny Vase with Fun Spring Flowers
Easy DIY Easter Vase Centerpiece
This DIY Bunny Vase Easter Centerpiece t is such an easy Easter craft for adults. It's could be done as a family for a Easter gift, and at under $10 its a pretty great Easter gift idea.
You can use a thrift store vase, but I purchased a super inexpensive Vasen vase from IKEA, it cost $2.00 in Canada and likely even cheaper in other places.
How to Upcycle a Vase into a Bunny Vase Flower Arrangement
This craft is far too simple to need a step by step tutorial so I won't be sharing as many photos as I usually do.
For supplies, you will need the vase, scissors, Washi tape, bunny ears (dollar store, or homemade), and Easter flowers.
Making the Bunny Face
Start by cutting a little nose and whiskers out of Washi tape. Starting with the nose, fold a piece of washi tape in half and cut out half the shape you want so both sides are the same. Unfold the washi tape and stick the nose onto the vase to give you center on the front of your DIY bunny vase.
Cut two pieces of washi tape about 1 1/2 inches long, and cut them into long thin strips for the whiskers. Shorten two of the washi pieces for the central whiskers.
Attach the whiskers to the vase. That's all there is to it.
Creating the DIY Easter Centerpieces
Cut your flowers shorter than you usually do. You want your flowers to be shorter so they don't spread out too much. You can use any type of Spring flowers you like, I chose white tulips, but I think daisies would have been cute as well. It's just that we just got tulips in town and I couldn't resist them.
Place the flowers in the vase. Fill the vase with enough water to keep the waterline above the whiskers on the bunny face.
Add the Bunny Ears
The little hat and bunny ears are from the dollar store $2. Its a set of bunny ears on a headband for children. I did nothing to the headband I just inserted the headband portion into the flower arrangement like a floral pick.
Once the hat is on, carefully fold some of the tulip leaves over the front of the vase to resemble bangs.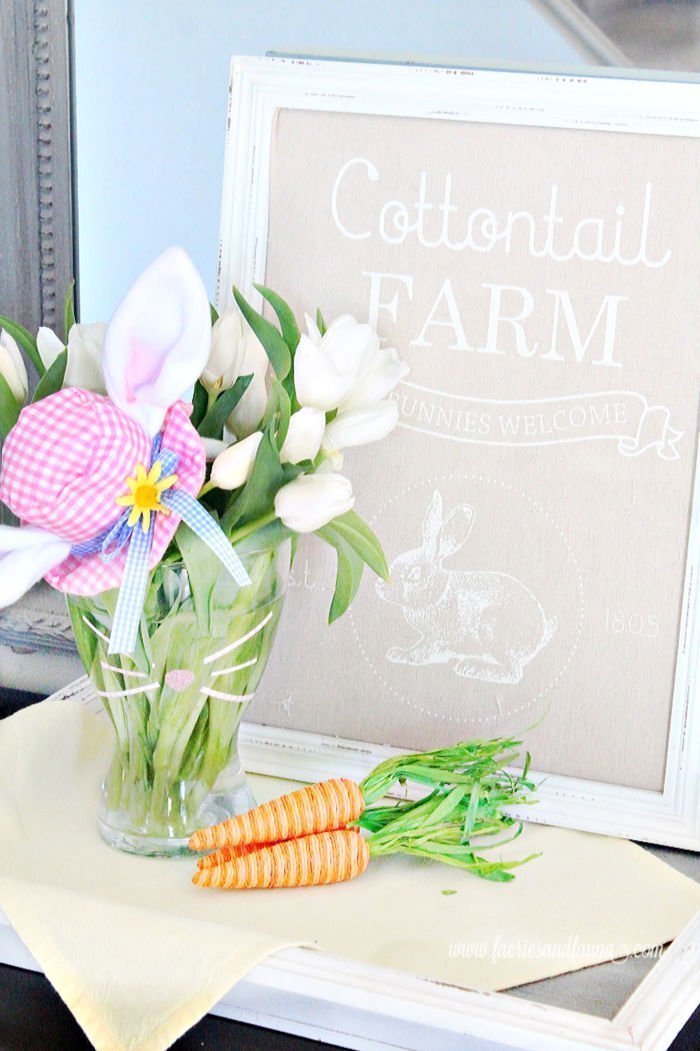 I hope you enjoy Easter bunny crafts as much as I do. They are bright and cheerful, I love the sentiment and the pastel colours. It takes so long for Spring to arrive I can't help but be thrilled when it starts showing signs of appearing.
Here are a couple of more bunny craft ideas I think you may like.
DIY Wood Bunny for Spring and Easter
I hope you are enjoying your Spring days as much as I am. This week I have had more than one smile watching neighbours shovel their snowbanks out to hasten the melt. I guess I am not the only one ready for Winter to be over.