How to Make Tulips Last Longer
Quick and Easy Ways to Keep Your Tulips
Tulips are such a delightful sign of Spring. Every year I start looking for tulips long before the florests have them in stock. Tulips come in such a wonderful assortment of colours, but have hollow stems, continue to grow after cutting, and very heavy blossom tops. Keeping tulips is easy to do but there are a few hints that will help make them last.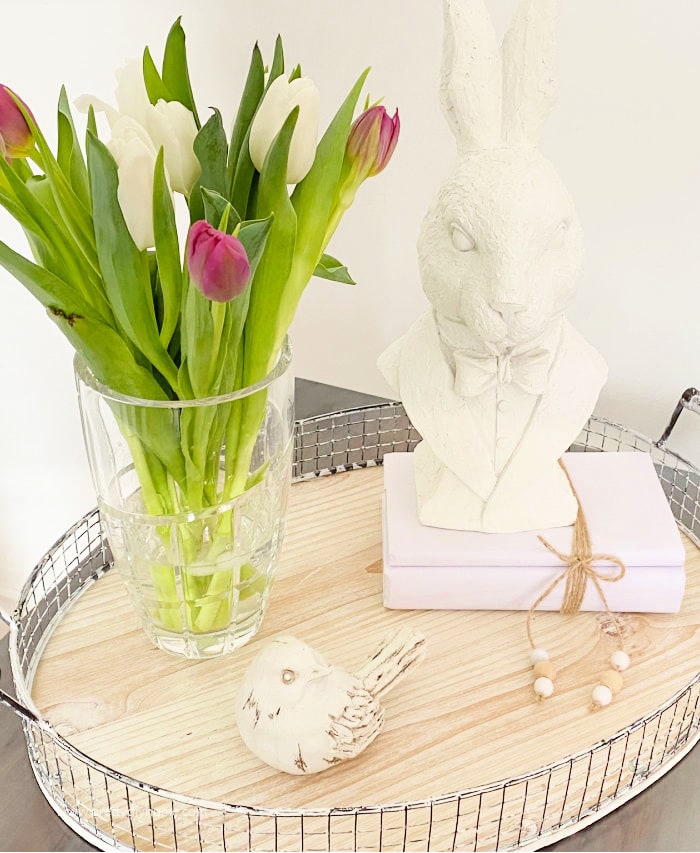 Eons ago I was a job coach for people with disabilities, and one of our favorite places to work was in florist shops. What a pleasant place to work, and our job was prepping the flowers for sale. Today I will share a couple of the tips I learned about prepping tulips.
Start with Fresh as Possible Tulips
Try and start with the freshest tulips possible. They will have closed blossoms and the tulip stem will be a nice bright springtime green.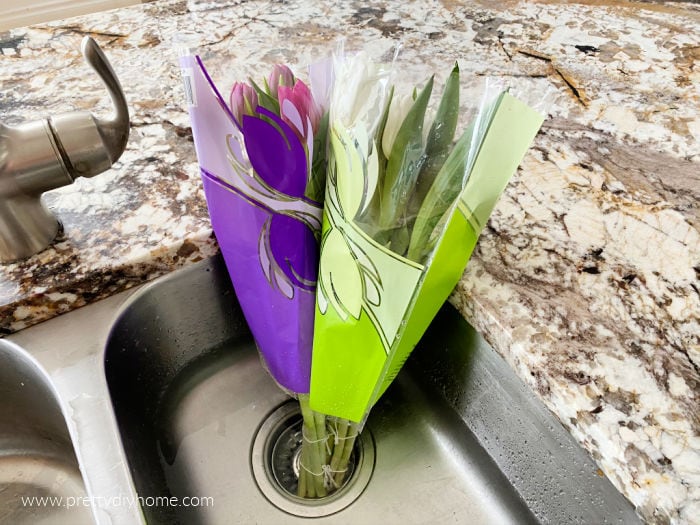 While your flowers are in the sink waiting. Fill a tall vase with about two inches of water and the flower fresher that came with the flowers. Mix well and add about six ice cubes.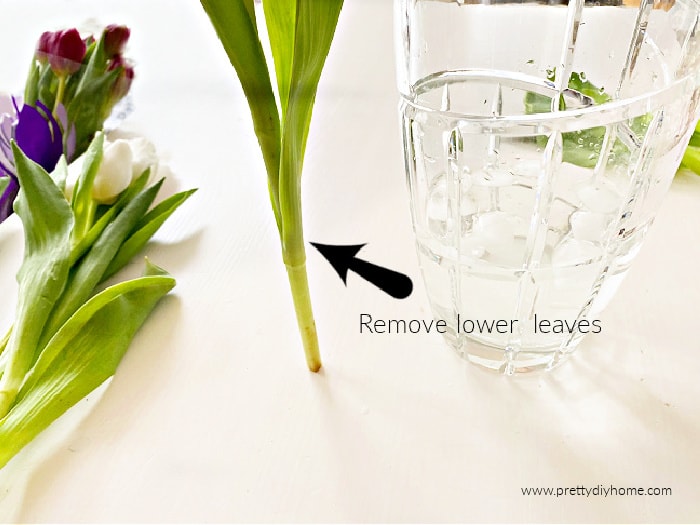 Remove all the lower leaves from your tulips, especially any leaves that will be beneath the water line level in your vase. You need to avoid leaves soaking in the water as they will get ewy slimy all too quickly.
Once all the flower leaves are removed start cutting the base of each tulip stem.
How to Prevent Tulips from Drooping
When you first get your flowers the end of the stem is sort of healed closed, this closure has sealed the end of the stem. We have to cut them so the tulip can draw up the water to feed itself.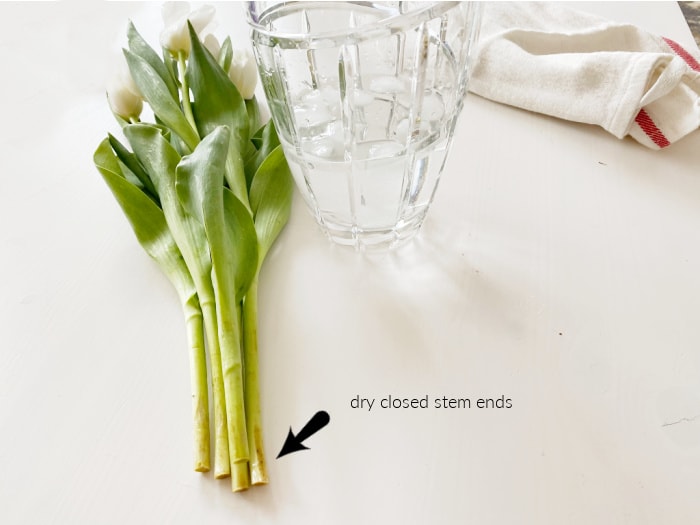 Unfortunately when you trim flower stems they're liable to get an air bubble in the stem (especially for hollow stems like tulips). When the bubble gets to the top of the stem it causes the heavy blossom to topple over. Here is the best process for avoiding air bubbles while cutting flower stems.
Always run a sink full of cold water. Emerge the stems into the water, leaving the blossoms dry.
Using a sharp knife (not scissors, they crush the stem), cut the stem at a 45 degree angle. Make sure that you cut the stem while its underwater. Cutting them stem under the water keep the fresh cut stem end from the air, and greatly reduces the chances of air bubbles.
How to Help Droopy Tulips for a Vase
If you have tulips that droop right out of the package, prep them and place in a vase. Cold water helps tulips last longer, so prep them as usual place in a tall vase. wrap everything in plastic wrap and pop into the fridge. The cold water will revive your tulips. That's why flowers are usually kept in a cooler in the florist, it keeps the tulips fresher.
Making Cut Tulips Last Longer
Did you know that tulips continue to grow after cutting? To prevent them from growing as much as possible add just a couple of inches of water to your vase. Tulips will turn towards the sun, so its best to keep your arrangement out of direct sunlight.
When I first get my tulips I keep them in a tall vase, then every day or so change the water, retrim, and put in fresh water, as the tulips shorten I use a shorter vase, or wrap them in pretty bundles in a smaller vase.
I actually like the look of drooping tulips, as long as I've had them to enjoy for a few days, its natural for them to droop, and they are still an amazing sign of Spring. If you don't like droopy tulips, wrap and place in the fridge.
I hope this post helps you keep your joyous tulips longer, and just the way you like them. Its such a long wait for Spring, we deserve to have the tulips around as long as possible!
Adding Pennies to a Vase?
I have been asked about adding pennies to a vase and if it works. I have never tried it, but I did look online and the pennies act like a fungicide. Its not necessary if you remove the lower leave and change the water out regularly.
If you found my tips helpful, please Pin to keep or share!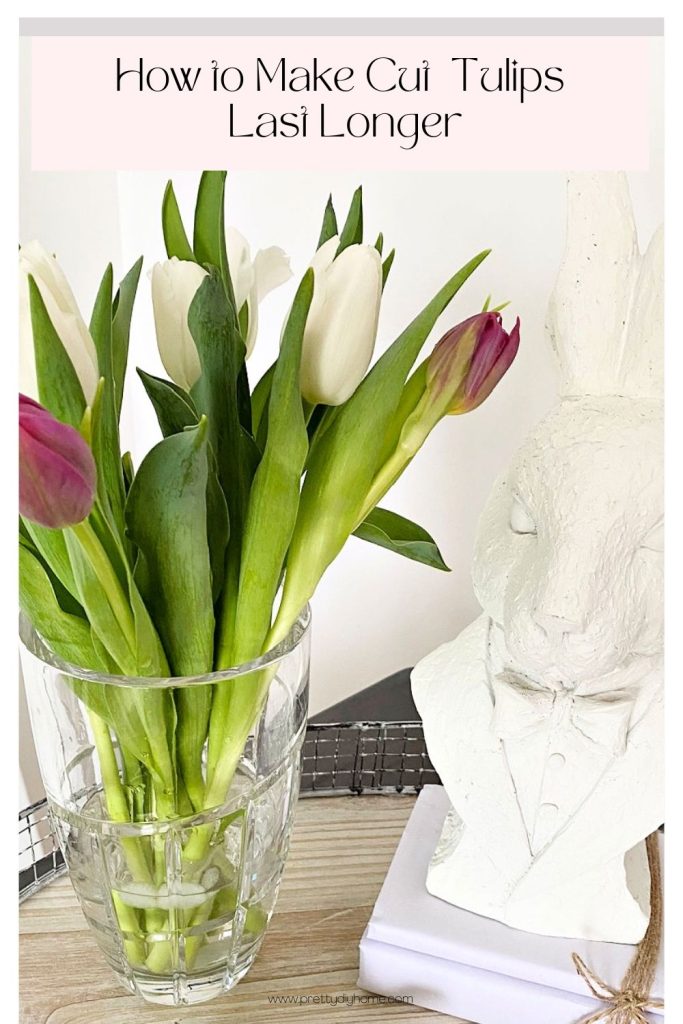 I have a Pinterest Spring Decor and Spring Decorations Board where I share my own posts and other posts that inspire me. Make sure to check it out.
Other Posts About Tulip Arrangements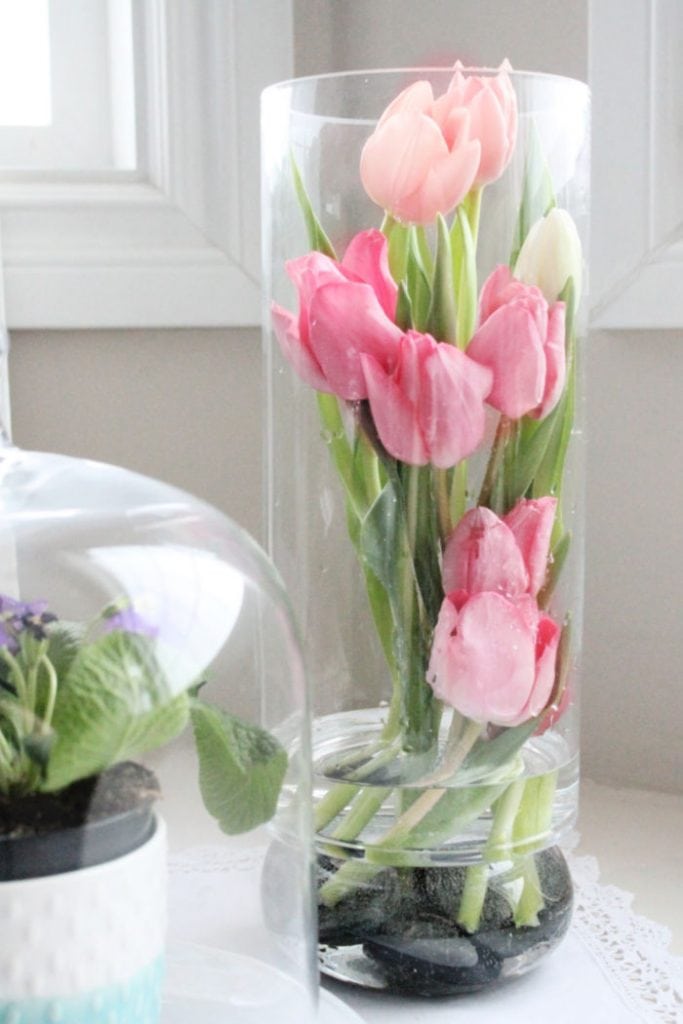 How to Arrange Tulips in a Tall Vase
A dramatic new way to arrange tulips for Spring. I share a step by step guide on how to prepare and arrange tulips inside a tall vase.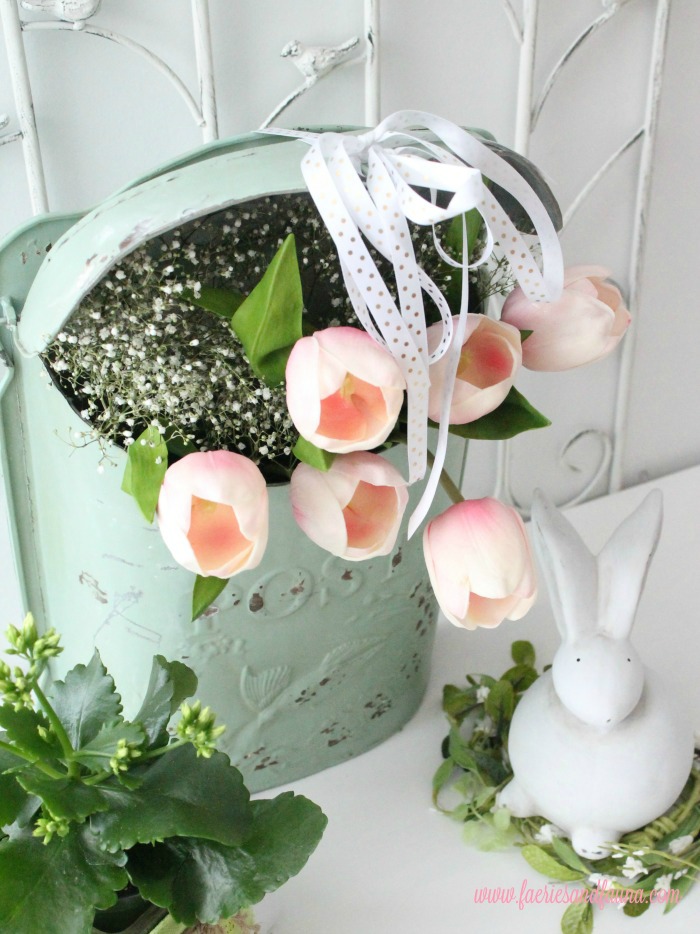 Mailbox Tulip Arrangement
Faux pink tulips and babys breath makes a simple filler for a vintage mailbox tulip arrangement. Use it inside as a backdrop or add it to your Spring front porch decor.