Easy Slow Cooker Chicken Noodle Chowder Soup
Chicken Noodle Soup Recipe with Corn, Milk and Potato
You gotta love a really good soup recipe and this chicken noodle chowder soup recipe is really seriously good.
This is an easy everyday grab simple ingredients from the pantry kind of recipe. This easy slow cooker chicken noodle soup starts with a old fashioned package of chicken noodle soup. You can make it in a slow cooker if you like, or you can make it on the stove in about half an hour. Either way its easy, delicious and cheap to make.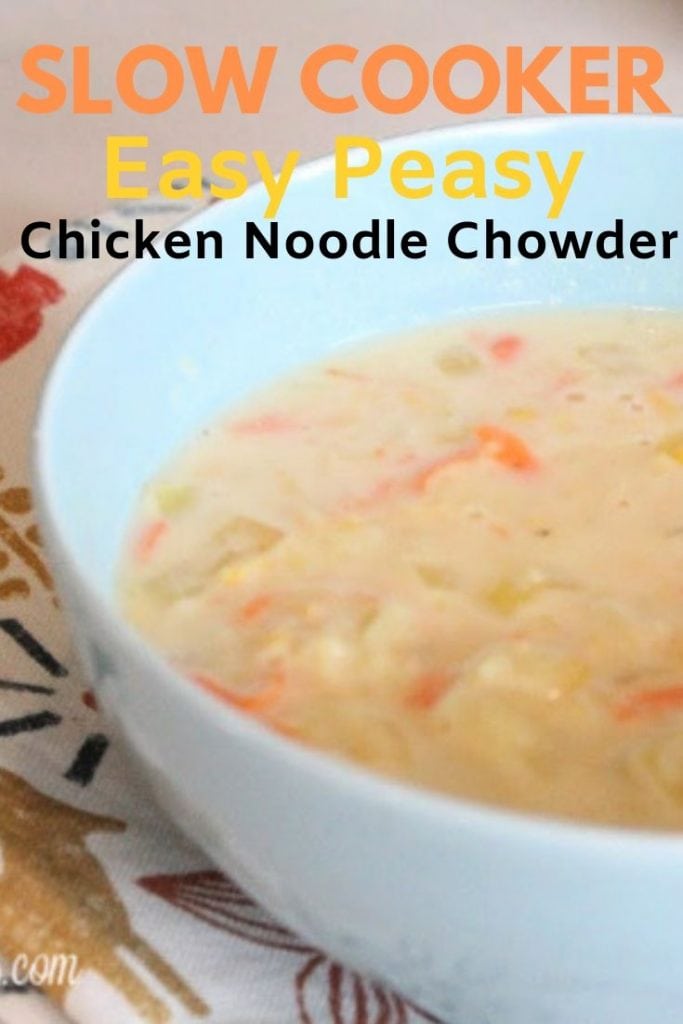 This recipe is one of my family go to recipes, you can vary it by adding chicken, or peas, or removing the carrot and having it plain.
Necessary Ingredients
2 envelopes of chicken noodle soup (Lipton is what I use)
4 cups water
4 medium potatoes diced
1 medium onion diced
1 can creamed corn
1/2 cup milk
1/2 tsp pepper (or less)
The ingredients are so easy to typically have on hand.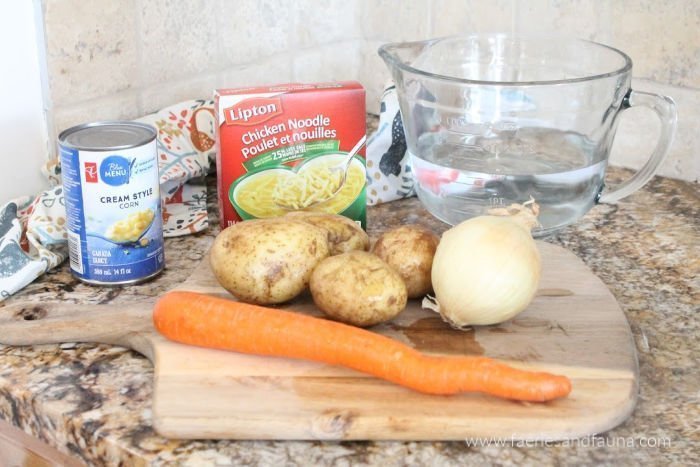 Optional Ingredients
I like to add one grated carrot or half a cup of frozen peas to the soup. If serving my sons I will add diced chicken, but for myself I prefer to leave it vegetarian.
You can make this soup on the stove in the time it takes to cook diced potatoes about 30 minutes, I like to toss it in the slow cooker.
Add two packages of chicken noodle soup, a diced onion, peeled and diced potatoes and 4 cups of water into a slow cooker. Cook until the potatoes are soft, in the slow cooker on low all day, or on high for approximately 2 hours.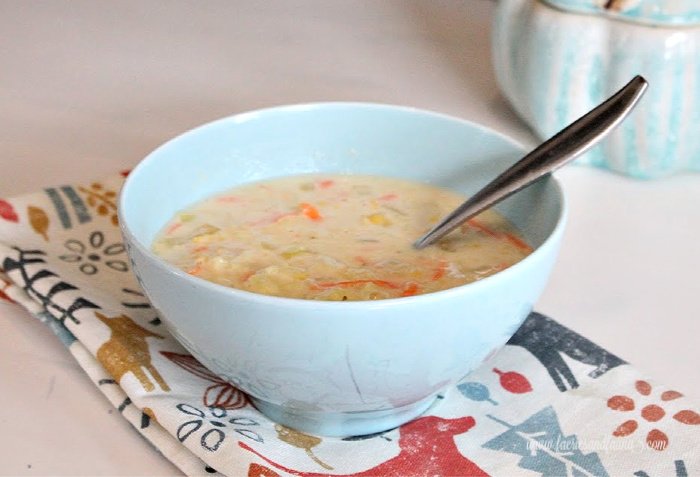 Add the optional ingredients carrot, peas, cooked chicken. Stir and add 1/2 cup of milk. Depending on how thick the soup is you may wish to add more milk. Heat until everything is warm about half an hour.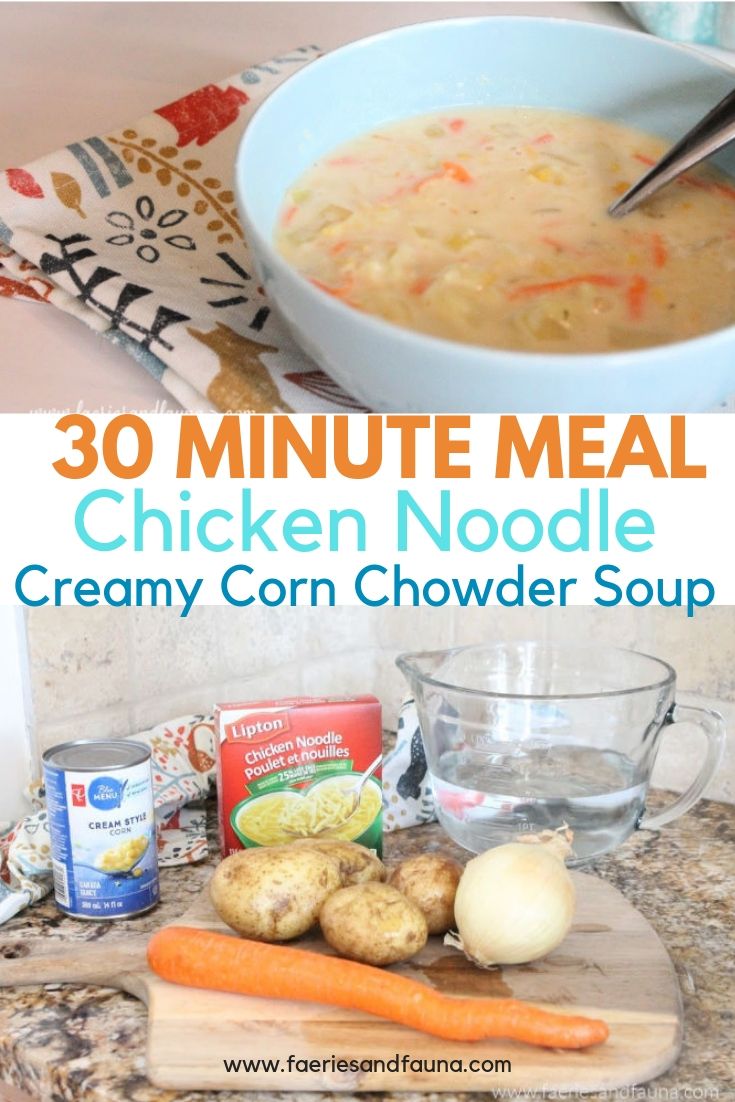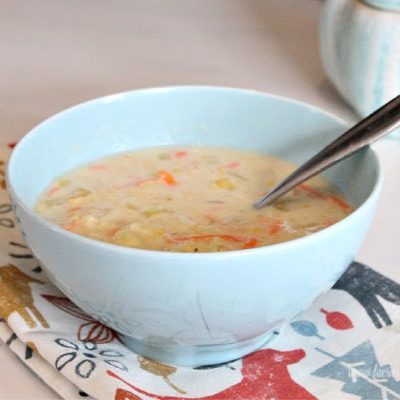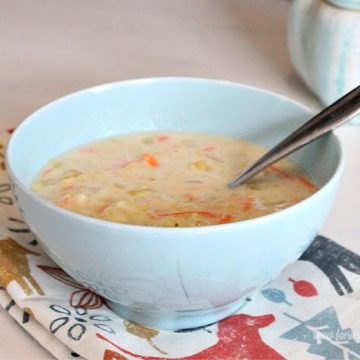 Chicken Noodle Chowder for the Slow Cooker
A long term favorite recipe from our home. Its delicious, made with everyday pantry staples, and can be made using a slow cooker. A great every day meal, one of my favorite easy soups.
Print Recipe
Ingredients
2

envelopes

chicken noodle soup

1

onion

diced

1

carrot

grated

2

large

potatoes

peeled and diced small

4

cups

water

1

can

creamed corn

½

cup

milk

maybe more

½

tsp

pepper
Instructions
In a slowcooker, add two packages of dry chicken noodle soup, 5 cups of water, onion, potatoes, and grated carrot. Cook on low all day, or on high until potatoes are soft about 2 hours.

Once the potatoes are cooked, or about an hour before serving add the canned corn and black pepper. I like this soup with lots of pepper, you may wish to put in less to start with.

Add the 1/2 cup of milk and add more until the soup is the right consistency.